Sims 4 Pull Out Couch & Murphy Bed CC
This post may contain affiliate links. If you buy something we may get a small commission at no extra cost to you. (Learn more).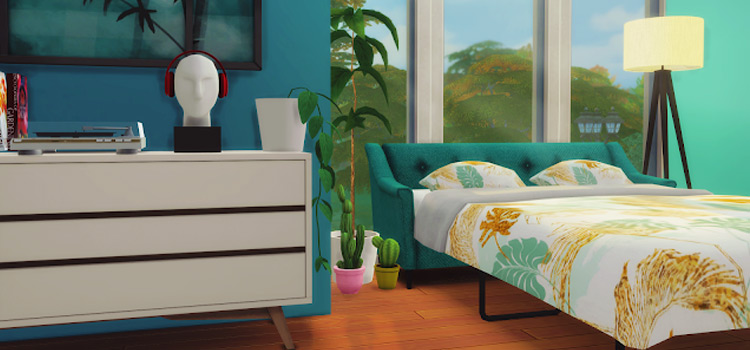 Once you're finished depriving your Sim of sleep to build their skills and relationships, they'll need somewhere to rest.
So why not make that somewhere fun?
Energy is a bit of an overlooked need.
It's one you can usually ignore for way longer than anything else with minimal consequences.
That's not very nice for your Sims, though.
Just like us, they deserve a nice place to rest. And in the world, one's sleeping situation is pretty important.
I guess that's why there are so many options.
We have many of those already represented in the game, but that doesn't mean our choices have to stop there.
There is still some fun stuff with custom content Murphy Beds, and we can't forget one thing that has yet to be in the game: pull out couches!
I actually searched for these years ago for storytelling purposes, since that's the smoothest way to allow a houseguest into your Sim's home when you don't really have enough bedrooms.
But after this list, your Sim's sleeping arrangements will never be a concern again.
Dylan Sofa Bed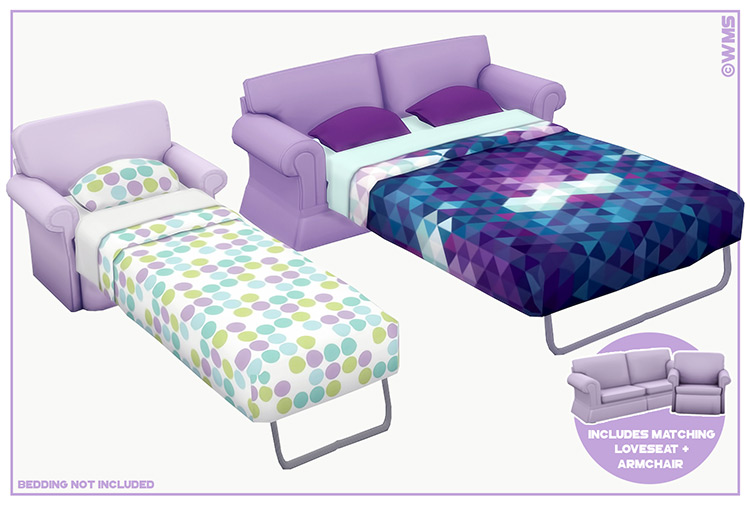 First up is this sofa bed CC from WildlyMinatureSandwich, and it just might be the most accurate one that fan-made content has to offer.
I know it may look almost too perfect, but everything here really goes together just as well as the example pictures indicate.
They are brand new meshes, quite literally meaning this is stuff never before seen in the game.
There's both a double bed and a single, using a loveseat and armchair respectively.
One tiny hang-up is that you'll have to find your own CC mattresses to use with these, as well as most other custom bedding items. But that's actually not a negative thing at all!
This way, these pull outs can be exactly what you need, whether it's a certain style or design you're looking for.
But what's really cool here is that you don't just get the "pulled out bed" part, but the matching regular loveseat and chair as well.
So when your Sim or their guests are all rested up, you just have to plop the bed version into the family inventory, replace it with the appropriate seat, and voila – a seat is back to being a seat.
Comfort Zone Set
This set includes a full-sized pull out bed frame for a regular large couch.
In other words, whichever lucky Sim gets the sofa bed will be treated to the king-sized version!
Just make sure the room has the space for that.
I'm speaking from experience here, both from real life and The Sims… rearranging an entire room at bedtime is not fun.
Like the first couch, only the frame is here. And you'll need to have a separate CC mattress in order to use it.
But honestly, I really like the look of this frame anyway.
Those wood slats are so realistic, and a perfect example of why jumping on the bed is never a good idea.
Not only do you get the pull out couch here, but there are a variety of other matching furniture pieces so you can really integrate this into your build without it sticking out.
There's a non-bed couch option, of course, as well as a loveseat and a chair.
Plus there are two styles for everything and 39 swatches total!
The Big Sleep Murphy Bed
You may be surprised to know that The Sims 4 isn't the only time this series has seen Murphy Beds.
They were actually around in The Sims 3 as well, courtesy of the University Life expansion pack.
I had totally forgotten about them since honestly, the ones in The Sims 4 are so much more fun and smoother.
But if you have the Tiny Living pack then you know how dangerous they can be, too.
RIP to the countless Sim lives lost.
The amazing thing about this conversion is that since it is indeed a converted item, I believe the hazards of grievous injury to your Sims are no longer a concern. You just get all the joy of a bed that folds up against the wall without risking your Sim's life and legacy.
There are 27 swatches here, and for the most part, this Murphy Bed's frame has a simple wooden texture.
Övernatta Sofa Bed
WildlyMinatureSandwich is clearly the queen of alternative bedding in The Sims 4.
From the same creator who made the Dylan Sofa Bed now comes another fun, totally original set.
Here you'll get a single and double bed base in the form of an armchair and loveseat, plus their matching counterparts for when you want the bed "put away".
There are even some special recolors for the separated mattress from another creator, which is linked before the download, so you'll have some really awesome, modern patterns to choose from.
Tiny Living Beds in Sorbet Remix
Even if you have only spent ten minutes exploring custom content, then you know how awesome recolors are.
They are the Sim community's answer to a lack of color wheel, and honestly, they're integral when you have a particular interior design look in mind.
The Murphy Beds that came with the Tiny Living pack may be amazing in their own right.
But their few swatches aren't for everyone.
If that's how you feel, then these are definitely the recolors for you.
With a mind-blowing 76 swatches, there's absolutely nothing left to be desired.
The incredible Sorbet Remix palette from Noodlescc is utilized beautifully here by Berryconfetti.
Everything from the sofa to the bed, to the painting, and even the shelf have are now available in a ton of vivid colors.
Browse:
Lists
The Sims 4
Video Games