15 Best Quality of Life Mods for The Sims 4 (All Free)
This post may contain affiliate links. If you buy something we may get a small commission at no extra cost to you. (Learn more).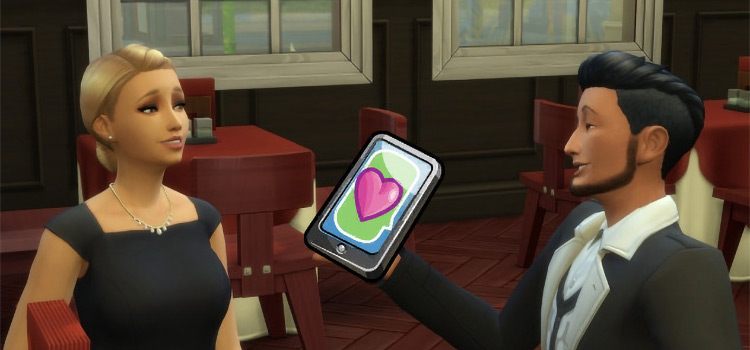 What's the difference between mods and custom content (CC)? Technically speaking, aren't they the same? They're both created by users, they both modify the game, and they're both installed in the mods folder!
Fair points, all three of 'em.
However, I like to look at it this way (so that I don't get confused): custom content modifies the cosmetic or surface-level features of The Sims 4. It adds new meshes to CAS and/or Build and Buy— like clothes, furniture, decorations, etc.
Mods modify gameplay. They add interactions, events, and opportunities, affecting the way both you and your Sims experience the game.
And if you ened some QoL improvements in your next TS4 session then we've got you covered. Here's our list of mods to massively improve your Sims' quality of life.
1.

MC Command Center Mod by Deaderpool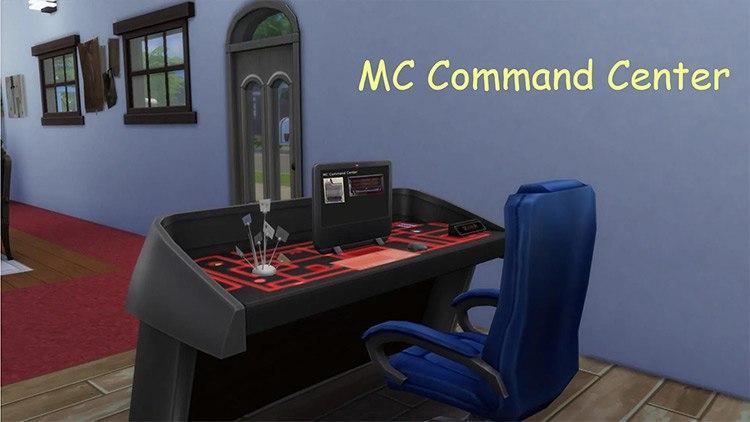 Let's start with something literally every Simmer knows.
Deaderpool's MC (Master Controller) Command Center mod is the mother of all easier-gameplay mods.
Created by Deaderpool, this mod lives up to its name as a sort of central control system for literally every aspect, feature, and function of Sims 4 gameplay.
Household bills, relationship tweaking, population fine-tuning… you name it, the MC Command Center mod lets you fix it, adjust it, control it.
It's also a live mod, which means the creator is constantly adjusting and optimizing its functionality with each patch update. That's a sweet bonus!
2.

Have Some Personality, Please! by PolarBearSims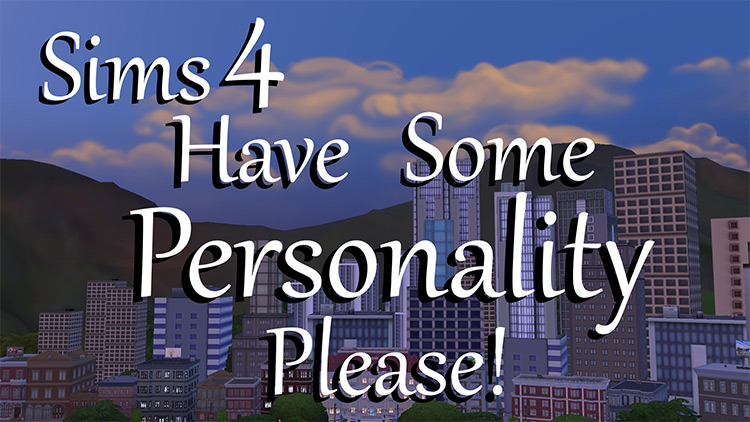 If you're tired of TS4 Sims having the same thoughts, reactions, social goals, and interactions, you're in luck. PolarBearSims' Have Some Personality, Please! mod completely overhauls the way traits influence social interactions.
If your Sim is mean, they'll have a limited number of Friendly social options towards Sims they just met.
If Sims are not naturally romantic, they won't have access to Romantic interactions with Sims until they've deepened their relationship.
And if your Sim is having a Deep Conversation with another Sim, there's a chance they'll be influenced so much, they'll learn new traits!
This mod basically breathes a bit more dimensional realism to the game, making it far less predictable and a lot more enjoyable.
3.

SimCity Loans 2.0 by MizoreYukii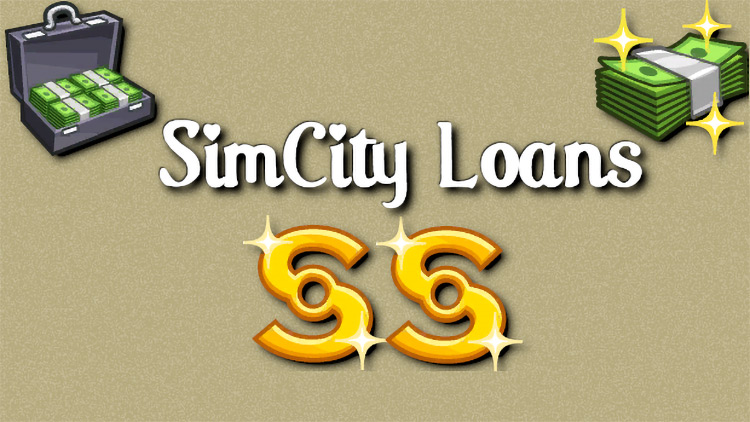 This is one of the most useful mods you could ever ask for. It gives Simmers the option to earn hundreds of thousands of Simoleons immediately—without cheats!
Basically, this SimCity Loans mod lets your Sim borrow anywhere from 1,000 to 500,000 Simoleons. Then they can choose their own repayment period (up to 36 months).
Look; your newly-graduated Sim is going to need funds to cover the first few months of rent for their San Myshuno apartment. As much as I love the motherlode cheat, this mod makes more sense!
4.

Realistic Reactions by scaldwellhu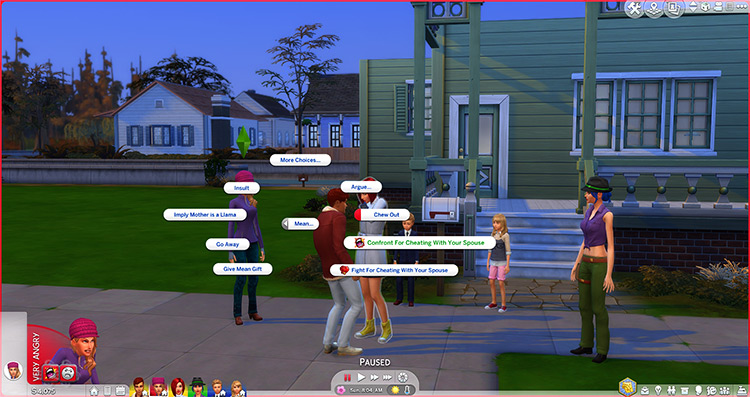 While on the topic of reactions, here's a mod from scaldwellhu that's designed to make Sims a little more human in the way to react to major life events:
Cheating (whether they cheated or were cheated on)
Fights within the family
Teen pregnancy (works with most dedicated teen pregnancy mods)
When cheating happens between two Sims in a committed relationship, both will get negative buffs depending (because it's realistic for both parties to be affected).
If the couple has children, the children remain none the wiser unless they witnesses the cheating interactions. They'll receive an appropriate negative buff, if that's the case.
The cheating Sim will also receive new social interactions with their household if they're caught.
All this for just one of the life events!
It's a pretty extensive mod for three highly specific instances, so I recommend reading the notes and patch update fixes before installing!
5.

Wonderful Whims by TURBODRIVER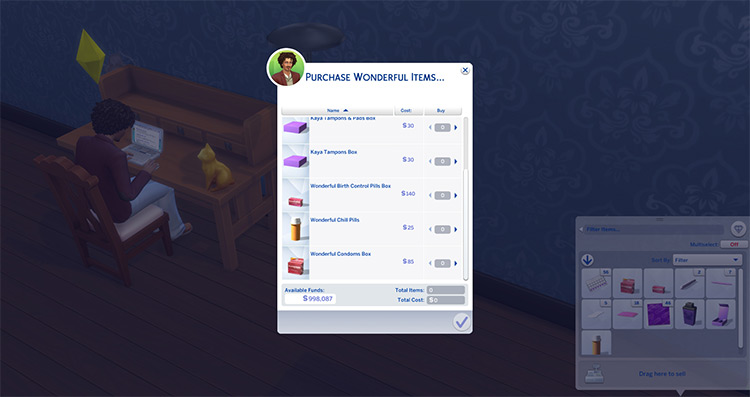 This mod lets you play around with the consequences of romance!
It's a lot more fun and a lot less threatening than it sounds.
Full notes are available on the website (yes; the mod has a dedicated website) but, in summary, this Wonderful Whims mod makes the Attractiveness and Personality of a Sim dictate their social interactions. It also enables the chance of pregnancy for all WooHoo interactions—just like real life!
Don't worry; you can always use Birth Control if you want to lower your risk of pregnancy—and Crabs! Both of these have been added by the mod (the latter is an STD, by the way) on top of several other features.
6.

Life Decider by KawaiiStacie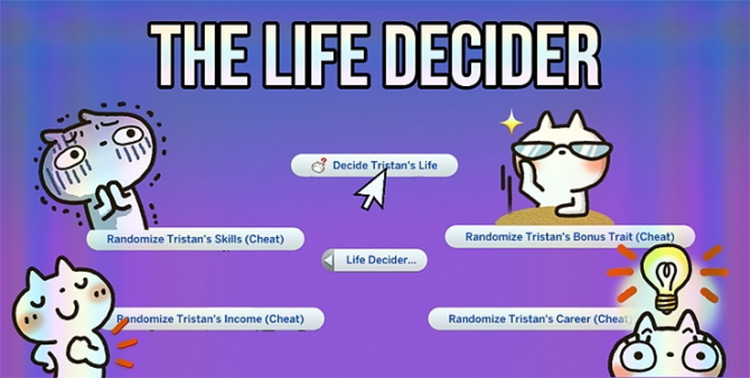 Isn't it funny how Adult and Young Adult Sims come into the world with literally zero skills, no source of income, and a vague idea of what they want? Of course, that's not an impossible scenario for twenty-somethings IRL.
However, this being the case with every Sim is a bit ridiculous.
It makes more sense – and is a lot more realistic – for them to build on existing skills that they developed earlier in life.
So that's what kawaiistacie's Life Decider mod does! It randomly generates a career, skillset, and traits for your Sim when you begin the game.
It'll even add extra income to jumpstart your Sim's nest egg.
7.

Meaningful Stories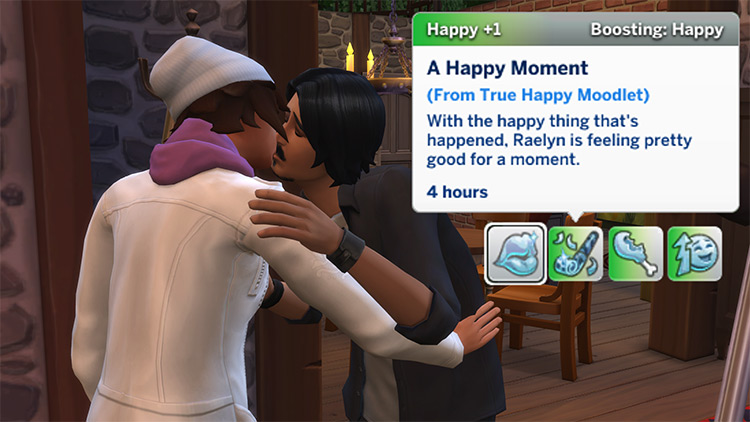 If you loved the concept of Realistic Reactions and Have Some Personality, Please!, then you'll RoBurky's Meaningful Stories mod.
It's a complete overhaul of the entire TS4 moods and emotions system, adding some much-needed depth to emotional situations in the TS4.
Gloomy Sims can fall into depressive ruts that'll take hours or weeks to get over.
Sims who didn't get a birthday greeting from a friend could hold it against them for days.
Sims who experienced their first kiss will walk around feeling happy, confident, and completely invincible — until they blow up over a disagreement with their sibling. Then they'll spend the next 48 hours simmering with barely-concealed rage.
This mod makes the game so much more entertaining.
8.

"SimDa" Dating App Mod by LittleMsSam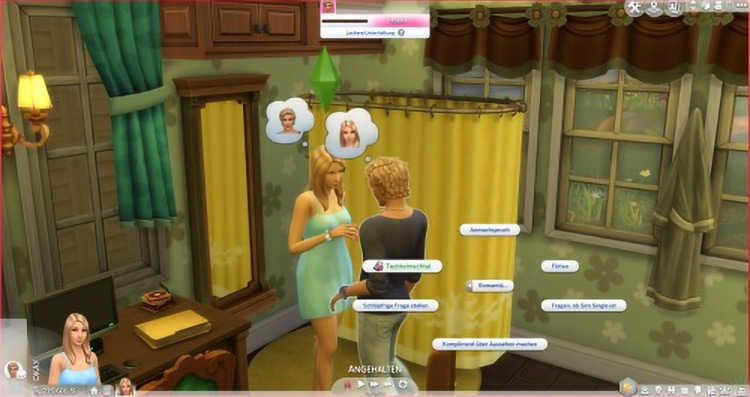 Instead of the limited default chat, text, and invite somewhere options, the SimDa Dating App allows your Sims be a bit more adventurous in the "romance via phone" system.
Using the app, Sims can go on Specific Dates, Blind Dates, or One Night Stands with anyone they meet on the platform—no prior contact needed!
This goes both ways, too.
If your Sim enables the Hook Up Calls setting on their app, they may receive an invitation to Hook Up from random NPCs. Accepting this invitation will send them on a rabbit hole adventure.
9.

Explore Mod by KawaiiStacie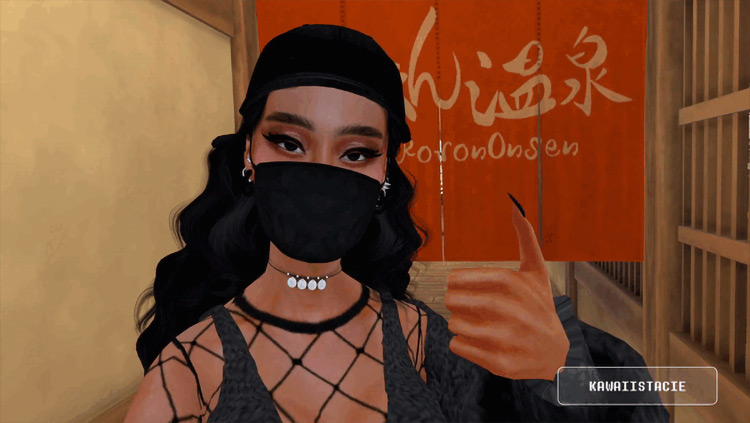 When your Sims have the day off and you're not sure what to do with them, why not send them on an urban adventure?
KawaiiStacie's Explore Mod sends Sims off to "rabbit holes" (meaning you can't follow them) under the guise of them doing activities out in town. They then come back with new items, new buffs, updated relationships, or improved skills depending on what they did.
For instance, sending them shopping will usually result in them coming back with new clothes.
Overall, this is a great mod that adds an extra layer of gameplay.
I highly recommend it for big households with several stay-at-home Sims.
10.

Farmland 3 + World Edit 2.1 Mod by Arnie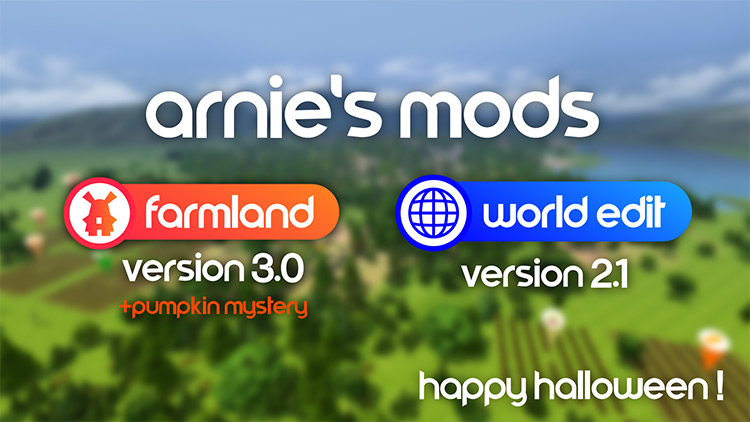 I'll be honest; I miss the open world of The Sims 3.
And I'm obviously not the only one.
Arnie's Farmland mod is proof that Simmers need more places to explore, because it opens up the Sable Square neighborhood (of Brindleton Bay) into a semi-open world and people have been loving it.
The five original lots are expanded to include open venues and interactive exploration areas. Players can purchase farmland (hence the name) to grow crops and raise livestock.
Plus, if you love lore, the creator also added a full mystery story that your Sim can take part in. Help George and Adele figure out how – and why – their farm burnt down!
11.

My First Farm Animal by KawaiiStacie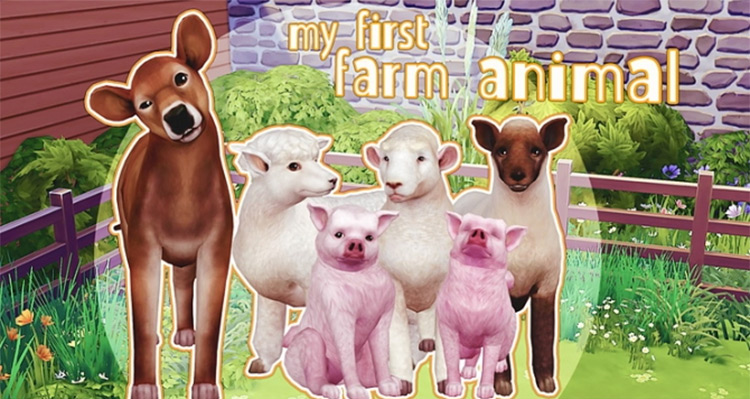 This mod works great with Arnie's Farmland + World Edit mod.
If you have the space for it, I strongly suggest you combine the two.
KawaiiStacie's My First Farm Animal mod allows you to turn your pets into farm animals. This lets you harvest their produce to create sellable goods, like milk and wool. The more you harvest items, the more you improve your Farming Skill.
Yup—this is a brand-new hidden skill added by the creator. Sims with higher Farming skills can sell their items at higher prices.
P.S. You'll need to have The Sims 4: Cats and Dogs expansion pack installed for this mod to work.
12.

Expanded Mermaids Mod by SpinningPlumbobs
This mod is very specific to Mermaids, but I feel that they deserve the justice anyway.
The Sims 4: Island Living offered so much in terms item, location, traits, and gameplay.
Don't get me wrong—it's a great pack! One of my faves, to this day.
But the Mermaids themselves were – for lack of a better word – shallow. Especially when compared to all other Occult Sims.
SpinningPlumbobs' mod lets you do more with our fine finned friends by adding a ton of brand-new options and abilities to their pie menu. Mermaids can now dive for kelp, sleep below the surface of the water, and explore the depths of the ocean for treasure and rare fish.
But watch out for Sea Witches and Kelpies! (Yes, those two are also added in by the mod).
13.

After School Activities Mod by KawaiiStacie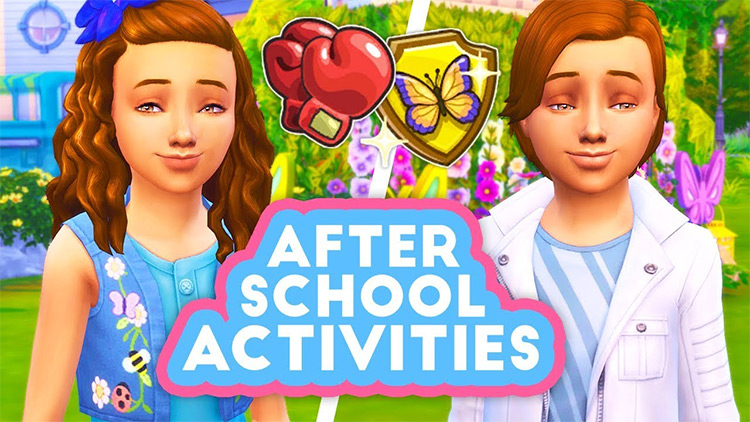 Just like their Explore mod, KawaiiStacie's After School Activities mod adds more gameplay options for idle Sims. Children, in this case!
Instead of the repetitive cycle of school, home, and then maybe a random community lot or two when mom's free, your Child Sims can now do something else after school.
Art Club? Basketball Club? Debate Club? Daycare?
There are over 30 unique programs to choose from, so I highly suggest reading the notes thoroughly.
14.

Sims Eat and Drink Faster Mods by bjnicol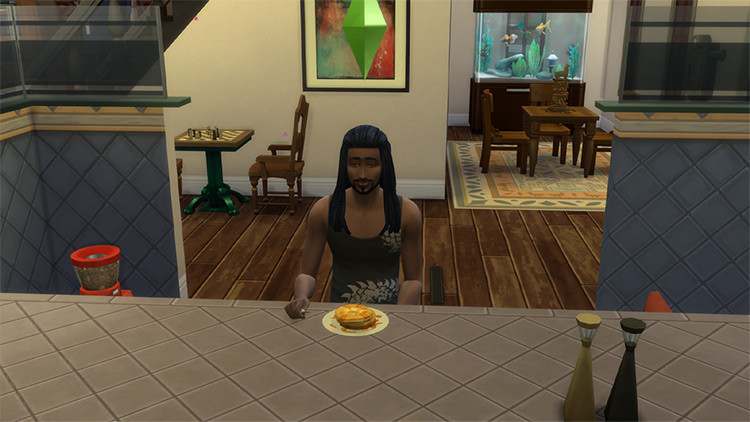 It's nice to know I'm not the only one bothered with how slow Sims in TS4 eat.
Seriously; it feels like it takes them a whole hour just for one meal. Even if I run the game at Speed 3, they still wasted a full in-game hour on eating and drinking.
Plus, why do they need to stop eating just so they can sigh?!
This is why bjnicol's mod is a godsend.
It cuts out all the insignificant animations that happen while Sims eat so that they finish mealtime relatively quickly. They also have a bonus mod programmed with this that bans your Sim from eating anywhere other than tables.
No more eating in the bed, sir!
15.

Slice of Life Mod by KawaiiStacie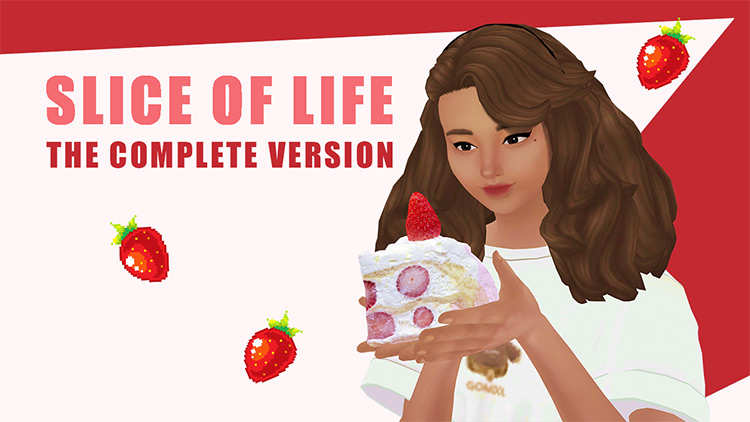 And finally, the Slice of Life mod by KawaiiStacie.
This is the Mother of all KawaiiStacie mods.
Forget stuff packs and CAS packs; this is a modpack stuffed with ten fully-functional mods, all of which offer smoother, more realistic gameplay.
A mod for menstrual cycles.
A mod for more detailed personalities.
A mod for a phone with more social and internet options.
If you don't want to download these one by one, this Slice of Life mod combines it all to give you the ultimate "play with life" experience.
Browse:
Lists
The Sims 4
Video Games