Sims 4 Rapunzel CC from Tangled (Hair, Dresses & More)
This post may contain affiliate links. If you buy something we may get a small commission at no extra cost to you. (Learn more).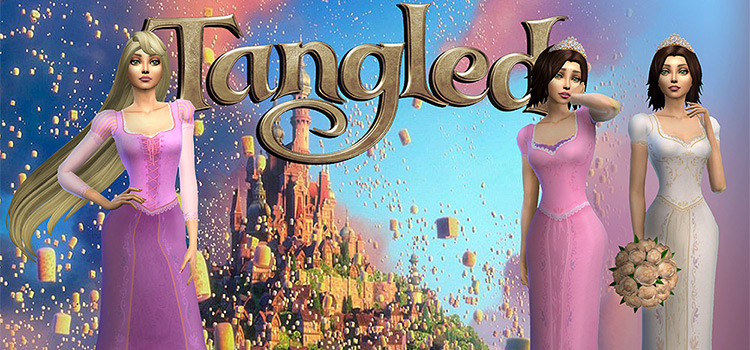 We all know the story of the lonely woman in a tower known as Rapunzel, but if you haven't seen the Disney movie Tangled, you're seriously missing out.
Tangled actually still holds the title of 'most expensive Disney animated movie' to this day, coming in at a whopping $260 million. The film took six years to produce and has such beautiful imagery, I would say the price tag was worth it.
Princess Rapunzel is also a part of the Sims 4 Disney Princess Challenge. Specifically, Rapunzel is the sixth generation in the playthrough. Her rules are pretty simple, and they take effect once she becomes a teenager:
Your sim must have the 'loner' and 'art lover' traits, you can only leave the house for school, you must reach level eight of the painting skill before you become a young adult, you cannot have any friends until you are married, and you must elope and have children.
As a bonus, if you have the Parenthood expansion pack, your parents must be strict and your sim must try to sneak out after curfew whenever she can.
To get you started, I've curated a list of CC items to help your Sim be the best Rapunzel she can be!
1.

Rapunzel Braid
A lovely recreation of when Rapunzel gets her hair braided with flowers from the film, and a great way to have our heroine stop tripping everyone off screen (you know that had to be the case).
This hairstyle comes with sixteen different colors to choose from and can be used by any age group between teen and elder. It seems to be compatible with hats as well.
2.

Rapunzel Braid for Girls by Kiara24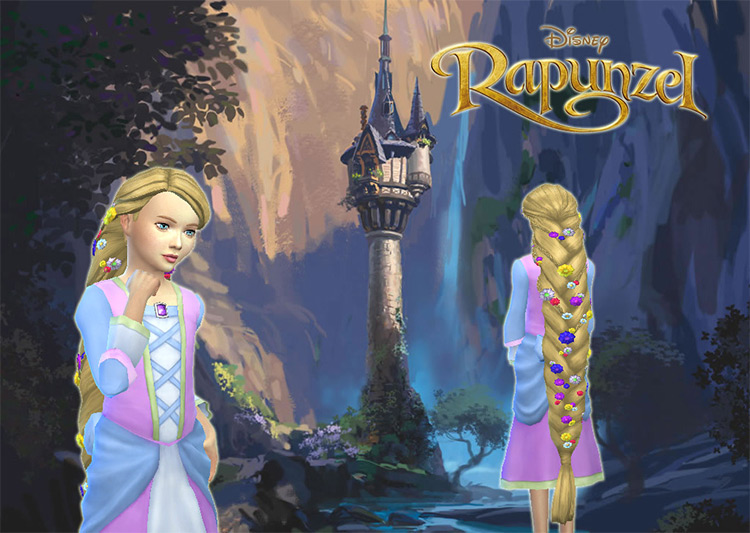 While Rapunzel's story may not begin until she becomes a teenager in the Sims 4 Disney Princess Challenge, that doesn't mean your sim can't look the part as a child.
This beautiful recreation of Rapunzel's hair from the middle of the movie is now also available for you kid sims and there are sixteen color options to pick from with this one as well.
3.

Snuggly Duckling Sign!! (For your Tangled pub!)
Did you notice at the very beginning of the film that Rapunzel's crib mobile has a horse, a chameleon, a cupid, a blue bird, and a little duck? Everything on the mobile is an important part of Rapunzel's journey throughout the movie, including the Snuggly Duckling.
Have your sim sneak out at night to hang out at the Snuggly Duckling with this precious pub sign.
Note: you will need the Get Together expansion pack for this to show up in your game.
4.

Tangled: Rapunzel CC Outfits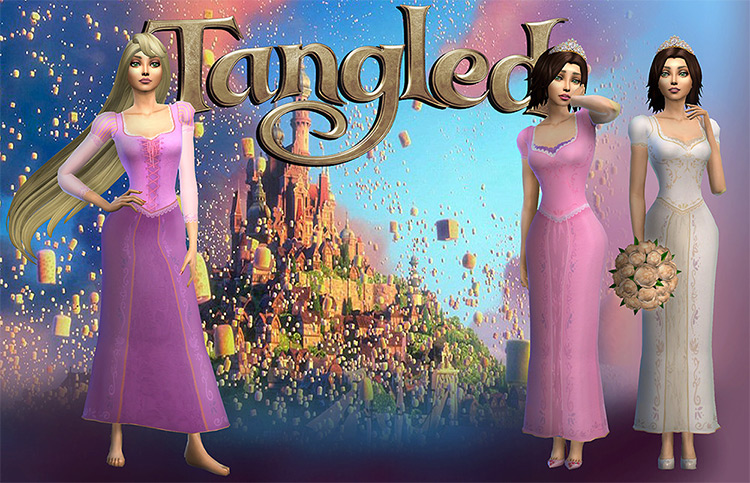 This pack comes with three beautiful dresses based on Rapunzel's outfits in the movie.
It comes with a casual dress, a more formal dress seen through most of the movie, and a gorgeously simple wedding dress.
There is also a crown included in the link if you want to download that, too. I would recommend it as it goes perfectly with Rapunzel's wedding dress and a short brown hairdo.
5.

Rapunzel Dress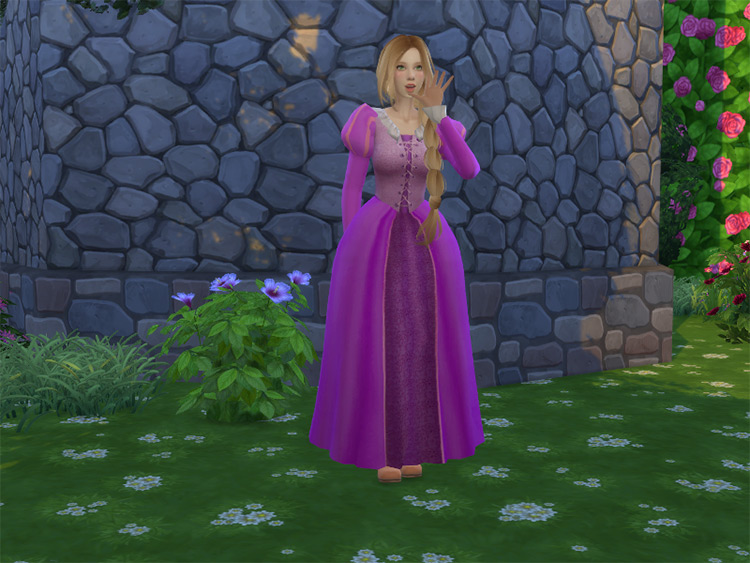 Here we have a bigger and more detailed version of Rapunzel's dress.
This outfit is perfect for those who like to play with a mix of Maxis Match and Alpha CC.
The dress only comes in one color scheme, but the detail, puffy sleeves, and the fact that it is base game compatible certainly make up for the lack of color choices.
6.

Rapunzel Hair by Terkisims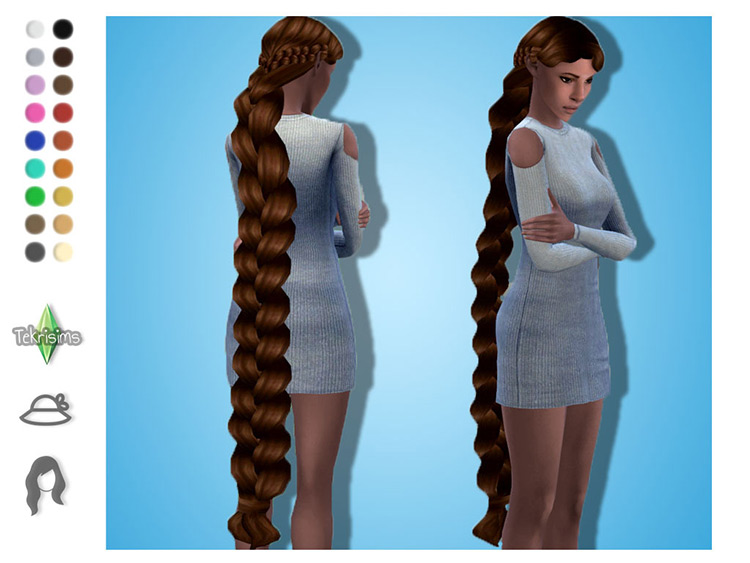 If you don't want flowers in your princesses hair all the time, this is a great Maxis Match choice for Rapunzel's hair.
I personally love the braid, it reminds me of a little crown.
There's a long version here, and a shorter version called 'Punzel'. Hey, I thought it was funny.
The hairstyle comes in eighteen different colors and can be used for any age between teen and elder.
7.

Flynn Rider Sim Build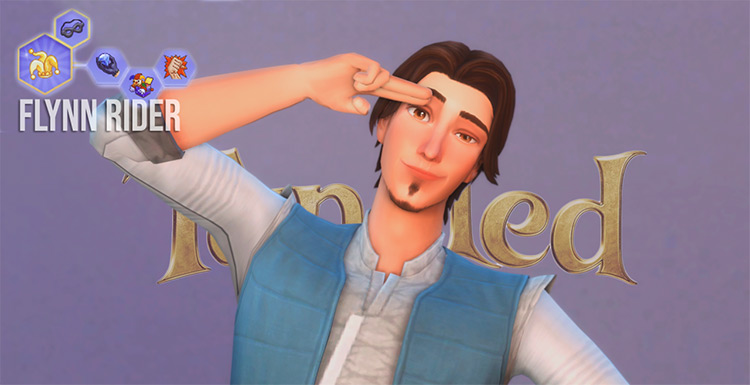 If you don't like making your sims from scratch, here is a Flynn Rider made just for you and your Rapunzel sim.
Flynn Rider or Eugene Fitzherbert?
Whichever name you want to call him, he is the unlikely hero in our girl Rapunzel's story. Of course, Rapunzel is the real heroine here but no one can deny that Flynn/Eugene did his very best to act heroic.
There is also a pose pack for Flynn's salute available to download on this link, so if poses are your thing then look no further
8.

Mother Gothel Dress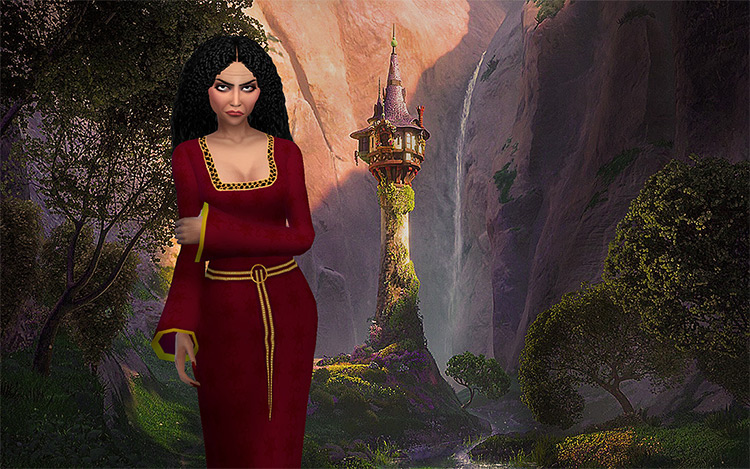 Mother knows best.
How could we ignore the narcissistic "mother figure" of our beloved Rapunzel?
What I liked most about her character design was the little hint at her true age: Gothel wears a medieval gown that was popular in the Renaissance era, which was about four hundred years before Rapunzel's story takes place. Pretty cool!
This beautiful recreation of Mother Gothel's gown features gorgeous hand painted details and comes in a few different color choices.
9.

Indoor Corona Lights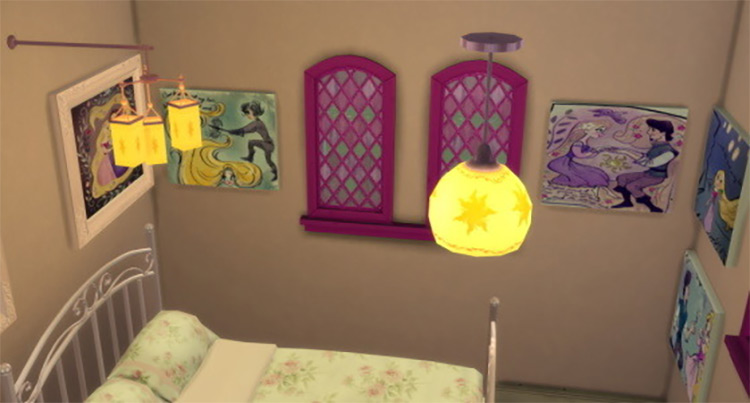 At last, your sim will, too, see the light with this stunning themed lantern CC set.
There are two types of lanterns available to download: a dome light featuring the Royal symbol, and a triple lantern light which needs the Island Living expansion pack to appear in your game.
10.

Tangled – King and Queen Sims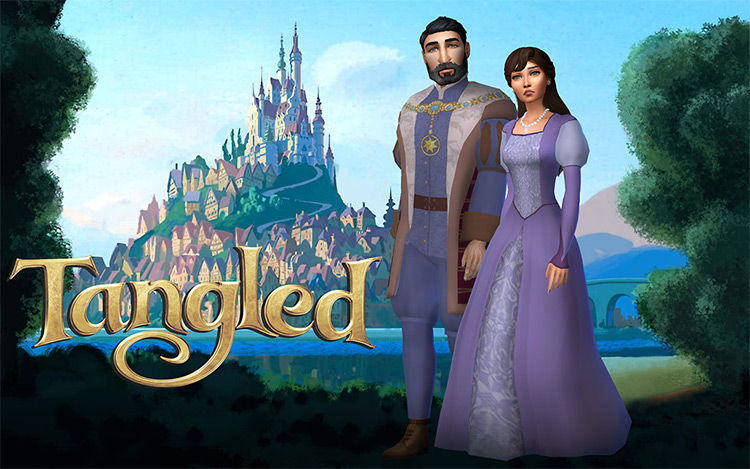 I love the recreation of Rapunzel's parents here and how the creator tried to capture their sad expressions as they wait for their beloved daughter to return home.
I really wish Rapunzel's actual parents got more screen time in the movie, but that didn't make their reunion any less sweet and tear-jerking. This set comes with a dress for Queen Arianna and King Frederic's full outfit.
The King and Queen's outfits come in several different colors, two of which are the outfits they wear to the wedding of their only daughter.
11.

Rapunzel's Tower (Lot)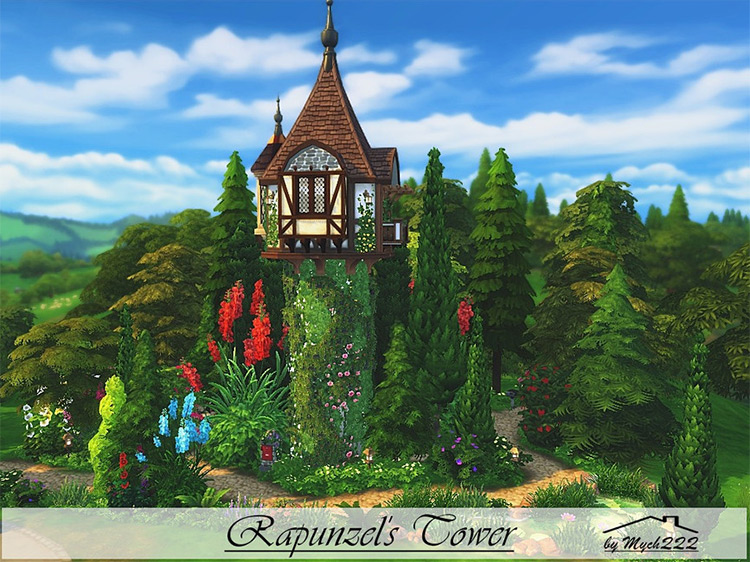 Without beating around the bush, I am awful at building in The Sims 4.
I've tried and tried and it just never looks good. So I'm always blown away when people recreate beautiful buildings just like this one.
This amazing recreation of Rapunzel's tower features one bedroom, one bathroom, and a small kitchen.
I suggest attaching it to a lot with a larger building on it for your sim's parents, or just moving your sim out into it once she turns into a young adult. It's up to you!
12.

Happy Ending Outfits

I truly love the outfits in Tangled.
Rapunzel's are so bright and have such pretty designs, and Flynn's remind me of a swashbuckling pirate. The perfect combination.
Sassymissollie has done us the favor of recreating the outfits from the very end of the film, including Rapunzel's beautiful crown, her pink dress, and Flynn Rider's dark, iconic vest.
Don't forget to download the meshes for the clothing at the top of the page, as well.
13.

Tangled Before Ever After CC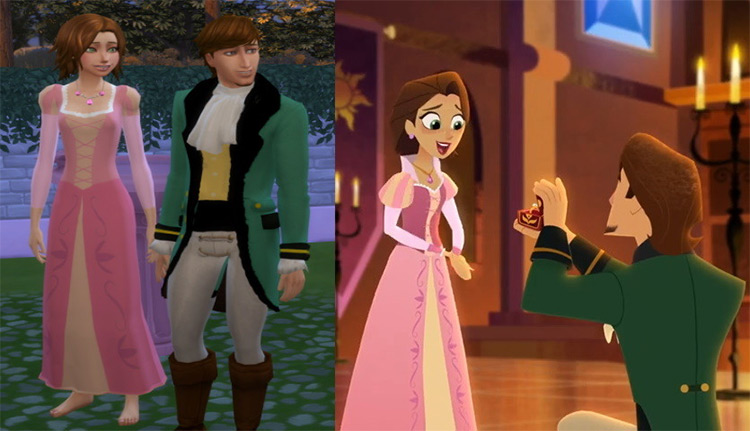 If you are a fan of the movie between Tangled and the short Tangled Ever After, this CC has been designed with you in mind.
The outfits from Rapunzel and Eugene's engagement scene have been brought to simulated life so that your sims can get engaged in style.
Rapunzel's pink dress and Eugene's fancy green and yellow getup have been recreated and are now available for download.
14.

Josephinne Hair (Rapunzel Style)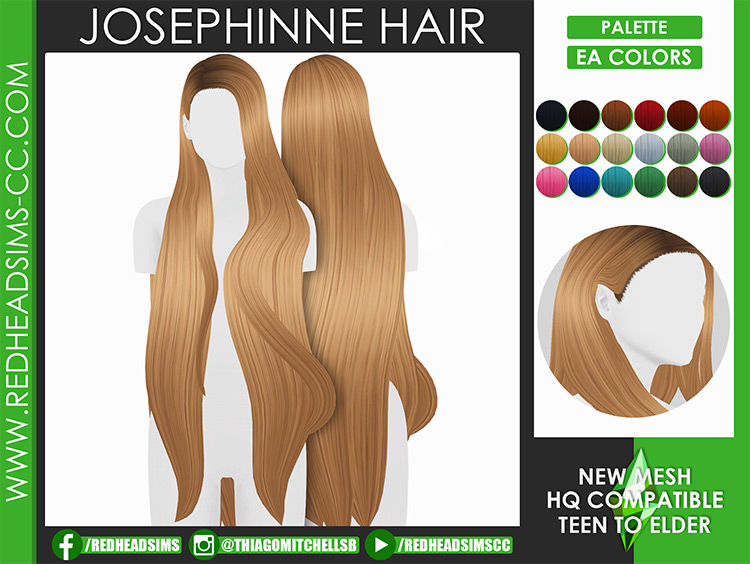 If you are more interested in creating a more modern Rapunzel, this hairstyle might suit your new age princess best.
Let your sim's gorgeous locks roam free with this beautiful Maxis Match hairstyle which mimics probably a quarter of the length of Rapunzel's hair.
Apparently, her hair is estimated to weigh between sixty and eighty pounds. No wonder she's so strong.
15.

The Kingdom of Tangled (Lot)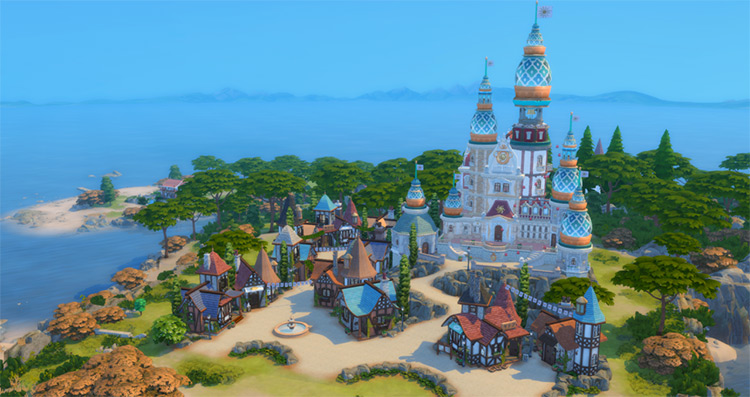 Sometimes I like to save the best for last.
This 64×64 lot is a wondrous recreation of the Kingdom of Corona from the movie Tangled.
This reimagining of Corona features a flower design in the central courtyard made out of stepping stones, a castle with four bedrooms and four bathrooms, a couple houses, and four shops – all of which are fully furnished and decorated.
The lot costs $772,062 Simoleons, which is honestly a steal of a price for an entire kingdom.
Browse:
Disney
Lists
The Sims 4
Video Games