Best Restaurant Clutter CC Sets for The Sims 4
This post may contain affiliate links. If you buy something we may get a small commission at no extra cost to you. (Learn more).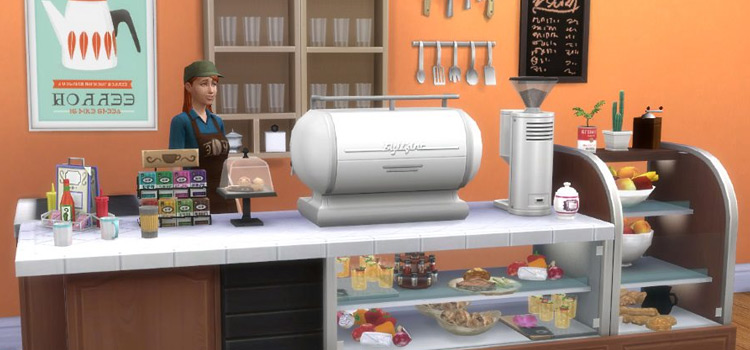 I was so excited when the Dine Out expansion pack came out. I always loved sending my sims out on a dinner and a movie date in The Sims 3, so I couldn't wait to do something similar in The Sims 4.
Then I made the mistake of sending my sims to go out to eat. Does it normally take twelve hours to be seated, eat, and leave in the real world, EA? It does not. I waited such a long time only to realize that the chefs never made it into the restaurant.
My sims also loved getting up to look at wall decor or play the piano. I gave up on the pack entirely. Then I tried it again a while later and my sims were able to have their dinner in a reasonable time, and they're back to regular date nights which they very much deserve.
If you're still having issues with your Dine Out pack, I recommend this gameplay overhaul by Carl's Guides. It's free and it fixes a bunch of annoying bugs for eating out at restaurants and for running your own.
Now that you're ready to tackle restaurants again, you're going to need the clutter to make it feel inviting and realistic. Lucky for you, we've compiled some clutter to make your restaurant shine.
1.

Cute Food Clutter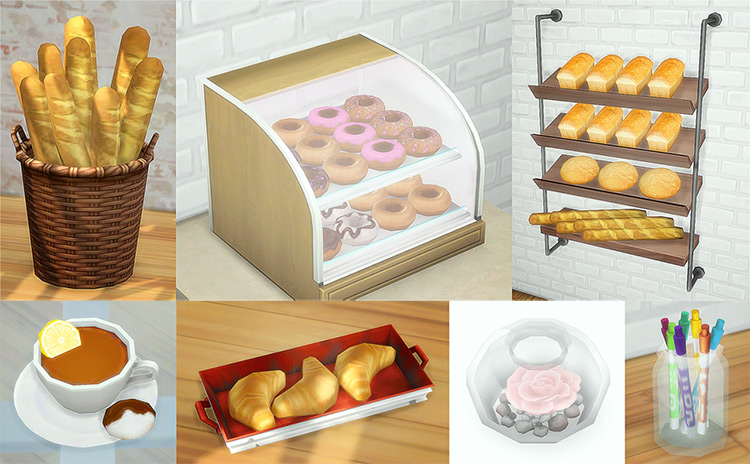 Some of my favorite places to eat have a cute little dessert case next to the register and I'm always tempted to grab one, or two, or three.
This set comes with some adorable clutter like a donut display case, a tray of croissants, and a tea tray with two cups of tea and two tea cakes.
There is also a cooling rack for a few types of bread loafs, a basket of bread, and a tray with a coffee pot and coffee cups. This CC set would be precious in a restaurant that prides itself on its brunch.
2.

Neon Signs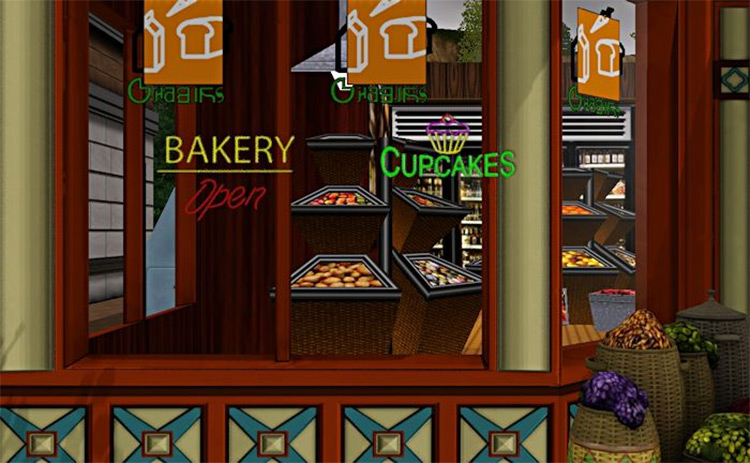 How will anyone know whether your restaurant is open or not without a bright neon sign announcing it to the world?
There are sixteen neon signs in this set that can be used for a variety of businesses. But the Pepsi sign, the cocktails sign, and the traditional open sign all caught my eye of key restaurant decor.
3.

Late Dinner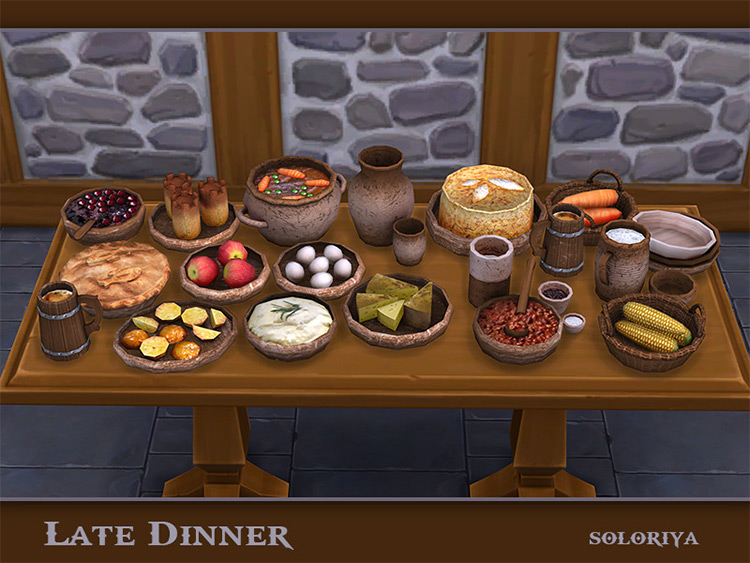 I made a Medieval style restaurant in my save, and placing these dishes around really added to the atmosphere of the place, and made it seem a lot busier than it was.
You can place these on inaccessible tables, in the expo window, or use the deserts to display on shelves. I love the tavern style mugs and like to place them along the bar, and the ingredients look great placed around the kitchen.
4.

Laila Part Two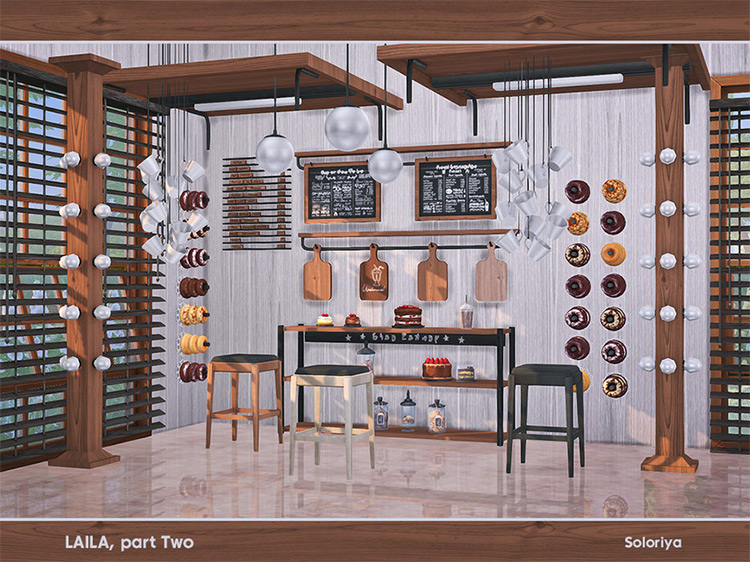 Two words: Donut. Wall.
While the 'daily specials' style chalkboards caught my eye in this set, the wall donuts made this an absolute must. The simplistic menu is super cute, the hanging mugs are undoubtedly unique, and the cutting boards hanging from the wall are innovative and honestly make me a little hungry.
If the donuts aren't your cup of tea, the menus would easily fit in a fancy Italian or French restaurant, a cafe, or even a bakery.
5.

Rioja Kitchen 2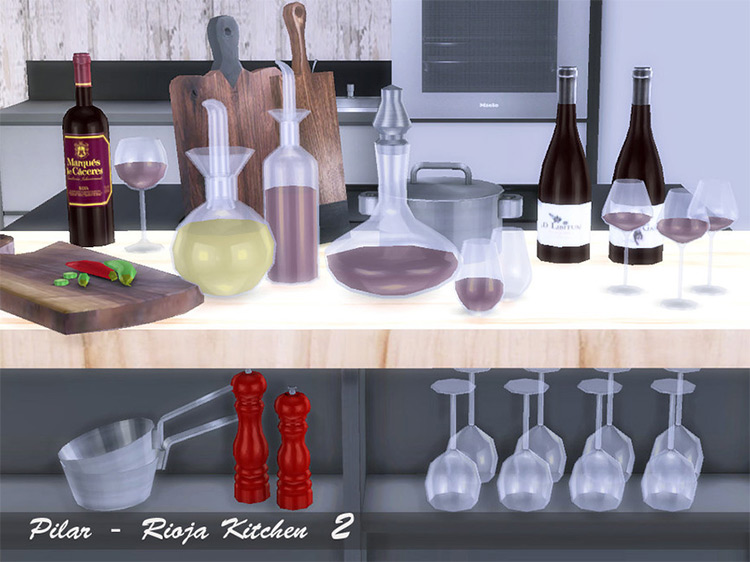 Make your restaurant extra fancy with the lovely wine decanter and glass decor included in this set.
There are also some pots and pans to lie about your kitchen area, along with some cutting boards.
For table decor, this CC offers a salt and pepper shaker in silver or red, some glasses to place behind a bar or on a shelf, a bottle of red wine with a glass already poured, and of course, oil and vinegar dispensers.
6.

Boulangerie Set – Part 1
This gorgeous clutter set has everything you need to decorate the front of your classy restaurant.
All of the décor with words come written in both English and Simlish options, including the signage and front chalkboards.
There are twenty-nine items in this set in total, all of which are base game compatible. The panels with pictures and phrases set into them are absolutely brilliant, and I love that the overhang comes with open and closed versions.
7.

Restaurant Clutter (Trays, Menus, Napkins & More)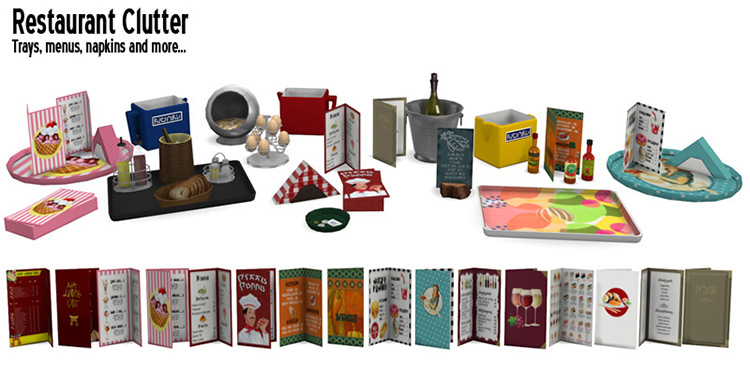 There are twenty pieces of clutter included in this set, including table decor with oil and vinegar dispensers, another with salt and pepper shakers, a large array of menus and some cute trays with retro designs.
I love the menu board loaded with pictures, perfect for a more casual restaurant. There are also some stacks of menus, hot sauce bottles, a bread basket for the table, and some napkin holders.
All the little clutter-y things you wouldn't think of are here, even a 'take a penny, leave a penny' tray.
8.

DIY Restaurant Set (300+ items)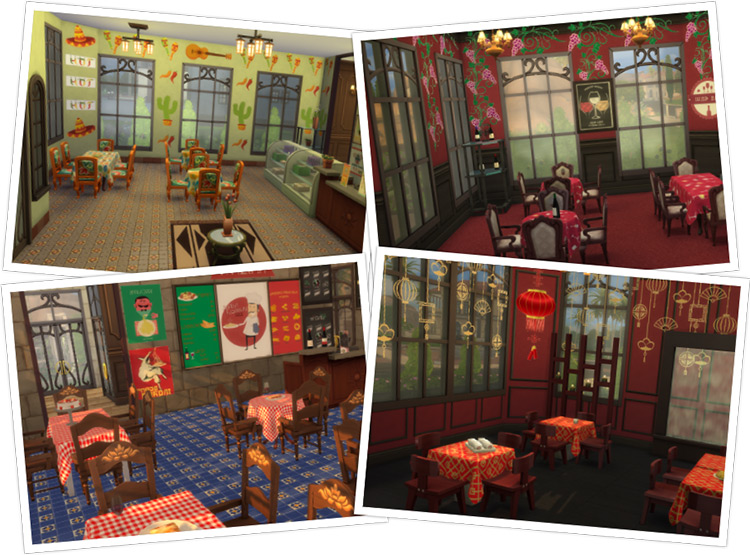 Get ready to be blown away, because this set comes with over three hundred items.
Nineteen decorative food objects, tons of different cuisines, sixty themed wall stickers, fifty-two posters, twelve chalkboards, forty tablecloths, and twenty-two uniforms for your staff to wear.
But wait, there's more!
Over twenty large menus and almost twenty-five smaller chalkboard menus are yours to display, along with a bunch of standing and laying table menus, plus over twenty light up wall signs, and fifty restaurant logos. They are all in Simlish so your sims will feel right at home.
9.

Coffee Shop – Apron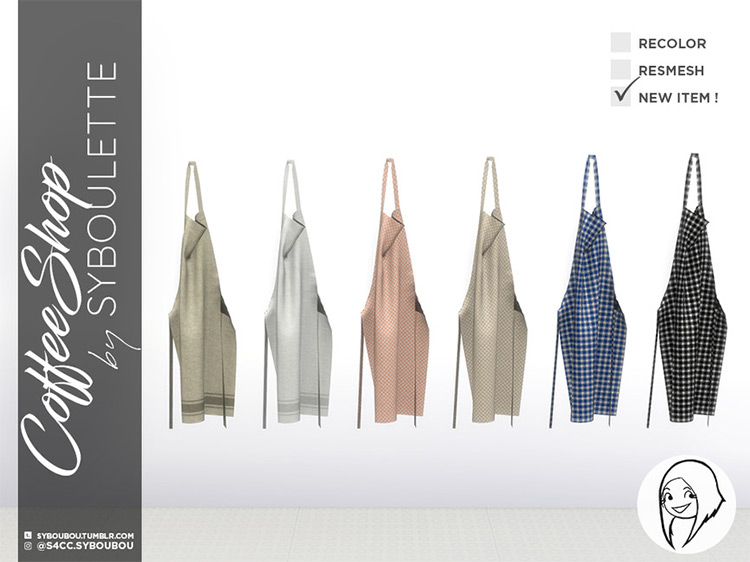 Hang these near the kitchen or by the back entrance to give the feel of staff coming and leaving in your restaurant. Little details like aprons hung along a wall can really help make the space feel more full and lively.
There are six different designs to choose from here, including some cute checkered patterns in black and blue.
10.

A Night at the Movies Collection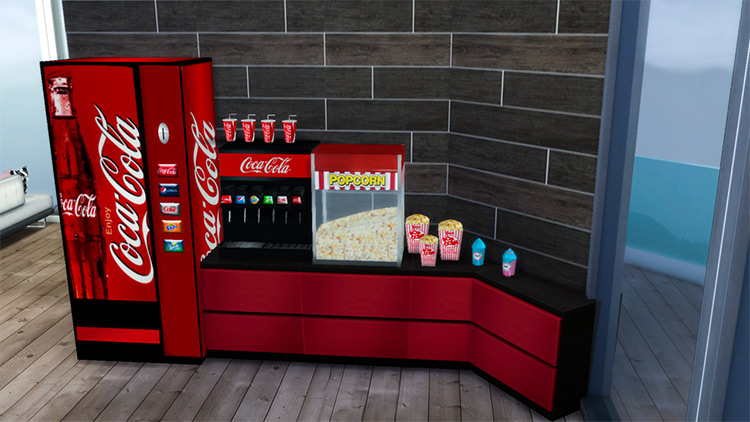 While this set has some pretty awesome decor for a movie theater, like a popcorn machine and slushies, the perfect décor item for your restaurant is the soda fountain.
It may only be decorative, but a soda fountain is such a key part of so many pizzerias and buffets that it deserves to be a part of your quick eats restaurant.
11.

Vegetables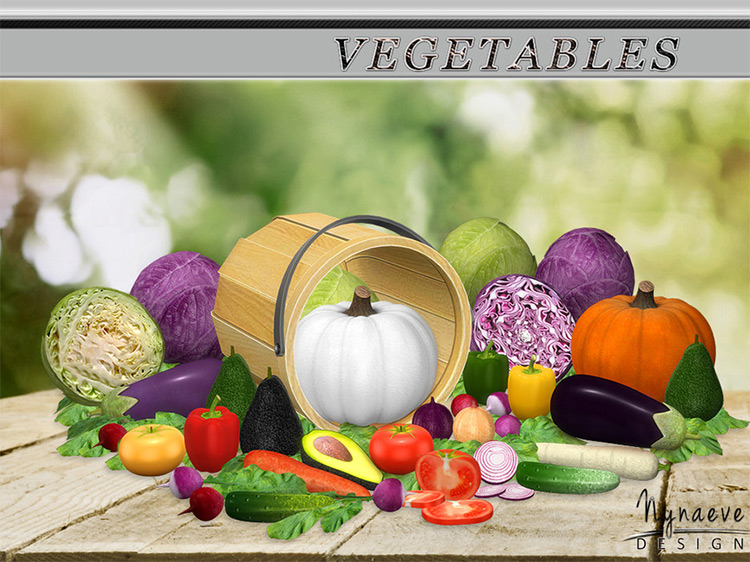 These super realistic deco veggies are great for placing in your restaurant's kitchen.
How will all your sim patrons know that you use the absolute freshest and best ingredients in town? With this little veggie pack, that's how.
The pack comes with fifteen different items including a whole and half tomato, a whole and half avocado, a cucumber, an eggplant, a whole and a half onion, pepper, pumpkin, radish, carrot, a whole and a half cabbage, and a bucket on its side to place them in.
Having the option for veggies cut in half is especially nice to place on a cutting board near a knife in your kitchen, it gives the kitchen a busier look.
12.

Shop Chef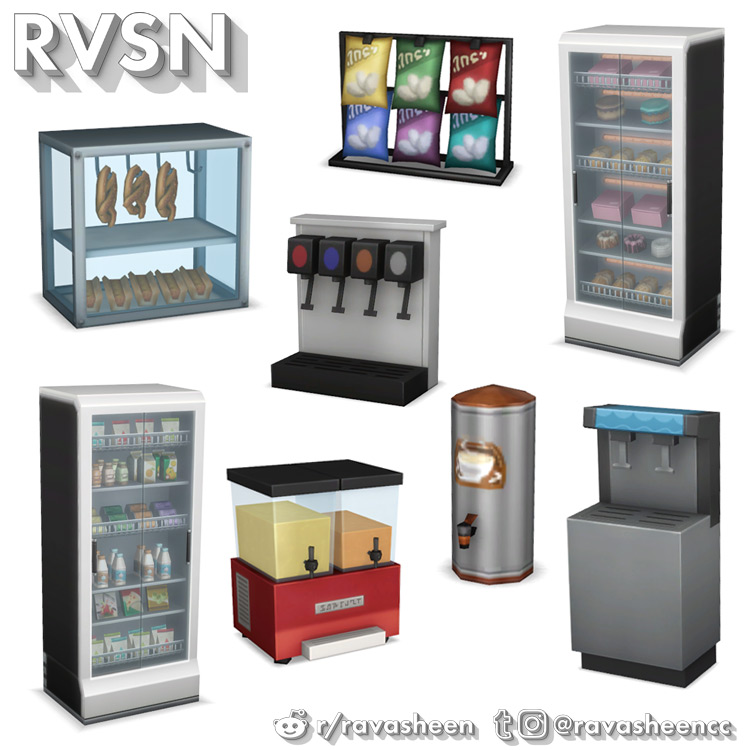 All of these objects can be used as decor or as functional items for your patron sims to purchase food from. How cool is that?
And this set comes with ten items including four different kinds of drink dispensers, a hot snack and chips display your sims can grab from, two fridges, and a warming rack for pretzels and hot dogs.
I like to use the functional drink dispenser in some of my 'buffet' style restaurants, and the dessert fridge in front of my more casual places.
13.

Kitchen Decor Set (TS4)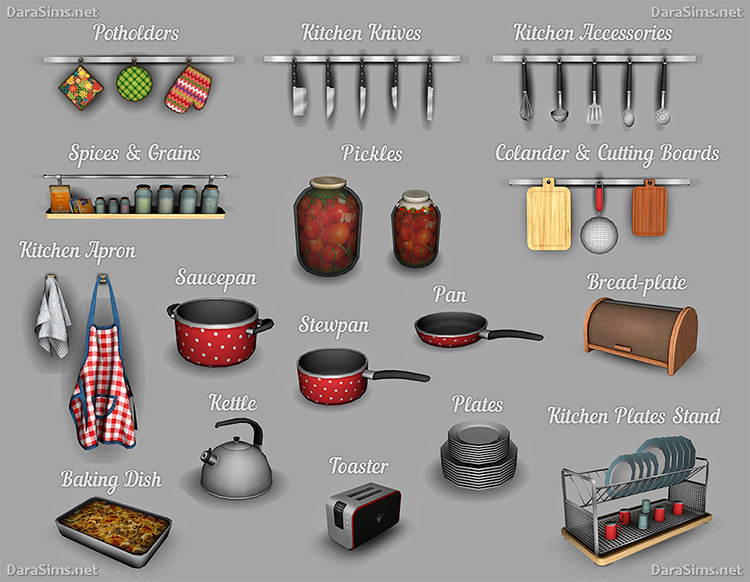 A CC pack like this could be used in your sim's home kitchen, or at your local restaurant – especially the hanging knives, the hanging accessories, and the shelf of spices.
The pans are fun to place on any extra stoves (with bb.moveobjects toggled on, of course) and the pickle jars look great on a shelf over a stove or prep area.
The kitchen plates stand and stack – perfect for placing near the dish wash area, because in a real world busy restaurant those would pile up quickly. There are tons of swatches for each item, so feel free to mix and match.
14.

Vogue Tray Boat Sushi (Décor Only)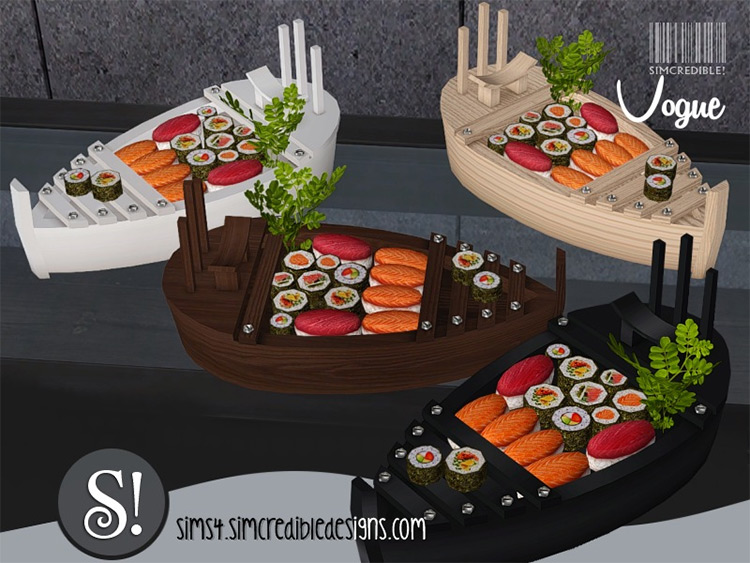 My sister and her husband go get a sushi boat each year for their wedding anniversary, and I was bummed that there wasn't an option for a similar fun food item included with Dine Out.
Granted, this CC item is only décor – but it would be cute to include with a meal on your sim's date nights.
You could also place them on the bar, or on some empty tables in your sushi or Japanese-themed restaurant.
And there are four color options to choose from for the boat.
15.

Enjoy the Lentil Things Restaurant Set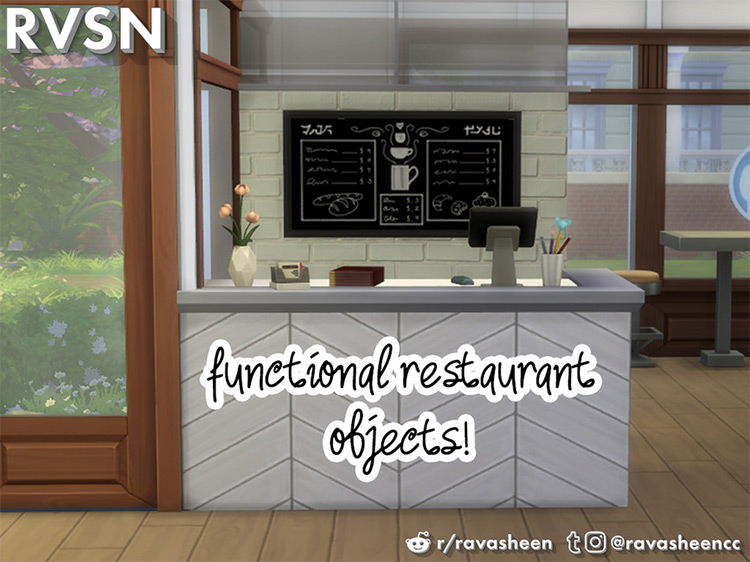 This set comes with some awesome, functional restaurant items like a usable host station monitor, a waiter station insert with some dirty dishes, and an override for the Industro sink.
There are also cute pieces of clutter like a napkin dispenser in three colors, a stack of menus, and a pile of boxes with Simlish for 'cups' on the side.
I'd say these are all some great basics for starting your own restaurant.
16.

Greasy Goods Stuff Pack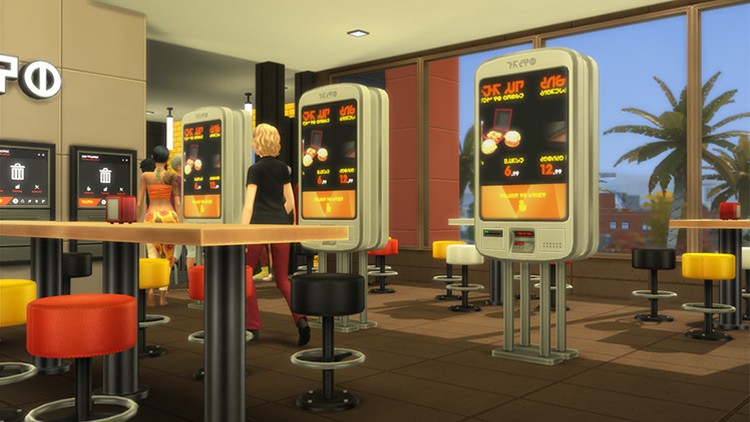 Trying to start your own fast food restaurant?
This pack has literally everything you would want, from decorations for the outside of your building, to the devices and designs to make the inside as efficient as your local fast food place.
Everything is base game compatible too. But if you have the Dine Out pack, then this CC comes with a separate folder to make it compatible with that as well.
And with this set you get seventy different items, including fast food menus, a fry station, hamburgers in and out of the box, and vents to place above your cook stations.
Honestly, this is everything you need to create your own fast food restaurant.
It even comes with wallpaper, flooring, and every piece of furniture you will need. A cautionary 'floor is wet' sign is included, as well.
Browse:
Lists
The Sims 4
Video Games