Sims 4 Rihanna CC: Clothes, Tattoos & More
This post may contain affiliate links. If you buy something we may get a small commission at no extra cost to you. (Learn more).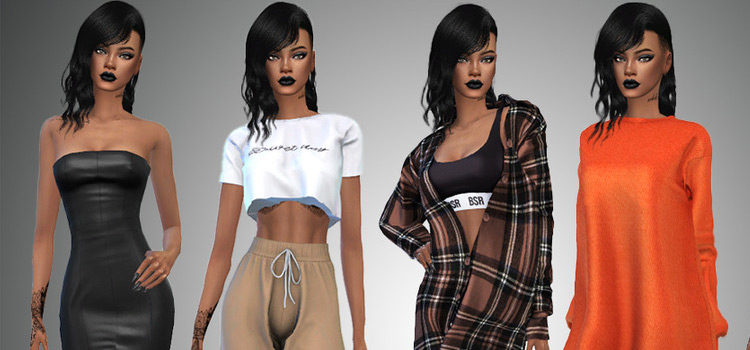 For an 88-liner, Rihanna has made some extraordinary achievements.
As of this writing she's currently the world's wealthiest female musician, plus the creator of one the most inclusive beauty brands, and was the most listened-to artist in my iPod Nano back when it was still a thing.
Album after album, RiRi never misses a hit. Which naturally makes her one of the best-selling music artists of all time (putting her waaaay above Taylor Swift, Eminem, Mariah Carey, and other music greats).
I can't even begin to describe how iconic she is.
But let's start by looking into some iconic CC made after this Caribbean Queen.
1.

2014 CFDA Awards Dress
What would you wear if you were to be crowned by the Council of Fashion Designers of America as a Style Icon?
A ball gown?
Pantsuit?
How about a crystal-embellished see-through dress that leaves nothing to the imagination?
When you have the body and the confidence of Rihanna, such ensembles are less risqué and more IDGAF.
Channel that savage energy into your Sim by replicating RiRi's 2014 CFDA Awards look, courtesy of this fantastic dress.
2.

iHeartRadio Music Awards 2015 Outfit
For an artist as big as Rihanna to perform at the iHeartRadio Music Awards, you don't expect them to come through the front door like any average musician.
Nope, you expect them to come out of a helicopter, rocking a neon green Versace fur coat with matching thigh-high boots and accessories.
I guess when you're as rich as RiRi, you might as well dress like dollar bills.
And here's an outfit your Sims can snag to match that feeling.
3.

Needed Me Transparent Gown
To demonstrate the power Rihanna holds, she wore this transparent gown in the music video of "Needed Me" that was released on YouTube back in 2016.
The media platform clearly states that nudity is not allowed… but lo and behold, RiRi's music video is still up to this day – with over 297 million views.
It's safe to say that YouTube made the right decision to turn a blind eye on this one.
Let your Sim express sheer confidence by downloading this CC, and maybe they too can make it somewhere with a music career.
4.

Fenty x Puma Collection
When Rihanna sang "work, work, work, work, work" it was clearly describing her work ethic.
Being one of the most influential artists in the 21st century wasn't enough for RiRi.
So she conquered the fashion industry by becoming Puma's creative director for their womenswear collection.
And based on the CC above, it's obvious that she has a knack for creating innovative and profitable masterpieces.
Get this Rihanna-led CC collection for your Sim's next workout at the gym.
5.

ANTI Crown
What do you get with Rihanna as the executive producer, backed by Jay-Z's Roc Nation?
You get Anti, arguably the best album in Rih's entire discography.
We all know the hit songs it contained: "Work," "Kiss It Better," "Desperado," and many more.
But who could ever forget the iconic golden crown over a young Rihanna's eyes in the cover art?
Apply the marker of music royalty on your Sim with this ANTI Crown CC from creator SLYD.
6.

Danger Hairstyle
Rihanna has had multiple hair transformations since she released her debut single "Pon de Replay" in 2005.
She dyed her hair blonde, rocked the early 2000's side bangs, and even had a Kris Jenner-like hairstyle.
But it was during her Good Girl Gone Bad era that she popularized the layered bob that dominated our TV screens through multiple replays of "Umbrella."
Now you can give your Sim a 2007 Rihanna makeover with this hairstyle CC by Nightcrawler-Sims.
7.

Fenty Beauty Lipstick
We've seen countless artists and beauty gurus try their luck in delivering a profitable makeup collection.
Some succeeded, others embarrassingly flopped (I'm looking at you, Jaclyn Hill), while Rihanna is in a league of her own.
Fenty Beauty is now a household name in the beauty industry, thanks to its groundbreaking 40 inclusive shade foundations release.
Rihanna then released the Mattemoiselle Plush Matte lipstick line to add to the collection, which showcased bold shades.
And with the efforts of CC maker fifthscreations, these lipsticks are now available for your Sims to enjoy too.
8.

Fenty Beauty Clutter
Before Fenty Beauty came to be a major player in the beauty industry, makeup companies commonly offered 10 shades of beige.
There weren't a lot of options for those with darker complexions.
And so Rihanna decided, "to hell with that, let's make 40 foundations for every flesh color."
The success of Fenty Beauty was unprecedented, and it showed that RiRi is as good of a businesswoman as she is a performer.
And this Fenty Beauty clutter set has a lot to love: 15 items, no required meshes, and plenty of unique things to busy up any room.
9.

Rihanna's Tattoo Set
Rihanna has a hefty set of tattoos from head to toe.
According to her official wiki fandom site, she has 21 known tattoos all over her body.
Well this Sims 4 tattoo set only has 16, but rest assured that it's enough to convince any naive Sim that you're a Barbadian superstar!
And if you're trying to build your own Rihanna in CAS, these tattoos are a must-have.
10.

Rihanna CAS
Let's wrap up this list with a realistic render of Rihanna for The Sims 4, pre-made and ready to go.
MrandMrsSims has done a great job copying the likeness of bad girl RiRi. And it shows.
From those bedroom eyes to her plush lips, and the exotic skin complexion, this CAS allows you to bring music royalty into your simulated wonderland.
Plus this CC is designed in a way to fit the Maxis Match aesthetic – so she'll blend into any neighborhood you want.
Browse:
Lists
The Sims 4
Video Games