Sims 4 Rings CC: Best Ring Accessories For Men & Women
This post may contain affiliate links. If you buy something we may get a small commission at no extra cost to you. (Learn more).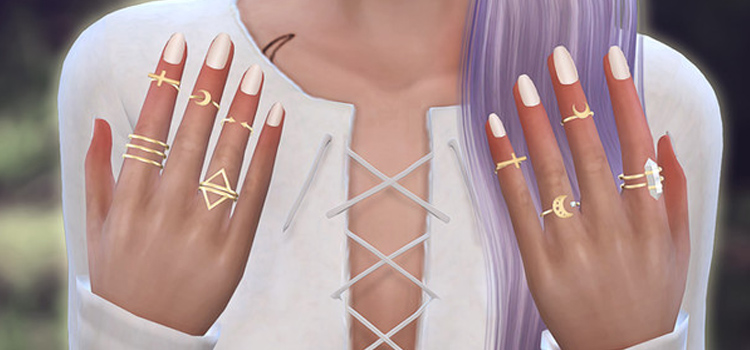 Accessorizing is a surefire way to add some points to your Sim's look.
Jewelry, or as the kids call it today "bling", is the perfect accessory for everyone. But a crowd favorite?
Rings.
Always a great statement piece, won't overpower any look, and it's fun to hold your knuckles out and show them off (especially that big wedding ring!)
You don't want your Sims to look like Plain Jane or Joe Schmoe, right?
Then let's check out some custom rings you can add into TS4 for guys and girls alike.
12.

Entwined Ring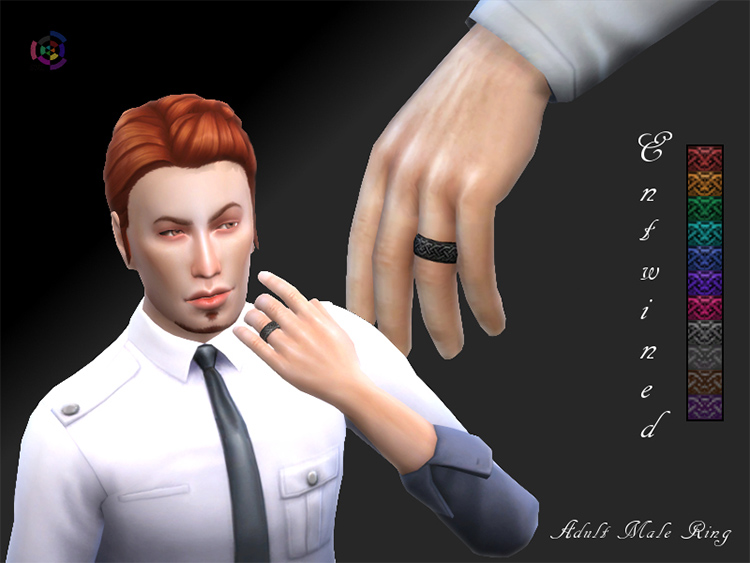 Traditionally, women wear rings more than men – unless the guy is of royalty, in the mob, or the pope.
But nowadays more men have warmed up to the idea of wearing rings.
If you want to dip your Sim's toes to ring-wearing, this Entwined Ring CC by SuperNerdyLove is a great piece to start with.
It's subdued, but not boring, with a Celtic pattern covering it over.
Choose from 11 darkened hues, or match with brighter colors such as turquoise and magenta if you're feeling a bit more daring.
11.

WM Rings 201702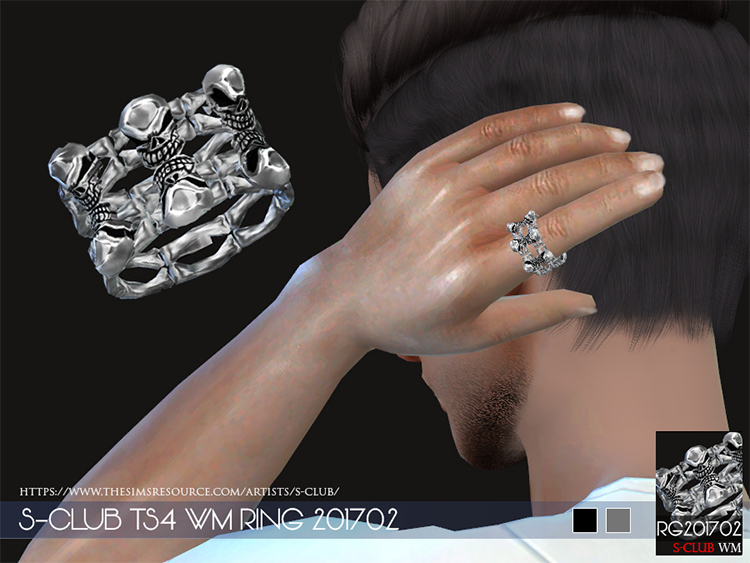 A statement ring's purpose is to make a statement. It's meant to catch some looks, and maybe even serve as conversation starters.
It's not for subtlety!
Well what screams badass (or devotion to the dark side) more than that? Skulls.
They're not as Halloween-y as you'd think.
Actually they symbolize fearlessness and protection.
S-Club's WM Rings 201702 has not 1, not 2, but 6 fierce skulls featured on it.
If that doesn't scream fearlessness, I don't know what does.
10.

Elegant Ring with Diamonds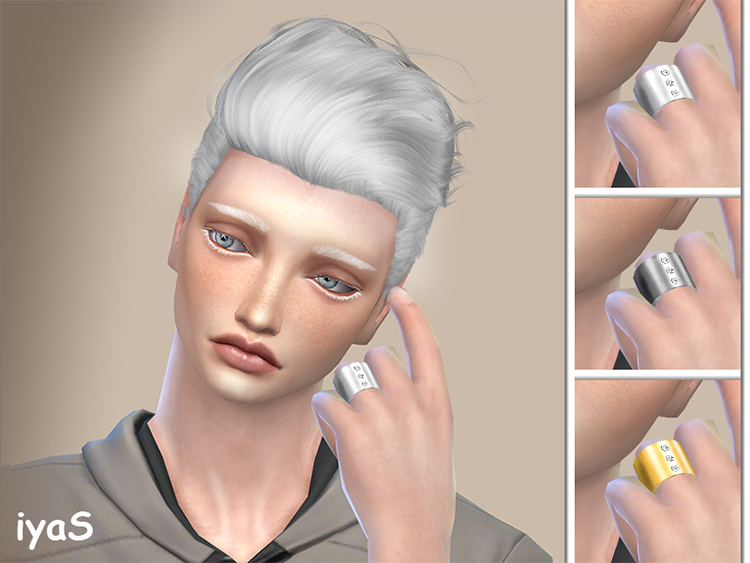 Oh wow, you thick gurl!
Um, obviously we're talking about this ring CC by creator Soloriya.
Look at this thick band, with three small diamonds to ramp up the class. And with three variations: white gold, silver, and gold.
This would be best-suited for elder Sims, heads of houses, or mafia lords.
9.

Enigma Rings
You'll never outgrow being a punk kid.
True blue punks are non-conformists. So while you may move on from the lifestyle, there will be traces of it left.
Show off your punk roots with these Enigma Rings from Praline Sims.
Better be careful, though. As you may stick other Sims with those pointy ends.
You get two variations of this ring in the CC set: 1 with only one spike, and another with three of them.
You can wear them on each hand, or why not both? At the very least it's a kickass weapon!
Take your pick from 10 metallic swatches.
8.

Valor Rings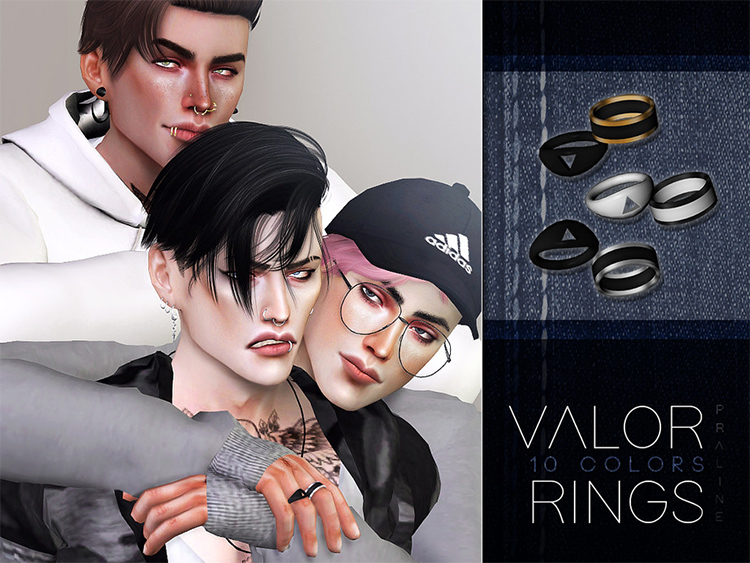 The Valor Rings are another Praline Sims creation that are real-life conversions.
They're simple enough not to distract from your look, but stylish enough to complement it.
Black reigns the color palette of this set. And men gravitate towards black rings because it just feels strong.
It's also a top choice for those who don't like the look of shiny metals, as they're usually made from tungsten and titanium. All of the rings in this set will go well with an all-black err'thing ensemble.
7.

Simple Jewelry Ring – Round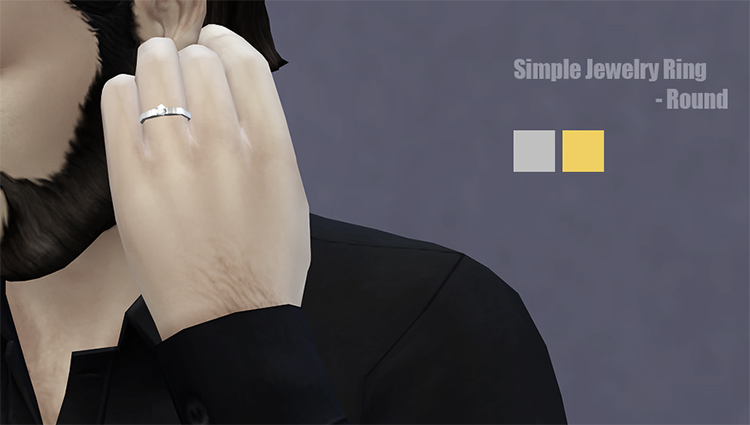 We can hear you already:
"My sim is a simple man. I just want a simple ring."
Well because we love our readers – a simple ring you will get.
You can use this CC as a default wedding ring, or maybe when you just want to wear a little bling.
Just a slim ring with a tiny diamond in the middle that comes either in silver or gold.
6.

Emerald Cut Ring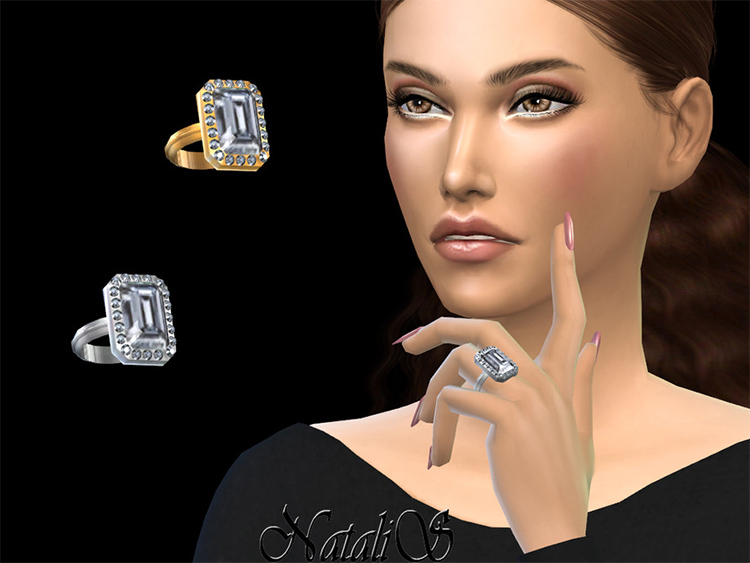 Now it's the ladies to shine as we reach some of our favorite ring CCs for the girls.
In engagements, some people believe that the bigger the rock, the bigger the love.
We all know that's not true… but we still can't help but gawk at rings with huge jewels.
If size matters, there's no bigger rock than what's in the Emerald Cut Ring by Natalis.
This is a ring truly worthy of a whirlwind engagement. Smaller round ones surround the emerald cut diamond.
Choose from white gold and gold variations, and practice brooding with your face resting on your ring hand.
5.

Boho Rings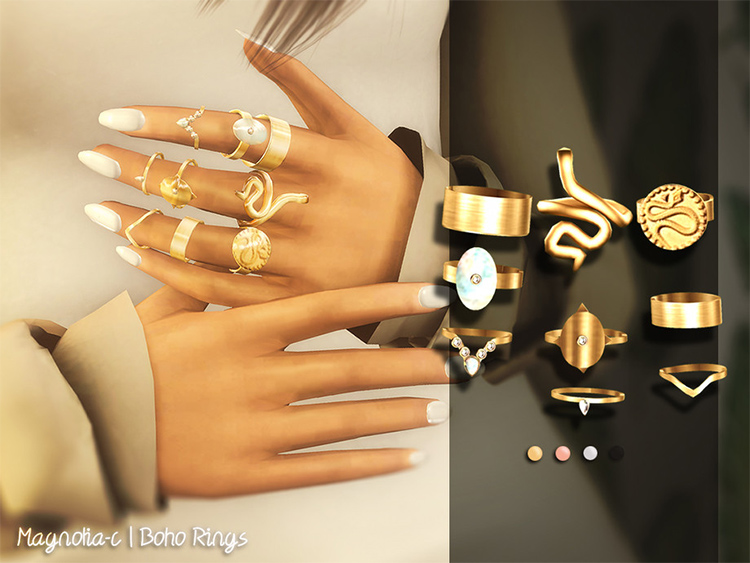 Stacking rings is another trend for firm non-believers of over-accessorizing.
The key to creating a perfect layered look is to stick to one style. You can go crazy on different textures and designs, though!
Keep your Sim's ring stacking game strong with Magnolia-C's Boho Rings CC set.
Get a mix of standard and midi rings in this set, with boho designs that are different, but somehow make sense together.
These rings with four colors can be found in the left-hand category.
4.

Thorned Heart Bracelet and Ring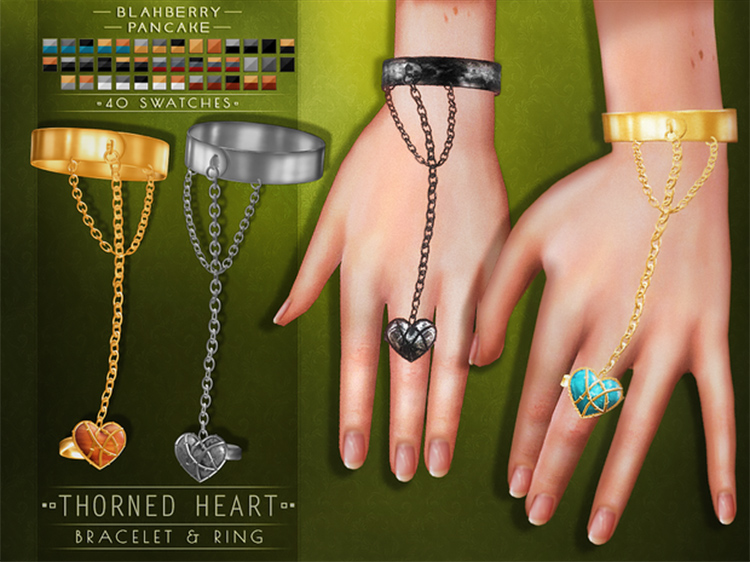 They say wear your heart on your sleeve.
Well your Sim can wear their heart chained from their sleeve, so it still has support. You're free to quote us on that.
Blahberry Pancake's Thorned Heart Set includes the Thorned Heart Bracelet and Ring, which is – you guessed it, a connected bracelet and ring combo.
They're connected with a chain looped at both ends.
The bracelet is plain, but the ring is a delicate heart-shaped gemstone encased in metal. Get a whopping 40 swatches here, the majority of which offer beautiful color combinations for both elements.
3.

Three Spikes Ring
Heavy is the head that wears the crown.
So why not wear it on your finger instead?
We know we can't wear crowns every day. Well, maybe.
But when push comes to shove, just flash this Three Spikes Ring by NataliS.
It's an open ring that resembles a crown fit for royalty. Look how it shines, with any of its six colors in silver and gold, because of its high polish finish.
It's only a matter of time before they formally address you as M'Lady.
2.

Razor Rings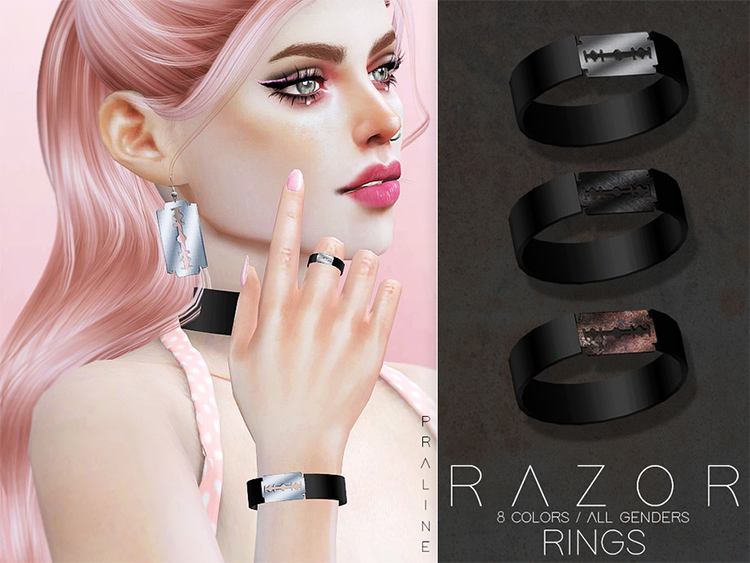 Studs. Skinny jeans. And headbanging.
These were the ingredients chosen to create the perfect punks.
But someone in Washington D.C. accidentally added an extra ingredient to the concoction… emotions. Thus, the emo kids were born!!
If you're still an emo kid at heart, you'll love these Razor Rings by PralineSims.
These belong to the Razor Accessory Kit which also includes other razor-themed accessories.
For just the rings set, you'll get eight colors, each set in black bands—wearable by both male and female emos.
1.

WM Rings 202005
If you're looking for the ultimate engagement ring… look further.
Well, engagement or every day after. This is a beauty.
Heck, even if your Sim gal is still single she might love this.
S-Club's WM Rings 202005 are drop-dead gorgeous.
The round cut ring adorned with small diamond studs will be enough to make even the most commitment-phobe say yes.
There are six swatches here for unique tastes, but you'll never go wrong with the classics: white gold and gold.
Browse:
Lists
The Sims 4
Video Games