Sims 4 CC: Ripped & Torn Shirts (Guys + Girls)
This post may contain affiliate links. If you buy something we may get a small commission at no extra cost to you. (Learn more).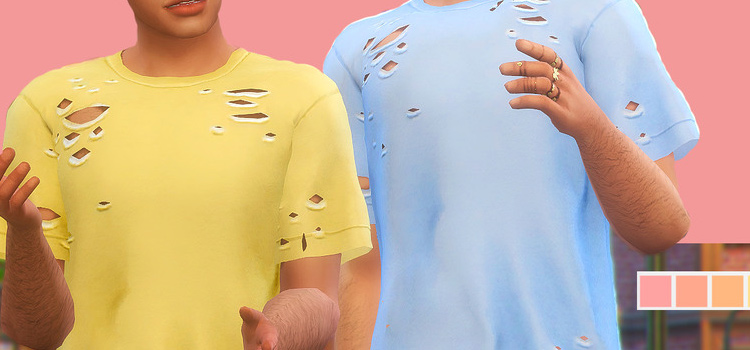 What do your Sims need ripped shirts for?
No clue. I mean, I can think of some instances (especially if you're a Sims storyteller). But if we're speaking practically then, no; I can't actually name a sensible instance where damaged garments would be necessary.
Then again, this is The Sims 4. Since when has sensibility been a priority?
So here you go; torn tops for Male and Female frames — fresh out of the TS4 CC oven.
1.

Apocalyptic Ripped Tank Top by Bill Sims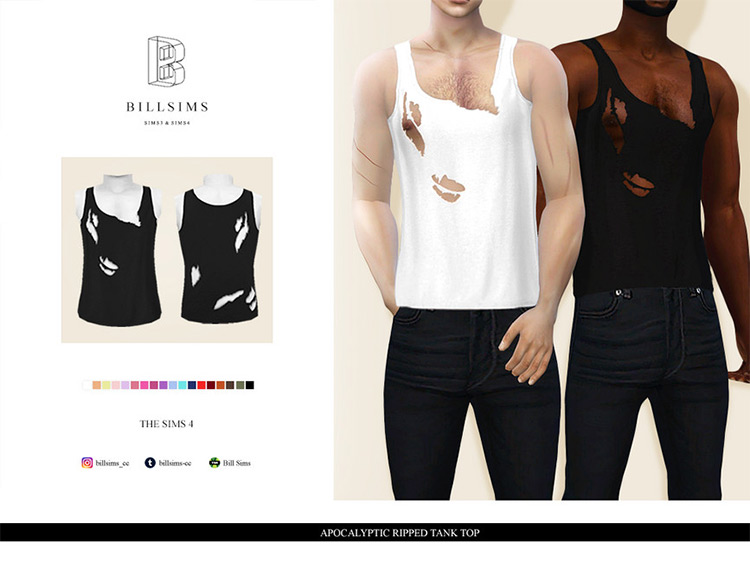 Bill Sims takes the concept of "wash and wear" to a whole new level with this Apocalyptic Ripped Tank Top. It's worn thin, fraying at the edges, and is literally three snapped threads away from becoming rags. Or bandages.
Hey, in an apocalyptic setting, your Sim's gotta reuse everything they can.
2.

Apocalypse Toddler Collection RPL43 by RobertaPLobo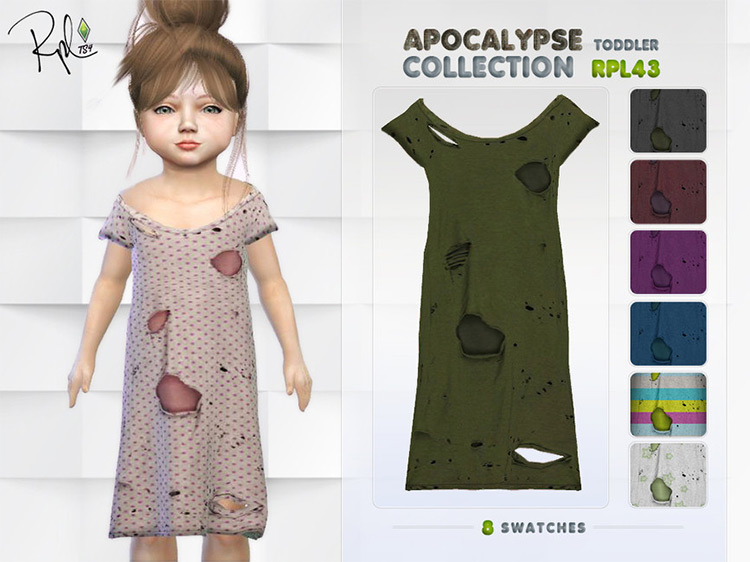 As bleak as this concept is, here's a toddler-sized ripped tee to match Bill Sims' Apocalyptic top.
It's a loose, duster-like oufit desperately in need of mending.
There are a couple baby tears 'round the sleeves and a slightly bigger rip at the hem, but it's nothing a decent patch job can't fix!
3.

Eirene Top by belal1997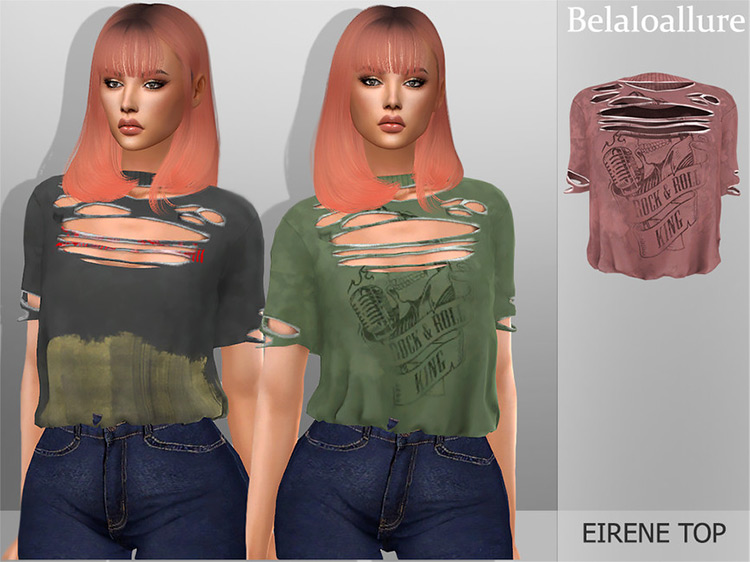 Unlike the first two items, the tears in this top are less "apocalyptic" and more "style."
(I think the term is fashionably distressed.)
Whatever it is, it does look pretty cool. It's like an artistic mix of modern grunge and urban edgy, which is an aesthetic many can appreciate.
4.

Matthew Ripped Top by Kleos Sims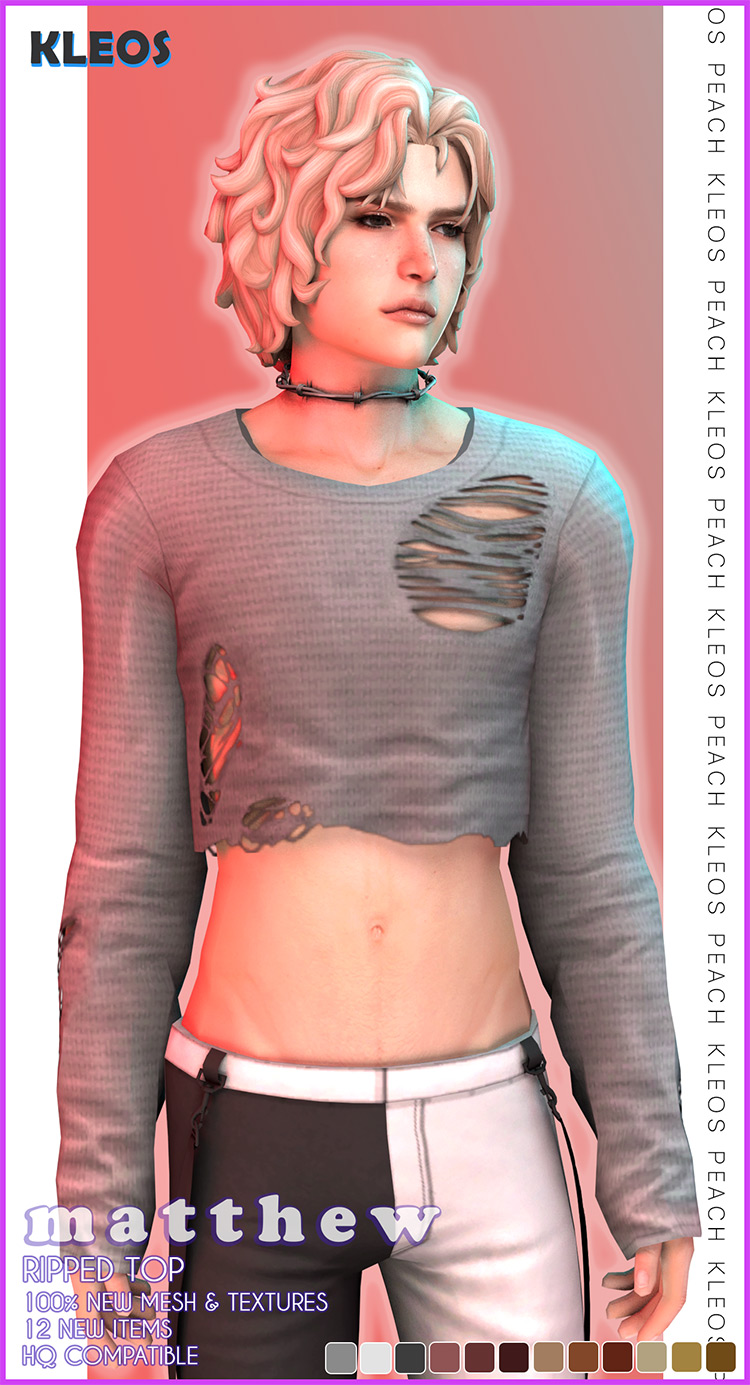 I have no idea how fashion designers (and content creators!) can make a literal scrap of fabric look good, but there you go.
A ridiculously fetching cropped sweater with just enough rips and tears to make it look stylishly worn.
To Kleos Sims' credit, the detail is pretty impressive.
Even the rips have rips!
5.

Full Moon Top by Trillyke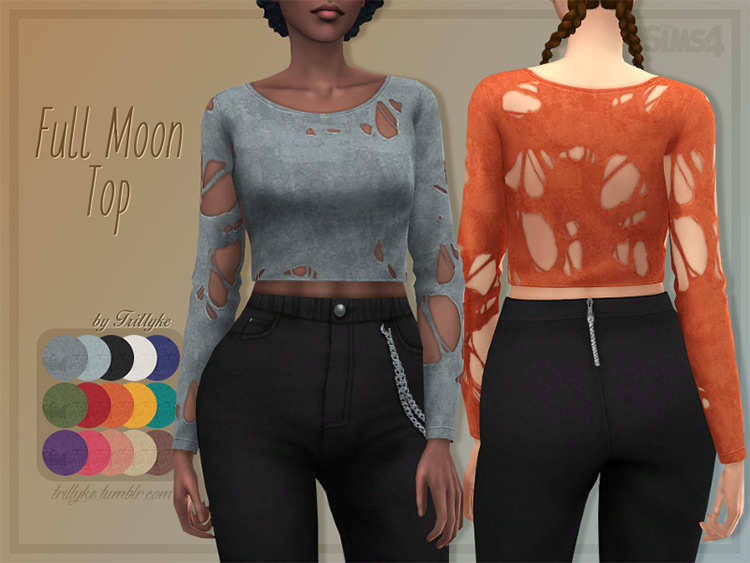 Trillyke released this torn sweater way before EA announced the Werewolves pack, so they definitely knew what was up. Given the name of the shirt (Full Moon Top) and its wrecked-beyond-repair status, one can work out the story themselves.
Really; it's a ridiculously clear picture.
Highly recommend for grunge-y fashionistas and lycanthropic Sims!
6.

Rinoa Sweater by Sentate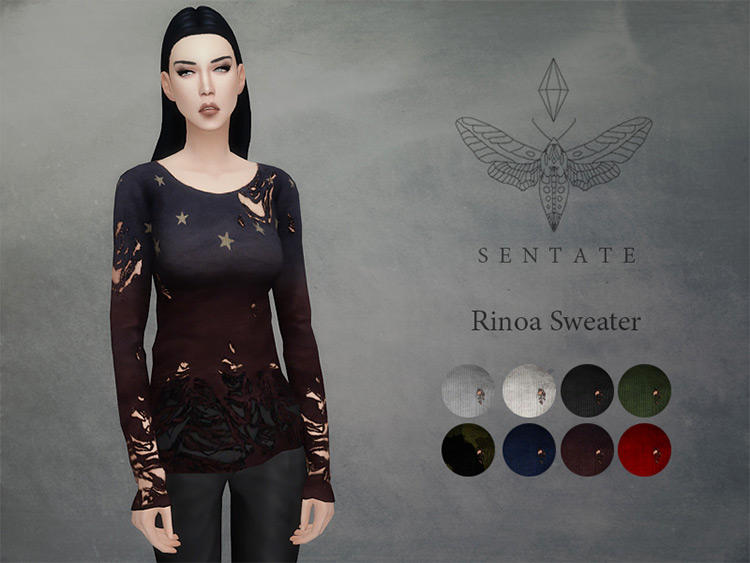 The rips on this sweater are definitely there for design. They're too dainty, too pretty, and too artistically located to be the product of wear, tear, and/or unexpected disasters.
I mean, the tears around the hem of the sleeves are especially enchanting; they look like lace!
7.

Dirty Ripped T-Shirt by alialsim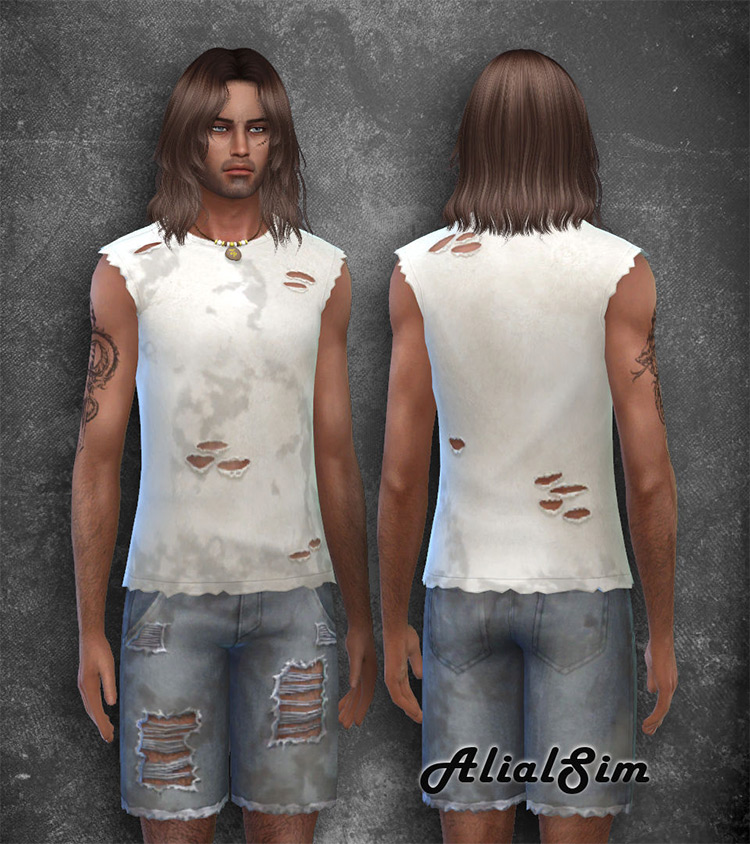 This muscle tee's just got a couple rips; nothing too terrible! I mean, it also has a couple stains and some signs of obsessive wear, but a quick rinse in soap and warm water is more than enough to fix it.
The style is definitely utilitarian and no-nonsense.
Not quite in the realm of post-apocalyptic fashion but also unarguably a far cry from stylishly distressed.
8.

Ripped Tee Recolor by Solar Moodlet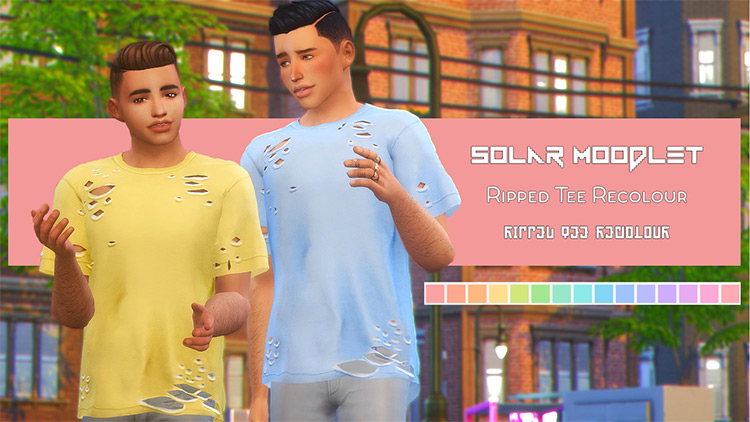 This recolored and retextured tee by Solar Moodlet is also pretty tame!
It's a Maxis Match version of Nitro_Panic's Ripped Tees Male shirt with fifteen pastel swatches from Noodles' Sorbet palette and multiple tiny tears. It's a simple – and interesting – design that could actually fit some Sims' definition of "casual, every day wear."
9.

NP x Ripped Dress by Nitro_Panic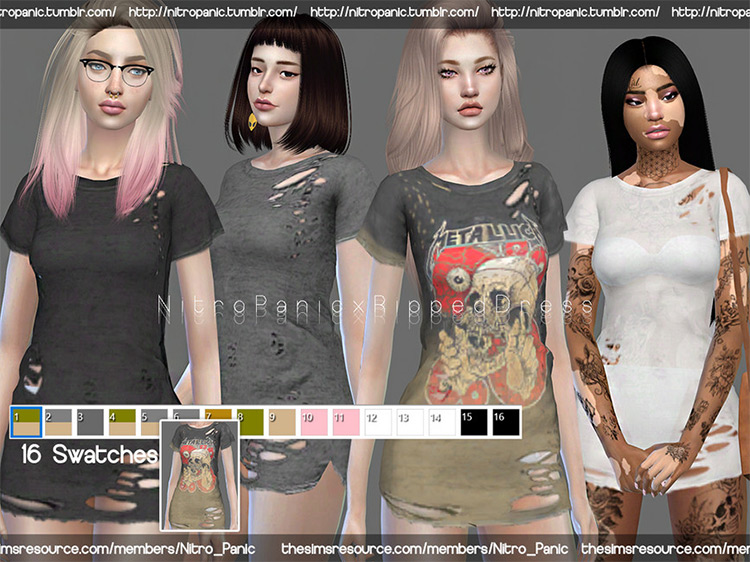 This ripped dress by Nitro_Panic is the proverbial lovechild of edgy and grunge.
With a sprinkling of post-apocalyptic panache for flavor.
It's got 90's rock band print (a swatch of it, anyway), a ripped hem, and just enough visible tears to look fashionably worn thin. No clayified retexture for this, but I think the original photoskinned look works quite well with the whole ripped urban vibe.
10.

Ripped Tees II by Nitro_Panic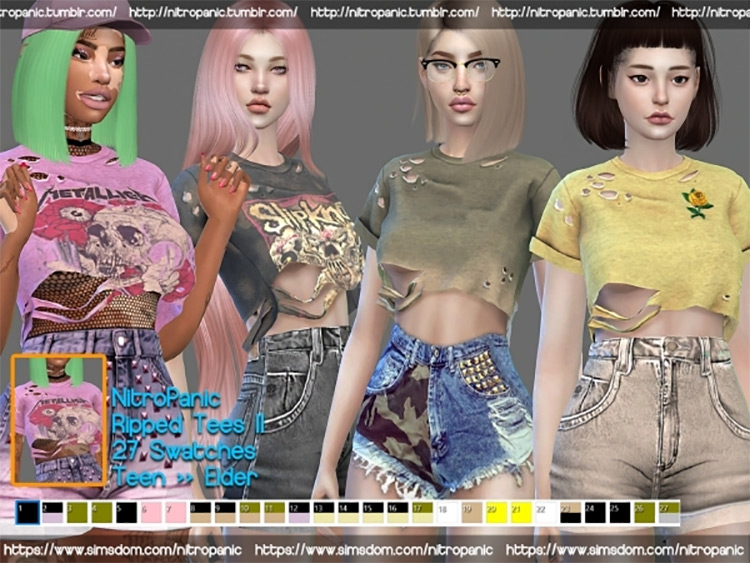 This top is similar to the creator's own NP x Ripped Dress CC: 90's metal rock band print and strategically-located holes that turn the dress from old and worn to peak modern-grunge fashion.
Its cropped shirt status makes it a little more versatile and wearable than the Ripped Dress, but the vibes – disenfranchised teen in ragged street-style clothing – are definitely the same.
11.

Vintage Sweatshirt F by jinhee_a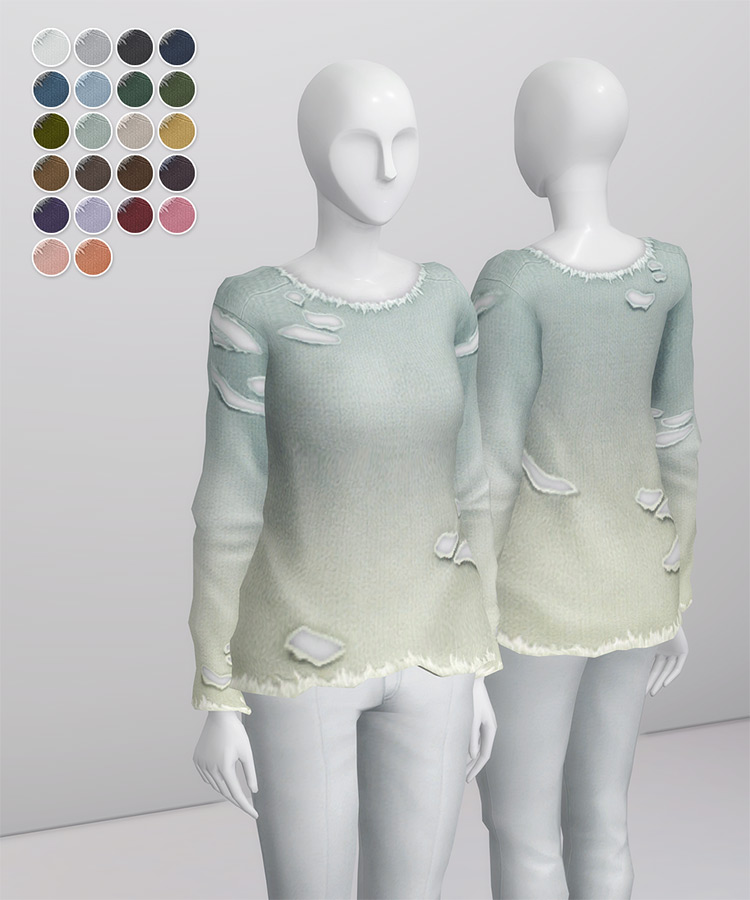 Aside from the clean rips and torn hems, what really stand out about jinhee_a's Vintage Sweatshirt are the color options.
There are 22 total swatches. And most of them are soft, lovely gradients.
You would never guess just looking at the swatch previews since all of them look like solid colors. But flick through the catalog and you'll see a lot of sweaters sporting beautifully blended colors.
12.

Ripped Sweater by elliesimple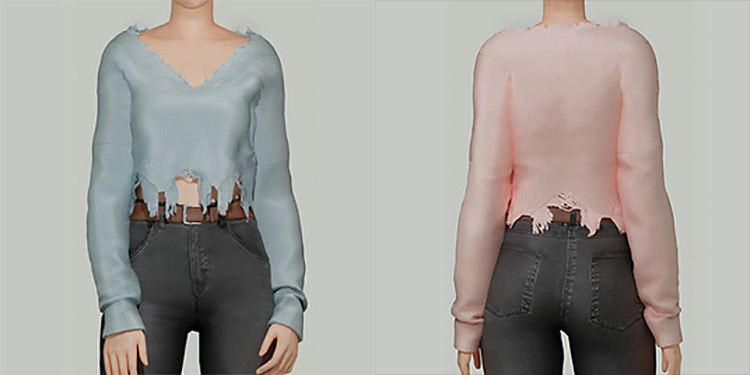 This sweater doesn't have holes that need darning or patching.
It instead has a stylishly ripped neckline and a very, very, very distressed hem.
To be fair, there's a bit of a pattern going on with the choice fraying. But overall, it looks like someone tore at the dotted line instead of cutting along it.
At least no one can say that it's not unique!
13.

Nocturnal Ripped T-Shirt by WistfulCastle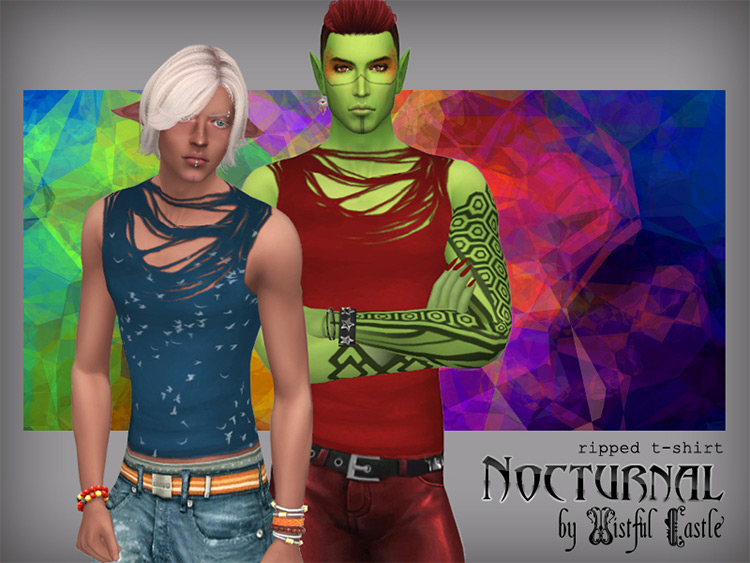 The neckline of WistfulCastle's Nocturnal tee is so thoroughly ripped, it's reminiscent of string cheese.
I don't know how you achieve tears that long and that close together, but I imagine there's a fair amount of skill involved.
14.

Austin Shirt by belal1997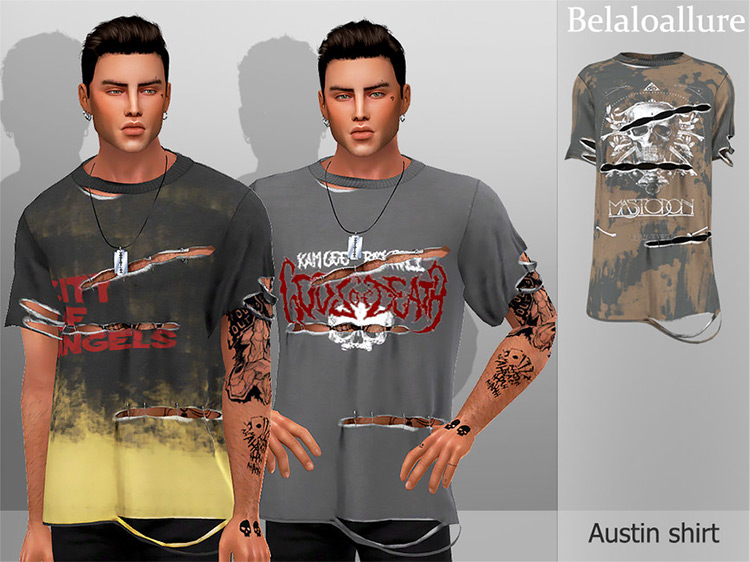 Who is Austin and why is his shirt ripped?
No clue.
But if you – or your Sim – are ever in the market for some prime ragtag duds, belal1997's Austin Shirt checks all the boxes.
Rock/metal band print, thin, easily-worn-down material, and faded-camo-print-esque colors.
Add the concerning number of holes and rips scattered freaking everywhere and, Houston, we have a winner.
15.

MONO Post Apocalyptic Top by Helsoseira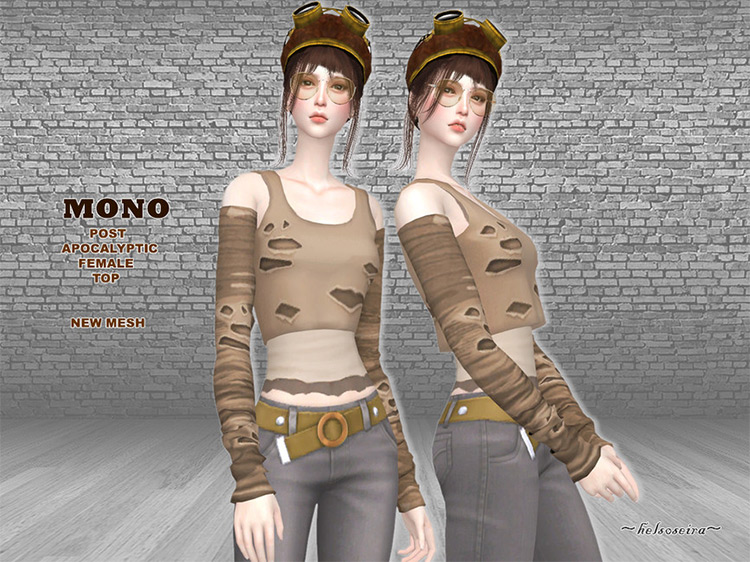 Here's another one for the 'Damaged Due to Apocalypse' department: simple tank top in earthy, easy-to-camouflage colors, adorned with random holes and gashes.
It looks cute, but it's definitely not a fashion statement.
And it might not guard against the cold but, hey; it's better than running around full nude.
16.

JESS Top by Plumbobs n Fries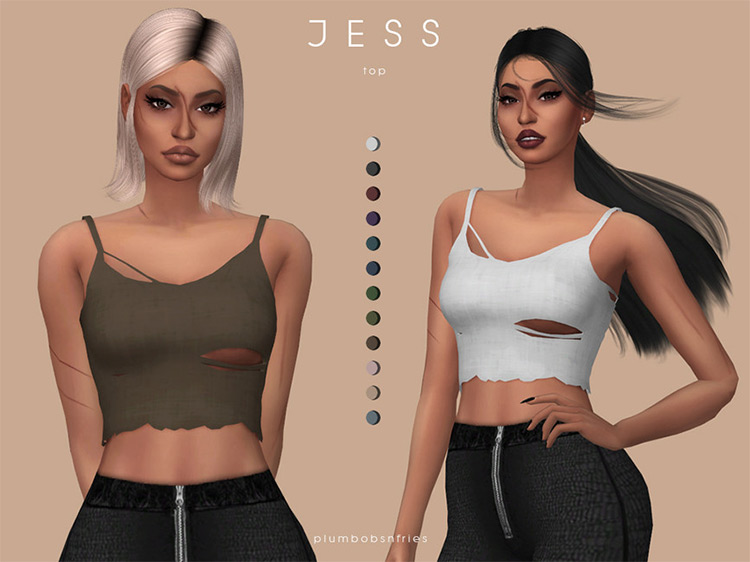 Funnily enough, this JESS top sort of feels like Helsoseira's post-apocalyptic MONO top.
It's a simple cropped tank top in earthy colors with random holes and rips. In fact, if you slapped some bandages beneath it and paired it with bicep-high arm warmers, I think you'd get roughly the same outfit!
So if you need apocalyptic closet staples, this custom shirt's a prime choice.
17.

0Mile Sweater by MMOutfitters
What I'm after on this masterpost is Ayoshi's 0Mile Sweater (second bullet in the Download list, fourth preview photo).
It's a lovely Maxis Match sweater with a soft knit texture and – you guessed it – rips!
Unlike most of the pieces here, the tears in this top aren't quite as clean-cut. You can see the threads struggling to keep the fabric together. It's an interesting detail that makes for quite the stylish 'fit.
18.

Cindney Top by belal1997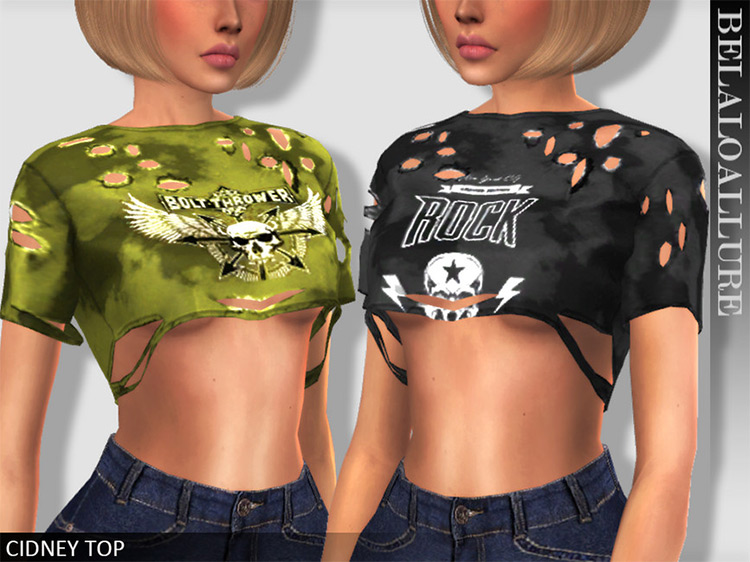 We are one deep inhale away from public indecency, but you know what? It's The Sims 4.
Nudity is definitely not the strangest – or most disturbing – thing your Sims are exposed to.
So if you find belal1997's Cindney top cute and fashionable, then by all means. Ain't no harm in letting your Sim flash their grunge-y rocker chick side!
19.

Ripped Tee by kokoroworks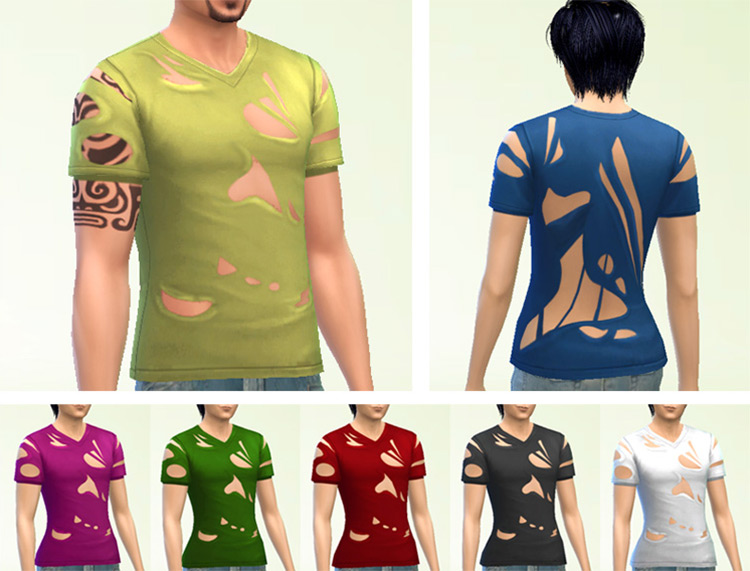 This is perhaps the only ripped shirt on this list where the back is a lot more shredded up than the front.
The holes are scattered pretty much everywhere with no rhyme or reason.
It does look a little odd, but I'm including it because it's a safe, basic torn top that would be useful in a number of situations.
20.

Skull Top by waekey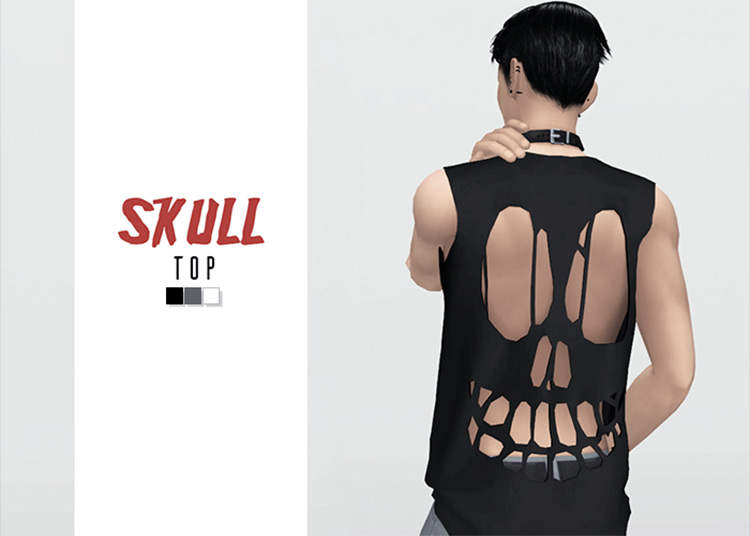 Oops. I take back what I said about kokoroworks' Ripped Tee.
This Skull Top by waekey wins the award for 'most ripped-up shirt back.'
To be completely fair, the tears in this shirt are obviously intentional. And undeniably cool. It's 2000s grunge-scene-kid obnoxious, but in a fashionable and artistic way!
Browse:
Lists
The Sims 4
Video Games