Sims 4 Robot, Android & Cyborg CC (All Free)
This post may contain affiliate links. If you buy something we may get a small commission at no extra cost to you. (Learn more).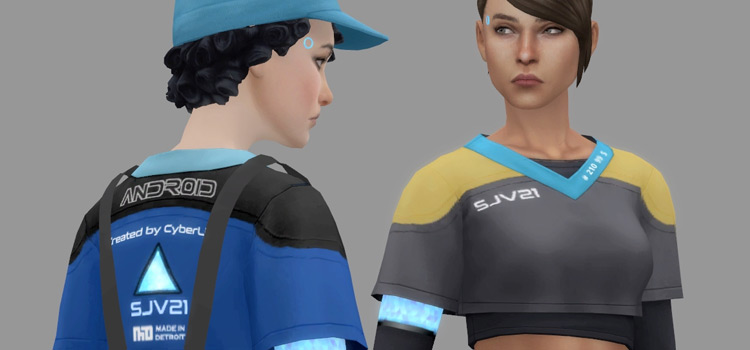 The Sims franchise loves Sci-Fi.
From aliens to robots, non-traditional Sims have always been a staple in the franchise.
And we can't forget about our loveable metal buddy Servo, who's been in the game since the very first installment.
Sims who prefer the companionship of AI to warm-blooded Sims need the items on this list.
From lore-friendly robots to androids and cyborgs, this list has everything to make your save straight out of Detroit Become Human (which is also included on this list!).
15.

Dysfunction / Chromatus Skin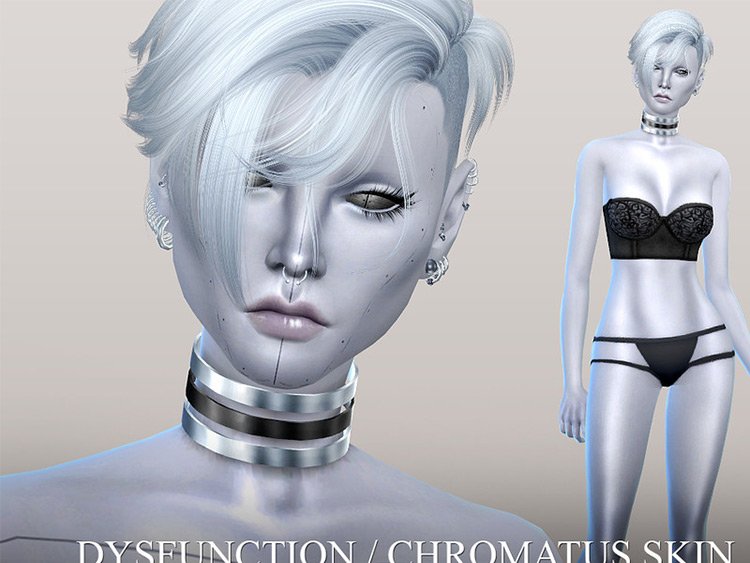 To make a human Sim into a robot, you'll need convincing metallic skin.
PralineSims' CC skin is the smooth, shiny appearance perfect for robot cosplaying and storytelling.
There are five different shades available, plus a version with and without seams.
All genders and ages Teen and up can equip this under the Skin Detail category.
14.

Robot Dermals V2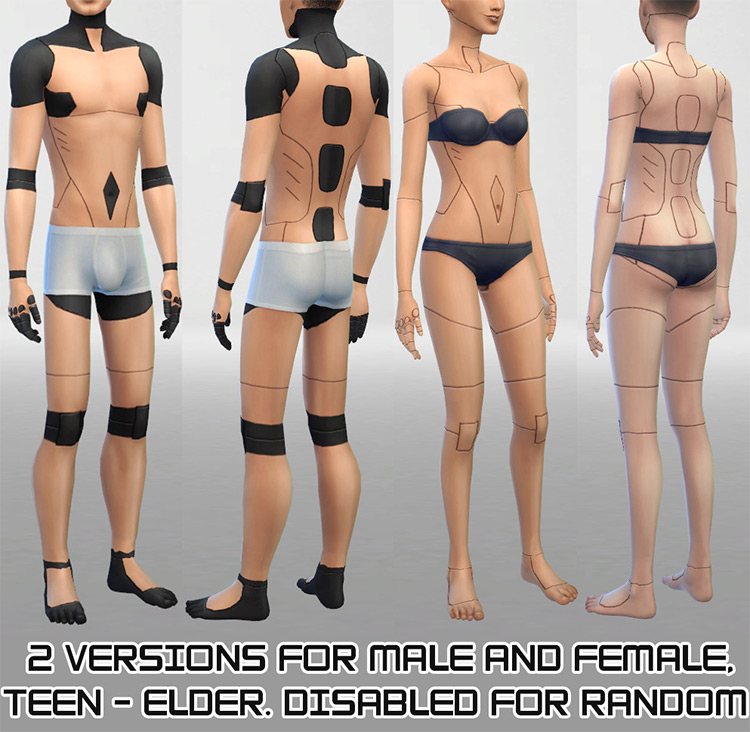 These Robot Dermals from OBJsims is an all-purpose CAS accessory.
It could work for both robots and androids.
But technologically-enhanced Sims, aka cyborgs, will look great with this detail too.
Plus it's accessible to most sims: any gender, and through ages Teen and up.
Find these in the tattoo section.
And don't worry about random townies suddenly turning into cyborgs, because it's disabled for random.
13.

Robot Traits
What's a robot without their programming?
In this game, we think that's just a normal Sim.
Give your robot more than just the look with CaptainKyoKyo's Robot traits.
Inspired by The Sims 3: Into the Future pack, there are five unique traits depending on what kind of robot you want your Sim to be.
Choose between a sleepless robot, hybrid robot or Artificial Intelligence (think if Alexa or Siri came to life).
And you'll need to do a little work before downloading this:
The original creator hasn't updated these traits, so another creator named Lord Solus was kind enough to update it.
Head over to this post to download the more recent update.
12.

Sims 2 to Sims 4 Robot Pet Conversion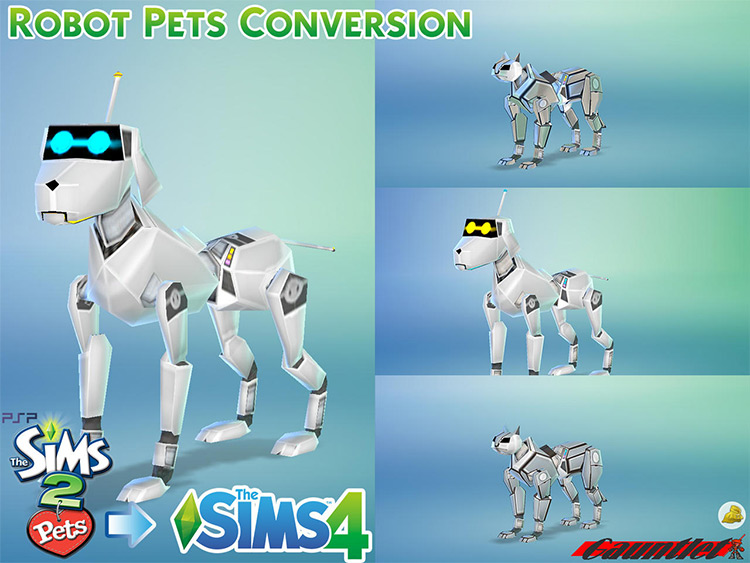 It wouldn't be fair to bring androids and robots into the world giving them companions.
This Sims 2 to Sims 4 conversion of robot pets solves that problem.
The story behind this one is interesting:
Robot pets were only available on the PSP version of The Sims 2: Pets.
Creator Gauntlet101010 made this discovery, and then managed to convert it for the PC version of The Sims 4.
Talk about talent.
And even though they're from a much older game on a completely different platform, both the robot cat and dog pictured look pretty good.
11.

Cyborg Mask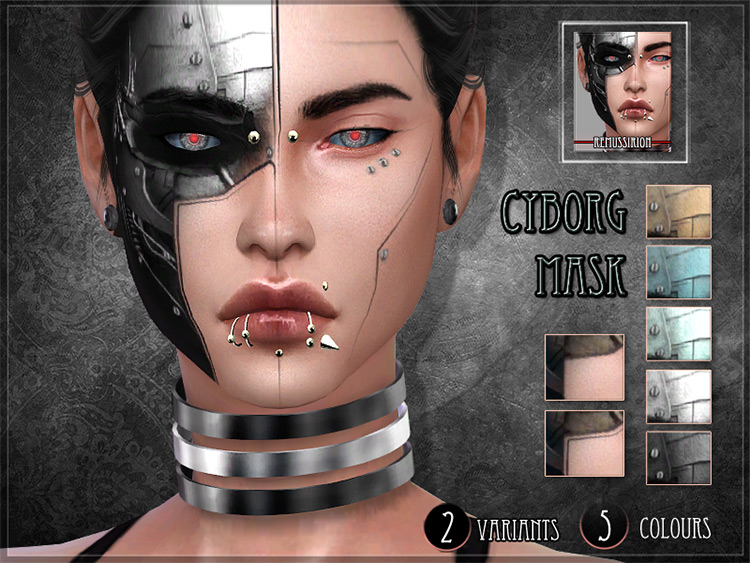 Cyborgs are a special breed.
Not quite human, not quite robot, these enhanced Sims visually have just enough of both to show exactly what they are.
The cyborg mask from RemusSirion strikes that balance perfectly.
It covers more than a quarter of the face with metal plating and bolts, while seams are present all over.
Though it also comes in a seamless version, too.
There's five swatches total, and it's also part of a set, which you can check out here.
10.

Android and Cyber Eyes
When it comes to Androids, the eyes have it.
It's the quickest way to let onlookers know exactly what species they're looking at.
Moriel's android and cyber eyes offer two versions of shiny, glossy glowing eyes perfect for androids and even some cyborgs.
One takes over the whole eye while the other is a bit more natural (if you can call it that) and only affects the iris.
It comes in blue and red and you can choose between both versions or download a merged package for both.
9.

Glowing Android LEDs for Children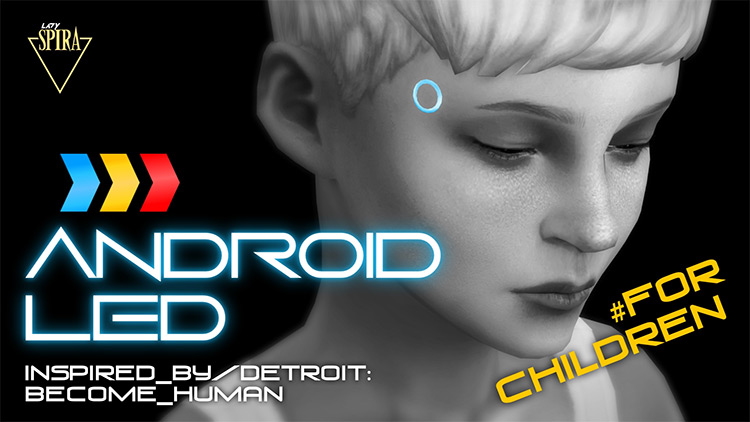 Androids, robots, and cyborgs, and futuristic aesthetics have experienced a surge of popularity over the last few years.
We think it's safe to say that the hit game Detroit: Become Human is a huge reason why.
So we're excited to feature several items either inspired by or recreated from the game itself.
First up are these glowing android LED lights for children by LadySpira.
All of the androids in Detroit: Become Human were equipped with LED lights on their temples. This light almost acts as a mood ring, changing colors based on the android's mood.
Based on this, it comes in three colors: blue, yellow, and red.
Boys and girls can wear this, and you can find it under the earring category.
Oh, and don't forget the LED android light for adult Sims here.
8.

Android Costume
Next up is Leda's Android costume, a near-identical recreation of the CyberLife androids in Detroit: Become Human for female androids.
This dark navy ensemble comes with crisp formal slacks and a button-up collared shirt.
It features the CyberLife symbol and android model number on both the front and back.
For CC that doesn't require any packs or other items, we think this is a pretty big deal.
7.

Female Android Crop Top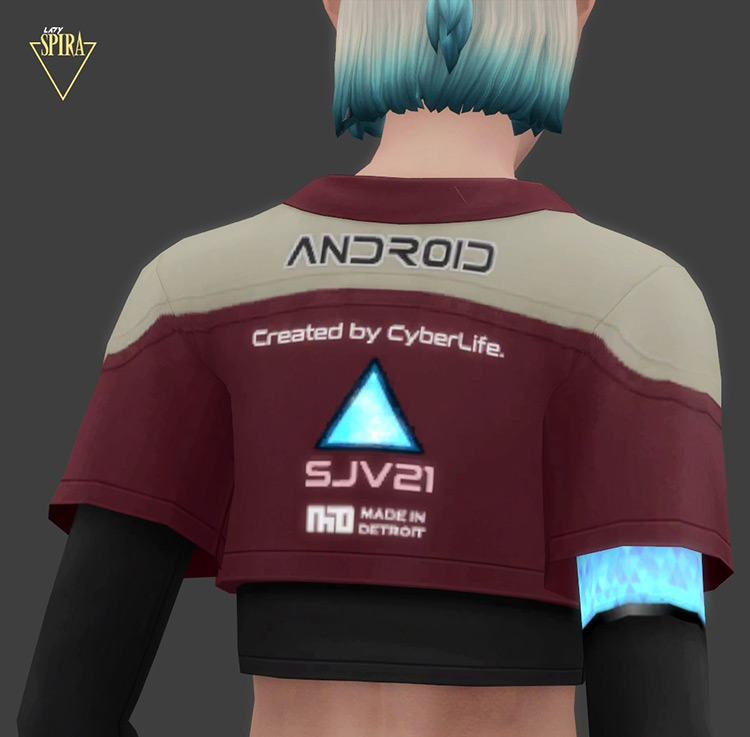 Another D:BH creation by LadySpira is the female android crop top.
It's a garment worn by a special athletic line of androids meant to be exercise companions to their owners.
We know that androids don't have to worry about things like overheating or getting too cold, but we appreciate the realism of the top's light, breezy appearance.
And of course, the CyberLife brand and model number is present on both sides.
The top is a recolor of a Fitness Stuff pack shirt, so make sure you own it before downloading.
6.

Detroit Become Human Kara's Dress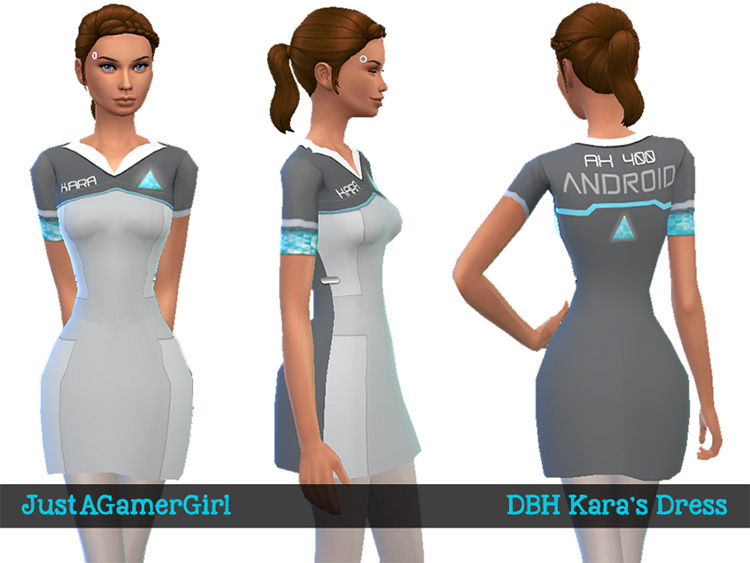 Oh, sweet and loveable Kara.
Perhaps the most adorable android in D:BH now has her famous uniform available for The Sims 4.
The Kara AX400 model comes with a sleek, short-sleeved dress for optimal performance.
And with all the logos and labels, everyone will know she's an android.
Unless she deviates from her programming, that is…
But until, er, if that happens, this outfit will suit her just fine.
Plus you only need the base game to use it.
5.

Plumbot Clothes Project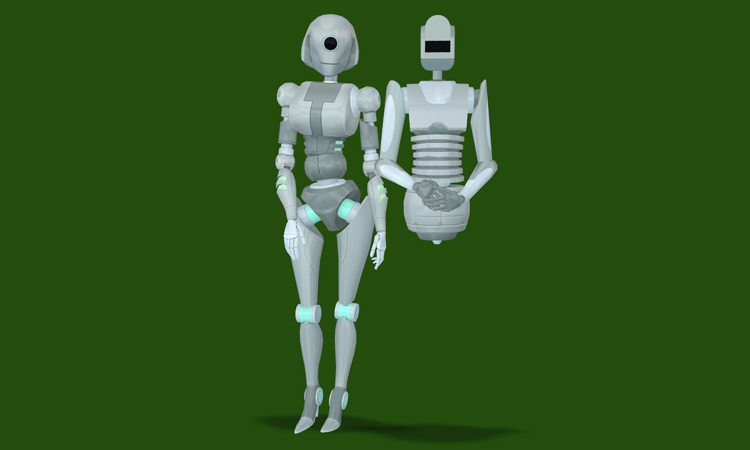 You can use this robot clothing set from DeeDeeSims one of two ways:
As a ton of unique costumes for your robot for any Spooky day loving Sims.
Or, though it requires a little more technical expertise, as a way to customize your in-game Servo bots.
Either way, it adds a completely unique head, body and leg robot CC into your game.
And a lot of it: in total, there are 55 swatches to choose from.
4.

Female Robot Arm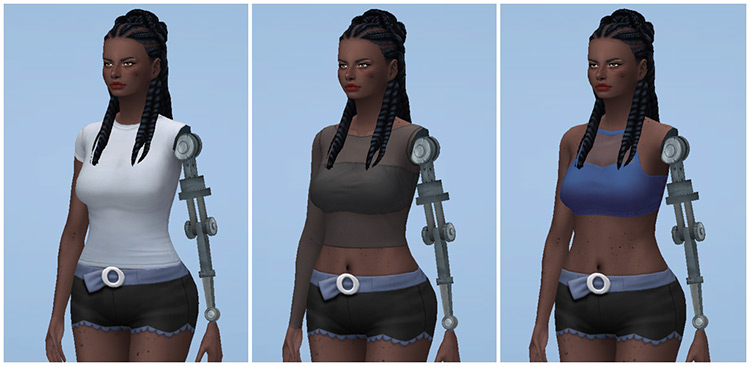 What do Mortal Kombat's Jax and Cyberpunk 2077's Johnny Silverhand have in common?
On paper, nothing.
Until you remember their awesome robot arms.
Whether you're playing a cyborg Sim or just one who had an unfortunate accident, AlienPollination's robot arm for women will make them look cool.
This is a conversion from The Sims 2 and made available by CC fan Losts4CC.
It seems to come in one swatch: silver.
3.

Cyborg Skinton and Mask Set
We've found the holy grail of Sims 4 Cyborg CC.
Yugoza's cyborg set is truly a marvel from head to toe – literally.
The two-item set comes with a skin from the neck down that turns your Sim's body into a metal work of art.
Pair it with a mask for a complete look.
There are 7 skin swatches and 10 mask swatches for variety.
All genders and YA and up can wear it.
2.

Cyborg Visor TS4 Version
Cyborg or Star Trek?
There's only one thing that seasoned Simmers will think of when looking at Esmerelda's cyborg visor:
Geordi La Forge from Star Trek: The Next Generation.
For the younger Simmers, they're just a pair of really cool glasses.
If you're open to CC but don't need anything elaborate for storytelling, we highly suggest downloading these.
1.

Sci-Fi Bedroom Set
If you're adding Sci-Fi elements to your game, you might as well go all the way.
The Sci-fi bedroom set from Mimoto is a crazy HQ bedroom set that'll almost make you forget you're playing The Sims.
Every piece of this 10-item set looks more like something you'd see in Fallout or Mass Effect.
There are so many storytelling options here that we're getting brainstorm overload!
There's also a companion corridor CC set if you're interested!
Browse:
Lists
The Sims 4
Video Games