Sims 4 Rocking Chair CC: The Ultimate List
This post may contain affiliate links. If you buy something we may get a small commission at no extra cost to you. (Learn more).
When you think about it, it's kind of funny how the rocking chair was invented after rocking horses and cradles.
It turns out that the piece of furniture commonly associated with old people owes it all to infants.
On second thought, rocking chairs aren't just for old people…
If you've ever been on one, you'd know that you can have hours of mindless fun by just rocking back and forth.
I hogged the one at home so much that I don't think my grandma ever had the chance to sit on it (sorry, grandma).
So forget what I said earlier. Not only do old people owe it to infants – we all do.
Hook your Sim up with an awesome custom rocking chair from this huge collection.
Cousin Jeb's Rocking Chair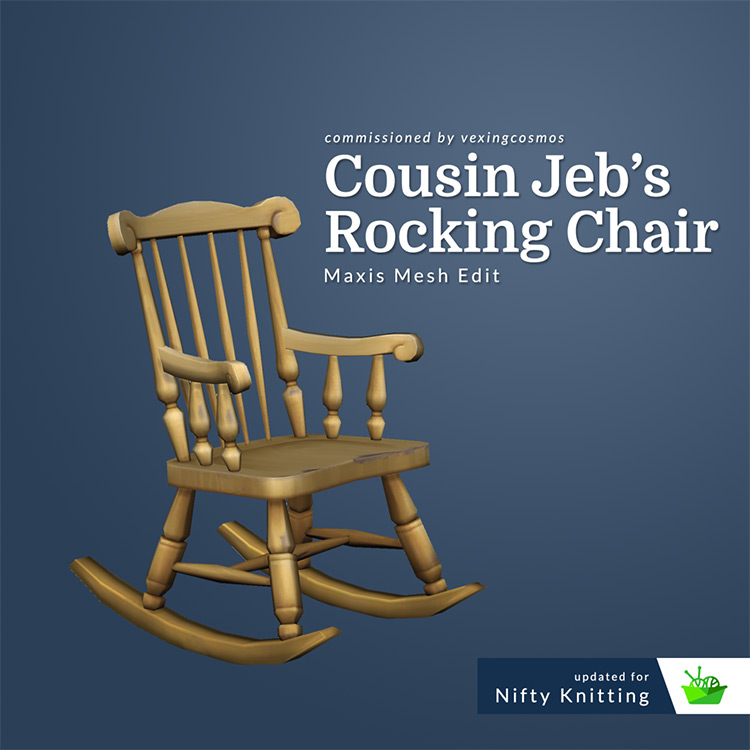 The best thing to do with a rocking chair is to sit and spend hours of silence watching a beautiful sunset.
Or in my case, stare blankly at a pollution-choked metropolis while I think of all the terrible things happening in the world right now.
Let's hope your Sims are living their best life out there, huh?
It may be challenging to stay optimistic these days, but at least you can count on Cousin Jeb's Rocking Chair for comfort!
Bespoke Rocker
Just like the previous CC, this is a no-frills chair that can help your Sims relax after a long day.
It has 25 swatches and 16 wood tones to pick from – so you can customize and add them to any room you like.
But just my 2 cents, this would probably look great in the garden!
Or you could try to mix it in with some other patio furniture sets.
Palermo Living Rocking Chair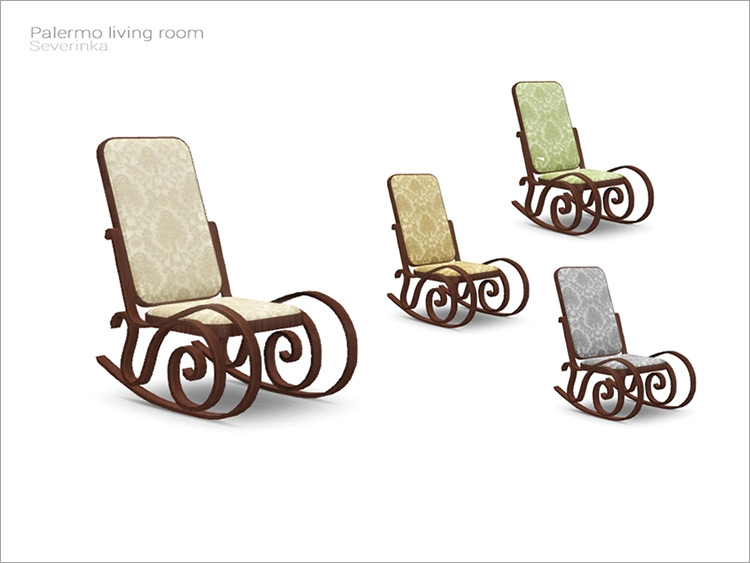 If Santa decides to throw in the towel and spend his twilight years rocking away in the North Pole, this would be his throne.
The legs of this rocking chair jut out, and are relatively huge, resembling the runners of a sleigh.
This may not be the best ride for gift-giving duties – but I'm willing to bet it beats Mrs. Clause's old rickety rocker.
Eco Lifestyle Rocking Chair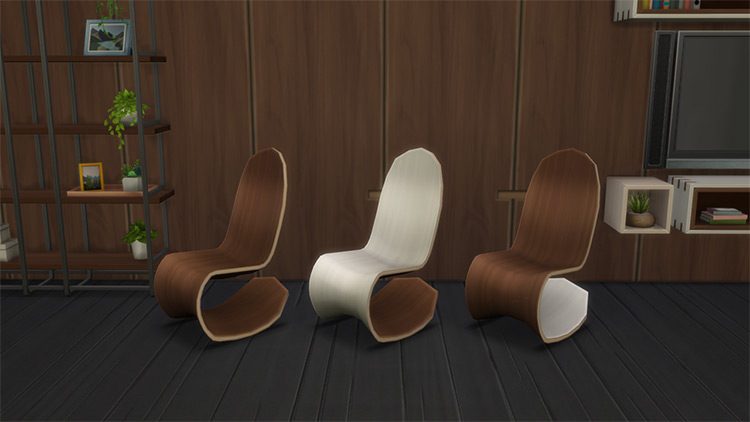 I never thought I would ever call an inanimate object "sexy".
But then I met this rocking chair.
This chair has curves for days. You'd probably forget that it's made of wood and, you know, not alive.
Another upside is that it matches some objects found in Eco Lifestyle.
RÖOCK Designer Rocking Chair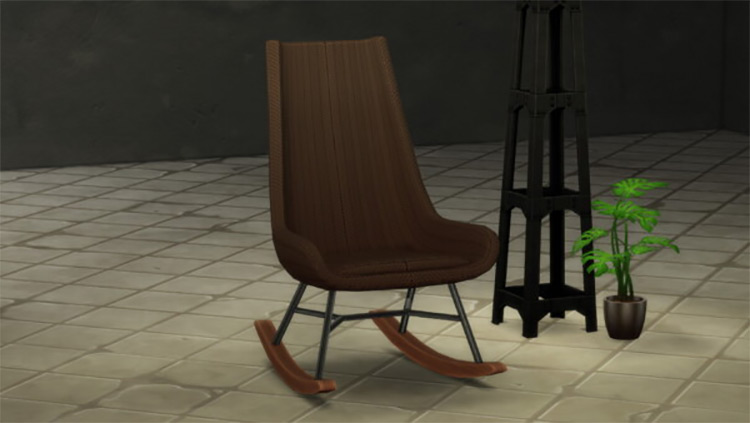 Have you ever snuck into an Ikea after closing time and spent the night?
Me too!
But thanks to this RÖOCK custom rocking chair, you don't have to do anything like that again to feel like you live in a chic Swedish home.
Download this CC by Littledica today (Swedish meatballs not included)!
And if you want some more Ikea to go along with it, maybe check out this collection of CC too.
Rockingchair by Pocci
I don't think Pocci intended to make a rocking chair that looks like a prop from a horror movie.
But I swear to God, this one gives me the creeps.
Its elongated backrest gives it a sinister vibe, while its practical design lets you know that whatever's haunting it means business.
I'm not saying it's haunted for sure.
But just don't blame me when this chair starts rocking on its own and scares the bejesus out of your Sim.
Armless Rocking Chair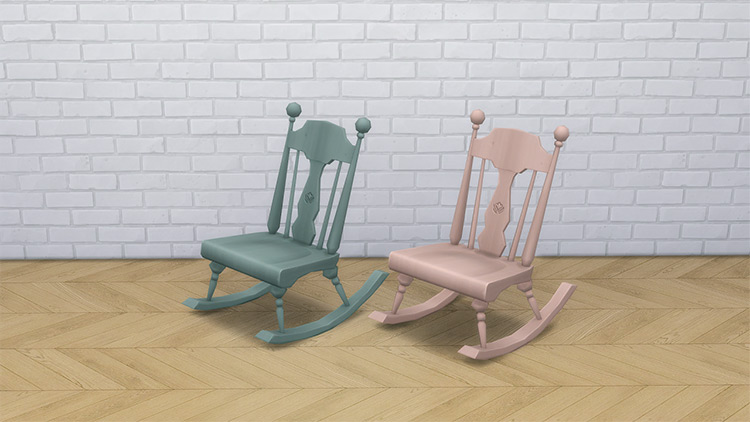 To be honest, I didn't know what to expect when I read "Armless Rocking Chair."
I couldn't help but picture an anthropomorphic rocking chair getting tortured in one of those Saw movies.
Luckily Moderncrafter did not dismember any limbs in the making of this chair.
It turns out it's just a rocking chair without armrests. Who knew?
Download this totally safe and bloodless rocking chair for your Sim and get 24 swatches to choose from.
Good Night Rocking Chair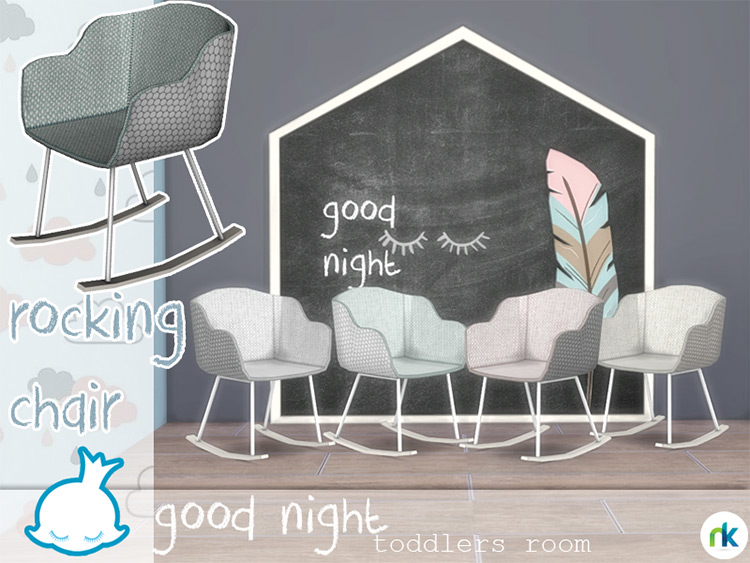 If your Sim's expecting a baby, you better make sure they're ready for the sleepless nights ahead.
And now you can make the nursery more comfortable not just for the baby, but also for the parents, with this Good Night Rocking Chair CC by Nikadema.
You can choose from 4 colors to match your room, or go crazy and get the full set.
David Trubridge Living Chair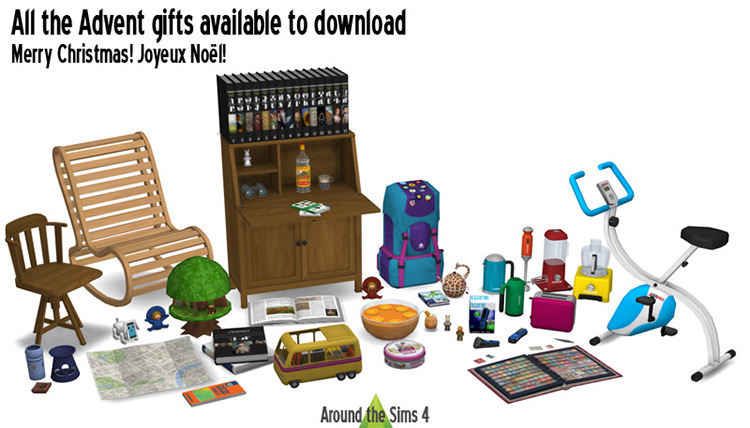 When your virtual grandkids are splashing around in the pool, you'll want a chair that's comfortable to sit on for hours – like this living chair by Sandy!
Thanks to the 8 swatches available, you can customize it to make sure that it fits the look of your backyard.
So grab this quick and get ready for the hours of Netflix and knitting that you'll be able to squeeze in – all poolside, of course.
Mykonos Room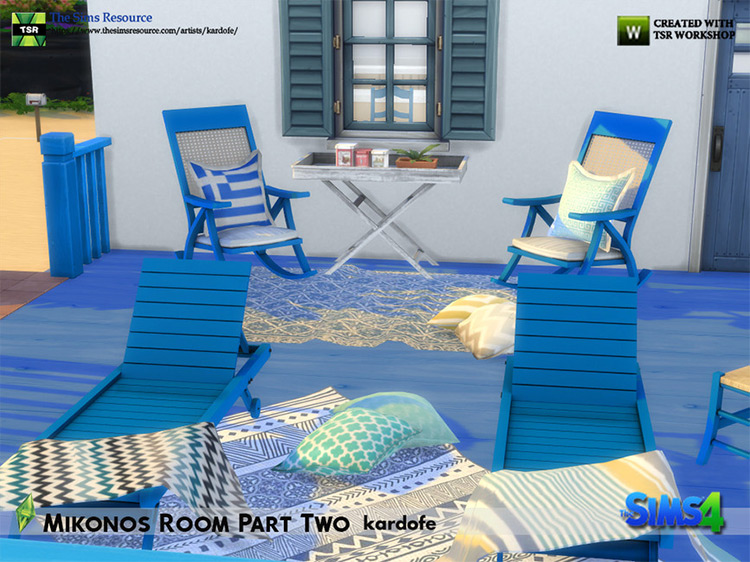 Life would be a dream if we all lived in Mykonos.
Unfortunately, only a select few of the world's population can spend their lives in this paradise of eternal summer.
But at least we can all pretend we live there with this Mykonos Room CC set by Kardofe!
You can get just the rocking chairs for your intimate moments on the porch, or download the whole set for Sunday afternoons with your virtual family.
Browse:
Lists
The Sims 4
Video Games