Best Roman-Themed CC & Mods For The Sims 4
This post may contain affiliate links. If you buy something we may get a small commission at no extra cost to you. (Learn more).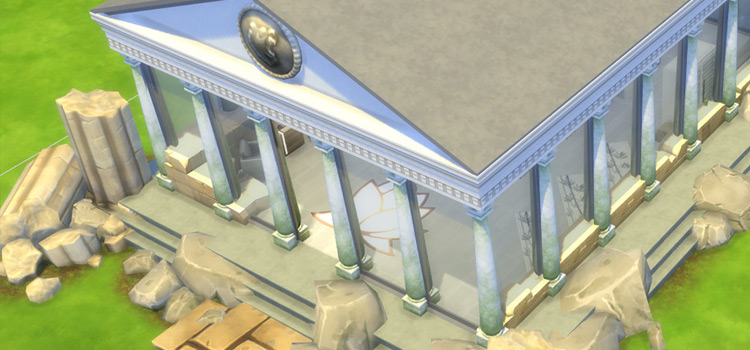 What makes The Sims so fun is that you can do almost anything you want.
That's already pretty true without mods and CC. But with them, it's like a whole different world.
Literally.
You can transport your Sims back through time, make them live through fantasy scenarios, dress them up however you want… that's why this game is so beloved, and has been for so long.
Whether it's sometime in the 20th century or thousands of years ago, there's always plenty of custom content out there for pretty much any time period you'd like to play in.
As you'll find with this list, the Roman days were awesome. For Sims, that is.
I bet actually living through them was a drag, with no Internet and all.
But this compilation should have everything you need for a Roman-themed experience with your Sims, including CC from housewares and custom lots to CAS stuff.
1.

Toga Set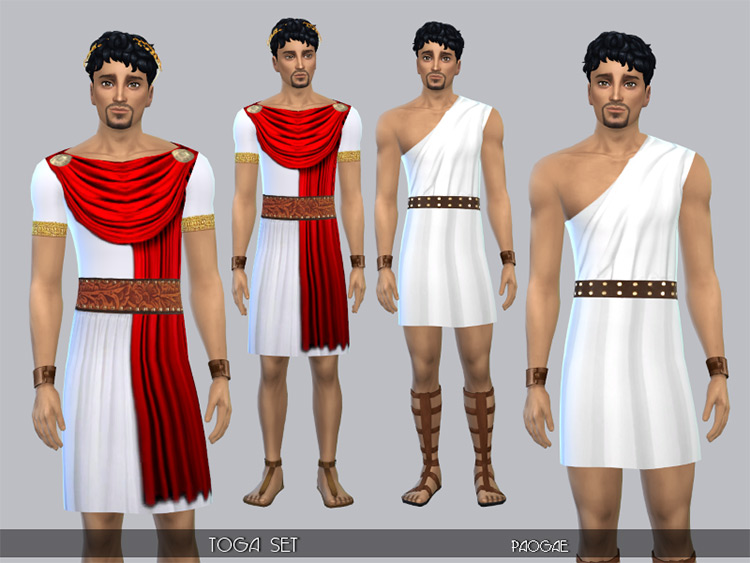 Ask anyone what the Romans wore, and the first thing they'll mention is togas.
Today, the look is somewhat associated with costumes or frat parties.
But back when this was normal everyday wear, the Romans took their togas seriously.
They're good for everything, including formal events and parties.
This CC set includes a couple different styles. One is a straightforward toga with a belt, while the other has a fancier design of ornate hems, belts, and a bright sash.
2.

Roman Mosaic Rugs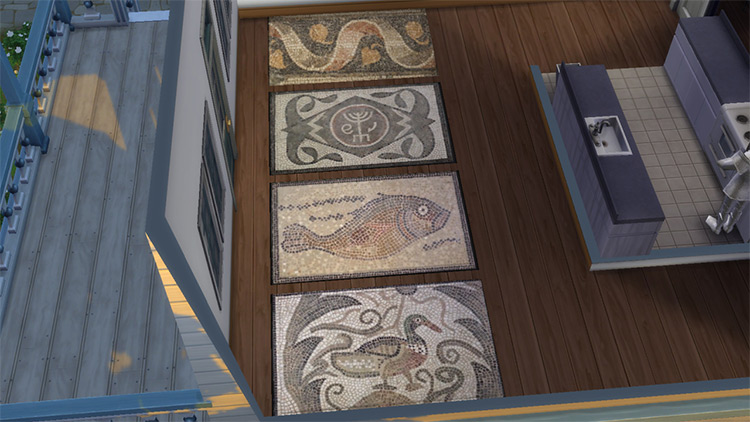 A lot of claims can be made against Ancient Romans. By today's standards, many of their practices and beliefs seem crazy or unfair.
But it'll never, ever be said that they didn't have style.
For such an early time in human history, the Romans still had nice things.
Prominent people especially could have homes decked out in luxury, fit even for Sims.
There were no big factories or mass-produced items yet, so everything was handmade with care… and a lot of patience.
Mosaic rugs like this couldn't have been easy to craft, but they sure are cool. These four unique swatches will be an awesome addition to your Sim's home, whether you're going fully Roman or just want a touch of it.
3.

Ancient Rome Murals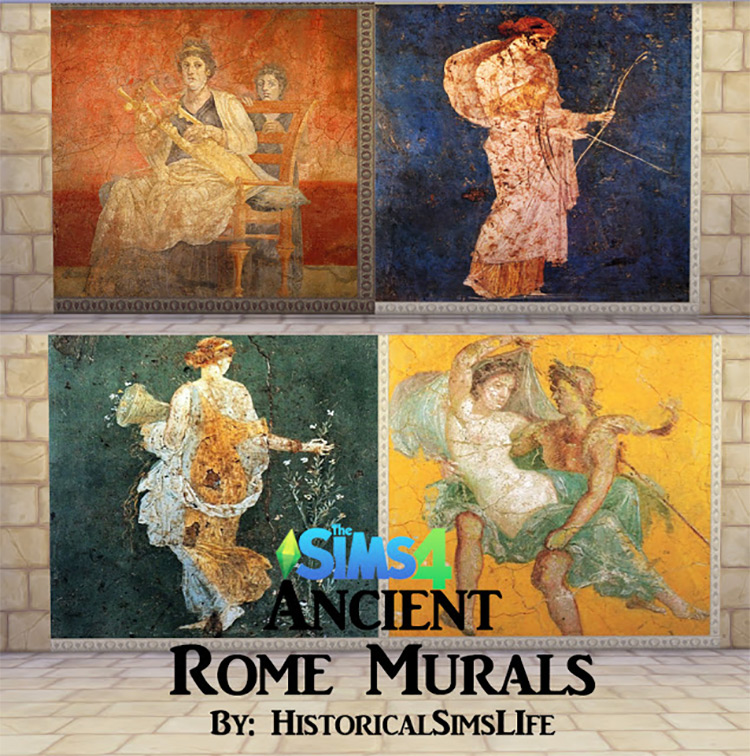 People in The Roman Empire were certainly nothing if not extra.
You must remember, this was a highly dramatic & creative time period of humanity, and that's reflected in many ways.
Efforts of artistic expressions were always amazing. That's why today, people are awed by all things Roman.
These murals capture the incredible styles of the time perfectly. All four styles feature great colors and typical emotive art, including people embracing and a lone Roman woman with a bow and arrow.
You'll really be able to do some fun things with these since they're not paintings, but full murals.
They go from floor to ceiling, so you can use them to wallpaper entire rooms if you want!
4.

Roman Furnishings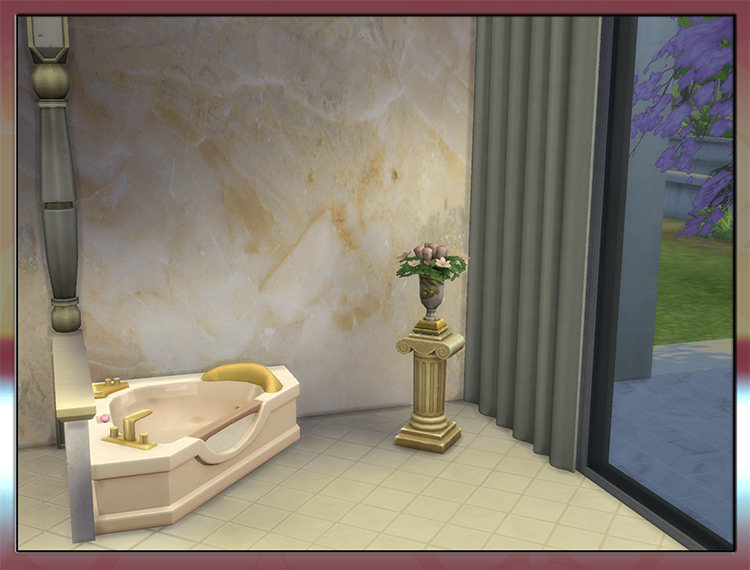 There are certain things you'll have to have in your game that won't be totally accurate.
The Romans had pretty different bathing standards and processes, but you can't ignore your Sim's hygiene skill.
Your Sim and those they live with really prefer you don't, anyway.
That doesn't mean you have to just shove a porcelain tub in their house. This off-white and golden corner bathtub is just fancy enough to still make sense for a Roman build.
We'll just ignore the whole plumbing thing.
Place a bucket nearby and use your imagination.
The gold-tinted marble tiles are also very fitting, and the column table and vase are undeniably Roman.
5.

Braid Crown Accessory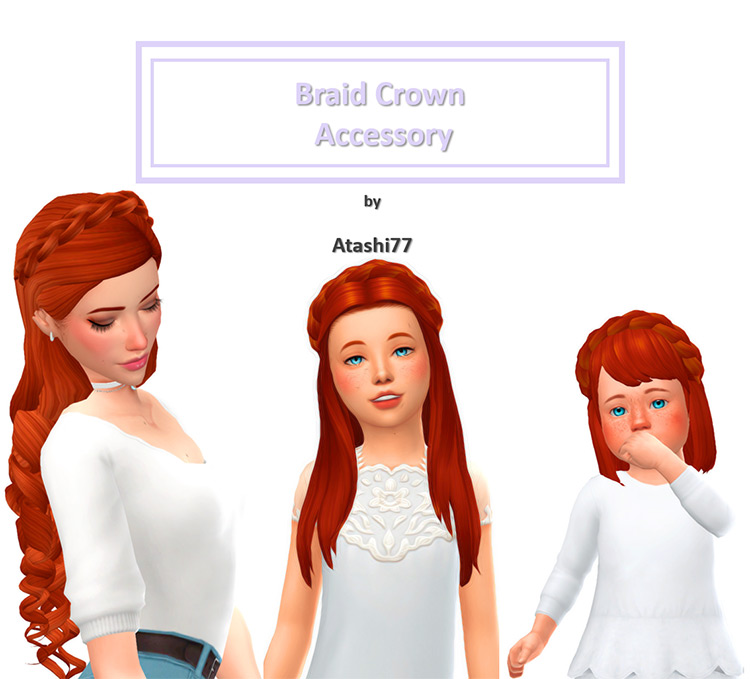 Braids have a long, long history.
They're a practical way to put your hair up, and they just look good. That's been true for centuries.
But this braid, which actually is an accessory, will allow you to add some Roman vibes to basically any hair style.
Not only that, but it's available for all ages!
Adults, teens, children, and toddlers alike can take part in this powerful style now.
It's always talked about how so many Roman women were as gorgeous as goddesses, and I bet the hair had something to do with that.
6.

Early Civilization Set
Without CC, your Sim's Roman home would have to be rather bare.
Furnishings meant for the 21st century just won't look right.
Luckily, sets like this exist.
There are some great creations here, all incorporating some remarkably Roman flair. The cushions' designs, for example, have all sorts of critters, florals, and abstract patterns that just make sense.
You'll get some rug options here as well, and obviously in a time without carpet, you can never have too many rugs.
They have soft woven textures and diluted colors, giving them a naturally worn appearance.
There's also something here that's pretty special, and bizarrely rare in CC… decorative blankets!
Seriously, who doesn't have at least one blanket tossed somewhere in their house? Even the Romans got chilly, so any of these swatches will be nice decorations for couches, chairs, or beds.
And last but not least, the lekythos are really beautiful.
If you don't know what a lekythos is, don't feel bad. I only discovered through Google that it's a fancy word for this type of ancient pottery.
But honestly, an unsuspecting person can just assume it's Simlish.
7.

The Roman Collection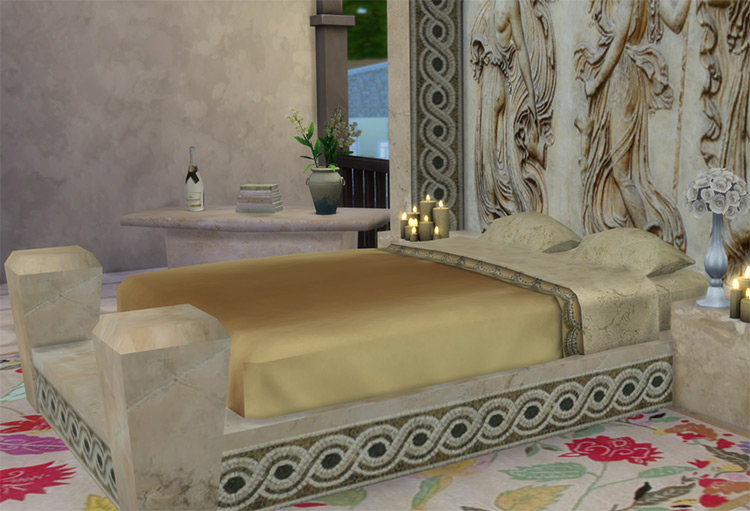 Even though The Sims 4 can provide hours of fun, sometimes things can begin to feel a little stale.
The same old stuff just gets boring after a while if you never get out of your comfort zone.
But this cool collection is so unlike anything else, you might even forget you're playing Sims for a while. It's like taking a time machine back to The Roman Empire!
Okay, I truthfully have no clue how accurate this stuff is… but it looks fantastic. And you can definitely tell it's Roman, so your Sims aren't going to complain.
The Julius Bed really puts all of the other "fancy" beds to shame.
Those marble posts and intricate mosaic accents just can't be topped. It even has a matching headboard, which is massive, and has built-in nightstands as well.
But the headboard is not just a headboard, it's a work of art.
There's literally art work in the open space, from paintings to an engraved, typical Roman design.
There are even slots for decor, too. This is like 4 different pieces of furniture in one!
8.

Temple Columns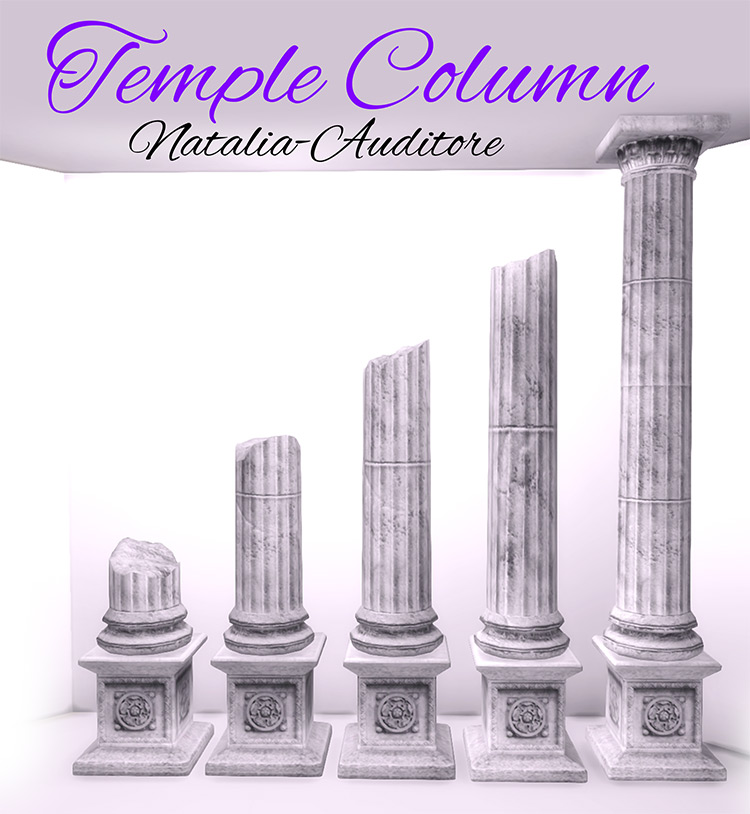 While most other signs of Roman existence have faded, many structures remain, mostly thanks to their awesome columns.
You know them when they see them, those beautiful pillars of strength and resilience that have managed to support buildings for over a thousand years… or at least haven't crumbled to dust.
Here, you'll have all stages of columns to work with.
There are broken-off designs with 3 different heights, plus a perfectly intact one as well.
You'll be able to build all sorts of Roman things with these, from ruins to temples.
In fact, the complete column only works on high walls, so that alone is like a shortcut to temple building.
9.

Lotus Pool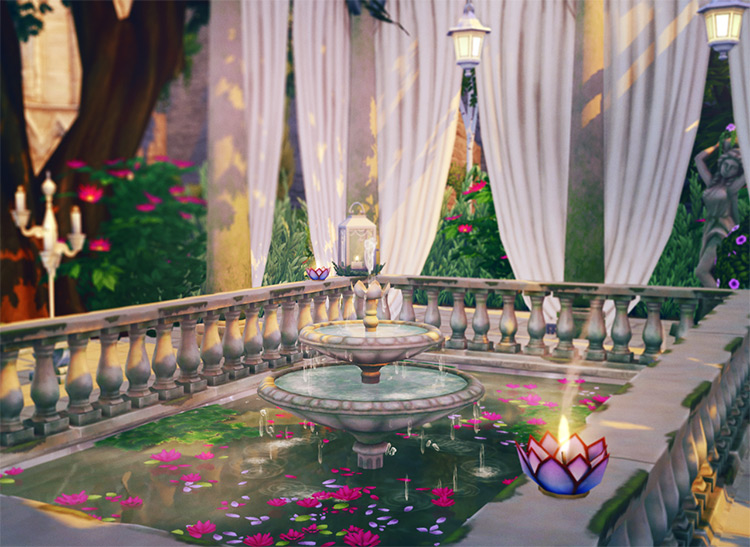 There's always a hint of wonder when it comes to Roman culture.
Through modern eyes, their customs seem mysterious, if not a little idealistic.
This custom lot is just the sort of ethereal place Romans would hang out… or at least it seems that way.
From the white columns, fencing, and pillars to the draping curtains, there's definitely some old world charm here.
But it's a beautiful lot through and through.
The custom content version has some floating florals in the water that really kick the whole appearance up a notch.
Some stone benches, statues, and flowers complete the aesthetic, all in all providing a wonderful little place for your Sims to chill and clear their heads.
10.

Juno Dress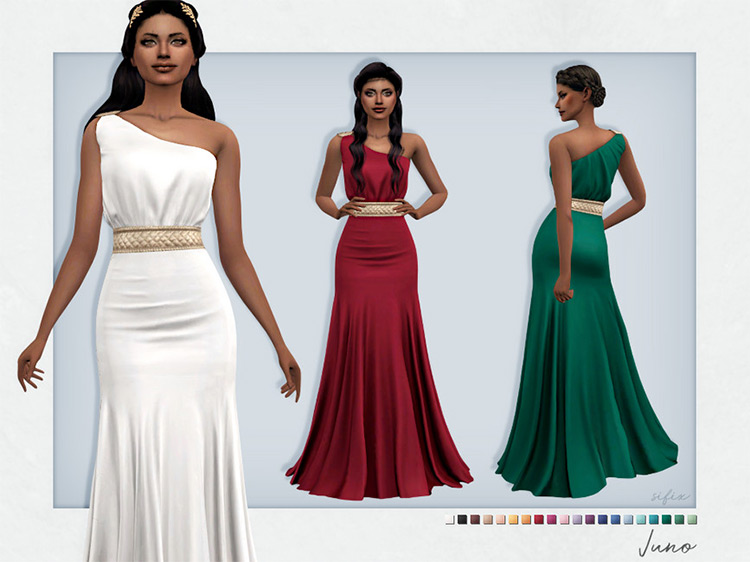 Your lovely Roman lady will need a lovely Roman dress.
And that's exactly what you'll get here.
This is like the more flattering, feminine version of a toga.
It's perfectly tailored for your Sim, and will hang off her frame in all the right ways. Plus it has a real silky appearance.
The belt (which is a light golden color) is really what makes it feel Roman, along with the off-the-shoulder style.
You'll find 20 amazing swatches here, including everything from black and white to even green and pink.
I can't tell you what color dresses Romans actually wore. But hey, it's The Sims. Do what you want.
Browse:
Lists
The Sims 4
Video Games