Best Custom Sims 4 Roof CC: The Ultimate List
This post may contain affiliate links. If you buy something we may get a small commission at no extra cost to you. (Learn more).
As someone who's not very good at building houses in the Sims 4 (I'm more of a gameplay Simmer), I never really notice the roofing.
For me, I think the options we've got with the base game is enough (plus some extra game/stuff/expansion packs).
However, I recognize that some more talented and passionate builders don't feel the same.
So I scoped out some great roofing CC items to help ya'lls out. Keep scrolling!
1.

Scalloped Pine Roofing Recolor by faerieflower
This beautifully-patterned roof in beautifully bright colors looks like something right out of a magical cottage (conveniently located in the middle of a forest, of course).
The scalloped design alone is already a visual treat.
But I love how the different tiles have different temperatures and/or saturations throughout. Really adds to the overall textural appeal.
2.

MB-WoodenShringlesRoof by matomibotaki
You only need the TS4 base game to use these rough, weathered wooden shingles!
As I've often admitted, I'm not a big fan of CC with photoskinned textures (Maxis match all the way, for me).
However, I will also admit that with pieces like this, Alpha CC works great.
The extra details – like the gaps, the chips, and the scratches – really shine with this texture.
3.

Roof of Life (Base Game Recolor – 34 Swatches) by hellokittay
These are recolors of the TS4 base game's weathered wood shingles roofing.
As you can see in the preview photos, hellokittay's versions have more contrast and saturation. They're a little more vivid, and the colors really pop!
Some people are perfectly fine with the base game's muted, low-saturation look.
But if you want something a little more intense (with the same quality), it's great that this option exists.
4.

Thatched Roof by martinakerr
How about a gorgeous sedge-and-heather roof for some major back-to-nature vibes?
Whether you're building a simple beach cottage or a majestic villa by the sea, this beautiful thatched roof would be a perfect choice.
It expertly toes the line between simple and stunning.
5.

Less Shiny Metal Roofs by plasticbox
Got some issues with how glossy the TS4 base game roofs are? Specifically the corrugated metal ones?
Don't worry; you're not alone.
This matte and textured CC version by plasticbox has been downloaded at least 12,000 times—all by people who are happy they no longer need to wear sunglasses when checking the roofing on their builds.
6.

Mediterranean Magic Tile Roof Palette Extender by orangemittens
The creator was apparently inspired by a picture they found online of a very cute and very colorful series of townhouses, all lined up in a pretty row.
Can't really blame them; I saw the inspo picture and was heavily compelled to visit.
Their custom roofing adds ten brighter, sunnier, happier colors to the base game shade options.
If you're tired of everything in Del Sol Valley or Willow Creek looking dark, drab, and dreary, this offers an awesome solution.
7.

Stained Glass Roofing by faerieflower
Stained glass always looks so pretty.
I've never seen it used for roofing in real life (I don't get out much), but I can imagine the effect is downright magical. Especially when the weather's temperate and the skies are clear.
This recolor by faerieflower takes the glass roof from Get Together, makes it base game compatible, and adds 40 fun colors (plus 10 mystery flavors, apparently)!
8.

The Sims 4 HD Project – Roofs (Re-release) by Kulren
Instead of making brand-new roofing, why not make the existing ones better? That's the concept behind Kulren's HD project and, I gotta say; the difference is subtle, but jarring.
I personally never realized how grainy and pixelated the roofing is in-game until I saw their comparison GIFs.
I always thought it was my settings. Nope.
These roofs are cleaner, brighter, and the details are of course more clearly defined.
9.

Forest Roof by artrui
Similar to martinakerr's Thatched Roof, this roof adds a touch of handmade, back-to-nature building vibes that many Simmers find appealing! (I'm one of them).
This is supposedly an "au naturale" custom roof made of cobbled together straw.
Not sure how I feel about the lighter colors, but the darker swatches of this?
Lemme tell ya: *chef's kiss*
10.

Country Carriage Roofing Recolor by faerieflower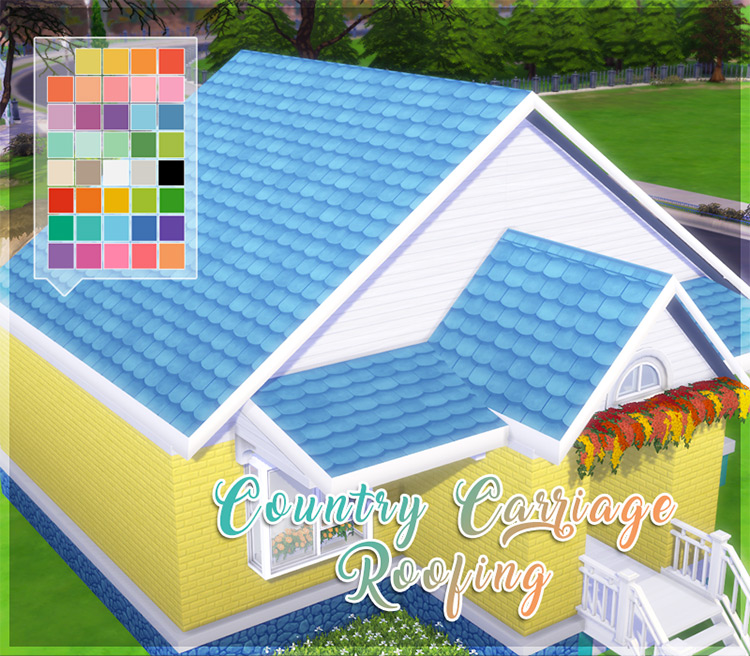 If this looks like a custom roof I already recommended, I apologize.
I am a huge fan of candy- and pastel-colored scallop textures, so those are the ones more likely to catch my eye.
To be completely fair though; this custom scaled, country-style roof by faerieflower is gorgeous regardless of my preference.
Plus, in-game, it still retains its color and texture quality.
11.

MB-CrossedMetalRoof by matomibotaki
Came for the unique honeycomb structure, stayed for the interesting color variations.
I mean, how often do we get bright teal roofing in the Sims 4?
I'm also a little tired of straight slats and corrugated metal panels, so the criss-cross pattern of this roof is quite the welcome change indeed.
Plus you just need the base game for it to work!
12.

Old Mosaic Roof by annwang923
I know I just said I was tired of straight slats and corrugated panels, but hear me out.
We do get a lot of overlapping roof tile styles in TS4. But it's the small details that hook me.
Like the lightly weathered edges, the uneven placement, and the odd, occasional dark spots (like stains).
This creator also implies that these roofs are meant to look dirty. And honestly? Mission accomplished.
13.

Color Coordinates Part 3: Roofs & Foundations by Madhox
Want to make sure (for whatever reason) that your Sim's foundation matches their roof?
Get that wholly uniform look for your Sim houses with this interesting roof plus foundations CC set by Madhox.
It introduces 7 foundations and 7 roofs with 24 swatches each.
And each swatch is supposed to match. Mint foundation with mint roofing, charcoal roofing with charcoal foundation… you get the idea.
It's a pretty cool concept and the creator pulled it off beautifully!
14.

MB-RoofUrban by matomibotaki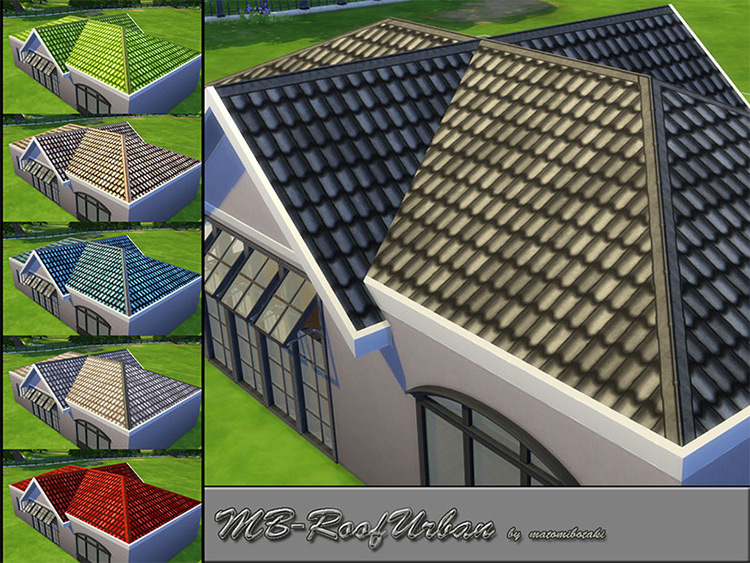 Rough urban roof tile for a simple suburban home? Sure, why not.
If you feel like you've cycled through all the roof options that the TS4 base game has to offer, this at least gives you a bit of variety.
It's pretty neat and symmetrical for something that's supposed to be rough. But the overall effect – plus the colors it comes in – is pretty darn pleasing to the eye.
15.

Slate Roof #1 (Retexture) by ConceptDesign97
Here's a roof that reminds me very heavily of a worn red brick wall.
Not sure if that's what the creator was going for, but the rough-hewn edges style is definitely growing on me.
Plus the 8 color options for this custom roof are all visually appealing.
I thought blue tiling would look odd – especially with colorful walls – but I was pleasantly proven wrong.
Browse:
Lists
The Sims 4
Video Games