Sims 4 Round Bed CC & Mods (All Free)
This post may contain affiliate links. If you buy something we may get a small commission at no extra cost to you. (Learn more).
Aren't round beds such a strange concept? I want to know who looked at the typical rectangular bed and said, "No. Remove the corners."
The first time I ever saw one, it was in an '80s movie. So they date back at least that far, and have endured in some capacity.
I don't know why but I associate round beds with luxury and elegance. There's no way people just snooze in these wearing sweatpants and t-shirts.
It's totally written somewhere that you've got to sleep in a silk nightgown and high-heeled slippers, right?
If you have a round bed and I'm just making all these wild assumptions that aren't accurate, I apologize.
They are interesting. And I mean that in a good way.
I truly can't think of a better way to shake up a Sim's bedroom than with a round bed. Everything else will seem a little more boring after this CC list.
1.

Outdoor Caribbean Bed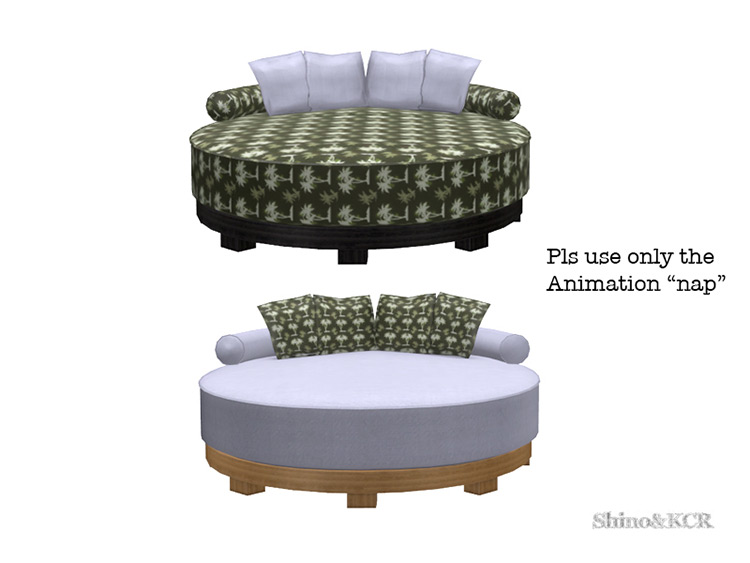 See, this is exactly why I said round beds make me think of elegance and luxury.
If you reach a point in your life where you can have a bed like this at all, let alone outside, you've clearly done something right.
It's a status symbol for your Sims, too. Just imagine this on a back patio, where your Sims can watch the ocean and chill in the sun. How epic would that be?
This does look really smooth and you just know it's comfortable. I don't know how different one of these actually is from a 'regular' bed, but I have a feeling they'd be a different experience.
I'll just have to let my Sims find out for me.
2.

Round Bed Mattresses and Frames
This creator offers some choices when it comes to round beds, separating the mattress from the frames.
It's up to you whether you want to go with a modern one, an antique one, or a hanging one. All of which are really cool alternatives to the beds we get in the game.
You really can't go wrong.
No matter which one you pick, it will bring an air of magnificence to your Sim's bedroom. The black looks sophisticated, the red and wood one is a classic look, and the hanging bed brings this whole idea to the next level.
3.

Langon Set Bed
If I had to decide which bed looks the most comfy, I'd have to pick this one.
It looks like the lovechild of a round bed and a beanbag chair. That's a recipe for feeling like you're sleeping in a cloud.
The way this one is shaped seems a little more Sim-home friendly as well.
You can probably set this off in a corner, if your Sims don't have super big bedrooms.
4.

Bedroom Set Hamal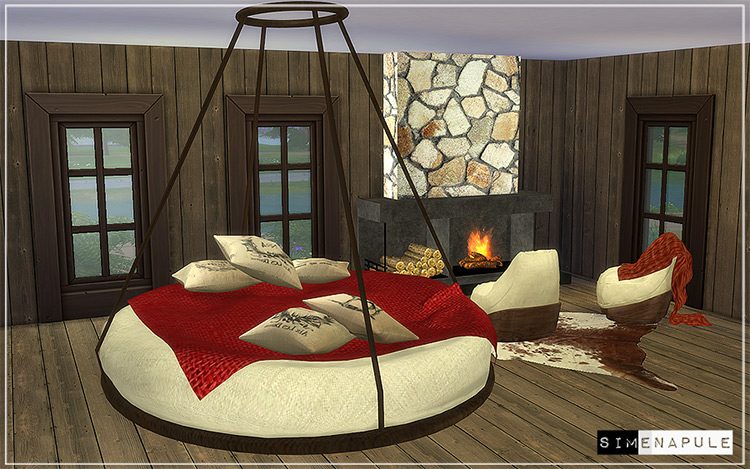 Here we have another hanging bed.
I was shocked to find one, let alone two.
I mean…a hanging bed. A round one, at that.
Things can't get any crazier than that when it comes to sleep options for your Sims.
Or for people.
The very idea of sleeping on a bed suspended from my ceiling is just…stunning. I never knew that was a choice.
Well this CC will be a lot easier to install for your Sims, I'm sure. You even get to arrange the blanket and pillows as you please. And this bed also comes with a fireplace, animal hide rug, and chair.
Because obviously old furniture will not suffice when you've got a bed like this.
5.

Olstice Bedroom
You know what's even saucier than a round bed?
A round bed with a canopy!
There's no way for anyone, even a Sim, to sleep in something like this and not feel like a prince/princess.
And I think everybody wants to feel like pampered royalty now and again.
Everything included here just looks so, well…fancy. I didn't want to use that word, but there it is, and I think it's pretty accurate.
6.

Round Bed and Dresser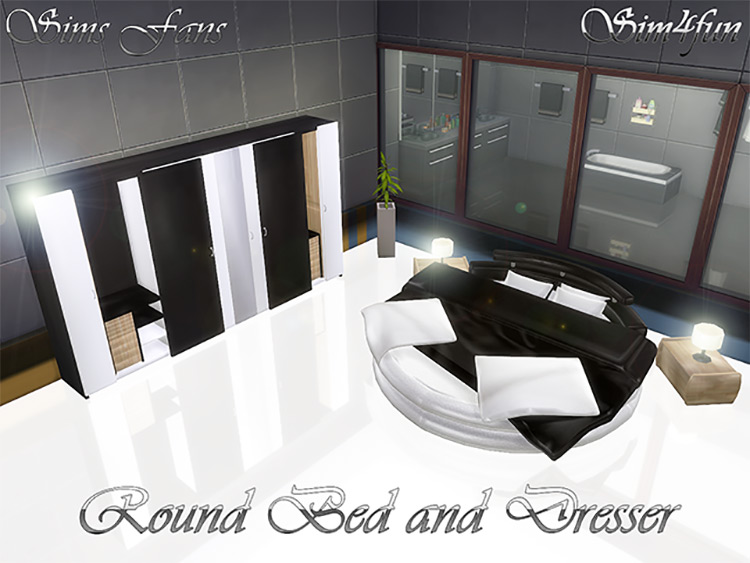 The black and white color combos offered with this bed are super dapper.
There's also a leather texture for the 'sheet' part and pillows which I think is amazing.
Probably very warm to sleep on, but amazing nonetheless.
It's always a nice plus when furniture matches the bed. And we see that again here with the large dresser that's included.
7.

Mermaid Bed Set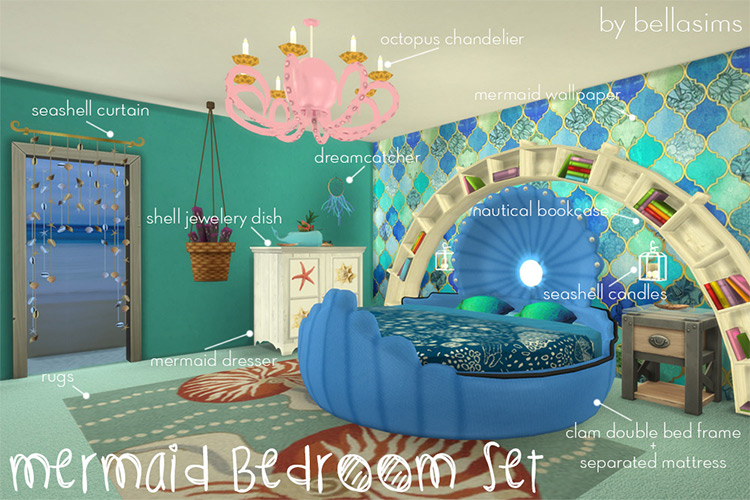 A clam bed with a mermaid color scheme may actually be the most incredible thing I've ever seen in my life.
Anything ocean-themed is always such a nice, calming aesthetic to me.
I have never been within a thousand miles of an ocean in my life. But the blues, greens, and pinks, as well as all the sea creatures like starfish, crabs, and clams, will always be strangely familiar.
Thanks, SpongeBob.
This has to be the most ingenious round bed idea out there. I have no idea what spurred Bellassims to make it, but she's as brilliant as this set!
8.

Purrr-fect Cat Bed
I thought I'd close out this list with something a little different: a round cat bed!
Okay, I know a lot of pet beds are already round. But it's rare I see one that's actually a piece of furniture like this.
This bed has wood legs and it's raised off the floor.
Who says Sims get to have all the oval-sleeping fun? Get the kitties a matching one!
There are enough swatches here you can probably come pretty close to doing just that.
Browse:
Lists
The Sims 4
Video Games