Sims 4 Circular & Round Table CC (All Free)
This post may contain affiliate links. If you buy something we may get a small commission at no extra cost to you. (Learn more).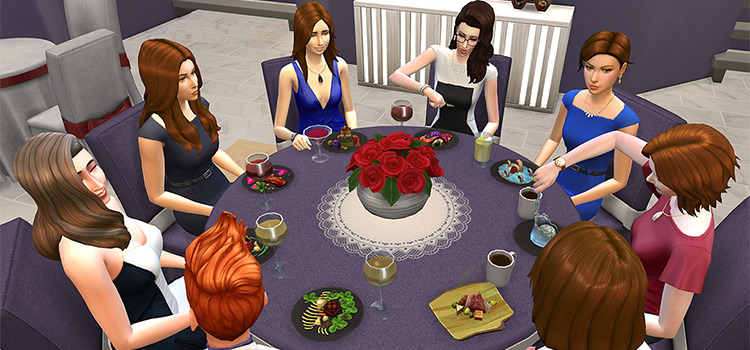 The circle: a timeless shape, beyond reproach, and without flaw.
It has found many uses throughout the centuries in the land of the SimNation, from glow orbs to pizzas.
And it just so happens to be the perfect geometry for a table.
Most living spaces aren't complete without a surface or two to set things on.
After all, it's an inevitability of life that some things will get left lying about. So it's best to have a place for said things!
But tables aren't just practical – they're a keystone part of a room's design.
The shape of your table will often dictate its purpose, and may even change the look of a room as a whole.
Circle tables, for example, are great for adding a softer dimension to an area or for filling a space without making it feel overcrowded.
So whether you choose a table with rounded edges or a full-on circle table, this list will give you all the options you need to make your build come to life!
1.

Big Round Table
This big, round table is the perfect launchpad for your circle table expedition.
It's exactly what I imagine when I think of a basic wooden table.
The only difference is that this one is in circular form, not rectangular!
It's able to conveniently seat 6 people and has 4 basic color options, so it's a very large table with not quite as large a variety of swatches.
You can download it solo, but it's part of a complete dining room set, including a huge selection of china display cabinets (a possible explanation for the smaller selection of color swatches).
And just a heads up: you will need the Backyard Stuff pack to get this CC to work.
But if you don't have it, there are going to be plenty of game pack free options on this list, so let's keep looking.
2.

Delicata Kids Activity Table
The Delicata activity table presents another reason why circles are superior to rectangles & squares.
For children, tables with sharp edges represent an inconvenience at best (since they're bound to bump into them, probably multiple times), and a health concern at worst.
Granted, I've never seen a sim have that issue, but still- it's worth considering!
Each table is for one person only, which is great for little kids working on their personal craft projects.
Most of the swatches for this table are an adorable gingham, but there's also a wooden swatch for a school table look if that's what you're wanting.
3.

Lora Dining Room Set
With the children's table settled, we can move onto more mature table sets.
Such as this Lora dining room CC furniture set.
It offers a lot more swatches than the first two tables (a whole 32 variations), but the real selling point is the minimal design.
After all, a minimalist design allows us to keep our focus on what's important: the beloved roundness.
And after seeing this set, I finally understand modern minimalist art.
Like a singular dot of red in a sea of white canvas, this table will stand out in the best way in any room you put it in.
But this table doesn't truly need to be alone.
It has some very complimentary chairs to go along with it!
4.

Peace Love Hippieness End Table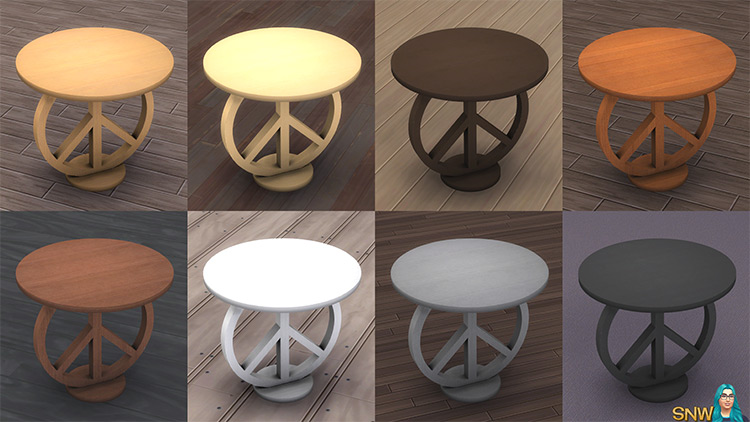 What if I told you that there was something out there even better than a circle? Twice as good, even?
Well there is.
The magical thing that's better than one circle is – wait for it – two circles!
And three circles, and so on and so forth, but this peace sign end table specifically has two.
It also has an impressive 64 swatches, many of which are hippie patterns and color splashes.
Good luck trying to find a use for all of them, because you're definitely going to want to.
5.

Felicia Round Dining Table
The Felicia round dining table is decidedly more upscale and modern than some of the other options on this list.
The crystal clear top will allow everyone seated to see (and judge) everyone else's fashion choices, right down to their shoes, while dining.
It also makes this dining table suited for outdoor use – porches or balconies in particular!
In accordance with its upscale outdoorsy feel, it does require the Backyard Stuff gamepack to function.
But if you have that, this table is more than worthwhile.
6.

Festive Dining Tables
Here's a gorgeous circle table perfect for a festive venue, whether it's a birthday party, a New Year's celebration, or even your legacy family's yearly get together.
And the most impressive part?
The entire extended family would only need a couple tables to sit at (assuming they all got along, that is)!
The tables in this set come in two sizes:
A larger one that can seat 6-8 people, and a smaller one that can seat 4-6 people.
Plus using a circle table instead of a long rectangular one will allow everyone sitting at the table to face each other and share in the celebratory cheer together.
7.

Benner Table Add-ons and Recolors
The default furniture selection in The Sims 4 actually tends to be pretty good.
The main issue is the lack of options and variety.
If you're already a fan of the Benner coffee table, then this CC pack is your dream come true.
It includes 6 new meshes, all based off of the original Benner table, and 5 of them are just as delightfully round as their predecessor.
From coffee tables to end tables, to dining tables and TV stands, there's no limit to the ways you can use these Benner lookalikes in your sim's home.
And as the title suggests, the set also has a few recolors.
8.

Eco-Round Coffee Table
This is the equally hippie counterpart to the peace, love, hippieness end table.
The big concept behind the eco-round coffee table is – you guessed it – an environmentally friendly piece of furniture.
There are 16 color swatches using a variety of materials (mosaic, wood, stone, and metal), but all of the designs are arranged in a way that makes the materials look like they have been repurposed from something else.
That isn't to say that they look cheap, and they definitely don't look ugly!
What better way to breathe new life into a living space than by using furniture that has also been given a second life?
9.

The Perfect Night Cabaret Table
This CC will give you the ability to make the perfect night even perfect-er with the addition of some very stylish cabaret tables.
Like the other round dining tables on this list, they're just the thing for a crowd.
But if you set them up with classic half-round seating, you could even use them in a proper cabaret theater!
And its usefulness doesn't end there.
This cabaret table could easily be used in a diner or restaurant build of any kind, or could even be used as an outdoor table for your sim's home!
10.

Reevda Coffee Table
This CC is another sleek and chic glass-top option, like the Felicia dining table.
But the difference is that the Reevda is a coffee table, although it's equally suited for indoor and outdoor use.
The two could easily be used in the same build together without incongruent issues, which is definitely a bonus in my book.
Although if that's not your jam, it is part of its own furniture set.
It unfortunately only offers 3 swatches, but that's pretty understandable considering most of the design is see-through!
Browse:
Lists
The Sims 4
Video Games