The Sims 4: Best Custom Rugs CC & Mods
This post may contain affiliate links. If you buy something we may get a small commission at no extra cost to you. (Learn more).
If you need a quick non-committed way to transform any room, rugs are the best choice.
A simple rug can add a little warmth, character, and even set the theme for your Sim's rooms. It should also totally be what Aladdin's carpet is called – but let's not get technical here folks.
There's a rug for everyone, whether it be for aesthetic or functional reasons. And in our world of The Sims, it's a great complement to your home – whether you live in Winderburg or Strangerville.
But aside from vanilla, maybe you want some custom options too? Well we've done the hard work for you and compiled a list of the best custom rugs that your Simoleons can buy!
10.

IKEA Bathroom Rug Set
It's an unwritten rule that every first homeowner's abode should be filled with IKEA products.
The Swedish furniture giant is always the go-to depot for practically everything you need around the home, or if you've graduated from puzzles and would like a bigger challenge by assembling their furniture.
If you can't imagine a home without a touch of IKEA, even in your The Sims 4 gameplay, then you're in luck!
This IKEA Bathroom Rug Set by NataTanec features 5 small rugs suitable to be placed before your sink or the toilet.
9.

Welcome Rugs
Are you part of the "Live, Laugh, Love" crowd who loves anything that has a statement?
Make your front door rug do the talking before your visitors even set foot inside your home with these Welcome Rugs by rebelcreator1.
This set features 9 rugs, one of which to be honest, I initially thought said "I'd Love To Stop and Chat But I Really Moustache", but is really "I'd Love To Stop and Chat But I Really Must Dash". Did you get it? Puns!
These are base game compatible and costs 25 simoleons each, found under (you guessed it) rugs.
8.

Toddler Rugs
Imagine a toddler playing, right now. I'm sure aside from the running about, one image that possibly popped in your head is them playing on the floor.
What is with kids and the floor?
Turns out – floor play is essential to the growth and development of little Sim tykes.
Make your little Sims' floor time safer and a whole lot cuter with the Toddler Rugs by TaTschu. It comes in 8 swatches, featuring adorable animal artwork, and is appropriate for any genders.
7.

Traditional Recolorable Rugs
We're glad to be seeing more and more modern rug designs.
However, we also can't deny that those old vintage rugs also had their charm.
Those rugs, usually with traditional abstract or Persian designs, evoke memories of hot summer afternoons in your Grandma's house, waiting for her baked cookies or whatever she made you.
Relive those memories with your Sims using Aminovas Sims' Traditional Recolorable Rugs!
These are 6 custom rugs that are each recolorable, slightly larger than your run-of-the-mill 3×2 rug. They're at very affordable prices too: 90, 120, and 180 simoleons each.
6.

Flokati 2 Rugs
Shag rugs are widely used nowadays, as a flat lay aesthetic for those heavily concerned with perfecting their 'gram.
They look luxurious, but are also notorious for being hard to vacuum. Believe me, I'm speaking from personal experience.
Thankfully, your Sims won't have that problem.
So go ahead and give them the Flokati 2 rug created by Praline Sims. This rug is big enough to cover the entire sofa area of the living room, and it comes in a generous 32 colors to fit whatever color theme you may have. Vacuuming optional!
5.

Beautiful Sheep Rugs
Hold up! Before you raise your pitchforks, we guarantee that no animals were harmed in the making of these rugs.
Sheepskin rugs add a little bit of warmth and comfort to any space.
These ones, created by Praline Sims, will make your Sim's home cozier. And this CC offers the perfect rug to use during cold winter nights.
You won't have any issues pairing these with your home's aesthetic, as this pack has 5 designs you can choose from. Nights laying here are best spent with a glass of wine and a significant other Sim by the fireplace. Woo hoo!
4.

Rug Collection #5
Nobody likes having the rug pulled out from under them.
If the rug is this cute though… maybe we'd mind a bit less?
If you want a collection that has everything type of rug that you need, you don't need to look any further!
The Rug Collection #5 by Sims4Luxury has two of each style: animal hide, rectangle area, round, and runner. They come in black and white patterned designs that are best for minimal or artsy homes.
3.

Sporty Carpets
Almost every one of us, at one point in our lives, must have had dreams to become professional athletes.
Unfortunately, not every one of us grew up to be fit to do so. It's not my fault that my body is lithe, okay dad?
Well maybe your Sim had similar dreams. But you don't need to have a sporty bone in your Sim's body to enjoy these Sporty Carpets, brought to us by simmer Waterwoman.
Get two CC carpet sets in this pack – round and square, that all feature popular sports balls and courts.
2.

Rug Collection #8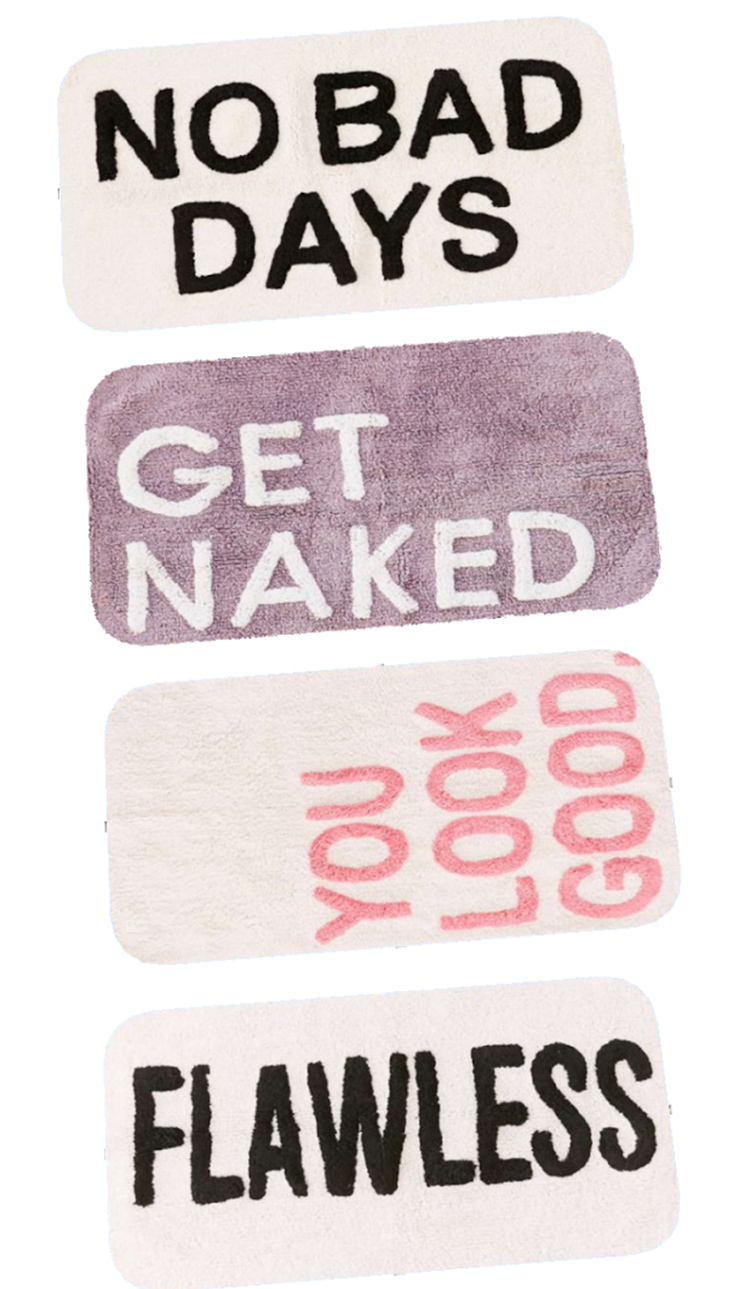 Most good days start and end in the bathroom.
A good shower can revitalize you and make you feel fresh, ready to take on the day. It can even be a good motivator to not spend the day binge-watching your favorite show.
Get some bathroom rugs to motivate your Sim while they scrub their unmentionables. With quotes like "You Look Good", "No Bad Days" and "Flawless", Sims4Luxury's Rug Collection #8 will you make you feel like that Sim.
1.

Tropical Rugs
No matter where you live in real life, we can always experience the beach through The Sims.
If frolicking through the Sulani beaches isn't enough for you (or you don't have the Island Living expansion yet), then bring legit beach vibes to your home by placing one of Waterwoman's Tropical Rugs in your living room.
Coming in 8 colorful patterns, these rugs are big enough to cover the whole living area.
Throw in some tropical plants to get that total beach resort feel without your Sim ever leaving home.
Browse:
Lists
The Sims 4
Video Games