Best Sims 4 Rustic Furniture CC & Mods For Your Sim Interiors
This post may contain affiliate links. If you buy something we may get a small commission at no extra cost to you. (Learn more).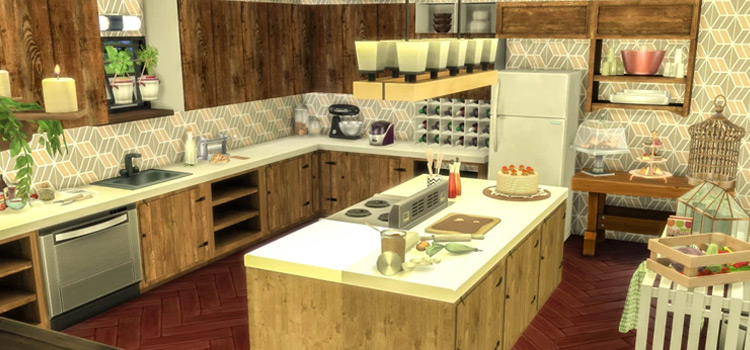 If you've been looking to create the ideal rustic style home for your Sims, you've stumbled onto the right article!
Our spotlight today is on wooden furniture and natural textures to fill your Sims' houses to perfection.
All of this CC is so natural, you'll be able to feel the fresh rustic breeze with every download. And you can almost touch the wood grain from the amazing textures here, too!
I guarantee you'll be clicking the download button on a lot of these items, so take a peek and see what you like.
15.

Ivy Chandelier
The first entry is this earthy ceiling light by The Plumbob Tea Society.
Part of the Rustic Romance custom pack, this chandelier certainly gives off the vibe of falling in love under the rural lights. There's actually a lot to love about this CC set!
It comes in 8 swatches, mostly in shades of brown and neutral colors. Fits all types of occasions too, and it's also available in gray to match more styles.
Wrapped around the frame elegantly, the ivy looks so inviting and far from poisonous on top.
Just always keep the leaves out of reach. You know, for your Sim's safety!
Adding a few more points are the lit candles that give just the right touch of warmth to any rustic space.
14.

Nature In Counter
SIMcredible combines granite and wood for this kitchen counter that's classy and easy on the eyes.
With 3 basic color schemes, there's a decent amount here to match any kitchen style. But the CC creator permits recolors for those who want more shades.
The subtle emphasis on the stonework and wood grain's visible texture should enhance any Sim's kitchen space…. Literally, with more counter space!
Alternatively this could also go well in the bathroom or other areas of the house.
There's no need to waterproof it either, so you can spill all over this to your heart's content.
13.

Kayo Kitchen Stove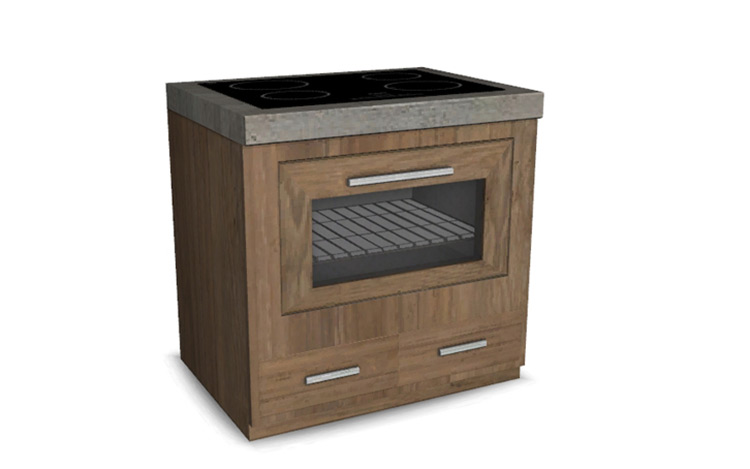 CC creator Angela made this stove with the right mix of rustic meets modern.
Is it attractive? Check.
Oozing natural beauty? Check.
And can a kitchen rock this in 2020? Big time check.
It's limited to only 1 color, but the artist allows players to recolor it (assuming you can edit CC yourself). The sleek cooktop and metal handles are the only contemporary parts, and they absolutely emphasize the rustic look of the stove.
12.

Kitchen Jen – Refrigerator
Another wood-heavy CC design topped off with modern finishes is making it onto the list.
Part of creator ung999's Kitchen Jen Set Part 2, this looming appliance is a refreshing sight for your produce and milk and all that good stuff.
Edgy without losing its minimalism, this fridge's design draws focus to the finely sanded wood surfaces. Striking.
11.

Technetium Dining Table
Though a bit on the majestic side, this table's emphasis is on the wood grain's earthy charms, distinctly visible on all its surfaces.
You can choose from 3 color variants here, and they all rock. The 2 timber designs are particularly beautiful on this piece if you're going for a rustic look.
Featured artist "Wondymoon" produced this CC as part of a set. This rustic table is the centerpiece, and rightly so.
It screams "Wood!" and the accent on the legs give it an effortlessly chic flair. Makes you think hunky on the top, graceful on bottom. There's a joke in there somewhere…
10.

Kitchen 56-Piece Stuff Pack
Rustic with just a pinch of modern, this set has a lot of everything.
But the Wishbone Chair is a real staple: flexible and it can go from old school to contemporary cool with the right interior.
Mix and match all you want with 24 colors readily available by CC creators Felixandresim and Harrie-cc.
The arched top rail of the chair gives a sense of sophistication while highlighting the design material. Even without touching it, your Sim will love it.
Be it a pure or casual mix of rustic style you're going for, this chair adapts without question.
Despite "kitchen" being in this CC's name, the chair isn't bound to just that room you cook in.
It looks good paired up with a coffee table in the living room, or even a setup in the lounge.
9.

Painting Wild Boar Hunting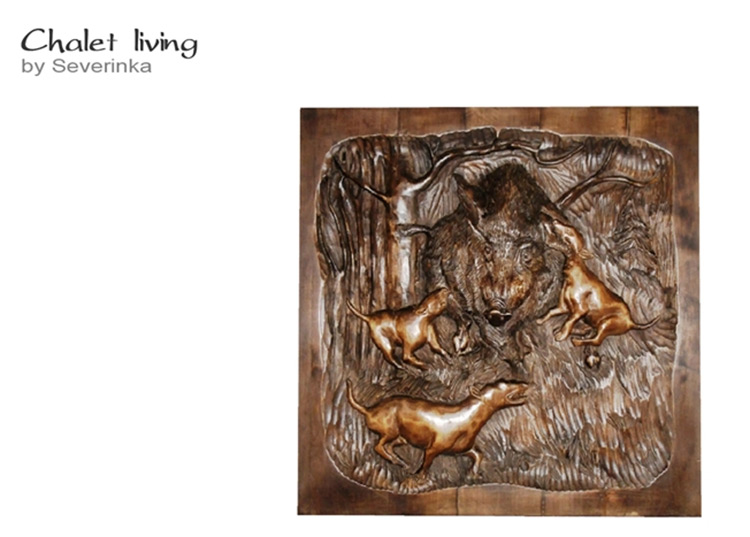 Nothing depicts nature more than an immortalized image of predators hunting a boar.
Thankfully, it's not a bloody scene. So even the faint of heart may enjoy this artwork without feeling squeamish.
Entirely made out of wood, this medium-sized painting created by Severinka is a welcome decoration to any rustic-themed interior. Even those who aren't fond of art can appreciate the intricate carvings… even if it's entirely digital.
This CC boosts the ambiance of the room and adds a vintage appeal. Perfect for rustic design.
There are other hunting-themed decors too, but this is one of the simplest and it goes with most styles.
You can place it in your dining or living area as the main piece, or complete a look with other displays. Your choice!
8.

Sunny Morning Storage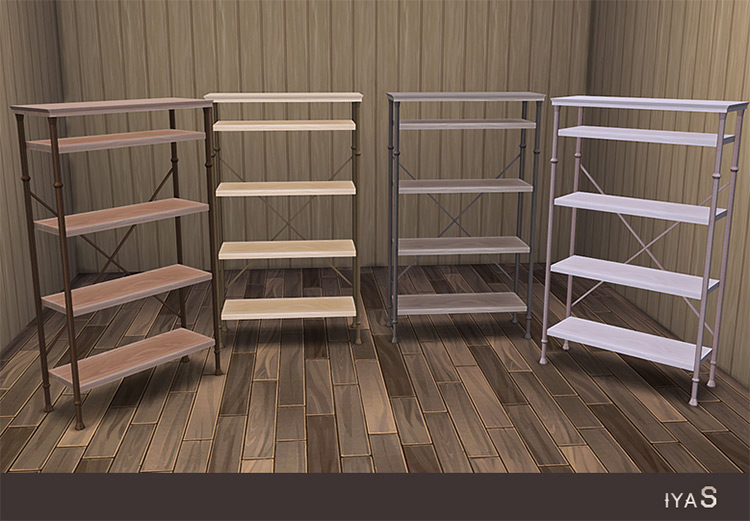 Flexible storage space, anyone?
Made by CC creator Soloriya, this surface storage item is available in 4 colors. The first is in off-white, and then 3 varying shades of brown.
These plain but cute storage shelves go well anywhere. Granted this was initially intended for the kitchen, since it fits right in with your cooking tools and supplies.
But wait, you want it in your room? Pantry? Barn? Garage?
Well it's sure to look good in all those places, and thankfully you can buy multiple units.
7.

Bidet As It May Wide Cabinet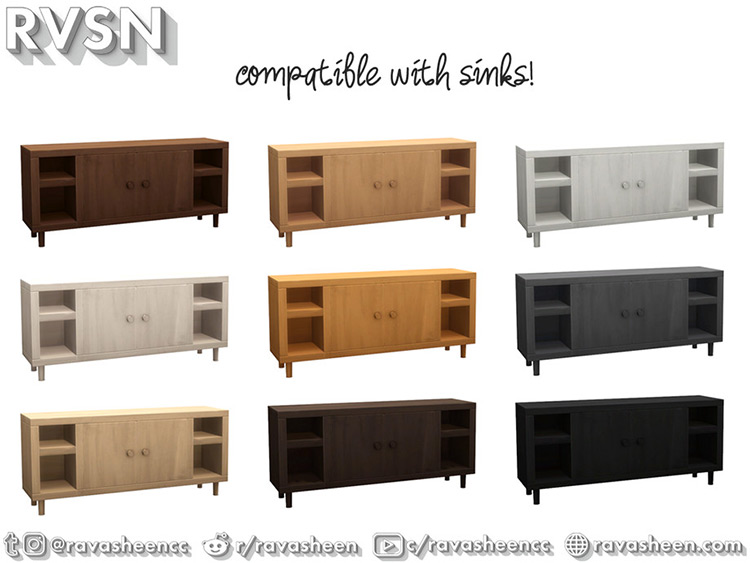 People who hate basic things are missing out on this pretty piece. Possibly one of the plainest cabinets, but it's a design that never goes out of style.
You've probably seen this in real life and wanted it for your own place at some point.
Well maybe you can't afford it yet, but let your Sims enjoy it with just a click of a button.
This furniture CC released by Ravasheen has 9 wood tones, from the lightest birch white to the darkest ebony black.
You'll surely find the right shade for your ideal rustic bathroom.
And if you want to expand it, check out the Bidet As It May Bathroom Set. There's a ton in that pack, including a tall cabinet that you can combine with this piece for even more space.
6.

Collector Rugleather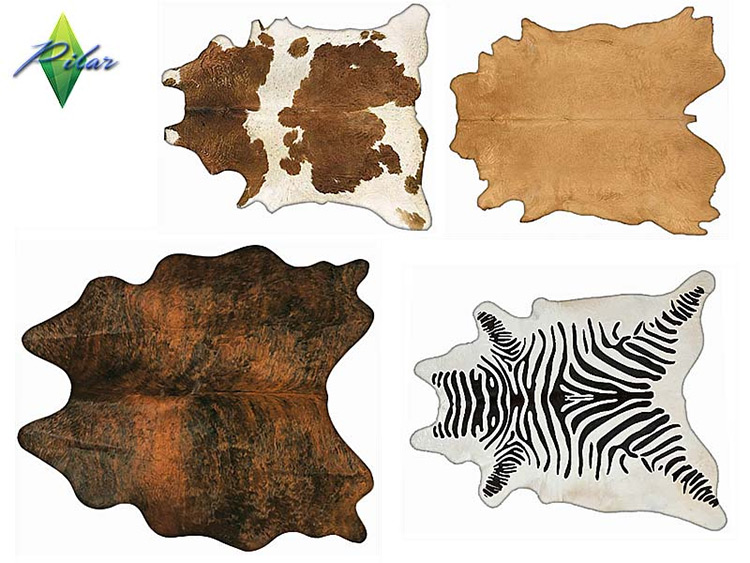 Get that pure leather rug you've always wanted, but without the guilt.
Pilar's creation is a work of art. You can see all the fine details, even in-game.
With four styles to choose from, enjoy the experience of owning a leather hide with no bloodshed. Just don't let PETA know, and you'll be all right. But I mean, this is The Sims, right?
This tan hide would look especially great in your Sim's den or living room. Maybe displayed in front of a fireplace?
5.

Stockwell Wood Slab Coffee Table
Now here's a coffee table! The industrial-style metal legs perfectly complement the solid wood of this CC.
You've also got 3 color choices for this gorgeous furniture, brought to your screen by another featured artist ArtVitalex.
All growth rings are visible on the unpolished surface, which is absolutely rustic if I've ever seen it.
A Sim or two may even try and trace the patterns… got any little ones around?
Refined with real toughness, this table could easily provide a significant boost to any interior. If you want something fancy, yet still subdued, this CC is just what the lumberjack ordered.
4.

MS91 Orama Bathroom Bathtub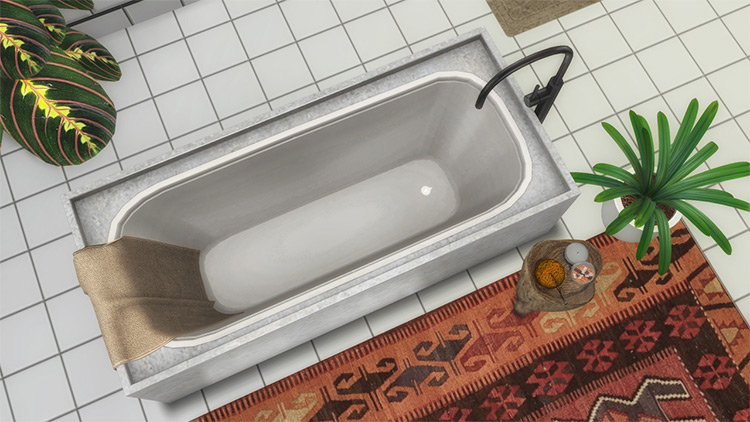 A collaboration of Sanoysims and mxims results in this straightforward & appealing bathroom piece.
Simple and realistic with either granite or stone(depending on which variant you go for) enclosing the tub.
Earthy hues make up the 24 color combinations between the spout and bathtub casing. So there's a lot to choose here to match.
The design looks laid back, but the elongated faucets add a certain elegance. Gives you the image of a high-class plain Jane.
It's a delightfully flexible tub, and its simplicity makes it suitable whether you want a minimalist or lavish approach.
3.

Nieden Bedroom Rack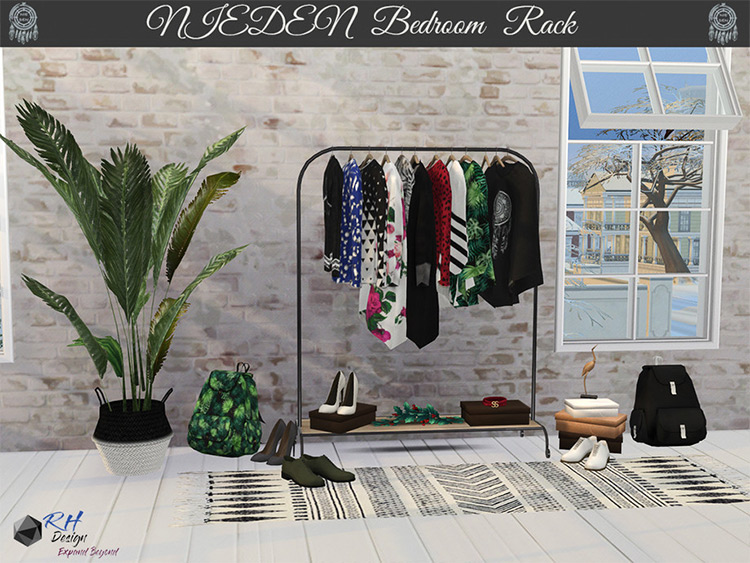 Now this rack is a perfect companion to any bedroom or walk-in closet.
Custom Content artist RightHearted deliberately blends rustic and industrial styles to make a versatile piece every rustic fan should love.
Olacing this clothing rack in your Sim's room is just another way to give even more space (that they probably don't need).
There are 4 variants for the rack, and clothes too, so you can choose the look you like.
All clothes are already on a hanger as well. Ain't that sweet?
2.

Smaller Rustic Siding – Timber Baton Siding
Fans of The Sims 4 want detailed content, and always in a bunch of colors.
CC designer Peacemaker satisfies everyone's wants with this Timber Baton Siding to run along the outside of your house. And it comes in a whopping 50 shades.
No restrictions here!
And dare I say, the colors for this siding are to die for.
Create your own unique rustic home by being as cutesy as you want with pastel pinks, blues, or purples. Or stick to the traditional gray, tan, black, and brown. Whatever works for you.
1.

Wood Floor 5
One design in 10 shades.
It's like getting your favorite pair of pants in all your flattering colors and shapes.
Strips of bleached wood with a weathered hand-brushed finish make this flooring essential for any rustic home.
Flooring may seem boring, but really, it can make the room. And when it comes to this set, I have to say there is no such thing as favorites here. All these shades are just too pretty to ignore that you'll want to try all of them.
Custom content maker Rirann did a fantastic job on this set for sure.
Whether indoor or outdoor, this flooring works anywhere in a rustic design. Maybe start with this in just one room and see where creativity takes you.
Browse:
Lists
The Sims 4
Video Games