Sims 4 Scarf CC: Our Favorite Custom Scarves For Every Outfit
This post may contain affiliate links. If you buy something we may get a small commission at no extra cost to you. (Learn more).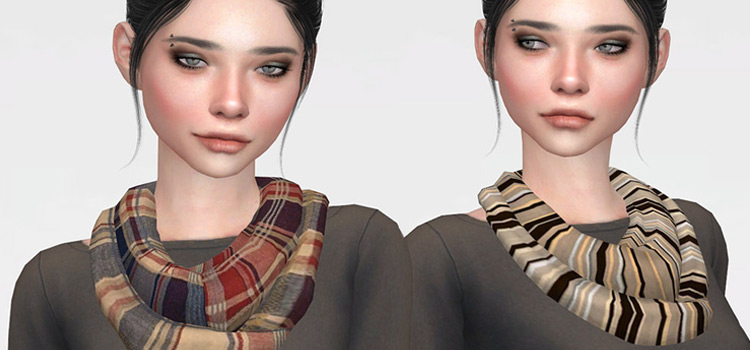 Scarves are some of the best accessories.
They're cozy, they're functional, and they come in so many colors! It's hard to find one that wouldn't match whatever outfit you have in mind.
As we get into the mood for fall, we're reminded that once again, scarves are a sleek choice for a cute Sim.
But scarves aren't just for the colder months! Everything from beautiful neck scarves to hair accessories can incorporate the use of scarves, and are the perfect subtle accessory to add a pop of color.
If you're looking for ways to step up your Sim's scarf styles then keep reading, because I've organized some of my favorite custom scarves for every Sims 4 occasion!
13.

Winter Scarf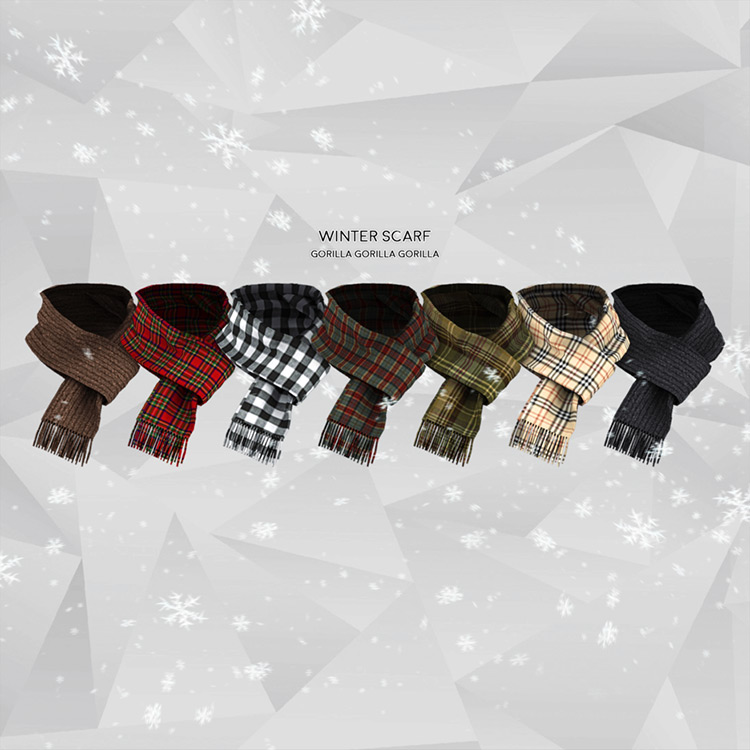 This set of winter scarves are great. Not only because the colors are neutral(so they'll go with just about any outfit), but also because they fit well with any type of style!
Whether you want your Sim to be more on the masculine or feminine side. These scarves have just about everything that you could want.
The plaid prints, the darker neutral tones, a tucked-under knot, and just a hint of fringe-perfect!
Since these scarves are such a basic piece, try pairing them with your favorite winter coat or a nice pair of warm boots. That way your Sim can stay warm and stylish, which is all they could really ask for while the snow is falling.
12.

Brandon Winter
I loved this look because when I saw it I thought, "What would business casual look like in winter?"
I know, that might sound a bit sarcastic.
But if your Sims are off to the office for the day, should they have to dress as boring as their job is?
Of course not!
Still stylish yet respectable and mature, this sweater+scarf combo is great for any male Sim who's rushing out the door to catch their morning commute.
If they're going to spend next couple hours at a job they don't like, at least they can do it feeling comfy in this deep-toned scarf.
The perfect CC for any guy in the Sim household.
11.

ScandiFever Scarf
This set of our favorite outdoor accessory is a great option for any Sim who's looking for a typical, run-of-the-mill scarf… but they're not looking for the same scarf everyone else has.
Introducing: the ScandiFever Scarf!
This CC offers some very nice scarves a length that's just right. No more worrying about whether that scarf is going to make your Sim look like they're drowning in fabric!
They also come in a variety of unique styles and colors, 5 colors and 10 styles to be exact. So you can mix and match for every mood that your Sim has, and still use your reliable ScandiFever Scarf.
10.

LeahLillith Euphoria Scarf Hair
Scarves aren't just for cold weather, and they aren't just for necks either.
Scarves have been used as hair accessories for years. Especially recently there's been a trend of taking a small neck-scarf and tying it around your ponytail and creating an adorable hairstyle that took almost no time.
As we all know, we love our Sims being as-up-to date on trends as we are. And this hair accessory CC will help keep them part of the loop!
This particular scarf accessory comes in 50+ swatches, so you'll be sure to find one that matches your Sims personality, and it even fits with hats!
And if you find yourself in love with everything about this look, well you're in luck. You can get the matching hairstyle here.
9.

Wicca Scarf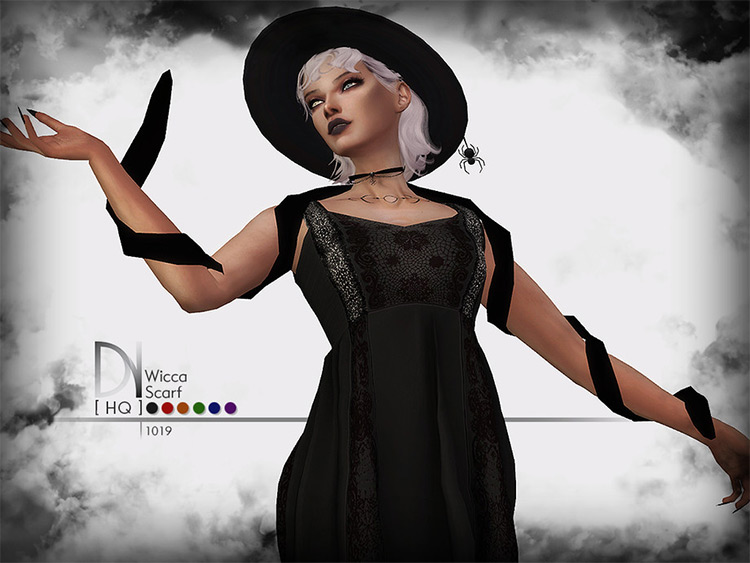 Who doesn't love making their Sims look a little extra spooky?
Whether your Sim is a witch in training, loves Halloween, or has a bit of a darker side, this Wicca Scarf is just what you need to accessorize all of their outfits!
Personally, I love this scarf because of the way that it fits any Sim.
The way that it wraps around seems mystic and mysterious, and sort of reminds me of a Disney villain when I saw it (in the best way possible).
Try pairing this scarf with a black dress, a sun hat, or even a pair of chunky boots for an edgy outfit your Sim won't be able to resist.
8.

Neck Scarf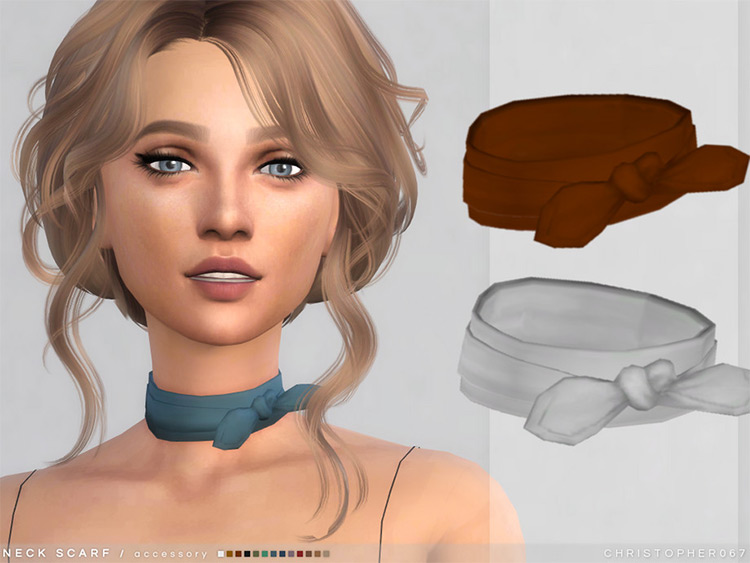 The neck scarf is a trend coming back from years before. And we're glad to see it making a comeback.
Neck scarves are the perfect accessory for warmer months, instead of having something too bulky and thick around your Sim when they're sweating out in the sun.
And it's cute yet subtle enough to be worn with just about any outfit.
Try this piece with a cute sundress, or even a tight-fitting crop top with some high-waisted pants!
It's sure to tie the outfit together and give your Sim that vintage-inspired look you've been dreaming about, without even having to try.
7.

Long Scarf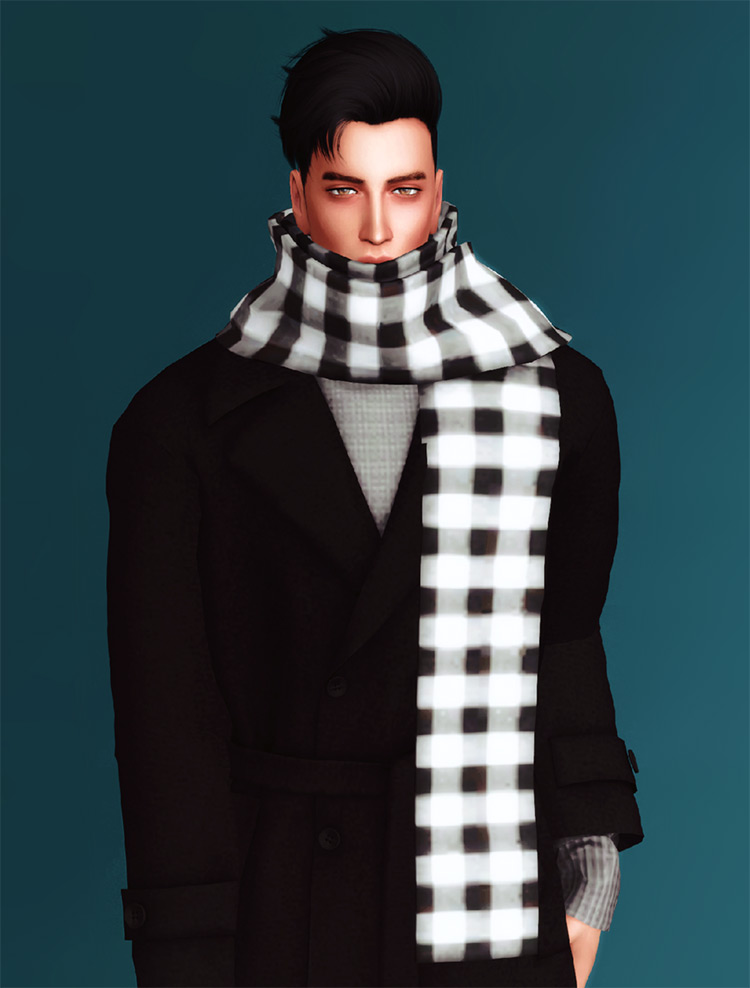 The polar opposite of the neck scarf, this CC is great for days spent outside making snowmen, having snowball fights, and trying your best not to get frozen to death.
This long scarf is longer than we could've imagined… and that's why it's so great!
It's almost like a turtle neck, if a turtle neck wasn't supposed to just go up to your chin, but up your whole mouth too (which in the winter, isn't really a bad thing).
And then it goes all the way down to your Sims pants, so you can bet that with this scarf CC, there won't be a single part of them that's exposed to frostbite.
6.

Patterned Twill Scarf
Bandanas were once a loved hair accessory. They were tied from the back for a bow on top of your head, they were used in ponytails, and they were even used as a way to keep your stray hairs back from the wind.
Yet their patterns were a bit too… bold for everyday use. And the fabric was often too stiff and heavy to be a functional accessory for everyone.
Here's where this scarf CC comes into play.
Yet again, this Patterned Twill Scarf proves that scarves are anything but an annoying winter accessory.
Here, it's the perfect hair accessory for days where your Sim is busy outside in the garden, tending to their bees, doing the household chores, and just about anything else in between.
It keeps their hair in place. And it adds some extra color to their "busy day" clothes that probably consists of some plain jeans and a t-shirt. An excellent addition to any style.
5.

Long Scarf (For Girls)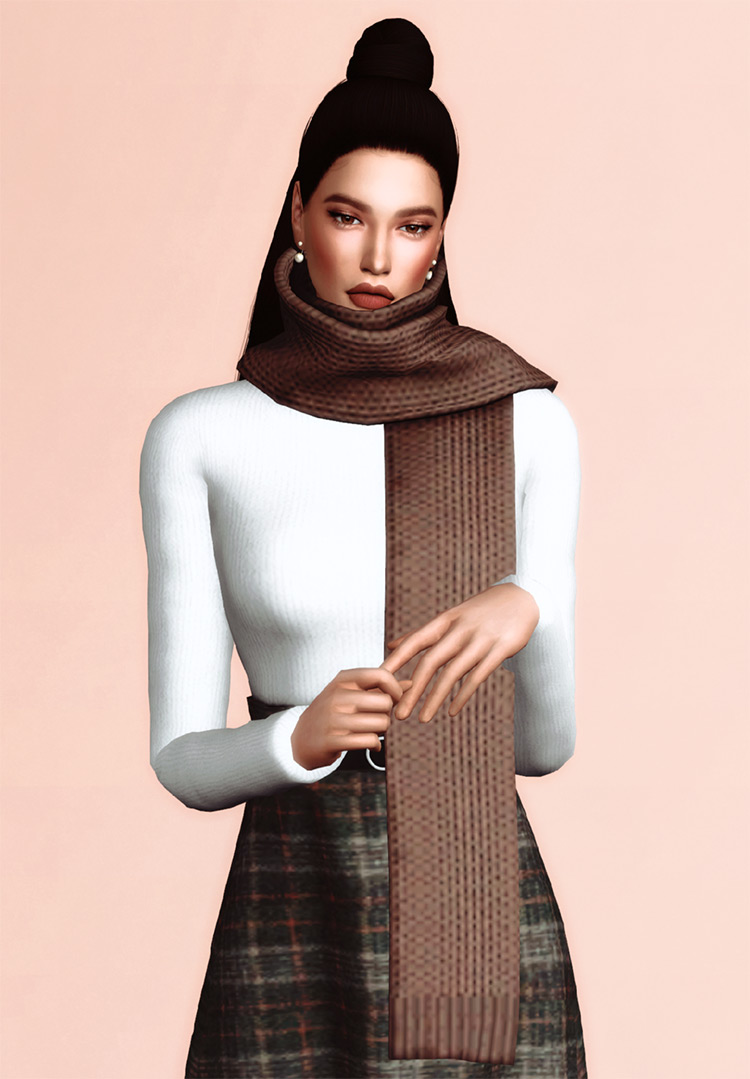 If the long scarf from before was perhaps a bit too long for your taste, this one is definitely worth checking out.
It's the perfect length, really!
It's not so short where it's all bunched up at your chin and your Sim feels like they're being suffocated, but it's also not so long where it's dragging on the floor behind them.
And do I even need to mention the cable knit options that this CC has?
I don't know about you, but that's an automatic selling point for me!
4.

Amanda Winter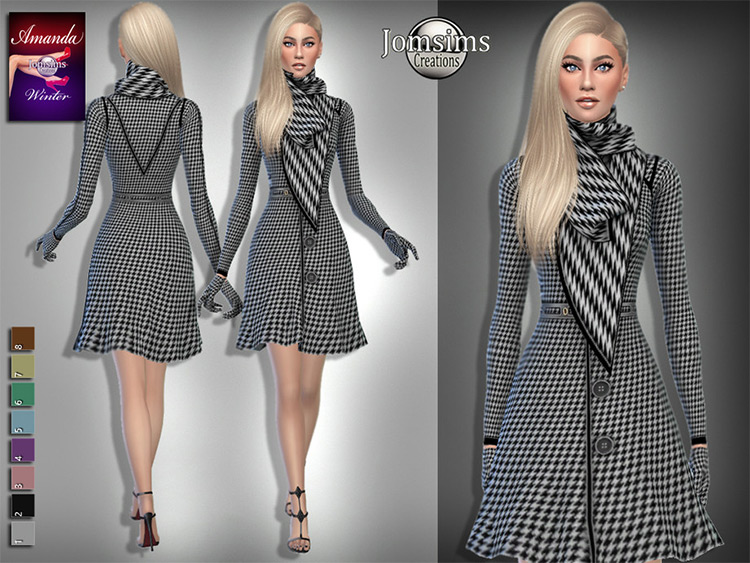 Everyone loves a good blanket scarf.
And guys, this is a good blanket scarf if I've ever seen one.
The monochromatic color scheme makes it feel homey with whatever outfit you had in mind: reds, blues, greens, yellows, the choice is yours!
But there are an additional 7 colors to choose from too, so your creativity won't be stifled here at all.
3.

Emylia Head Scarf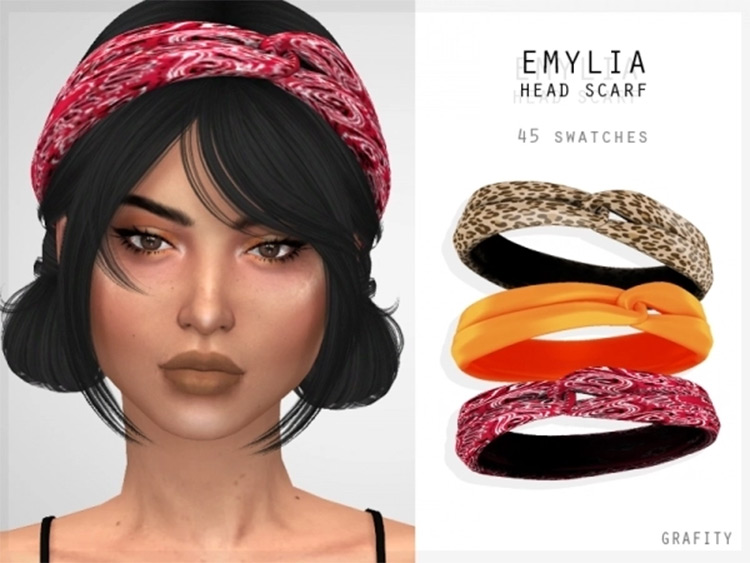 One of my favorite things is when I see a piece of clothing or an accessory that looks like the creator took something old, gave it a little TLC, and recreated it into something new and exciting.
This Emylia Head Scarf is a spin on traditional headbands and just what the doctor ordered.
But it's no simple headband. This is a lot cuter and something that you would absolutely want your cute girly Sim to wear!
2.

Child Cat Hood Scarf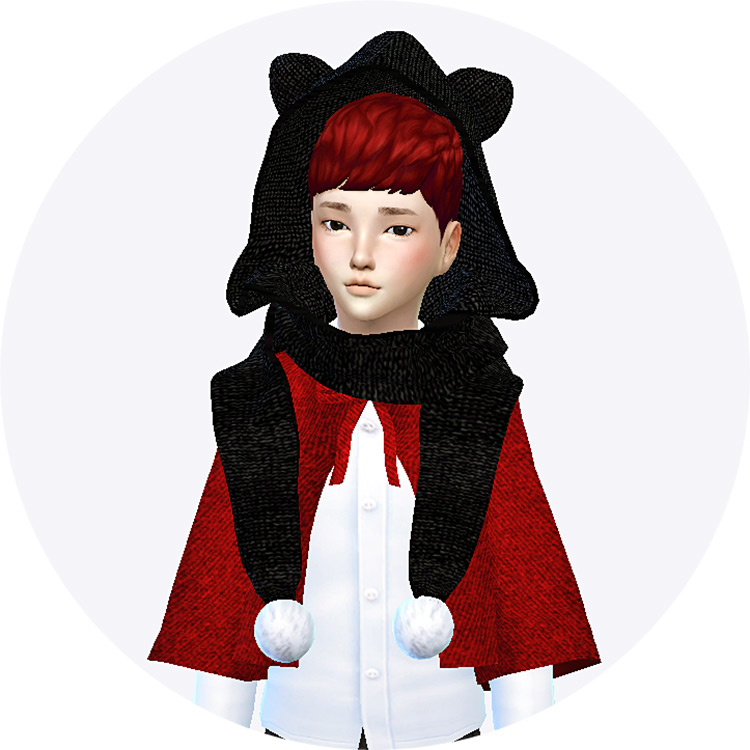 Make sure that everyone in your household is kept warm with a scarf.
Complete with cat ears at the top and pompoms on the bottom, this scarf is anything but boring. And it's sure to match your Sim child's fun-loving and imaginative personality, all while being as bundled up and cozy as possible.
Now maybe you love this look, but you're not planning on going the family route in The Sims any time soon.
Lucky for you, this Cat Hood Scarf is available for adults too!
1.

Cute Scarves For Women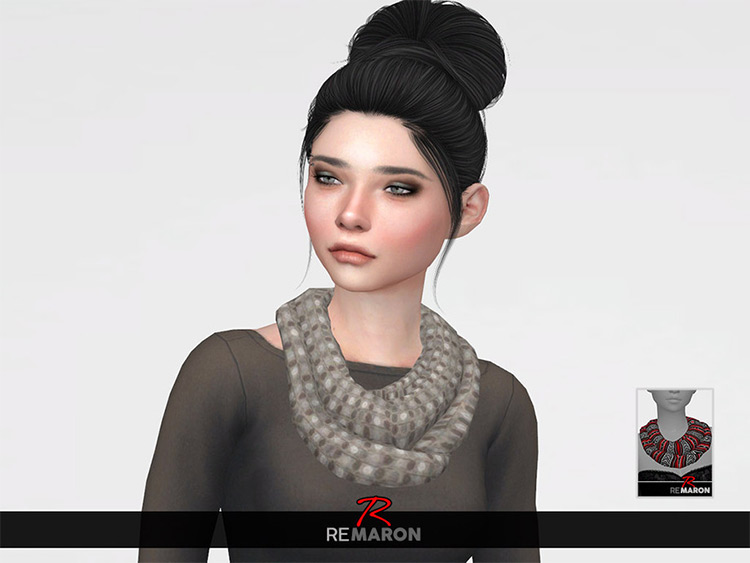 You shouldn't have to make your Sims look too stuffy while they're trying to beat the cold.
This winter scarf CC by Remaron is a relaxed style that's brilliant for casual days spent going to get a cup of coffee, or going to the library trying to get some work done.
No longer do you have to settle on scarves with the same basic prints.
With this CC in your closet, you can have a loose fun-loving scarf that suits your Sim every single winter.
Browse:
Lists
The Sims 4
Video Games