Sims 4 School Clutter CC: Pencils, Backpacks & More
This post may contain affiliate links. If you buy something we may get a small commission at no extra cost to you. (Learn more).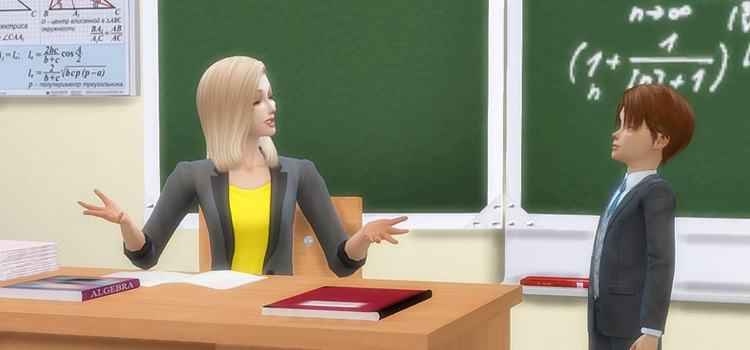 Desks, doors, and windows do not a classroom make. I mean, they certainly belong there, sure.
But a clean, clutter-less school is, in my opinion, a boring one.
Give me haphazardly stacked textbooks, piles of broken chalk, and a messy arts n' crafts corner any day!
Personalize your Sim's learning experience with these awesome back-to-school clutter packs!
1.

Pre-School Stuff by Around the Sims 4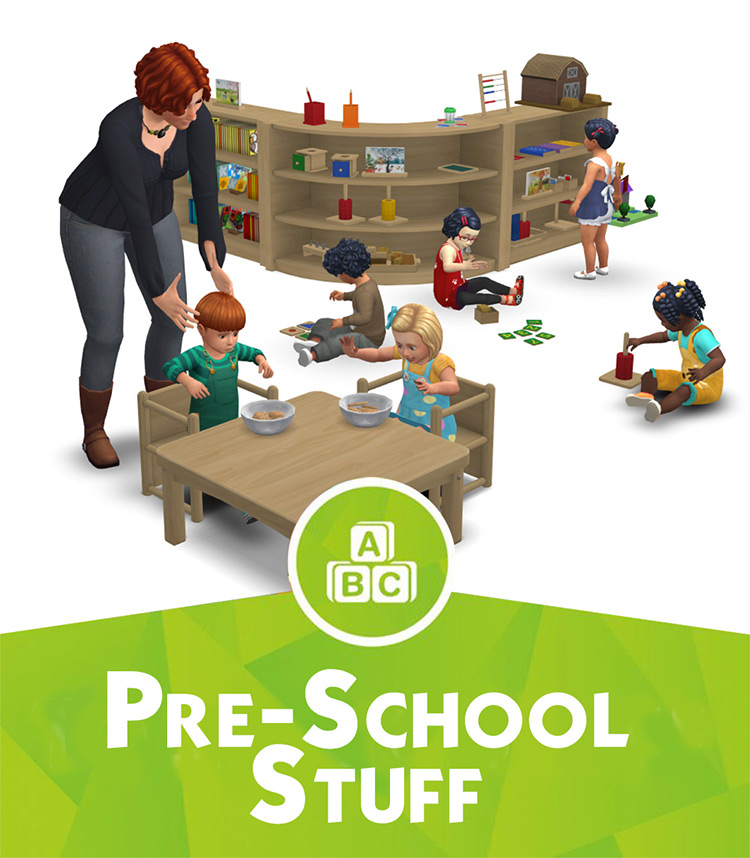 The people behind Around the Sims 4 are solid CC makers with pretty creative – and usable! – sets.
Take this Pre-School Stuff. It contains age-appropriate clutter that's both entertaining and educational. Think shape blocks and colorful flash cards.
Most of the items are decorative, but there several furniture pieces in there too, if you need them!
2.

School Accessories by Around the Sims 4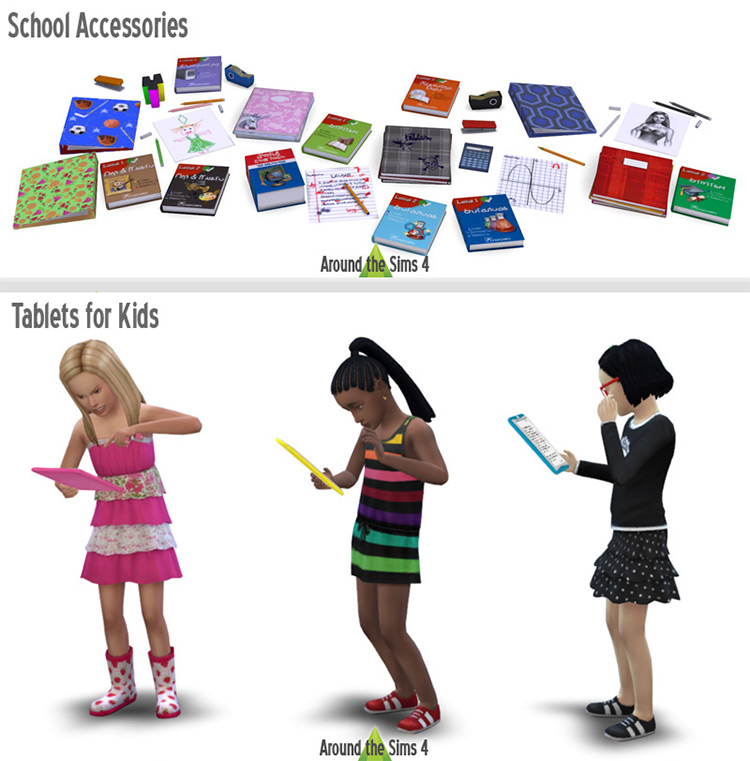 I repeat; Around the Sims 4 are solid. CC. makers.
Where else would you get a set of kid-friendly learning tablets, brightly-colored grade school textbooks, and ring binders with kiddy designs?
If you ever feel like drowning a study desk in education-related paraphernalia, this set has literally everything you need — and then some.
3.

School Set by Severinka_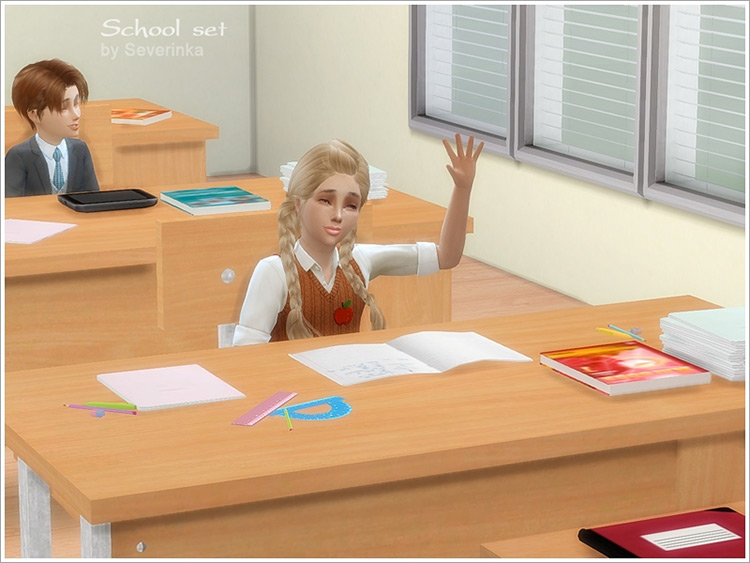 Pencils, protractors, and educational posters—oh my!
Severinka_'s School Set contains 19 items to build (and decorate) a standard middle school classroom.
There's a chalkboard with formulas scribbled on it, cute, pastel copybooks (available in open and closed versions), a couple textbooks, and a large copy of the periodic table of elements. Just to name a few.
4.

School Décor Set by soloriya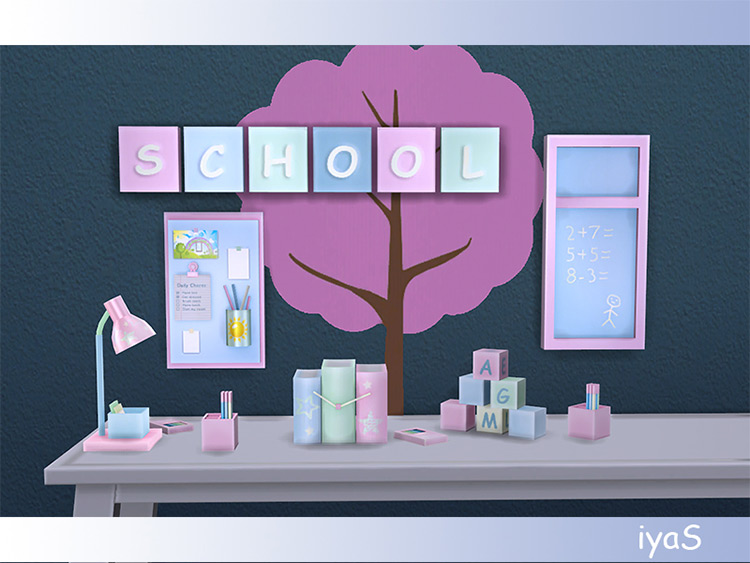 This set is full of bright, colorful décor items that are definitely targeted towards a younger audience.
Think alphabet building blocks in bright purple, big notice boards in friendly pastels, and teeny boxes of coloring chalk.
It's definitely better suited for Sims below the Teen life stage.
5.

Valerie Part 1 & 2 by soloriya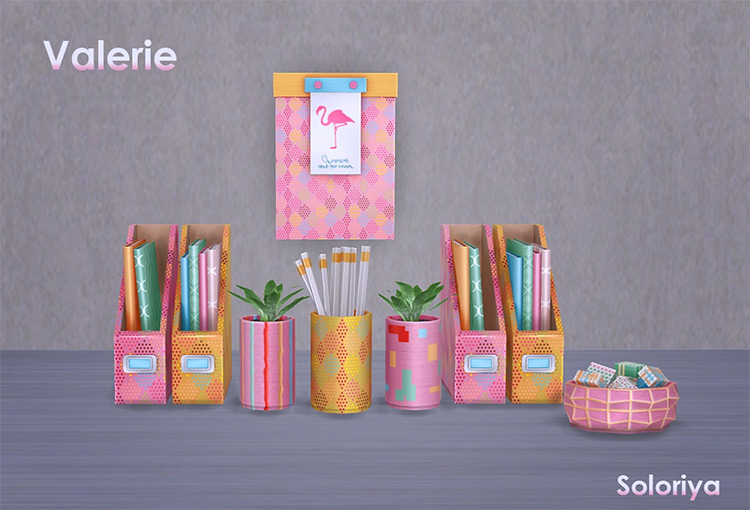 This isn't specifically marketed as school clutter, but as a former student, I can confidently call these school supplies.
Desk folder organizers, more pens than I know what to do with, and a cute little memo board (that doesn't really get used but makes you feel productive anyway)? All regulars of my university study table.
Part 2 of this set contains notebooks, colorful erasers, and memo pads.
6.

Back to School Clutter by pqSim4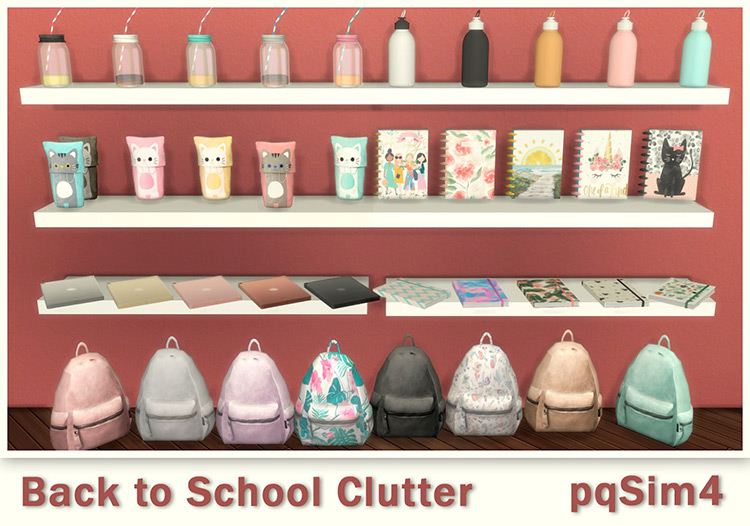 PqSim4's Back to School clutter pack is a creative mishmash of sensible school stuff made more attractive with cute, quirky designs.
Standing kitten pouches, ring notebooks with Pinterest-esque covers, matte drink thermoses, mason jar tumblers – complete with stripey straws! – and more.
It's basically a back-to-school haul that's super personalized and visually appealing.
7.

Middle School/Classroom CC Set by LaSkrillz Gaming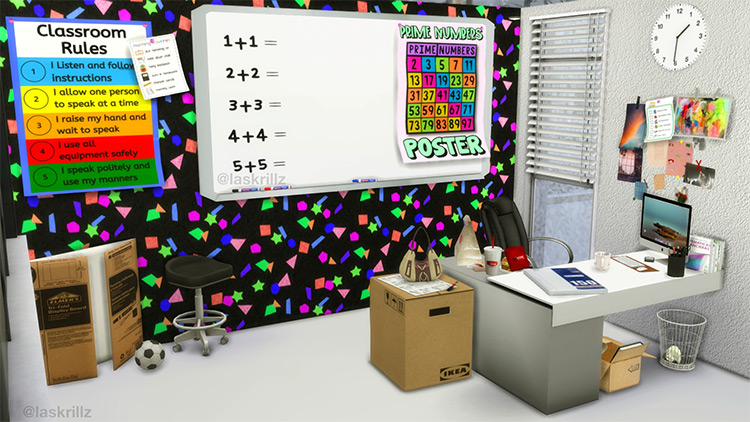 This clutter set suits a generic middle school classroom setup; a mix of sensible teaching materials balanced with just enough pops of color to promote visual stimulation (and combat boredom).
Personally, the whiteboard with the Welcome Back Students!! written in bold is definitely my favorite piece.
8.

Kawaii Pencil Holder by Aleesha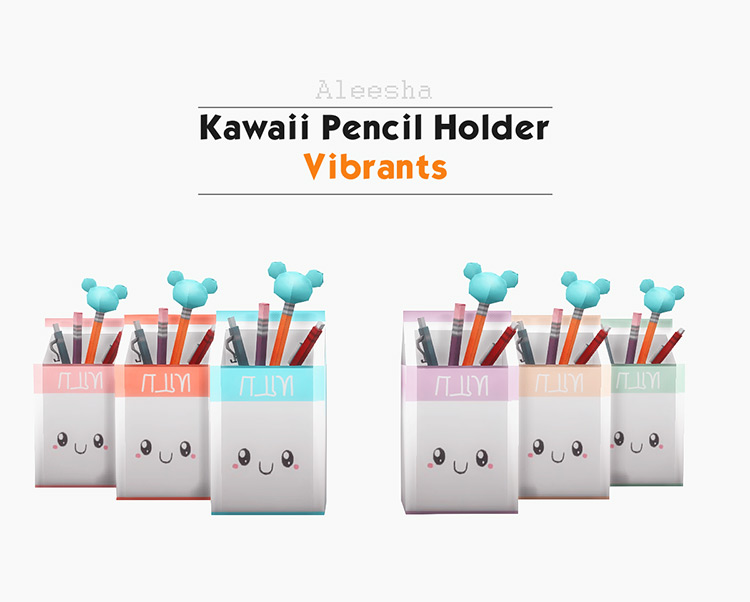 For studying Sims on the edge of burnout, Aleesha's adorable pencil holder is the perfect cure.
It's small, it's simple, and it's happy to see you. (Or your Sim, in this case). Seriously, that smile is enough to brighten up any study desk.
It's also ridiculously cheap (only a Simolean a piece!), so you could easily get three or four of these little guys to populate your Sim's desk.
9.

School Furniture & Accessories by Around the Sims 4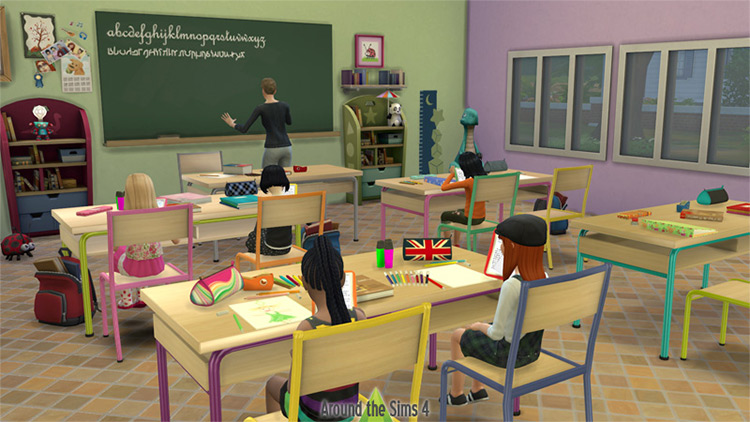 If you're just after clutter, don't mind the furniture; there are only two of them in this pack.
The other six items are a mix of wall decorations (aka a blackboard and a projection screen) and nifty student must-haves.
The different pencil case designs are definitely serving some heavy middle school nostalgia!
10.

"School Days" Deco Sims by lazysimmies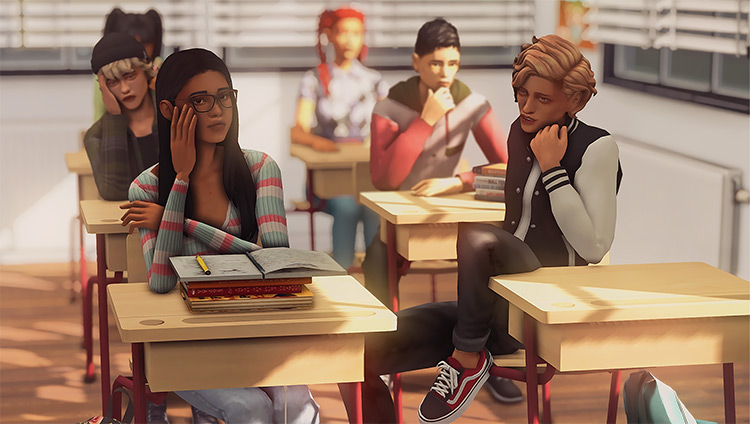 Where would we be without deco Sims?
As someone who's more of a story-based/gameplay Simmer, I love setting up fictional scenes.
But I definitely don't have the time, creativity, and energy to generate five to six random Sims – and pose them – just to fill up the background.
Enter lazysimmies set of decorative scholars.
If you ever need to clutter up a classroom with students, this pack contains twelve 'em!
11.

It's Lunch Time! by chunkysims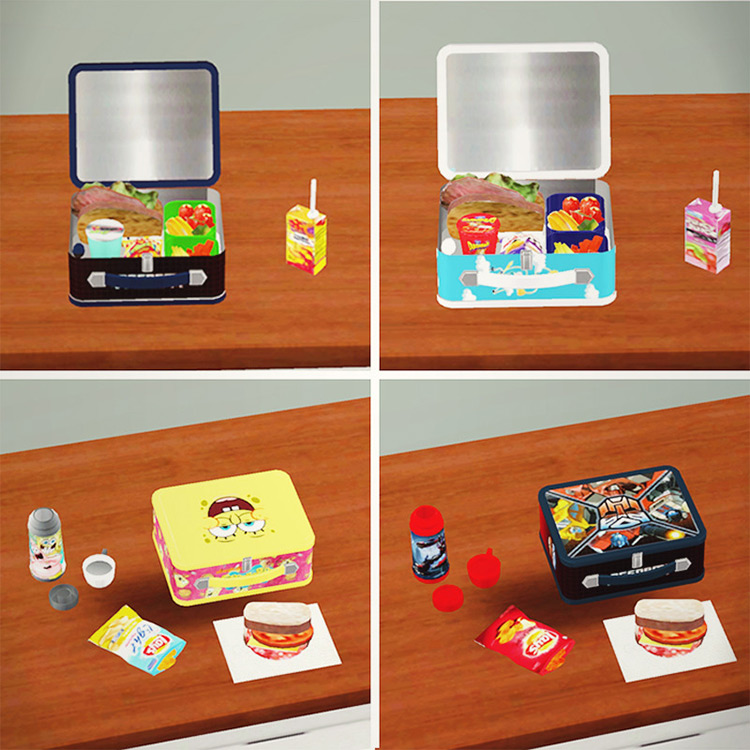 Brightly-colored lunchboxes with kid-friendly designs will never not be wholesome.
They may not be specifically educational but, hey; where else is a kid going to bring a lunchbox?
I love that there are both closed and opened versions of the boxes simply because it adds more variety that way.
Imagine a lunch table cluttered with kiddie lunch boxes.
Some are propped open to display the munchables inside. Some are still closed. It spins a livelier, more realistic image for sure!
12.

Stationary Haul by pqSim4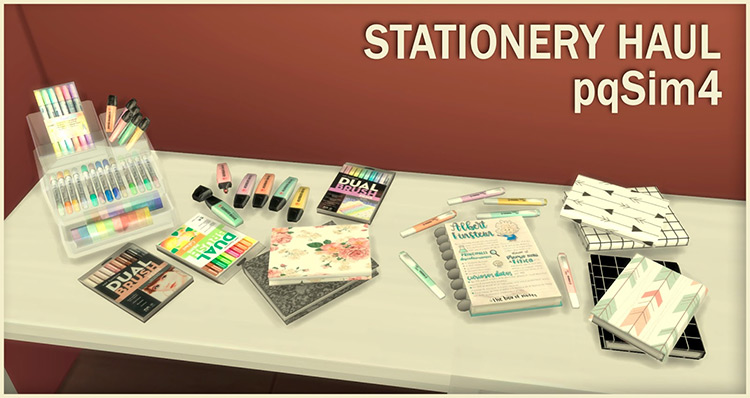 Like the lunch boxes, this stationary set isn't exactly marketed as learning paraphernalia.
But despite living in this age of smartphones and tablets, I'm confident that are still artsy students who tote around pastel highlighters, colored gel pens, and journals with minimalist/Scandinavian-print covers.
They're useful aesthetic, and they photograph pretty well.
PqSim4's Stationary Haul set contains the perfect desk décor for these organized, artistic types!
13.

All Stationary Package by imadako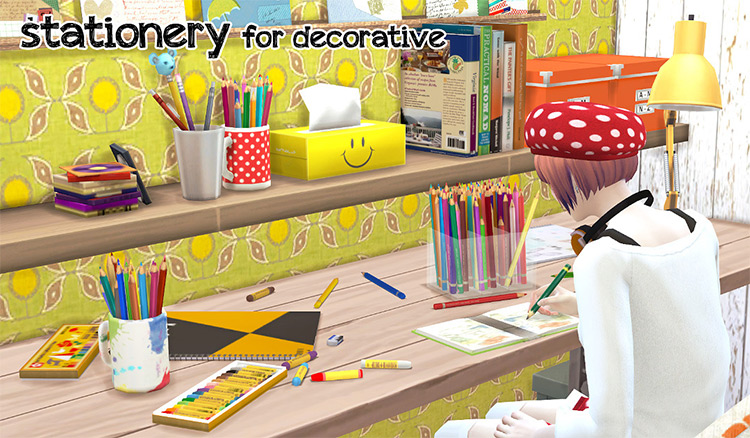 Like the pqSim4's Stationary Haul set, this custom clutter pack by imadako contains items that lean more towards art than school. But like I said; artsy students exist!
Art class is also a thing.
You're telling me a 16-piece box of Crayola Crayons, a rubbed-down Staedtler eraser, and some unevenly-sharpened colored pencils would look out-of-place in a classroom? I think not!
14.

What's in my [Sims'] Bag? by Around the Sims 4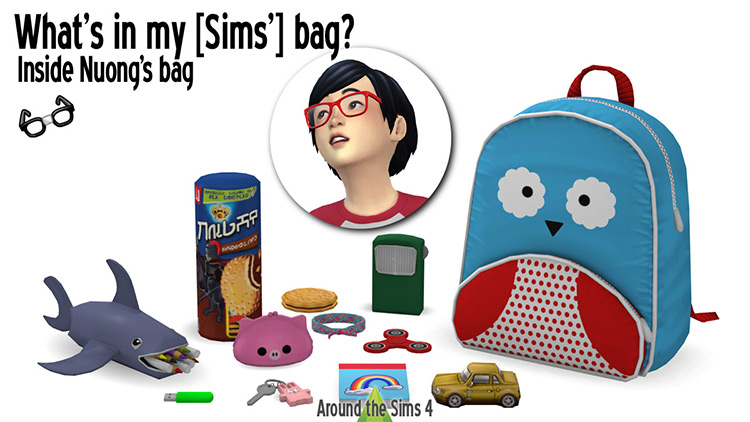 A Freezer Bunny keychain, a friendship bracelet, a coin purse shaped like an animal head, and a packet of cookies.
Does this or does this not sound like the contents of a kid's school bag?
There are other hopelessly adorable clutter items in this pack that are very much in the same colorful, school-kid-friendly vein.
15.

Life is Strange Conversion by veranka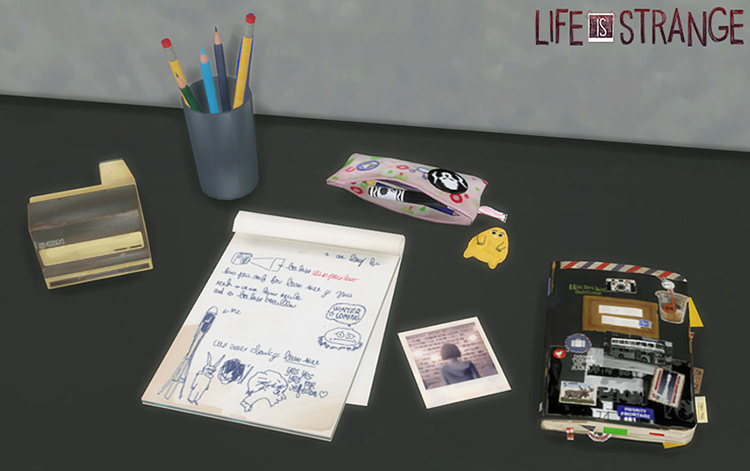 Life is Strange is an award-winning video game starring Max Caulfield, a twelfth-grade student with an eye for photos and a flair for artistry.
Veranka's TS4 conversion of her desk items includes a diary, a pencil case, some polaroids, and a jar of pencils.
The decorative camera may not be a student staple, but you could definitely clutter up a classroom build with the other objects in this set!
16.

Jules School Supplies by SIMcredible!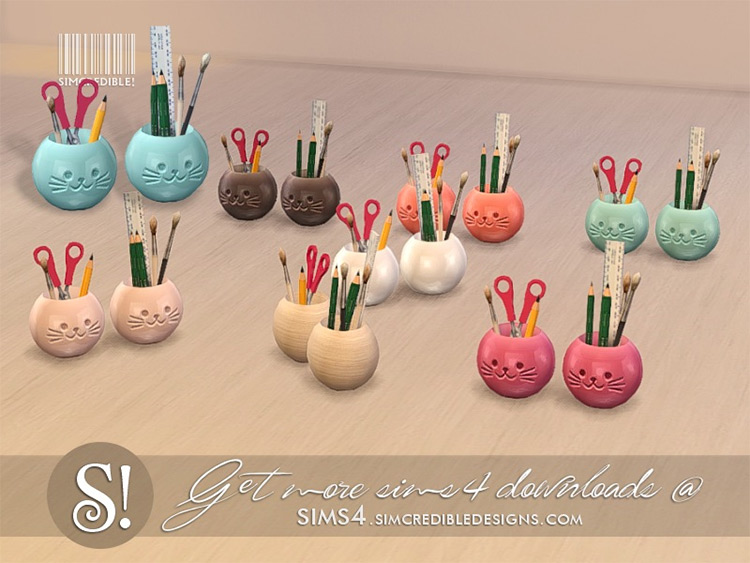 Small ruler, pair of craft scissors, and freshly-sharpened pencils.
Yup! These are definitely school supplies.
This cute matched set of cat cups is part of a bigger décor set by SIMcredible!, and the theme of it seems to be adorable bits n' things you can find in a teen's bedroom.
These candy-colored organizational pals definitely fit that category.
17.

Notebook V2.1 by plasticbox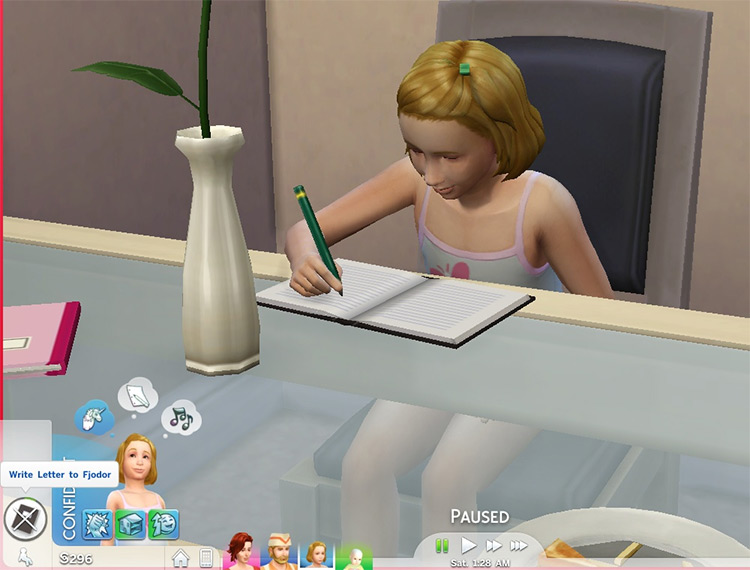 Functional clutter is still clutter.
Ergo, plasticbox's Notebook V2.1 deserves a spot on this list.
It's sweet, simple, and comes in 19 different design options that range from matte black to charming, kid-friendly, candy-colored polka dots.
Use it to up your Sim's Writing skill as intended or leave it as a purely decorative item on your Sim's desk. It work great either way!
18.

School Themed Vector Posters by sim.saurus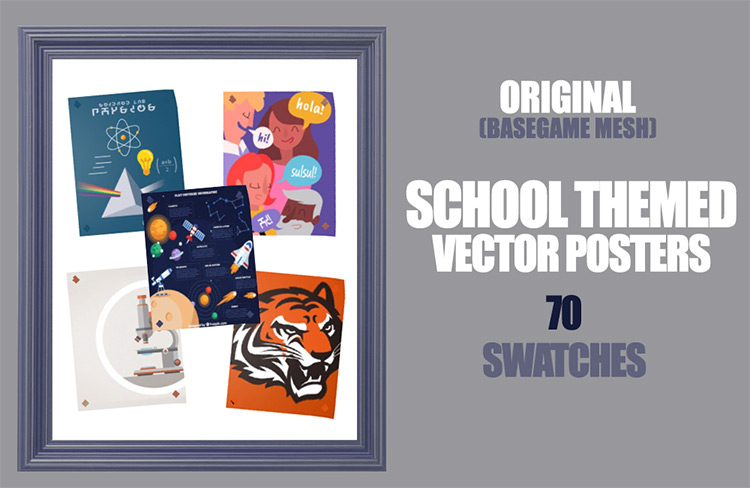 Let's wrap this list up with some visually pleasing – and super satisfying – school-themed vector posters by sim.saurus.
These use the Henry Puffer Poster mesh from the base game so, yes, they are 100% BGC.
The creator included a total of 70 different swatches and even categorized them by subjects.
So you've got geography posters, astronomy posters, science posters, and some school mascot cameos — just to name a few!
Browse:
Lists
The Sims 4
Video Games