Sims 4 School Uniform CC + Mods (All Free)
This post may contain affiliate links. If you buy something we may get a small commission at no extra cost to you. (Learn more).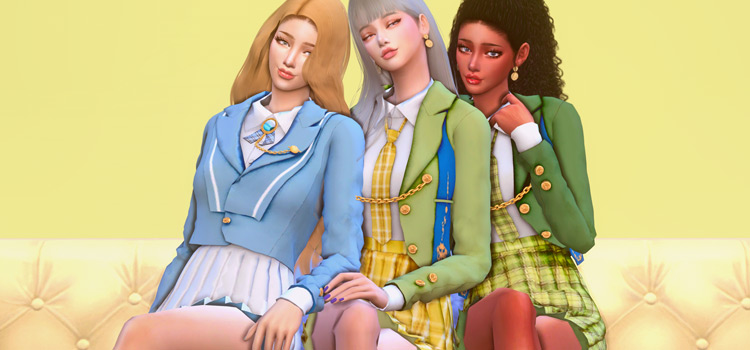 Have you ever noticed that children in The Sims 4 have it easy when it comes to school?
Seriously – they roll out of bed into any old thing before taking off for class.
Not to mention the very limited uniform-style choices in CAS.
Immersion is a very important part of playing The Sims.
And that's why we're so excited to present this list of custom school uniforms that'll make gameplay feel more meaningful to you and your school-aged sims.
10.

Easy School Uniform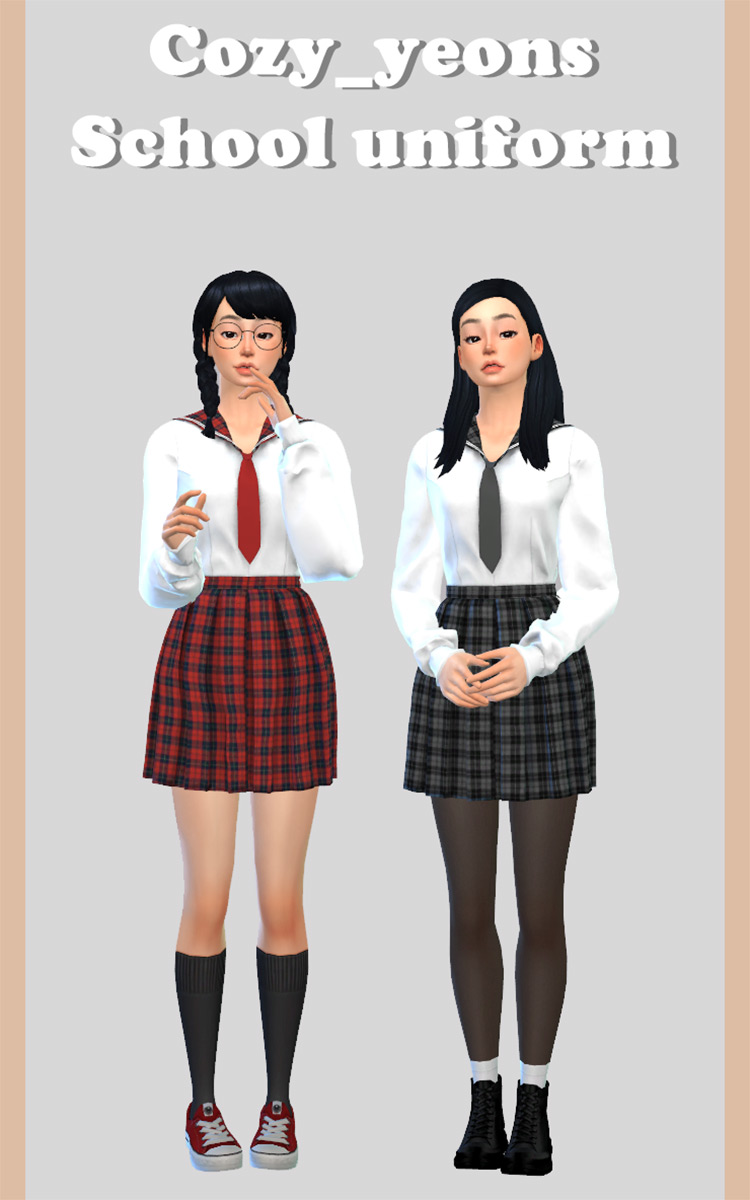 We couldn't have a list about school uniforms without including the classic plaid look.
This CC by Cozy_yeons is a Korean-inspired female uniform with a pleated red plaid skirt and matching blouse with a plaid collar and tie.
It comes in five different colors (red, black, green, yellow and blue) and is HQ while still being Maxis-Match friendly.
9.

Back 2 School Set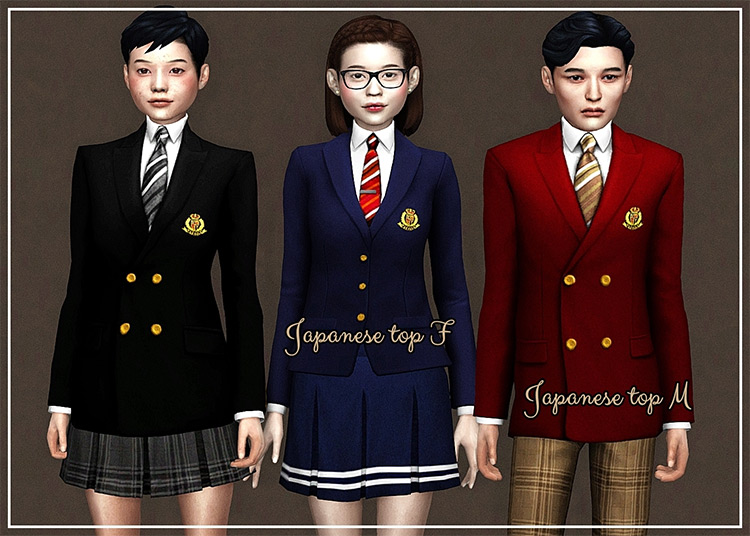 Anyone remember the headache of getting your child into private school in The Sims 2?
It was a nerve-wracking experience but so worth it to see your child Sims leave in style, wearing their awesome private school uniform.
And while we don't have it in The Sims 4, Moonchild's Back 2 School CC brings a little bit of that nostalgia to our current saves.
This collection of HQ formal uniforms includes 11 items, with two full outfit choices for male and female Sims.
Note: some of the items do use EA meshes, so make sure you own Realm of Magic, Dine Out, Cats & Dogs, and Spa Day before downloading.
8.

Teen School Uniform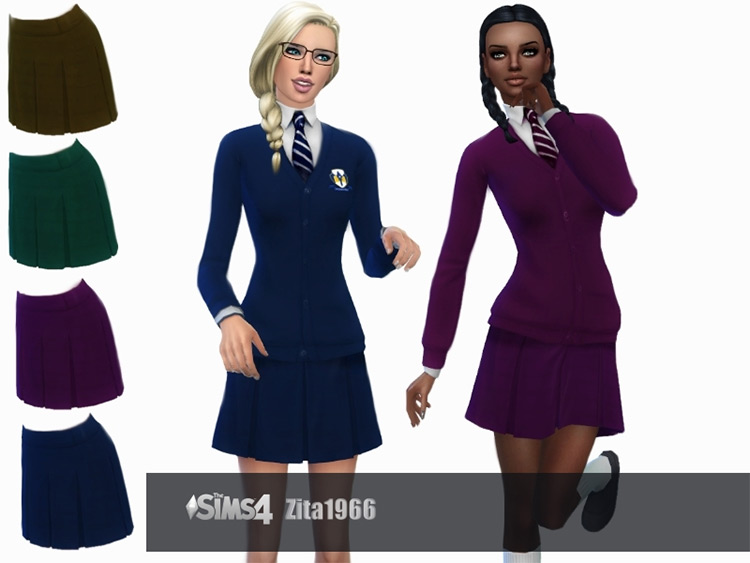 Another private school uniform here – but this one's super Maxis-Match compatible.
And this custom set from ZitaRossouw is refreshingly simple:
We get a button-up sweater with a white collared shirt and tucked in tie on top. And for female Sims, a matching pleated skirt on the bottom.
These actually look like something EA would make for a private school pack (fingers crossed!).
Wear in brown, green, blue, and purple, and you only need the base game to download.
7.

Above The Time Set
Do you have any teen Sims that treat school more like a fashion show than a place of higher learning?
Then New_en092's custom CC is exactly what they need.
These chic uniforms come in two different versions and offer a massive 40 swatches, with both outfits featuring long sleeved tailored jackets and pleated skirts.
We wouldn't be surprised if the creator was influenced by the movie Clueless, because we're getting major Cher Horowitz vibes.
6.

Loona Uniform Top + Skirt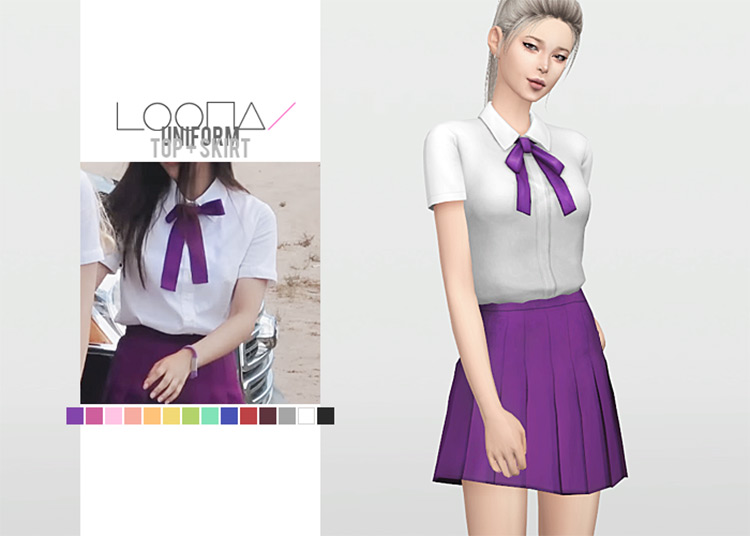 Throw it on and go.
The Loona Uniform Top + Skirt from Waekey is perfect for the school-aged Simmer who want to keep things simple when it comes to their school attire.
Both the button-up shirt with a loose bow tie, along with the crisp pleated skirt, are edits of EA meshes. So they won't clash at all in your game.
There are 14 swatches in total with surprisingly varied colors for a uniform.
5.

Witchy School Uniform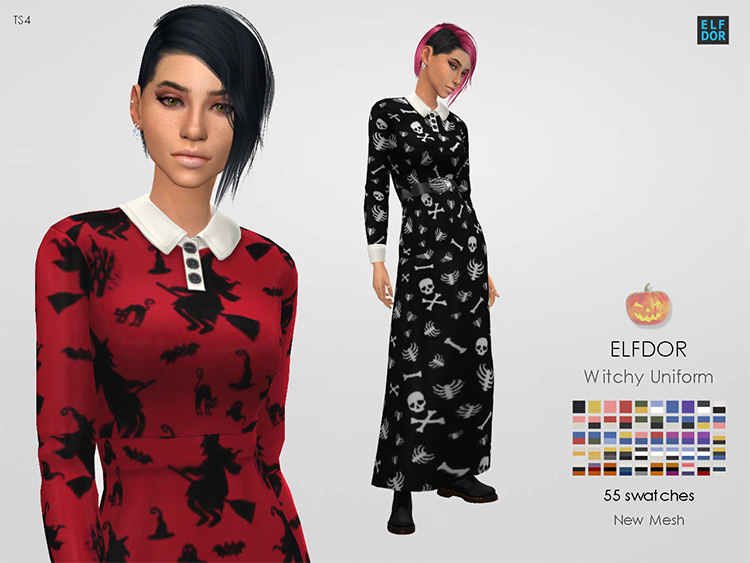 Is your Sim's high school less Mean Girls and more The Craft?
Then Elfdor's Witchy School Uniform CC is the perfect choice for those magical Sims who haven't figured out a spell that'll let them ditch school.
With three goth/Halloween inspired outfits, and a combined total of 55 swatches, it'll be a while before they run out of options.
And good news: these are base game compatible and totally wearable from teens through elders.
Not sure why grandma would ever be throwing this outfit on, but hey, it's an option.
4.

Back 2 School For Kids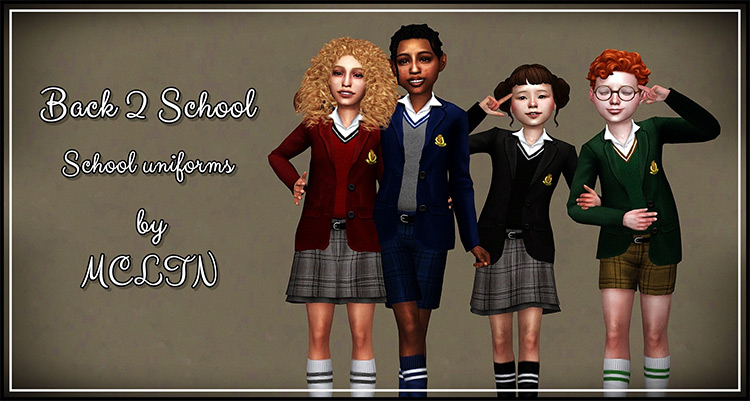 It's Moonchild again, this time with the Back 2 School outfit specifically for child-aged Sims.
Yep, everything from the first entry applies to this 14-item collection:
HQ meshes, great attention to detail, and new private school looks for male and female Sims.
Both outfits include jackets, although male Sims have shorts and female Sims have skirts for the bottom.
And just like the first Back 2 School outfit, you'll need to own the following packs: Dine Out, Kid's Stuff, Get Together and Island Living.
3.

Private School Uniform Shirt + Jumper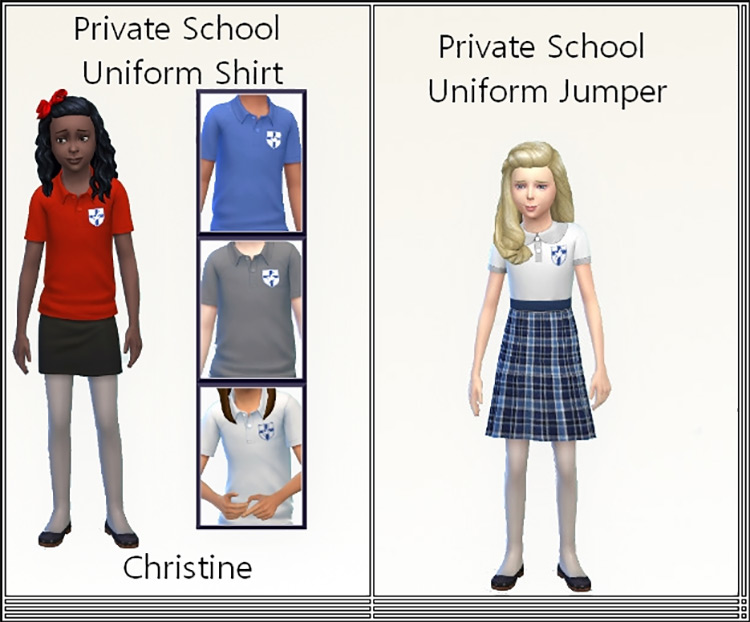 Kids are a bit underrepresented on this list.
So we're super jazzed to share the Private School Uniform Shirt + Jumper from Christine.
Both the uniform shirt and jumper are Maxis-Match friendly, so if you weren't digging the last item on our list, this would make a great alternative.
We count four swatches for the uniform shirt and one for the jumper, but feel free to download and let us know if there's even more!
2.

Female Backpack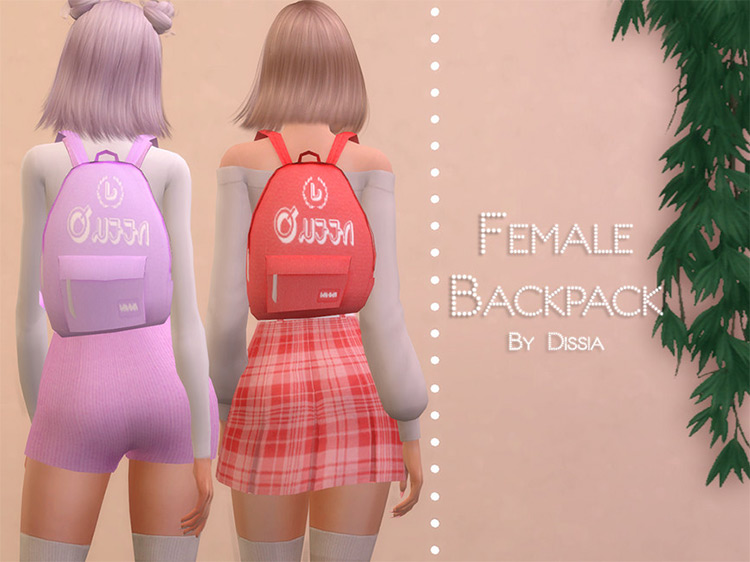 What's more important than school uniforms?
Backpacks, of course!
While there is an EA-made backpack (along with some backpack CC) they're basically decorative only.
But of course, who needs to wait for a wearable bag when CC exists?
Dissia's Female Backpack CC provides a book bag that your female Sims can actually wear!
Beyond the adorable design (the bag says 'Queen' in Simlish) it also comes with 37 colors to pick from.
And when you're trying it on, you'll find this bag in the ring category.
But your Sim won't be able to wear this bag and a hat at the same time, so keep that in mind!
1.

Male Messenger Bag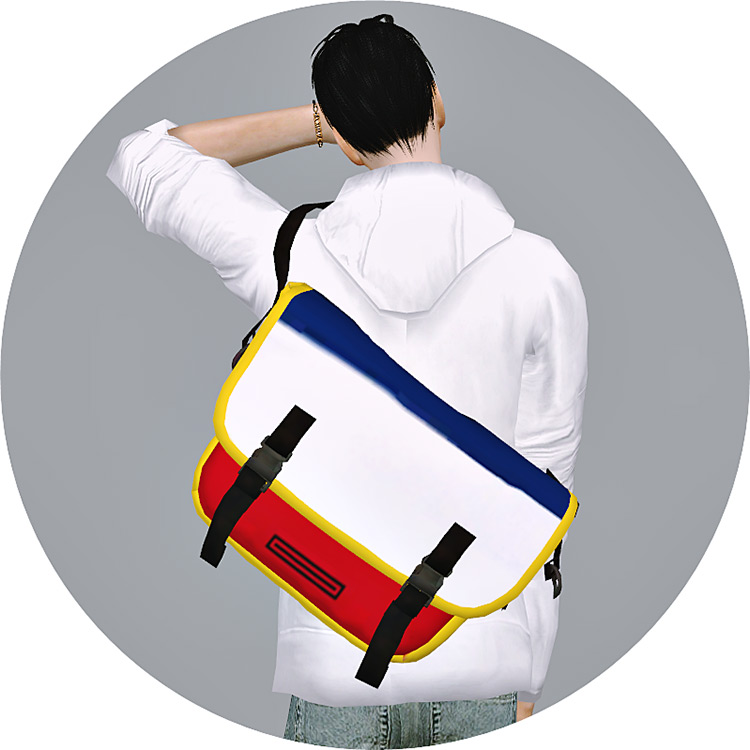 One other custom backpack, because we can't leave the guys out.
When it comes to cute Alpha CC, few do it better than Sims4Marigold.
And this custom male messenger bag is no exception.
It's a spacious bag with 43 swatches for all your male teen Sim's needs, and is equipped with a large strap for added support.
And did we mention this one is also wearable?
There's even a download for two different CAS categories: one to equip in the glasses category, and the other in the necklace category.
Browse:
Lists
The Sims 4
Video Games