The Sims 4: Scooby-Doo CC & Mods (All Free)
This post may contain affiliate links. If you buy something we may get a small commission at no extra cost to you. (Learn more).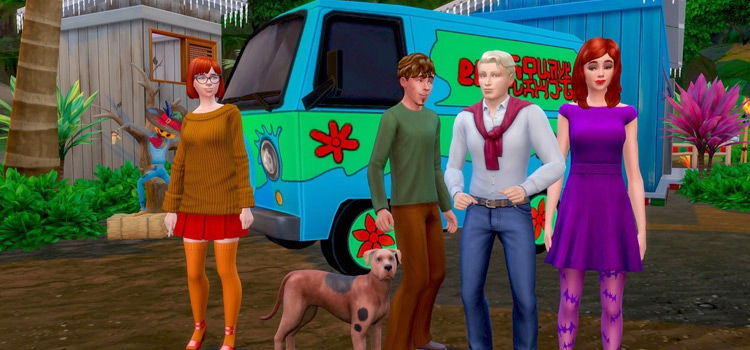 Scooby-Doo has been a part of our childhoods ever since it first aired back in 1969.
It's one of the few things that the last three generations of kids have in common – and something we need to keep alive for future generations.
And your Sims definitely shouldn't miss out on the Scooby-Doo goodness.
If you've ever felt like your Sims are too stupid because they can't stop washing the dishes in the bathroom, you should stop worrying. After an afternoon of solving mysteries with Scoob and his friends, your Sims may develop the critical thinking needed to use the kitchen sink.
One way or another, it's time to earn ourselves some Scooby snacks by sniffing out the best Scooby-Doo CC out there.
Daphne Dress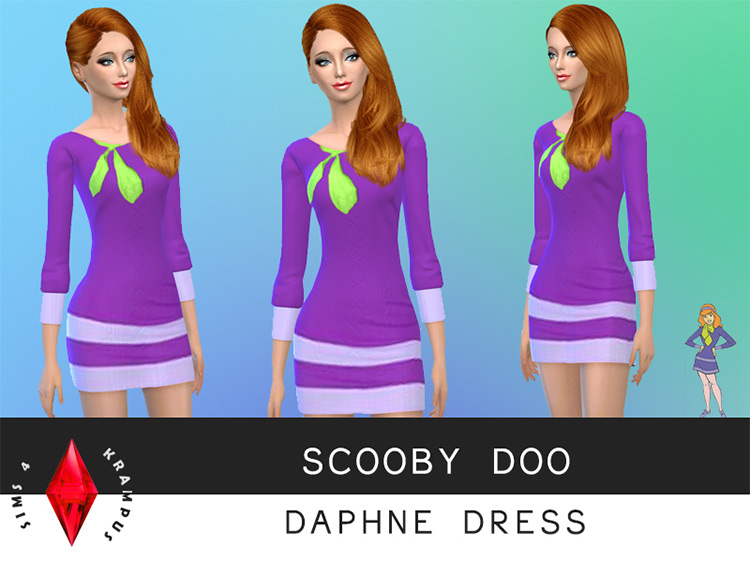 I love simple additions to my Sims' wardrobe that make all the difference on a regular weekday.
This Daphne Dress by Sims4Krampus looks fantastic, but it can also be misleading.
Instead of a multi-piece outfit like the one seemingly worn by Daphne, this dress has every detail printed on – including the green scarf!
Still, that doesn't make it look any less cool. If anything, it makes it cooler!
Scooby-Doo Toddler Shirt
If there's one thing I'm sure of, it's that I'll be showing my kids Scooby-Doo.
My Sims are about as determined to get their kids into Scooby-Doo; despite the franchise, you know, not existing in The Sims.
To help them, I added Pipermd's Scooby-Doo Toddler Shirt into my CC folder.
It's a very normal-looking printed shirt that you wouldn't be surprised to find in your own childhood pictures.
And that's what makes this CC so good:
It looks realistic – like something you might actually buy on eBay or some random clothes store. It makes your toddlers look normal, rather than decked out in swag.
Scooby-Doo & The Gang Wallpaper
Let's say your Sims (or you, yourself) are in love with the Mystery Gang.
Well then you'll be happy to keep them in your life at all times, thanks to SugaredTerror's Scooby-Doo wallpaper.
Each section of the wallpaper has a different visual, including pictures of the Mystery Machine with everyone inside, the Mystery Gang posing together for a post-mystery photograph, and a classic monster (with their mask still on).
It's pretty cool for a child's room or a custom nursery, or whatever spiritual refuge you've made for your Sims to connect with their inner child.
Mystery Inc. CC Pack

If there's one thing that keeps me coming back to Scooby-Doo, it's the characters.
They've been around since the '70s. And I spent so much time watching them as a kid that I feel like a member of Mystery Inc. myself.
To make my dreams a reality, I decided to make the entire Mystery Gang in my CAS to live with my self-insert Sim.
Modder Brianitesims brings us an extensive pack with all the CC/CAS items needed to re-create Scoob and the gang.
This includes scarves, dresses, shirts, pants, shoes, and even dog collars in many color swatches for extra versatility.
The Mystery Machine
And you can't have the Mystery Gang without their iconic hippie-looking wheels: the Mystery Machine.
Created by Stanislav & Luminous, this custom take on the Mystery Machine shines bright with the classic colors and groovy '70s design.
It's bright, colorful, and designed in a way that matches perfectly with the Maxis art style.
Regrettably, your Sims can't really drive the van anywhere (or any car in TS4, for that matter).
So it's just a prop for now.
Still, it'll look incredible in your driveway. And it's terrific for Scooby-Doo-themed family photo ops.
You can also change the van's color if your Sims outgrow their mystery-solving phase.
Scooby-Doo Movie Mod
Many people are out here looking for Scooby-Doo CC to bring its characters or locales to The Sims – but I'd rather just enjoy the show with my simulated people.
Whether it's Halloween or just a random Saturday, some days are better spent binging classic Scooby-Doo episodes – which your Sims will now find on their TV thanks to the Scooby-Doo movie mod by MidniteHearts.
The mod introduces 10 Scooby-Doo movies consisting of two-minute clips that your Sims will enjoy just as much as you did back when you still had the time to watch cartons
The specific clips in this mod include gems like The Alien Invaders (2000), Shaggy's Showdown (2017), and Legend of the Phantosaur (2011).
Browse:
Hanna-Barbera
Lists
Scooby-Doo
The Sims 4
Video Games