Best Sims 4 Selfie Pose Packs Ready For Simstagram (All Free)
This post may contain affiliate links. If you buy something we may get a small commission at no extra cost to you. (Learn more).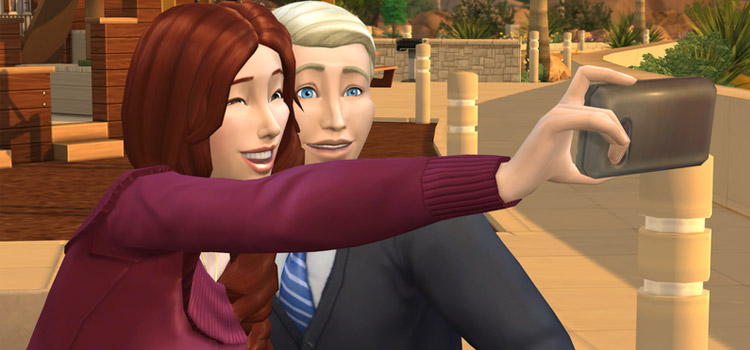 Taking a creative selfie is already pretty hard IRL.
There are only so many expressions that look good on you. And your face can only be so interesting.
Even full-time Insta-models have to spice it up to keep the engagement coming.
I mean, when they post a selfie, it's usually under the guise of showing off a new haircut or makeup look or something. Very rarely will they admit to posting a selfie with the sole intention of immortalizing their own faces.
Sims CC creators probably face that same challenge for custom selfie poses. How do you make what is essentially just a self-portrait more interesting without a neat background or interesting props?
Can't say I know the answer. But the creators of these selfie pose packs for The Sims 4 definitely do!
Be sure to get Andrew's Pose Player and Scumbumbo's Teleport Any Sim mod ready first, and then go check them out:
1.

Pregnancy Selfies Pose Pack by Katverse
Baby on the way?
Say it loud, say it proud—with a really cute Simstagram selfie!
Seriously, that pregnancy glow is real.
If your Sim wants a photo that'll really melt their follower's hearts, nothing beats capturing the joy of an expectant parent.
There are five poses in this pack, and they're all meant to be taken in front of a mirror (meaning you'll need a phone accessory for the left hand). Pretty simple poses, but they're all beautifully executed.
In fact, some of them would even pass as cute side-selfies—no baby bump required!
Head's up, though—the iPhone accessory that Katverse links in the description leads to a dead page. I recommend visiting this link instead. That phone can be equipped via Body Accessories.
Also, if it looks off-center in CAS (in my case, the iPhone accessory ended up on the inner-wrist), don't worry; it will end up in your Sims hand in-game.
2.

Friends Selfie Pose Pack – Set #1 by Veiga Sims
Collabs between influencers are always a huge deal.
If your social media star just so happens to be friends with another Simstagram icon, why not show that friendship off (and reap all the benefits that come with) with some casual BFF poses?
These poses from Veiga Sims are perfect for just that.
The positions may be pretty standard, yet the expressions are anything but.
In fact, they're just the right amount of moderately excited and chill af, resulting in some incredibly cool expressions that look great even on default EA skinblends.
They make your Sim look like poised and self-assured.
(And maybe slightly untouchable, but hey, influencers aren't really known for humility).
3.

The Girl Selfie Pose Pack – Set #2 by Veiga Sims
Veiga Sim's Girl Selfie Pose Pack Set #2 is an awesome example of how versatile and expressive Sims 4 faces can be.
The standard selfie expressions for TS4 are usually some variation of "wide smile" and "happy half-moon eyes," right? Right.
Works, but it can get repetitive.
This pose pack can spice up your Sim's Simstagram and show a wider range of emotions.
I've tested them in-game, and I can attest that they translate quite well even on unmodded, default EA faces.
I went a little heavy-handed with the CC blush, though. But what social media influencer doesn't go full glam in front of the camera?
There's a grand total of six poses in this set: "seriously," "thoughtful," "soft smile," "little smile," "little smirk," and just full-on "smirking."
I find these expressions to be a lot more modern an in-line with what social media stars would post IRL.
4.

Boy Selfie Pose Pack– Set #4 by Veiga Sims
Don't worry, gentlemen. Veiga Sims also put out a selfie pose pack for boys.
And it's every bit as new, expressive, and well-executed as their Girl Selfie set.
As with the previous pack for Female Sims, this pack has six poses:
Hand behind the neck
Little smile
Thumbs up
Exciting smile
Hang loose
Soft smile
And they're pretty self-explanatory.
This sort of naming system is something I can personally appreciate, as it helps differentiate the different poses in a pack.
No shade to any creator—I get that we all have our own way of doing things. But I often get frustrated with pose packs that name the individual poses using a combination of numbers and/or letters (ex. "pose_001," "03 pose," "A") rather than describing the pose itself.
It makes it pretty hard to remember which poses you want to use, especially with packs that have more than five poses.
Back to this pack by Veiga Sims.
Again, it's a breath of fresh air.
Just look at the preview photos to see how varied the emotions are.
And in terms of execution, the expressions are well-crafted and look awesome in-game. No awkwardness or uncanny valley here, no sir.
5.

Selfie Queen Pose Pack by katverse
If the custom pose is by katverse, you know it's going to be on-point.
Especially the faces.
I genuinely believe they're one of the best pose creators in the TS4 CC community. And their expressions are a huge part of the reason why.
They always manage to make the looks clear and distinct without breaching the realm "exaggeratedly cartoonish."
What's more, the facial expressions look great on both Alpha CC and Maxis Match skin blends.
So regardless of what you prefer, the pose is going to look good in-game.
This Selfie Queen Pose Pack is an excellent example.
The model the creator uses has more realistic, photoskinned features.
As someone who prefers clayified textures, I can attest that all five poses looked great even on default EA skin, mouth, and eyes.
As with the other packs, the link to the phone used in the creator's description leads to a dead page (again). Feel free to use redheadsims-cc's phone accessory in the meantime (the one I mentioned earlier on this page).
6.

(LS) Selfie Poses & iPhone X Recolors by LispySimmer
LispySimmer deserves mad kudos for this custom set.
They managed to create ten individual poses (six for females, four for males) that are distinct and well-executed.
They translate beautifully in-game, they're not hard to pose at all (so no need to fiddle with Scumbumbo's Teleport Any Sim mod), plus they work with both CC and vanilla clothing.
There's really no downside with this set.
I also have to say that these poses + custom expressions were some of the more true-to-life creations I've encountered.
Seriously, the looks on my Sims faces when I put them into these poses were very reminiscent of actual social media influencers.
Like, the male poses made my Sim look tall, proud, and self-assured.
The female poses are an excellent mix of soft and sultry, with just a dash of girl-next-door appeal.
My girls don't usually photograph well (I'm not a big CAS Simmer, you know), but these expressions made her look crazy photogenic.
Unfortunately, the iPhone X and subsequent recolors that are linked in the creator notes also lead to disabled pages. Don't fret though, because the phone accessory from redheadsims-cc works just fine with these poses.
7.

Mirror Selfie by Narokissims
For the baddest rhymes-with-witch on Simstagram who knows she's queen, I give you: 3 awesome mirror selfie poses by Narokissims.
Perfect for when your social Sim is rocking aesthetic af vibes, but can't be bothered to stand up.
Honestly, though, these poses are some of the best IRL-to-TS4 translations on this list.
I mean sure, there are just three of them. But with this quality?
Three's plenty.
The creator took the typical social-media-starlet stance and flawlessly recreated it in the Sims 4.
Everything, from the artfully-casual posture to the sultry, barely-there smile, is insanely accurate.
If you use Alpha CC to make your Sims as realistic as possible, I promise, the screenshots you take could pass as actual Instagram photos. That's how accurate these poses are.
8.

Female Selfie by simmerid
Now if you're looking for plain and simple selfie poses—nothing extra or too over-the-top—then these poses by simmerid will do in a pinch.
There are 6 poses for female Sims and they're all variations of the standard, pretty stereotypical selfie smile.
Can't say I'm a big fan of the third pose (where she's throwing up a peace sign, eyes open) as it translated pretty weirdly onto my non-Alpha-CC'd Sim.
But all the other custom expressions look great in-game.
I especially loved the first pose (shy smile with fingers covering the mouth) and the last (eyes closed, lips puckered).
Not very unique in terms of concept. But the execution more than makes up for it.
9.

Windmill Pose Pack by Sims.Babe
For an awesome (and easy to set up) Simstagram squad selfie, check out this Windmill Pose Pack by Sims.Babe.
I guess the name comes from how all the Sims just pop out from behind each other in a neat row.
Sort of like fanning out playing cards, only with actual human models.
I generally stay away from group poses if I can help it, simply because they're a right pain to set up.
Unless the creator thinks to include a diagram of where and how to put each individual Teleport Any Sim placeholder, I usually spend hours trying (and failing) to recreate the preview photos.
Thankfully, this pose set by Sims.Babe is pretty straightforward.
Just line up the placeholders, one after the other (keep them as close as possible), and voila; cute group selca.
I tried out this custom pose set with four of my Sims, but you can definitely have up to five people in the photo if you want.
Just don't forget to download the tongue accessory that the creator linked in the description! I mean, the lead Sim's expression doesn't look too weird without the tongue… but it could end up looking pretty awkward if you use certain skin blends or graphic settings.
10.

Mirror Selfie V.2 Poses Set by Flower Chamber
Subjectively speaking, this pose pack is probably the most extensive one on this list (at least as far as poses and positions are concerned).
I wasn't expecting much due to the smaller preview photos. But when I tried them out for myself?
I was shocked.
Hands-down my favorite on this list. No contest.
20 poses that work for males and females, and they're all incredibly detailed.
I'm talking slight head tilts, small corner-of-the-mouth smirks, subtle pouts, minor variations—the works.
I'm not even kidding – the amount of thought and effort that probably went into this pack is crazy, and it definitely paid off.
There isn't a single "bad" or "boring" pose in here. You've variations of standing poses, sitting poses, leaning-against-the-wall poses, and everything in between.
Remember that whole spiel I made earlier about making selfie poses look interesting and distinctive? I think the creator gets it, because all the poses in this set are insanely high-quality. And they stand out.
If you're only planning to download one pack from this entire list, I highly recommend this one.
Browse:
Lists
The Sims 4
Video Games