Sims 4 Custom Shelving Units & Display Shelf CC
This post may contain affiliate links. If you buy something we may get a small commission at no extra cost to you. (Learn more).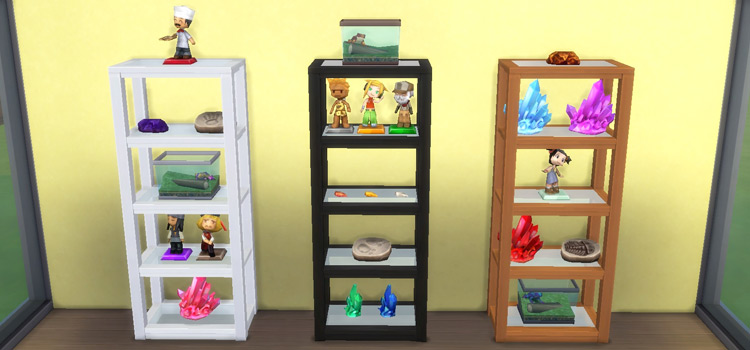 In The Sims 4, I feel like I'm always struggling to find space to put things.
Decor, family photos, small appliances – there just never seems to be adequate space for all of the things my Sims need.
Sure, we have some shelves in the game. But it's a pretty small selection, both literally and in terms of volume.
There are only a handful to choose from, and they only hold a few items. Most of the time they'll get the job done. You may even be used to them by now.
But with CC, there are so many more possibilities for storage and decorating.
From corner units to fancy display shelves and even some amazing, artistic, totally new concepts, these custom content creators have got it all covered.
1.

The Mega Minimal Corner Shelf
Not only are corners a very under-utilized storage space, they're just super plain and boring in general.
No room looks good with furniture shoved against every corner. So in The Sims 4, the best we can give our Sims is usually a plant.
Well, these shelves from IgnorantBliss will put an end to that.
They fit perfectly into a corner, and you can use as many or few as you like.
You can place a variety of items on them, and even different sized items. I'm sure we can all agree that decorating any shelf in this game can be frustrating, but these will be a joy to clutter up.
2.

Perfect Honeycomb Shelf CC
This Simmer used the shelf from the Kids Room Stuff pack to create a full honeycomb shape.
While it may get you thinking of bees and honey, this shelf actually looks very chic, and will be a fantastic artsy option for any modern abode.
There are seven slots, one for each honeycomb, so you'll have plenty of ways to mix and match decor.
Whether it's candles, plants, sculptures, or anything else, this shelf won't disappoint.
It even comes in 18 different swatches – covering the whole rainbow and then some, so this can work in any room and setting too.
3.

Wall Shelves
Just the term 'wall shelves' probably makes you envision shelves that are placed on the wall.
But what if they can be put in the wall?
This CC will really offer a new way to change things up in builds. We all know there are only so many ways to get inventive with houses in The Sims.
Eventually, you'll probably have to start dipping into CC, so you'll want it to be good.
There's no question these shelves are a game changer. Gone are the days of solid walls as far as the eye can see, or rooms brimming with furniture, giving them an unpleasantly cluttered appearance.
When you have a shelf that's part of the wall itself, things just flow much more naturally.
4.

Naturalis Pantry Shelves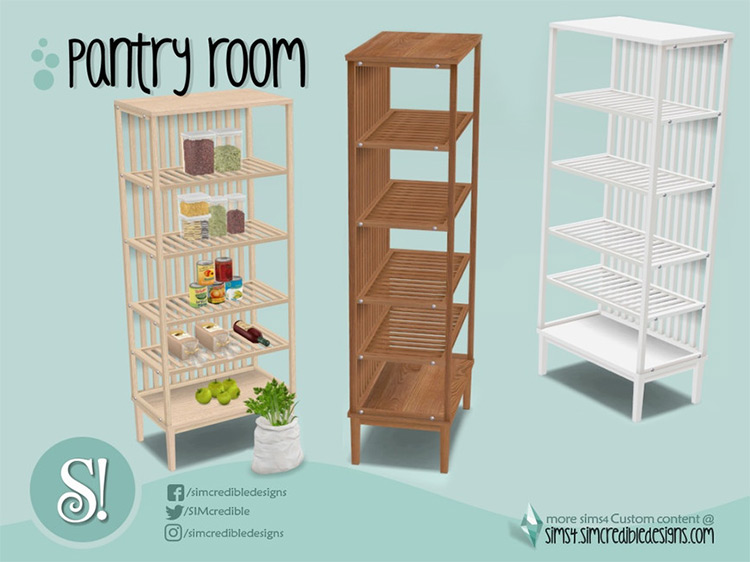 Simple and plain will never let you down.
These pantry shelves from SIMcredible! will actually work really well in nearly every room of your Sim's home.
In the bathroom, this could work as a new place to store toiletries.
Towels, plants, candles, etc – there are certainly plenty of slots!
And even though the slatted surface might not seem 'right' for every living room, I think this shelf would be perfect there, too.
There really are more things needed in a living room than the in-game bookshelves offer slots for, so feel free to go wild filling these with family photos, the Lin-Z Smart Speaker, and knick knacks.
5.

Upcycled Old Guitar Shelf
Any guitar player will agree there's nothing more tragic than an instrument being trashed.
It's best to preserve in however possible, whether that means displaying it, getting it restored, or… turning it into a shelf?
It may be an unexpected twist, but it's one I love.
The whole design is just perfect, from the fretboard to the slim hollowed-out body.
It even comes with some clutter. But it's totally up to you what you place on the shelves and where.
6.

Grand Designs Collectible Shelf
With so many cool things to collect in The Sims 4, you'll need a lot of shelf space.
There are two size options here: a slimmer shelf, and a wide shelf.
All in all, you will have plenty of room to display your cool findings, rather than having them strewn throughout the house.
And as with most of the ones on this list, these shelves can be multi-purposed, too.
They come in six swatches of white, black, and wood designs, so they'll work just fine for bedrooms, offices, or dining rooms as well.
If you're like me and take a ton of pictures, these are also a nice alternative to covering the walls with them.
7.

Skateboard Shelf
I just can't get enough of CC items where the creators have clearly thought outside the box.
With so much stuff already available to us through packs, it takes a lot of imagination to produce something totally new.
This skateboard shelf from ClipItSims looks amazing.
From top to bottom, there isn't a single part of this design that isn't beautiful. Even the wheels, which isn't something you usually expect to see on a shelf, are perfectly sleek.
There are several swatches to vary the design too, so you'll have plenty of options to pick just the right one for your Sim.
8.

Shabby Chic Wood Shelf
You know what we've been missing in The Sims 4?
Stuff with heart cutouts.
No, seriously! This design is just so cozy and familiar. I have a similar shelf in my own bedroom.
Something about a heart just makes for such a simple yet notable accent on furniture and decor.
This shelf, available in various wood swatches, will be a nice rustic addition to any space.
Whether it's for spices in the kitchen, knick knacks in the living room, or light decorating in the bathroom, you just can't go wrong with a cute little wooden shelf.
9.

Milk Crate Wall Shelf
Upcycling a milk crate is certainly another way to achieve that rustic look.
Depending on the color swatch you choose, they can even look like a modern artistic shelving choice, or you can stick with one of the more battered designs to maintain that 'repurposed' appearance.
The best part about these is just the sheer number of possibilities.
Not only can you essentially design your own shelving unit, comprised of as many crates as you want, but there are just so many ways to use them too.
You can utilize the many slots available within the crate to place clutter, decor, and books, or even place items on the top.
10.

Love Shelf
As The Beatles famously sang, love is all you need.
While this shelf only offers a few slots to place items, it's a very unique design that will serve nicely as decor.
This is a nice choice for when you're not looking to store tons of collected items or photographs, but perhaps just a few things in the living room.
It comes in a wide variety of swatches as well. So if wood isn't your thing, don't fret – there's also dark blue, pink, purple, and even green leopard print choices available.
Browse:
Lists
The Sims 4
Video Games