Sims 4 CC: Best Custom Shoe Racks (All Free)
This post may contain affiliate links. If you buy something we may get a small commission at no extra cost to you. (Learn more).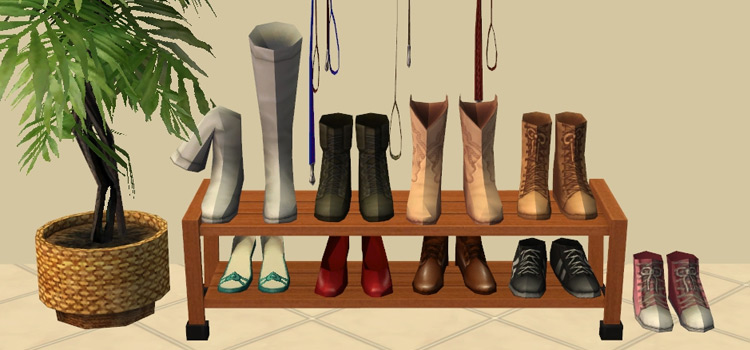 Shoe storage is a funny thing.
A lot of people don't see the necessity for anything besides a designated shoe pile in the corner of their bedroom, while those with a need to be organized will definitely want something better.
And in this day and age, organization is a big deal.
The real-world applications of this concept aren't all that different from The Sims. Actually, making sure your Sim's home is tidy is even more dire than doing so for your real house – because the clutter has way bigger consequences.
You can probably find your way to the couch even if the coffee table is a little too close, but Sims just aren't that bright.
So your decorative organization objects really have to count. And there's no sense in something as basic as footwear being left out!
Any kind of shoe rack storage will really add a nice touch of realism to your build, and with so many fun options, you'll always be able to find a place to stash your shoes.
1.

Hylidae Shoe Rack
The basics endure for a reason – and that's because you can make them your own.
What's "in" may change, but you know what never will? Wood furniture that integrates easily into any interior design scheme.
Wood is what it is – which is why it's such a popular material for furniture. This basic shoe rack is an empty type, great for decorating as you wish, and it comes in 5 different grainy, wooden swatches.
They cover a range of colors, including your typical shades of brown, as well as a white shade too.
I have often found that the shoes that are attached to the rack in the base game just don't seem like things my Sim would own, so now you can find your own decorative shoes that are more fitting (and decorate it as you please).
2.

Cleo Hallway Shoe Shelf
There are millions of people who believe it's proper to remove shoes before entering a home.
This creates a bit of a divide, since there are just as many people who don't care and have never thought twice about it. But if leaving your sneakers in a designated place is part of your everyday life, then I'm sure it's obvious your Sims don't roll that way.
Well, this CC won't change that.
But it will at least add the illusion that they care!
This Cleo Hallway Shoe Shelf from Severinka_ is indeed a nice addition to any hallway. When placed in your Sim's entryway, there will be no question that they're civilized folks who want to keep their carpets clean.
3.

LeoSims' Shoe Rack
Ah, LeoSims.
Where would we be without this amazing Simmer? We be with a lot less CC, I guess.
This creator is renowned within The Sims 4 community for his incredible furniture – and this CC is a prime example.
It's a modern, two-tier shoe rack that will be fitting for nearly any style and room.
You can place this in a foyer, bedroom, or closet, and it will look equally superb in all three.
It's modeled after real IKEA shoe racks, so you can't go wrong with something like that (or any other IKEA furniture). Of course it'll look great, stuff like this is the backbone of America.
Okay, so maybe that's a little dramatic for a shoe rack…
And yes, I know IKEA is Swedish.
But if you want to add some updated & sophisticated furniture to your build, this is sure to do the trick.
4.

Empty Shoe Rack With Slots
Here's another empty shoe rack variation.
This is pretty simple, and may even look familiar.
Creator Simmiller just took the base game rack, removed the shoes, and added some slots for you to use however you want.
This includes decorative shoes, of course, but also any other clutter objects as well.
Isn't it amazing how much awesome custom content is the result of minor tweaks to existing items?
I mean, you may expect a shoe rack to contain shoes… but it's not carved in stone. And I personally think it's fun to fill it in myself!
Something else that's always an easy way to switch things up is adding some new swatches, and Simmiller did that too.
You'll get 30 new designs here, including some that change the wood from that sleek glossy style, to a more beat up look.
5.

Men's Shoe Rack Recolor
Simmers have a lot of personal preferences and wishes.
But one thing I have never seen anybody complain about is recolors.
The limited amount of swatches and decorating freedom must be made up for somehow – and that's by adding more options, of course.
There's a saying about not realizing how much you need something until you have it. And this recolored men's shoe rack just might be that item for your game.
The lighter wood swatches will give this object a more modern look. And I know you may be thinking that the game is only a few years old, all of the furniture still holds up… but it all depends on taste.
Things move quickly, and these days lighter woods are all the rave!
Browse:
Lists
The Sims 4
Video Games