Sims 4 Shopping Bag Clutter CC (All Free)
This post may contain affiliate links. If you buy something we may get a small commission at no extra cost to you. (Learn more).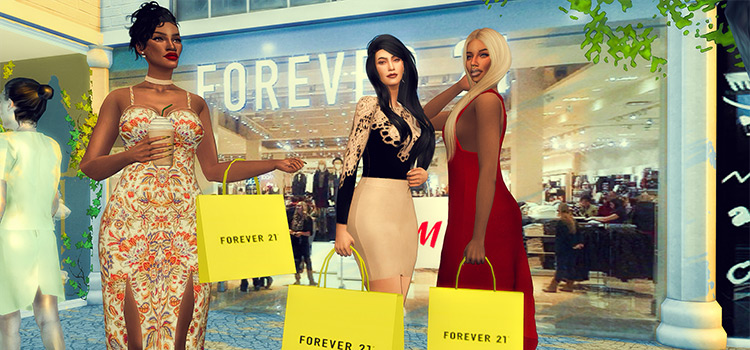 Why would your Sim hold on to all these shopping bags?
No idea.
Maybe they wanna reduce, reuse, and recycle. Maybe paper bags are surprisingly more handy & versatile than we think.
Maybe they just want visible proof of their retail therapy.
Whatever the reason, you can now clutter up their space with these decorative shopping bags!
And let me guess: you want bags with real retail brands on them? Or do you prefer to keep your logos strictly Simlish? Trust me; there's at least one shopping bag on this list that's right up your alley.
1.

Calligaris Shopping Paper Bag by SIMcredible!
Part of the Calligaris Hallway Décor set by SIMcredible!, these paper shopping bags are nice and easy on the eyes.
They're simple, no-nonsense, and they come in three neutral colors; white, charcoal, and light-brown.
The white and black swatches are matte, but the light-brown swatch introduces a new woven-like pattern to the bag that makes it look slightly textured. So if you want to mix things up, you've got options!
2.

"Mommy & Me" Shopping Spree by prettyxsimblr
Is your Sim feeling luxe and expensive?
Prettyxsimblr brings us 20 different shopping bags from well-known luxury brands like Kate Spade, Dior, and J. Crew.
But that's not all.
The set is so titled because the bag brands are split into two: designer brands for adults and designer brands for kids. So the shopping bag from Dior has a matching one from Baby Dior! And there's no Kate Spade for babies, but there is a Bel Bambini!
You can download the bags as one merged .package file or you can pick and choose your favorites.
3.

Prettyxsimblr's Shopping Bags Redux by prettyxsimblr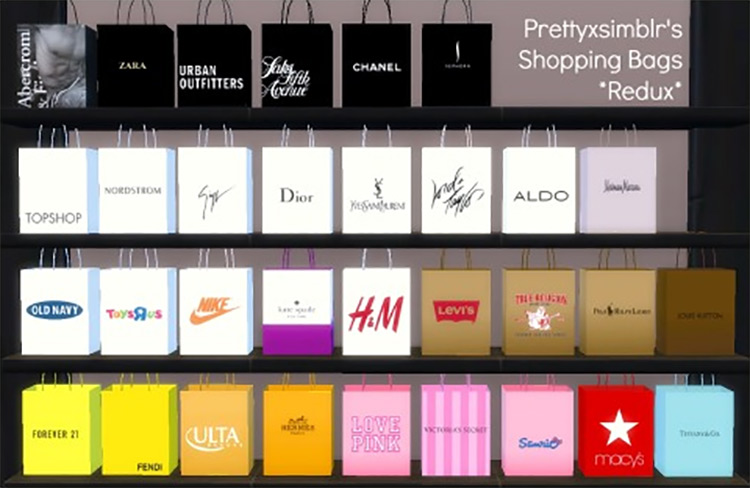 This is the redux of prettyxsimblr's shopping bags from Mommy & Me, only with a different mesh this time (One Billion Pixel's Small Bag from their Bath and Body Works CC set; it's coming up!)
This edition contains 32 designer brands this time, only they come in slightly smaller shopping bags.
Treat your Sims to the likes of Tiffany and Co., Zara, Urban Outfitters, and Nike.
4.

Bath & Body Works Large Bag + Small Bag by one billion pixels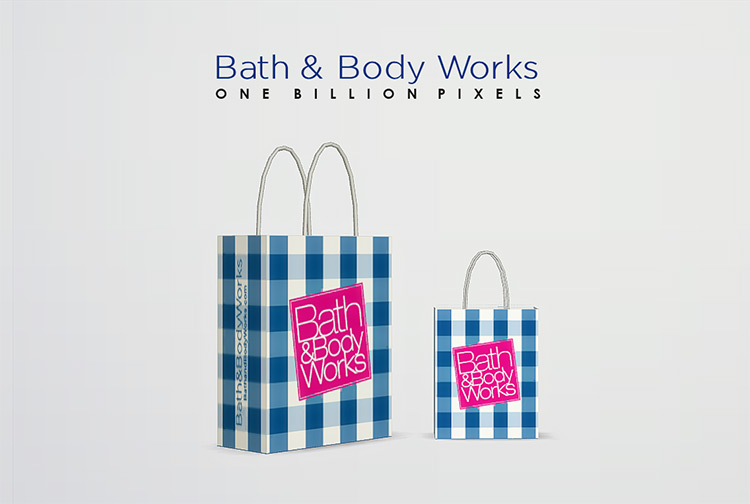 Here's one billion pixels' shopping bags from their Bath & Body Works set, as promised.
You'll notice that it's a CC pack for setting up a shop.
However, amidst the shelves, sale signs, and decorative perfume bottles, you'll also notice two custom paper shopping bags.
To get them (in both sizes), simply search for the .package files with Large and Small in them — like so:
5.

Riekus Valentine's Day Gifts by leosims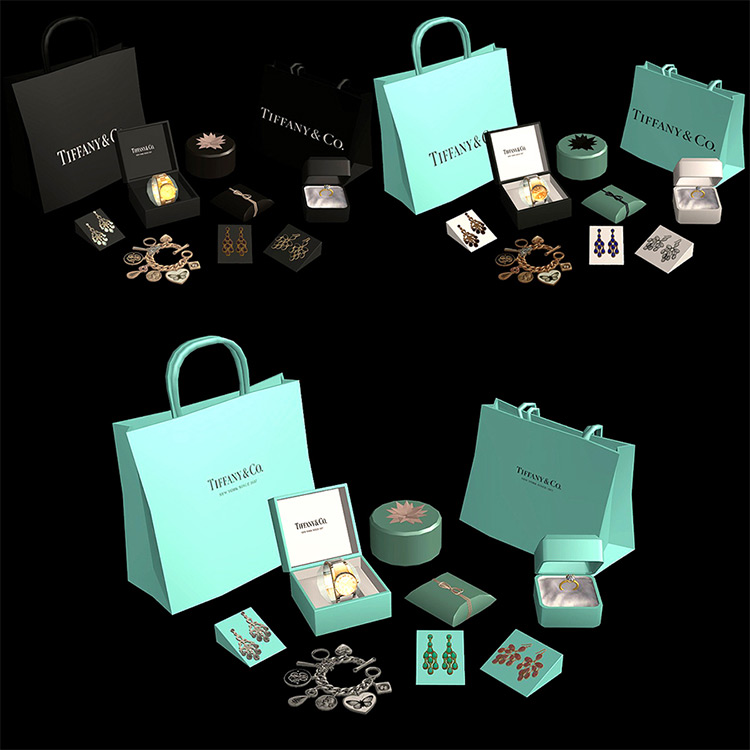 This custom decor set by leosims is meant to mimic the look and aesthetic of luxury jewelry brand, Tiffany & Co.
Their shopping bags are a gorgeous, minty color, so your Sim might as well hang on to 'em. You can download the first shopping bag and second shopping bag separately.
Alternatively, you can download the whole set via the link; the decorative watches and opened gift boxes make for some beautiful bedside clutter!
6.

Shopping Bag Accessory by ebonix
Proof of retail therapy!
Your Sim went shopping, and they've got the large paper bag to prove it — from a variety of brands.
Note: Unlike the other shopping bags on this list, this isn't a clutter or deco item. It's an accessory that you can equip in CAS for custom shopping or walking poses.
7.

Christmas 2018 Gift III by wondymoon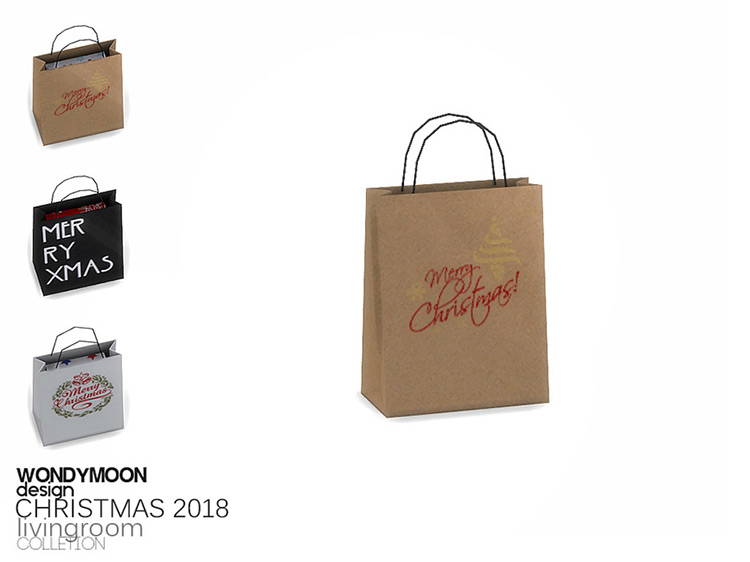 I know this is technically a gift bag, but I also know lots of people who reuse shopping bags as gift bags — especially if the shopping bag in question has a luxe brand printed on it.
In the case of wondymoon's Christmas 2018 Gift III bags, they look like they're made of sturdy, high-quality material.
They could work as shopping bag stand-ins!
8.

Paris is Chic Paper Bags by kardofe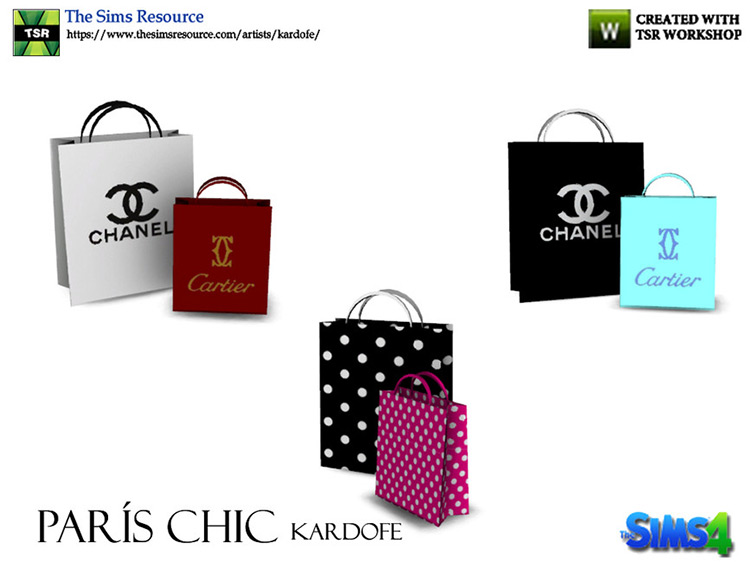 Chanel, Cartier, or maybe even an undisclosed store in their local shopping mall; if your Sim has paid any of them a visit, then these chic paper bags can decorate their living space.
One's big, one's small, and both should fit perfectly wherever there's free décor or clutter slots.
9.

4K Followers Paper Bag by Riekus13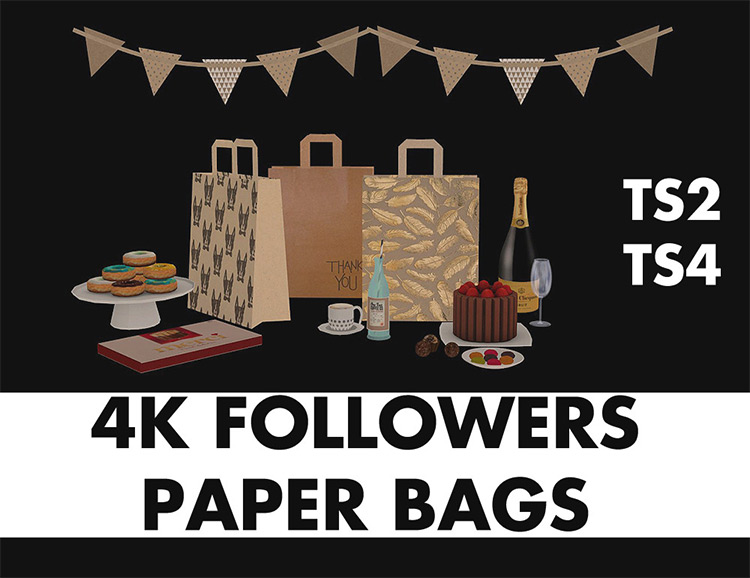 You can never have too many paper bags from too many brands, right?
Riekus13's 4k Followers milestone release is this recolor of Pilar's Paper Bag.
They added fifteen swatches to the bag; a mix of text posts, known brand logos, and aesthetic paper bag patterns.
My personal favorite's the "whoever said 'money can't buy happiness,' doesn't know where to shop!" swatch.
I couldn't find a link to the original mesh's creator, but the mesh itself is included in the recolor files.
10.

TS4 & TS3 Shopping Bag by yourdorkbrains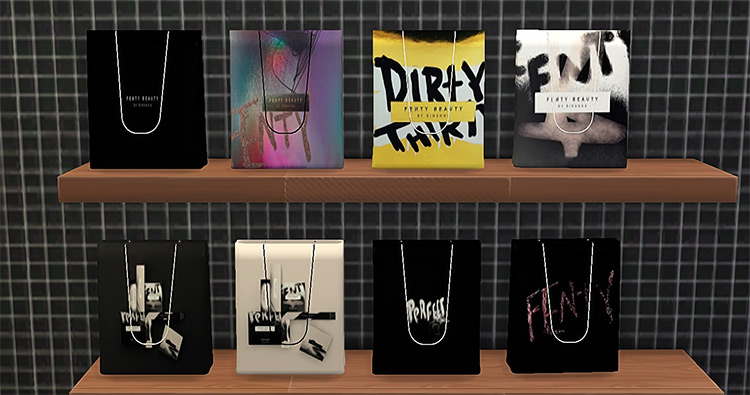 If ever your Sim decides to drop some serious cash on some Fenty Beauty goods, these custom shopping bags will serve as undeniable proof of purchase.
Thank goodness they're artsy and aesthetic, just like Rihanna's makeup line.
There are eight different design swatches in total, but I don't actually know whether they're based off existing Fenty Beauty bags or if they're just customized. Either way, they all look great!
Here's the direct link to download the TS4 files only.
11.

Clutter for Shoppers Set by SimmerKate
For the bonafide shopaholic Sim, SimmerKate's got the most perfect CC set.
It includes a tote bag, two shopping bags (in different sizes), a packaging bag, and a single bottle of Bailey's (because it's Christmas, apparently).
These items definitely fall under the "junk that would clutter a shopaholic's backseat" category, which is why I can't recommend them enough.
12.

Shopping Bags by leosims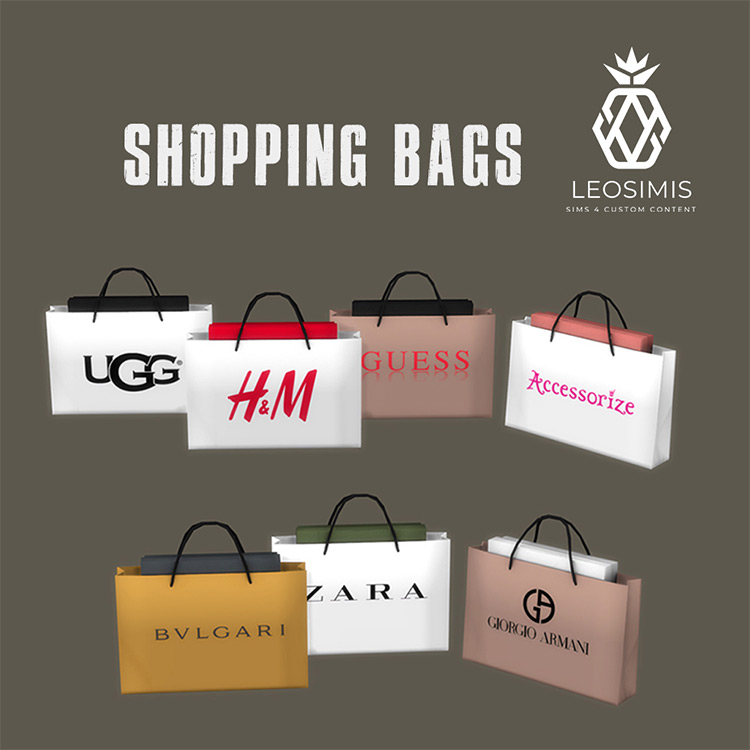 Leosims introduces another round of decorative shopping bags — because there's always room for more brands and more bags in your Sim's life.
Some newcomers (brands that have yet to be represented in previous sets) include Ugg, Guess, and Georgio Armani.
13.

Shopping Bags & Box by Around the Sims 4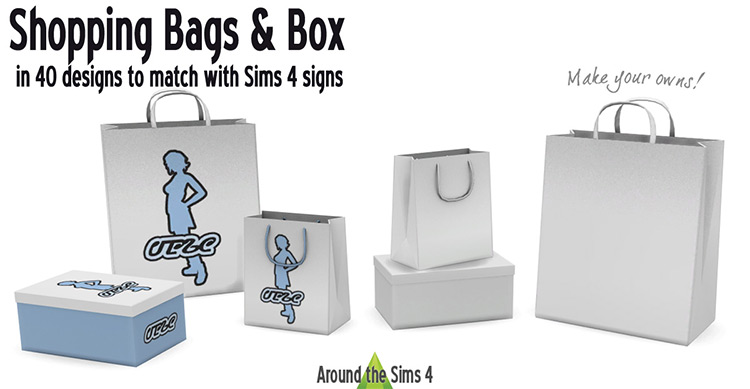 This mega set by Around the Sims 4 is super customizable.
Unlike the other items on the list, these custom shopping bags don't have IRL brands or logos on them. Instead, they're decorated with random patterns, images, and slogans in Simlish.
The two bags and the box each have 40 design options, which gives us essentially 120 unique clutter items.
If nothing else, you can at least use all 120 options to establish your Sim's retail therapy addiction.
14.

Shopping Retail Bag CC by Syboubou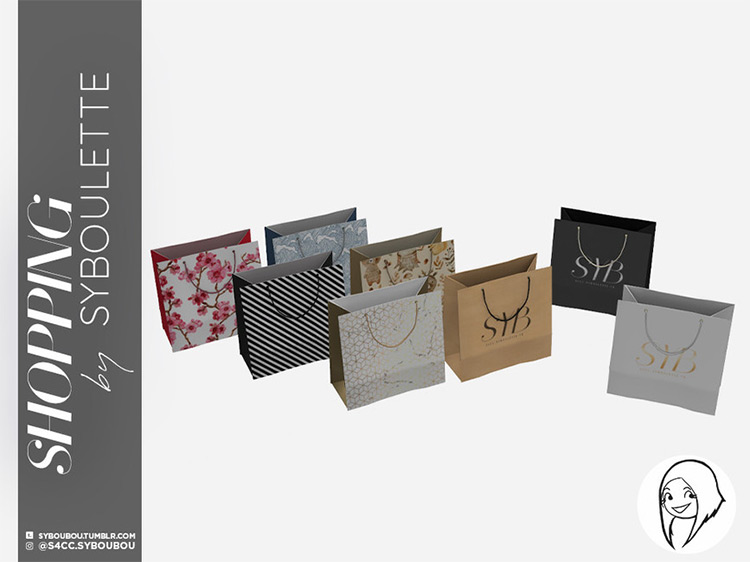 These are the kind of shopping bags you can reuse as gift bags: random carry-all bags, or improvised organizers.
They're so pretty and so structured, it'd feel like a waste to throw them out.
They may not be dripping in luxury brand logos, but they're still aesthetically appealing AF.
Besides, some of the swatches have the creator's own initials on them (SYB for Syboubou, I assume). That's an exclusive brand right there!
15.

Shopping Bags by BaddieSims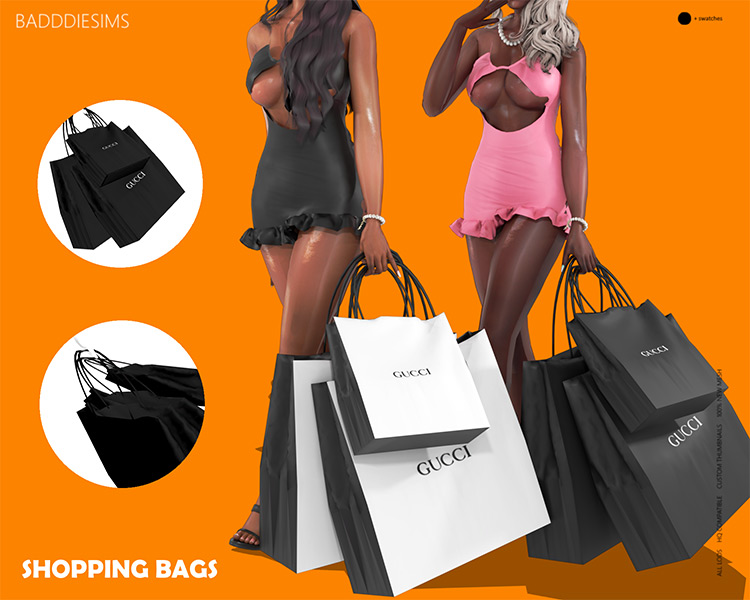 Here's another round of shopping bag accessories! This one's by BaddieSims, and it features a bunch of shopping bags grouped together, meant to be clutched in one hand.
I don't know the actual probability of your Sim pulling that off but, hey; I've seen hardcore shopaholics carry more shopping bags than humanly possible on a single arm. I'm not about to question the power of retail therapy.
Browse:
Lists
The Sims 4
Video Games