30+ Best Short Curly Hair CC for The Sims 4 (Guys + Girls)
This post may contain affiliate links. If you buy something we may get a small commission at no extra cost to you. (Learn more).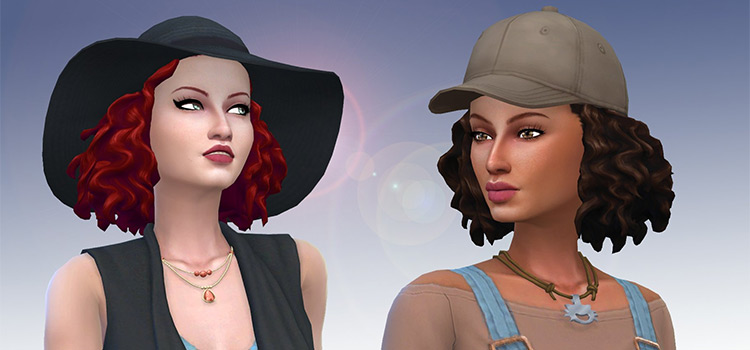 In my opinion, curls are a real treat to witness.
They can make any hairstyle look fuller and fluffier. In most cases, the volume and texture of curly hair makes for a more interesting silhouette.
Curls and whorls are typically associated with long, hip-brushing locks, so I figured I'd shine the spotlight on the "short and curly" side of Maxis-Matched TS4 CC hair. Just to change it up a little!
1.

Vintage Curly Hair ER0808 by wingssims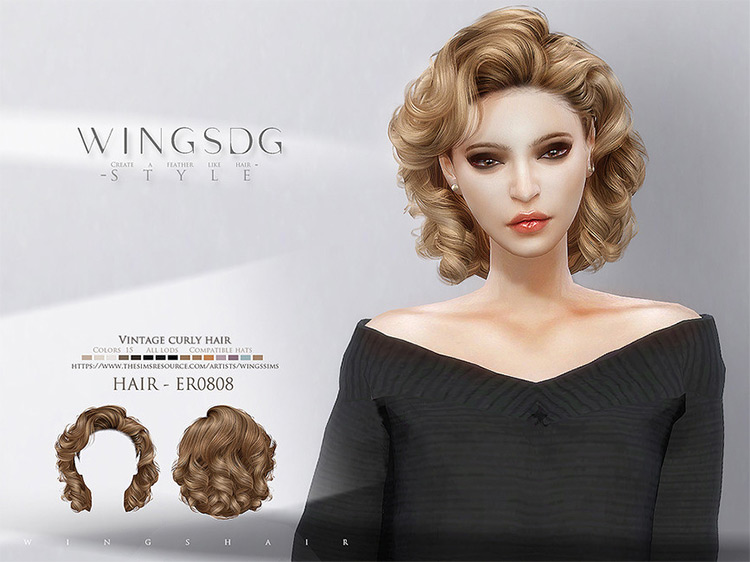 There will always be an undeniable charm to vintage hairstyles, and this gorgeous alpha CC number by wingssims is no exception!
The big, bouffant, perfectly-defined tresses are serving heavy 60's Sweetheart vibes, and I'm sure we're all living for it.
It's bouncy, shiny, and comes in fifteen original colors.
2.

Fluffy Male Curly Hair ER0714 by wingssims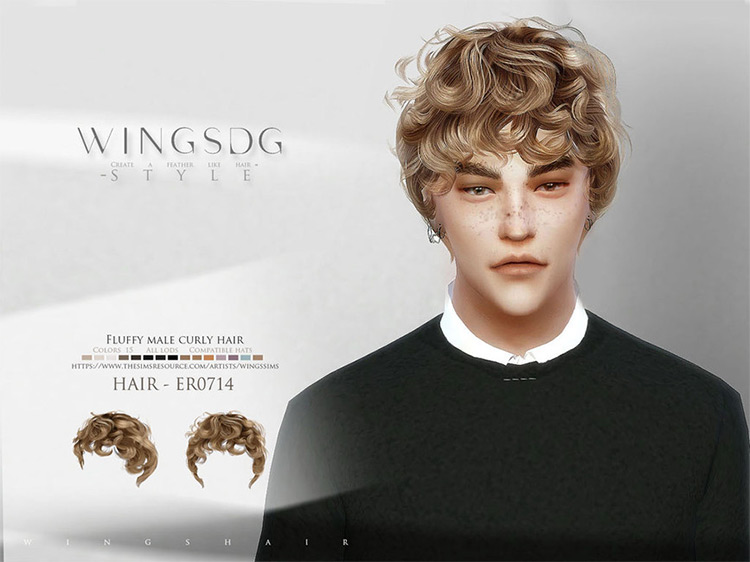 It's fluffy. male. hair.
What's not to like about this?
It's short, curly, and looks about as bouncy as a rubber ball.
This is the kind of hairstyle that angels sport, and you can't tell me otherwise. There are fifteen total colors for this 'do, but those curls in blond? Just hit different.
3.

Ophelie Hair by wondercarlotta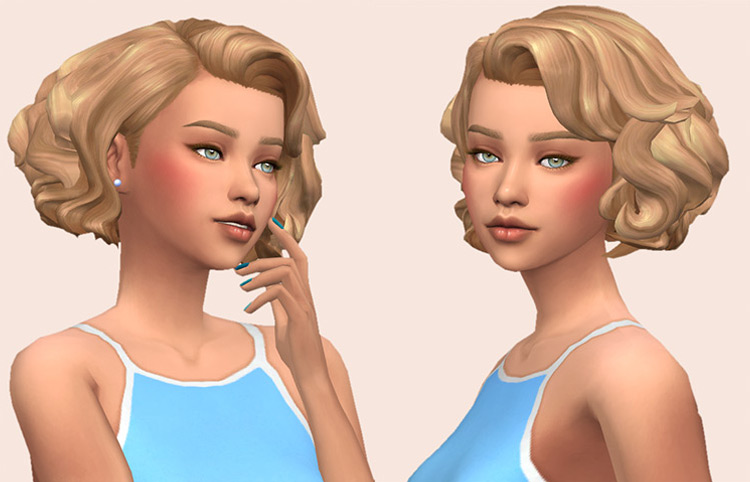 This was an anonymous request fulfilled by CC creator wondercarlotta.
Apparently, the requester asked for hair modeled after their own look.
If that's the case, anon has freaking gorgeous hair!
Look at all that volume!
Look at all that spunky elegance!
Hands-down one of my faves so far.
4.

CALI Hair by carol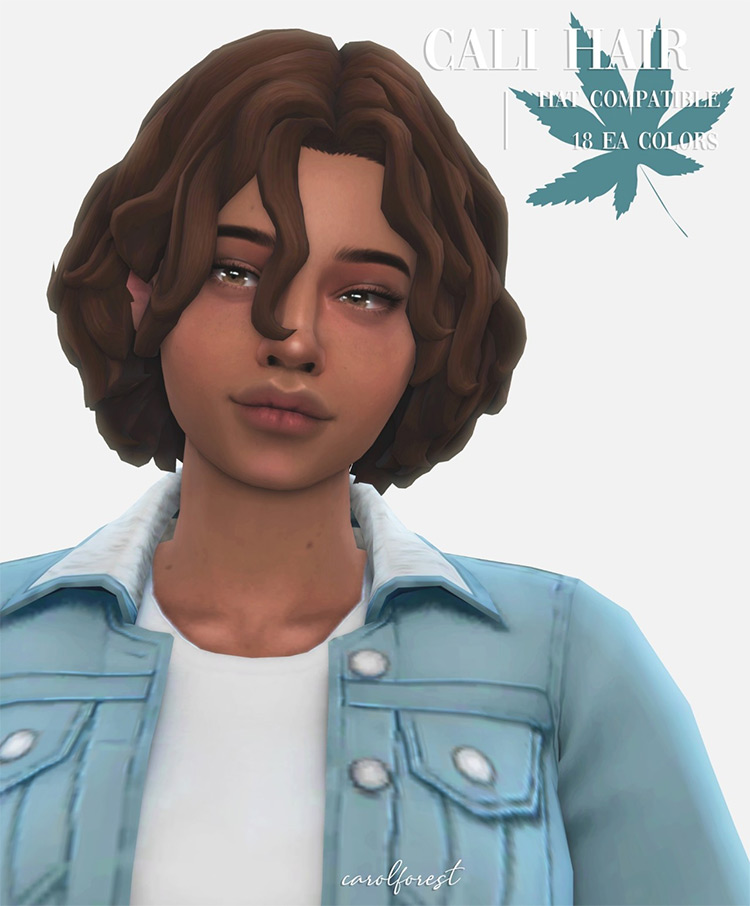 This is probably my personal favorite CC from this list.
It fulfills the parameters – short, curly, and beautiful – it's fully BGC, and it's got a playful little chunk of curly bang right at the front. Cute!
It's got potential manic-pixie-girl energy, but it's also soft and subdued. Absolutely love this Maxis match style. 10/10 recommend.
5.

Okurrt by shespeakssimlish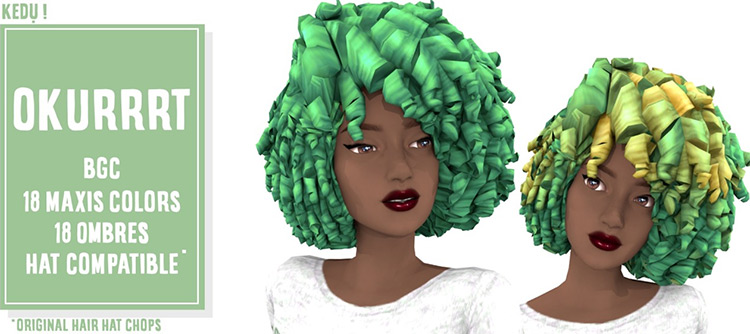 Have you ever seen hair as textured and lovely as this? I took one look at those pale-green curls and I was instantly smitten!
Shespeakssimlish's Okurrt hair is a stunning mop of clean, clearly-defined curls ranging from big, bouncy ringlets to smaller, tighter spirals.
The difference in sizes – plus the added ombres! – make this hair one of the most interesting 'dos on this list!
6.

Medium Mid Curly by KiaraZurk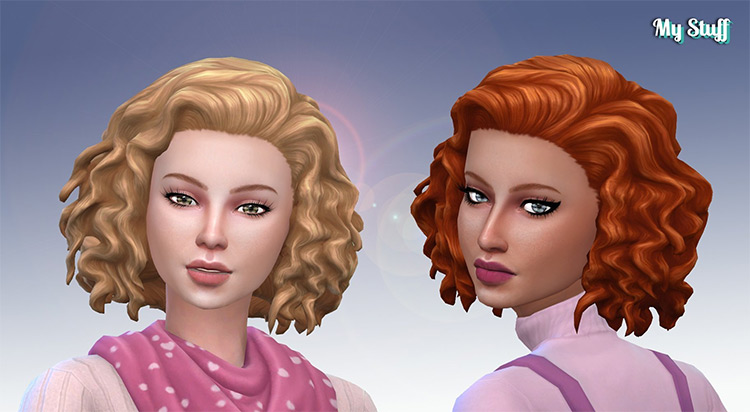 I know we're looking for short hairdos, and the CC's named Medium Mid Curly.
Hear me out: there's enough space between the tips of the strands and the tops of the shoulders to consider this hair short.
Besides, look how fun and lively it is! Definitely should be a staple in your CAS catalog!
7.

Tori; Oblivion Recolor by tekri | Recolors by evoxyr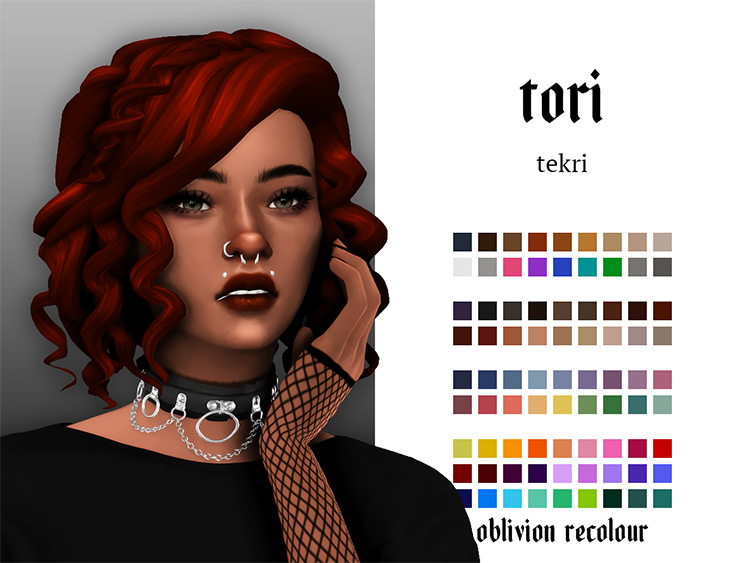 So, the hair that supposedly served as the base mesh for this edit and recolor is – for lack of a better descriptor – drastically different from the reworked product.
The original is long, for one, and has a braid. The ends are also more wavy than curly.
Not sure what happened here.
Thankfully, you don't need the mesh for evoxyr's gorgeous custom locks to work in-game. Seriously look at those beautiful ringlets!
8.

Joshua Hair by stephanine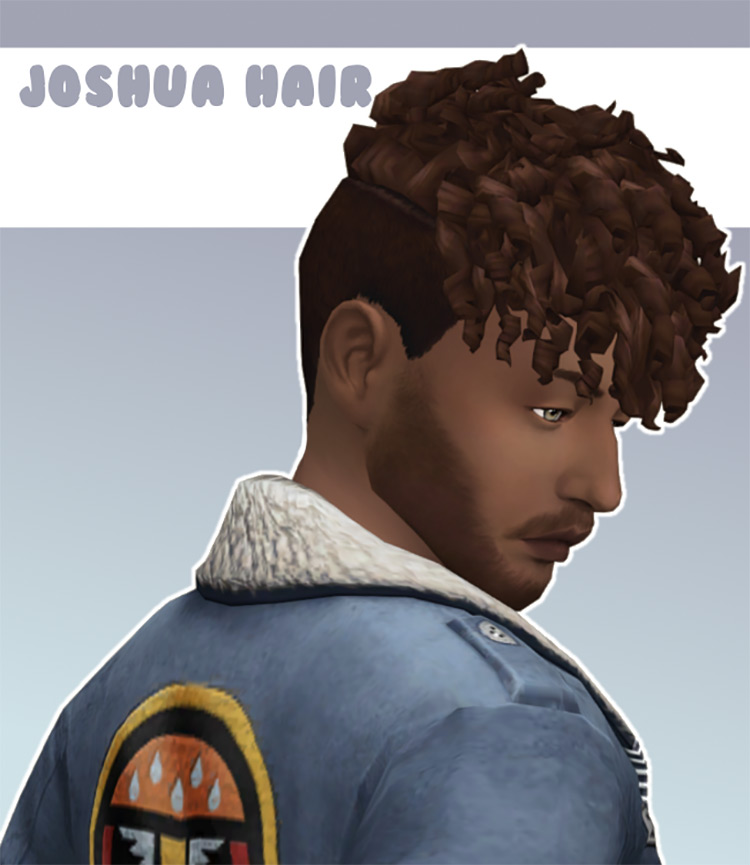 These curls (and the model rocking them) are freaking fine.
Nicely defined and casually styled, this is the kind of 'low maintenance, just rolled out of bed' look that a lot of people would love to achieve.
It's pretty and Base Game Compatible!
9.

Close Curls by Kiara24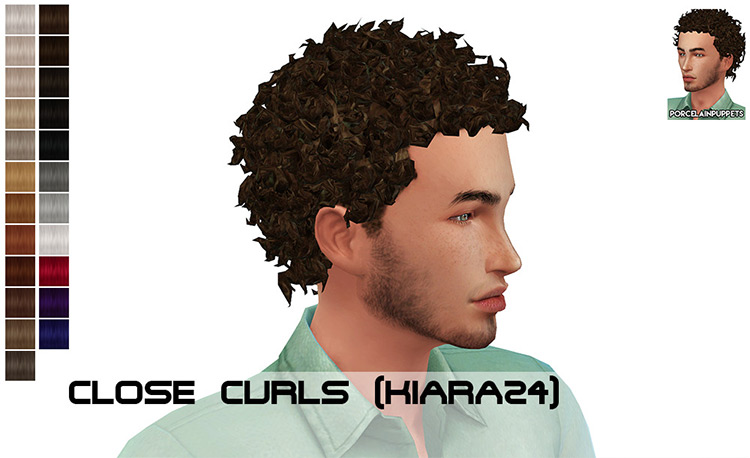 Exactly what it says on the tin: a chopped-short style with tight, close curls.
Pretty unruly-looking, but I think that just adds to the charm.
Plus you've got to appreciate a hairstyle that works for all ages – and comes with 40 custom colors!
10.

David Hairstyle by Anto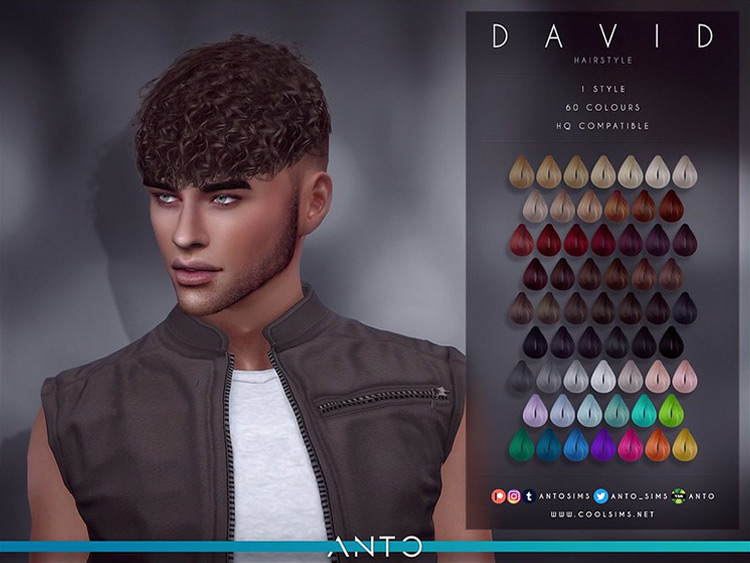 TS4 CC Creator Anto is ridiculously skilled at making textured hair. Which is why I had a difficult time selecting just a few curly-haired pieces from their gallery.
David definitely sits at one of the top spots for me, what with the fun, naturally-curled top and the slight undercut/fade at the bottom. An absolute winner, for sure.
11.

Hilary by simstrouble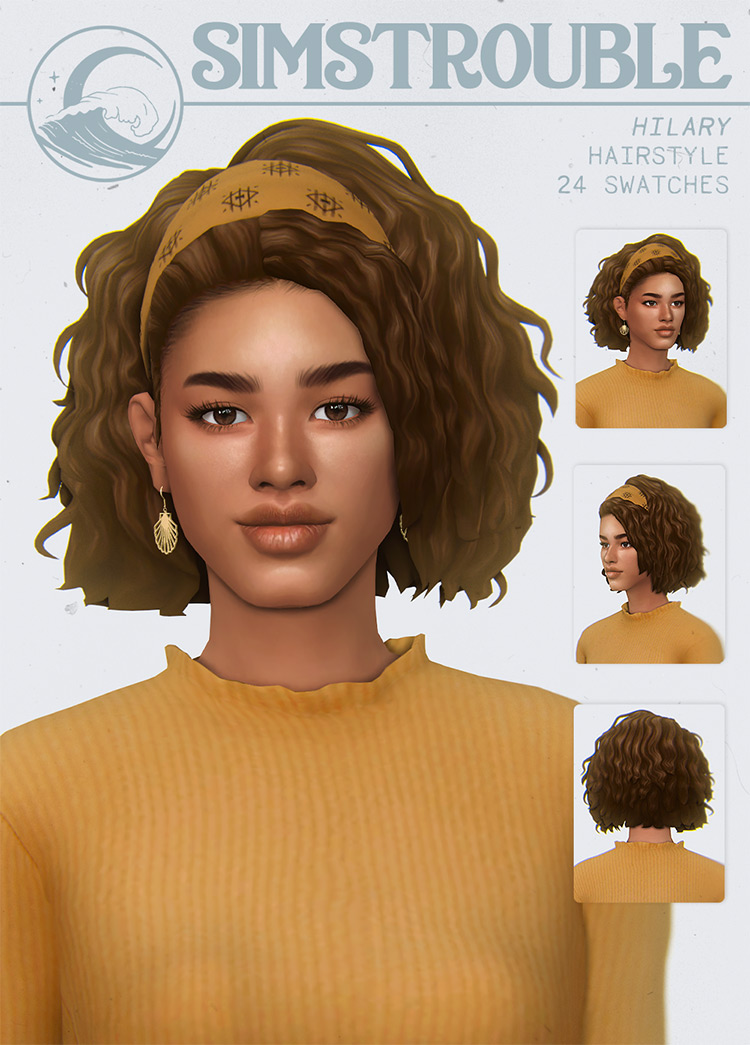 Simstrouble's Hilary hair is a spunky, fluffy number with curls and cute, wayward strands. All topped with a vibrant bandana-turned-hairband accessory.
The hairband can't be separated from the hair itself, so you won't be able to wear this with hats.
You don't need to, though — it's absolutely perfect as is!
12.

Maela Hair by wondercarlotta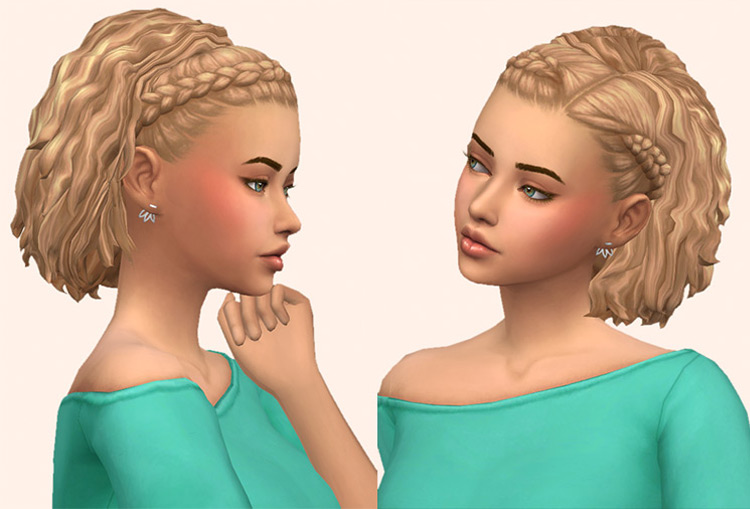 This Maela hair is short, slightly curly, and brimming with absolute sass!
The braids help sweeten its potentially cutting edges, but I see the attitude. It's the kind of 'do that totally suits bright, feisty, free-spirited wonders.
13.

Bonnie Hair by okruee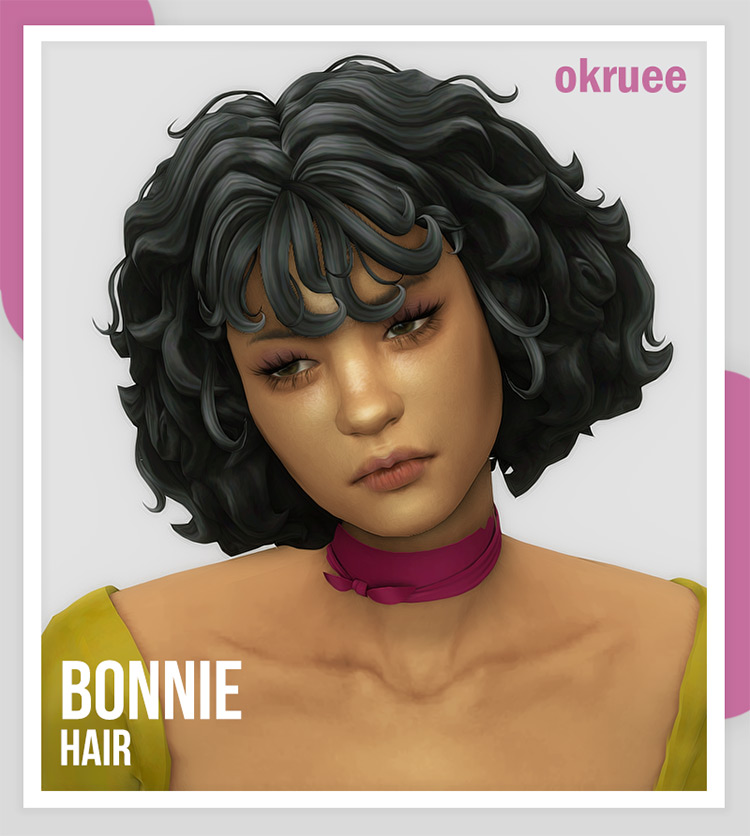 Okruee is another of my favorite TS4 CC creators.
Their CC leans more towards Maxis Match, but there's a hint of realism there (sort of more textured and less clayified than traditional MM, if that makes sense) that makes for stunning results.
This Bonnie hairstyle is no different; luscious curls with some thinner stray wisps sticking out and a level of detail seen in the dividing lines. It's bouncy and beautiful!
14.

Seraphim (Male Hair) by Wistful Castle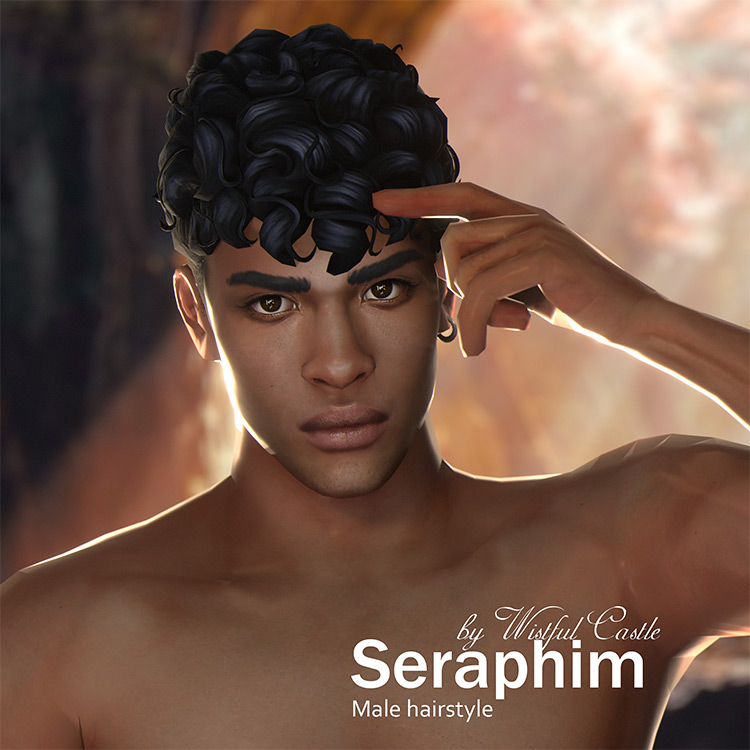 Yes, the Sim model is drop-dead gorgeous.
But putting Wistful Castle's insane CAS skills aside for a bit, this Seraphim hair is just as spectacular! The curls are clean, crisp, and neatly styled.
The way they twist, wind, and sit atop the Sims' heads is just immaculate. This is my favorite curly hairstyle for Male frames by far.
Like, I literally can't find a single thing wrong with it.
It even looks excellent in Laptop Mode!
15.

Illusions: Adriana Hair by clumsyalien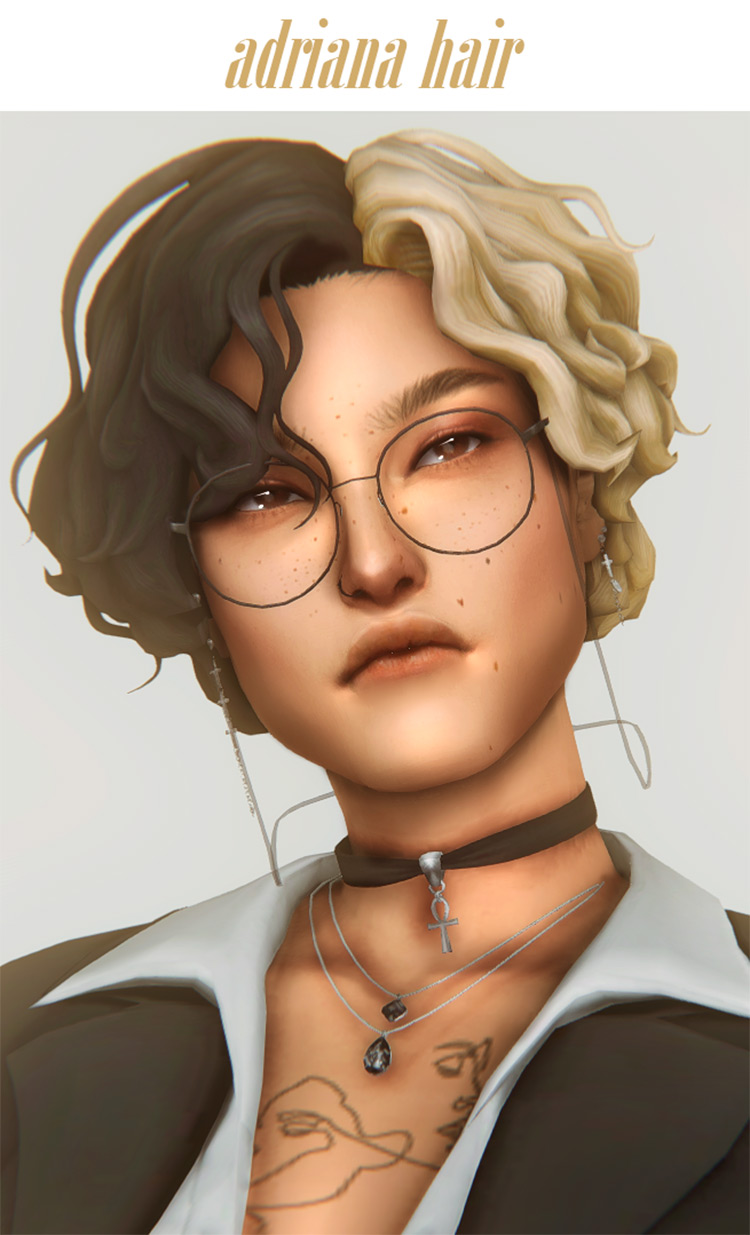 Clumsyalien's content is pretty similar to okruee's; they both have a distinctly Maxis Match texture with a level of detail that leans more Alpha CC.
It's realistic, but not too much.
Their Adriana hair – part of their Illusions CAS pack – is short and elegant.
It boasts a slightly off-center part and artfully tousled curls.
And, oh; it can be two-toned. Seriously so cool.
16.

Kiala Hair by Hellfrozeover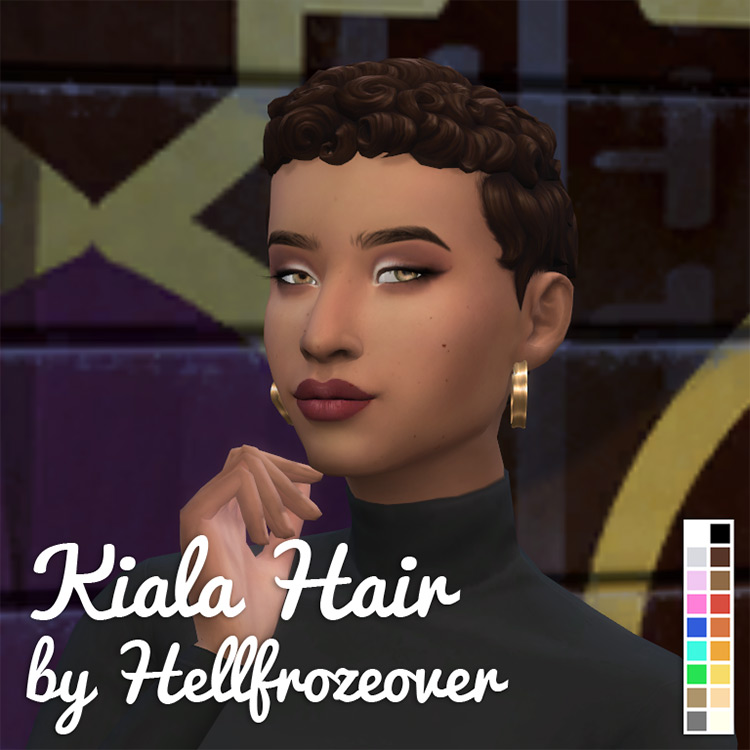 This has is classic pixie mixed with trendy, sophisticated curls.
It's a gorgeous blend of no-nonsense high-fashion. Sort of like Boss Lady meets quiet, intelligent art curator. In the best possible way.
It comes in EA's standard 18-swatch palette, so you can have it in both natural and unnatural color options.
17.

X3 Fortnite Conversion/Edit by bustedpixels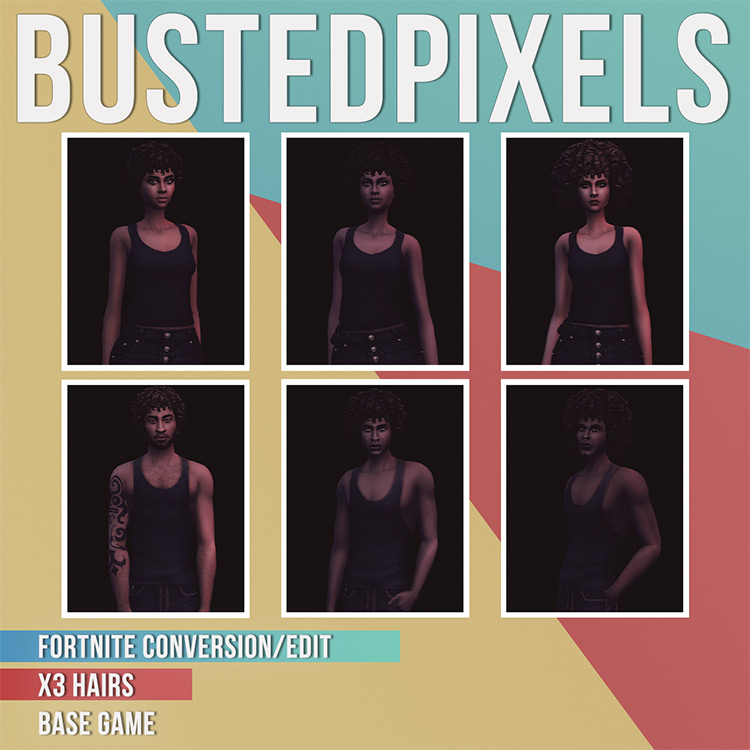 I don't play Fortnite (never have, probably never will), so I'm not sure how to get this Jada hair—or even how it comes into play.
All I know is, it's a beautiful afro that works for both Male and Female frames.
For it to come in three sizes/lengths?
That's just icing on top of the already delicious cake!
18.

Nerdy Hair by BED & MUSAE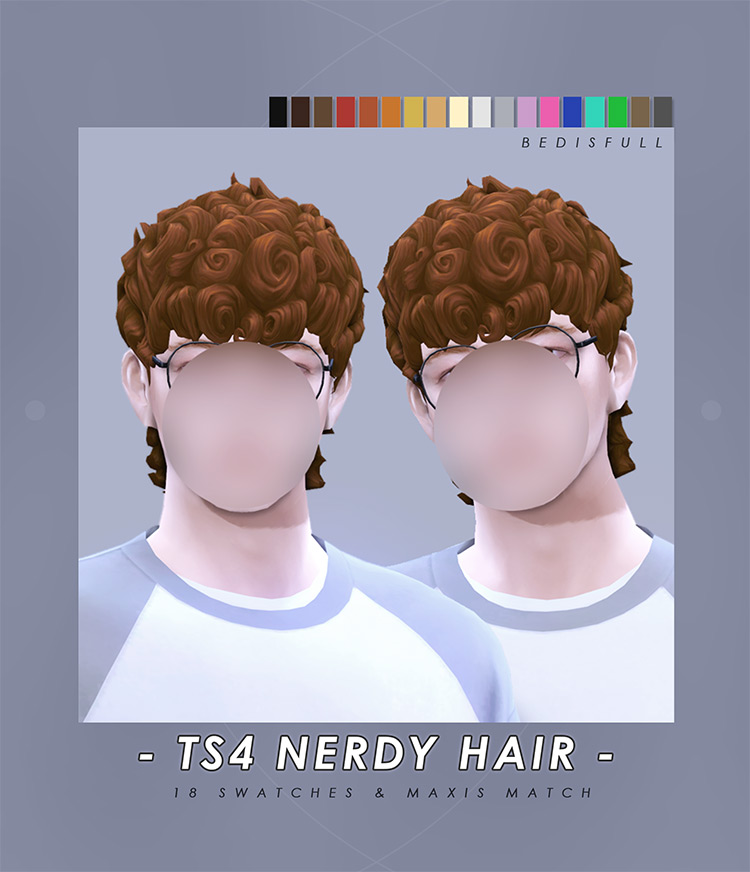 These curls remind me of a Grecian statue: clear, detailed, and very defined.
Like, very, very defined.
They're pretty much hand-carved swirls at this point, what with the clayified texture and the visible separation of each whorl.
It's kind of artsy if you look at it from that perspective, which I feel a lot of Simmers can appreciate.
19.

Hari Hair by marso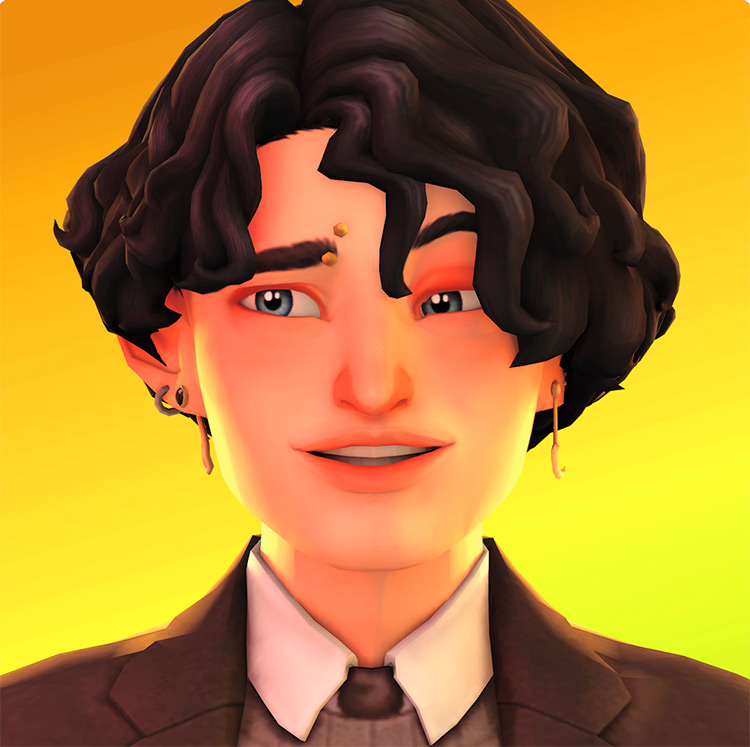 Marso's Hari hair has similar-ish vibes to clumsyalien's Adriana Hair; it's clean, elegant, and accentuates its slightly off-center part with artfully tousled curls.
It doesn't come with a two-tone accessory overlay (unlike Adriana), but it still comes in EA's standard swatches, so. That's still a decent amount of hair colors to try out!
20.

Gabbie Hair by aharris00britney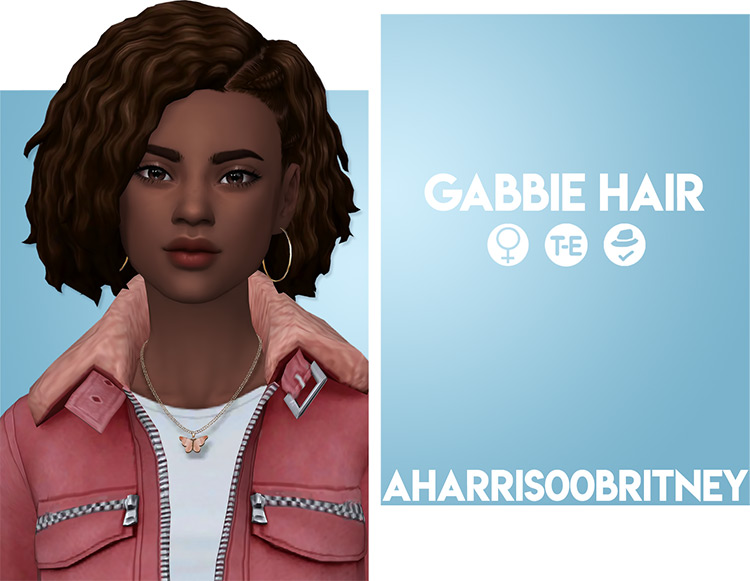 Not quite an afro, but arguably just as full, thick, and beautifully textured.
Aharris00britney's Gabbie hair is a simple short-medium cut with a stylish side-part and, of course; plenty of curls.
They're a little too loose to be called ringlets, but they're definitely too defined to be considered 'waves'.
21.

Cleo Hair by greenllamas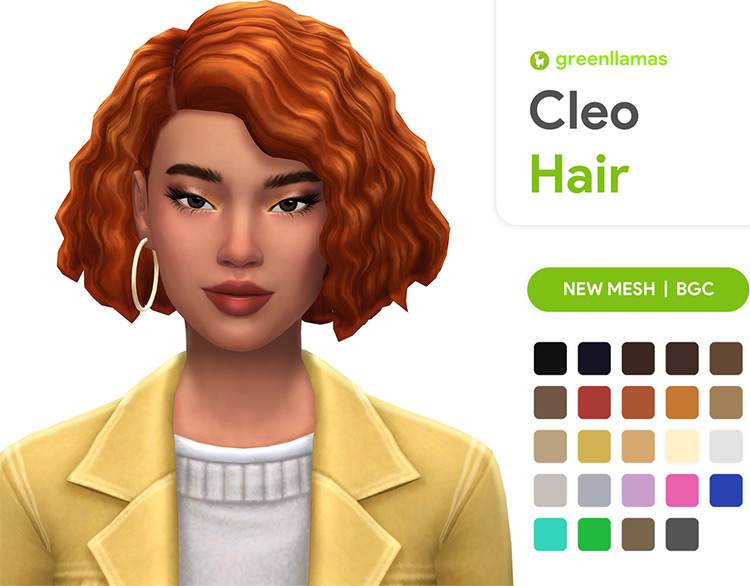 Cleo by greenllamas carries the same aura as aharris00britney's Gabbie.
It's short, it's stylish, and it's got plenty of volume.
This CC hair even boasts a side-part (although Cleo's is on the other side)! The curls for this hair are a little less defined, too. Not quite beach waves, but definitely sitting at that sweet spot between them and loose curls.
22.

Breona Hair by kotcat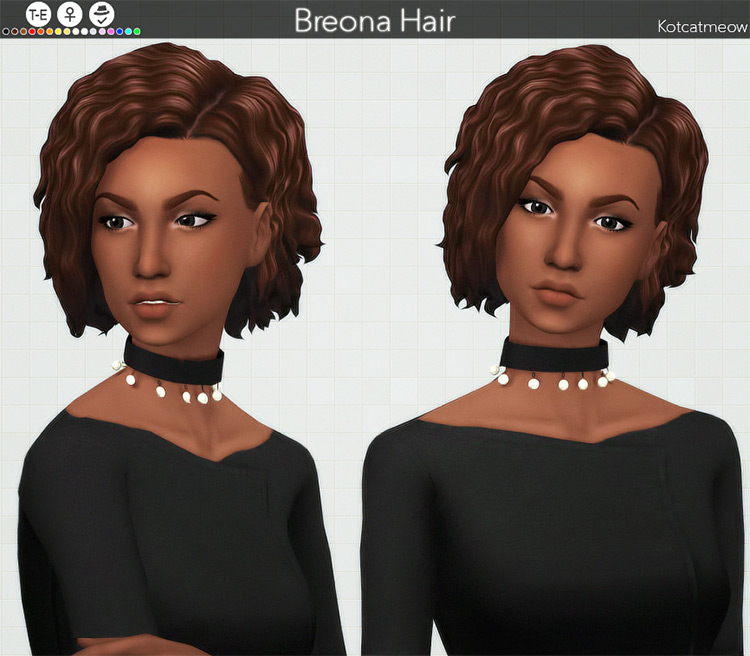 Breona feels like a pretty sweet 'do with the potential for sass when pushed.
It's got the same texture as the two hairs before it (Cleo and Gabbie), only with slightly less volume. Still, the curls – just as loose as aharris00britney's Gabbie tresses – provide plenty of body to keep the style from looking flat.
It's available in 16 (out of 18) EA colors, too.
23.

Hylas Male Hair by WistfulCastle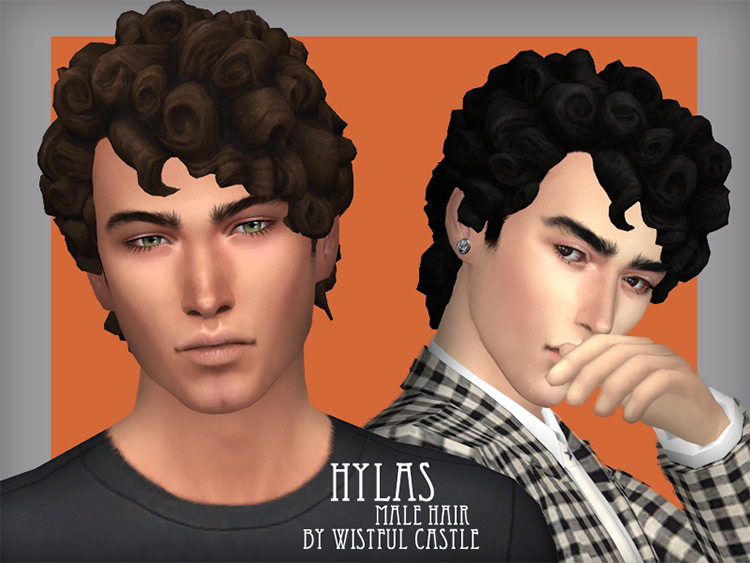 WistfulCastle's Hylas hair reminds me of BED & MUSAE's Nerdy hair a bit.
There's something so oddly Grecian with how distinct the locks are.
Again, they're like hand-carved marble curls. These are a whorled a little less tight, though, so they have more of a "casual trendy" look (as opposed to abstract and/or artsy). Available in 15 custom colors.
24.

Jude Hair by okruee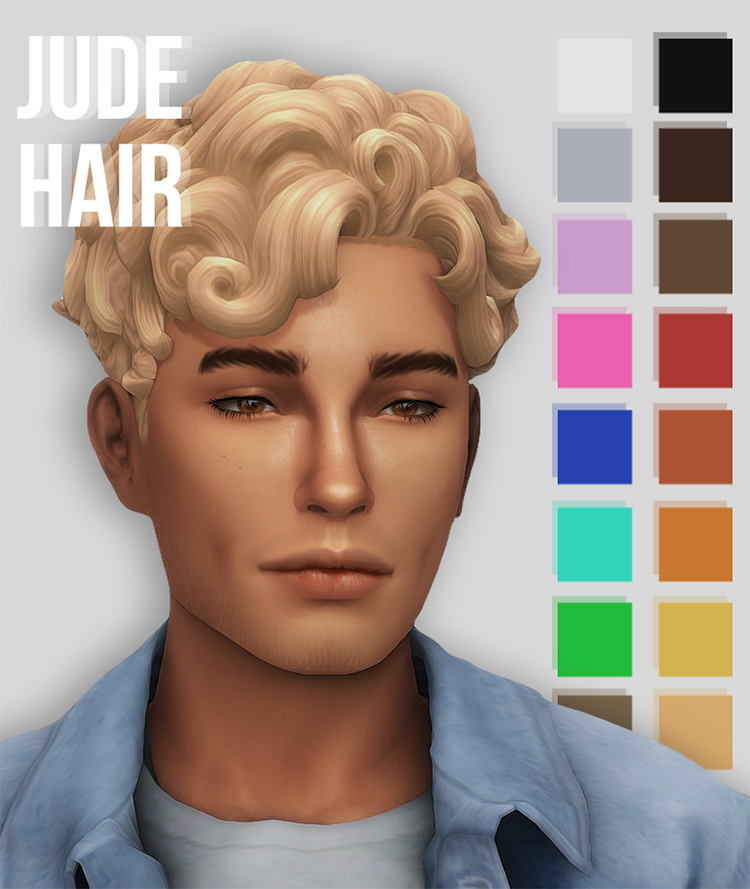 Okruee's Jude Hair is fluffy and angelic! The whorls have a clean, defined look to them, but they aren't too kinked and/or tight.
I'd even go so far as to say that they strike the perfect balance between 'casually modern' and 'classic boy-next-door'.
25.

Curly Bunch: Rianne Hair by divinecap
Here's another gorgeous afro, and it's part of divinecap's Curly Bunch pack—a set of three bold, bouffant, and curly 'dos that are to die for.
Rianne is the only one of the bunch that slides into the "short and curly" category, what with her tightly-twisted ringlets and no-nonsense chop.
But make no mistake; all three hairs in this bunch are beautiful!
26.

Male Split Curly Hair by wingssims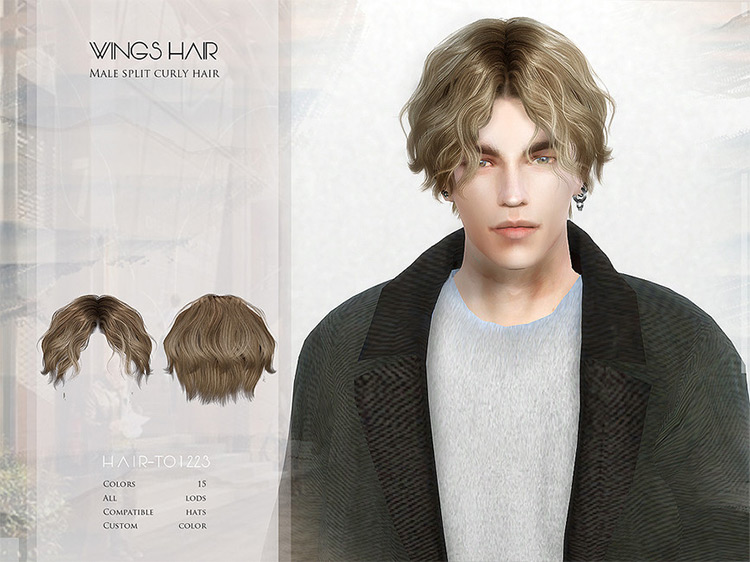 You can never go wrong with classic styles. And a middle-part is the definition of classic! Sure, not everyone can pull it off.
But for those who can, might I recommend some lightly permed bangs?
Maybe some fluffed out edges?
I think wingssims' Male Splity Curly Hair 'do is proof that it looks bomb!
27.

Ainhoa by Anto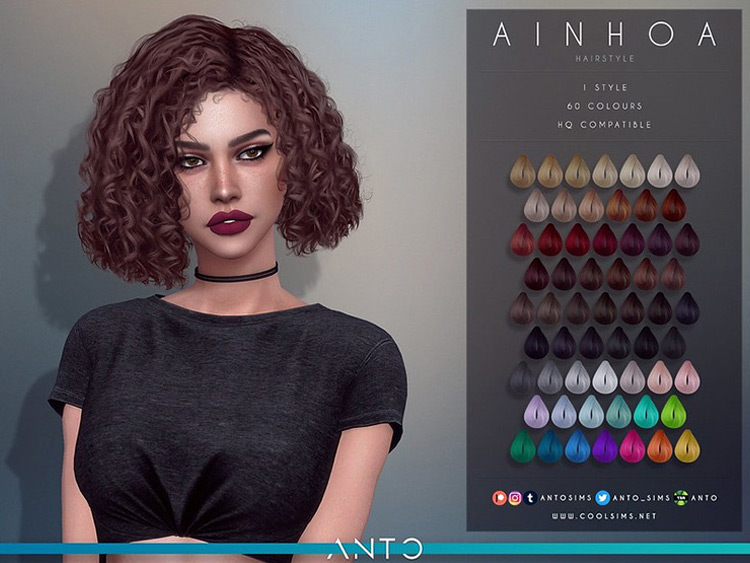 Ainhoa is another striking textured hairdo from Anto (and another of my personal Alpha CC faves!).
It's a little closer to medium rather than short, but since the ends don't touch the shoulders yet, I'm giving it a pass.
Plus, seriously; look at those luscious, tousled tresses. Ainhoa is stunning!
28.

Jort Hair by okruee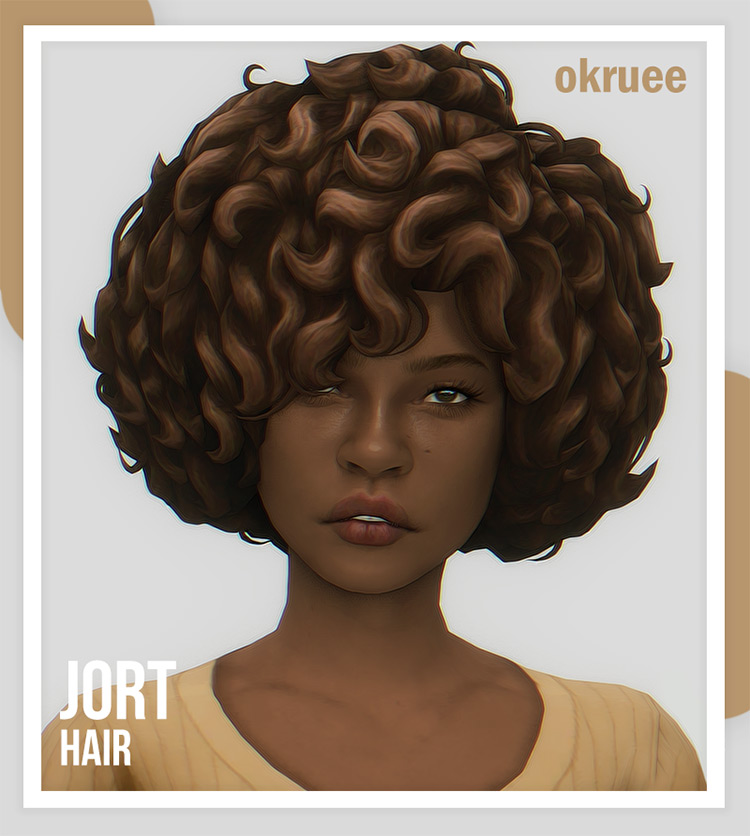 You want big and fluffy?
Okruee's got you covered.
This is a magnificent afro fit for a queen, and no one can convince me otherwise. Her locks are luscious, twisted curls that look styled to perfection.
Even the "unruly" ends just add to the overall look, and the overall look screams flawless.
29.

Carousel by simsontherope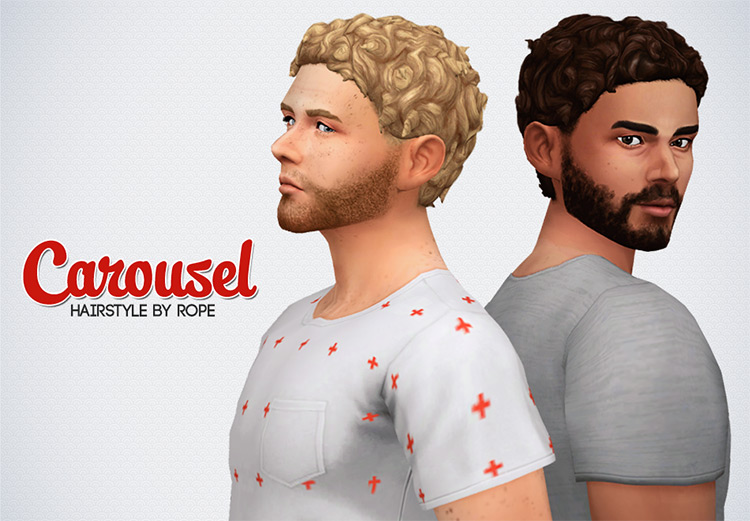 Simsontherope's Carousel hair is a less voluminous version of the cute, curly 'do we get in The Sims 4: Toddler Stuff.
The shorter length makes it look a lot spunkier and spirited compared to the original, which now looks a lot softer and sweeter.
If you've got Toddlers installed, adding Carousel to your CAS can give you some variety. If you don't, it makes for a neat BGC alternative!
30.

Carlota by Anto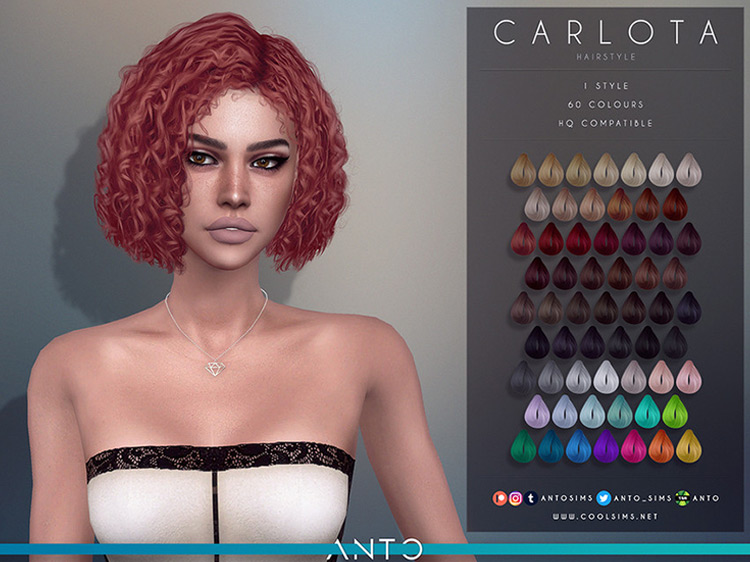 Like Ainhoa, Anto's Carlota is a striking layered bob with a neat part 'round the middle (what's an inch or two to the left?) and a healthy amount of twirled, curled ringlets.
It's not quite as fluffy as some of the hairstyles on this list. But it's got more than enough texture and body to be sufficiently trendy.
31.

Charlotte Hair by feralpoodles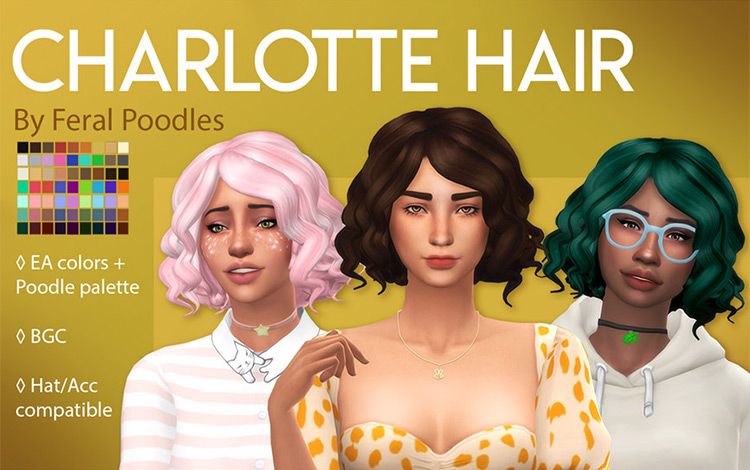 This is another custom hairdo that toes the line between short and medium-length.
Feralpoodles' Charlotte hair has a very distinct "styled" look to it. Kind of like someone took a flat-iron and twisted the ends of their sort-of wavy hair into clean, bouncy curls. It's a classic combo that looks great on almost any face shape!
32.

Marcia by simstrouble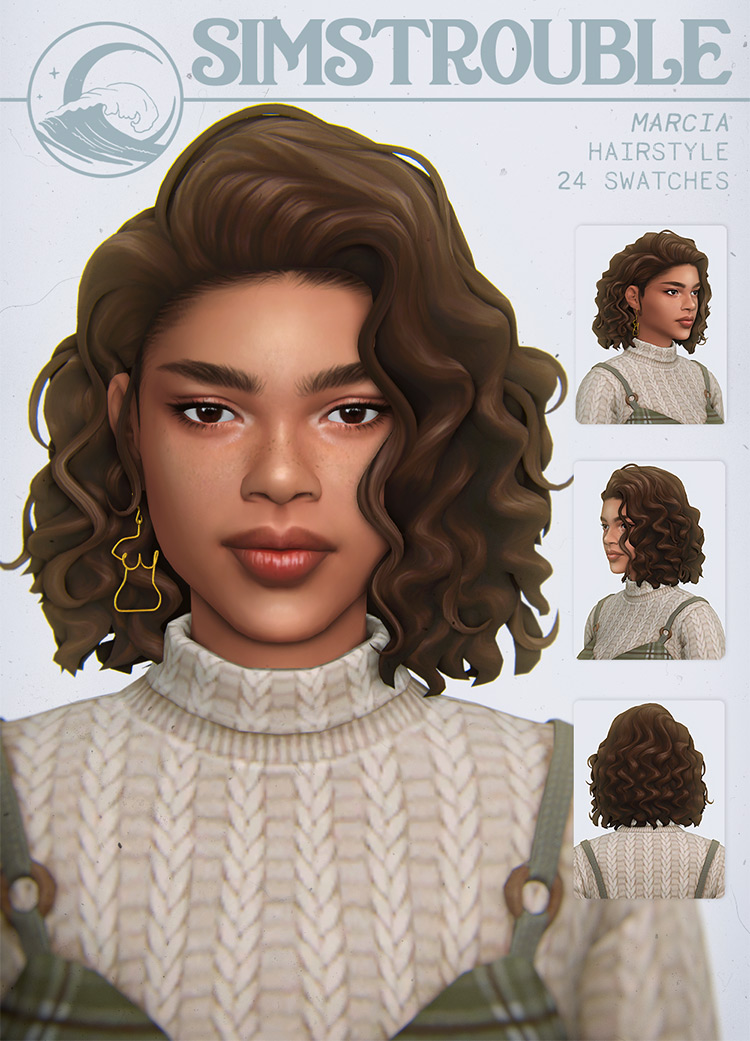 Simstrouble's Marcia hair is a beautifully tangled mishmash of thin ringlets woven through luscious curls.
The length sits at a comfortable short-medium chop accessorized with plenty of wayward curls and a pushed-back side-part.
It's the kind of cut you'd deem sensible but still slightly trendy!
33.

Jackson Hair by okruee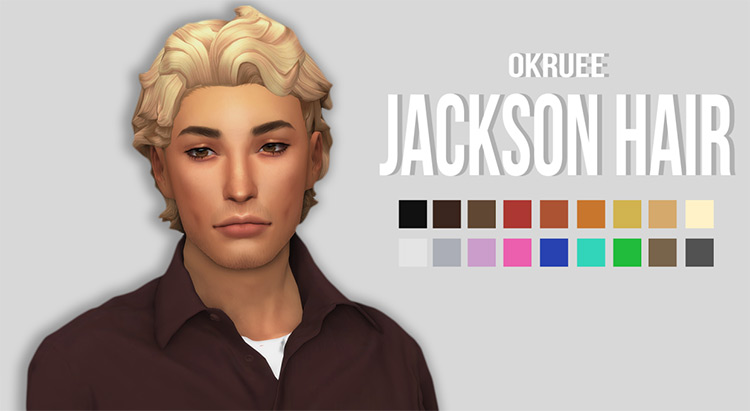 Apparently named after Jackson Rod Stewart (of Hannah Montana fame), okruee's Jackson hair has that "sweet country heartthrob" feel to it.
The wavy bangs, the not-too-short, not-too-long length, and the casually pushed back curls? It paints a pretty picture.
And the fact that the preview photo shows the curls in straw yellow only adds to the rural charm.
34.

Matthew Hair by marigolde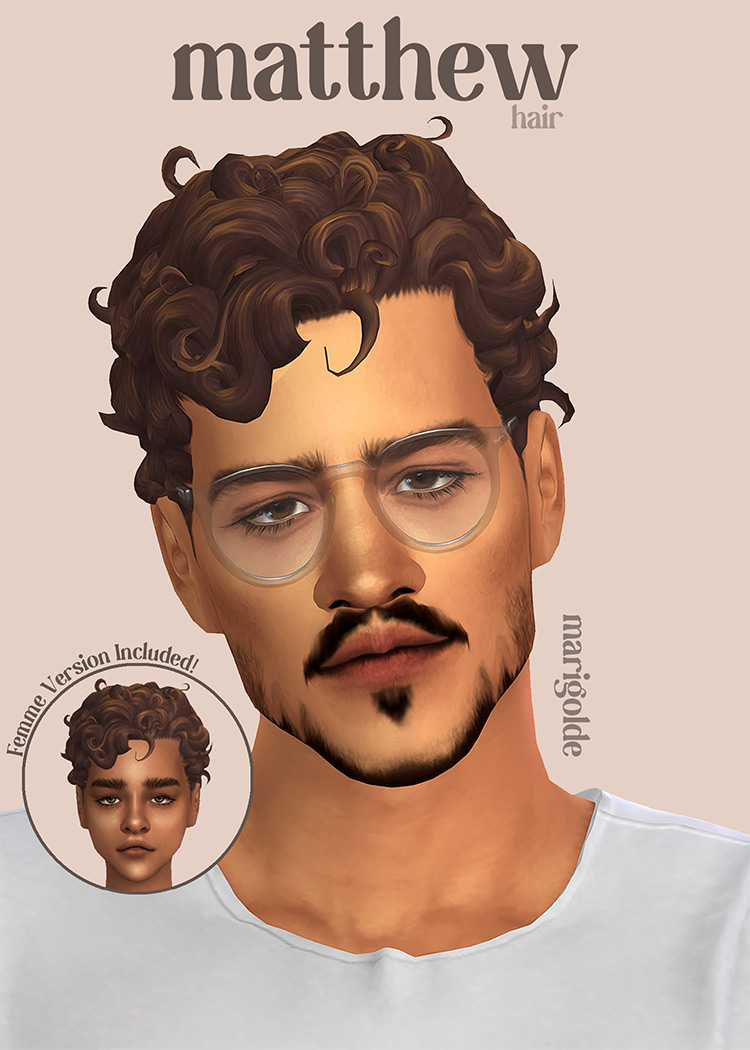 Don't mind the Sim model's bored expression, because this Matthew hair is the furthest thing from flat!
It's short, kinked curls with a couple unruly strands poking out and an overall just-rolled-out-of-bed aesthetic that's pretty darn attractive.
The creator gets bonus points for making this CC unisex, too.
35.

Zaid Hair by ice-creamforbreakfast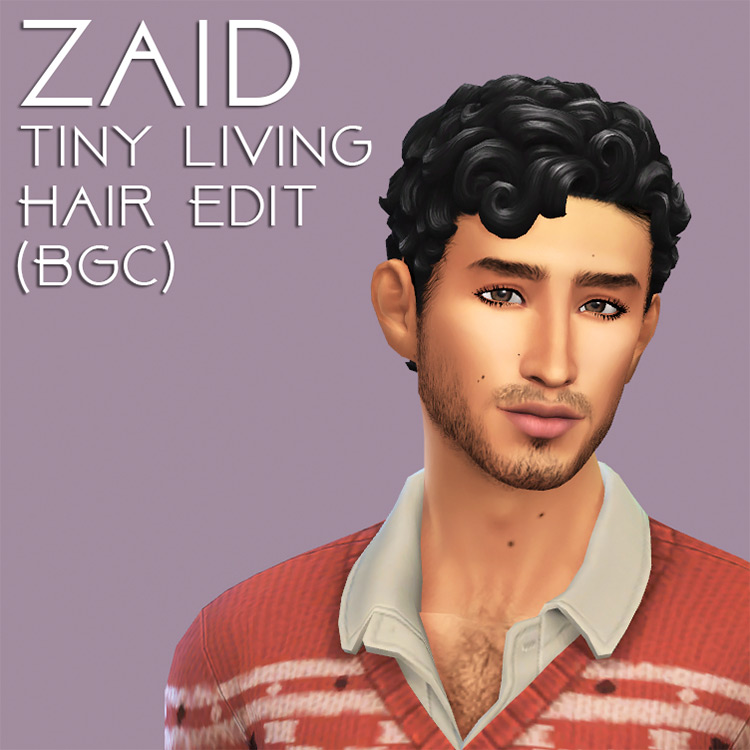 This is a quick but cute edit of the curly Male hair that came with TS4 Tiny Living.
It takes out a bit of the volume and makes it look more styled (as opposed to the original flat-out mop of curls).
But if you don't have Tiny Living, don't worry. The creator included an override and a BGC standalone version, so the mesh won't be needed.
Browse:
Lists
The Sims 4
Video Games