Sims 4 CC: Best Short Female Hairstyles (All Free To Download)
This post may contain affiliate links. If you buy something we may get a small commission at no extra cost to you. (Learn more).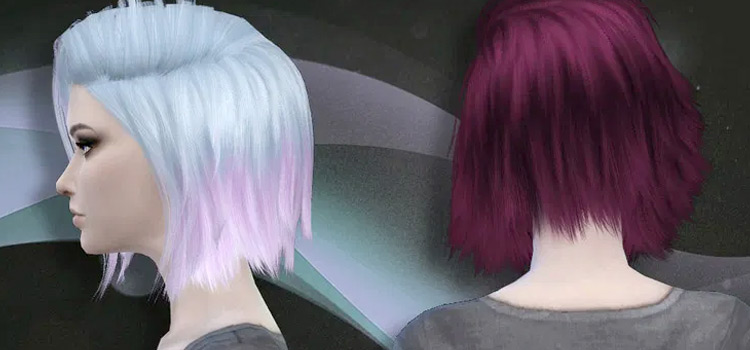 When you think short hair, you think cute. Trendy. Modern. Unique. Low-maintenance.
And about half a dozen other synonyms that basically mean "cool."
I'm inclined to agree. There's just something so effortlessly awesome about short hair – especially when it's artfully styled.
Channeling that same energy in The Sims 4, I decided to curate a list of all the best short CC hairstyles for ladies in TS4 – no particular order for this one.
Check them out!
1.

Newsea Footprint Retexture by Aveira
Who doesn't appreciate a short, layered hairstyle with wispy ends and a mad side-part?
Aveira's retexture of Newsea's Footprint hair adds 70 custom colors for you to play with, and they all look stunning!
There's a decent selection of neutrals, naturals, darks, lights, and dyes.
I particularly love the softer, brighter color swatches. Because they make the hair look absolutely whimsical.
The download link includes the mesh too, so no need to download a separate file.
Color Options: 70 custom colors
Mesh Needed: Included in Download Link
2.

S-Club's Eric n22 Hair
How about a cool undercut hairstyle for your stylishly edgy Sim?
I think it's great that this hair is available (and flattering!) for both male and female models.
The alpha CC texture works well with the pushed-to-the-side style, as do the color swatches. They're a little limited, though, with only 13 custom colors to play with.
Not a lot of diversity with the shades.
It seems to favor more muted, somber, straw-colored colors. But that aside, this hairstyle is unique, distinct, and undeniably motorcycle-babe-cool.
Color Options: 13 custom colors
Mesh Needed: None
3.

Wingssims' Wings-OE0528 (+ Bonus Ombre Hair Retexture by Lisaminicatsims)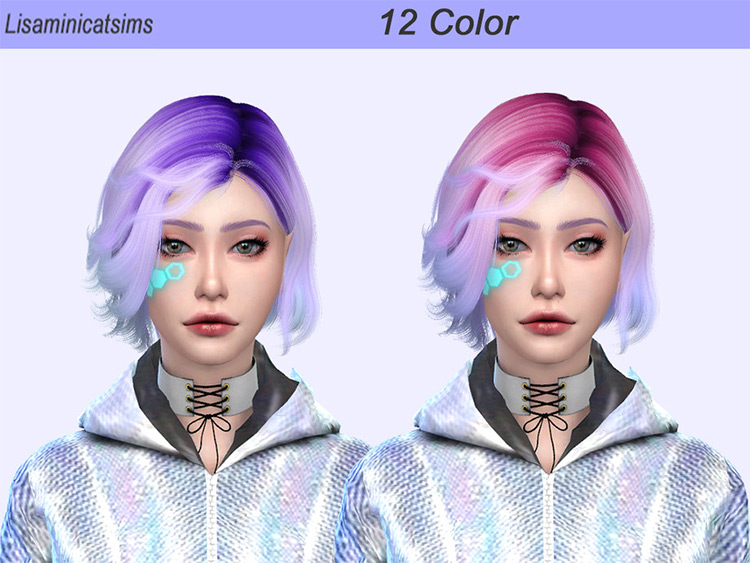 Wingssims' Wings-OE0528 hairstyle is another short, wispy, whimsical hairdo that comes in the most gorgeous color palette I've seen so far.
Most of the 20 custom colors are shades of soft blonde, soft strawberry blonde, and light peach.
When used on a hairdo like this – all gentle waves and lightly curled tendrils – it looks so effortlessly ethereally elegant. That's a lot of E's!
I've tried it on both round faces and angular faces, and I'm not exaggerating when I say that this style flatters them both.
I also found a bonus ombre retexture of this hair made by Lisaminicatsims.
It adds 12 custom ombre options that are just as gorgeous as the original shades.
The combinations are so unique – like cotton-candy-teal-and-pink, ocean-blue-and-seafoam-beige, and sunrise-orange-and-dusky-purple – but oh-so delectable.
Trust me; it's a real treat for the eyes.
Color Options: 20 custom colors + 12 ombre custom colors
Mesh Needed(Original Hairstyle): None
Mesh Needed(Ombre Retexture): Wingssims
4.

Dua Hair + Flower Accessory by Jao Custom Content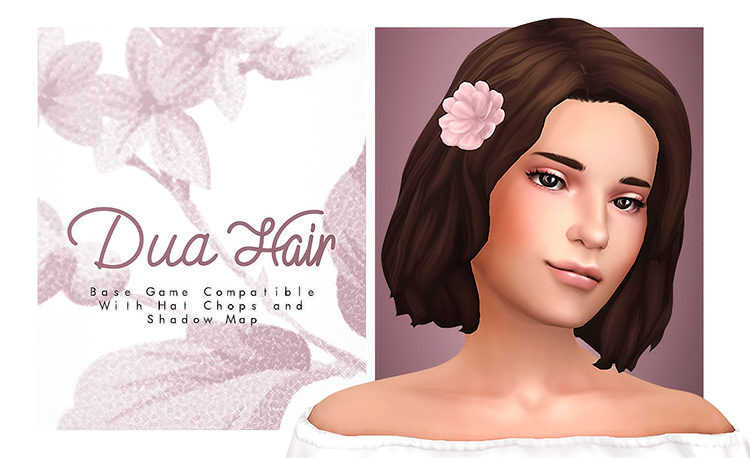 If you've got a Sim living it up – or planning to live it up – in the island paradise that is Sulani, then you have got to try this CC.
Jao's Dua hair has gorgeously full waves that flow to just above shoulder height.
And the maxis match texture only serves to emphasize how thick and luxurious they are.
Color options for this CC are limited to 16 EA colors, but honestly? The hair looks so good, I can't complain.
There's also a bonus flower accessory (that you can find in Hats, not Accessories) that comes in 14 different colors.
I'd say that's plenty of options for you to play mix-and-match with.
I particularly like the red flower with the blue-green hair. It just screams "I'm secretly a mermaid!," you know?
Color Options: 16 EA colors + 14 accessory colors
Mesh Needed: None
5.

Alicia Hair by Liliili
Looking for a stylishly sleek and spunky hairstyle to match your Sims' dragon lady personality?
Then I highly recommend Liliili's Alicia hair.
It's a short, slightly layered cut that ends just above chin level. And it is the definition of I-mean-business in the best possible way.
Crisp, clean edges.
Strands neatly styled in place.
And a swoopy side bang that hides just a hint of face? This hairstyle is just so modish and chic.
Color Options: 18 EA colors
Mesh Needed: None
6.

Wingssims' Wings-OE0202
Just like the Alicia hair, Wingssims' Wings-OE0202 CC is also quite trendy and sophisticated.
It's cut to just around the ears and parted on the right.
The bangs and ends give the impression that the hair is quite wavy and difficult to tame, but that really only works in its favor.
I'm a big fan of the bangs that swoop in and out. I think it adds a lot of personality to the look.
It also frames the face without covering too much of it.
The color palette for this one is just like Wingssims' other Wings hairstyle (the OE0528 one). It's a gorgeous array of muted blondes and gently desaturated peaches and pinks.
And the fact that the ends have this soft, fluffy look to them just adds to the quiet-clouds-and-cotton-candy vibe.
Color Options: 20 custom colors
Mesh Needed: None
7.

BLZ's Roxanne Hair (+ Bonus Unicorn Hair Retexture by Margeh-75)
Joining S-Club's Eric hair in the Undercuts United is BLZ's Roxanne hair (along with Margeh-75's Unicorn Hair retexture for more fun colors).
Let's break that down.
I first found Margeh-75's Unicorn Hair retexture and instantly fell in love with the crazy colors.
It needs the original mesh, though. Enter BLZ's Roxanne hair – a gorgeous alpha CC undercut with some two-tone options (specifically for the roots and bangs).
You can install just Roxanne, but I highly recommend adding the Unicorn Hair retexture for even more fun color options.
The combinations are all kinds of tri-colored crazy (sometimes even four), but they work.
Color Options: 14 custom colors + 8 unicorn custom colors
Mesh Needed(Original Hairstyle): None
Mesh Needed(Unicorn Hair Retexture): Roxanne
8.

Sul—Sul's Conjure Hair
The quintessential angled bob with the side fringe, Sul—Sul's Conjure hairstyle is a solid, safe option that can make your female Sim look more youthful.
From the front, it may look a little plain.
But from the sides? That's where the personality's at!
The color swatches for this hairdo are a little limited, with only 13 custom colors to choose from. But they're all pretty interesting – especially the tangerine orange and the one multi-colored pink-purple-orange-yellow option.
Color Options: 13 custom colors
Mesh Needed: None
9.

Kismet's Oceans and Clouds (Revamped)
This CC basically has three choices of roughly the same hair.
Biggest difference would be the color options. Next difference (though not as big) would be the texture.
Kismet's Clouds hair CC is this fantastic, artfully messy bob that comes to just below the chin. The maxis match texture works so well with the hair's design because it really emphasizes just how all over the place the strands are.
Some are curling in, some are sticking straight out, and others look like they were carelessly pushed into place.
It's a distinct cut that's equal parts innocent, trendy, and street-casual, and somehow the combination works.
Kismet's Oceans CC is a longer, wavier version of Clouds. But it's short enough that we can include it on this list, too.
She also revamped the Clouds hair to give it a more defined, "clayified" style.
Honestly, all three options – Oceans, Clouds, and Clouds Revamped – look amazing. Whichever you decide to download will really just fall to personal preference.
Color Options: Clouds: 36 custom colors; includes 18 EA colors | Oceans: 2 custom colors; includes 18 EA colors | Clouds Revamped: 18 EA colors
Mesh Needed(Clouds): No
Mesh Needed(Oceans): Clouds
10.

Gabbie Hair by aharris00britney
Now this is a personal favorite.
What can I say? I'm a sucker for natural curls and big, voluminous hair.
And aharrisoobritney's Gabbie CC hair checks all boxes – and then some. This loosely curled hairstyle looks absolutely gorgeous with the maxis match texture.
The waves, the shorter pieces, and the unruly strands are all beautifully defined. And I especially love the little braid detail on the left.
It's a small but oh-so-distinct piece of the hair that gives it so much more character.
The curls look so fresh and natural in dark colors, but I personally feel that bright colors really let the side braids pop.
Color Options: 18 EA colors
Mesh Needed: None
11.

Meghewlett's Yukino Hair in NoodlesCC Sorbet Remix Palette
For a truly sweet, innocent, fresh-faced look, try Meghewlett's Yukino hair in NoodlesCC's Sorbet Remix Palette.
You get 76 new custom colors on top of the original 18 EA colors, for a whopping 94 color options. And you can bet the swatch range is as diverse as can be.
Want green hair? Choose between emerald, lime, turquoise, and seafoam green.
You can't just have blonde, no. There's straw-colored, deep yellow, and sunflower.
Don't even get me started on the naturals and neutrals of this palette. We'll be here for days.
Point is, this cute, three-bangs bob looks great as is. But it'll look even better with all the colors of the rainbow.
Color Options: Yukino: 18 EA colors | Sorbet Remix: 76 custom colors
Mesh Needed: Yukino
12.

Simmerstesia's Tangerina (part of Organic Flavors Hair Dump)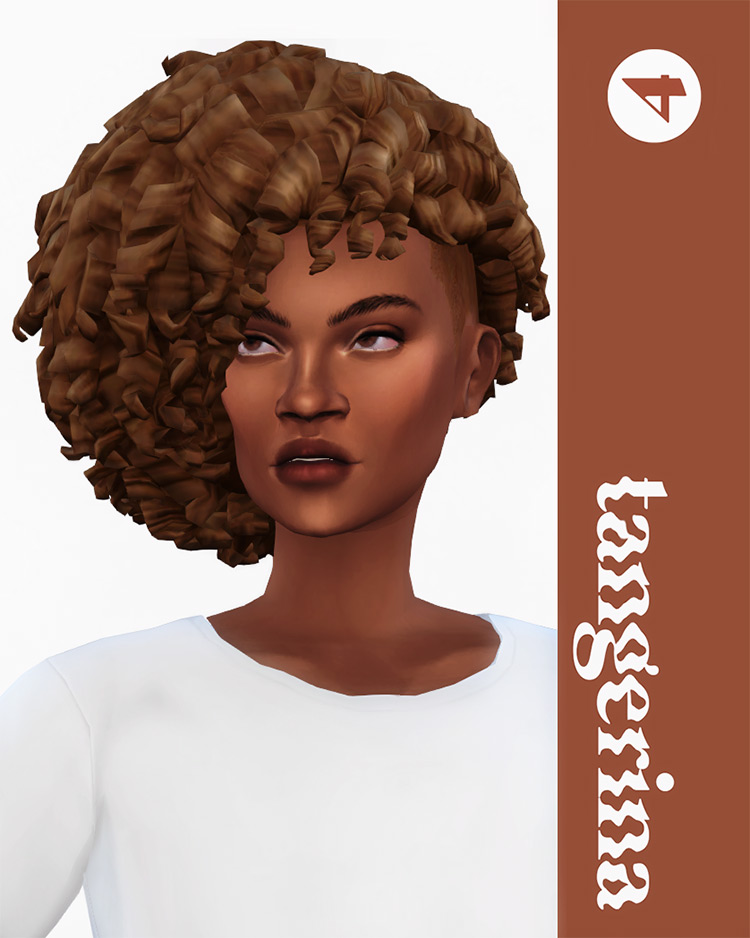 Tangerina is the kind of hairstyle that demands attention.
It's big, it's bold, and it's unashamed.
Tight, bouffant curls just casually piled to one side and the barest hint of an undercut.
There's no other hairstyle quite like this one. Which I think works perfectly for Sims that prefer a defined, eclectic, and unapologetically personal style.
And just look how gorgeous it looks on Sims with defined cheekbones!
Just note that the download link will lead you to five package files.
You'll want to click on the package file with TANGERINA in the name. Unless you want to download all four hairstyles (and I can't blame you, seriously, they all look fantastic), in which case you'd download the other three package files or the "organic flavors hair dump (all hairs)" RAR file.
Color Options: 18 EA colors
Mesh Needed: None
13.

Marsosims' Sehana Hair
For Simmers out there who are in love with vintage, retro, or Pin-Up Girl looks, the Sehana hair CC from Marsosims has got your name on it.
Soft curls, full bangs, and one side playfully tucked behind one ear?
Insert all the synonyms for "cute" here, because that's what this hairstyle is.
It honestly looks great with most face shapes, but I find that the curls at the end just look so much better when framing a rounder or softer face shape.
But hey; personal preference trumps all, so you do you!
Color Options: 18 EA colors
Mesh Needed: None
14.

Marsosims' Nahi Hair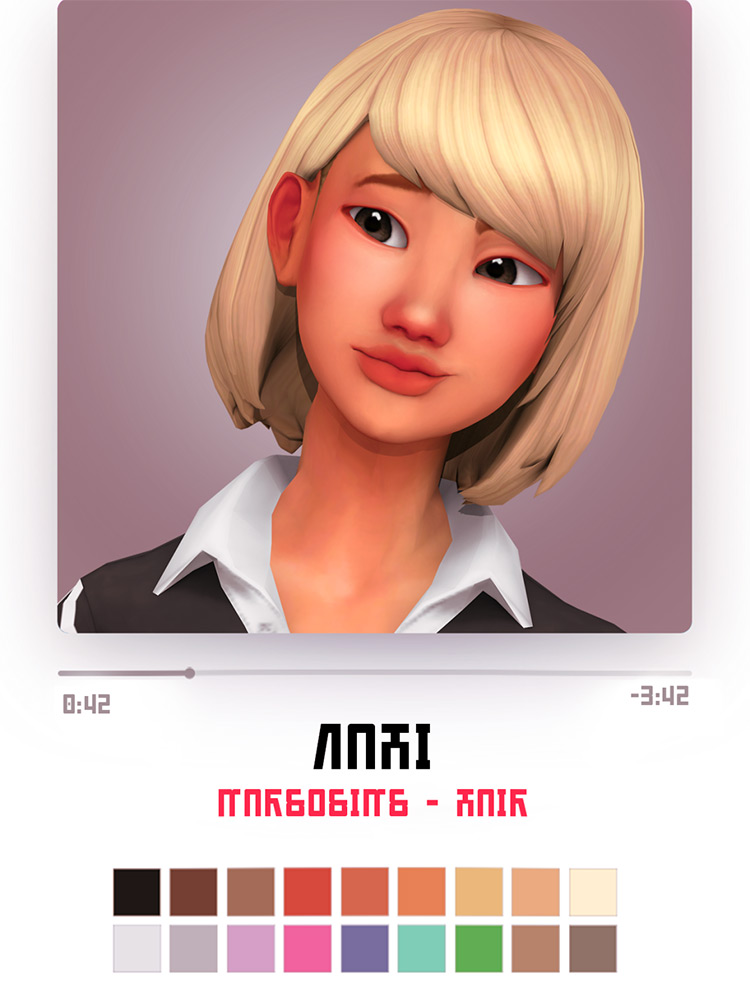 And continuing with the full-bangs, tucked-behind-one-ear theme is Nahi – still from Marsosims. This one is definitely a classic, typical bob.
You've got the hair teased inwards, the ends tucked in just so, and the side-swept bangs.
It's neat, no-nonsense, and very much a flattering hairdo for any Sim.
I personally love how it gives off that stylishly unflustered vibe. Which probably means it'll work great for Sims with chill, laidback personalities.
I especially love how it looks it in auburn and blonde.
Color Options: 18 EA colors
Mesh Needed: None
15.

Greenllamas Maple Hair (+ Bonus Ombre Accessory)
This hairdo is an absolute treat.
The vanilla Maple hair is a beautiful hairstyle with soft waves and a middle part.
It's got just enough volume on the bottom to flatter a heart-shaped face or a triangle face. The top is styled just enough that it can work with both round and wide-set face shapes, too.
It comes in 18 maxis match colors which, while not as diverse as I'd like, gives you enough options to be satisfied.
But then comes the fun part. The creator includes a bonus "ombre accessory" in this download.
It basically goes on top of the vanilla Maple hair and acts as a way to recolor the ends. So what you get is a beautifully-blended and highly customizable ombre hairstyle that works so well with the softly tousled waves.
The ombre accessory also comes in 18 EA color options.
But given that you can change the base hair color without changing the ombre accessory, I'd say that there are more than enough color combination possibilities to make even the most adventurous simmer satisfied.
Color Options: Maple Hair: 18 EA colors | Ombre Accessory: 18 EA colors
Mesh Needed: None
16.

Greenllamas Soleil Hair
This creator lists the Soleil hair as one of their personal favorites. And I can definitely see why.
It's kind of similar to Maple, only it's a lot shorter and a lot curlier.
In fact, I would call some of the sections of the Soleil hair "crimped," but only because there are some very obvious curls hidden amongst the waves.
Whereas Maple could make your Sim look like a modern modish art student, Soleil brings the girl-next-door vibes big-time.
It honestly made my Sim look so sweet and so approachable (which is a far cry from her usual look, believe me).
Color Options: 18 EA colors
Mesh Needed: None
17.

Greenllamas Lois Hair
Speaking of a "girl next door" look, Greenllamas' Lois hair CC is definitely a strong contender for the Mom Next Door crown (if there is such a thing).
The creator describes this hairstyle as hair that can make literally anyone "look like a mom."
I have to agree. But that's not necessarily a bad thing.
The gentle dips, slight poof, and cute side-part can make anyone look like the sweetest, most approachable Momma Sim this side of Willow Creek.
And the cute flower clip accessory that it comes with (which you can find in Hats – don't ask) honestly completes the look a little too well.
Color Options: 18 EA colors
Mesh Needed: None
18.

Anto Thorns Hair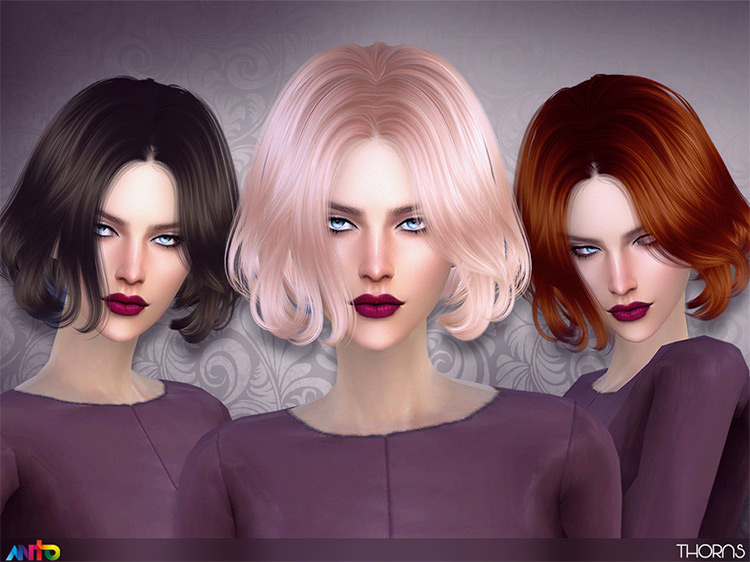 Speaking of "mom" hairstyles, Anto's Thorns hair is another short haired 'do that looks pretty mature – especially if used on Sims with longer or angular faces.
Unlike the Lois hair, however, this CC is a little less "approachable momma" and a little more "momma who nailed the work-life-self balance."
It's a sleek, chic, and contemporary hairstyle that looks stunning in alpha CC texture.
The color palette for this one features a lot of pale blues and some unconventional greens.
But I'm personally a fan of the brownish-red swatch.
Color Options: 18 custom colors
Mesh Needed: None
19.

Syaovu Niccole Hair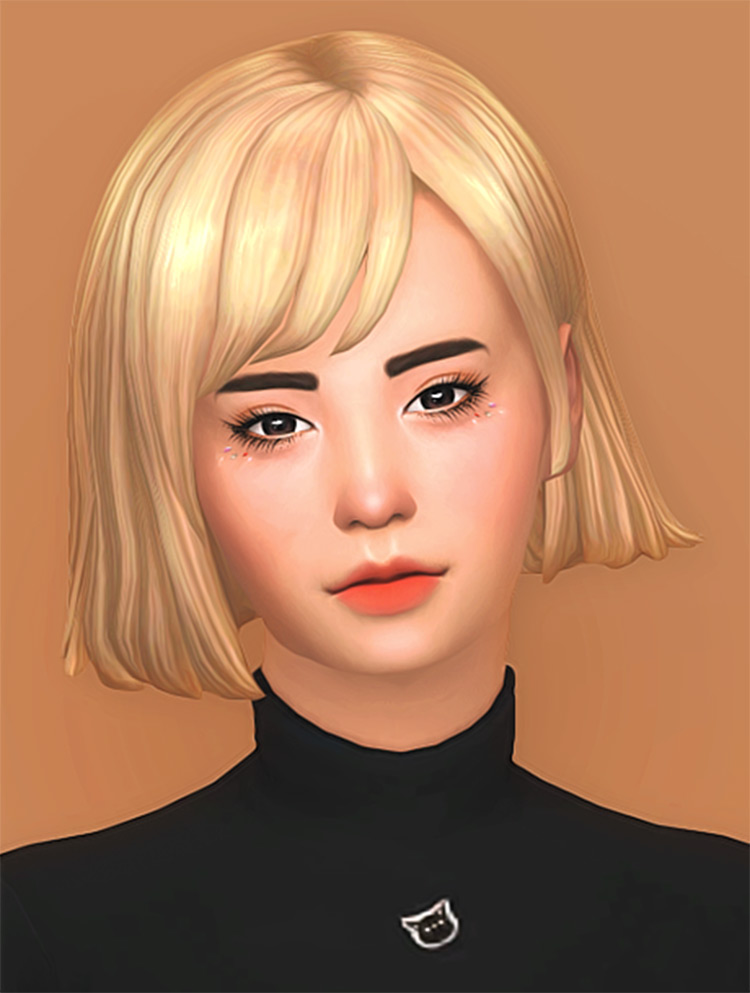 Making up for the woeful lack of blunt-cut bobs on this list is Syaovu's Niccole hair – another personal favorite.
Unlike most of the items here, the ends of this hairdo actually jut outwards (as opposed to curling or swooping inwards).
It's also slicked straight. No gentle waves or tight curls here, no sir.
But given the style, the length, and the "clayified" maxis match texture, I think the bluntness works well.
This one comes with its own cute bobby pin accessory, too. And this time, you can actually find it in Accessories.
Color Options: Hair: 18 EA colors | Accessory: 38 custom colors
Mesh Needed: None
20.

Disanity-Sims Farren Hair
And here we have Disanity-Sims' Farren hair; a cute, unique, blunt-cut bob that screams eclectic, trendy, and cool.
The impression is basically straight, short hair pulled back into several sections and neatly tied up.
Realistically speaking, short hair usually isn't tied up or styled since it's a pretty low-maintenance hairdo. So I get why there aren't a lot of hairstyles like this.
But that just makes this Farren CC stand out all the more.
It also comes with a bonus flower-crown-like accessory that you can (again) find in Hats. Or just snag a real crown. Your Sim girl is royalty, right?
Color Options: 18 EA colors
Mesh Needed: None
Browse:
Lists
The Sims 4
Video Games