Sims 4 CC: Best Custom Showers & Bathtubs (All Free)
This post may contain affiliate links. If you buy something we may get a small commission at no extra cost to you. (Learn more).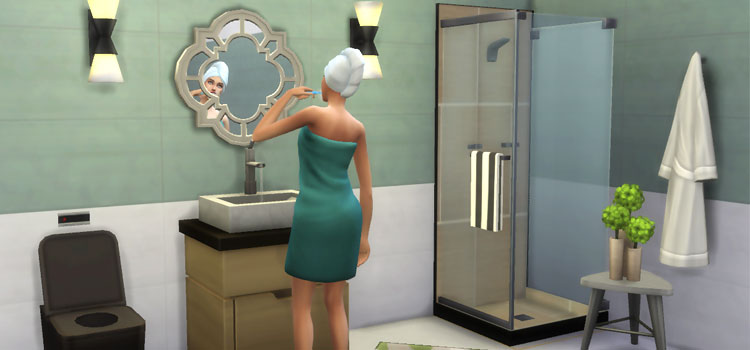 The thing I miss the most about The Sims 3 tubs has to be their personality.
Everything from the smallest bathroom décor to the most expensive shower/tub, had some weird backstory, inside joke, or surreal non-related explanation behind it.
I know The Sims 4 still has that. But not many TS4 furniture pieces can match the chaos that was TS3.
So since I can't get much personality from TS4 lore, I'm going to get it from the visuals. Thankfully, the Sims CC community is always ready to deliver.
If you want to add a bit of character to your bathroom builds, check out these awesome showers and bathtubs that you can install for free!
1.

Onda Tub by SIMcredible!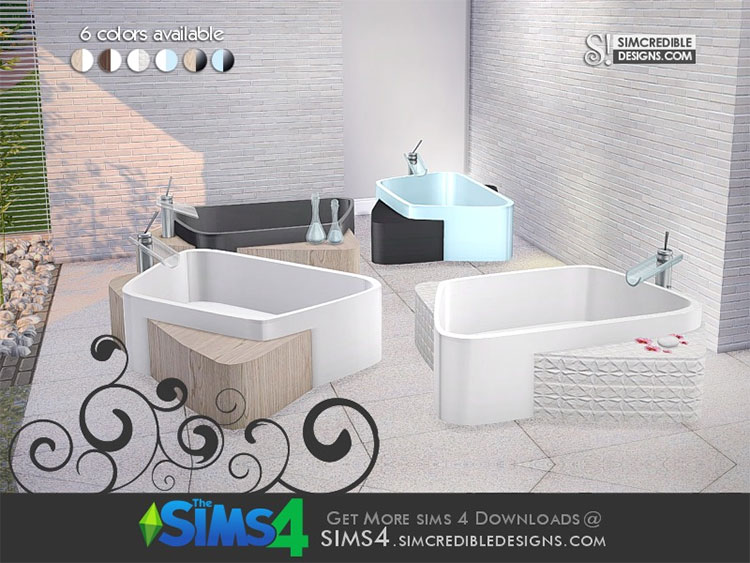 | | |
| --- | --- |
| Swatches: | 6 |
| Hygiene Rating: | 7 |
| Price: | §1,004.00 |
I have no idea if this is some sort of pun (get it? "on the" tub?) or if there's some linguistic reference I'm missing, but that doesn't matter. Not when the tub looks this good.
I love when TS4 CC creators can combine art and practicality, and this tub is a prime example of why.
In real life, those extra corners and platforms sticking out of the main tub would be perfect for placing essential bath items – shampoo, body wash, loofah, rubber ducky – within easy reach.
In the Sims, I would imagine it'd be the perfect place for some good ol' bathroom clutter.
Pretty, artsy, and unbreakable. Definitely worth the $1,004 Simoleons.
2.

Soho Bathroom (Bathtub + Shower) by NynaeveDesign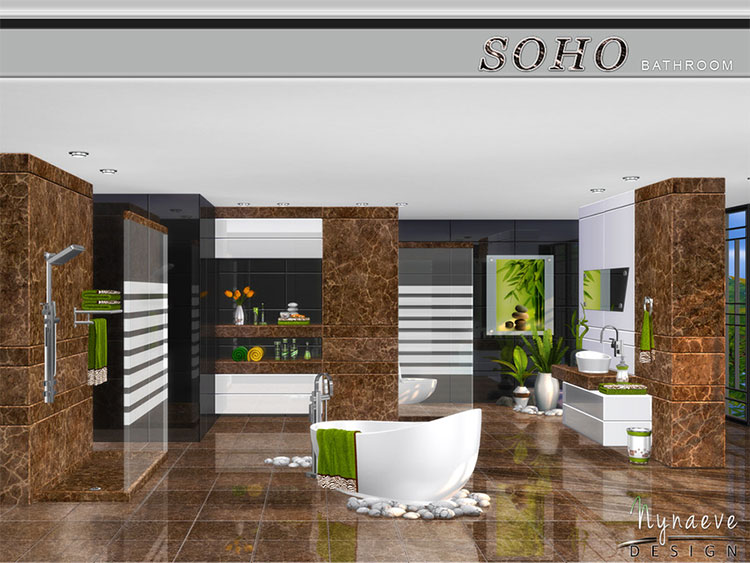 Soho Bathtub
Swatches: 2
Hygiene Rating: 10
Price: §1,000.00
Soho Shower
Swatches: 2
Hygiene Rating: 7
Price: §1,000.00
When you think Soho, you think SoHo, Manhattan.
Art lofts, art galleries, crazy fashion, cutting-edge designs, expensive luxury boutiques – it's all here.
And this bathroom CC set by NynaeveDesign perfectly captures that high-end living.
The download actually links to more than just the bathtub and the shower, so you can recreate the entire bathroom pictured in the previews if you want to. But you can download them without all the accessories too.
The tub is this gorgeous, deep boat design that flicks up to a slightly pointed end.
The shower is a frosted glass enclosure with open ends and a wall-mounted showerhead.
It's not quite minimalist and not quite avant-garde. Definitely a nice blend of both.
3.

Dream Shower by pihe89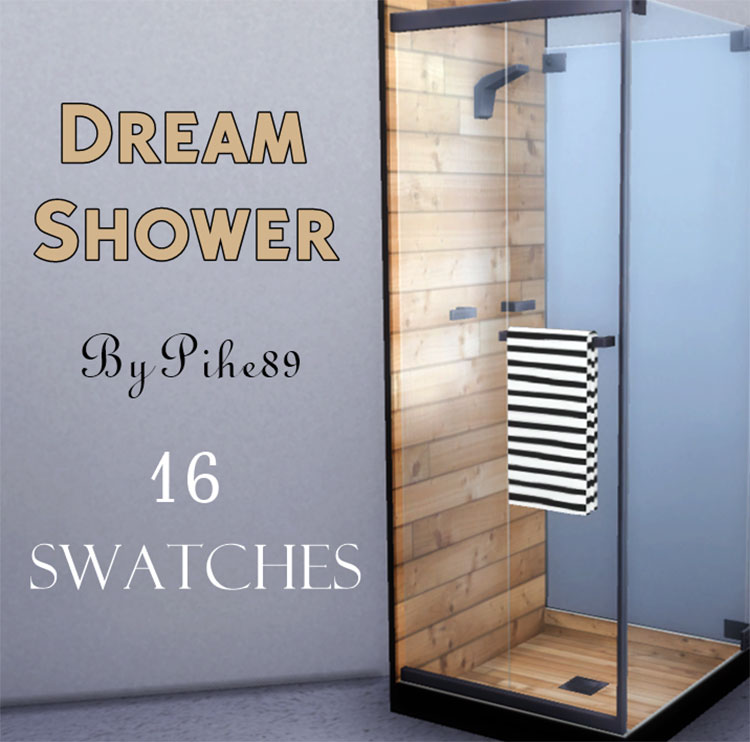 | | |
| --- | --- |
| Swatches: | 16 |
| Hygiene Rating: | 5 |
| Price: | §500.00 |
Practically speaking, wood is a risky material to use in your bathroom.
It's not as waterproof as porcelain or marble, and it doesn't dry as quickly as tile. It can easily get waterlogged or water damaged and the upkeep to maintain its texture, color, and vibrancy can be straight-up insane.
However!
Those sorts of issues aren't present in The Sims 4.
Doesn't matter what material is present in your Sim's bathroom because maintenance and cleaning limitations are virtually non-existent.
So this 1×1 shower with the lightly frosted glass and beautiful wooden back panel (and flooring) should be just fine.
Wood is one of the most-improved textures from Sims 3 to Sims 4, so most (if not all) of the wooden texture messes in TS4 look amazing. This Dream Shower by pihe89 is no exception.
4.

Keep it Clean DIY Shower Set by RAVASHEEN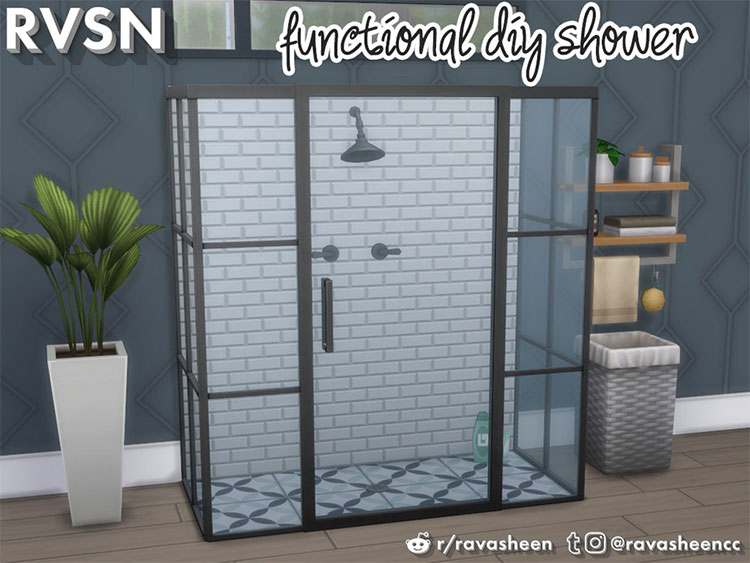 Shower Walls
Swatches: 6
Price: §30.00
Backsplash
Swatches: 4
Price: §30.00
Shower Door
Swatches: 5
Price: §30.00
Showerhead
Swatches: 4
Price: §300.00
This DIY shower idea is totally bomb-dot-com, and the execution is surprisingly flawless! That is to say that the shower remains fully functional regardless of what design you've made.
This was a pleasant surprise for me.
Most TS4 CC sets that are extremely customizable tend to glitch or malfunction. I understand that customization is a tough concept to pull off, so I usually just manage my expectations whenever I see DIY furniture for The Sims 4.
Think IKEA, only a hundred times worse.
Seeing all the pieces of this build-your-own shower—from the shower door to the two unique shower head options—fit together was a feat in and of itself. Seeing my Sim take an honest-to-goodness shower in my mismatched, clumsily-constructed shower stall was like witnessing a miracle.
I tried making a simple 1×1 shower (which worked with the help of bb.moveobjects on) and a ridiculously large 5×8 shower stall with three wall-mounted showers. Both worked perfectly.
So, yes; I highly recommend this set. 10/10 would continue to play with the pieces.
Check out the creator's preview photos for some ideas on how to build your own one-of-a-kind shower!
5.

Swan Bathtub in Black and Silver by BlackCat27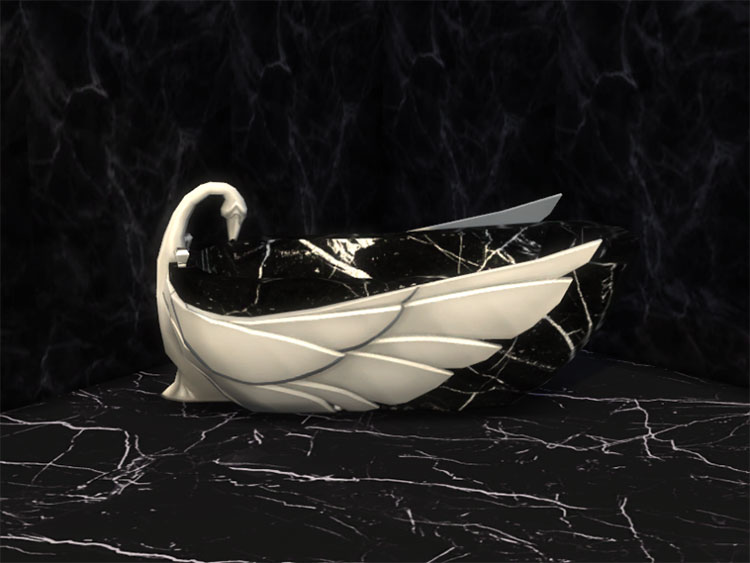 | | |
| --- | --- |
| Swatches: | 1 |
| Hygiene Rating: | 8 |
| Price: | §2,285.00 |
This CC item is exactly what the name says it is. Exactly.
A beautiful, elegant, and almost unnecessarily extravagant black-and-silver bathtub carved to look like a swan. The preview photo does do it justice. But trust me, it's completely different seeing it in-game.
Mad kudos to the creator for thinking of something original (I don't think I came across any other animal-shaped bathtubs) and pulling it off so flawlessly.
How rich does your Sim have to be to bathe in such luxury? Maybe Del Sol wealthy.
This tub doesn't belong in StrangerVille or Glimmerbrook, that's for sure.
6.

Bathroom Zing – Shower by ung999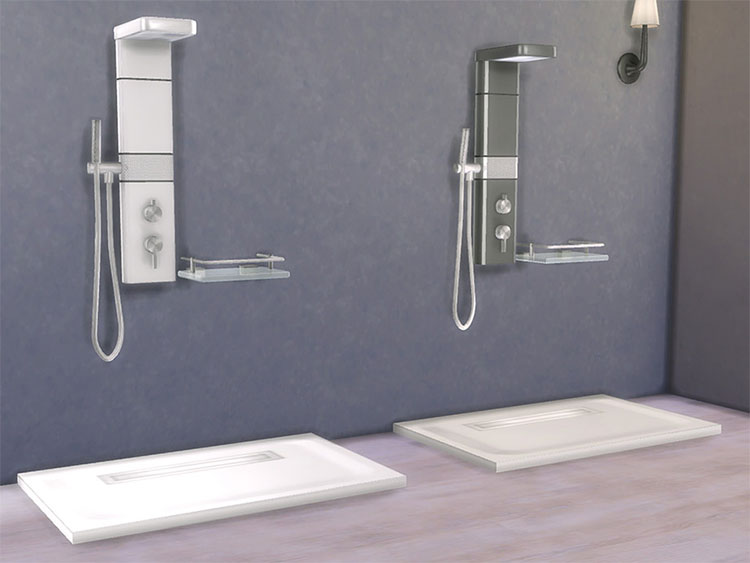 | | |
| --- | --- |
| Swatches: | 2 |
| Hygiene Rating: | 7 |
| Price: | §1,052.00 |
Now this is a minimalist shower.
If you thought the Soho Shower was open, try this Bathroom Zing Shower CC by ung999.
It's basically an open floor plan.
The door, side panels, backsplash, and ceiling do not exist with this shower. All you've got is a modern, wall-mounted unit with a detachable shower head, a floating glass shelf (for toiletries and other shower essentials) and a porcelain drain on the floor.
You can place this shower against literally any wall – cornered or not – and it'll work just fine.
It's a great addition to any super-modern Sim house that uses sleek chrome and futuristic, cutting-edge technology.
7.

Bathroom Gemini – Bathtub by ung999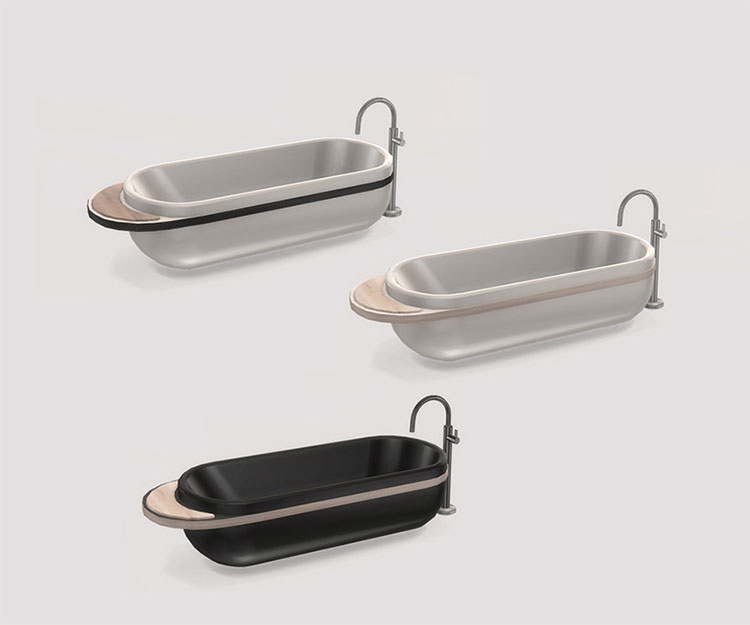 | | |
| --- | --- |
| Swatches: | 3 |
| Hygiene Rating: | 10 |
| Price: | §1,000.00 |
Stepping away from the avant-garde, uber-contemporary, and high-tech bathroom furniture for a minute, we have this ung999's Gemini Bathtub.
You know how people say there's beauty in simplicity? This is what they mean.
This CC tub doesn't have any crazy attachments, custom pieces, or out-of-the-ordinary designs. The only thing that stands out is the cute and practical shelf-like extension that it's got at the front (which sort of looks like a nose, doesn't it?).
Nothing unconventional or gimmicky about it; it's just a really, really pretty tub.
I personally love that.
It's got this air of subtle elegance and finesse that makes this otherwise "ordinary-looking" tub very distinct.
8.

Loft Bathroom – Shower by ShinoKCR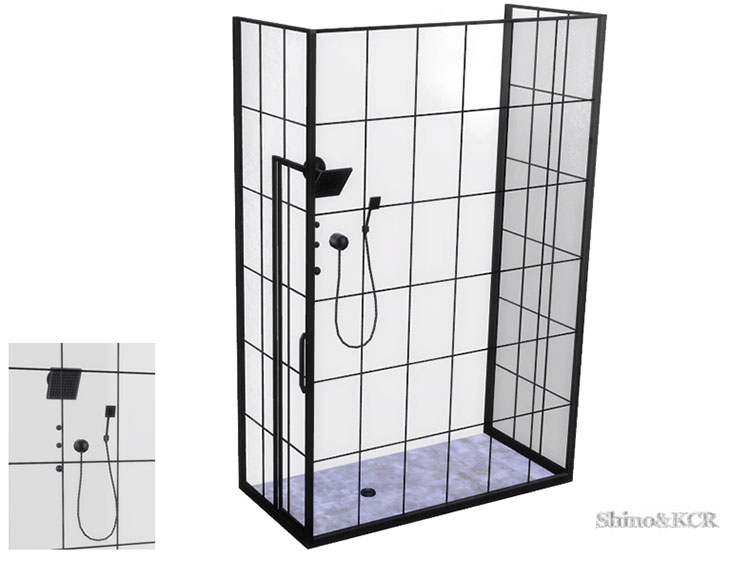 | | |
| --- | --- |
| Swatches: | 1 |
| Hygiene Rating: | 7 |
| Price: | §1,315.00 |
Forget frosted glass. Straight-up crystal-clear shower enclosures are the future. Probably. At least, that's what this Loft Bathroom – Shower by ShinoKCR conveys.
Just like the Bathroom Zing Shower, this CC shower enclosure attaches to any wall or corner.
And just like the Bathroom Zing – Shower, the design leaves very little to the imagination.
There are shower walls and side panels to make up for the non-existent backsplash, sure. But the glass panes are so clear, they might as well not exist, either. I will say that, oddly, that's part of this shower's charm. That, and it looks like a really fancy phone booth.
It might suit your tastes, it might not. There aren't a lot of showers like it, though, so this one's definitely a unique piece.
9.

Seven Bathtubs Set 1-2-3 by Blackgryffin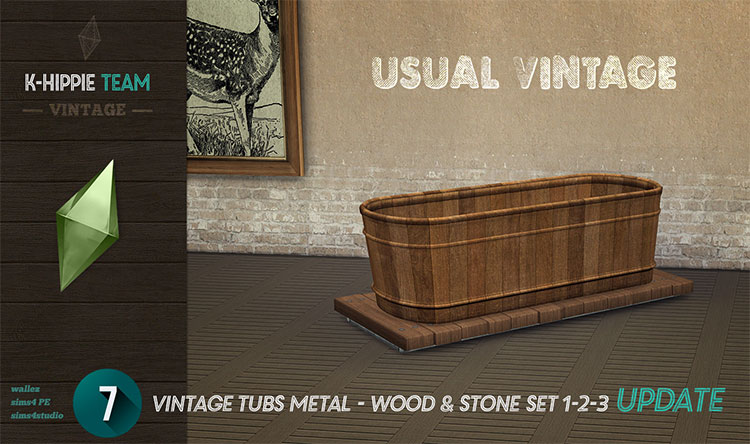 | | |
| --- | --- |
| Swatches: | 7 |
| Hygiene Rating: | 10 |
| Price: | §955.00 |
This. This entire vintage bathtub set is to die for.
Not only is the concept hella unique, but the resulting pieces are gorgeous one-of-a-kind items that you'd be hard-pressed to find anywhere else.
The tubs in this pack are simple, straight-to-the-point, and literally picture-perfect.
Forget burnished chrome and fancy, high-end water jets. Old wood, worn metal, and worked stone reign supreme here.
Every item in each set is so distinct and so pretty. They're all visual treats that would work well for photoset backdrops and themed builds.
You can always choose to install just one of the three sets, depending on which material you prefer, but I highly recommend you get them all. They all look amazing.
Personal favorites would have to be the graffiti tub in the Stone set, the gradient tub under the Metal set, and the woven-basket-like tub in the Wood set.
10.

Bathroom Angi CC by ung999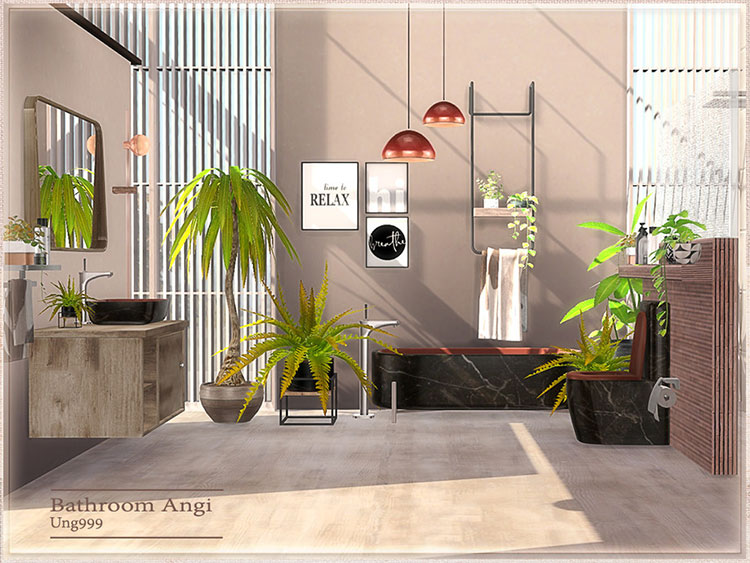 Shower
Swatches: 4
Hygiene Rating: 7
Price: §300.00
Bathtub
Swatches: 5
Hygiene Rating: 10
Price: §500.00
Last – but certainly not least – is another masterpiece from ung999.
It's a bathroom set (which, as usual, you can download in full) that contains a particularly genius bathtub and shower combo.
The initial preview photo doesn't show it much. But the individual furniture shots do.
The shower is a floating, wall-mounted unit that you can place literally anywhere along the wall.
The bathtub is a simple – but still sleek – bathtub that perfectly fits beneath the main shower unit.
No clipping, no overlapping, no glitching. Just turn on bb.moveobjects and voila! A shower tub that affords users a decent amount of customization.
You can at least change the color-and-texture combinations of the shower and tub (i.e., black marble tub with white shower, speckled pink tub with rose gold shower, etc.) and the shower placement.
That's more than what most vanilla EA tubs give us!
Browse:
Lists
The Sims 4
Video Games