Sims 4 Shrek CC: The Ultimate Collection
This post may contain affiliate links. If you buy something we may get a small commission at no extra cost to you. (Learn more).
Love him, hate him, or feel utterly indifferent about him, there's no denying Shrek's place in popular culture.
His expressions make for perfect reaction memes. His story is unique enough to stay entertaining through several rewatches.
And the cast of characters that make up this crazy universe? All satirical jabs at their canon counterparts that perfectly blend humor and creativity.
What I'm trying to say is that the Shrek franchise as a whole is enjoyable, unforgettable, and pretty darn tenacious.
So I figured I'd see if any brave CC creators and modders decided to blend our favorite green ogre with The Sims 4. Check these gems out!
1.

Ogre Mod by Kawaiistacie
Although it's no longer available on their website (which means it may no longer be supported), Kawaiistacie came out with a wickedly cool Ogre Mod that basically added a new occult state to TS4's lineup; the ogre.
It follows the canon that ogres are wild, uncontrollable monsters that eat humans—which basically means this mod gives your Sims the ability to eat other Sims, if they so wish.
There's also the tamer half-ogre option, wherein your Sim only turns into an ogre at night (ala Princess Fiona) and are still capable of consuming regular human food.
You can watch the mod in action via Fantayzia's mod review video! If you're ready to take a walk on the wild (green) side, download the mod via this direct link.
2.

Shrek Ears by Clown Confetti
In the Shrek universe, the ogres have some pretty interesting ears.
Honestly, they're more antennae-like than anything. It does make for a distinctive silhouette, so.
If that's what they were going for, good job.
And for those looking to recreate Shrek in-game (or maybe build their own ogre following Dreamworks' design), content creator Clown Confetti created a TS4-friendly version of said ears. Your Sim can wear them as a head accessory.
3.

Fiona Green Dress by Stardust Sims 4
Princess Fiona may have gone full-ogre at the end of the first movie, but she didn't drop her sense of noble fashion.
Enter a Sims-wearable version of her iconic green-and-gold dress, made possible by Stardust Sims 4.
You'll need The Sims 4: Get Together pack to make the top work, but the green skirt is completely base game compatible!
4.

Sherabhim's Royal Dress by Medieval Sim Tailor & Carpenter
Not marketed as Shrek or Fiona-inspired, but I did find this dress on a random Sims 4 lookbook saved to Pinterest (sadly, no credits were given).
The theme was Princess Fiona fashion, and I can see why this was included.
Check out the Royal dress in green; that's something straight out of the ogre princess's wardrobe.
5.

Fiona Hair by singingpicklessims
Let me just preface this with a disclaimer:
Even though the hair shares a name with Princess Fiona, the creator doesn't mention her at all.
In fact, the Shrek movie isn't even referenced. So this is probably a total unrelated coincidence.
But I found it cool that a custom braided ponytail named Fiona also happens to match the princess's iconic braided 'do.
If you're looking to recreate her in-game (human or ogre!), this long braid should work wonderfully.
6.

Ambrose Hair by simandy
Alternatively, you can also use this gorgeous, messy braid by simandy to create TS4 Fiona.
It's a little closer to her canon design, what with the braid hanging straight down the back and the messy, face-framing strands at the front. It also comes in several shades of ginger.
7.

Shrek's Swamp by Akisima
Mike Myers yelling "Get out of my swamp!" in a heavy Scottish accent is somehow one of the most memorable moments in the first Shrek movie.
Maybe it's the delivery. Maybe it was the timing.
Whatever the reason, it's a line that needs no context.
And thanks to Akisima, you can now have said swamp in your Sims 4 game!
It's a gorgeously green outdoor abode suitable for any respectable ogre. Feel free to watch the creator's video walkthrough, too! It's embedded at the bottom of the download page.
8.

My Beloved Monster Collection by JenniSims
JenniSims' My Beloved Monster Collection pack contains decorative statues of the Shrek cast!
Items include the titular character Shrek himself, his wife Fiona (now full ogre), donkey (not quite monstrous, but at least he's accounted for!), and the gingerbread man (also not monstrous).
There's even a small replica of the "Beware of Ogre!" sign that Shrek put up around his swamp. It's a cute, collectible set that definitely makes for an interesting interior.
9.

WMS Unnatural Skintones by Flow3rBunny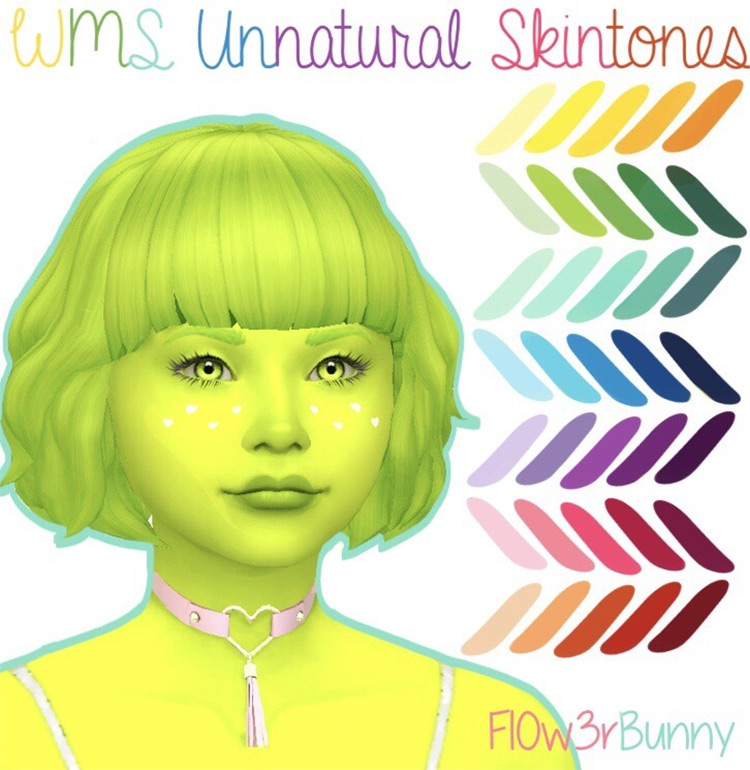 Although EA does have a solid shade of green available in their default 18-swatch palette, it doesn't quite match the lime-ish green of our favorite ogre couple.
In fact, some eagle-eyed fans even claim that Shrek and Fiona have slightly differing (green) screen tones.
So if you're aiming for accuracy, might be best to get some external custom help.
Flow3rBunny's WMS Unnatural Skintones pack contains several verdant variations that you can experiment with to get the best royal ogre shade.
10.

Shrek Time! Green Lipsticks! N1 by rissa.exe
Are these lipsticks canonically part of the Shrek franchise?
Nope.
Am I going to recommend them anyway just because they have "Shrek" in the title?
Absolutely. They're green lipsticks!
They're an awesome addition to your CAS catalog, ready to be pulled out and wielded whenever you're in a high fashion or artistically avant-garde mood.
11.

Donkey (CC) by Kalino (EA ID: TheKalinotr0n)
Unlike the Pets expansion for TS3, the Cats & Dogs expansion pack for TS4 only introduced two animals into the game: cats and dogs.
No smaller pets (hamsters, lizards, vultures, etc.), no horses, and definitely no donkeys.
Which is a total bummer if you're trying to recreate the Shrek cast in your game.
Donkey is every bit as iconic as the movie's titular character, you know?
Enter EA Game Changer Kalino's custom animal lineup. From what I understand, the three add-ons are basically large dogs decked out in the cosmetics of a horse, a zebra, and – drum roll, please – a donkey.
It's a pretty clever (and cool!) way to sneak extra animals into the game.
12.

Mud Puddles by Bakie
Although this isn't specifically marketed as Shrek-inspired or Shrek-themed CC, I think it's worth including in your mods folder.
It's basically a bunch of random mud puddles that you can place anywhere and everywhere (with the help of bb.moveobjects on) to simulate a dirty, sludgy, or swampy area.
And seeing as mud plays a huge role in pretty much all Shrek movies, I figure having a couple independent mud splotches on-hand can't hurt.
Besides, they can really spruce up the home of any respectable, swamp-dwelling ogre.
Browse:
Lists
Shrek
The Sims 4
Video Games