Best Siblings Pose Packs For The Sims 4 (All Free)
This post may contain affiliate links. If you buy something we may get a small commission at no extra cost to you. (Learn more).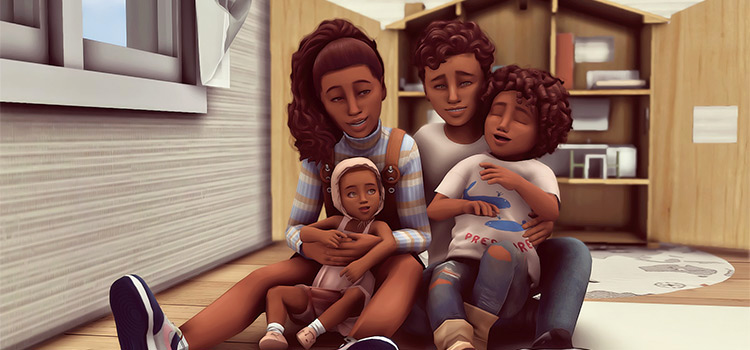 Love them, hate them, tolerate them, can't stand them… whatever your Sims's relationship is with their siblings, they're pretty much stuck with them.
Like the saying goes, we can't choose our families.
We can, however, choose what poses to put them in to suit the story.
(Or to just take pretty pictures—up to you)
And now that I've properly prefaced this list, here's a rundown of some awesome TS4 pose packs for siblings.
1.

Goofy Siblings Poses by lavanders4
First of all, I love the concept here.
I am all for siblings who don't worry about looking stupid or silly when they're with their brothers and/or sisters – regardless if they're in public or not.
I think there's just something so wholesome and freeing about that kind of dynamic, and I'm happy there's a pose pack out there that depicts it.
If you're as attached to your Sims as I am, seeing them in those poses can make you feel fond.
Speaking of, there are a total of 9 poses in this set, and it varies between poses for two Sims and poses for three.
Out of the 9, you'll need a Teen or Young Adult for 8 of them, a Child for 8 of them as well, and a Toddler for 6.
There aren't any custom thumbnails, but the descriptions on the pose list tell you what pose number it is (P1, P2, P3, etc.) and what model you'll need, (teen, child, or toddler).
2.

Sibling Poses #2 by ratboysims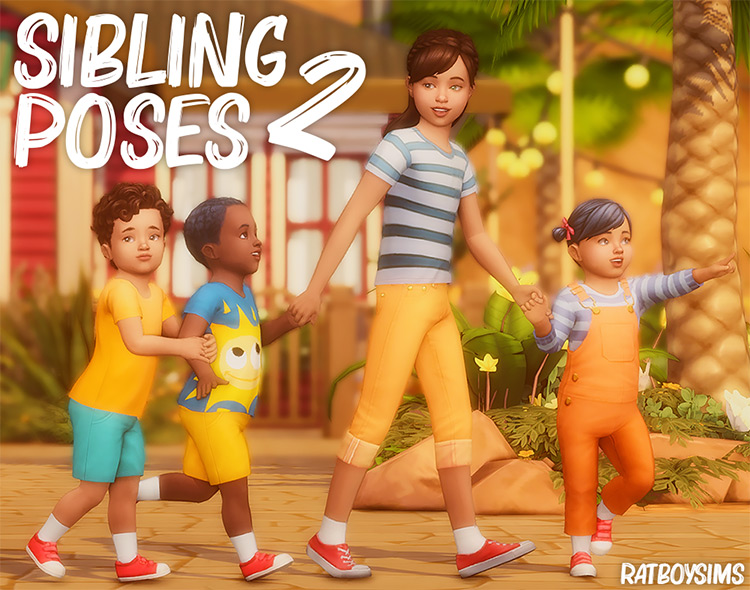 I don't think I can aptly explain just how warm this pose pack makes me feel.
I have a soft spot for really protective older siblings.
It doesn't help that the Toddlers look like baby ducklings waddling after the Child Sim. It's making me feel things, okay?
I only recently came across ratboysims's content, but I can already say with confidence that their work is incredibly high quality.
All of their poses translate so well in-game and they're really easy to figure out.
Take this pose pack; the pose list has thumbnails with the corresponding Sim model highlighted, so setup is pretty breezy.
The poses also seem to be unisex which is always a fun bonus.
No accessories or furniture needed to make it work, either. Just place four teleporter statues on top of each other and click away.
3.

Sibling Poses #3 by ratboysims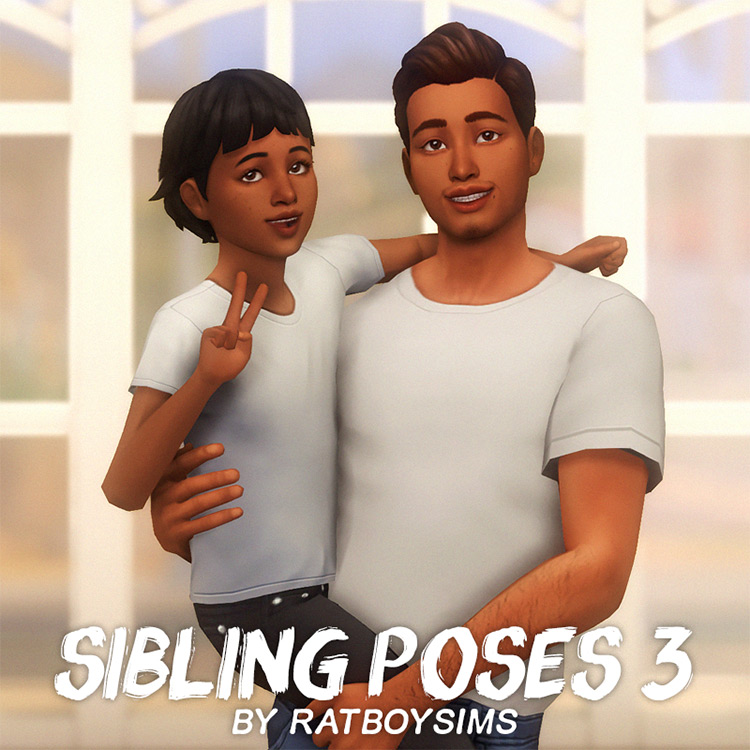 This is the follow-up set to ratboysims's Sibling Poses 2.
Whereas the first featured three adorable Toddlers and one awesome, take-charge Child, this one is built for a Teen and a Child.
(Spoiler alert: I tried the Teen with a Young Adult and the poses turned out just fine)
The poses are unisex, but I highly recommend they be used for Male Sims models, like in the preview photos.
There's just something about the poses – especially the last noogie pose – that gives off crazy brother vibes. You know, like how the older brother doesn't mind being rough with the younger brother because he knows he can take it.
The poses in the set paint this relationship in such a real and relatable way, you can't not fall in love.
4.

Sibling Love Posepack by shysimblr
This has the same cute, wholesome vibes that ratboysims's pose packs have, and I am living for it.
The narrative is basically three siblings hanging out, enjoying each other's company, and some third party (probably the parents) managed to capture all that unfiltered emotion on camera.
Four out of the six poses seem posed.
The other two look like they were just caught in the moment. I love how the blend of both makes the set just so much more relatable.
And the creator meant for a majority of the set to happen by the pool, as evidenced by the preview photos. However, I can promise you that these will look cute in any setting, sunglasses or no.
5.

Happy Birthday! Posepack by midageresims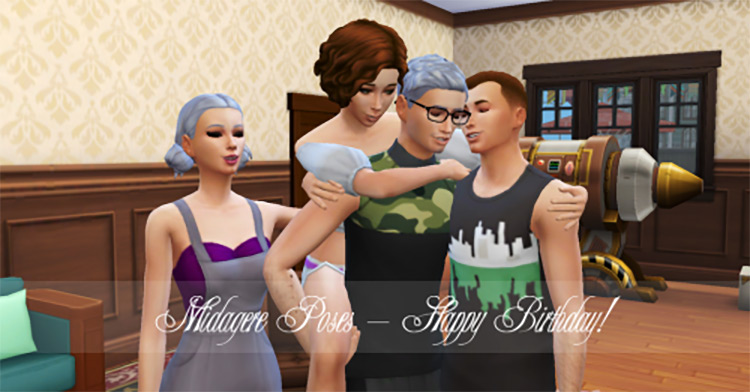 Although this pack seems to have been made with a specific Sims family in mind, I think the poses are general enough to be used for any Sims siblings.
They don't have to be twins, either (if you read the creator's description).
It's just a bunch of Young Adults getting a little sappy over a special occasion.
If that isn't a scene right out of a feel-good family movie, I don't know what is.
I especially love the piggyback ride going on in the first pose; definitely feels like something a little sister could get away with, no matter how old she and her siblings get.
The in-game pose list can be a bit confusing since the descriptions and thumbnails aren't very clear. Just so you know, there are two poses in this set: one for a group of four, and one for two.
The group pose needs two Female models and two Male models.
Not sure how unisex it can be since I followed the preview photos, but some roles look like they could be interchangeable.
6.

Siblings Pose Pack by katverse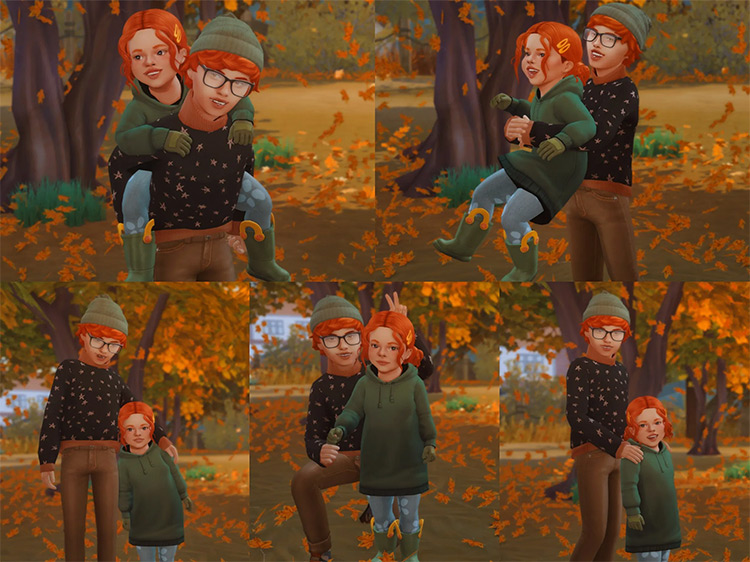 I am a genuine sucker for how katverse sets up their pose preview photos. They always look so good!
Even with my game graphics on the highest setting, I can never seem to match their quality.
I think that's a huge part of what sells me on their content, but I'd be lying if I said that the actual poses themselves can't compare. Because they can.
Katverse is one of the custom pose creators that consistently puts out great pose packs that check all the boxes; the concept is unique, the narrative is useful (or at least generalized enough that anyone can use it), and the execution is off the charts.
These 5 poses illustrate a simple but caring dynamic between a Child and a Toddler.
They're all cute, but the fifth pose stole my heart.
It looks like a scene straight out of a storybook.
7.

Sibling Pose Pack/T-Shirt For Adult/Child by aithsims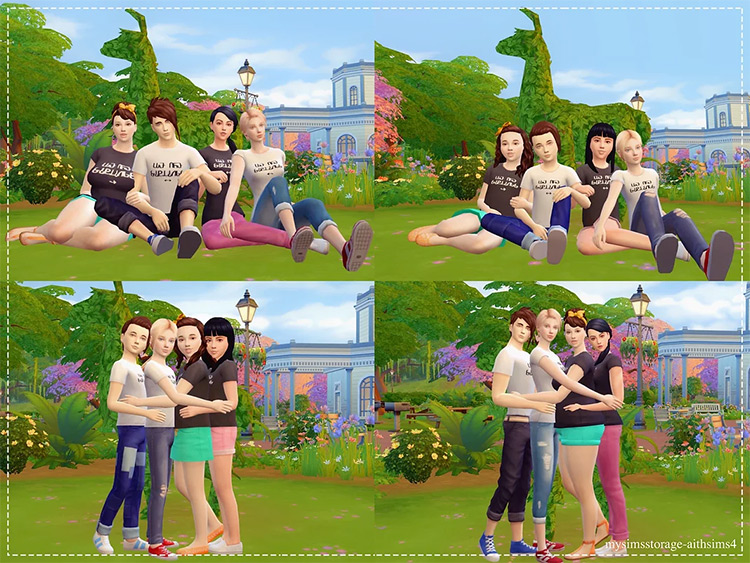 As far as concepts go, this one has got to be in my top three.
It's just the cutest and coolest idea, executed so well.
Basically, the theme is siblings, past versus present (or maybe even present versus future?).
It's really simple, but the actual results had me d'aww-ing pretty loudly.
There are a total of four pose sets in this pack. Two sets for Adults/Young Adults, two sets for Children. Both sets have a corresponding set in each age group.
So whatever pose the Children are in, you can put the Adults/Young Adults in as well.
It's a little hard to explain in words, but I think the preview photos explain it pretty well.
I snapped both Children and Young Adults in the same frame just to create a sort of "look how far we've come" situation, and it's really quite endearing. I also like the custom shirts the creator included in the pack. I think it really helps tie the whole thing together!
There's a bit of a subtle height difference built in, but it's more obvious with the Young Adults than with the kids.
Regardless, I think it's safe to say that the poses are unisex. I didn't follow the creator's models at all, and my pics came out fine!
8.

Sibling Love: A Revamped Pose Pack by ohsosims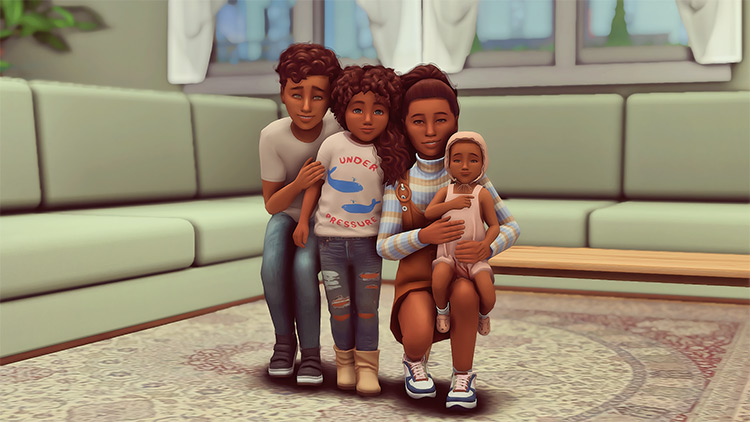 This pose pack by ohsosims has a pretty interesting cast of characters that makes it stand out.
Specifically the first two poses, and how they include a baby.
All the pose packs I've listed up until now use mostly Toddlers and Children, with the occasional Teen/Young Adult slipping in. And since Babies are basically objects in The Sims 4 (something EA should really work on, by the way), it's kind of expected.
However, this creator gets around that particular roadblock by using a really short toddler to act as a baby. You'll need redheadsims-cc's Body Height Sliders (linked in the creator's description) to achieve that tiny a Toddler.
I a hundred percent recommend downloading and using the mod, otherwise the first two poses won't work.
You'll end up with a Child hugging thin air while a Toddler hovers sort of tremulously in front of their crossed arms.
The rest of the poses can work with EA's standard height per age group. Ohsosims does say whether the Child should be taller or smaller in the pose list descriptions, but I've found that the poses (other than the first two) come out just fine even if all models are the same height.
I do love that there's a lot of variety with the age differences and groupings.
Like, there's a pose for two Children, two Toddlers, a pose for two Children, one Toddler, a pose for two Children, no Toddlers, and so on.
Gives you a lot of great options to choose from.
9.

My Dolly Twin Poses by atashi77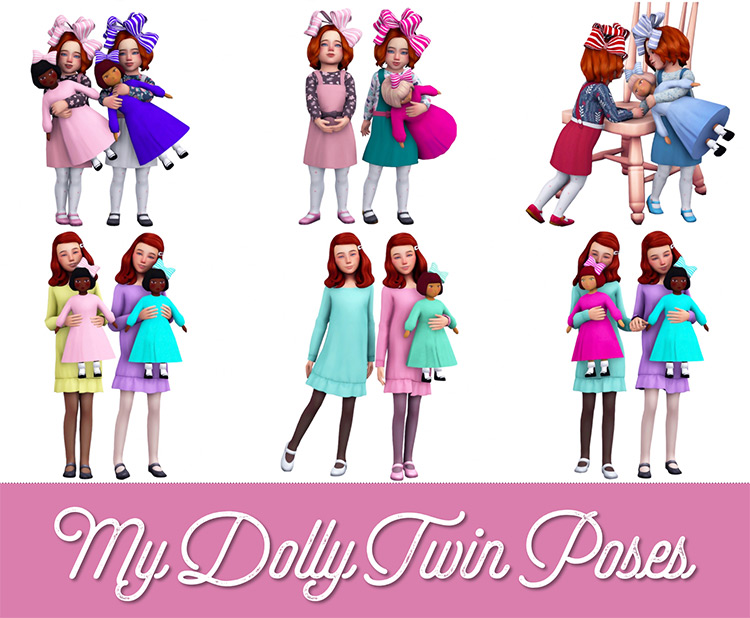 As much as dolls give me the actual creeps, I will begrudgingly admit that they make for very cute poses.
See atashi77's pack as evidence. The Toddlers are especially endearing, since the dolls are almost as big as they are.
Imagine them waddling around with a plush doll they can barely carry…
I also love the variety in the pose sets for the Toddlers.
There are six of them in total, and they all have such a precious, adorable vibe to them. Especially the one where the Toddlers are squishing the doll in the middle of their hug. Again, cute.
The dolls used are by @hbcu-black-girl and they're linked in the description. I will say, however, that the dolls didn't work for my Children Sims.
They sort of floated in my models' arms rather than fitting snugly.
It may be because I've got a lot of mods installed (conflicting mods are always a treat to sort out, right?).
Regardless, the doll worked fine for the Toddlers and I got six absolutely delightful shots out of it, so. I'm definitely not complaining.
10.

Bromance Poses by atashi77
These poses are not specifically marketed for siblings. But I love the casual, carefree closeness depicted in all the poses.
But these are basically Sims that have long disregarded physical boundaries and personal space with each other, and I think that's beautiful.
And I think these poses could be unisex, but I like the concept more with Male Sims models—if only because of the typically masculine gestures and the creator's description. "Guys hanging out/chilling" and "just being guys in general," is such an apt way to describe these custom poses.
Again, these could be for a bunch of friends who feel closer than brothers. It's not specified.
But if you've got three or four Sims who all happen to be brothers, this pack would work just as well.
Browse:
Lists
The Sims 4
Video Games