Sims 4 CC: Cute Side Ponytail Hairstyles (All Free)
This post may contain affiliate links. If you buy something we may get a small commission at no extra cost to you. (Learn more).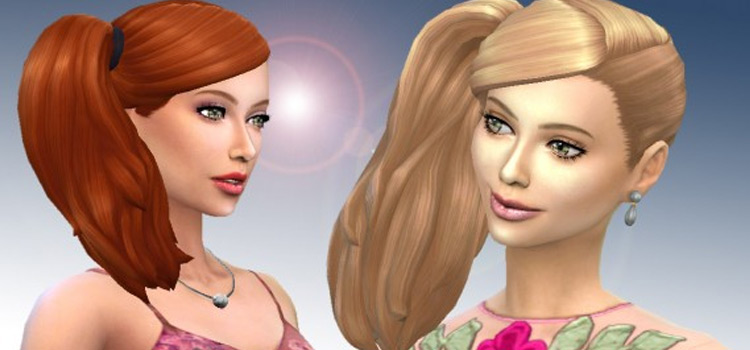 Ponytails are the go-to hairstyle for us ladies and our Sims. Especially when we're in a hurry, or we're aiming for a simple but cute get up. And all you need is a simple hair band to achieve it.
But there are ways to spice up your regular ponytail 'do, of course!
For example, why not let your Sim wear her ponytail on the side? Although it's a simple cutesy look, with the right outfit and accessories, your Sim will look like the sweetheart that she is.
And for this list I've organized some of the cutest side ponytail hairstyles available to download online. Whether your day is booked with errands or a get-together with friends, you'll surely find something in this list for your Sim.
15.

bfly164 by YOYO
The literal definition of a side ponytail.
Make your Sim stand out with this hairstyle by Yoyo, which is a really fun take on what a side ponytail is.
This is for your playful Sim who likes whimsical details, especially when it comes to looks!
14.

Irene Hair by Vampire_aninyosaloh
The Irene Hair CC sports some cute bangs and a low side ponytail. Just the kind of hair that would suit any Sim with a demure kind of personality.
This is best paired with a cute sundress and comfy doll shoes for a Granite Falls picnic date with a book.
Or with special someone, but that's up to you!
13.

Divine by NightcrawlerSims
Looking to wow other Sims with that classic ponytail look?
Then this Divine hair by NightcrawlerSims is just perfect!
It's a high ponytail, paired with wavy and dangling locks to make your Sim look fashionable yet rather basic. Even if it's really just a ponytail, it's super cute.
You should pair this with a short sparkling dress with matching stilettos for a girl's night out.
Even besides your best girlfriends, you'll still be the classiest lady of the group.
12.

Raja Hair by Ade_Darma
This Raja hair by Ade_Darma gives you thick tresses with classic color favorites, which makes your Sim look stylish and expensive, ala Kylie Kardashian.
With this CC, you're definitely the famous Del Sol Valley style icon that only gets to be styled by the best salons out there.
If your Sim is itching to make it big and go famous, this hairstyle must be part of her wardrobe!
11.

Side Pony Recolored by Pixielated
Now for this next pack, we have the perfectly loose side ponytail by Pixielated.
It's sure to make your Sim look effortlessly pretty. Especially with this pack's one-of-a-kind color palette!
It includes your regular hair colors, but there are shades like mint green, lavender, rose gold for the more adventurous Simmer.
All colors have this pretty shine to them, so it's well worth the download to try it out.
10.

Alexandra Hair by Vampire_aninyosaloh
Now this side ponytail by Vampire Aninyosaloh is made extra sweet and pretty with the braided details.
And it would be a nice choice of ponytail hairstyle for a semi-formal to formal event. You know, maybe prom?
Ladies: if you're hitting up prom check out our dress picks too!
Now you know that ponytails can also have their place in weddings, black tie events, and the like. You only need some creative ideas!
Complete this glamorous formal look by adding some sparkling jewelry, and a gown from the Luxury Party Stuff pack.
Walk into the room looking chic and fabulous at the same time.
9.

Paris (Hair) by Anto
The Paris Hair by Anto is for those looking for a fabulously sleek side ponytail piece.
It has a side-swept part which gives your Sim pretty unique bangs, plus a looong shimmering ponytail in many showstopping colors.
With this hair CC, you'll look runway-ready. Even if your day's runway may only consist of shopping aisles.
8.

Carmen Hairstyle by Anton
Get your Sim's fierce side on with this Carmen hair by Anton (again!) available in 27 colors.
The long, crimped side ponytail is only for the most daring Sim ladies out there.
And if you pair this with a revealing black dress and some high-heeled boots, there's no one that can stand in your way.
Ramp it all up even more by wearing a bold, deep set style of makeup too. Lots of CC out there for makeup as well!
7.

Hair Set s52 Kira by SintikliaSims
Fulfill your rich heiress fantasy with this hairstyle by SintikliaSims.
The CC pack includes 30 solid and ombre colors, and you can even choose to add some bangs to the style if it suits your fancy.
The long and glossy ponytail, plus the sophisticated aura of this gorgeous hair, just lets everybody know your Sim can afford the most luxurious of salons and spas.
Even if she really can't… hey, fake it till you make it!
6.

Selena Ponytail Hair by Sims2fanbg
This is a classic side ponytail look, but made more fabulous with 22 colors, unique shine, and custom length.
This Selena ponytail CC is a must for Sims who like merging comfort and fashion.
It's a simple and low-maintenance look, sure.
But it allows your Sim's beautiful features to take center stage. And isn't that what we all want?
5.

OS0408 (Hairstyle Recolor) by NCGG Simmer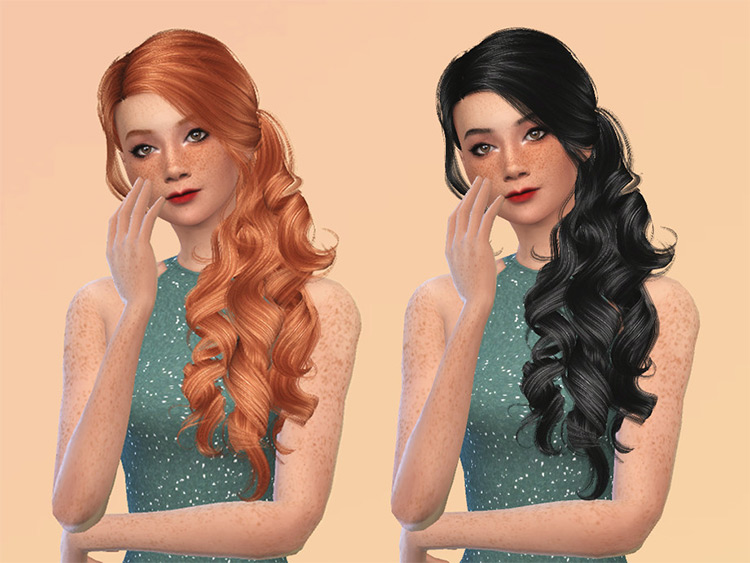 Get all dolled up with the 11 swatches of this sweet curls hairstyle CC by NCGG Simmer.
This is the perfect hair if you're aiming for a princess look for semi-formal or formal parties.
Put on a sequined or glittery dress, you know one that'll match your Sim's adorable figure.
Then complete the look with high stilettos and she'll be a total fairytale fantasy.
4.

Karin Hairstyle by LeahLillith
You'd give Ariana Grande a run for her money with LeahLillith's Karin Hairstyle!
With this style, we have another crimped hair moment. But for a low and tight ponytail, and over 50 colors to choose from.
This hair is great for any sim, really.
But if your Sim has her hopes set on being one of Del Sol Valley's most famous influencers, then grab this CC so she can look the part.
3.

Daughter (Female Hair) by Stealthic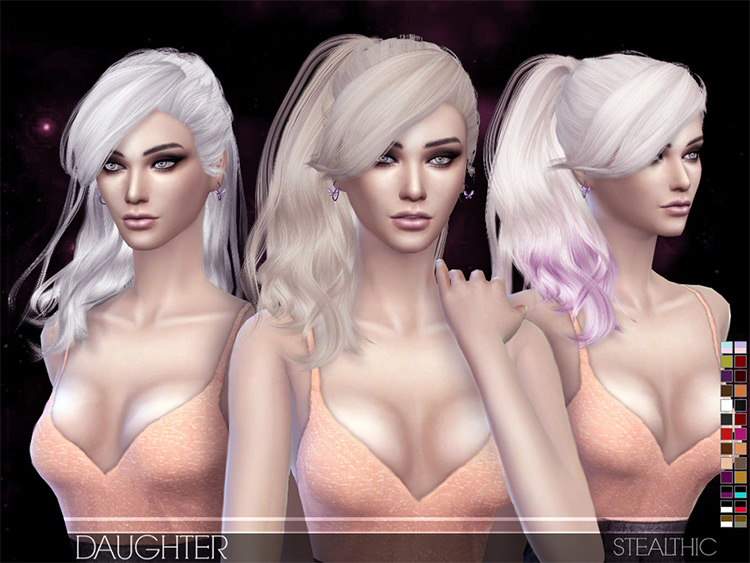 With 27 colors included here, this hair CC by Stealthic is a Sim's magical fantasy.
It has thick and textured side bangs with a wispy pulled-back side ponytail which you can level up with some ethereal colors.
Comfortable and stylish, you can use this hair as you whip up spells in The Magic Realm, looking quite bewitching yourself!
2.

Jasmine Hair by LeahLillith
For those of us who loved Disney's Princess Jasmine when we were young, this CC is a dream come true!
Your Sim will look the part of royalty with this unique Jasmine hair by LeahLillith.
Beyond its cool design, it offers no less than 16 ombre colors and 36 solid colors.
So you can look as fierce as Princess Jasmine in whatever color matches your Sim's personality.
Now all you need is a tiger and a sultanate, and you're good to go.
1.

Afterglow Hair by LeahLillith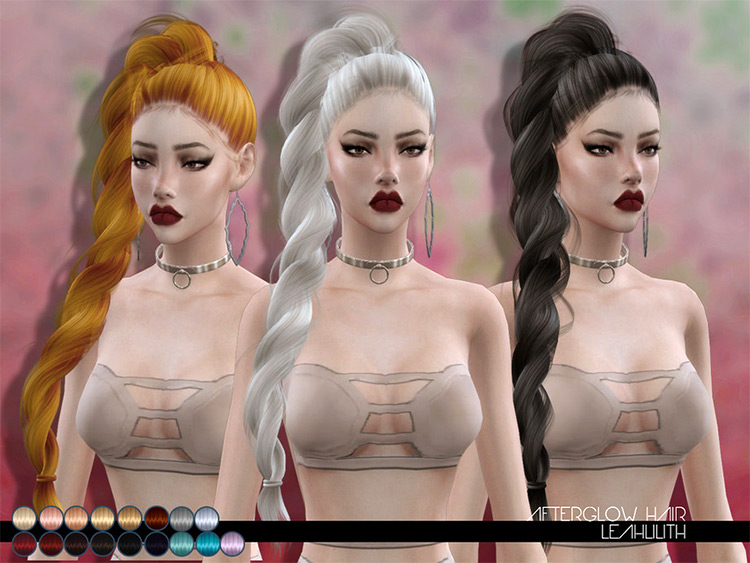 A huge braided side ponytail is the main feature of this Afterglow Hair, again created by LeahLillith.
And it sure is stunning.
With hair pulled back into a neat side-pony style, this hair CC is fabulous and unique all at the same time.
Want some attention in any room you walk into? This ponytail will do it for you. Even if you just wear a simple t-shirt and jeans.
Your Sim will prove that statement jewelry is a thing of the past. To be really unforgettable, go with the biggest and most stylish hairstyle you can find.
I'd say this ponytail style fits the bill perfectly.
Browse:
Lists
The Sims 4
Video Games