Best Simlish CC Tattoos for The Sims 4 (All Free)
This post may contain affiliate links. If you buy something we may get a small commission at no extra cost to you. (Learn more).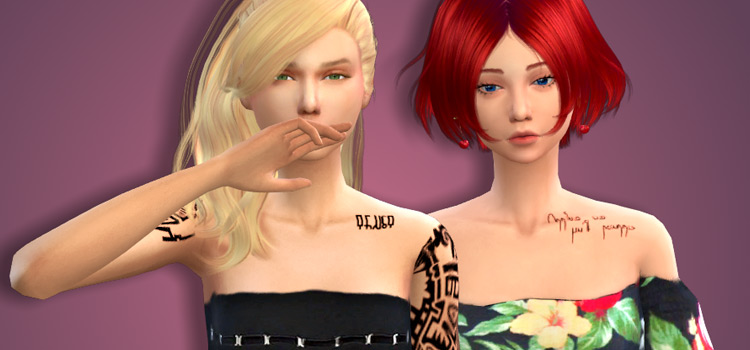 Now more than ever, tattoos are mainstream.
Those archaic attitudes of hiding them have gone out the window and now this type of art can be enjoyed as it should.
The best way to boost your Sim's options is through custom content, which is almost always the case. You just can't top this kind of variety, as you'll see for yourself through this collection.
1.

Wrist Tattoos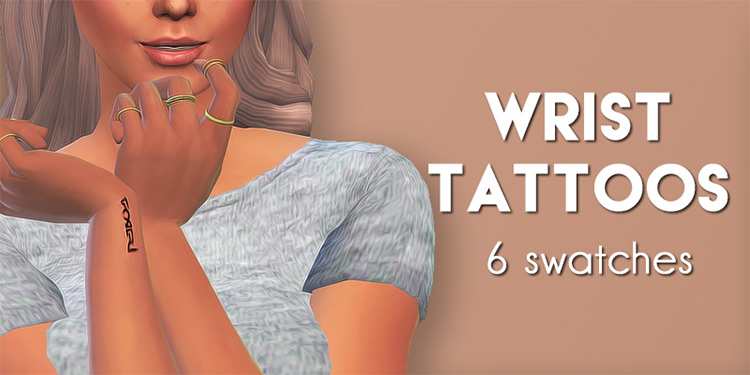 Here's a discreet way to give your Sim some ink.
Unless you're fluent in Simlish, you can make up the story behind what they say.
The three swatches are a nice upgrade since this area is often overlooked. To keep things simple, they are only available in black.
2.

Simlish Tattoo Set 1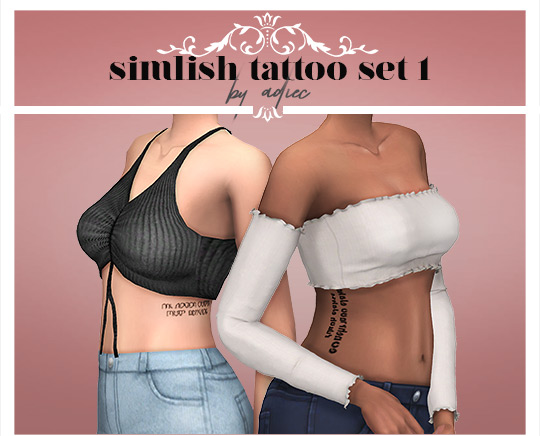 This set has options for your Sim's side areas. Some meaningful text is the go-to option for a lot of people, so why should simulated people be any exception?
These are in just the right area to be visible when Sims are wearing crop tops or bikinis.
3.

Collarbone Simlish Tattoos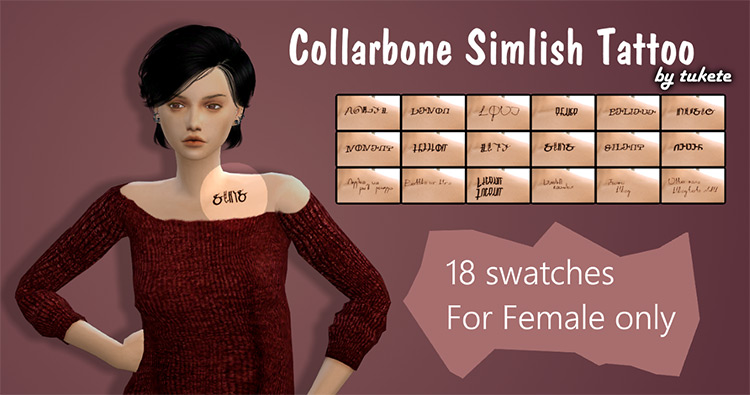 I've heard the collarbone is one of the most painful places to get a tattoo. It's a good thing getting some body art is just as simple as a few seconds in CAS for Sims.
Tukete's 18 swatch set features single words as well as some phrases.
4.

CrazyCupcake's Simlish Tattoos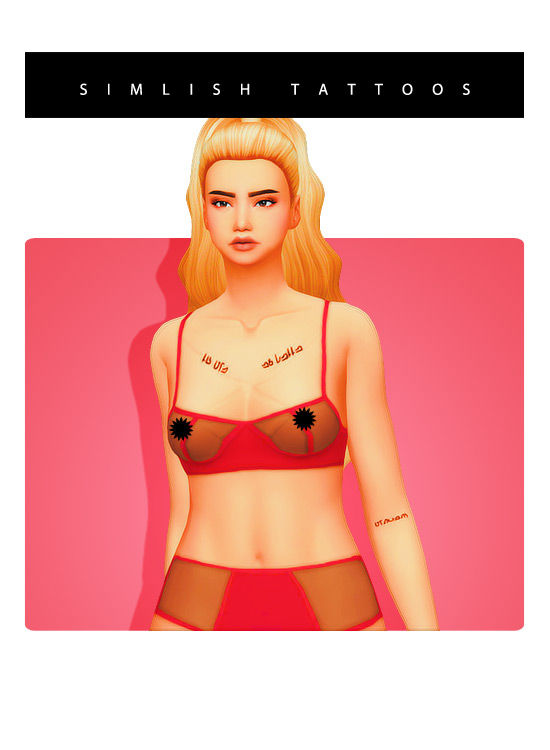 Taking a minimalist approach with tattoos can be fun.
These are so small and subtle, Sims could get dozens of them!
For now, you'll have just a few ways to utilize this set, but it's great to have options for the chest and inner elbow.
5.

Holiday Simlish Tattoo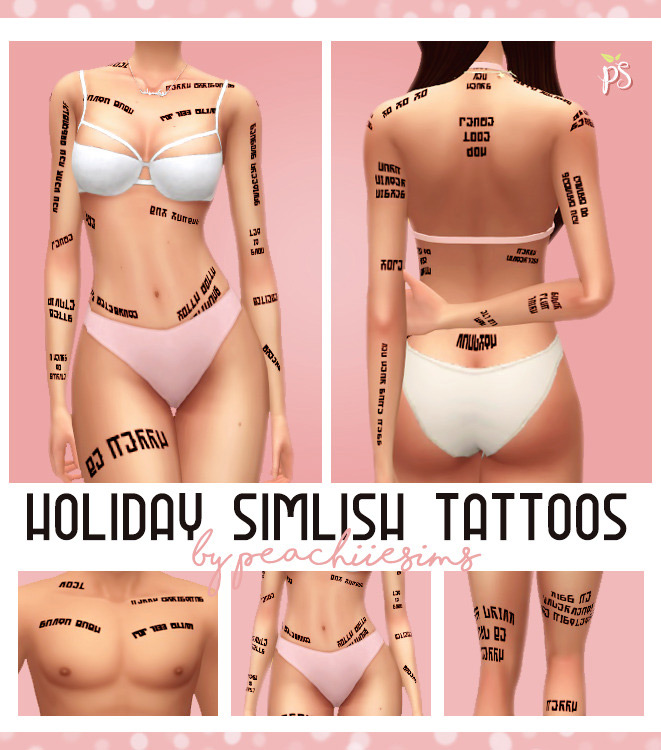 For the true WinterFest fanatic, these holiday themed tats may be the way to go.
It's a pretty subtle tribute to the most wonderful time of that year that has resulted in dozens of unique text designs. Your location options are pretty broad too, since these can be applied all over your Sim's torso and legs.
6.

Wicked Simlish Tattoos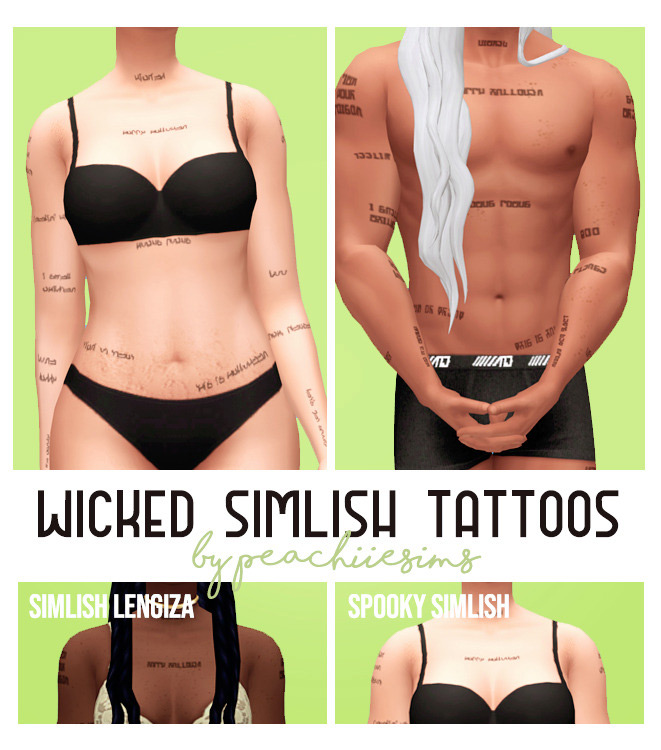 These tats are also holiday themed, although they are a little less about joy and snow, and more about tricks and treats.
We can assume that, anyway. You can place these just about anywhere on your Sim's top half you please. Regular Simlish is always the default, but this time there's a Spooky Simlish font, too!
7.

Full Body Tattoo
Not every Sim is the type to keep their ink lowkey. Buckgrunt's 9 swatches make it possible to spice their legs, arms, and torso in one go.
They range from light to dark so you should be able to use these on all skin tones.
8.

Inspiration Ribcage Quote Tattoos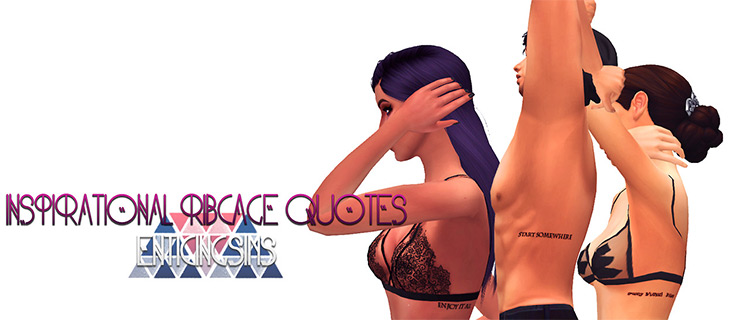 With 14 non-English options here, this little pack from EnticingSims will be a gamechanger for you tattoo-loving Simmers.
A list of the quotes in English is available, so you can know what words you're putting on your Sim's body. Some really are poignant, but there are a few humorous ones too!
9.

Love Chest Tattoo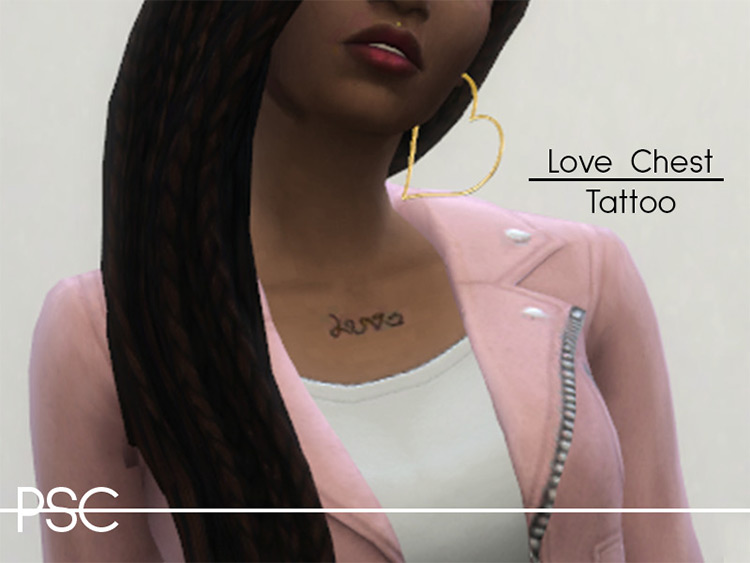 What makes the world go 'round?
No, not Simoleons, it's love!
This concept definitely isn't foreign to Sims so a small, romantic chest tattoo will be the right fit for many of them. There may be only one design here, but it's a very solid addition to the game.
10.

Basic Sim Tattoos (Maxis Match)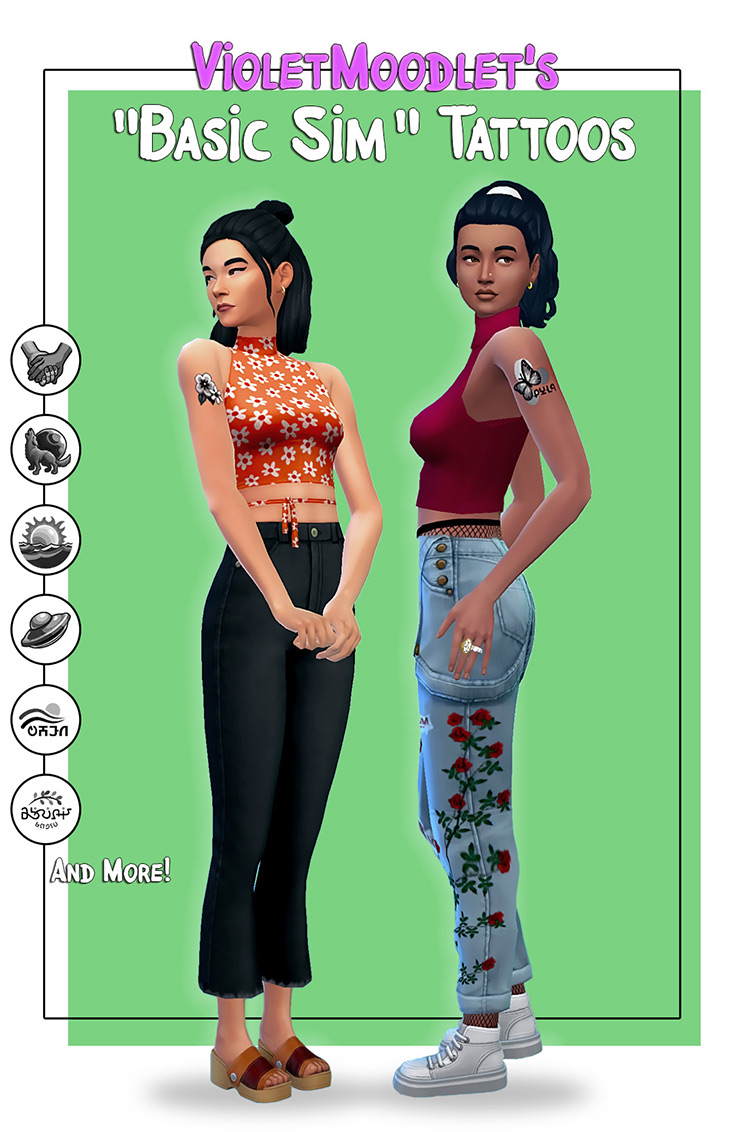 Anyone who's in solidarity with this creator's preference of Maxis Match tattoos will definitely appreciate this set.
You'd never guess it didn't come from the game developers themselves. Each icon has undoubtedly got that TS4 look, and several are accompanied by some text.
11.

Quote Tattoos

A Sim's life isn't always easy.
As a matter of fact, they're almost always going through some drama. That's the fun of the game!
But after daily dryer fires and brawls, they might need some words to keep them grounded. Any of the ones from this set will do the trick.
12.

Paranormal Tattoos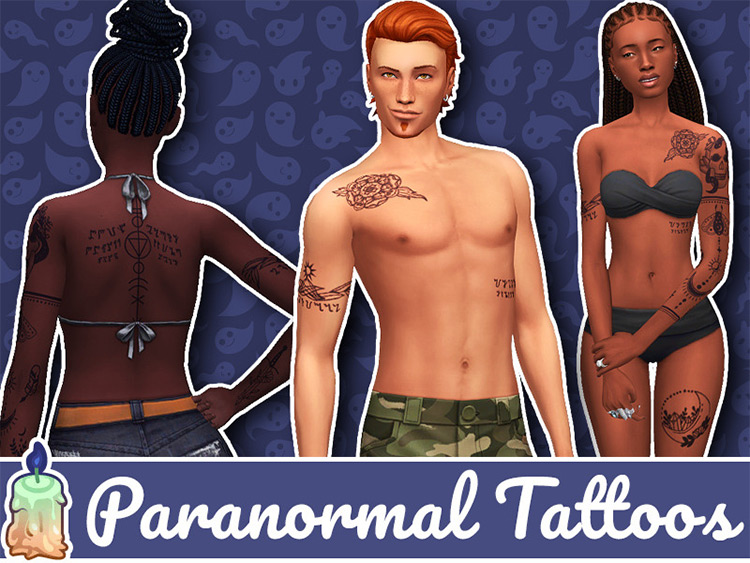 Some folks get inked up with the intention of cute, cheerful imagery. Others opt for skulls and bugs.
Oh, and there's a whole Simlish Ouija board swatch for the back? I wouldn't tempt those Specters to act up, but that's just me!
The theme here is mystical and that's definitely achieved with the mysterious, untranslated phrases.
13.

Tired Face Tattoos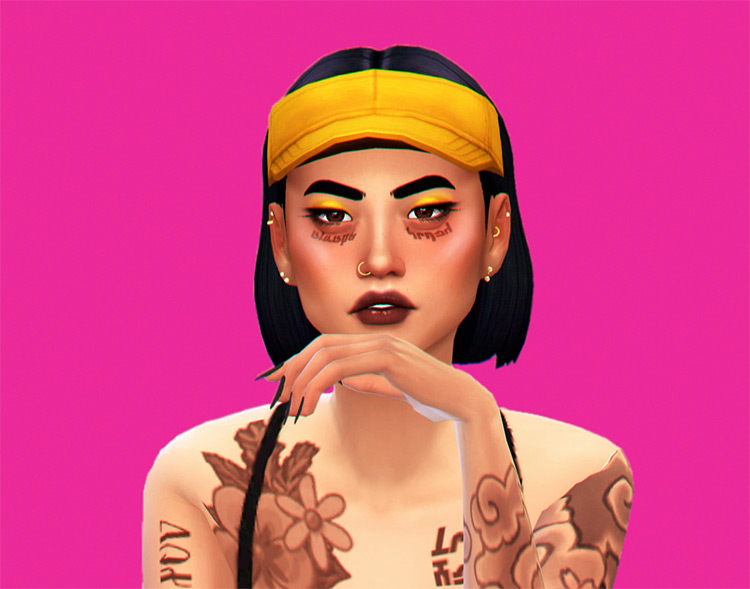 At some point, a Sim's general apathy for life and lack of sleep can't be fought anymore. You might as well just commemorate it.
Tattoos right beneath their eyes is a bold move, but a cool one. Face tats are tragically not very plentiful for Sims, so these are definitely unique.
14.

Simlish Tattoo Set 2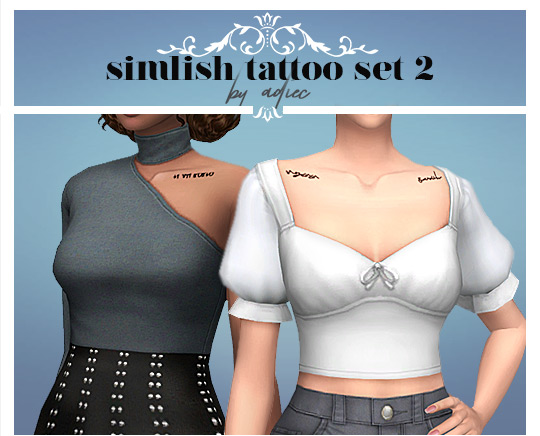 Here we have some more simple text options for your Sim's collarbones. No pain, no gain!
Something great about this location is that Sims can show it off with nearly any top that's not a turtleneck sweater. There's no hiding these beauties unless you really want to.
15.

Mush Tattoos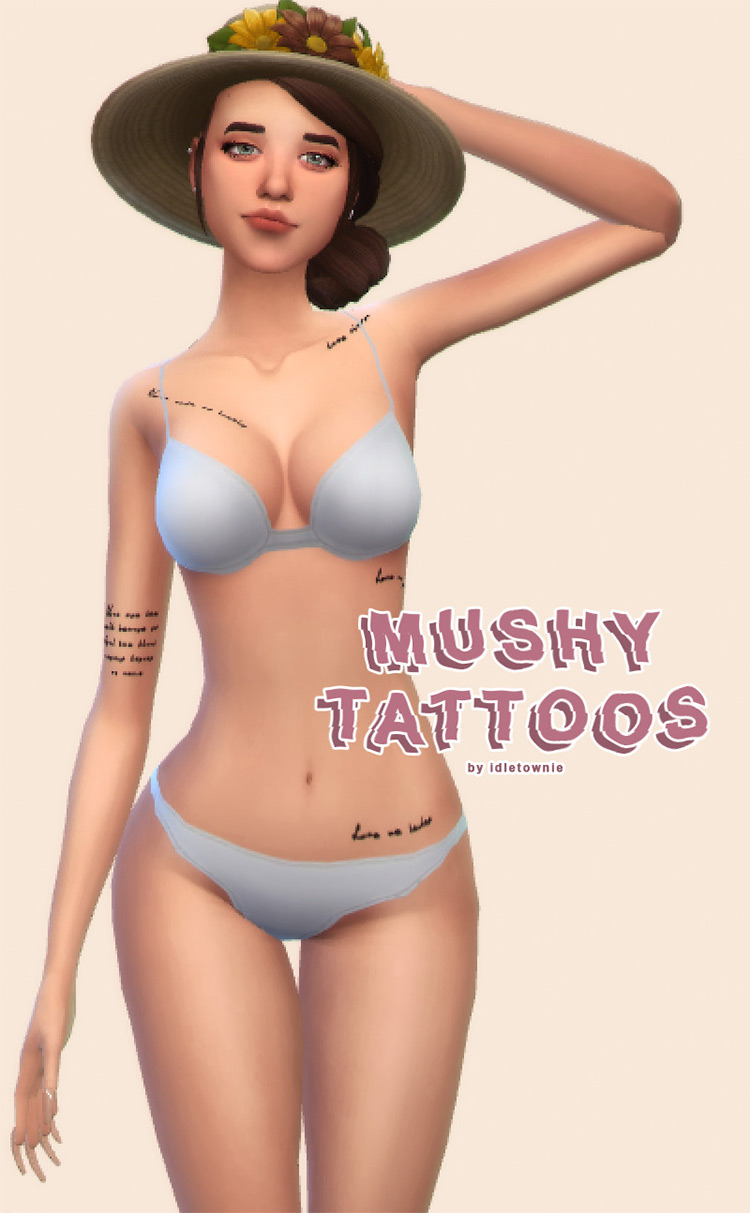 This final tat pack from IdleTownie brings us back to more cute, basic designs. These phrases come in a very small size and of course, they're in sweet, sweet, Simlish.
You can control how clear or fuzzy each one is through the Swatches, and place them almost anywhere on your Sim's torso.
Browse:
Lists
The Sims 4
Video Games