Simple & Minimalist Tattoo CC For The Sims 4
This post may contain affiliate links. If you buy something we may get a small commission at no extra cost to you. (Learn more).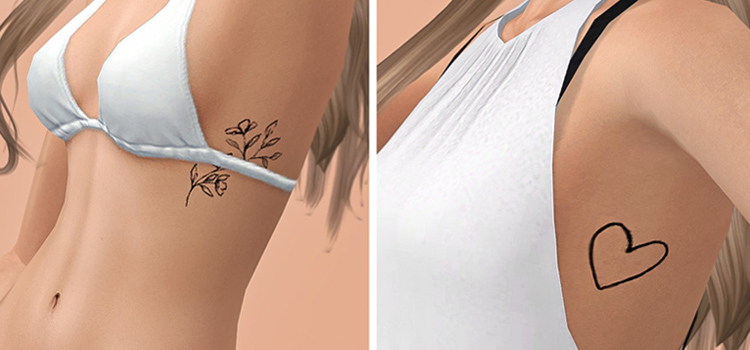 Getting a tattoo is a big decision.
They're expensive, painful to get, and you'll be stuck with them for a long time.
So what if you just got a single, teeny, tiny one..?
Minimalist tattoos are the best way to dip your toes into the world of tattoos, and into the world of giving your Sims tattoos.
Sims may be able to change tattoos as easily as they can change their clothes – but minimalist tattoos still have a lot of value even if they're subtle.
Because they're also simple, fun, and easy to integrate into your sim's personal style.
What's not to love?
1.

Tattoo Pack #02
This custom pack is a great starter kit if you're not quite sure what you want yet.
It includes every category of tattoo you can dream up:
Edgy tattoos, pop culture tattoos, poetic/symbolic tattoos, elegant tattoos, cute tattoos, et cetera.
You want the classic angel wings tattoo? Done.
You want a picture of Mickey Mouse with dollar signs for eyes or a barbed wire placed on your thigh? Done and done.
There are 12 swatches total, 10 of which are individual tattoos, and the other two being tattoo combos.
2.

Minimalist Inspiration Tattoos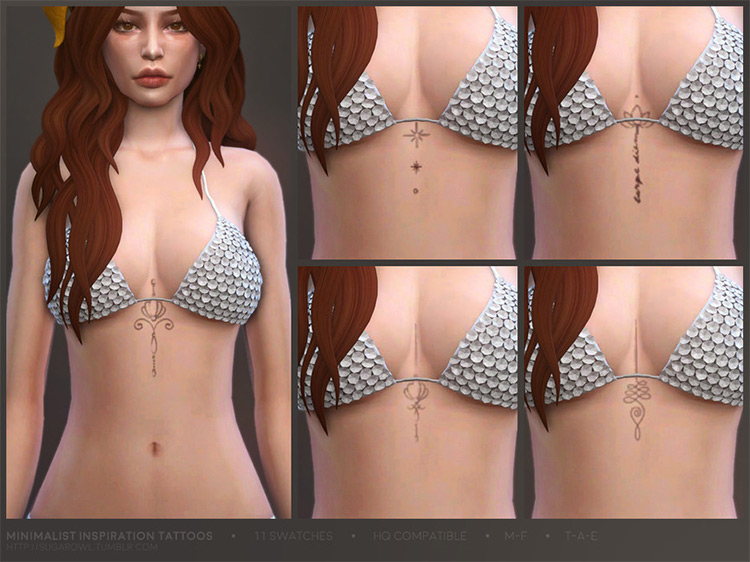 Part of what makes minimalist tattoos so appealing is that they're inconspicuous.
If your Sim decides to rock a minimalist tattoo, they're nowhere near as likely to get pointed stares from conservative Christian moms, or to have people assume they're part of a biker gang.
It sucks, but it's true.
These tattoos are so subtle that they're only visible when you're wearing specific clothing.
Since they're placed under the breasts, nobody has to see them – unless your sim wants them to.
They also work for any gender, and there are 11 swatches containing different tattoo designs.
3.

Tattoo Thorn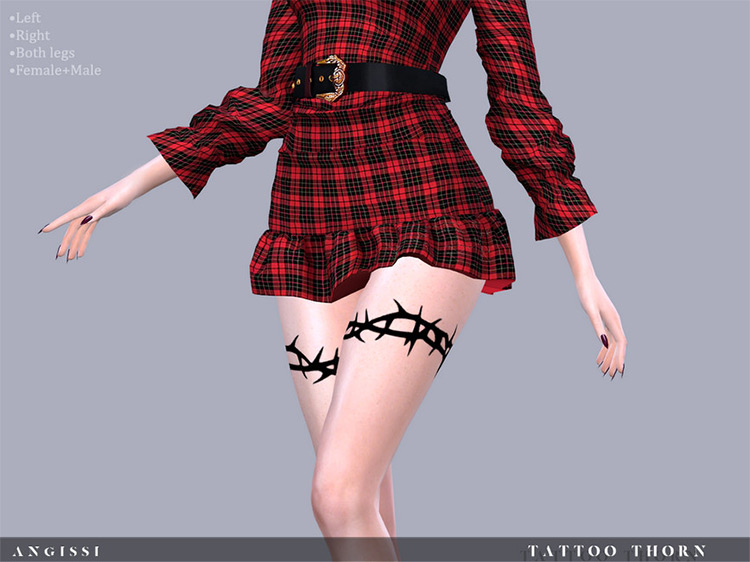 There's already a thorn tattoo included in the first CC on this list, but there's room for another.
This one is inky black perfection, maintaining its simplicity while making a louder statement.
You'll also have access to more options with this Tattoo Thorn CC, since there are 3 swatches dedicated to it:
Right leg
Left leg
Both legs
And it's available for any gender of sim.
Of course, the greatest advantage is that this CC will let you download exclusively the thorn tattoo.
So you won't have to sift through 12 swatches to find what you're looking for.
4.

Dainty Tattoo Set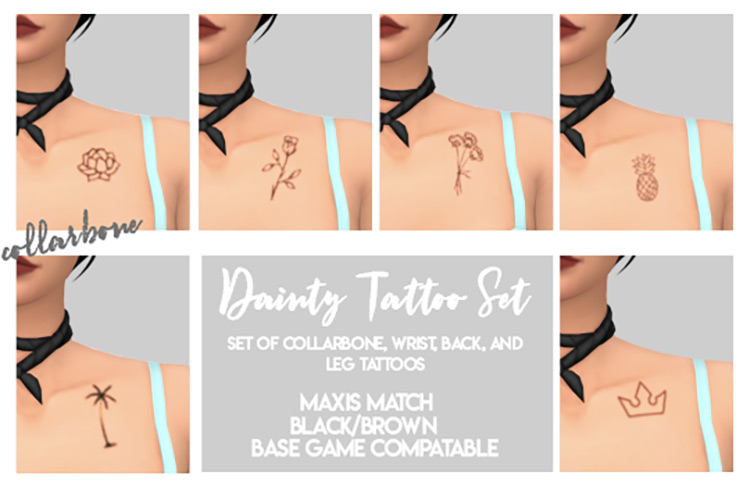 The Dainty Tattoo Set was created by Simmingmango with the sole purpose of bringing some more cute tattoos into The Sims 4.
And honestly, I'm here for it.
There can never be too many cute things in this world – and we definitely need some more.
Unlike the pure black of the thorn tattoo, these tattoos are inked in a brown/black color.
It's a slight difference, but it makes them look softer and more delicate.
You'll have access to 22 swatches with this CC, some of which are the same tattoo designs in different locations.
5.

Arana Tattoo CC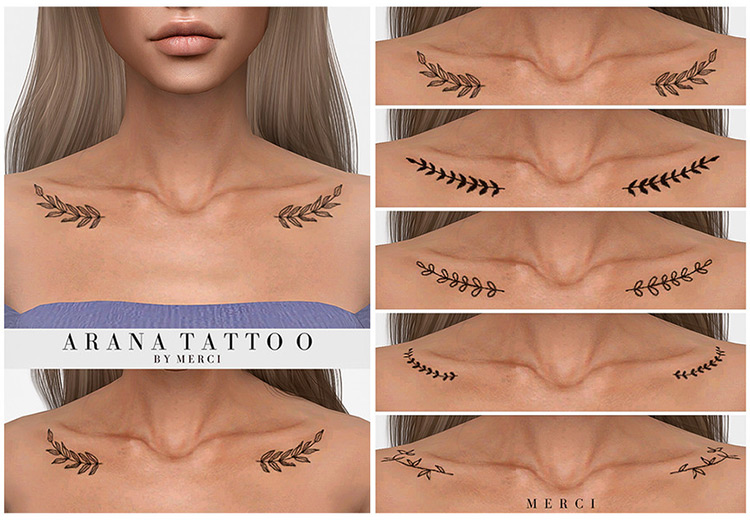 Minimalism and elegance go hand in hand when it comes to interior design, fashion design, and graphic design.
It shouldn't come as a surprise that the same goes for tattoo design.
This CC offers us another classic tattoo design: laurel leaves.
Instead of just including one or two and calling it a day, though, it has 5 different variations of the laurel leaf tattoo. They're even unisex!
These designs range from pure black to cartoonish, and they're all beautiful in their own right.
Which one would fit your Sim the best?
6.

Arrow Tattoo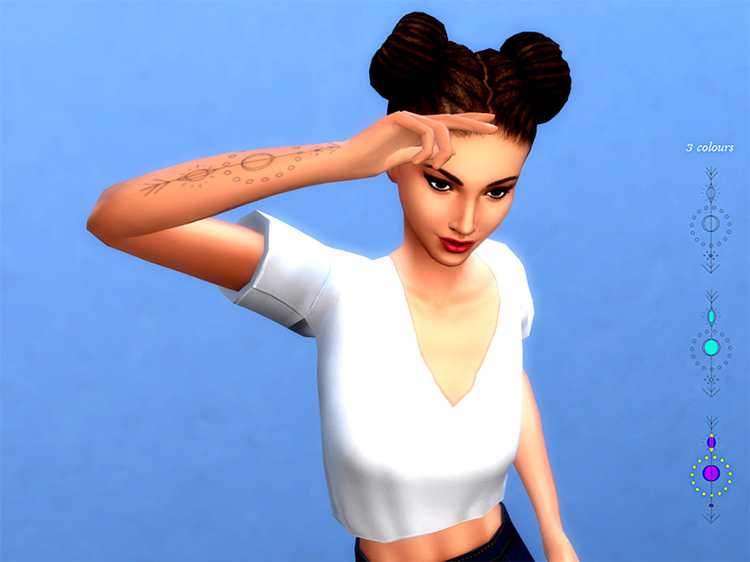 Most minimalist tattoos are very small, or located in areas that can be easily covered up by day-to-day clothing.
The Arrow Tattoo has all of that simplistic goodness and it covers an entire forearm.
It also has another thing going for it in the form of color swatches.
I like blacks and browns as much as the next person, but there's no denying that they can get a little old.
This CC has 3 swatches, 2 of which use bright vibrant colors.
It's a breath of fresh air compared to all the monochromatic tattoos.
7.

Little Summer Tattoos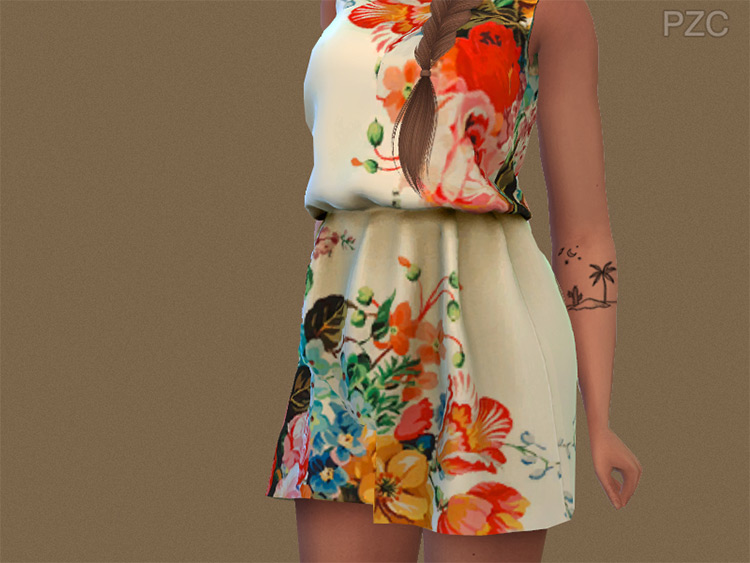 Have you ever made a real daisy chain?
I haven't, but I imagine that child me would be pretty devastated every time the bracelet inevitably wilted.
Adult Sim me would have no such problem.
These tiny and minimal summer tattoos are 100% permanent (or at least until you decide to swap them out). So you can wear your daisy chain 24/7.
In addition to a daisy chain, you can also have a cute beach scene tattooed to your wrist!
8.

Bird Tattoo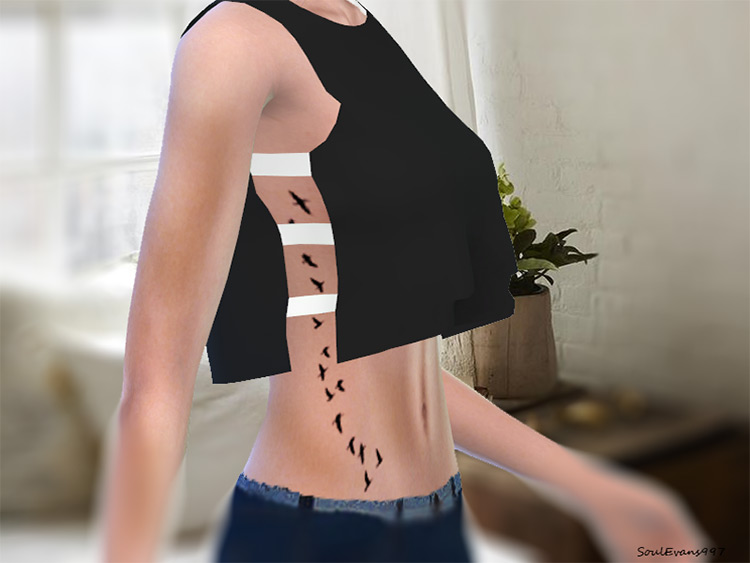 Flying birds, bird heads, and outstretched wings are some of the most popular animal tattoos out there.
This CC is reminiscent of all of those tattoos – but it minimizes the flying birds to just a faint silhouette in the distance.
Essentially, it's the minimalist's and the bird lover's sweetest day dream.
This tattoo is positioned in a way that can be easily covered up or shown off using a crop top. Unfortunately, it doesn't have any extra swatches.
9.

Moon Phase Spine Tattoo
If you think that minimalist tattoos can't look insanely cool, then you're dead wrong. Of course, you probably don't think that since you're here reading this list… but my point still stands.
Can you imagine this CC with a backless dress?
Yes please.
This Moon Phase Spine Tattoo is a great choice for any Sim who wants to be both subtle and loud. It doesn't have any extra swatches, but it really doesn't need them.
The moon can stay gray.
10.

Rose Leg Tattoo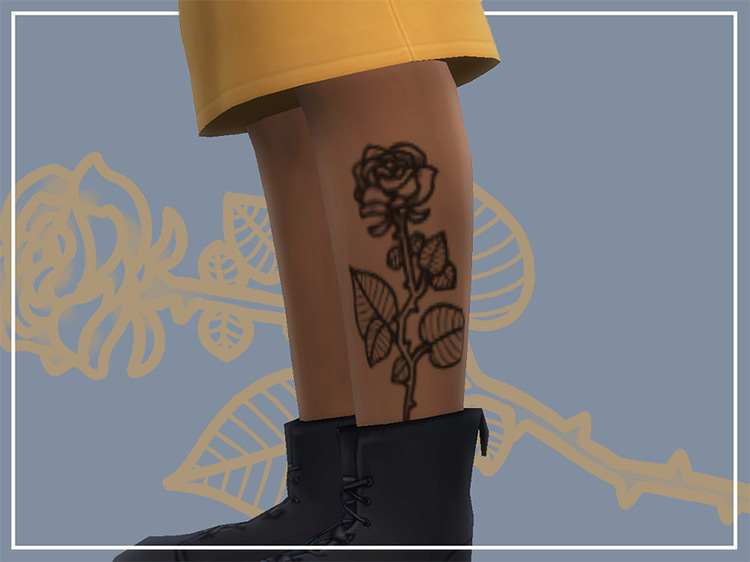 Any nature-loving sim would be hard pressed to find a better solution than a tattoo to keep plants with them wherever they go.
This cute rose lives on your sim's leg, growing out of their shoe.
As far as simple tattoos go, this CC is a little more complex because it includes some impressive detail work on the rose petals and leaves.
You can even see the outline of small thorns along the stem.
That being said, it's still a very simple line design, and it's location along the ankle helps keep things understated.
And since it's a basic black outline, it only has 1 swatch.
11.

Small Back Tattoo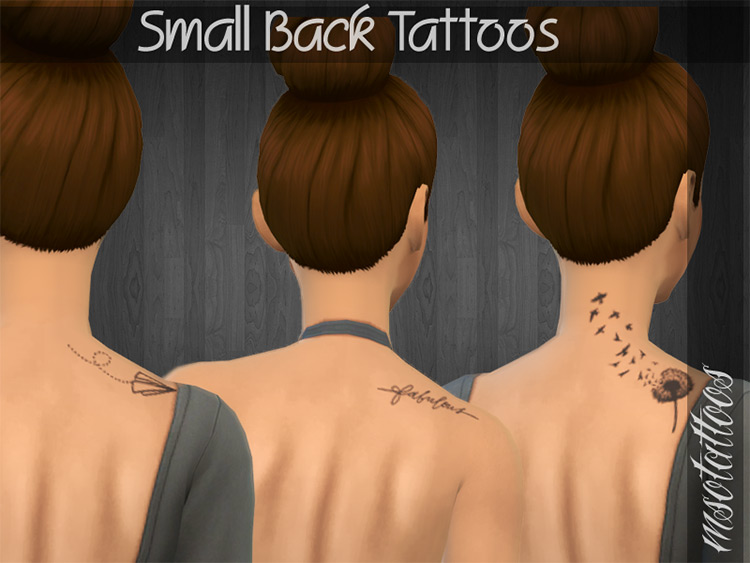 This back tattoo set has another unique twist on the birds flying tattoo trope.
But this time, the birds are actually dandelion seeds being blown into the wind.
A very poetic choice.
If your sim wants something less artsy and more "I am amazing", there's also a simple tattoo that reads 'fabulous' in glorious cursive.
Or you could go with the third option, a paper airplane.
Not sure what the message behind that one is, but it sure is cute.
The only downside of this CC is that it's only for female Sims. Aside from that, it has 3 swatches and can be used on all skin tones.
12.

Tattoo Branches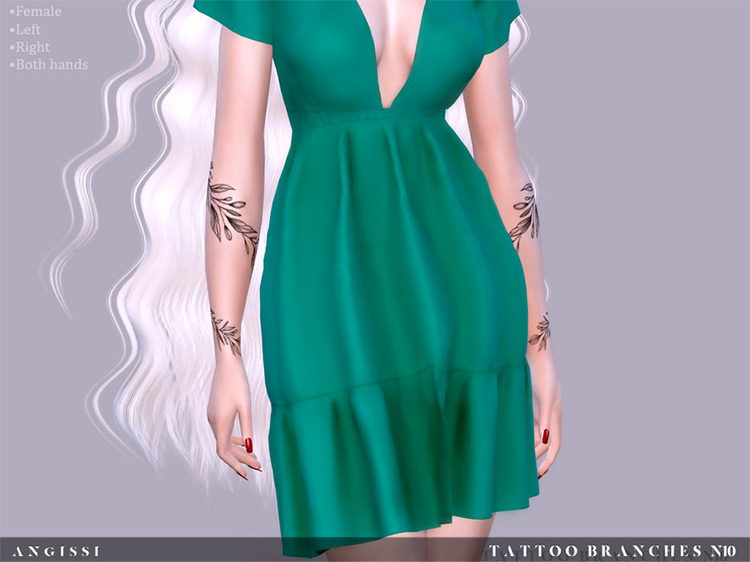 Here's another CC offering one of those tattoos that looks awesome, while at the same time disproves the typical tattooed biker stereotype.
Not that a biker couldn't wear these tattoos, but they definitely don't fit the archetype!
These curled branches will make your Sim's arms feel safe, protected, and very elegant.
They're also likely to make other Sim's eyes pop out.
It comes with 1 color, but 3 swatches (right arm, left arm, and both arms) and is for female Sims only (sorry fellas).
13.

Tattoo n08 (Collarbone)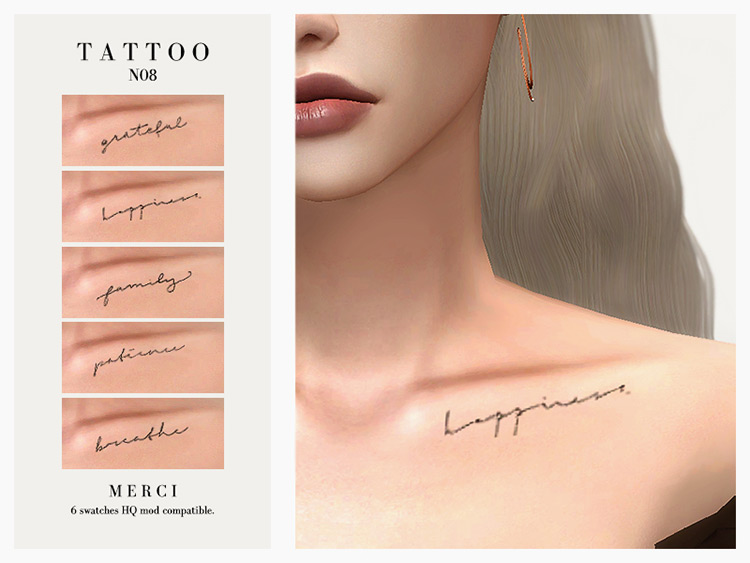 Some of the best minimalist tattoos are simply words scrawled on the collarbone.
And this set is all about that style.
As a unisex tattoo set, you'll be able to use them on whoever you please.
You can even give a sim couple matching tattoos using a word that is meaningful to them. Or is that going too far?
For those of us who struggle to read stylized cursive (seriously it's hard), here are the different words you can choose from:
Grateful
Happiness
Family
Patience
Breathe
Browse:
Lists
The Sims 4
Video Games