Sims 4 Sinks CC For Your Kitchen & Bathroom
This post may contain affiliate links. If you buy something we may get a small commission at no extra cost to you. (Learn more).
We need more sinks!
Yes, they're often the bane of our existence since our Sims seem to have an unhealthy obsession with them:
Compulsively drinking water, washing their hands too much (or not enough!) and choosing the upstairs bath to wash dishes in instead of, you know, the kitchen sink.
Nevertheless, the options are severely limited no matter how many packs you own.
It's such a small feature, but the right sink can really make a bathroom or kitchen pop.
So we're stoked to share these great CC sinks for your game.
Optunia Sink
We expect nothing less than awesome when it comes to CC from creator Wondymoon.
Awesome is exactly how we'd describe this huge sectioned sink.
It's high quality but still Maxis Match, which works so well for those who prefer balance in their game.
And it comes in 3 swatches: white, gray and black.
The latter is my absolute favorite, especially because of the chic gold faucet.
It's also part of a larger kitchen set which I highly recommend downloading if you're looking for more kitchen options.
SMEGlish Sink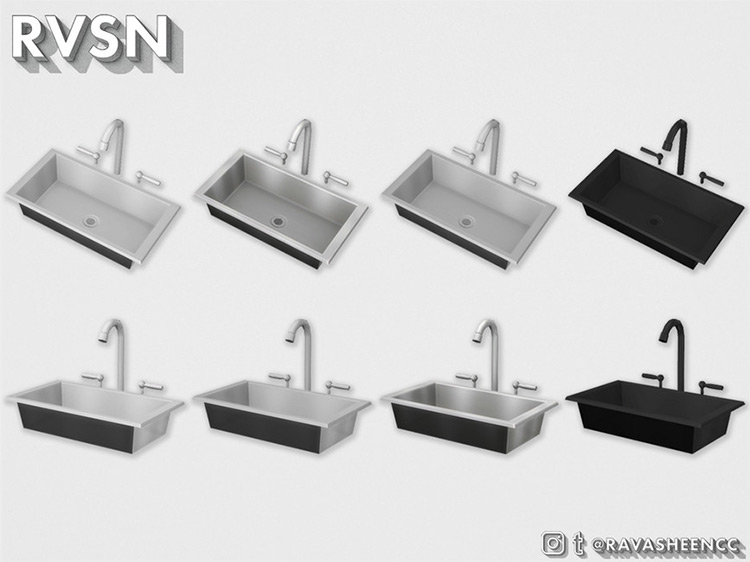 Ravasheen is also known for their great, Maxis-Match friendly CC.
The SMEGlish sink is a huge, industrial-sized sink with two handles on either side of the faucet.
We could see this sink being used in a big family kitchen or even in an industrial setting, like a kitchen or factory.
Four swatches on this one, including two shades of gray.
And like our last entry, it's also part of a kitchen collection.
Retro Big Basin Sink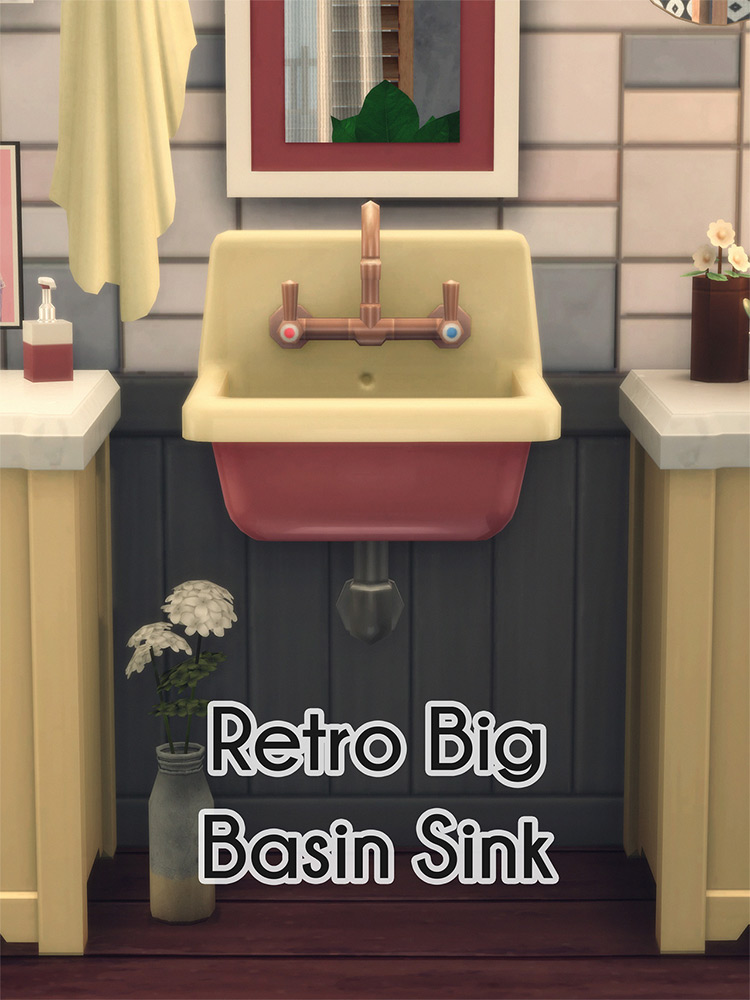 The Retro Big Basin Sink was introduced in Parenthood, and it holds a special place in my heart.
On one hand, it's huge, outdated, and not very stylish.
On the other hand, it's exactly the kind of sink you'll find in older homes, the kind that generationally-played Sims will likely inherit.
Creator Amoebae adds some much-needed recolors to the sink for variation – and as a way to keep things fresh.
Nikadema Texas Kitchen Sink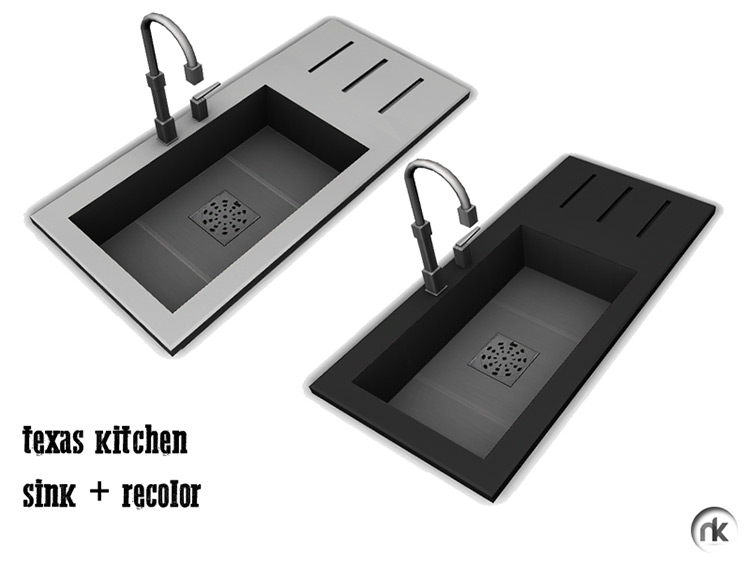 When it comes to Nikadema's kitchen sink, there's truly nothing like it in the game.
Appropriately named Texas because of its large width, we think this sink would look great in a modern farmhouse, or any dwelling that will be washing lots of dishes.
It comes in two colors (black and white) and is also base-game compatible.
It's part of Nikadema's Texas themed kitchen, which includes new counters, a stove, and more.
Iconic Bathroom Sink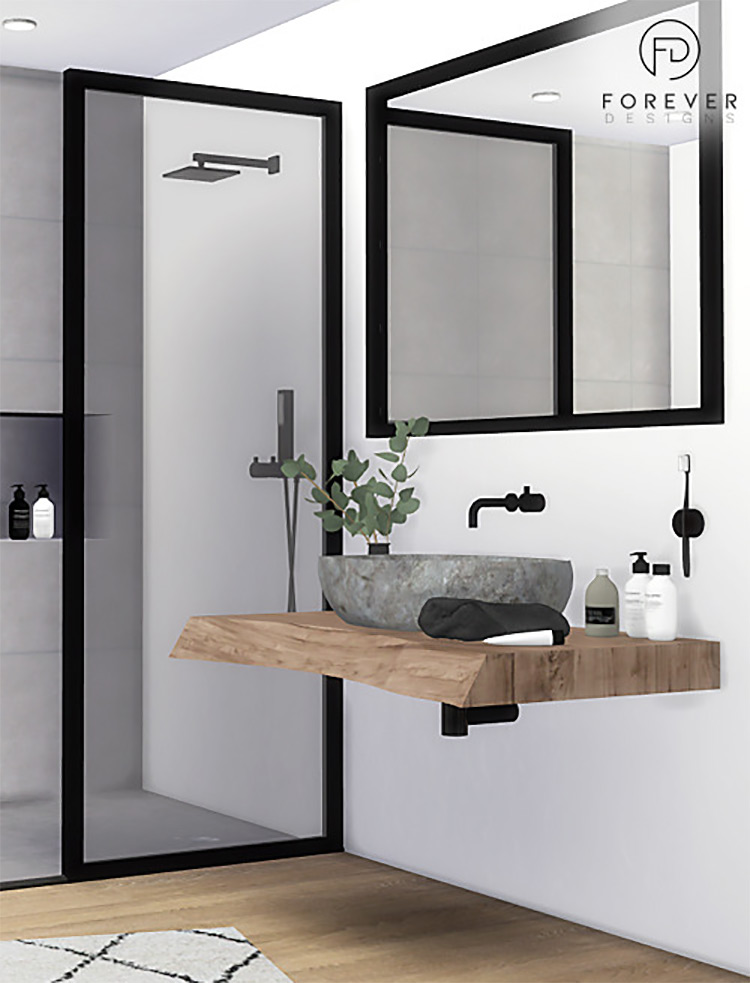 This sink is definitely iconic.
ForeverDesigns's bathroom sink is part of a larger collection, but we can't help but focus solely on this ultra-modern sink.
With a wall-mounted faucet and giant marble-like bowl, we love that it's space-saving while still being a prominent part of the bathroom.
The best part has to be the shelf that appears to be made out of reclaimed wood.
The HQ quality is noticeable but toned down enough that most Simmers should like it.
You can download it for free on SimFileShare.
And if you like the set, consider donating to ForeverDesign's Patreon as well.
Argon Kitchen Sink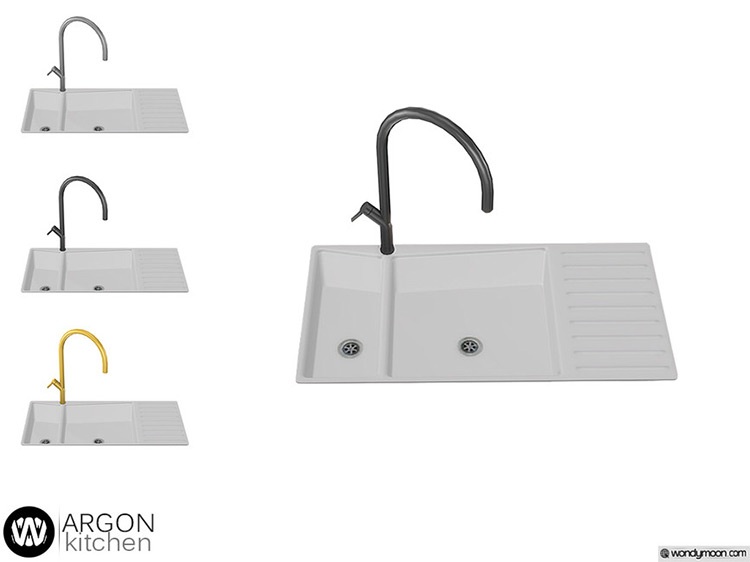 This sink is another Wondymoon creation, and it's just as good as the first.
Yet the Argon Kitchen sink CC is a little different than the other entries on this list:
First, it's got a curved faucet that gives it an interesting look.
Second, the sink sections are a little more realistic, with a smaller section to the left for drying dishes or rinsing produce.
Also love the angled handle on the faucet.
This is definitely very modern, and would look great in a similarly-themed kitchen.
And yep, you guessed it – this is part of a themed kitchen, available here.
Mediterranean Living Bathroom Sink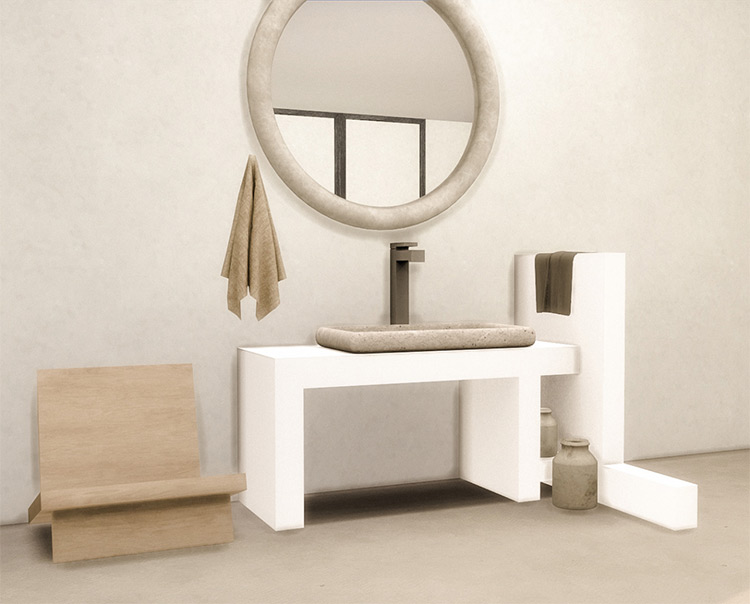 Own and love the Courtyard Oasis Kit?
Then we've got a bathroom sink (and set) that you'll love just as much.
This bathroom sink from BuildingDiva is huge.
It's got a gigantic metal faucet and a deep, round bowl that appears to be made out of stone.
We really enjoy the earth-toned sets because you can add splashes of color elsewhere to have them stand out.
It also comes with a mirror and throw towel.
This one's a patron-exclusive on BuildingDiva's Patreon.
Sleek Kitchen Sink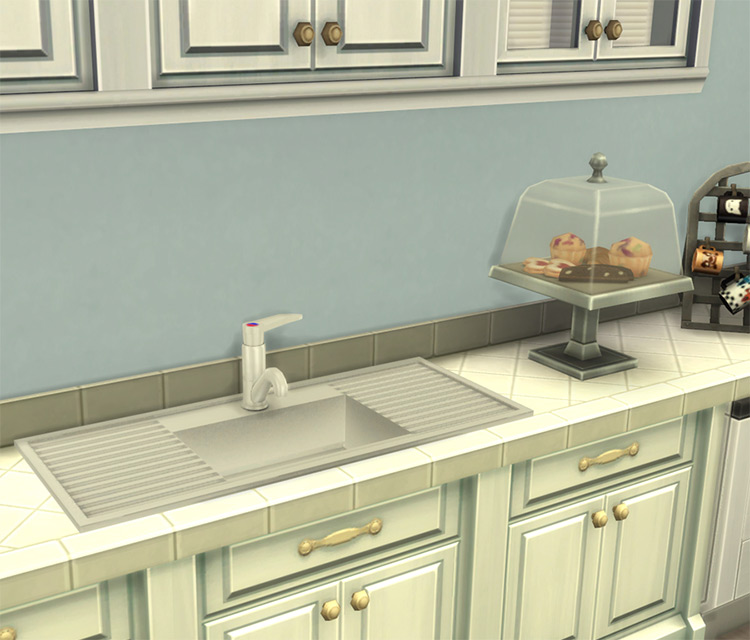 The design of Simista's sleek kitchen sink is different, to say the least:
A wide, rectangular shape with the actual sink taking up just a third of the overall width.
The remaining space is occupied by horizontal grooves, perhaps for drying dishes?
We're not quite sure.
But we do know it's 100% unique, and that's enough for us to put it on this list.
Also huge bonus points for the hot/cold design on the faucet handle (because realism).
Vola Sink V1
Two. Sinks. In. One.
There's no better sign that your Sim is rolling in dough than something like a double-sink sink!
This creation from MincSims and Vola gives your Sims a fancy, large sink with a narrower sink to the right.
View it as a dedicated sink for hand-washing, rinsing produce or anything else that doesn't require use of the main sink.
We can see this one in mansions, luxury apartments, and other opulent dwellings.
There's 4 colors available in this set and you only need the base game to use it.
Browse:
Lists
The Sims 4
Video Games