Sims 4 Skateboarding Mods & Skater CC: The Ultimate Collection
This post may contain affiliate links. If you buy something we may get a small commission at no extra cost to you. (Learn more).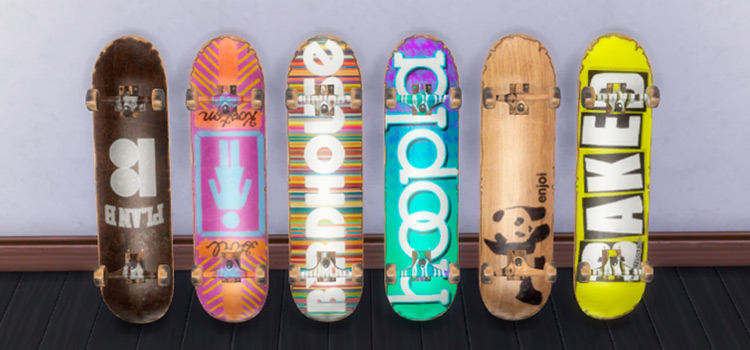 To bring skateboarding to your game, you just can't beat CC.
It makes skater Sims more of a reality than ever.
With just a few mods and an upgraded wardrobe, your Sim can both look the part and actually do some skating! This is one topic that definitely hasn't been overlooked by the custom content community.
1.

Skating Mania Set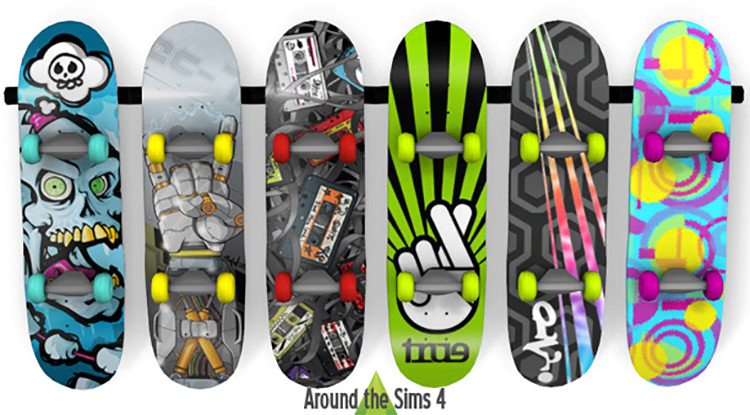 Since we've currently got zilch for skaters, this set is a simple way to kick things off.
These decorative boards are definitely worth grabbing. Not only do they look fantastic and highly realistic, but you'll even get to see your Sims on them with the help of some poses we'll get to here in a minute.
2.

Skater Beanie
What's "in" for skaters in terms of fashion has changed surprisingly little through the years. Whether your Sim is a pimple-faced teen or a veteran skater, a beanie will suit them.
Thanks to Katteycat's editing, this hat from Outdoor Retreat looks a lot less outdoorsy. Now it's BGC and very stylish.
3.

Rideable Skateboard Mod (All Ages)
This exciting mod needs a lot to make it work. I mean, vanilla TS4 has basically nothing to support this.
You'll need to own Discover University, and grab a separate mod if you want it to be functional for toddlers and kids. Then you'll be all set, and your Sims really can skate!
4.

Color Block Vans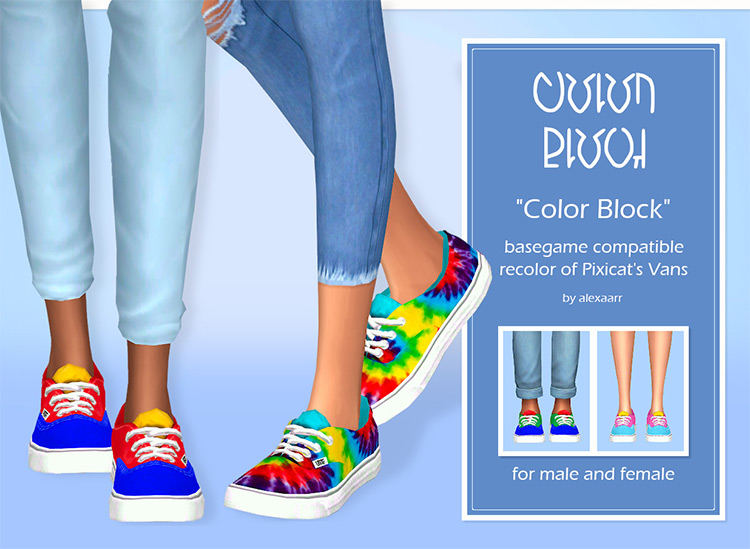 Having the right footwear is an absolute must.
But there's no need to get too fancy. Some Vans are a casual wardrobe staple that never fail to look awesome.
They're better than ever with this version from Alexaarr, which brings dozens of new swatches to the table. There's even tie-dye!
5.

Idle Teen Tees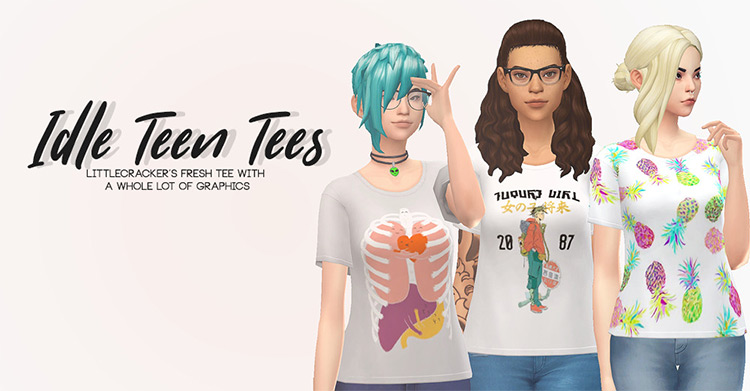 Sticking with the causal theme, as skaters do, here are some loose-fitting graphic tees.
The trendy designs will make them a great addition to your game because they can be easily used with so many different pants and shorts. The possibilities are basically endless, especially for this aesthetic.
6.

Arcadia Bedroom Skateboard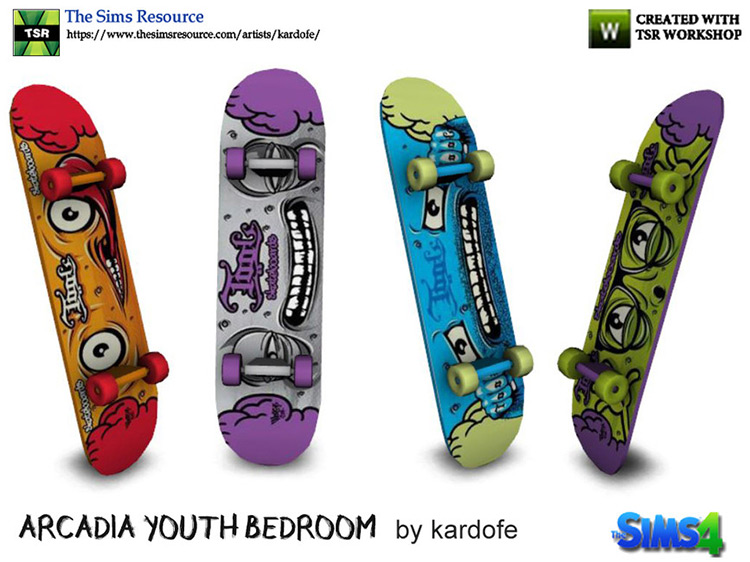 Some people may keep their boards in the garage. But since Sims don't even have garages, a bedroom makes the most sense.
This is another decorative option. It's got really cool, colorful artwork and equally colorful wheels. Clear some wall space and you're good to go!
7.

Skateboard Poses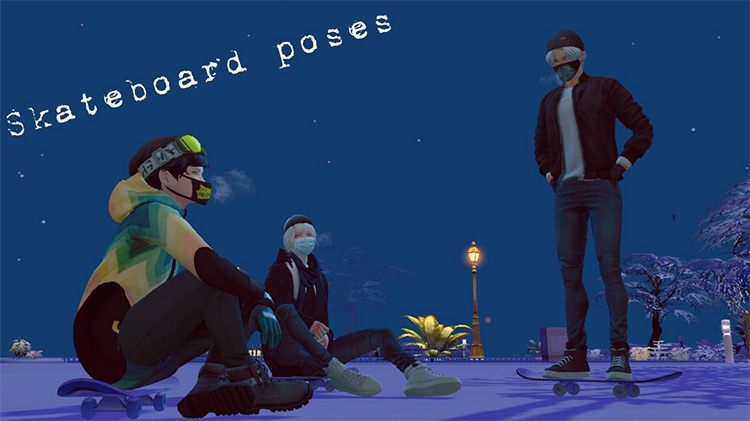 If you don't have everything needed for the Rideable Skateboard Mod, some poses may be your next best choice.
What I love about poses is how they make things possible that we'd probably never see as part of gameplay anyway. This pack includes a lot of realistic ones!
8.

Functional Skateboard Shelf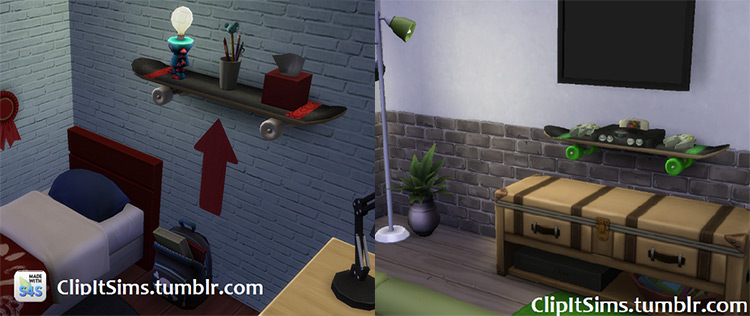 Here's a creative way to incorporate skateboarding into your Sim's home decor. Place however many of these realistic boards on a wall for some unique, personalized shelving!
They honestly look perfect, and the three slots will allow for some modest cluttering.
9.

Skate Park + Underground Bar (Get Together Required)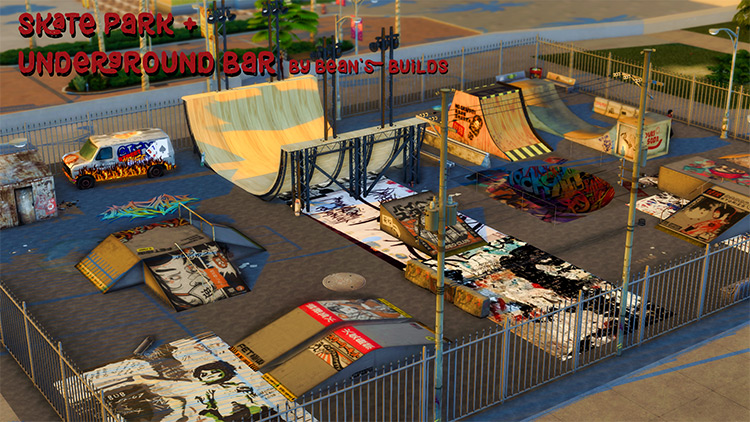 Your eyes don't deceive you, this is a legit skate park complete with an underground hangout.
Chances are, you never thought such a thing was possible.
But the innovation of content creators has won out once again, because this lot is absolutely stunning.
10.

Skate Poses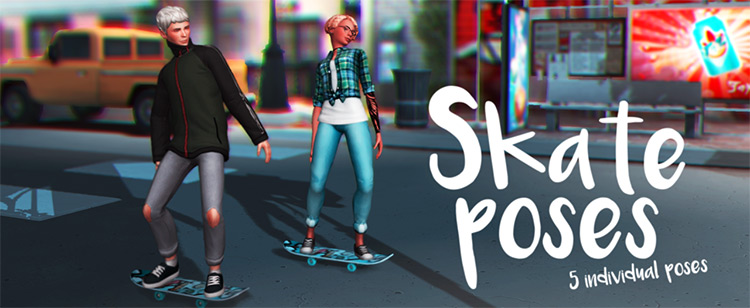 Any one of these 5 solo poses will really make it look like your Sim is gliding along. They're great for storytellers, as well as players who just like to stop and take a screenshot sometimes.
Most poses are gender neutral and these are no exception. Use as you please with males and females alike!
11.

Maxis Match Vans Recolor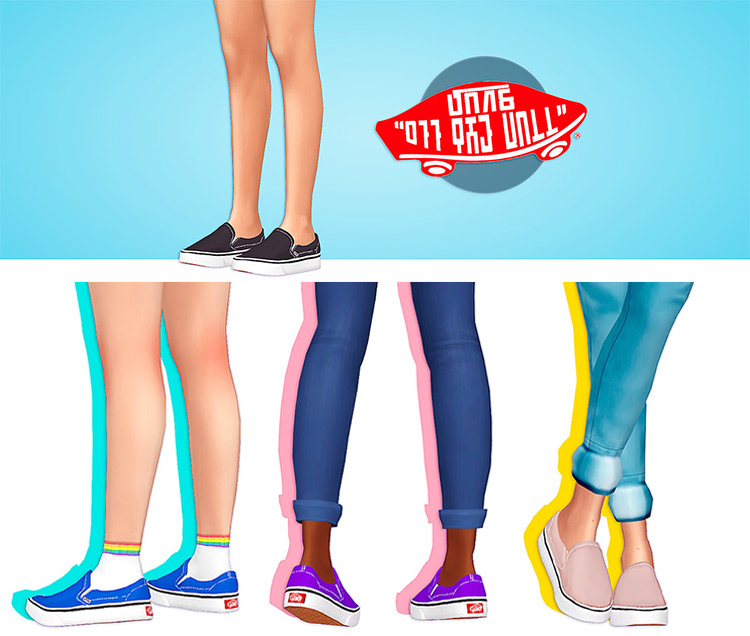 Yep, more Vans.
In case the last 50 swatches weren't enough.
At the end of the day, this classic look can't be beat, and that's what Maxis Match versions focus on. The iconic logo and tag are now in Simlish, and all swatches are solid colors.
12.

Wear How You Want Cap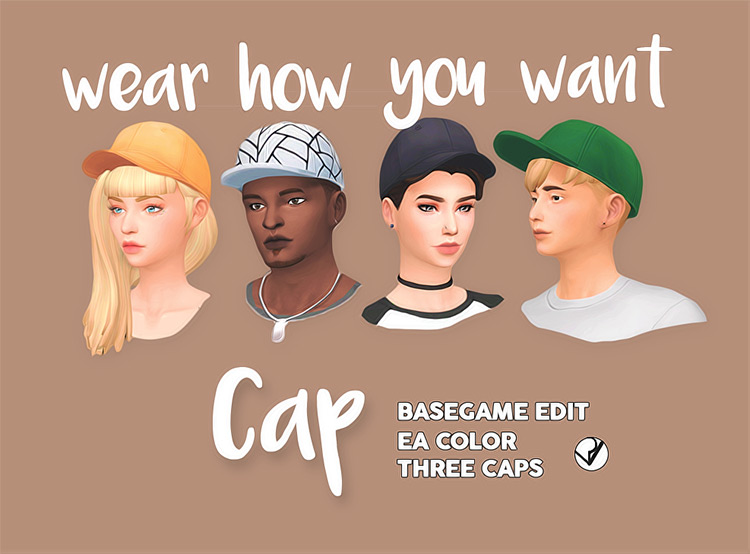 For baseball caps, this set is about as versatile as it gets. Sims can wear these hats in multiple positions and thankfully, they aren't as bulky as the base game ones.
They're available in the original colors and designs, all of which are pretty basic and casual.
13.

Basic Skater Shoes For Toddlers & Kids
Whether your Sim's kiddos are actually into skateboarding themselves or just want to be mom/dad's mini-me, these sneakers are just adorable.
The 20 swatches will massively upgrade the children's footwear situation anyway, since they're also quite fashionable.
14.

Bailee Top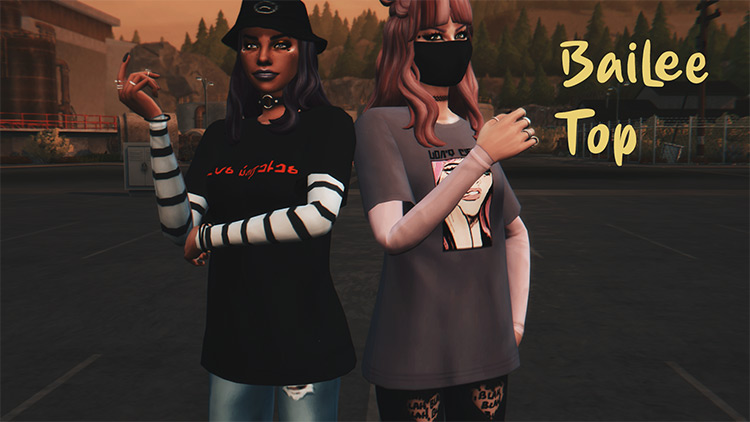 This is one sport with no uniform, but the style of each skateboarder is somewhat similar for a reason. The focus on baggy clothes is so they can do sick tricks without being restricted by tight clothing.
Besides, a lot of it just looks great, like AdrasteaMoon's Simlish graphic tees.
15.

Big Belted Bad Boy Jeans
Skinny jeans often aren't the trousers of choice for skaters. Some loose jeans like these aren't just a nice alternative to what we have in the game, the tears make it seem like your Sim's already had a few wipeouts!
They're pretty sturdy looking and will go with any top or accessories you had in mind.
16.

Cafe Sweatsuit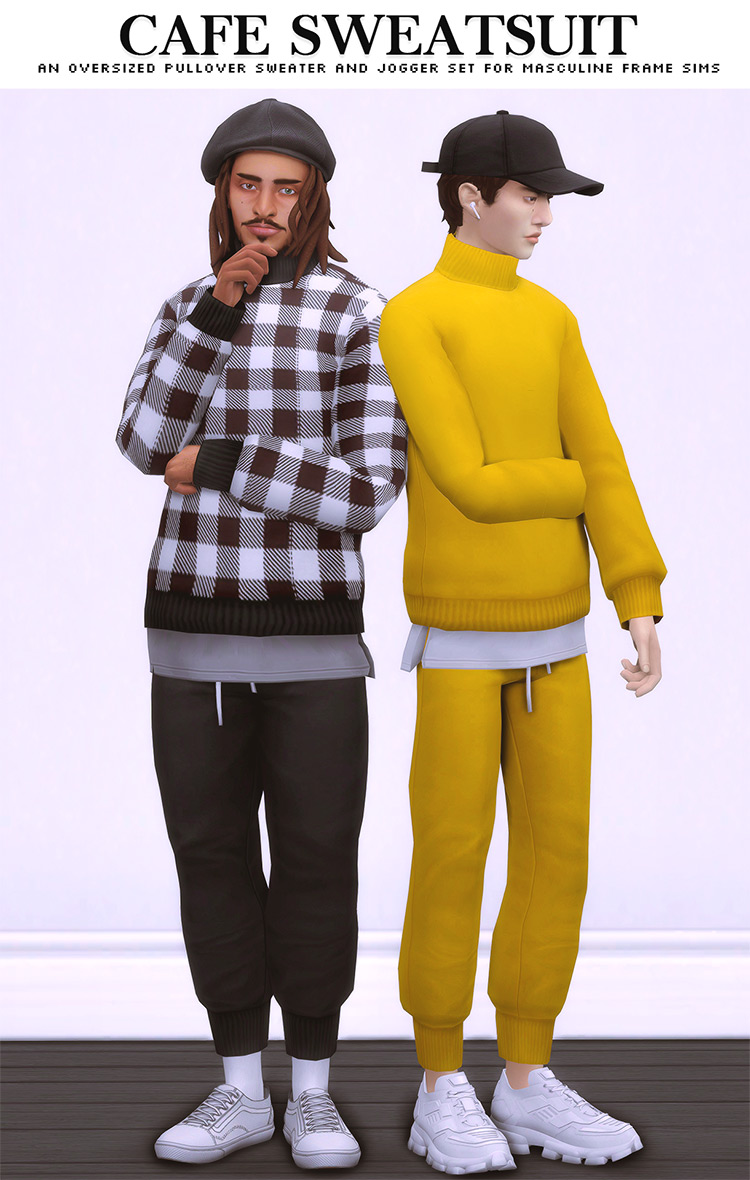 This sweatsuit is an option if you're looking for more modern, streetwear-inspired threads.
A comfy sweater and sweatpants combo is never a bad choice, especially not for athletics. Tons of unique, trendy swatches are included that'll look great on any teen or young adult Sim.
17.

Casteru Cargo Pants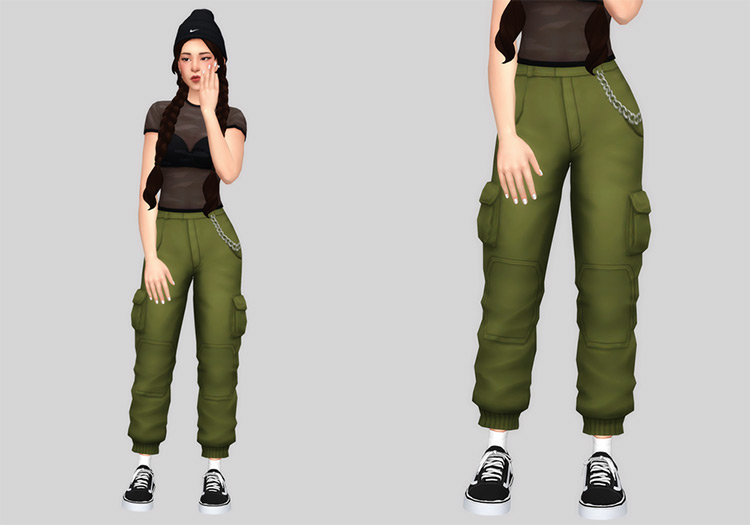 Female Sims have always been severely neglected in the cargo pants department, but that is no longer the case.
Casteru's insanely stylish take on this look might just be all you need.
With 60 swatches that cover basically every color in existence plus some camouflage, the possibilities really are exciting.
18.

Streetwear Large Hoodie Recolors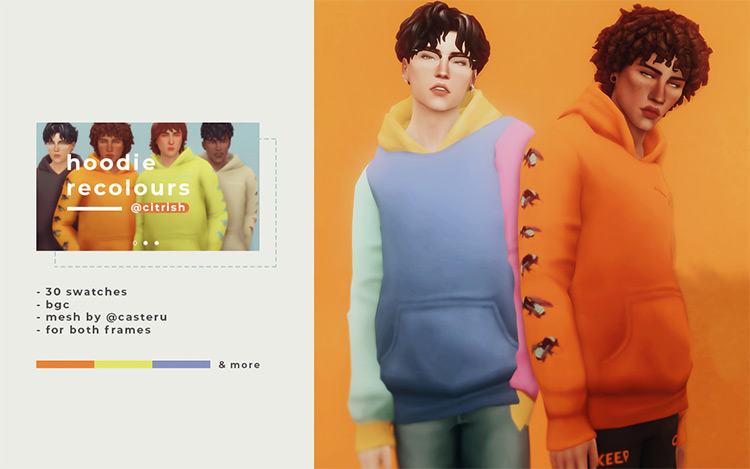 The oversized look of these hoodies is just perfect, and they've got an abundance of stylish awesome, modern swatches.
Citrish's recolors are so on point, they might just make you jealous. Tie-dye, color blocks, and cow print are just a few examples of what's included.
19.

Old Money Jeans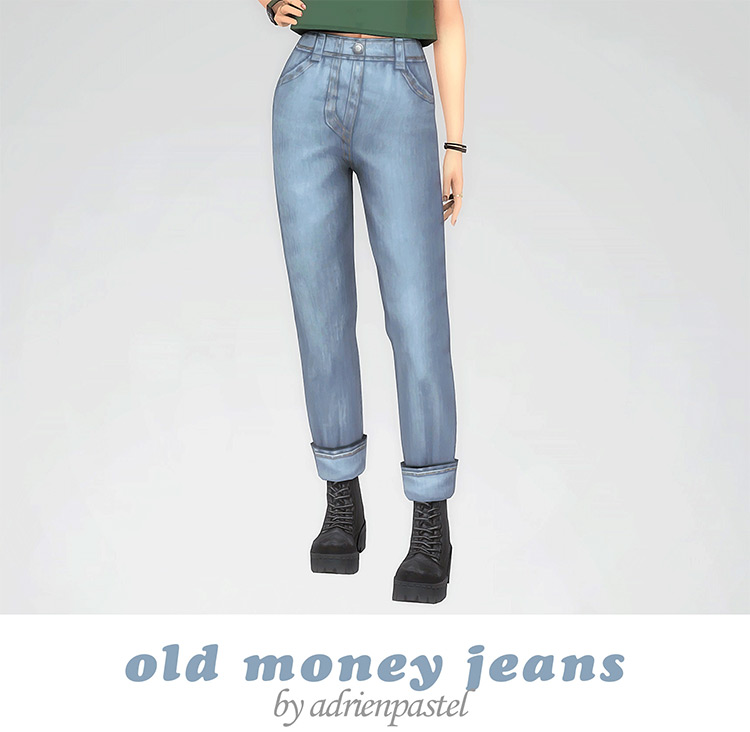 With these jeans, AdrienPastel gives us a slightly less baggy option. They're cuffed at the end, so they're still practical enough to pair with some good skate shoes.
All of your typical denim shades are part of these 11 swatches, plus some khaki and red options.
20.

Knee Pads
Part of skateboarding is learning to fall.
But no matter what, bangs and bruises are inevitable.
Safety gear has come a long way in recent decades, providing more protection than ever. These realistic knee pads are a cool, original accessory to add to your Sim's look.
21.

Skate Poses By RatBoySims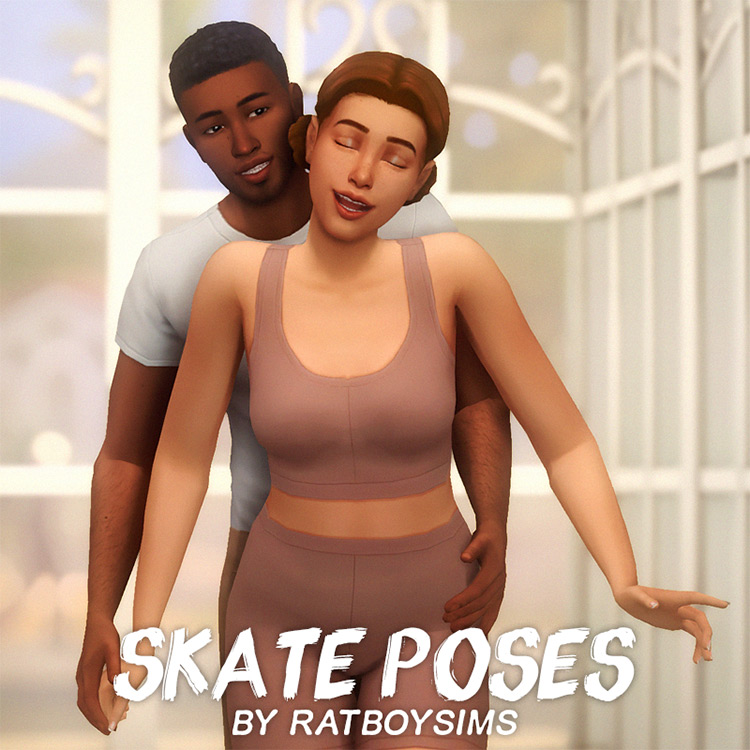 We've seen several pose packs already, but none quite like these.
Unlike the others, this pose set is for a couple!
All 5 of these options are simply adorable. If you have some lovebirds in your game who seem like the skateboarding type, you've gotta have these.
22.

Base Game Converse Recolor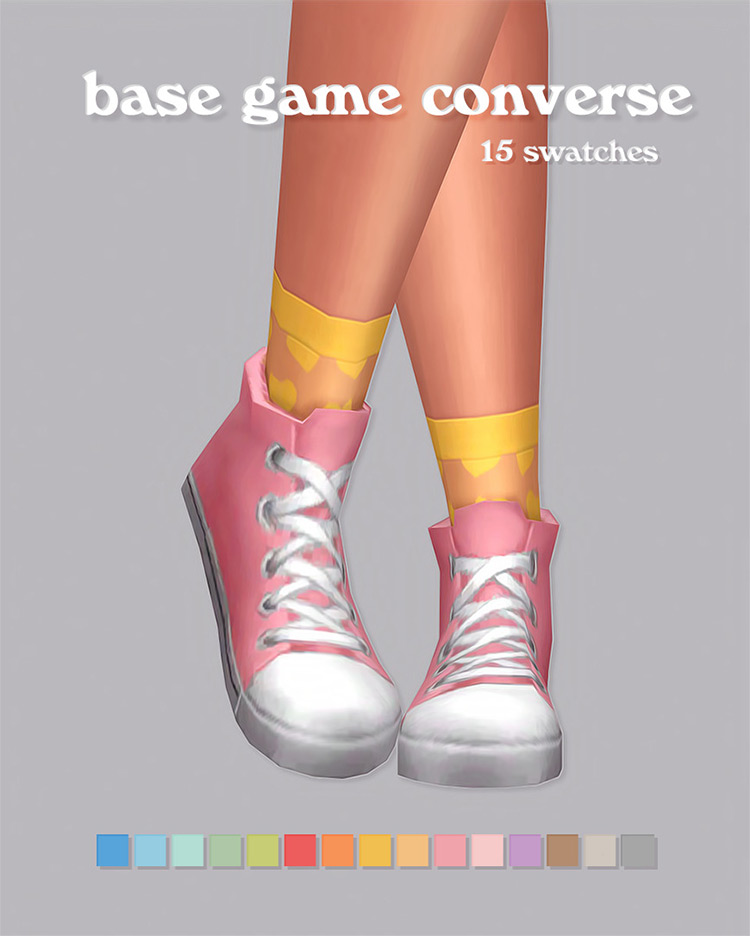 Converse are another popular choice among the skateboarding crowd.
Sure, we've got a handful of them already in The Sims 4 – but these 15 additional swatches better represent the personalization Converse is all about.
Fun pastels and a few neutrals round out this new palette.
23.

Decorative Skateboards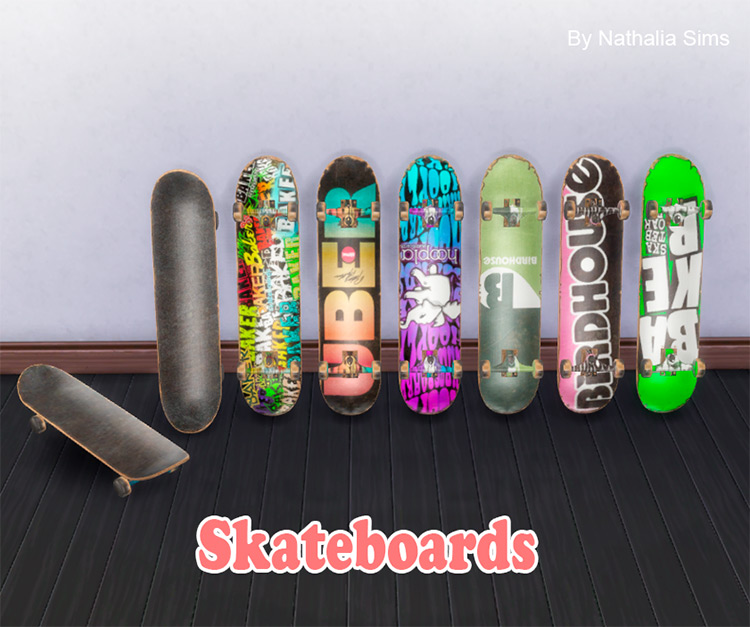 No skater wants just one board, and neither do your Sims!
Here are a few more deco options to expand their collection.
Like some of the others, these are meant to stand upright against a wall. There's no better way to display the artwork on them, of course.
24.

Cyber Cargos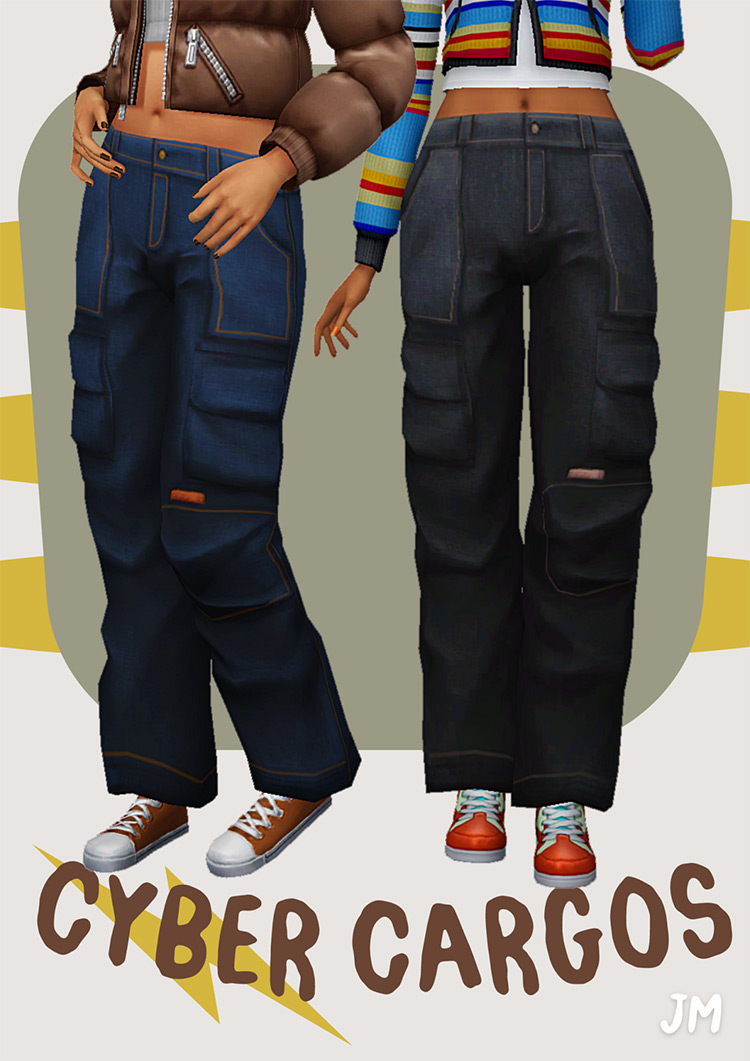 Jellymoo's cargos are rather straightforward.
They're bulky, low-riding, and covered in pockets. What more would a laid back guy or gal ask for?
The 12 swatches include a lot of colors that complement the denim texture nicely, ranging from light blue to black.
25.

Vintage High Waisted Shorts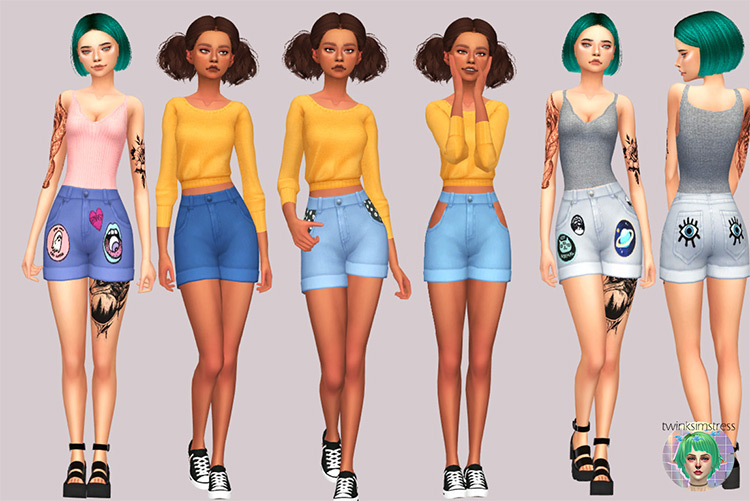 Jorts may not seem like an obvious choice here, but with all of the different patches, they definitely have the right vibe.
It's not every day that such customizable options are available for TS4. Over a dozen different appliques plus patterned pockets give these a very original feel every time.
Browse:
Lists
The Sims 4
Video Games