Best Sims 4 Skater Skirt CC (All Free To Download)
This post may contain affiliate links. If you buy something we may get a small commission at no extra cost to you. (Learn more).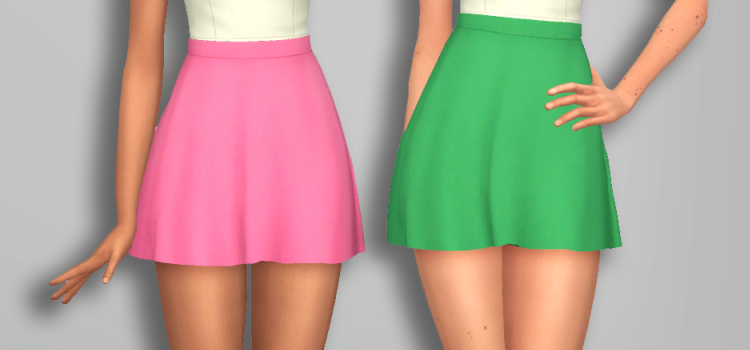 Although I personally prefer putting my Sims in denim skirts and billowing peasant dresses, I don't deny the visual charm skater skirts have.
They're cute, they're practical, and I think most anyone can rock it if they know how to style it.
That being said, if you use skater skirts in a lot of your outfits, the selection in CAS probably feels a little too slim.
Don't worry; I've got some extra CC skater skirts to add to your Sim's collection.
1.

Younzoey Recolor Summer Skirt by Figs and Persimmons
You'll notice younzoey's name get mentioned in the next couple items.
From what I understand, they created one of the OG custom skater skirts for TS4, and everyone fell in love with it.
Unfortunately, it looks like their creations are either discontinued or no longer supported.
So as much as I'd love to link to the original mesh on the creator's page, I can't.
Best I can do is provide the direct link to download their Hello Summer Skirt, since you'll need the mesh for this to work (same for the next two skirts).
Back to this recolor.
It adds 12 new solid color options for the skirt, and they're all primarily muted, earthen shades. Definitely matches the vibe of the preview photo.
And considering the original skirt is available in summery prints, these softer tones provide a broader color selection for the skirt itself.
2.

Colorful Skirts by Glowsims
Here's the second skirt using younzoey's Hello Summer Skirt mesh.
Whereas Figs and Persimmons's Citrontart palette recolor introduced dark, less saturated shades for the skirt, Glowsims's recolor does the exact opposite.
I'm pretty sure the name gives it away but, yeah.
They added 20 new swatches in Pixelbox's Vibrancy palette, and they're definitely what you would expect with a name like that.
Bright, vibrant, and highly saturated colors, with maybe two or three muted shades to soften the selection.
Either way, I can always appreciate more variety.
Adding a handful of new options can never be a bad thing.
3.

Skater Skirts Recolour by gladysmorse
And for the last skirt to use younzoey's Hello Summer Skirt mesh, we have gladysmorse's Skater Skirts recolor.
What's interesting about this particular recolor is that it doesn't add a new skirt option in CAS.
Instead, what it does is add onto the existing color palette of the Hello Summer Skirt.
So where you'd normally see just fourteen swatches for the original skirt, downloading and installing this recolor adds ten new swatches to the skirt's CAS panel, for a total of 24.
Plus you'll still be able to tell which swatches are the original and which ones are added on since the add-ons by gladysmorse appear as solid grey boxes.
If you want to see the available patterns, check out the recolor's preview photo.
I have to agree with the creator; the starry skirt pattern is definitely a fave!
4.

Skater Skirt by CherryBerrySim
You can't get any more simple and straightforward than this.
Honestly, I can appreciate the frankness.
I mean, usually creators will have some sort of clever or witty or artsy name for their creation. There is therefore something refreshingly hilarious about a TS4 CC skater skirt just being named "Skater Skirt."
I mean, so long as the quality's great, why get all bothered about a name, right?
Right. And the quality, in this case, is excellent.
I like how CherryBerrySim's mesh has a little more structure and slants out a little more.
It gives it the appearance of a slightly stiffer cotton skirt that's able to keep a modicum of its shape regardless of movement or environment.
Plus the 8 available patterns that it comes in are beautiful.
5.

Outshined by kismet-sims
This skater skirt CC sort of has the same longish, drape-y feel as younzoey's Hello Summer skirt.
The texture also makes it look very soft and pliable; like the kind of material that moves and rustles with every movement, no matter how small.
Now, this may not be the most exciting skirt on the list in terms of patterns or design.
But it's got a lot of single color options.
34, to be exact, and each category seems to be fairly represented.
You've got neutrals, naturals, muteds and pastels… there are even some vibrant cool shades and a couple warm, earth-toned swatches.
6.

See You Later, Skater by deetronsims
This custom skater skirt by deetronsims wins an award for having the wittiest name and having the most variation.
Not only does the creator offer 23 solid color options and 13 pattern options (for a total of 36 swatches), but they also offer two versions of it: high-waisted (with matching belt accessory), and low-waisted (no matching belt accessory, but still cute).
Alright, a quick addendum:
The low waist option doesn't have 36 swatches. It has 30. 23 solid colors 7 patterns. Considering EA doesn't usually give more than 18 color swatches of anything, I still consider this a win.
All in all, this download has 66 new skater skirts to introduce to your Sims's closet.
How many skater skirts is too many skater skirts?
No clue.
I just know the patterns – especially for the high-waisted skirt – are hella cute.
Highly recommend the green one with the robins perched on the branch.
7.

Pleated Skater Skirt by Bellassims
This skirt feels more schoolgirl than skater, but that could be because of the very obvious pleats (hence the name).
The way the mesh sits on the Sim's body makes me think it's not soft and pliable (like kismet-sims's Outshined), but it's not too stiff either.
It can probably hold its shape up to a certain degree. I like how it flares out to the sides—like it's more horizontally-oriented than it is vertical.
Fashion-wise, that flare creates a beautiful silhouette by exaggerating the hips and cinching the waist.
In terms of The Sims 4, it just looks great in-game.
8.

DS Skater Skirt by DarkNighTt
After seeing several skater skirts with the same exact mesh, I'm pretty happy to finally introduce some variety in design (not just color and/or pattern).
DarkNighTt's DS Skater Skirt doesn't just fall down or flare out from the waist. It does both.
From the waist to about a third of the skirt, it's just a smooth swathe of cloth that fits to the body.
Then it sort of poofs out in pleats, creating a horizontally-flared look similar to Bellassims's Pleated Skirt.
I think DarkNighTt has created a distinct enough look for their CC here. And I love the color options: 10 shades of pastels and neutrals.
My favorite is the soft lilac swatch.
9.

BG Skater Skirts Default Replacement/Override by maushasims
There are two parts to this CC: override and stand-alone.
If you choose the override option, you don't exactly place a new skirt in your game. Instead you introduce a sort of reskinned and recolored version of The Sims 4 base game skater skirt that already exists in your CAS library.
The override option is basically a default replacement.
If you choose the stand-alone option, you are technically downloading and installing a new CAS item.
It will be a separate option from the existing base game skirt.
Now I didn't quite see the pros and cons of either option, so I just downloaded both. That way I got 70 solid color options for one skirt. Score!
10.

Flutter Skirt by CEMENT
Just like DarkNighTt's DS Skater Skirt, CEMENT's Flutter Skirt has a one-of-a-kind design that sets it apart.
It has pleats, flares out slightly, and (most importantly) it has a very distinctive band around the waistline.
It's not quite a belt accent. But it certainly adds a very fetching cinching effect to the skirt.
It also feels sort of schoolgirl, but not as much as Bellassims's Pleated Skirt did.
This one definitely leans more skater, especially with the solid colors.
Though I will admit that the plaid checkered pattern options aren't helping my argument very much. They give off mad prep school vibes.
Browse:
Lists
The Sims 4
Video Games