Best Sims 4 Skinny Jeans CC (Guys + Girls)
This post may contain affiliate links. If you buy something we may get a small commission at no extra cost to you. (Learn more).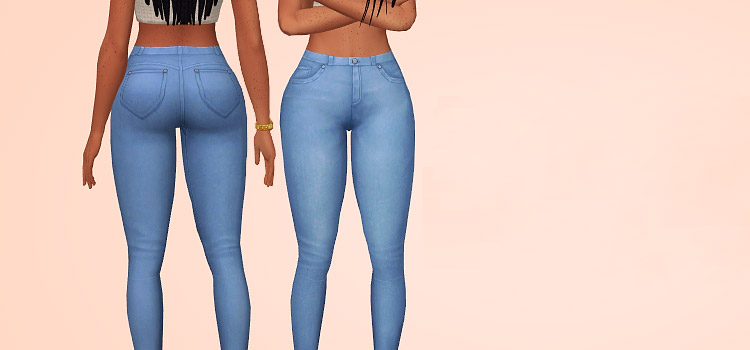 There are three must haves for any wardrobe: a little black dress for women, a well-tailored suit for men, and a pair of skinny jeans for everyone.
If your Sim prefers fashion above all when it comes to their jeans, skinny's definitely the way to go.
Want to pair it with a sweater for a casual 'fit? Got you covered.
Prefer rips and studs for that bold look? Yep, got that too.
Truth is, you can never have too many pairs of skinny jeans. So why not add these great selections to your download folder?
And with so many options, there's something for everyone in this list.
15.

Denim Skinny Jeans #015
Kicking us off are these simple denim skinnies by PinkZombieCupcakes.
These are your classic skinny jeans – high waisted with a curve-hugging fit.
Not only are they great for those who love sharper quality CC, but they also come in ten different swatches.
14.

Skinny Jeans With Zip Detail
Here's something for when your male Sims want their skinny jeans with a little something extra.
OranosTR's skinny jeans CC venture away from the standard skinny jean aesthetic by adding zippers, and a unique design around the knee area.
It comes in six colors, including red and black.
I'd imagine any Sim could look great in a pair of these.
13.

Famous Skinnies
There are some great EA-made CAS items that just need a little tweaking to be awesome.
The skinny jeans from Get Famous are one such item. They really are an awesome pair of jeans, but every swatch includes a makeup artist's bag.
Creator StoryLegacySims saves the day with their Famous Skinnies edit! It's the same pair of skinny jeans, without that huge bag attached.
Grab it from their Patreon now so all your Sims can rock them.
12.

Grannr Jeans
Who doesn't love a good pair of ripped skinnies?
InvaderSim's Grannr Jeans are the worn skinny jeans your male Sims have been looking for, with strategically placed rips at the knee.
It comes in 32 different colors and it's also base-game compatible, so no expansions needed to enjoy.
Plus if you're looking for even more ripped jeans ideas, we've got a list for that.
11.

Female Skinny Fit Realistic Jeans
Alpha CC lovers rejoice:
I've found the skinny jeans of your dreams!
Saliwa's awesome realistic jeans CC are:
Skinny
Realistic & high-quality textured
Fitted to give your Sim that personalized look.
They're also denim and come in a trio of swatch options. What's not to love?
10.

Relaxed Skinny Jeans
Are the bells and whistles on other skinny jeans just too much for your male Sim?
If they'd rather not let their skinnies make the first impression for them, you'll want these Relaxed Skinny Jeans by OnyxSims.
These pants have a wider pant leg for a little extra space, but they're still fitted for the skinny jean silhouette.
Best of both worlds right here.
Choose between that worn look or brand-new, with 25 color swatches for variety.
9.

More Skinnies Fixed
CrazyCupCake's More Skinnies Fixed is the women's version of the Relaxed Skinny Jean.
No crazy designs or textures, just a simple pair of skinny jeans.
These come with 18 color swatches, are Maxis-Match friendly, and feature a super-cute thin belt as well.
This CC would make a great addition for your Sim's everyday outfit rotation, so check it out!
8.

Male Sweatshirt and Skinny Jeans
Skinny jeans and a bonus sweatshirt?
I love a good 2-for-1.
Just note that this CC from BustedPixels offers separate items (so no pressure to use both). But they pair so well together.
The sweatshirt is spacious but not oversized, and totally compliments the fitted skinny jeans.
You only need the base game for this set, too. And it comes with a combined 37 swatch variations.
7.

Ripped White Skinny Jeans
Talk about CC that takes your breath away!
I had to do a double take when I saw these.
Yet another creation by PinkZombieCupcakes, these Ripped White Skinny Jeans are total head turners.
For starters, the stark white denim is such a departure from the typical blue. And it looks fantastic.
Add in eight unique swatch designs (including roses, rainbow/black stripes, and thigh/knee rips, to name a few) and these skinnies are a must-have.
6.

Evans Bleached Skinny Jeans
The only pair of bleached skinnies on this list stands out for all the right reasons.
McLayneSim's Evans Bleached Skinny Jeans are inspired by fashion brand rag & bone. So if you love real life labels in your game, these are a must-have.
They have a slightly looser fit, are super high quality textured, and come in eight swatches.
5.

TodaSims Jeans Skinny
Skinny jeans or jeggings?
Don't bother with choosing between the two when you can download this CC by TodaSims.
These are stretchy jeggings made to look like skinny jeans, without any of the discomfort.
Extra points to TodaSims for including 14 colors and one unique swatch for that distressed look.
4.

Felix Jeans
Here's another mash-up of two different pant styles that actually work quite well.
MysteriousDane's Felix Jeans are visually a mix between skinny jeans and work pants.
They offer a casual style with knee rips, but would also work for Sims who have relaxed dress codes at their jobs.
And with 15 swatches plus base-game compatibility, this one to add to your CC folder.
3.

Style Jeans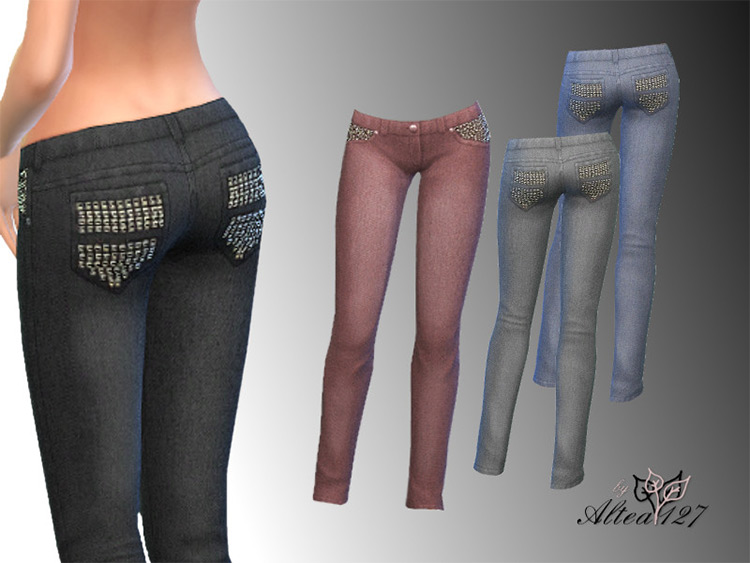 No matter the decade or current fashion trends, I will always love bedazzled jeans.
These jeans by Altea127 are an amazing union of skinny jeans with studded front and back pockets.
Until we get a proper arts and crafts expansion with hot glue guns and bedazzlers, these skinnies will have to hold us over.
They come in pink, black, and light/dark blue, and they're already one of my favorites.
2.

Male Loose Fit Skinny Jeans
Because sometimes, you just need a little more space.
OnyxSims' Male Loose Fit Skinny Jeans are edits of EA CAS jeans with the loose fit wearers in mind.
This CC is available in Teen to Elder, with 39 total swatches (9 original, 30 added) and it supports base game compatibility.
These are for sure my favorite skinny jeans for male Sims, so check them out when you can!
1.

Skinny Jeans (Male + Female)
The only thing better than skinny jeans for male or female Sims, are skinny jeans for both!
This customized CC by Helgatisha are the all-in-one skinnies that we need in our game.
The benefits are endless: base game compatible, 20 color swatches, and figure-conforming for all wearers.
Head on over to Helgatisha's Patreon for the free download.
Browse:
Lists
The Sims 4
Video Games