Sims 4 Skirts CC: The Ultimate Collection For Every Occasion
This post may contain affiliate links. If you buy something we may get a small commission at no extra cost to you. (Learn more).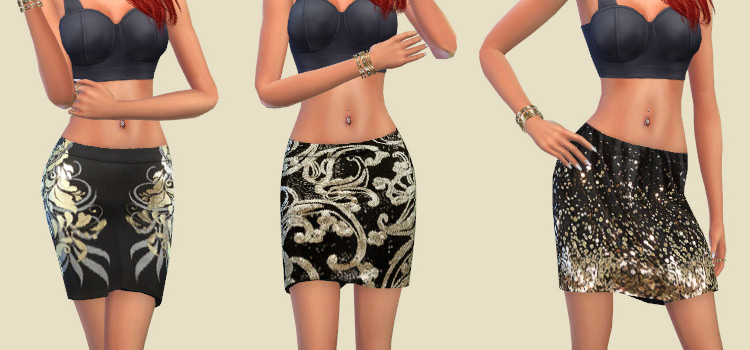 Long, short, pleated, A-line, pencil!
Whew.
And that's just some of the many options available when it comes to skirts. Honestly, what would we do without them?
Pants are great, but there's just something freeing about a nice, flowy skirt. And there's a decent collection of in-game skirts available.
But really, can you ever have too many options?
If you answered no (which was the right answer!), then we highly suggest checking out the CC skirt collection below.
1.

LSim Female Pleated Skirt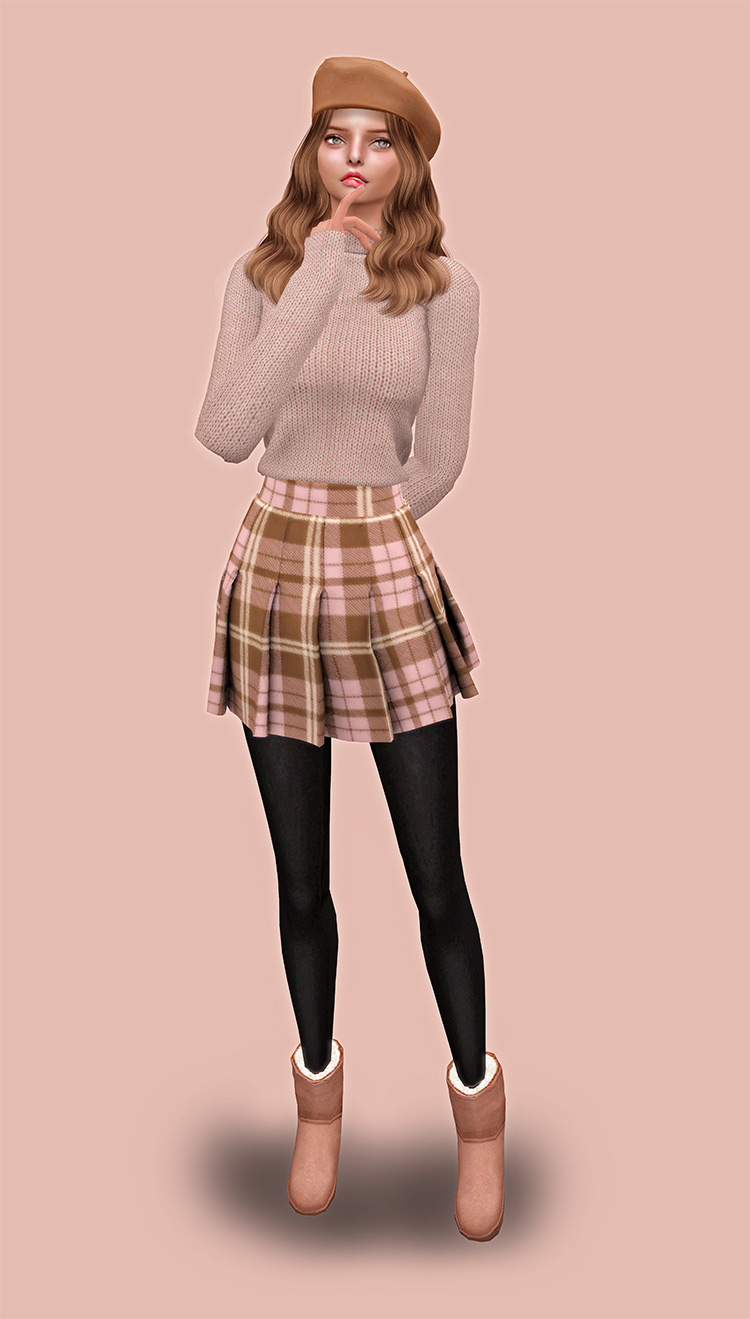 Need a new skirt for your school-aged Sims?
This pleated skirt from LSim is the perfect choice for a private school outfit.
It comes in 20 swatches, including 10 that feature plaid patterns.
This is a high quality skirt, but we think Simmers open to HQ CC will like it as much as Alpha players.
2.

Innocence Skirt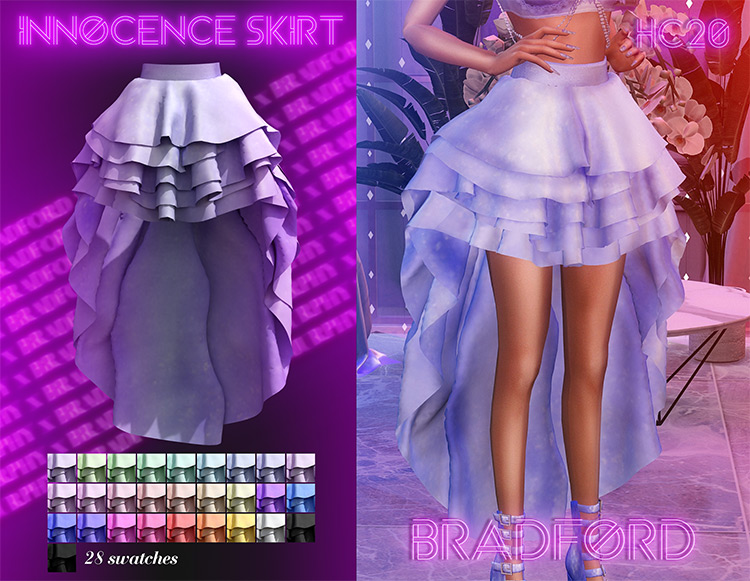 Innocent is definitely the right description of MurphySims' layered skirt.
So many ruffles on this one, plus two different lengths:
Short in the front with a mid-thigh hem, and a long ankle-length train in the back.
There's something very sweet and precious about this skirt. We can see Sims wearing this for their quinceaneras or even for prom.
It comes in 28 colors and is base game compatible.
3.

Jessica Skirt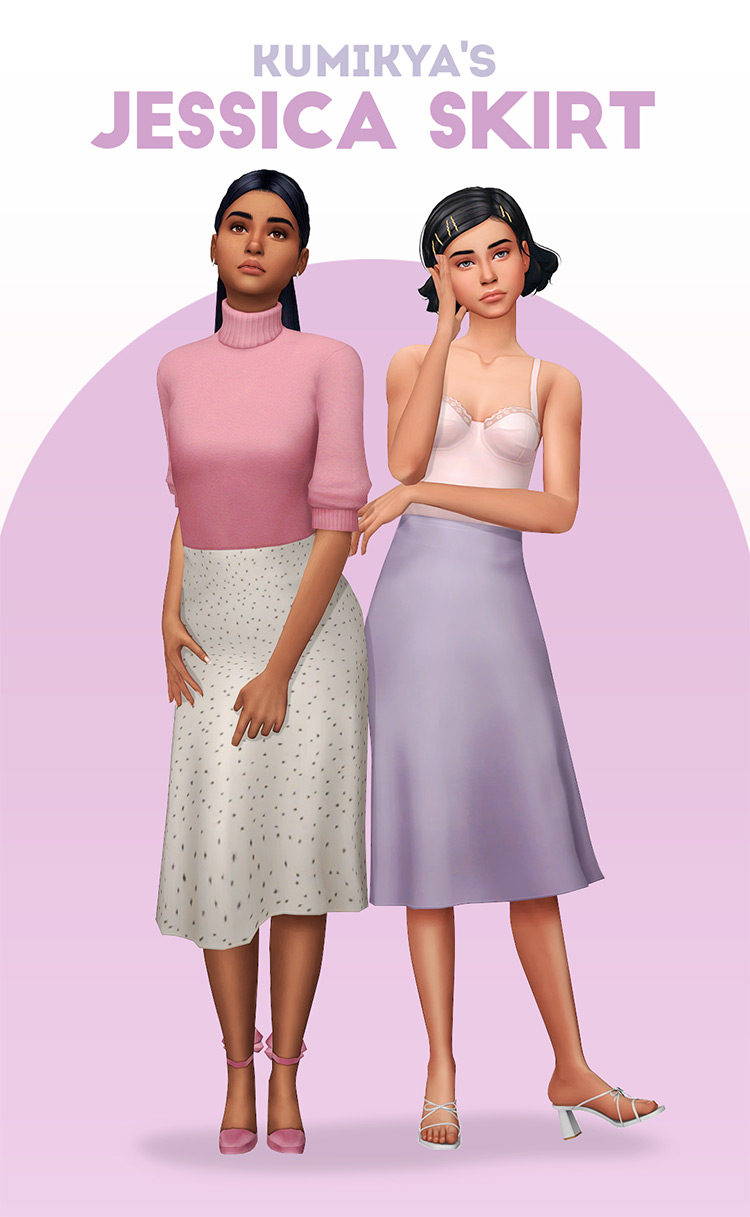 We're taking a sharp turn to the more subtle side with the Jessica skirt CC from Kumikya.
This A-line skirt is below the knee for modesty or just those who like long, flowy skirts. Out of the 8 swatches, there are two dot-patterned skirts that just look adorable.
These would be great for formal occasions like Spring Day or even Harvestfest.
And yay for base game compatibility.
4.

Lipa Skirt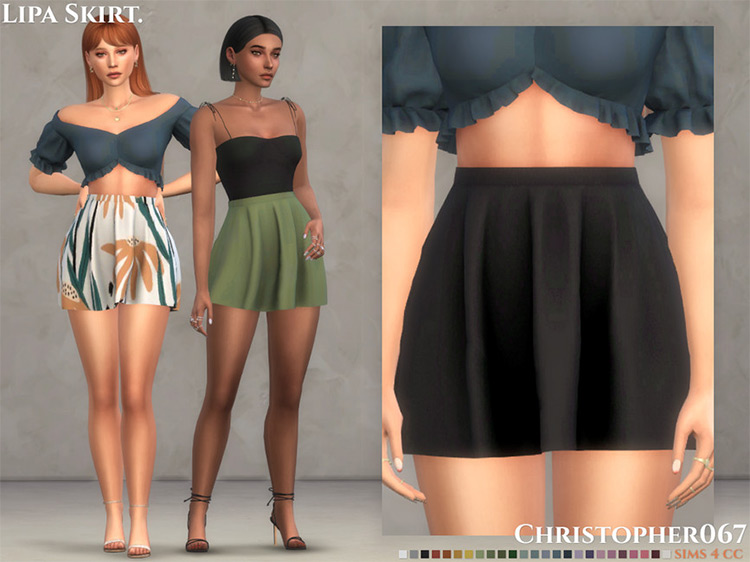 Christopher067 calls their Lipa skirt luxurious and flowy.
We totally agree.
It's not as easy as you'd think to find CC mini-skirts, so it already has that going for it.
Add in the slightly ruffled appearance and huge variation of colors and patterns (60 in all) and you have a skirt that your Sims will be wearing for in-game years to come.
We also love the tops shown in the photos. Thankfully, they're made by the same creator.
You can search for them here.
5.

Ciara Skirt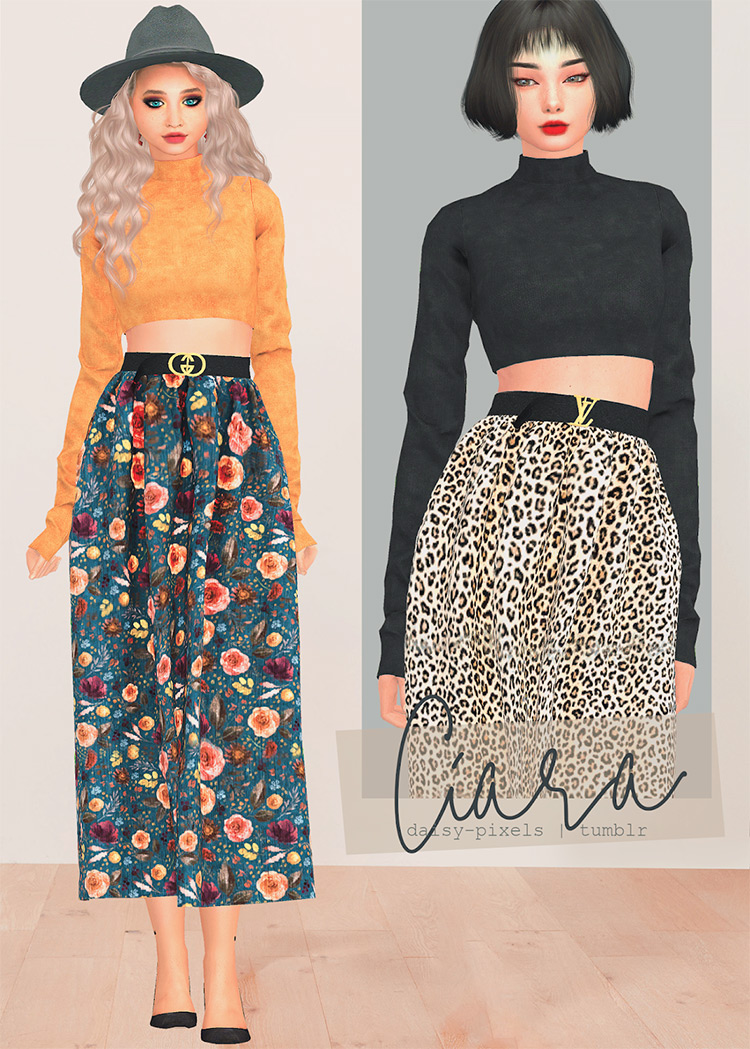 Technically, the Ciara skirt from DaisyPixels is part of a set that includes a top.
But the skirt is so unique that we have to give it some solo attention.
These super-long skirts come with so many different colors and patterns, you'll be mixing and matching for days.
There are 30 in all, plus it comes with some cute fashion label belts like Louis Vuitton, Gucci, and Yves Saint Laurent.
And if you decide to download the 35-swatch top, enjoy matching several shades with the skirt for a head-to-toe look.
6.

Satin Long Skirt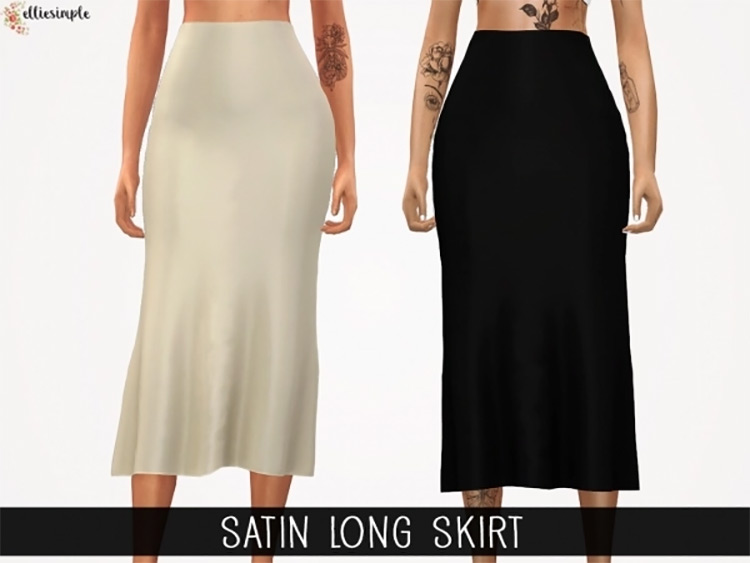 Sometimes less is more.
This long satin skirt from EllieSims gives the classic long skirt silhouette without any distracting additions. The texture is very shiny too, and actually looks like satin without being too high quality.
It's a solid choice for a low-key formal event or a more upscale gathering. Choose from 9 swatches in total, including a really bold bright green and pastel blue.
7.

Anne Skirt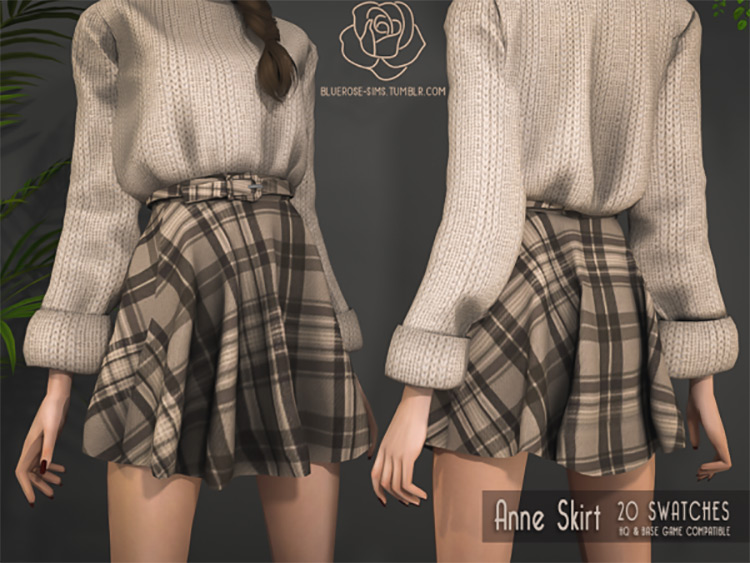 Plaid, ruffled, and belted.
What's not to love about the Anne skirt?
BRSIms' creation is so cute that we can't take it. It's on the shorter side, but you can pair with a sweater, stockings, and boots to tone things down.
This base-game compatible skirt has 20 plaid swatches too.
P.S. – The sweater shown in the photo? You can get that here.
8.

Nylah Skirt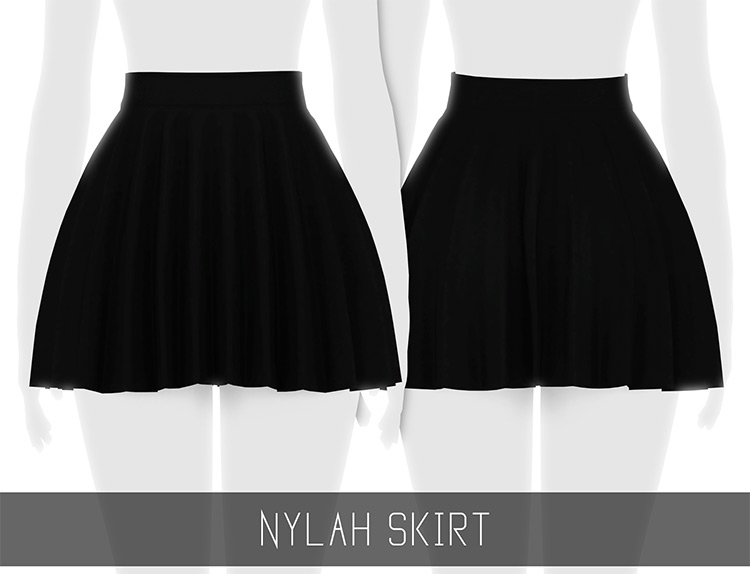 The Nylah Skirt is bell-shaped, lovely looking, and will especially flatter a more curvaceous Sim's figure.
We'd call creator Simpliciaty's skirt a good middle ground between mini and mid-thigh length.
It could also double as a tennis skirt. Some of the 20 swatches have little accessories like patterned belts, while others are belt-free.
It's HQ and base-game compatible as well.
9.

Orchard Skirt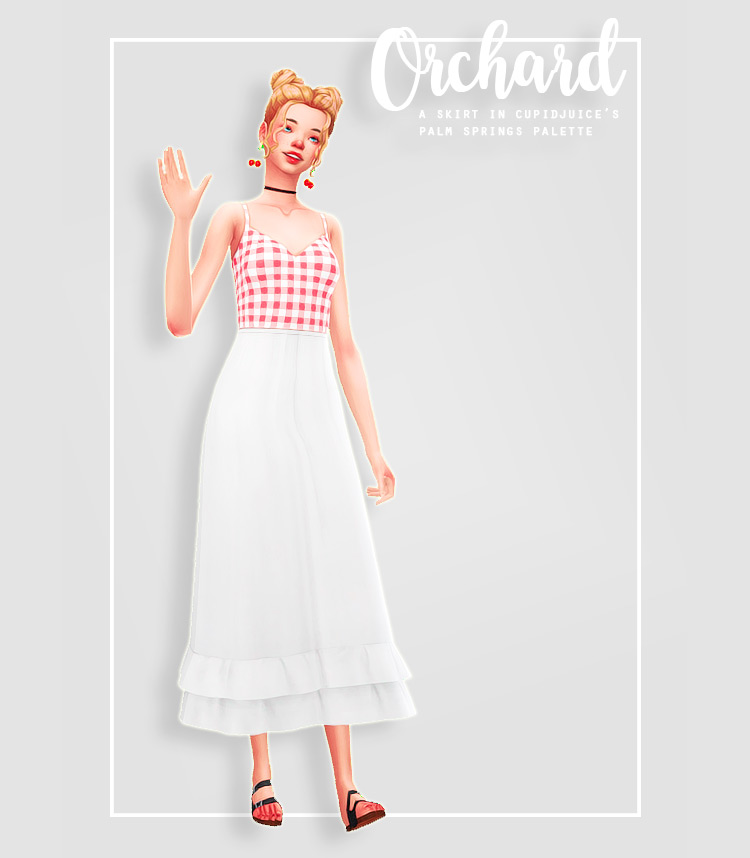 With Cottage Living, we're dying for more farm-friendly outfits. And here's a great addition to your rural Sim's closets!
LoveExpansion's Orchard skirt is long, flowy, and has two layers of ruffles at the bottom.
And while it's shown in white, there are other swatches not mentioned based on creator CupidJuice's CC palette.
You only need the base game to download this one, too.
10.

Nahia Skirt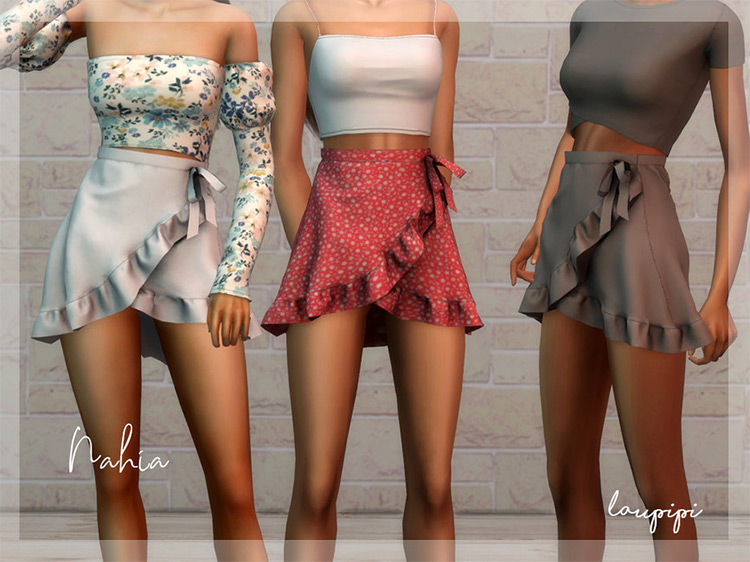 This skirt from Laupipi has everything:
Wraps, ruffles, bows, and patterns.
It's just a super-fun look for your more fashion-adventurous Sims.
We can never get enough of base-game compatible CC, plus the 24 swatches will give you lots of room to play around with.
11.

Tied Wrap Skirt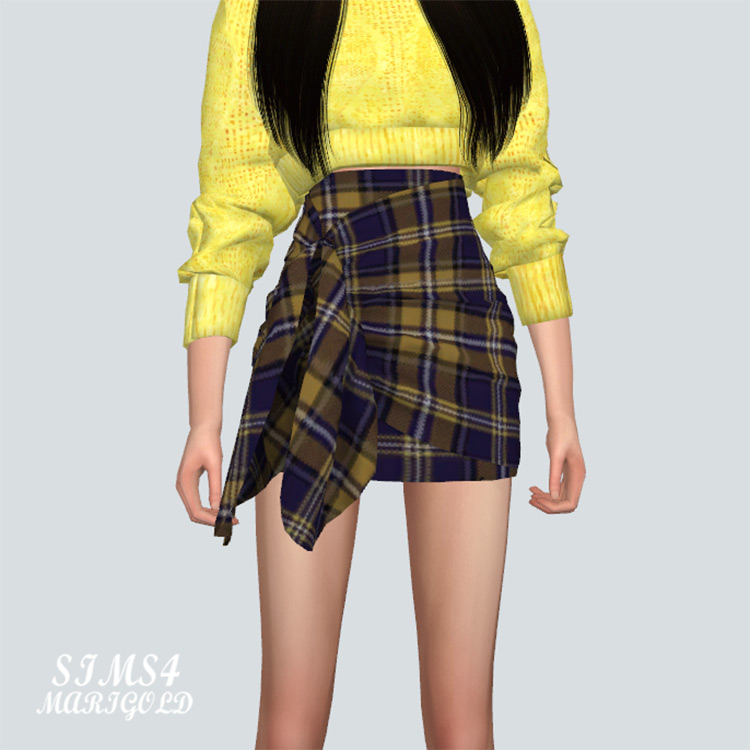 A DIY-skirt gone right.
We're not sure if Sims4Marigold intended for their skirt to look like the winner of a fashion reality show mini-challenge. But it definitely seems like a crafty Sim took extra fabric and made it into a high-fashion look.
The loosely tied knot actually works with the look instead of taking away from it.
There's also a crazy high variety of colors and looks. The ones in the photo are plaid, but you can also download a solid color version too.
12.

Shadow Skirt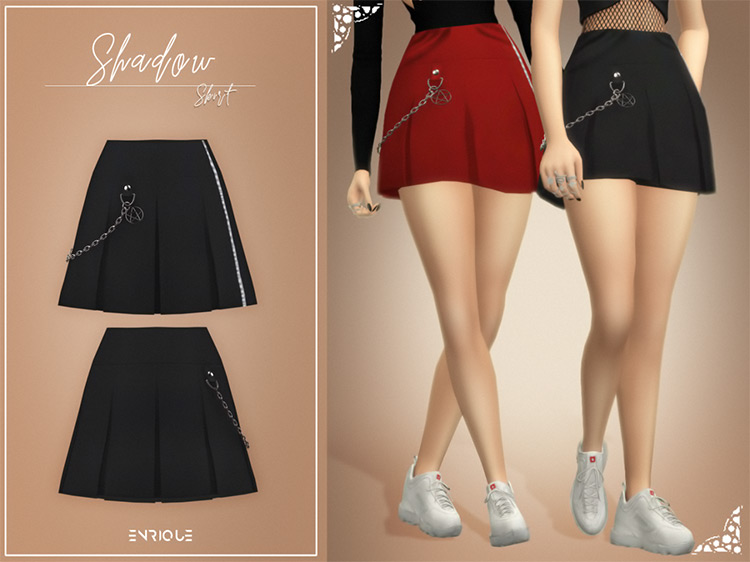 The 1990s will never go out of style.
And this shadow skirt from EnriqueSims4 proves it with this '90's-licious belted skirt.
It has some light pleating to it, but not too much, so as to not look like a school uniform. We also adore the pentagram logo attached to the chain.
Definitely giving off major goth vibes (Nancy from The Craft would love it).
There's 25 colors using Ayoshi's color palette and you can dress up Teens through Elders with this.
Plus if you're looking for even more 90s looks then check out our CC list for that decade.
13.

Strawberry Soho Skirt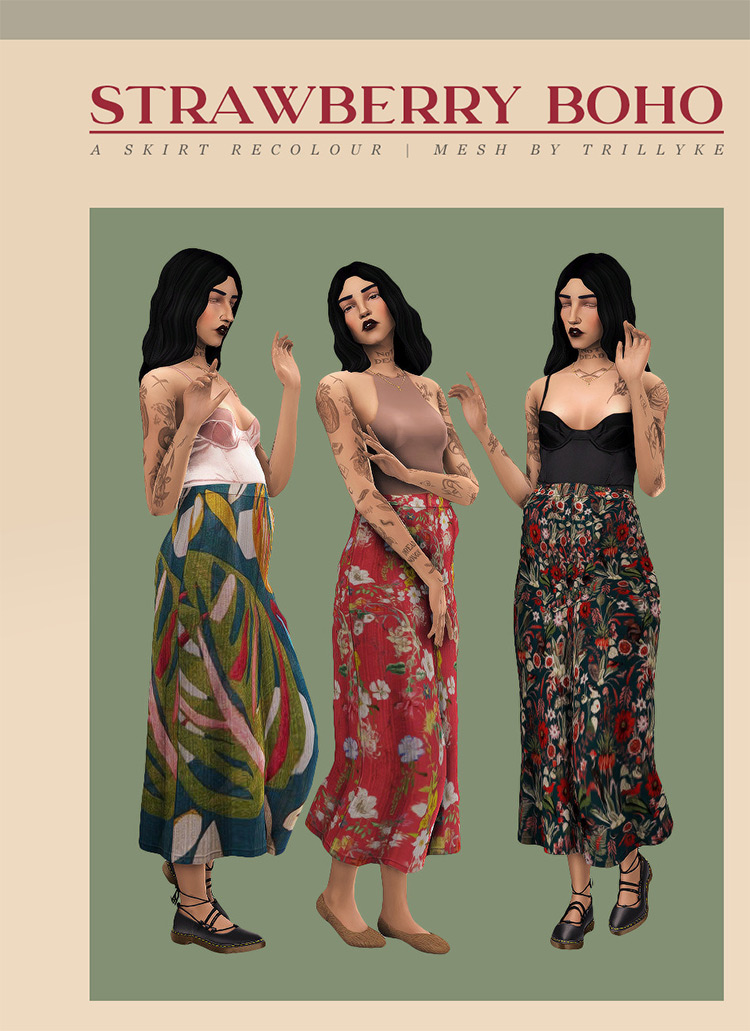 Long, patterned, and Maxis-Match compatible. We've got it all right here.
Creator HagSims wanted more long, MM-friendly skirts, but got tired of waiting on EA to include them in new packs.
So they took it into their own hands and created the Strawberry Soho skirt. These ankle-length skirts have a ton of different patterns including floral, striped, and more.
It also requires a mesh from Trillyke, which you can download here.
14.

Checkmate Cargo Skirt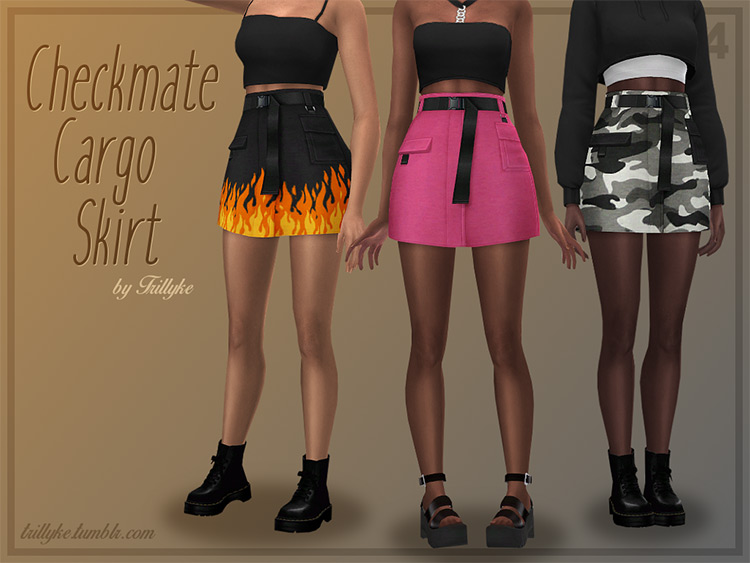 Speaking of Trillyke, they're featured here on our list with the Checkmate Cargo skirt CC.
What sets this skirt apart is the vast swatch options:
You've got a ton of solid colors that are everyday friendly. But there's also some bold colors and designs, including flames.
Or do you want a truly over the top look?
There's also camo, checkered print, and even a few animal prints.
We've got 30 swatches in all, and it's base-game friendly.
15.

S4 Simple Flare Skirt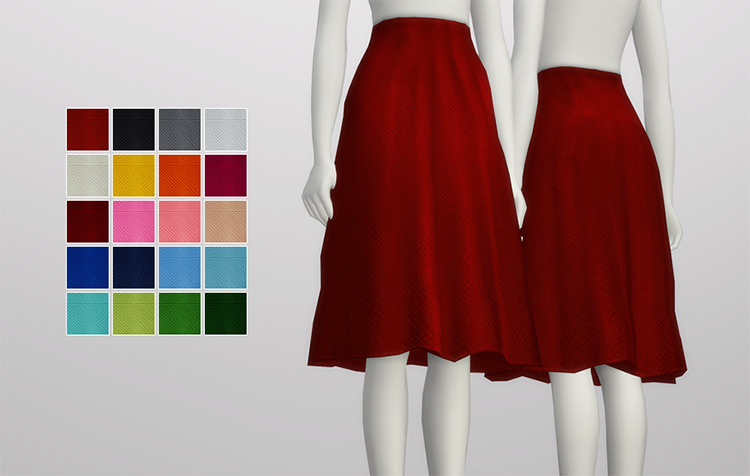 The knee-length skirt is a criminally underrated length.
You don't have to worry about tugging at your rising skirt, or worry about the fabric dragging too close to the grown.
It's personally my favorite length IRL. And if you need some for your game, Rusty's flair skirt is for you.
This 20-swatch skirt has some light ruffling at the bottom for a cute silhouette. It's a good balance between HQ and Maxis-Match, and Teens and up can wear it.
16.

Shena Mini Skirt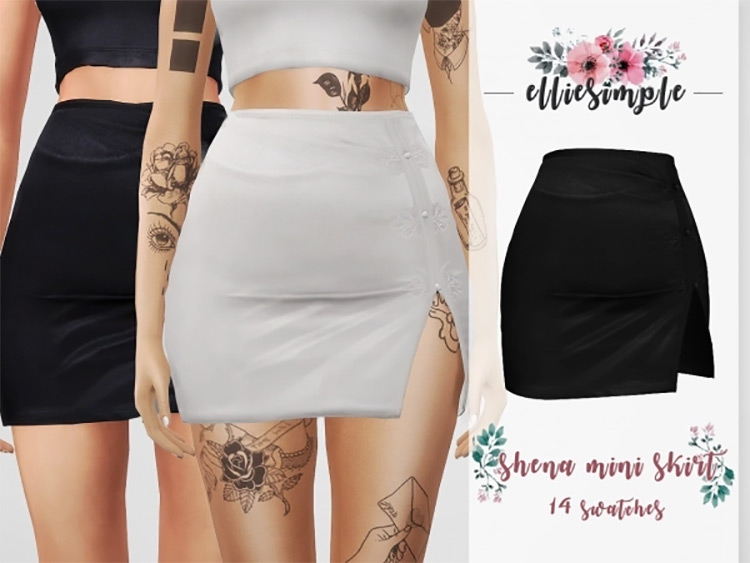 We've got another mini-skirt to share!
It's another from EllieSimple with a not-so-simple design (and we mean that in a good way!)
Because this isn't your ordinary mini-skirt:
It comes with a small slit at the thigh, and a textured flower design on either side of buttons. We love all 14 colors, but the standouts are the pink and white swatches.
17.

Midi Pleated Skirt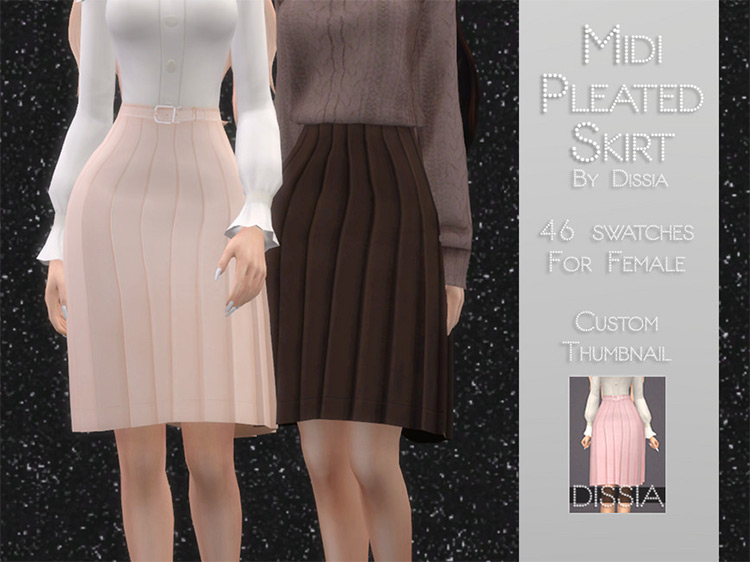 When it comes to careers, it's just as important to look the part as it is to have experience.
If your business Sim's wardrobe needs refreshing, try Dissia's Midi pleated skirt.
It has a tasteful above-the-knee length and pairs well with blouses and button up shirts. We could also see teachers, lawyers (for those who own University), and other professionals wearing it, too.
Not only are there 43 swatches, but there's also two other versions of the same dress in short and long.
18.

Ribbon Ballerina Skirt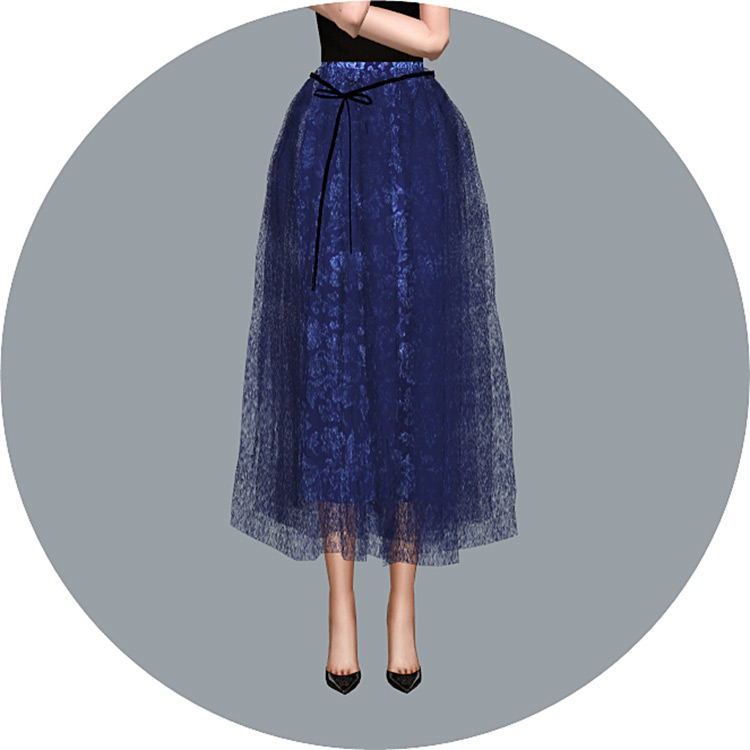 Anything ballerina-themed is an automatic yes for my CC folder.
Not unlike Sims4Marigold's last entry, there's something kind of homemade about this ribbon ballerina skirt.
Again, it looks like a budding fashionista made it on a whim. But it still very much works and is really adorable.
We're not quite sure what occasions this would work for. But then again, it can probably work whenever it strikes your Sim's fancy.
It's their world, after all.
(Well technically your world, but you get what I mean).
19.

Laila Skirt With Belt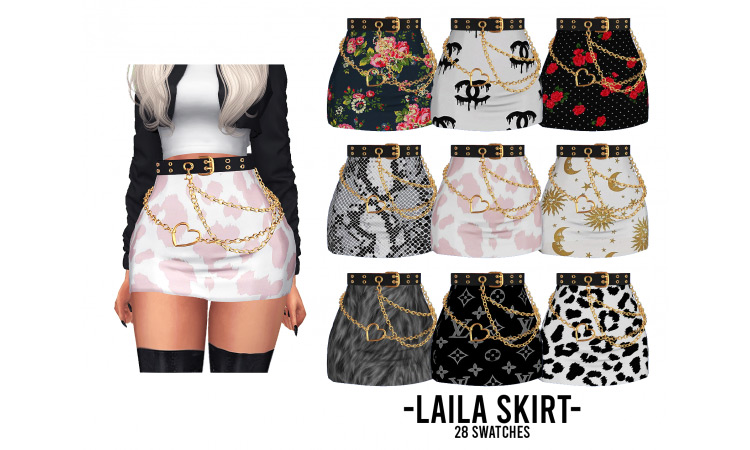 We've featured several belted skirts on this list, but this is the only one with gold, studs, and a ton of chains.
The Lalia skirt from KenzarSims pairs irreverent fun with fashion – and we love it.
There's at least two gold chains with a heart accent draped below a black and gold belt. It's a mini-skirt length with crazy patterns like a snake print, pink cow print, and 26 other swatches.
If your Sim wants to be the talk of the town, this is the way to go.
20.

Joanna Pleated Skirt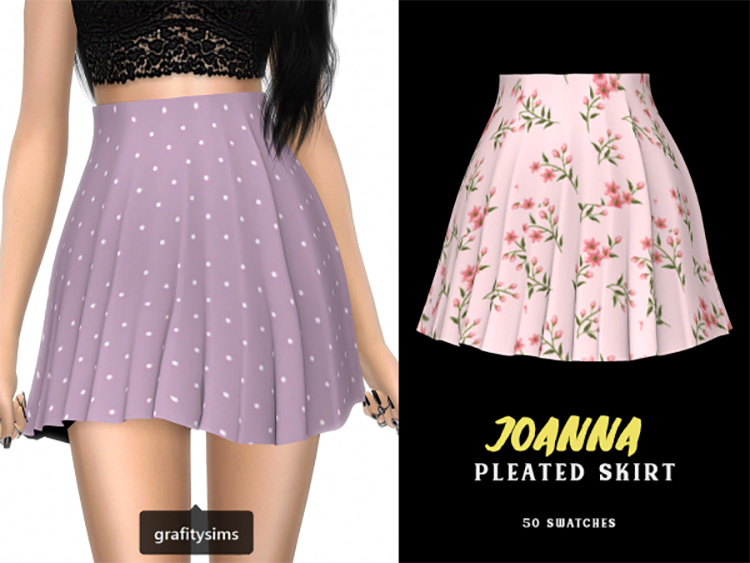 What makes Grafity's skirt so special?
Well, we could say it's the 50 swatch options that does it.
Or maybe it's some of the pretty patterns like the pink floral color.
It could even be the HQ look.
But mostly, we just think it's really pretty.
It's a great first-date option for Sims looking to keep things casual and cute. And you don't need any packs for it, either.
Browse:
Lists
The Sims 4
Video Games