Best Sims 4 Sleep Mask CC (For Guys & Girls)
This post may contain affiliate links. If you buy something we may get a small commission at no extra cost to you. (Learn more).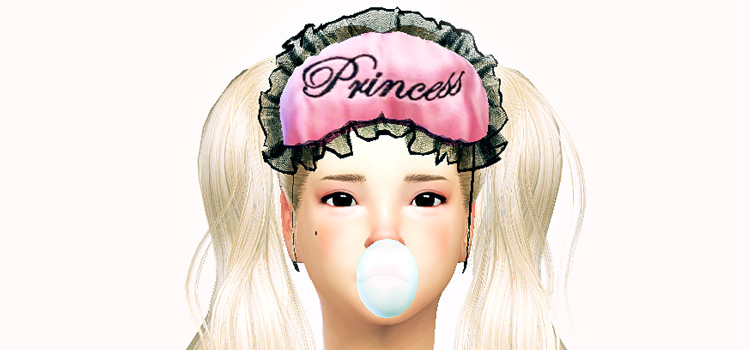 A perfect night's sleep consists of a comfy bed, soft sheets, a comforter to keep you warm, and the right temperature for eight hours. Mmm.. it truly is one of the most understated earthly delights a person can.
Same goes for your Sims, too.
Sleep masks can not only help shield your peepers from Mr. Sun, but can also help lull you to sleep anytime during the day as well. It can also shield you from seeing the monster under your bed, but that's for another conversation. Let's talk when you're ready.
In the world of The Sims, sleep masks are a decorative choice that can be used for storytelling purposes… or nothing at all. We won't tell you how to live your Sim life!
But if you want to give your Sim the real experience, check out these awesome CC sets.
8.

Sleep Mask
Simduction kicks off this list with two sleep masks that we're sure you've seen outside The Sims before.
First is a plain sleep mask that comes in 19 colors.
This is your garden variety cotton mask that looks like it was inspired by those that come in the free sleep kits you get on flights (remember flying?). This is for the Sim who takes sleeping seriously.
7.

Female Sleep Eye Mask
When your snob Sim spends every waking moment like a princess, they should damn well be asleep! After all, every princess needs her beauty rest.
Remind that even during sleep, they should bow down to your Sim's every whim with the Female Sleep Eye Mask CC created by Marigold. Its main material is satin with lace details.
What could be more delicate?
And this comes in 2 versions – one with the mask up to the forehead and one covering the eyes with 14 swatches each.
6.

Male Sleep Eye Mask
Who says only women can exude opulence and royalty?
Men are also worthy of silky, soft things. We say aye to gender equality!
Marigold has also created a male version of the princess eye mask, with the Male Sleep Eye Mask. It features the same elements as the previous mask, but with "Prince" embroidered in it. It also comes in 14 swatches, for both versions.
This won't emasculate your Sim. We promise!
5.

Spa Day Mud Masks Unlocked
Pampering yourself should not be a luxury or an occasional thing.
It's always important to make time and treat yo' self! If you're not yet sold on the idea of self-pampering, suit yourself… but why not give your Sim a chance to experience that?
Spa Day Mud Masks Unlocked by VentusMatt is technically not a sleep mask, but a face mask you put on when you sleep… so yeah!
This mod allows you to use the Spa Day expansion's mask outside the spa premises. This can be found under Make-Up = Face Paints. It also requires the Spa Day expansion.
Your Sim can now sleep with these babies on, deep cleansing their virtual skins overnight while at it.
4.

Sleep Mask Recolors
Statement shirts, who? Ooze some attitude even while snoring the house down.
GoldenMVMIII's Sleep Mask recolors are modified versions of the sleep mask by Marigold we had earlier in the list. They look pretty similar, but what makes these masks stand out are statements printed that will show you're totally of this generation.
With prints like "Team Angel", "Babygirl" and the new age's term for a fine-looking gentleman: "Daddy", your Sims will look hip during slumber parties or even just plain sleeping.
3.

Sleep Mask by Descargas
Variety is the spice of life, and for the Sim who wants a wealth of choices, this Sleep Mask CC created by Descargas Sims is for you!
It comes in 20 styles with 12 fun patterns and 8 plain satin ones.
Patterns include constellations, the phases of the moon, and closed lids with the print "I Woke Up Like This"… even though technically, you haven't!
But sorry men, you better hold onto your Prince masks because this one's only available for teen to elder female Sims.
2.

Acne Mask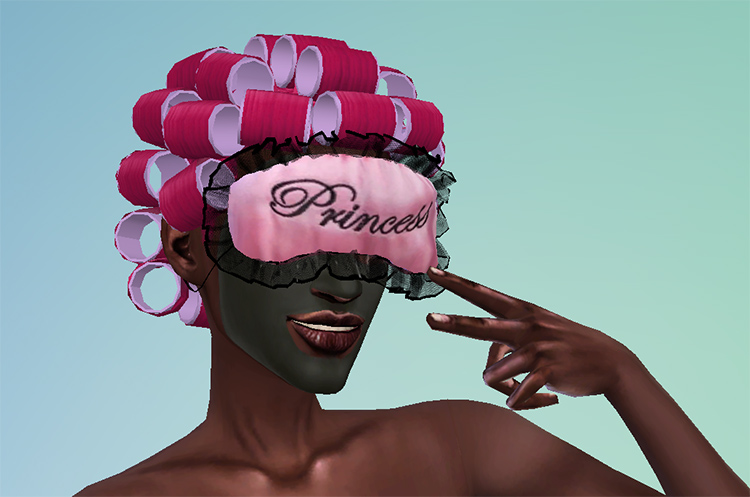 The existence of an acne mask CC in the world of Sims 4 is solid proof that acne transcends space and time.
With a few mods, you can give the Sim a truly human experience by giving them a few acne here and there. Those lucky Sims won't even know what hit them!
This Acne Mask by Daniabi also is an unlock of the Spa Day face mask, tweaked to make it a bit more realistic. It comes in 6 colors: olive green, black, clay, charcoal, mint, and white. If you take care of your skin, you would know how each of these variants feel!
If you have the Spa Day expansion, no need to sweat it. Cause you can use this without any problems.
Pair this with hair up in rollers, or a towel around the head for an authentic pamper day look.
1.

Breakfast At Tiffany's Hair and Sleep Mask
Is there a more iconic scene in cinema than Audrey Hepburn donning that little black dress, wearing a tiara, and peeping through the jewelry shop windows? We think not!
Sadly we can't give you that Givenchy black dress because it will cost an arm and leg, but we can give you another iconic item from the movie!
Be like Holly Golightly, fresh in the morning, with this Breakfast At Tiffany's Hair and Sleep Mask.
That sleep mask also undoubtedly started the sleeping eyes trend that you see in real life masks, and some of the items on this list too!
This CC set comes with the hair and the mask that Holly was wearing when she meets Paul in the movie.
Perfect when you want to use your Sims for storytelling and some role play!
Browse:
Lists
The Sims 4
Video Games