Sims 4 Sleeping Bag CC: The Ultimate Collection
This post may contain affiliate links. If you buy something we may get a small commission at no extra cost to you. (Learn more).
Why sleep in a bed when you can just use a cushy bag?
Honestly, when you think about the cost of a bed VS the cost of a sleeping bag, it makes you think…Sims don't have to worry about lumbar support or any of that.
The worst they'll get out of less than ideal conditions is a pesky temporary moodlet.
They're such whiners.
But in all seriousness, sleeping bags are super handy and comfortable for a night or two. Tons of people even get a blast of nostalgia, bring back memories of slumber parties and family camping trips.
Both of which were possible in past games, by the way.
In The Sims 4, however, if you want your Sim to hit the sack and actually use a sack, you must turn to CC.
1.

3t4 Camping Bags
If The Sims 4 ain't your first rodeo in this franchise, then you probably remember The Sims 3: Generations, which introduced sleeping bags for the first time.
It was the best of times, it was the worst of times.
That game is notoriously laggy on low end computers even to this day. But it's sure a lot of fun.
Not only that, but nearly every item that got added was something you'd get some use out of.
That's why tons of things have been converted over to The Sims 4, and these camping bags are the most relevant example.
And these are fairly simple as far as conversions go.
You'll get a decorative set to use as you wish for any time that you find yourself in need of bedding, but like, not good bedding.
One option is for the bag all rolled up and ready to be toted to the next adventure, and the other is where it's laid out. In its final form, as they say.
The texture of these is also flawless – you probably wouldn't be able to tell they're conversions at a glance.
2.

Snug As A Slug Functional Sleeping Bags
The previous CC set is great and will get the job done if all you want is some decorative pieces.
But these sleeping bags from Pikypikachu will expand your game in whole new ways since they're fully functional.
Yes, you're reading that right.
The days of having your Sim sleep on the side of the road or outside a public place are back! And of course, these work great for the normal uses like camping trips and whatnot.
But in this game, such an object will definitely come in handy in ways you don't expect.
Back in The Sims 3, this thing fully carried my Sims through exploring the pyramids.
You have a whole new world of adventures to explore in The Sims 4 with this sleeping bag on hand.
It's actually completely different from the converted version, too. This creator went through all the effort of creating a whole new mesh based off a bed.
That's why Sims can actually sleep in it, I'm assuming.
It's usable for both adult and child Sims, so just think of all the possibilities!
I don't think we will ever officially get sleeping bags if they didn't come with Outdoor Retreat – so this is one of those game changing creations.
3.

Sleeping Bags & Poses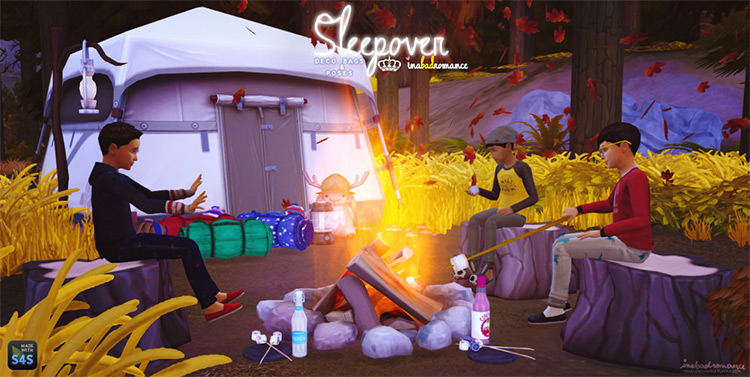 Spending the night with friends is a big deal for kids.
The context doesn't even matter much. Whether it's camping or a sleepover, they're just happy to be together outside of school!
We all know how chaotic that can get, though.
Even in The Sims, kids will be kids, which is sometimes rather unfortunate.
You don't want them running amuck and ruining the fun you had planned.
They're not like elders who might die at the drop of the hat, but guests still have a tendency to do whatever they want regardless of age.
The great thing is that these sleeping bags even come with poses so you can get the kiddos in the sleeping bags, and keep them there until you're done.
You'll have 6 total to choose from here: three where they're asleep, and three where they're awake.
The bags have a great realistic texture too, plus 11 modern swatches.
4.

Soloriya's Sleeping Bag
I think most families have an old tent in the garage somewhere.
Every generation has their moment sleeping beneath the open sky, or at least they want to.
Ghost stories may get to them before the night's through, but at least a tent and a sleeping bag almost always go hand in hand.
This rolled up bag from Soloriya will be a good decorative item anywhere you want to use clutter, like garages, attics, sheds, closets, or even shelves if you know your way around some cheats.
These have a very believable fabric texture too, and even come with a carrying handle for your Sim's hypothetical adventures.
5.

Snug Slug Sleeping Bag Recolor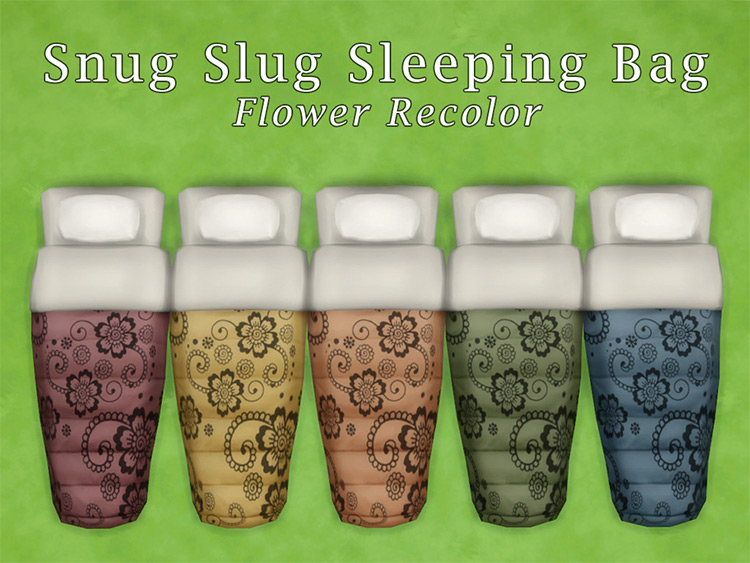 Seeing as how Pikypikachu's functional sleeping bag is one of the most awesome and widely appreciated buyable objects to ever grace the game, it should come as no surprise that there are recolors.
Everyone has their own tastes and style.
And in this game, everything should be exactly as you want it.
CC makers should adopt Burger King's "have it your way" motto, since they're always so attentive to what other players want.
MusiLizzy has expanded upon the original creator's swatches, now including some flowery patterns as well as plenty of new solids.
Some are light and almost pastel like shades of pink and purple. But there are plenty of beautiful dark blue swatches as well, and even a black one.
Browse:
Lists
The Sims 4
Video Games