Sims 4: Princess Aurora & Sleeping Beauty CC
This post may contain affiliate links. If you buy something we may get a small commission at no extra cost to you. (Learn more).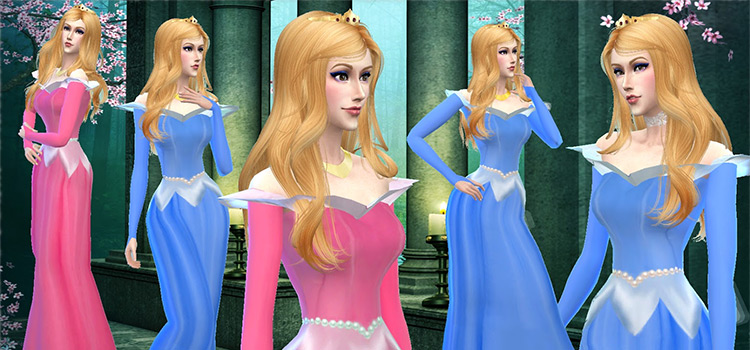 Is it just me, or has the popularity of the name Aurora exploded out of nowhere?
Don't get me wrong, it's a beautiful name, I'm just curious what inspired it.
Aurora is our sleepy princess and Sleeping Beauty is the root of my fear of bramble bushes. Someone should have told those animators to chill out a bit.
Sleeping beauty is also the fourth generation in the Sims 4 Disney Princess Challenge. If you've never heard of it before, it's a fun way to change up your gameplay. You play through ten generations of sims and each new generation comes with a set of rules associated with a Disney Princess.
Aurora's rules start when she turns into a young adult. The guidelines are that she must have the lazy trait, can only have three or less friends, she can only meet the love of her life at night and her parents must be asleep, she must elope with her love, and she can only have a maximum of two children.
Easy, right?
So grab all the items here and jump right into the princess challenge!
1.

Aurora Hair
I love that this creator captured the spiral curls at the ends of Aurora's hair. So gorgeous.
Whether you want to go more modern or commit to the full Aurora getup for your sim, this hairstyle is a perfect recreation of our princesses bouncy stylish hairdo.
There is an option to download her black hairband, too.
2.

WINGS OS0203 Hair (Alpha CC)
If you like Alpha CC more than Maxis Match, this is a great alternative for Aurora's hair.
I actually ended up using this hair more often than I expected after I downloaded it for my princess challenge.
This hairstyle comes in seventeen different colors, including some fun shades as well as traditional, and of course the dusty blonde color that Aurora has.
3.

Aurora Dress
The dress. The one the fairies fought over, the one our princess danced the night away in, and the one from my favorite scene in Sleeping Beauty.
You have your choice of pink, blue, or a beautiful gradient of both… plus seven other colors to choose from.
This gown is available for age groups between teen and elder.
4.

Aurora Wedding Dress
Have your sim get married in style with this wonderfully stunning white gown accented with gold.
You may recognize the style as the dress from Aurora's dance with the prince, and while this dress does also come in the pink and blue we know and love, the colors will only apply to the intricate design on the shoulders, hips, and bust.
5.

Aurora Set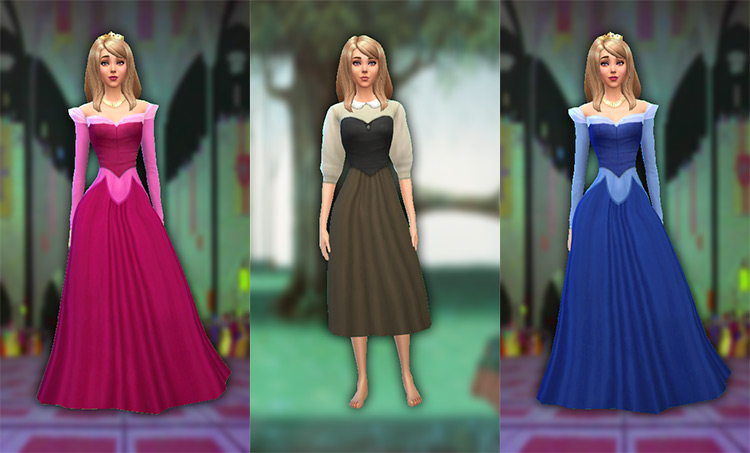 While this set comes with a more saturated, pleated version of Aurora's dress, the real winner is the Briar Rose outfit.
The dress does need Dine Out to work, which you will also want if you want to get the most out of the previous generation's gameplay in the princess challenge which features the hardworking Tiana.
6.

Christy Flats
I think we all know that shoes can make or break a look, and these shoes will totally make your Briar Rose look for our girl Aurora.
I actually own a pair like these in real life, and they are deceptively comfy.
Pop these babies on, walk through the woods, and then sing to some birds while you're at it. Just don't forget your basket.
7.

Sleeping Beauty Inspired Gown & Crown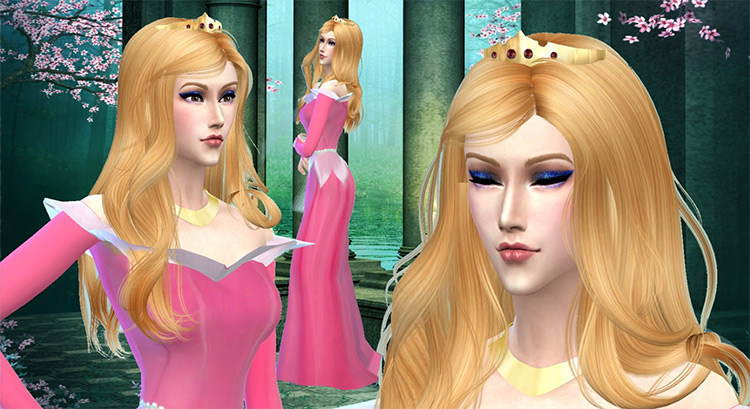 How can you be a princess without a crown? That's just no fun.
Here's a cute CC recreation of the crown from Sleeping Beauty.
You can also find a link on this page for a recolored necklace that perfectly matches the crown and Aurora's jewelry from the movie.
8.

Aurora and Philip Casual Set
Here we have a more Maxis Match friendly version of Briar Rose's outfit as well as an outfit for our charming Prince Phillip.
Since both outfits seem to be different colors based on which scene you watch, there are several swatches available for both outfits to reflect all the color speculations.
Prince Phillip's outfit comes as a shirt, leggings, and a skirt, so mix and match until you find your favorite look.
9.

Cersei Lannister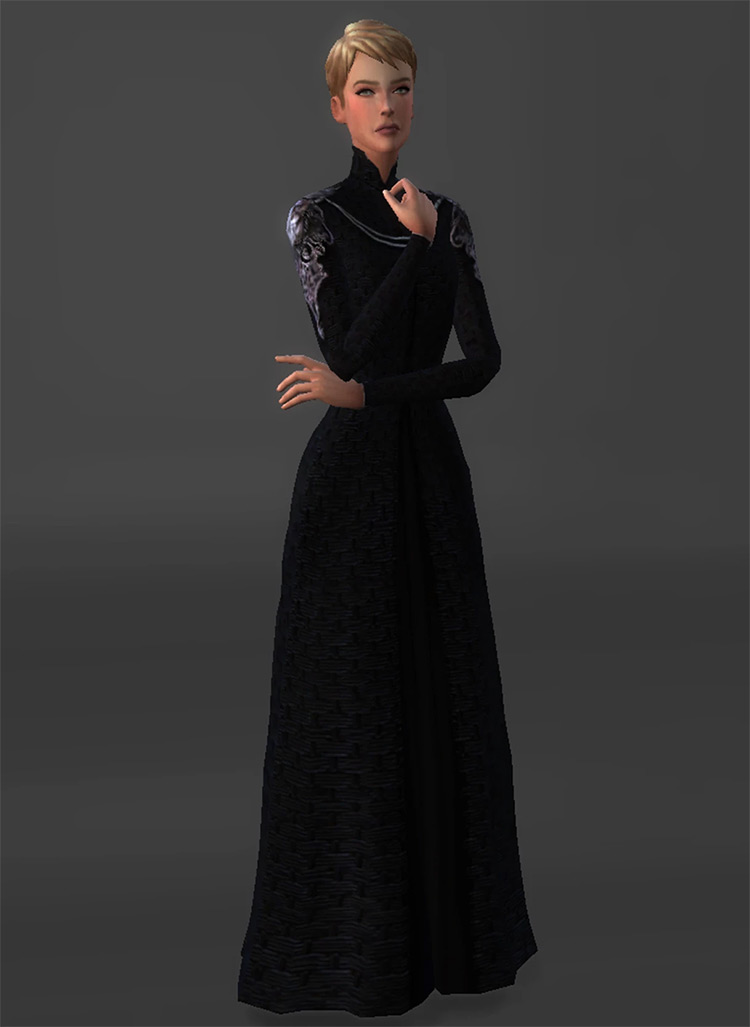 Okay, I bet you didn't expect to see a Game of Thrones name on this list.
It turns out Maleficent and Cersei happen to have a similar taste when it comes to outfits that scream 'power'. That and protecting their family, if you consider the Maleficent movies to be canon.
This dominating dress is the perfect look for your evil (or cautiously endearing) Maleficent, just add some horns.
10.

Aurora Designer Dress
I am floored by this incredibly stunning, one of a kind gown designed by Miss S.
The detail on the skirt makes it look like it shines and the design on the sides of the top fit perfectly in with the Sleeping Beauty theme.
Along with this gorgeous gown you also have the option to download a beautifully designed crown, which was originally designed for Ariel.
11.

Esmeralda Hairband Accessory
If you choose to go for a more Alpha CC look, or just want to go with a base game hairstyle, you're going to need a little something to complete Briar Rose's look.
What's that little something?
A hair band, of course! An important part to our princesses signature look.
This hair band comes in twenty-four colors, but the lovely Briar Rose will of course only need black. I like to stick to neutral tones too, princess.
You can find this accessory under the hats section.
12.

Warmth: A Cloak Conversion by Valhallan
The perfect furred cloak for your villain/godmother and also a perfect cloak for our beloved Prince Phillip. The ultimate combo!
This multi-use cloak comes in twenty-eight colors, so feel free to grab one of the many shades of black to use with the Briar Rose outfit when your sim is out and about, which of course will be at night if you're playing by the rules.
13.

Maleficent CC
Looking for more villainess vibes instead of a dangerous yet helpful godmother?
Here is the iconic outfit based on the original Sleeping Beauty movie.
This CC link includes Maleficent's cloak, dress, and her horns all styled after the 1959 hit movie.
Browse:
Disney
Lists
The Sims 4
Video Games