Sims 4 Sleeve Tattoos CC (Guys + Girls)
This post may contain affiliate links. If you buy something we may get a small commission at no extra cost to you. (Learn more).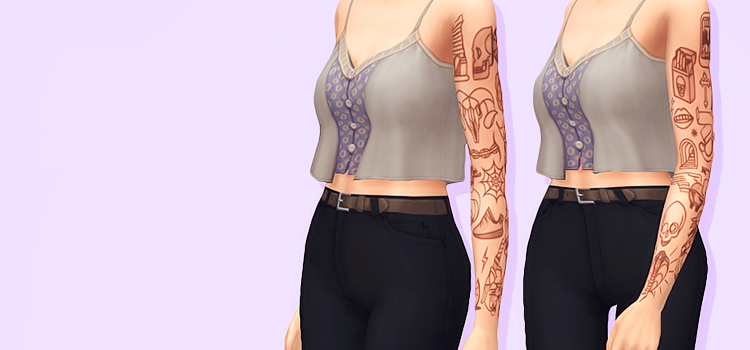 As someone who is fascinated by tattoos (but too scared to get one IRL), my Sims will always be sporting some ink.
From full-color back tattoos to tiny little wrist tattoos, I like to live vicariously through my Sims.
And I'm sure I'm not the only one.
If you can't find the right tattoo you'd like your Sims to have in vanilla CAS, then here's a bunch of custom full-sleeve tattoos you can download and slap onto your Sims' virtual bodies.
1.

Tribal Sleeve Tattoos? by Kitty259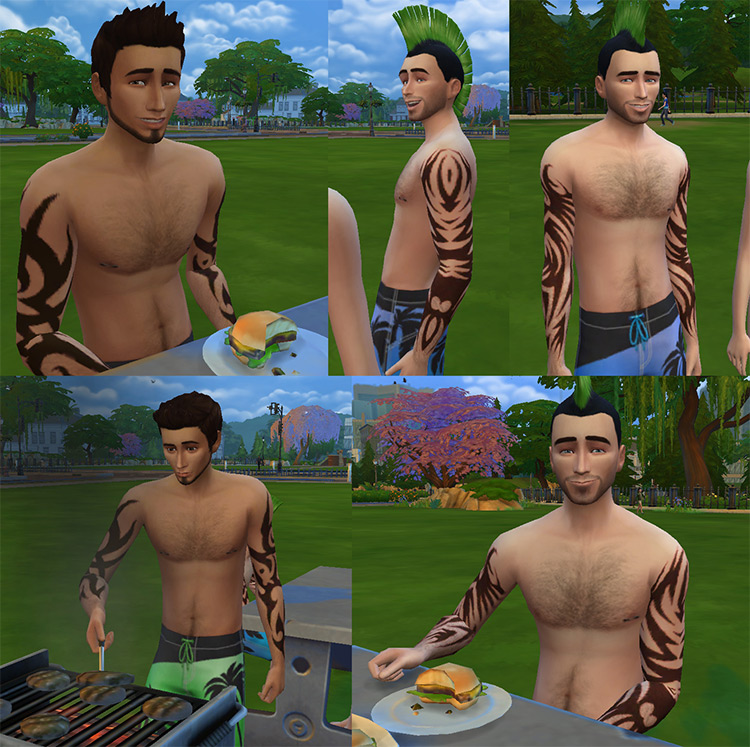 These Tribal Sleeve Tattoos could actually pass off as base game tattoos.
Everything about them, from the boldness of the lines to the specific designs, looks like something EA made.
Even the way they sit on the Sims' arms looks natural. Or, you know; natural for a computer simulation game.
There are seven total designs in one .package file, and there are separate .package files for the left arm and the right arm.
You can actually mix and match the designs in this set, which gives you a fairly decent level of customization and variety.
The thick, swooping lines may not come off as immensely detailed as some of the other custom tattoos on this list. But they're plenty majestic.
Highly recommend if you prefer bolder tats for your Sims, or if you're looking for a Maxis Match sleeve tattoo.
2.

SimmieV Celtic Left Arm Tattoos by SimmieV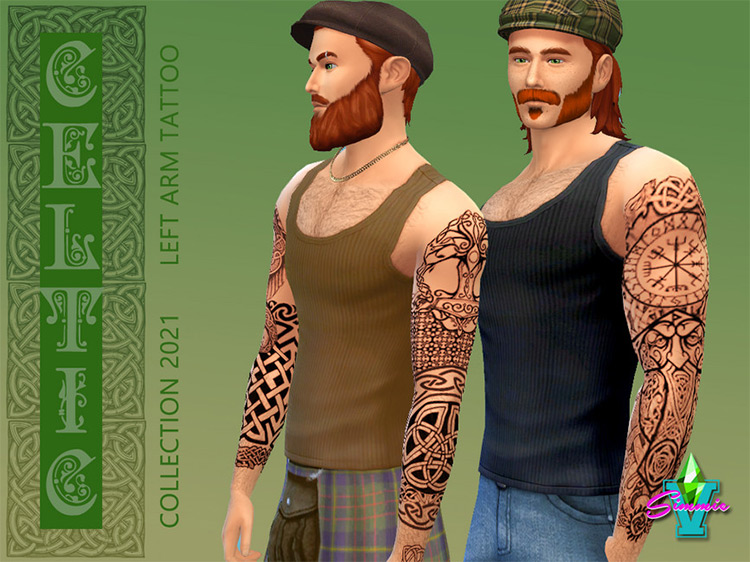 The tattoos in this set strike the perfect balance between big, bold, and detailed.
It's a good combination of thick lines and large symbols offset by minimalist shading and smaller, more minute details.
I'm not sure how accurate the designs are in terms of being authentically Celtic.
But I can say with one hundred percent confidence that all 8 of them are hella cool.
This CC can only be worn on the left arm (unlike what's shown in the preview photo), but I think a single sleeve is enough to showcase the tattoos' visual appeal.
My personal favorites include the fifth swatch (with the fairly complicated woven elements) and the eighth swatch.
The eight swatch uses a lot of symmetrical circles, sort of like clockwork, but with no actual clocks involved.
3.

Tattoo 1804 by –Merci–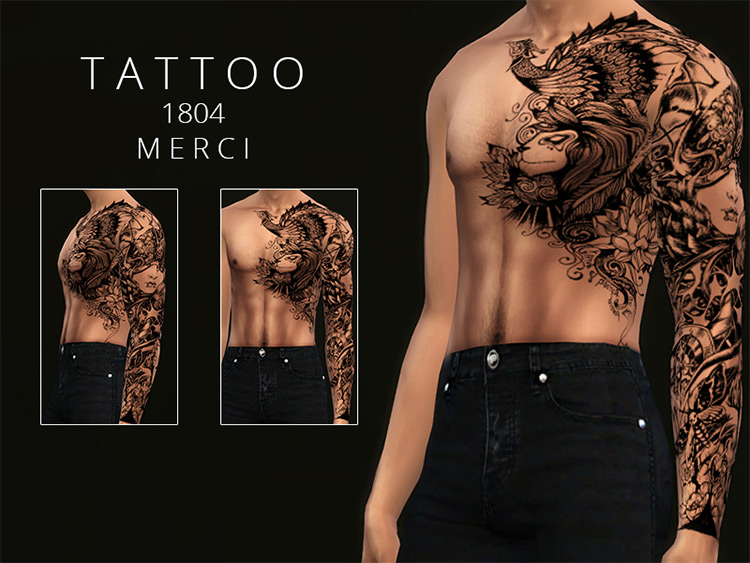 This one's pretty intimidating, but sometimes that's what you want from a tattoo: intricate, incredibly detailed, and containing at least a dozen intertwined elements.
Last I checked, I spotted half a woman's face, a peacock, and a pretty fancy-looking lion. You might spot more.
Point is, the design element here is ten for ten.
The sleeve takes up the whole arm, and a decent amount of the chest, without looking warped or messy.
It also sits on the Sims' body pretty naturally (again, with respect to what counts as "natural" for TS4).
And since it's the kind of tattoo that covers up so much skin, your Sim can wander around shirtless with nothing but the tat up top and not look obscene.
4.

"Alice in Wonderland" Tattoos by Oliver.Oks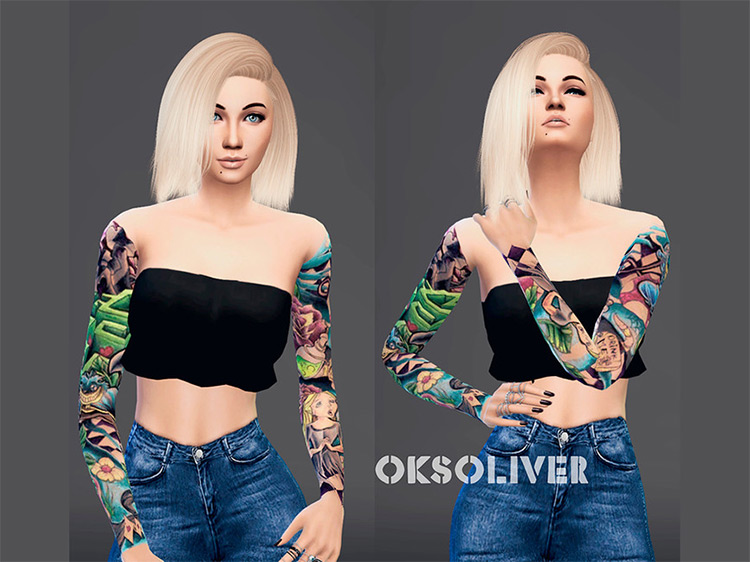 Honestly, this is a tattoo I would probably get if I didn't have the pain tolerance of a toddler.
I love the Alice in Wonderland aesthetic.
There's just something about the visuals (vibrant, colorful, and ever-so-slightly warped) that appeal to me.
I think the creator did a great job interpreting the theme into a wearable tattoo, and the tattoo itself looks excellent in-game.
The colors blend onto the skin pretty well, the design fits on different Sim sizes (I tried it on my Sim with beefier arms and it looked just fine), and the eye candy factor is just off the charts.
It's a bit of a shame that we only get one swatch for this theme, because I think a Red Queen tattoo would make for an awesome matched concept – but hey. It's a great custom tattoo that I'm getting for free so I'm not about to complain.
5.

Spooky Tattoo Sleeves by sirenglow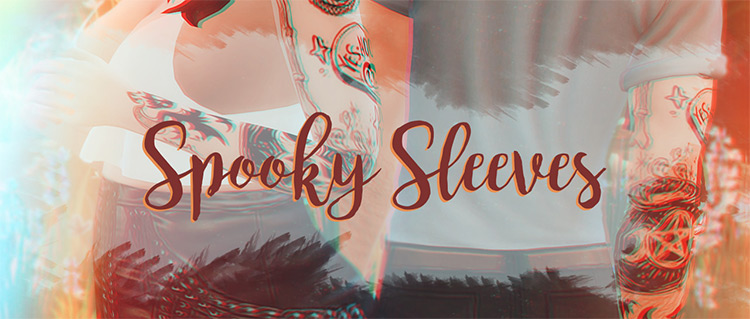 This is sirenglow's first custom content for TS4, and it's honestly pretty solid.
The tattoos look excellent in-game, and the second swatch with the Simlish-translated Ouija planchette is a nice touch.
So there are two variations of the tattoo sleeve.
Both designs are virtually the same.
The only difference is that the first swatch has a planchette (the teardrop-shaped item used with Ouija boards) with the words Yes and No written on it in plain English.
The second swatch has the same planchette (design, position, everything) only with Simlish characters on it.
It's a neat little detail that works well with the overall theme.
I will say that, unlike the other tattoo sleeves on this list, the elements of this sleeve don't intertwine or merge as seamlessly with each.
For that reason, it doesn't look as cohesive as some might like.
Still, the visual is overall stunning, and so is the quality.
6.

Cute Female Tattoo by Oliver.Oks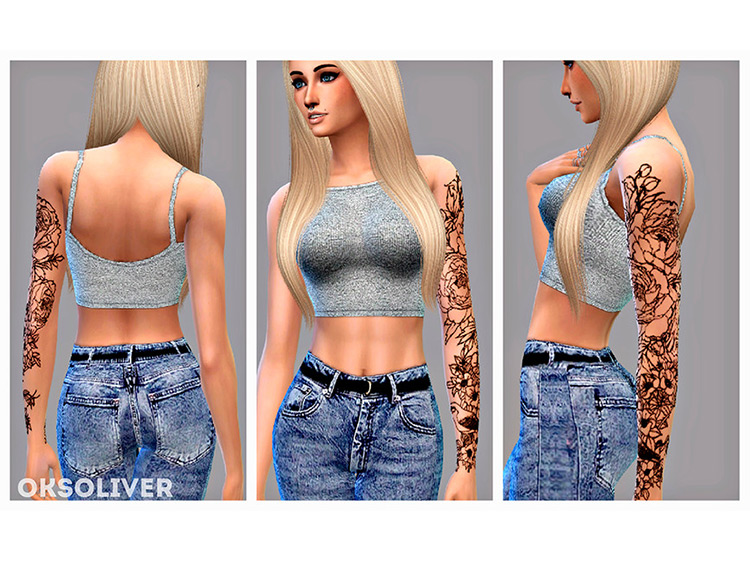 This tattoo makes me think of a beautiful ink drawing.
I dunno; there's just something about how crisp and neat and painstaking the lines are. The attention to detail is definitely there, and each element blends in with the next one quite beautifully.
I also think it looks good as a single-sleeve mod, so making it available only for the left arm was a good call.
At first, the lack of shading to denote depth and dimension was a little off-putting.
I'm used to bigger tattoos with distinct images using a contrast of thin and thick lines to emphasize different parts of the tat.
However, the more I saw it on my Sim, the more I got used to it.
It's a little unusual, for sure. But that's not a bad thing.
And like I said, it's just plain gorgeous. It seriously fits the typical "feminine" theme.
7.

Tattoos Full Sleeves (4 Styles) by kasandro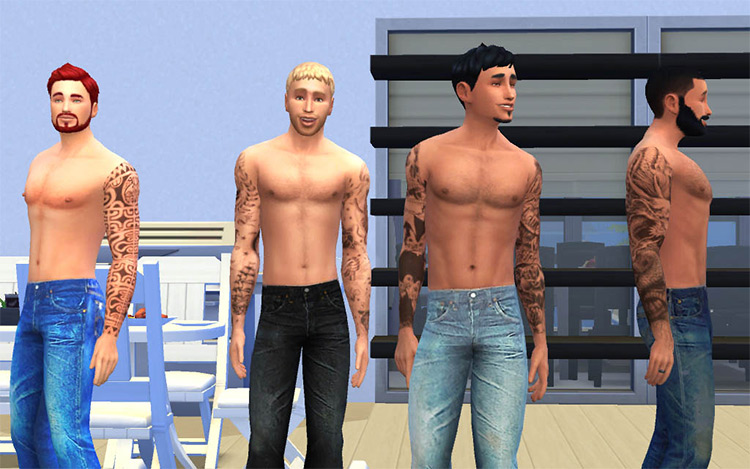 Here's what's so cool about kasandro's Tattoos Full Sleeves set.
The creator is apparently a real tattoo artist who wasn't satisfied with the quality of the tats available in the unmodded TS4 game.
This custom tattoo set is their second try at creating and uploading Sims 4 custom content.
And the results?
Excellent.
Each tattoo design even has a specific style: oriental, Polynesian, traditional, and contemporary.
I'm no tattoo expert myself, so I'm just going to take their word for it. All I know is that the swatches look awesome. Especially the swatches with the dragon and the fish.
It's also cool that there are two separate .package files for each arm, and each file contains the same swatches.
So you can definitely mix and match the four designs to create something even more customized for your Sims.
8.

Dragon Back & Sleeves Tattoos by Pinkzombiecupcakes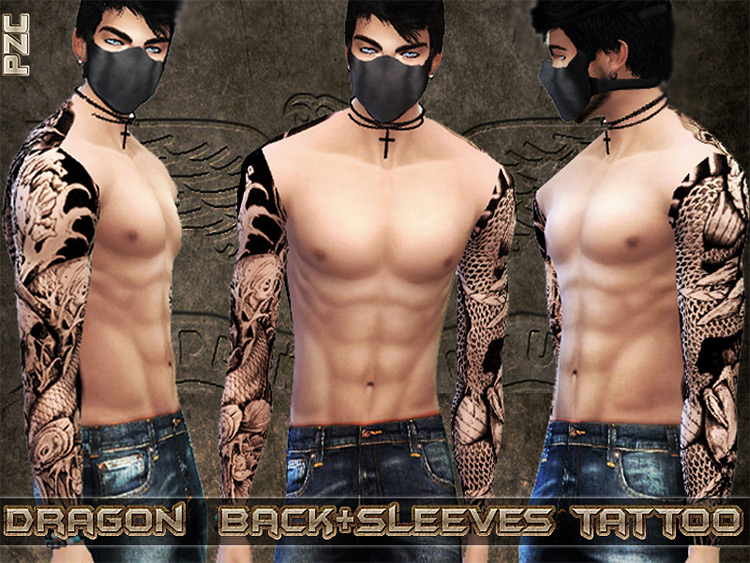 Speaking of intimidating tattoos, this is definitely one for the books.
Having full sleeves on both arms is hardcore enough. But this tattoo extends all over your Sims's back as well.
As for the design, I don't know who pissed off this dragon, but they'd better run.
It's also apparently based off an actual tattoo the creator saw, which would explain why the visuals look so professional.
I initially downloaded this tat with some apprehension, because I saw a comment on the download page saying it barely showed up in-game.
However when I tried it for myself, the tattoo showed up just fine.
But I recommend trying it out with default EA skin first if you encounter a similar problem. After all, skin mods and replacements could mess with the mesh.
By the way, you'll find this tattoo in the Back Tattoo category, not in the Arm Tattoo.
9.

Sleeve Tattoo Set by JavaSims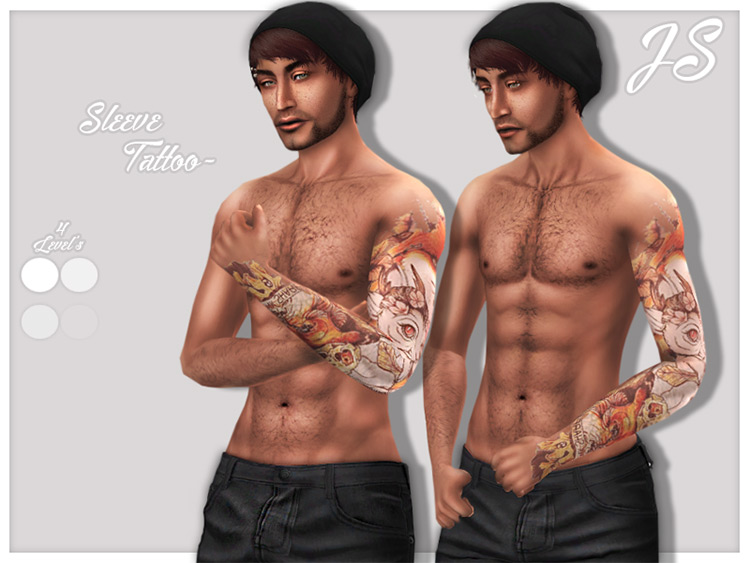 I think I introduced a lot of pure black tattoos already (or black and grey), so here's a quick pop of color.
JavaSims's Sleeve Tattoo is an interesting little number.
The design has a soft, whimsical, fairy-tale vibe to it, what with the cute woodland critters and floral embellishments.
Definitely a far cry from the dragons, Celtics, and lions we've encountered so far.
The creator also created a pretty unique twist to the design which I think works really well with the theme they settled for. The tattoo comes in four swatches, and each swatch is the exact same tattoo, only with decreasing opacity.
So the first swatch shows the tattoo in all its vibrant, visible glory.
The fourth swatch has that same tattoo, only lighter and significantly more faded.
It's a great way to achieve a more subtle or more natural effect, and it sort of makes me wish TS4 CAS allowed us to adjust the saturation and opacity of body art like we could in TS3.
10.

Female Sleeve Tattoo by Oliver.Oks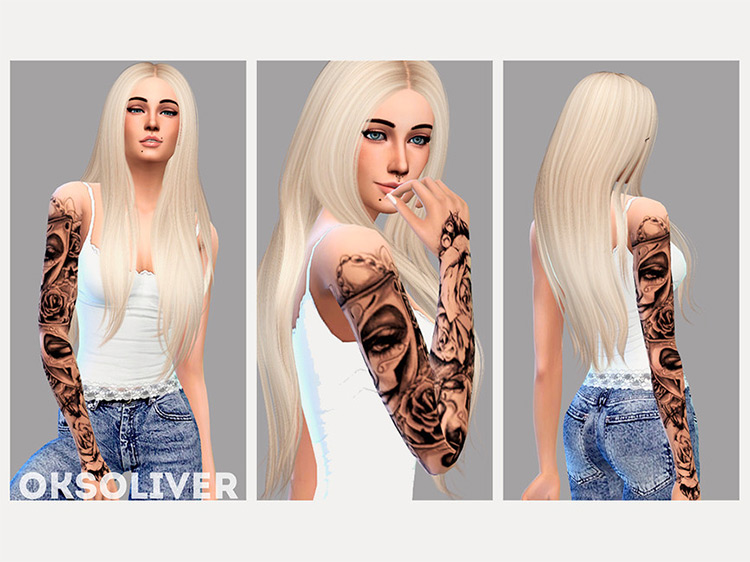 Not to be confused with the creator's "Cute Female Tattoo", this custom piece of body art by Oliver.Oks has that same distinct feel as all his other CC:
A prominent visual with bold, clear lines.
Cute Female Tattoo felt like a delicate ink drawing.
The "Alice in Wonderland" tattoo was a vibrant, colorful piece of art.
This CC has a much more "traditional" tattoo sleeve vibe.
It has multiple visual elements blending and merging with each other, with plenty of shading and heavier shadows for depth and dimension.
Considering how most (if not all) of the elements are stereotypically "feminine" (roses, curves, eyes with heavy eyelashes) I think I understand the name.
But I like that there are just as many sharp and dark elements to offset the femininity.
Browse:
Lists
The Sims 4
Video Games