Sims 4 Slippers CC: The Cutest Custom Slippers To Try On
This post may contain affiliate links. If you buy something we may get a small commission at no extra cost to you. (Learn more).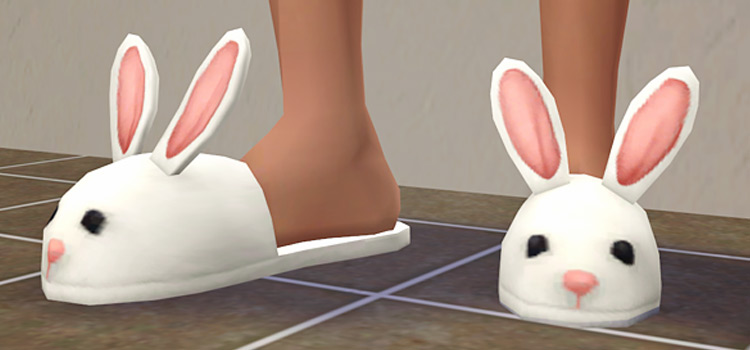 Slippers are your best friends. Especially on those lazy days around the house.
Whether you're hankering for a staycation in your pajamas, or just want a few friends over for a slumber party, there's surely a pair of slippers for you. Or rather, for your sims!
Sadly, the slippers in vanilla are as plain as they can be. But luckily we have fantastic CC creators that pull out all the stops with vibrant colors and designs to fulfill all of our Sim's footwear needs, slippers included.
So let's check out some of the best TS4 custom slippers we can snag and have Sim try on. There are some very cool and cute selections in this list, so have a peek and see what you can find.
14.

Dahlia Satin Slippers by Feyona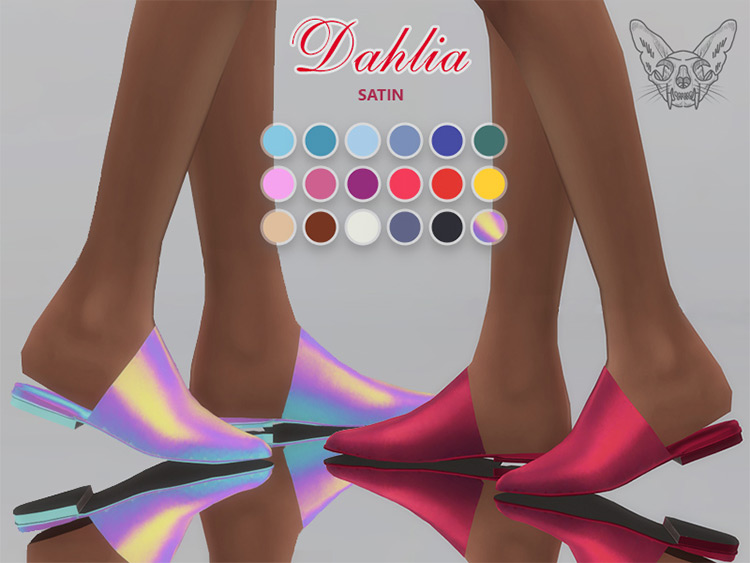 If neutral colors aren't a good fit for your Sim, don't worry.
CC creator Feyona has something much more colorful!
Intoducing Feyona's striking satin Dahlia slippers that are sure to get anyone's attention.
This CC pack comes in 17 monochromatic satin colors plus one holographic color. Yes, holographic.
So whatever top or dress you have on, you'll easily find a color to match in this slipper set.
Stylish and comfortable, these slippers are a great choice on any day.
13.

Monster Slippers by DeetronSims

For the Sim who loves costumes and Halloween, these Monster paw slippers are definitely a sleek fit.
This CC is available for all genders of any age, so your Sim's whole family can even match together.
Of if your Sim is just quirky, well I'd say these should fit pretty well!
With these cute slippers, costume parties will be so much more fun.
12.

Madlen Emma Shoes by Mj95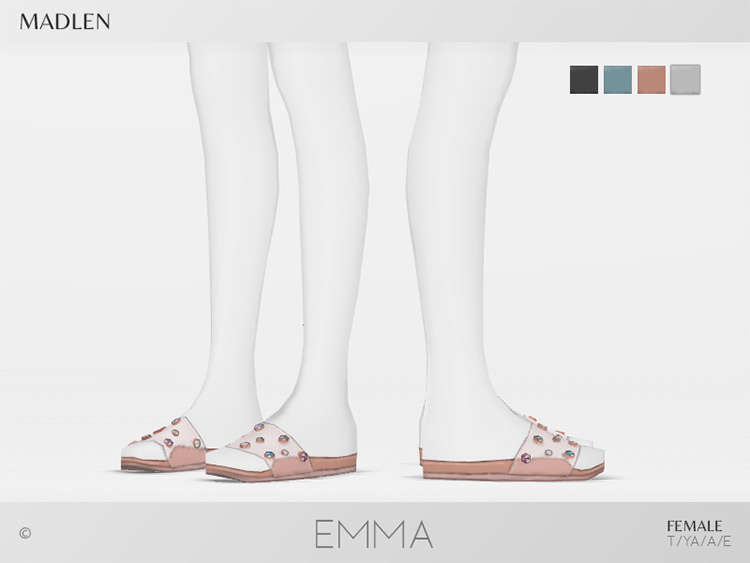 Dainty slippers for your princess Sim?
Look no further!
These Madlen Emma Shoes by Mj95 are just the cutest, most casual pair of slippers for any quick errand.
They're bejeweled, too. So you can sparkle while strutting at the same time… even if it's just alone around the house. Hey, sometimes our Sims like to look cute, even alone!
Let everyone know that you're ready to shine from head to toes… and slippers.
With this CC you'll get four different colors, but each one is as cute as the next.
11.

Bow Slides by SLYD
Pretty and casual at the same time. Perfect!
These Fenty Bow Slides by SLYD are a great match for your Sim's silk nightgown or cutesy pajamas.
With silks like these, your Sim can lounge in style in her poshest Del Sol Valley mansion.
10.

Madlen Castor Shoes by Mj95
Ruffled slippers are the way to go if you want footwear that'll help your Sim feel effortlessly chic.
Take these Madlen Castor Shoes by Mj95, for example.
This CC offers a great pair to take with you to Sulani for a vacation. You know, while you wear your maxi bohemian skirt and really soak up those chill vibes.
And of course, don't forget the hat to match so you can vacay in style!
9.

Madlen Lucrezia Shoes by Mj95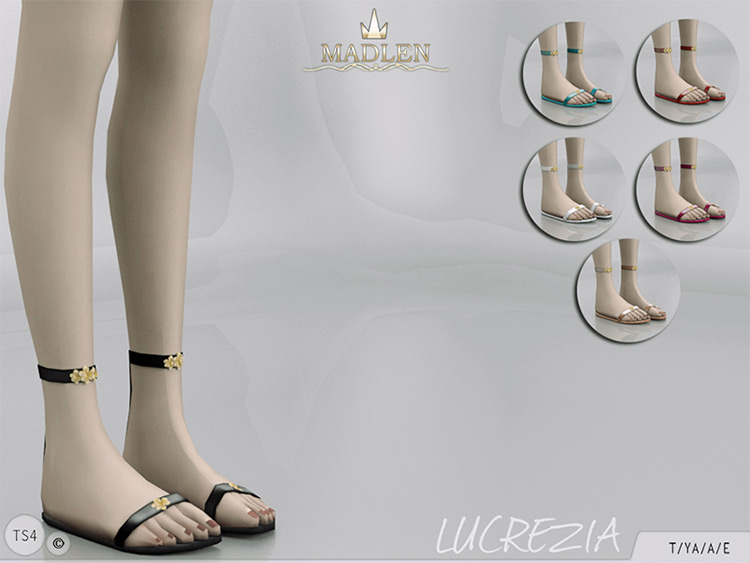 For something a little more elegant, here's the luxurious Madlen Lucrezia Shoes CC pack, again by Mj95.
It includes beautiful gold details and a high anklet ribbon that add a level of poshness to your slippers.
Yes, I know we're still talking about slippers here!
These look straight out of a designer shoes catalog. So they're the perfect combination with the Luxury Party stuff, if you've got the pack.
Either way, now your Sim has something to wear for a casual lunch at Chez Llama. I mean, maybe try shoes first, but these slippers could work. Don't judge!
8.

Watermelon High Flip Flops by ICedxLemonAde
Come on, who doesn't want these watermelon-themed high flip flops in your wardrobe?
This super cute pair by ICedxLemonAde is a must for your Sim's summer get ups.
Throw these on when your Sim hits the swimming pool or the beach, wearing some cute shorts and a bikini top.
Add a hat and some sunglasses and you'll automatically be the freshest beach babe out there.
Who's to say slippers can't be glamorous? They haven't seen this CC yet!
7.

Madlen Amalfi Shoes by Mj95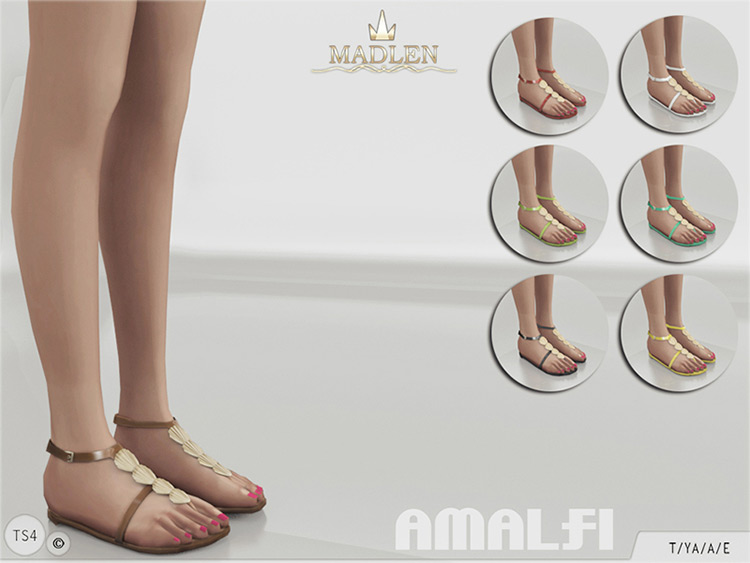 Mj95's Madlen Amalfi Shoes are the quintessential easy-to-wear slippers that your Sim would just love to wear all the time.
This CC is a perfect mix of style and comfort.
And with 7 colors included in this pack, your Sim will have a pair to wear each day of the week. Convenient!
These are really for around the house, but they could be comfortable enough to wear out as you go shopping in Magnolia Promenade. Paired with a cute summer dress, of course!
6.

Pikachu Slippers by Pixeldust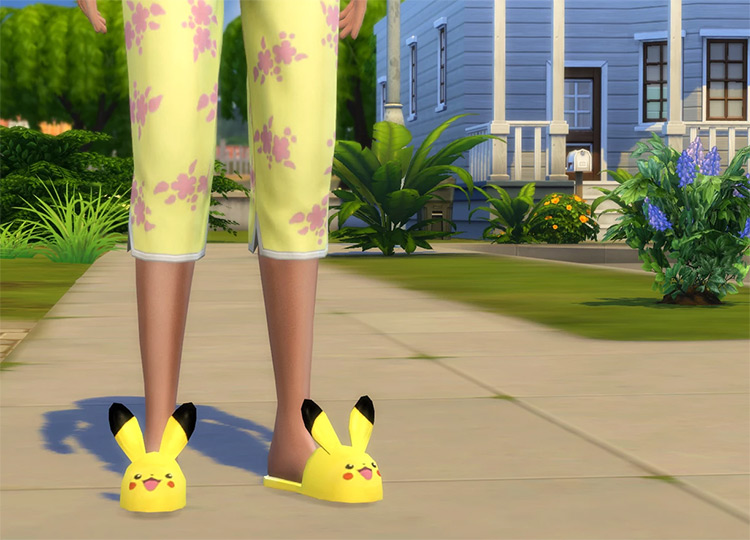 This has to be the cutest pair of lounge slippers you'll ever come across. Especially if you're a Pokémon fan.
I mean, Pikachu slippers!
The super long ears with the spot-on yellow and black details just perfectly capture the original Pikachu.
Children and adult sims alike will feel electric over this pair. And if you're brave enough, you can even wear these out shopping. I mean, why get dressed just to grab some milk?
This pair is just that cute. And anything this cute doesn't deserve to be kept only at home.
You know what these would be perfect for? Geekcon, of course!
Thrill your fellow Pokémon Simmers with these slippers, and a matching yellow dress to fit.
5.

D'oh! Homer Slippers by llazyneiph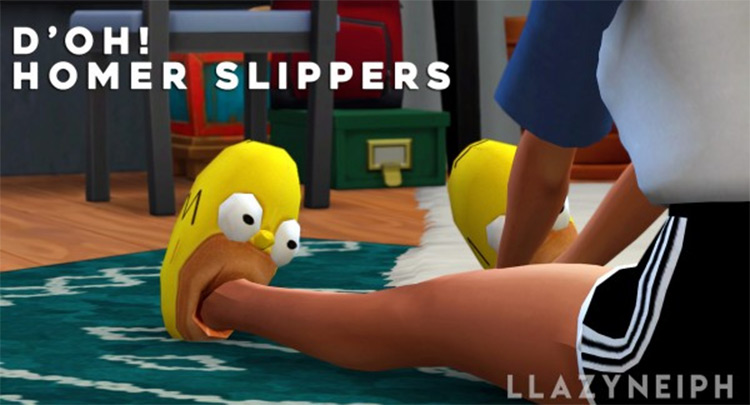 The cartoon characters don't stop in the Poké world.
Here we have Homer Simpson slippers by Llazyneiph. And if you love this show, I know your Sim will love this pair.
Just like the Pikachu slippers, these are meant to be lounge-around-the-house shoes.
But come on, wouldn't you want to flaunt to the rest of your neighborhood that you have a pair of Simpsons-themed slippers over your toes?
4.

Mandy Slippers by SamanthaGump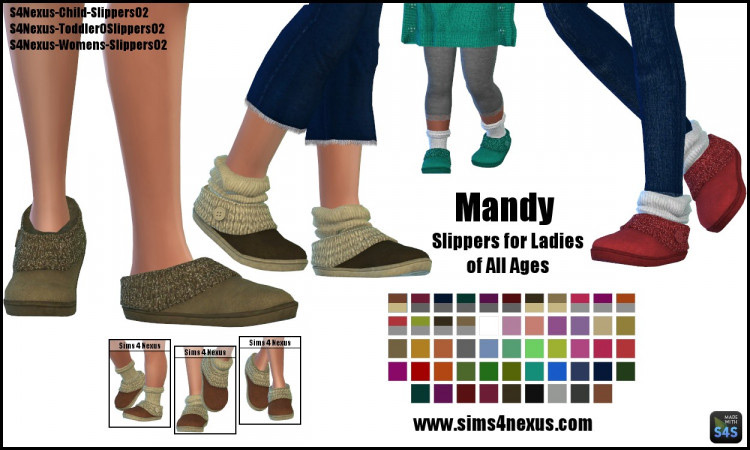 Moving on to winter wear, here's a slipper set that can keep your Sim's feet warm and cozy at the same time!
These Mandy slippers by SamanthaGump offer a fluffy pair that you'll want if you have the Seasons extension pack.
Imagine how cute your Sim will look, all bundled up with wool jackets and these slippers, a cup of hot chocolate in hand? I can picture the poses already.
With 53 colors included, there's definitely enough in this CC set for your Sim to wear all winter long.
3.

Kitty Slippers by SimLaughLove
A list of slippers is not complete without animal slippers.
And luckily CC creator SimLaughLove has designed us these unbelievably cute kitty designs, which are not just for toddlers.
Yep, even adults and grandma Sims can walk around in these babies!
There are a total of 23 color swatches in this set, so our cat-obsessed Simmers can go crazy every loungey Sunday.
Being a cat lady has never been this cute, or comfortable!
2.

Holiday Slippers Recolor by Miss Ruby Bird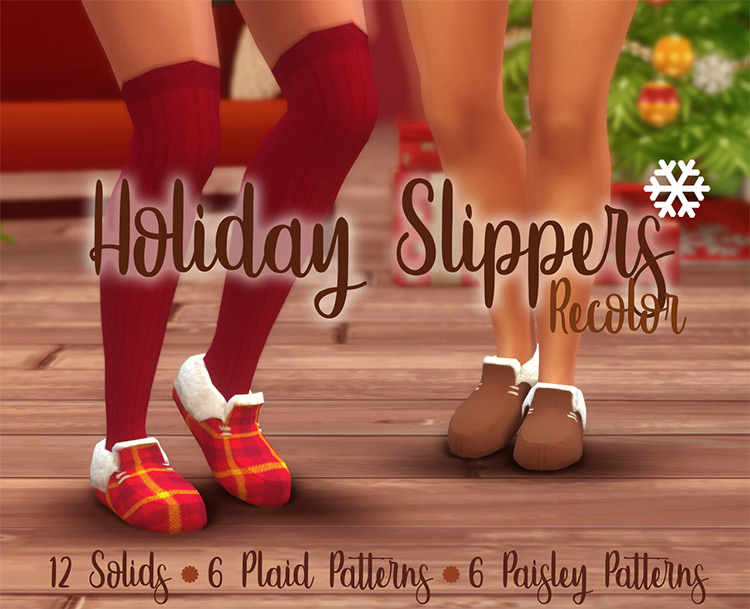 Now these Holiday Slippers by Miss Ruby Bird offer the ultimate winter slipper set.
The designs are just incredible, with the plaid and paisley patterns.
These will make sure your Sim's feet are toasty, all while staying stylish and festive for the holidays.
Pair these with knee-length red or green socks, and you'll look the part of a cute Santa's helper!
1.

MMSIMS Gucci Princetown Slipper
Oh, you know, my Sim casually wears Gucci slippers, no biggie.
That's a statement you can say if you snag these Gucci Princetown slippers by MMSIMS.
And the best part about this CC?
Although they're imitations of designer items, they're absolutely free to download. Well, to add into The Sims anyway!
So if a pair of Gucci slippers is too expensive for you IRL, at least you can let your Sim lounge around in style.
Dress to impress, as they say!
Browse:
Lists
The Sims 4
Video Games