Best Sims 4 Slumber Party & Sleepover CC + Mods (All Free)
This post may contain affiliate links. If you buy something we may get a small commission at no extra cost to you. (Learn more).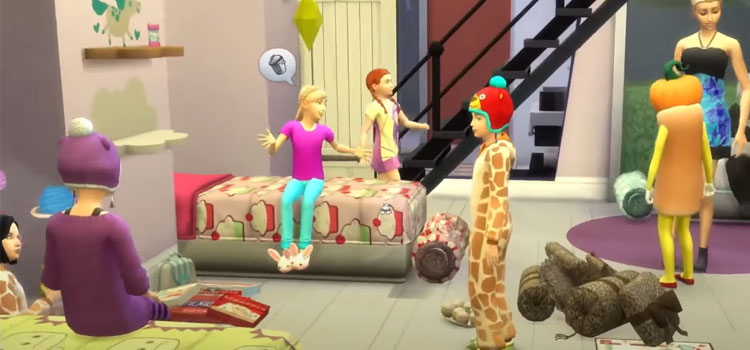 It's a well-known fact among Simmers that there are two main styles of playing – A fictitious world full of magic and mermaids, or playing realistic as possible.
Personally, I'm one of those Simmers who just loves realistic gameplay. Maybe it means my real life is a little boring if I enjoy watching my Sims wash dishes in the kitchen sink (please tell me I'm not the only one who jumps for joy when they don't take it to the bathroom!)
As a fan of this gameplay style, I'm also a huge fan of packs such as parenthood and kids room stuff. But in terms of family gameplay, I still feel like there is a lot to be desired in terms of what Sim children can actually do.
One thing I've always wished that my Sims kids could do is have a sleepover! And with custom content, anything is possible.
10.

Maxis Match Pajamas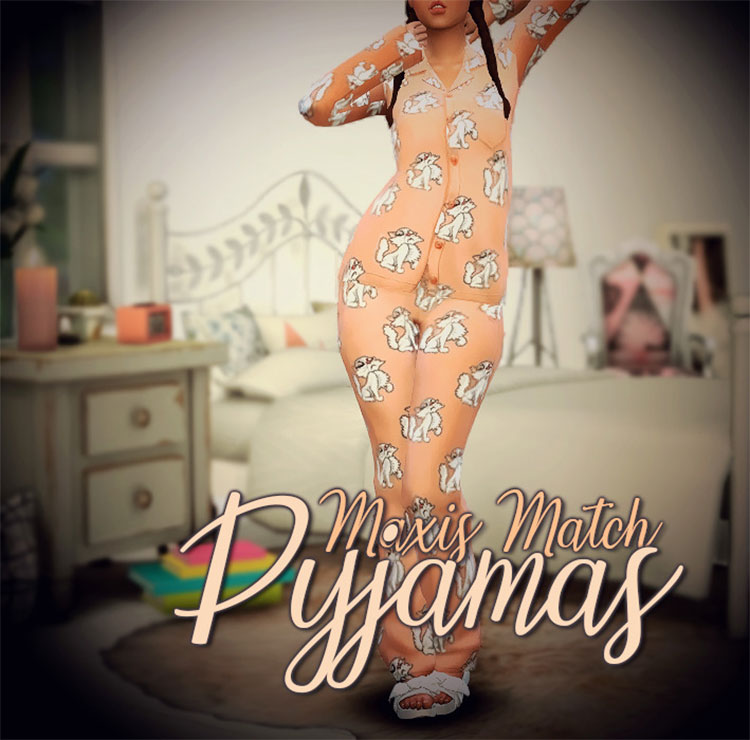 Remember, it's not only little children who enjoy having sleepovers with their friends.
Big kids still love it too!
Although these pajamas are made for all ages of fully-grown Sims, the thought put into the cute design of these by their creator; Miss Ruby Bird, makes them just perfect for teenagers to wear at an all-girls sleepover!
9.

Tartan Jammies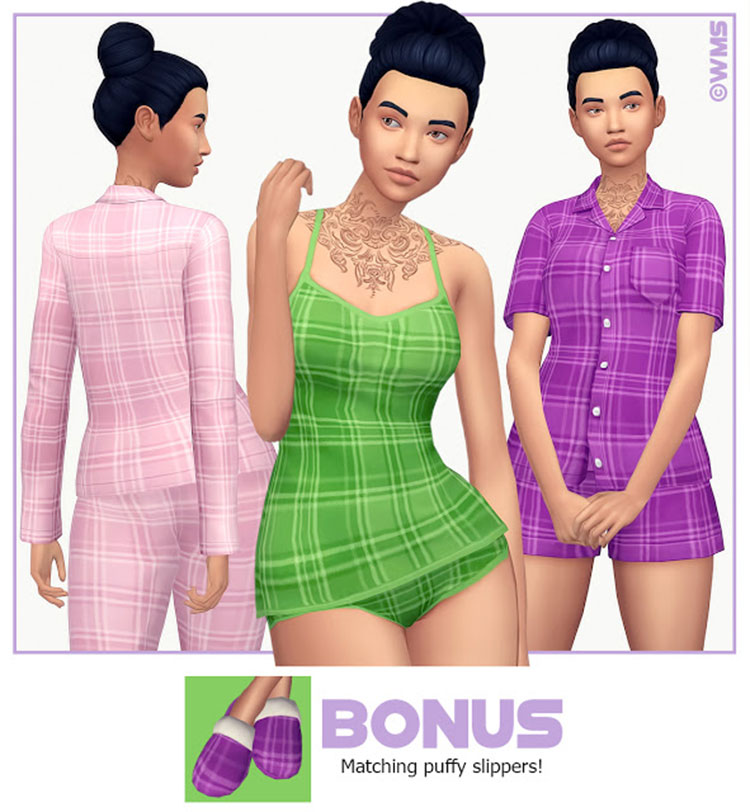 Cute CC for a summertime sleepover for teenage girls, this tartan set by WildlyMiniatureSandwich is definitely worth grabbing. It comes with matching slippers!
This cute set includes swatches in 55 different tartan patterns and a variety of cute styles, long and short sleeves, shorts, and long pants. You name it and it's probably in this pack!
8.

Kitty Slippers

No one wants their friends getting cold feet at a sleepover – literally!
These adorable kitty slippers by Simlaughlove come in 23 different colors and are made for toddlers to Elder sims.
Whether your kid wants to get matching slippers with all their friends, or you want to get all the family a pair for Winterfest, these slippers are too cute for anyone to pass up.
7.

Holiday Jammies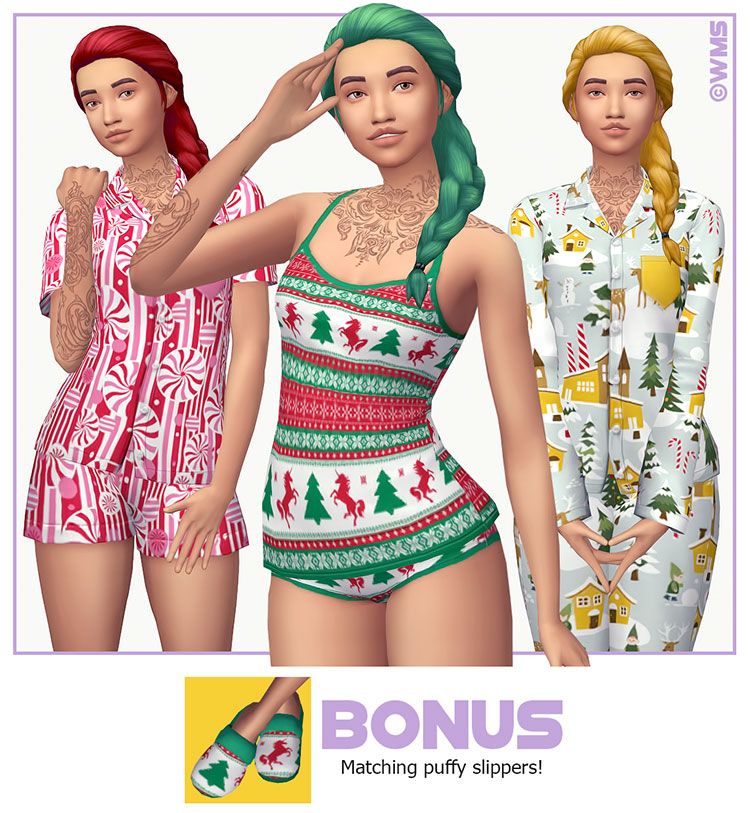 If you have seasons installed, you'll know there's always plenty of going-ons throughout the year.
Not to mention plenty of events and holidays which take place throughout the various seasons.
But I think I can speak for all Simmers when I say that Winterfest is by far one of the best.
Now, Winterfest parties are always great. But for young and single Sims, one of the best ways to spend the festive period is at a holiday-themed sleepover with your girlfriends!
With this pajama CC set by WildlyMiniatureSandwich, you can get a huge variety of Winterfest-themed pajamas to dress your Sims up in for bed. The set also comes with a bonus pair of slippers, which makes this super cute and versatile, so you can throw the ultimate Winterfest sleepover.
6.

Family Robes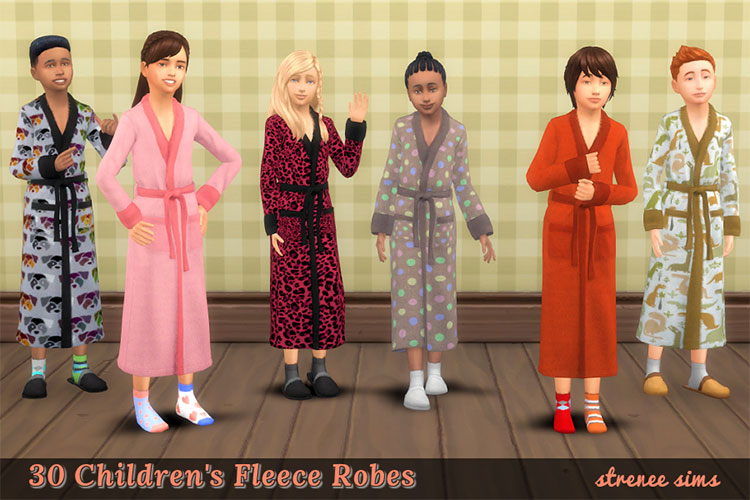 Depending on the time of year you choose to host your kid's sleepover, their little pajamas may not quite be warm enough.
If it's a winter sleepover where they want to get cozy and indulge in hot chocolate watching a film, then a robe may be the better choice of sleepwear.
The ones in-game for the kids can be a little… bland. So this set of 30 kid's robes by Strenee Sims is sure to have a robe to suit your kids perfectly, no matter what their interests are.
Be it dinosaurs or penguins, this CC pack has something for everyone!
5.

Sea Pup Plushie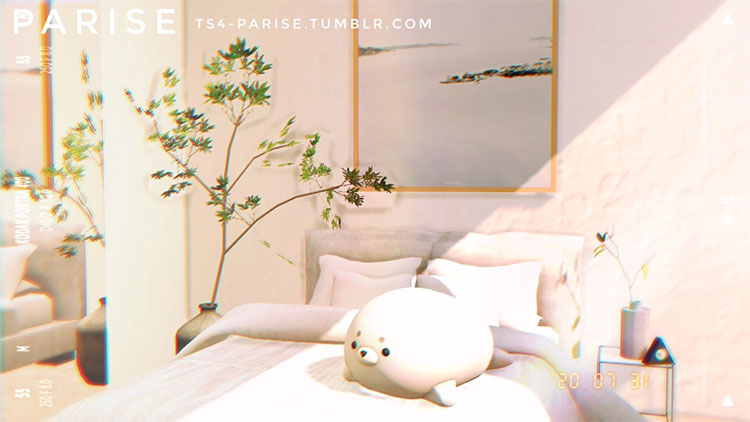 Here's one thing essential for a kid's sleepover: plushies.
Let's face it, being away from home for the first time can be scary. Especially for younger kids.
So having something soft, cute, and cuddly to play with is a great idea.
This adorable seal pup plushie by Parise is a gorgeous plush friend for any child to invite over to their slumber party!
4.

Snug As A Slug Functional Sleeping Bag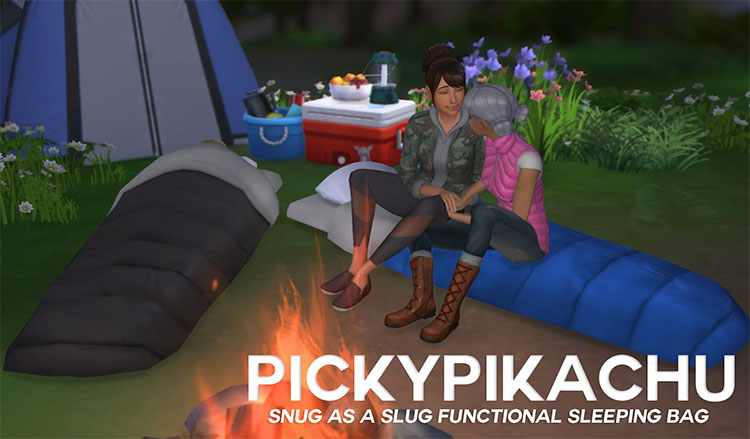 One of the most exciting slumber party themes ever is the outdoor summer slumber party in a garden.
The one where the kids and their friend all sit around toasting marshmallows before snuggling up in their sleeping bags under the stars.
Unfortunately, the only way to sleep outdoors in the Sims is either on a random bed laid out on the grass, or in a tent… why are there no sleeping bags in the game already?!
Well thanks to CC creator Pickypikachu, those days without sleeping bags are now a thing of the past. This sleeping bag CC set comes in 5 simple swatches, and functions just like a real sleeping bag should – both indoors and outdoors!
3.

"Pajama Party" Kids Clothing Pack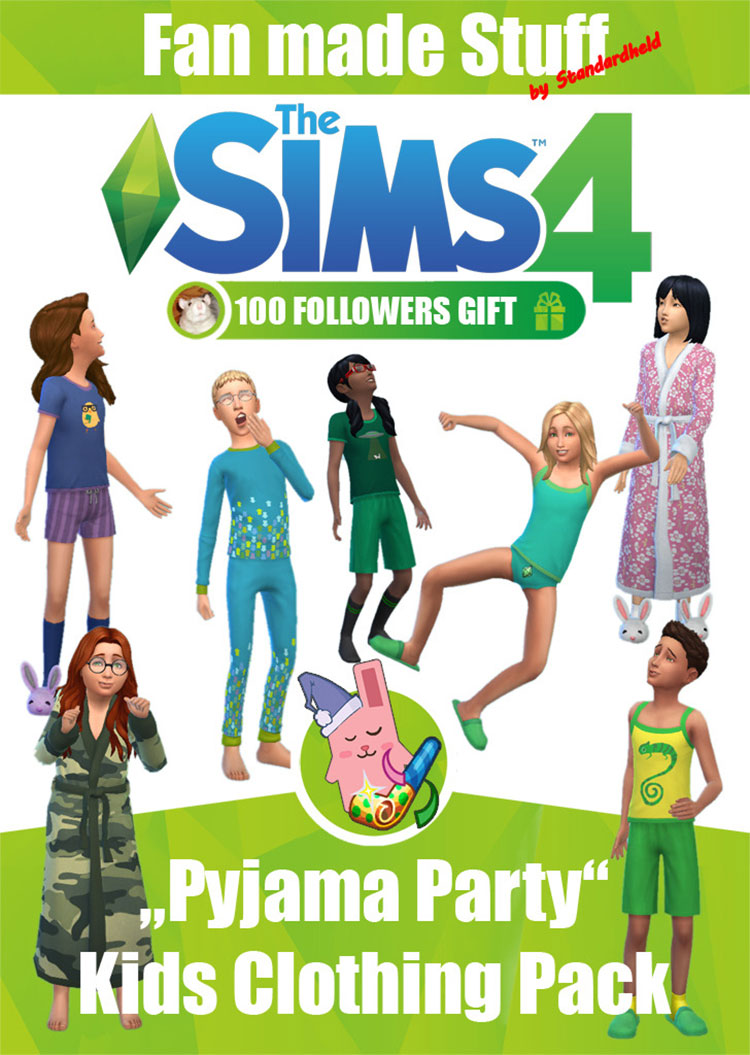 Of course, anyone at any age can have a sleepover.
But we all know that sleepovers and slumber parties are really for the kids.
That's why I feel that this pajama pack full of CAS items would be the perfect addition to this list.
Created by standardheld, this pack includes such a huge variety of Kids sleepwear… there's enough to clothe all the kids in town, and then some!
So at least if you were to throw the biggest slumber party known to man (or to Sim?) then at least no-one would turn up wearing the exact same thing. That would just be awkward.
2.

Sleepover Stuff!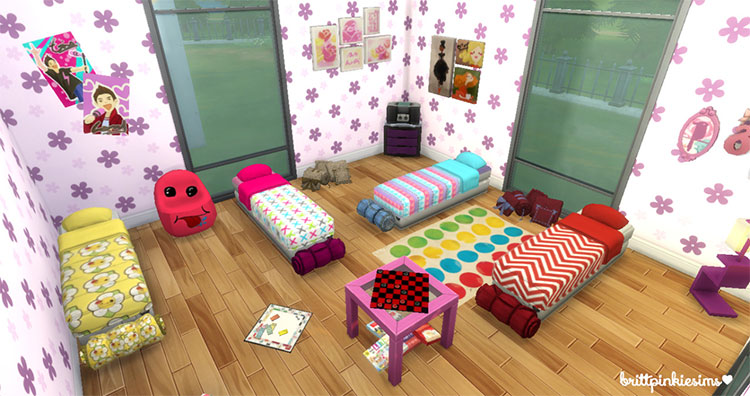 Now this stuff pack by Brittpinkiesims is the perfect partner to the event mod by the same creator, which is coming up next on this list.
When your kids are throwing a sleepover with their friends, what better way to make the party look realistic than with added furniture and décor?
Well this stuff set includes a variety of colorful and cute air mattresses for your guests to use when it's time to sleep, plus some bean bags, pillows, sleeping bag clutter, and a variety of board game décor.
Let's make your party look fun, fun, fun!
1.

Slumber Party Event Mod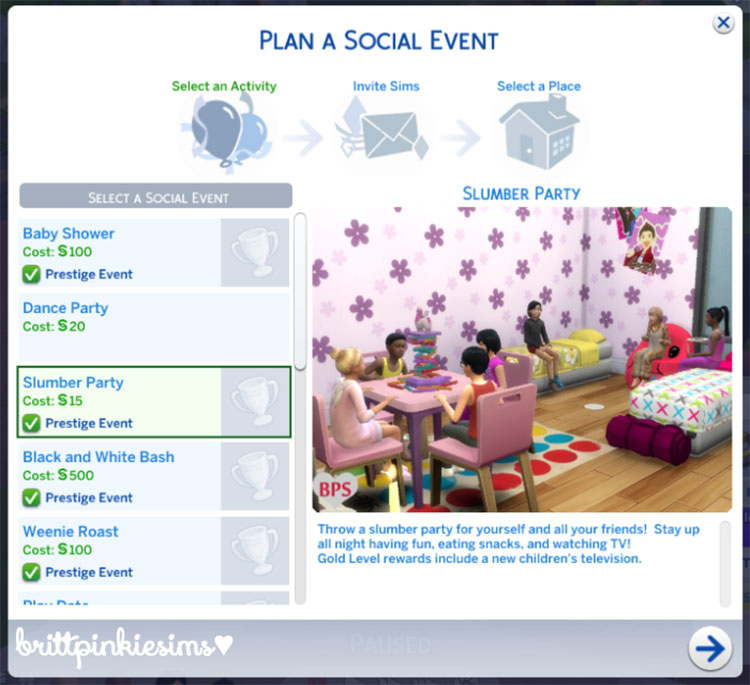 I'll just say it: this event mod by Brittpinkiesims is truly amazing!
It's just like an actual sleepover. There's event goals for the kids, event goals for the parent hosting the sleepover, buffs, rewards, whims, and the costume chest to let your kids play dress up with their friends.
Really, this mod has everything.
Not only does this CC set make for a great overnight party, but the kids who show up to the house also arrive in their PJs! Talk about sleep-over ready.
Browse:
Lists
The Sims 4
Video Games