The Sims 4 Smartphone CC & Mods (All Free)
This post may contain affiliate links. If you buy something we may get a small commission at no extra cost to you. (Learn more).
A lot has changed since TS4's launch in 2014. The most apparent change being our obsession with our phones.
It's become so bad that spending an entire day without staring at a screen can drive us a little crazy.
For better or for worse, this has also entered the world of The Sims.
So if you wanna step up your smartphone game, we've got some great ideas to pick from.
Mobile Phone Decor
No matter how expensive and precious smartphones can be, it's inevitable that they sometimes become part of the clutter at home.
Because – let's face it – people are naturally messy, so your Sims have to be messy too!
This Mobile Phone Decor (from the Bathroom Pisces Decor Set) might make clean freaks cringe, but it's a necessary evil to inject more reality into TS4.
Smartphone with Earbuds
Bluetooth earbuds have become so common that wired earbuds are just a few years away from becoming vintage.
But even though these tangly monstrosities are close to obsolete, you can't deny that they can still come in handy.
They never run out of batteries, and they don't cost an arm and a kidney – that's something, right?
If you're an advocate of the good old-fashioned wired earbuds, then don't skip this awesome CC by DDaeng Sims!
Flip Phone CC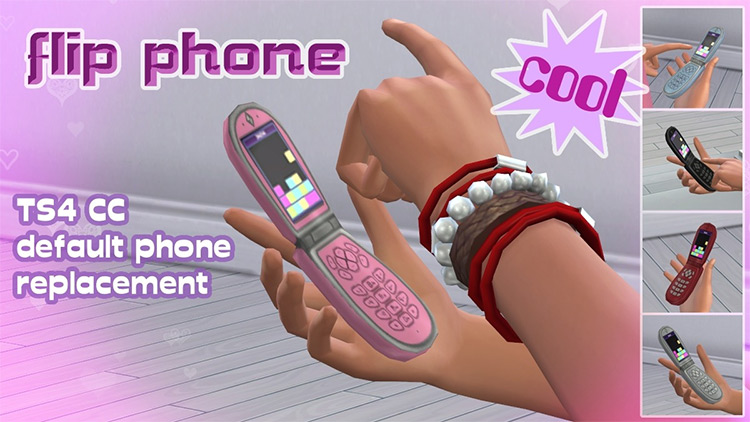 If you've never owned a flip phone, then you're too young for WooHoos.
It's either that, or you didn't have a great childhood – there is no in-between.
For those who grew up in the golden age of texting and chain messages, this one's for you!
Revisit the good 'ol days when you grab this customized flip-phone CC.
NEIDEN iPhone SimXS Music Player
Do you ever feel like you have the best music taste in the room?
Well, now your Sim can too! With NEIDEN'S iPhone SimXS Music Player, you can proudly display whatever it is that your Sim is listening to.
Just make sure you don't play anything cringe-y like Nickelback and Imagine Dragons, unless, of course, you're asking for social suicide.
And you can take it to the next level when you get it with the entire NEIDEN Electronics set, which includes laptops and tablets too.
iPhone Series – Deco & Stereo
This CC may not have the latest iPhone models.
But it makes up for that with full functionality and careful attention to detail.
Containing realistic versions of the iPhone 6, 6 Plus, 5S, and 5C, you can liven up the mood wherever your Sim goes by using whatever model of Apple tech you like.
Download this CC from NewOne and choose from over 8 sets!
Samsung GALAXY Note8
You know what they say about Samsung users: they never shut up about how much better their phones are compared to iPhones.
And good for them, because they can now bring their superiority complex into TS4 with this Samsung Galaxy Note8 CC from creator littledica.
Treat your Sim with this CC and watch them irritate the hell out of others by going on and on about the Galaxy Note8's dual-lens camera and water resistance (as if that's new?)
Samsung Galaxy S9 CC
In the real world, the Galaxy S9 is one of Samsung's most reliable phones to date.
And now your Sims can experience some new-fangled tech with this CC by oceansccc.
Available in all the official Samsung colors and with high-quality texture, this CC is the closest that you can get to the real thing – without paying a single cent.
H&B Star5G
While adding real-life phones into The Sims can make the game more relatable, it can also make it less immersive.
Seeing a Sim hold an iPhone or Samsung can suck you out of it, and remind you about the responsibilities you're running away from – AKA the reason why you play video games in the first place.
Let's keep our game completely clear of our miserable existence with the fictional H&B Star5G by littledica.
Fictional branding, but all the same fun of a typical smartphone.
iPhone 12 Pro Max + Case Add-On
If you're an iPhone user, then chances are you've smashed your screen before.
Whether it happened during a rowdy pub crawl or in the safety of your room, either way it has become sort of a badge of honor for Apple fans.
Still, looking down on a screen webbed with cracks for the first time can make your heart sink.
Save your Sims from that heartbreaking moment with this iPhone 12 Pro Max CC, coming with a protective case add-on!
Totally Rad Brick Phone
If you're on that 80s resurgence bandwagon, you'll surely find this "totally rad" phone CC to be – well – totally rad!
Modeled after the Motorola DynaTac 8000x, this blast from the past would look even better with some mom jeans and questionably large hair-dos.
Whatever you gotta do to capture that timeless 1980s aesthetic.
And for even better results, go bump some Duran Duran and The Police while you play.
Browse:
Lists
The Sims 4
Video Games