Sims 4 Snow White CC: The Ultimate List
This post may contain affiliate links. If you buy something we may get a small commission at no extra cost to you. (Learn more).
Wanna know a secret?
Promise not to tell?
There's Snow White CC for all your fairytale needs! Yes, there's even a wishing well.
Plus if you've never done a Sims 4 challenge, the Princess Challenge is an easy & fun one to start with.
And with that challenge, the first first generation is the fairest princess of them all: Snow White.
1.

Snow White Set
Snow White would be unrecognizable without her iconic yellow, blue, and red dress.
This CC set comes with not only Snow White's peasant dress and her signature gown, but also her bow, her hair, and her shoes.
This outfit is sure to get the attention of Prince Charming… and maybe an evil queen!
Soon your sim will be entertaining strange old women and singing with birds, as all princesses should.
2.

Evil Queen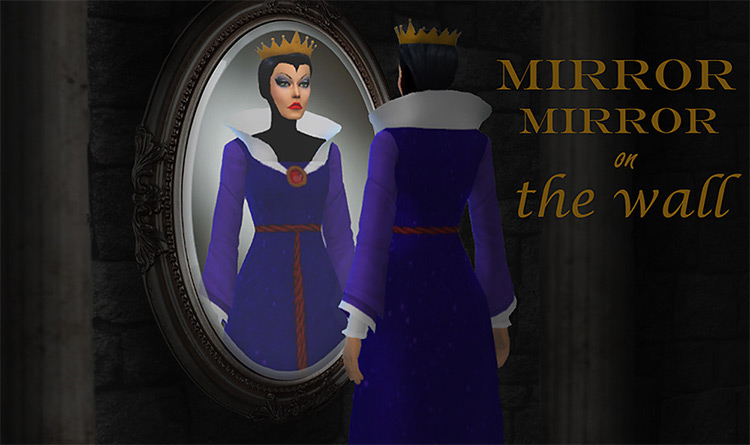 Magic mirror on the wall, tell me who would Snow White be without the Evil Queen Grimhilde?
Here's another CC pack, this one coming with a dress, a crown, and a "tattoo" that mimics her balaclava head piece.
Now all you need to do is tack on one of those gaudy MAC eyeshadows (you know the ones) and you're good to go.
3.

[MelodyElodie] Snow White Collection
Speaking of makeup…
This collection was tailor-made with Snow White in mind. ASnd it really shows!
It's a super cute makeup set by MelodyElodie that would be perfect for your doe eyed princess.
It has the perfect blush and eyeliner to really pop, and the red gloss that seals her signature look flawlessly.
4.

Wishing Water Well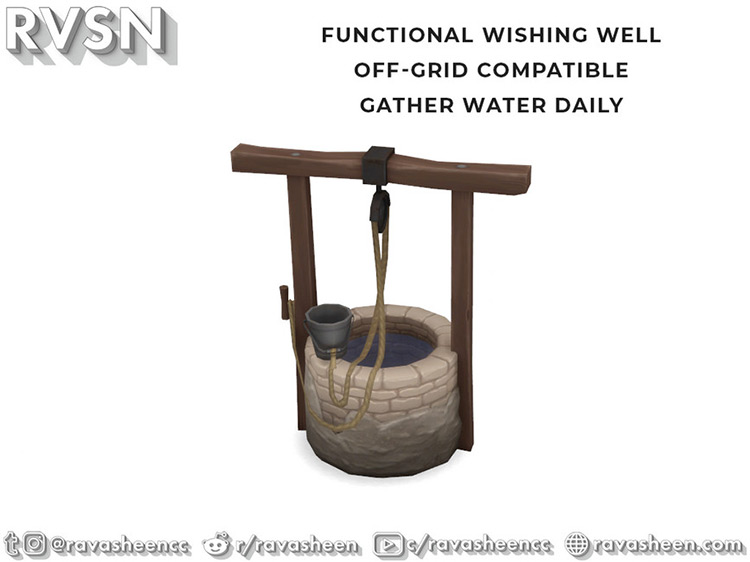 Snow White said it best:
"Make a wish into the well, that's all you have to do! And if you hear it echoing your wish will soon come true!"
This wishing well CC is the spitting image of the one from the animated Disney classic – how cool!
You may not be able to wish for your Prince Charming without The Sims 4: Romantic Garden Stuff pack, but this full-functional well still allows you to gather water off the grid.
It's also a great spot to serenade some birds about your wishes, hopes, and dreams – if that's your thing!
5.

Seven Dwarfs' Fairyland Lot
I've never quite gotten the hang of making realistic homes, especially cluttered or "lived in" homes.
My rooms are always too big, I never know how to decorate, and don't get me started on the roof tool.
So if you're anything like me (or just not feeling up to the daunting task of starting from scratch) then this adorable little cottage is for you.
It's also usable without any additional CC. So one-click download and you're good to go.
But the best part about this lot is it has a little mine in the back of the cottage – and the fact that it can sleep up to eight sims with a dormitory style basement for your dwarfs.
6.

"Physician" Set (Middle-Ages Style CC)
If you love to make your own house builds & want something to match Snow White's cottage furniture, well here ya go.
This is a beautiful rustic CC set made by Simmer zx-ta – a perfect choice for any tiny cottage.
The cauldron over the fireplace is just too charming. And the drying herbs on the bookshelf really add a touch of realism.
I also love how all the wood matches (which is way harder in this game than it should be!), and how low the chairs are to the ground – perfect for your dwarfs to reach.
7.

Snow White & The Prince: Snow White and the Seven Dwarfs (1937)
To quote our girl Snow, "There's nobody like him anywhere at all".
Well this outfit will transform your curated Adonis, or your favorite townie (why not Mortimer Goth?), into your Snow White's very own Prince Charming.
The set not only comes with Prince Charming's outfit, but also two dresses for Snow White.
Plus it also comes with a cute bob hairstyle for your princess to show off.
8.

Snow White CAS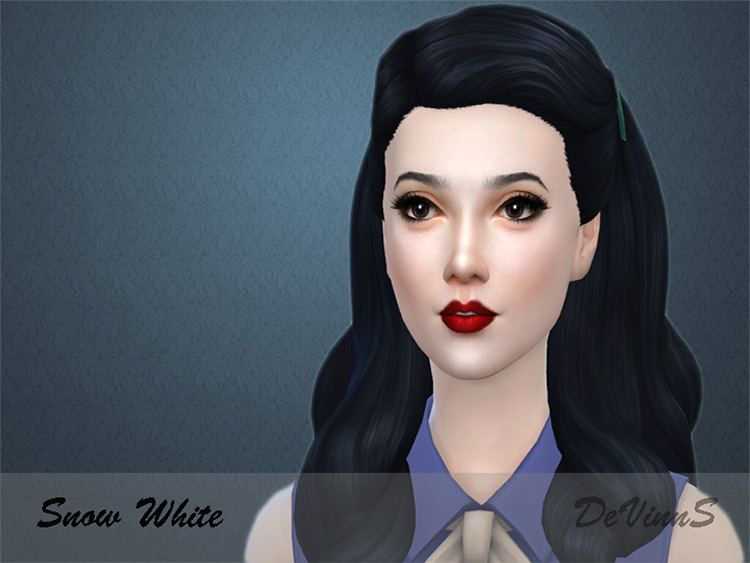 Don't feel like making your own Snow White?
Well you're in luck, because this modern Snow White build is ready to go.
I especially love her eyes!
But if you don't like the modern look, you can just grab any of the dresses on this list and you'll be set to meet a man and raise seven kids.
9.

Snow White Dress CC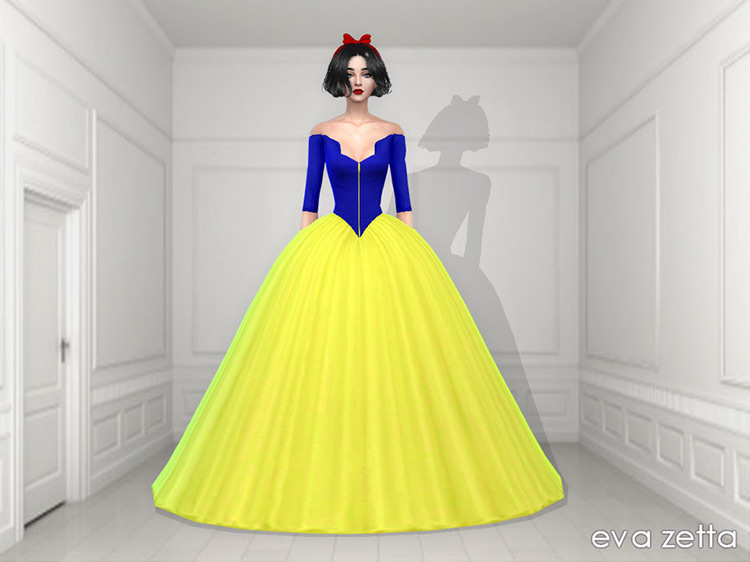 This dress is certainly more modern than Snow White's official dress – but this is my favorite!
The full skirt really makes this feel like an outfit for a royal ball.
I also love that the creator included options for a sleeved dress & a sleeveless one with a sweetheart neckline.
It's very chic without being too busy.
10.

Jacqueline Short Hairstyle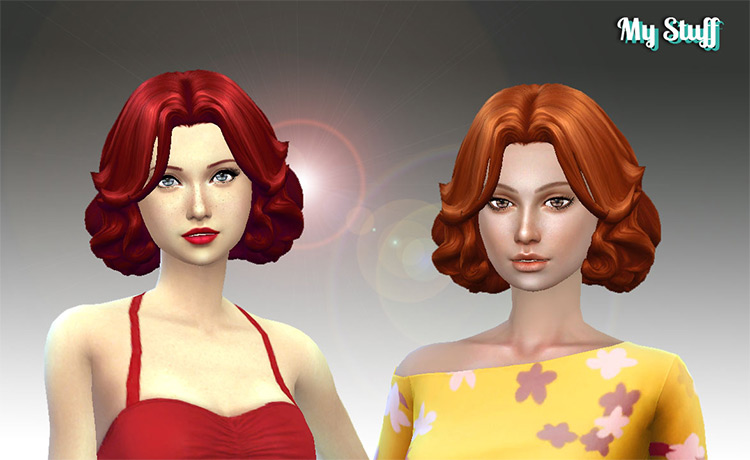 The perfect curly bob for the fairest of them all!
If you haven't noticed, Snow's hair is kind of… formless?
Blob-like?
Regardless of what you call it, it has two important qualities: a perfectly symmetrical middle part and a short length.
This romantic custom hair CC is just the right amount of Snow White, with the added fun of texture!
Browse:
Lists
The Sims 4
Video Games