Sims 4 Snowboarding & Skiing CC: The Ultimate Collection
This post may contain affiliate links. If you buy something we may get a small commission at no extra cost to you. (Learn more).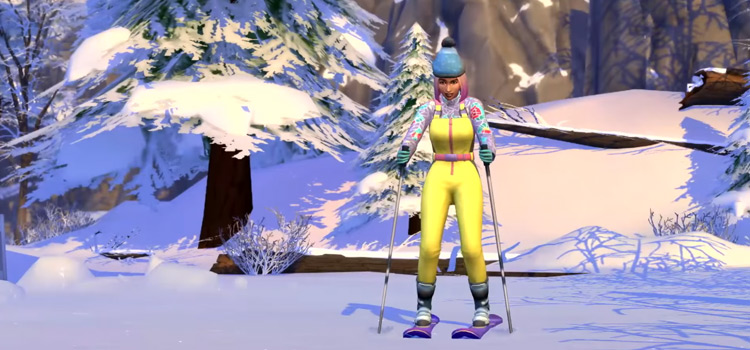 When winter hits, some people resign themselves to staying inside for the next several months to escape the weather.
For others, the fun has only just begun.
And in some places you can even ski and snowboard year round!
You'd have to love winter sports a lot to move somewhere specifically catered to them. But fortunately things are much simpler for our Sims. It's easier than ever to send them on a vacation, so they can visit Mt. Korembi as much as they like.
And there are tons of CC items related to these winter hobbies, made for players with or without the expansion pack – and my are they glorious.
After this list, winter will be your favorite season for sure – at least in The Sims.
Male Snow Outfit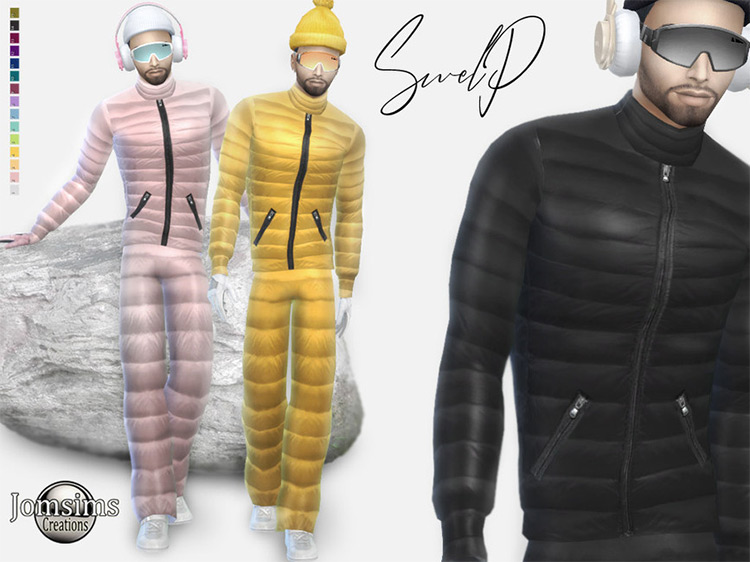 If you're going snowboarding or skiing, you're gonna want to stay warm.
The same goes for Sims.
It's more dire for them, actually, since they'll freeze to death quite a bit faster than we will.
That doesn't mean you have to sacrifice fashion for survival, though. The game offers plenty of coats, sure, but no full body puffer outfits.
This is a classic ski outfit, designed to keep your Sim warm in style. I love the slight shininess of the mesh, it makes it very realistic. This kind of snowsuit material always repels the cold and wetness better than anything else.
Ski Blushes & Glasses
Anyone who's ever experienced even a single winter can agree that there's nothing worse than snow blindness.
Well, maybe frostbite is worse.
But burning your eyeballs out thanks to snow still isn't fun. So of course goggles are a must if you're gonna be participating in winter sports. That doesn't mean they'll stay there the whole time, though.
These goggles are an accessory that will sit on your Sim's head, as though they've just pushed them up. That's a great look for cloudy days, right after your Sim has finished gliding along the slopes, or chilling in the ski lodge.
The ski blushes are a genius idea as well.
Coming in from a few hours out in the cold and snow will definitely leave your face flushed – combine that with high speeds of snowboarding and wind, and the outcome is pretty much this.
I have to give this creator extra props for leaving the outline of the goggles in the tan!
Ski Mask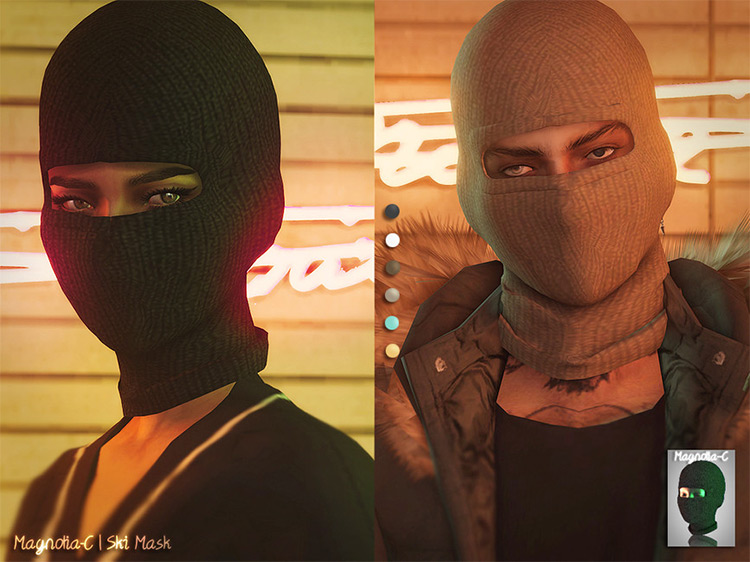 I honestly don't know if people still wear masks like this for anything but robberies.
But hey, this is The Sims. No banks, no weapons, no worries.
If you can get over the anxiety that everyone's gonna think you're up to no good, I'm sure these are very warm. They will go great with any coat or skiing outfit, leaving nothing exposed to the cold but your Sim's eyes.
The details of these are pretty impressive as well. You can almost see the individual stitches!
Winter Outdoor Decor Set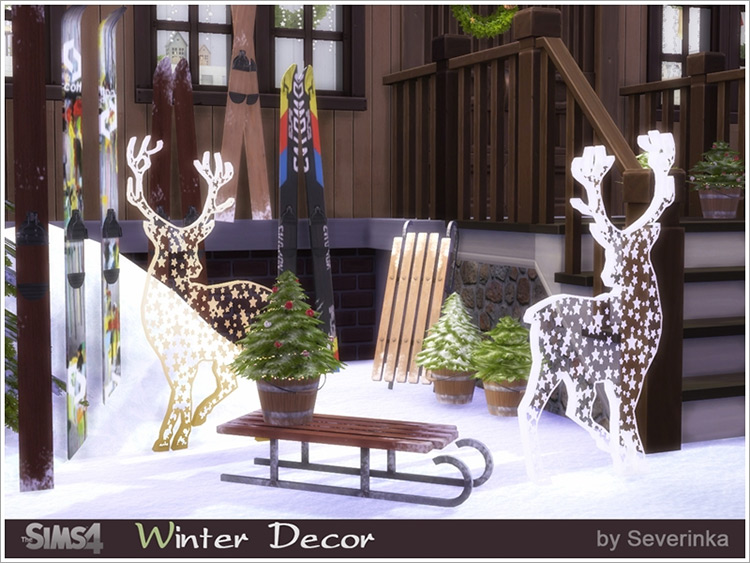 For a lot of people, half the allure of winter sports is hanging out in the lodge or cabin.
I'm sure there are plenty of families where everyone wants to hit the slopes except one or two members who insist on hanging back with the cozy fireplace, log walls, and beautiful decor.
Not everyone is an avid skier (or wants to make a career out of it).
Some of our Sims may just take annual trips, especially at the holidays, and this CC set will be perfect for creating a cozy environment like that for your Sims.
It includes plenty of decorative skis to prop up where you please, as well as rustic wood sleds and several Winterfest-y items.
Beanie With Goggles – Kids Version
If you have the Snowy Escape pack, you might think you're pretty well set on wintery CAS stuff.
But what about the children? How could you forget the children!?
They're neglected enough in The Sims 4, always being outshined by toddlers or teens.
But even if they're the least interesting lifestage, they deserve to be warm!
Now when you send the whole family to Mt. Korembi, the kids can look the part too.
This CC has been converted from the adult version, so you can even do a parent & child matching thing if you want – is there anything cuter than that?
Winterchild Trait
It's really a shame that the most current iteration of Seasons didn't come with any weather-related traits like the previous ones.
People's feelings about the weather tend to be pretty solid, and at times, intense.
Some folks hate to see summer come to an end, while others loathe the heat and can't wait for the sweet, sweet cold and ice.
I assume snowboarders & skiers fall into the latter category.
As such, it would make sense for some type of trait to exist, cementing them to their weather preference… and at last, that's possible.
Thanks to creator SimliciousSarah, your Sim's love of winter can now indeed be part of their personality. While using this trait mod, your Sim will get a happy buff from doing winter activities.
Snowboarding Career
Everyone wishes they could make a career out of their passion, but few actually get the opportunity.
Thanks to this mod, however, your Sims can be one of those lucky few!
Career mods are always some of my favorite CC, because these offer some much-needed variations from the career paths we already have (and have played over and over).
With this snowboarding career, your Sim will get to rise through the ranks from low positions to professional snowboarder – and make quite a few Simoleons along the way.
Best of all is that this is basegame compatible!
Norvedem Skiing
We all know there aren't nearly enough ways to express your Sim's interests and personalities through decor.
And if your Sim is a skier, it would make sense for them to have something in their home indicating just how much they love skiing.
Seriously, any real person who's into sports has that stuff all over the place.
Tidier folks might keep some things in the garage, but it's certainly not uncommon to find snowboards in the living room, bowling balls in the closet, or baseball bats in the bedroom.
That last one might not just be for sports, though.
Either way, these simple wooden skis will be a great decorative piece in any room of your Sim's house. Or if you're ambitious enough to build your own ski lodge, they'll of course fit right in there, too.
Browse:
Lists
The Sims 4
Video Games