Sims 4 Socks CC: All The Best Pairs For Male + Female Sims
This post may contain affiliate links. If you buy something we may get a small commission at no extra cost to you. (Learn more).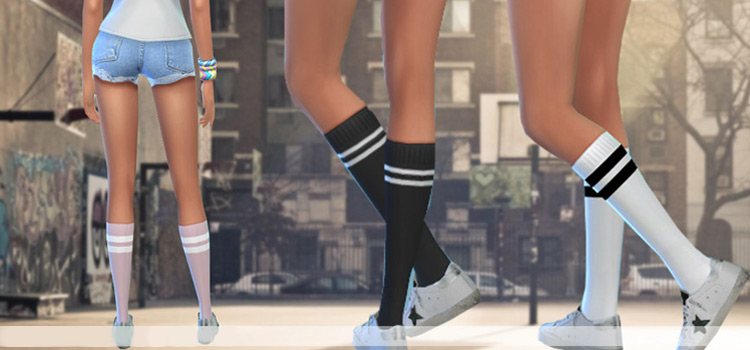 Do socks make or break an outfit?
I personally don't notice much in real life (unless the socks are specifically the focal point of the fashion). It's a completely different story in The Sims 4, for sure.
EA does, arguably, have a pretty decent grasp of fashion with respect to when they release their games. But I see it more in their clothes and outfits.
There is so much room for improvement where the accessories and makeup are concerned. There's so much room you could probably have all that space rented out.
That being said, this list of CC is to top-up your Sim's sock drawer. Because socks are a fashion staple, and the vanilla game sock options are getting pretty repetitive.
1.

Adidas Socks by Pinkzombiecupcakes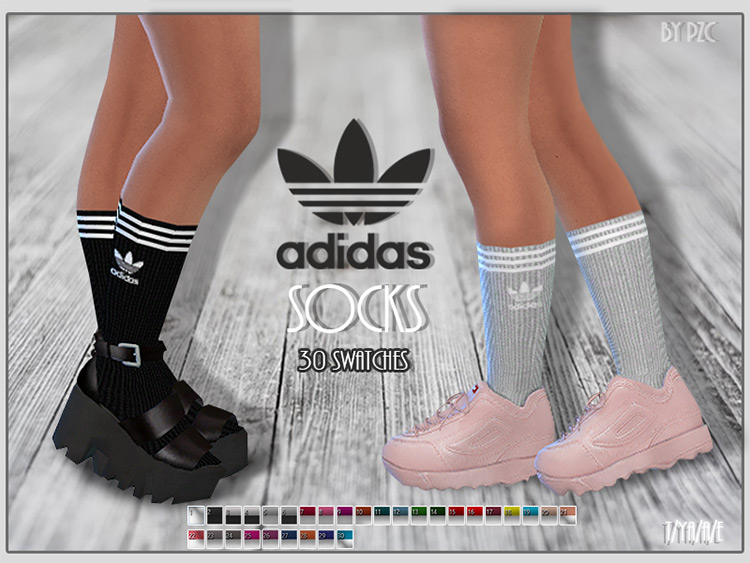 | | |
| --- | --- |
| Swatches: | 1 variation, 30 colors |
| Unisex: | Yes |
Let's start this list out with some classic branded socks, because who doesn't have a pair of socks with sports logos?
Yeah, okay. I don't mean to generalize. Maybe you do. Maybe you don't.
Either way, your Sim can definitely have one with this CC item.
It's a pack of plain-colored socks with three white stripes at the top and a neat, three-leaf logo on the side. The texture in the preview photos looks to be heavily ribbed, but it's a lot more subtle in game.
Switching Laptop Mode on could potentially make it look smooth and plain like regular vanilla TS4 socks, but it doesn't detract from the quality at all.
I actually love the fresh, simple, and stylish vibe of these socks. Very practical.
2.

Female Loose Socks + Male Loose Socks by Sims4 Marigold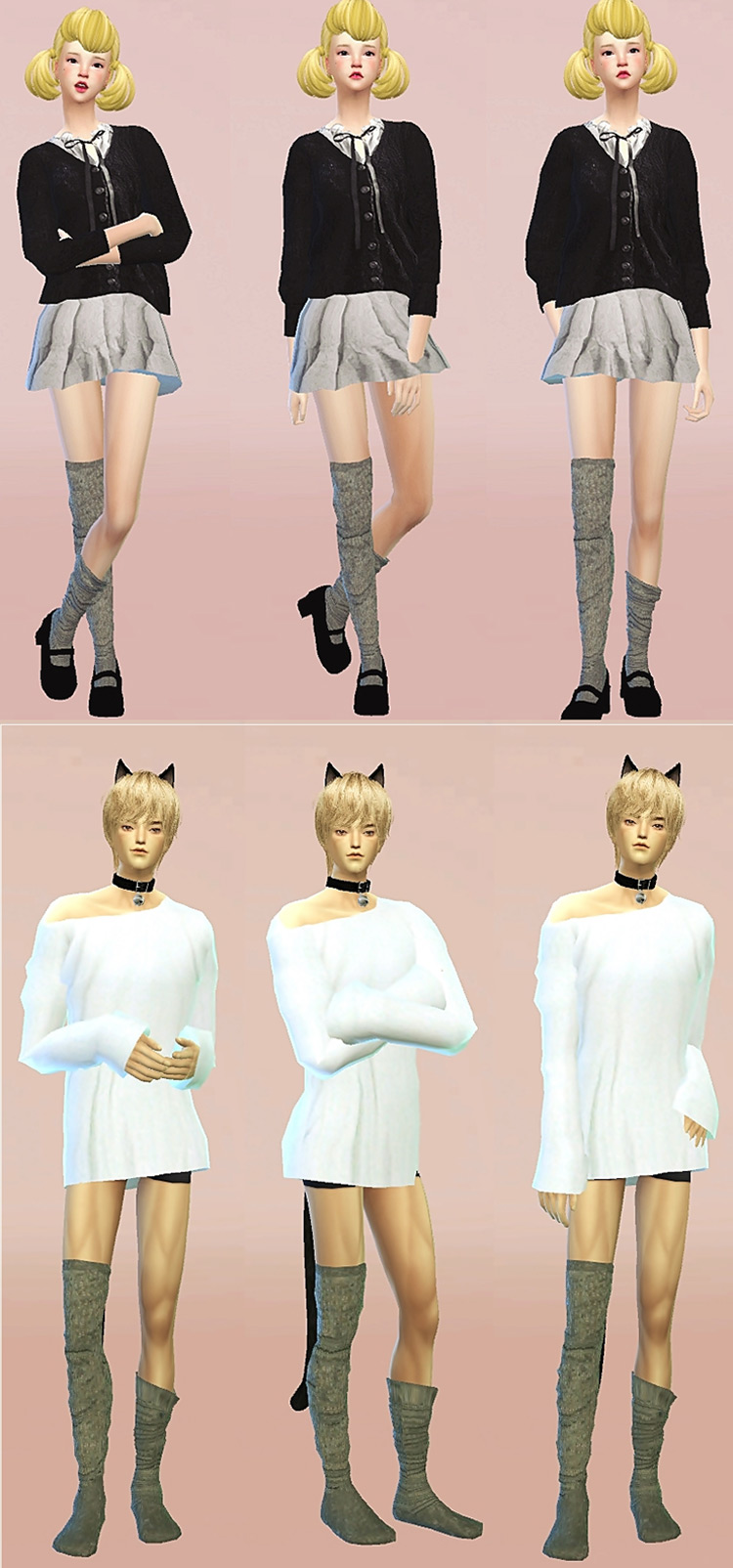 | | |
| --- | --- |
| Swatches: | 2 variations, 5 colors |
| Unisex: | Separate Files for Male & Female |
You know what irks me the most about EA socks?
The lack of texture and the perfect, computer-generated symmetry.
They've got some cute patterns and color swatches, I'll give them that. But what they offer is usually less fashionable and more… functional. Practical. Dependable.
All synonyms for boring.
Sims4 Marigold's Female Loose Socks and their male-specified counterpart is a prime example of why I love The Sims CC creators so much. Just look at the texture. The variance. The asymmetrical rips and baggy edges that give two socks so much personality.
Now these are socks you'd be happy to show off—maybe with shorts or a skirt and some chunky platform sneakers.
3.

Pikachu Knee-High Socks by Nerwen666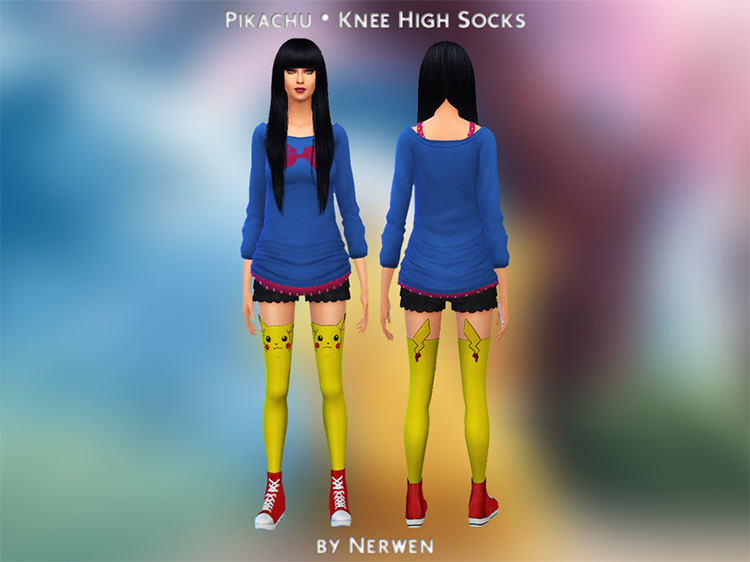 | | |
| --- | --- |
| Swatches: | 1 variation, 1 color |
| Unisex: | No |
It's really, really tempting to just write "Pikachu!" as the description for these socks.
But since I cannot, in good faith, do only that. I'll just say that this TS4 CC takes "character socks" to a whole new level.
As you can see, these sleek yellow thigh-highs have the iconic yellow mouse's face (and tail) gracing the tops.
I have no idea how viable these socks would be in real life – I feel like the grip and holding the shape would be an issue.
But in The Sims 4? Where gravity doesn't really exist?
They're hella cute.
4.

[Pride Collection 2020] Male Pride Socks by DarkNightTt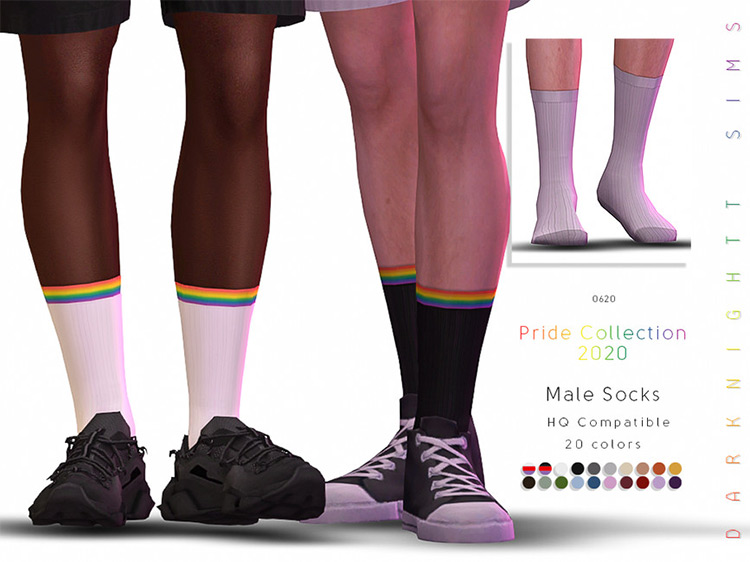 | | |
| --- | --- |
| Swatches: | 1 variation, 20 colors |
| Unisex: | No |
Sims 4 CC creator DarkNightTt released this awesome pack in time for Pride Month, 2020.
First of all, the concept and intention behind these socks are awesome.
Second of all, the design is great.
The hand-painted texture and base game mesh makes them look like thin cotton stockings which come up about mid-calf, so you could definitely pair these with most of the vanilla TS4 shoes.
And hey, even if your Sim isn't gay themselves, the rainbow stripe at the very top is subtle enough and simple enough to come off as a considerably cute look.
5.

Chunky Socks by drt77
| | |
| --- | --- |
| Swatches: | 1 variation, 8 colors |
| Unisex: | No |
So, these aren't actually socks in the sense that they don't have toes.
They're more glorified leg warmers than "functional" socks.
So if your Sim was to walk around wearing nothing but these on their feet, you'd be able to see their entire foot. But considering how socks are simply cosmetic in The Sims 4 (as in, they don't affect your Hot Weather/Cold Weather outfit score if you've got Seasons), this shouldn't be a problem.
Pair them with ankle boots or chunky work shoes to get the full & fashionably rugged effect.
6.

Sugar & Sweetener Socks by Saurus
| | |
| --- | --- |
| Swatches: | 1 variation, 30 patterns |
| Sweetener Swatches: | 1 variation, 30 colors |
| Unisex: | Yes |
For fun, fashionable, and highly quirky Sims with plenty of character, these syrupy-sweet thigh-highs by Saurus are everything.
Thin, body-painted, texture-less EA socks can be saved with really clever or really cute designs. And these Sugar & Sweetener Socks definitely deliver.
From Pusheen the Cat peeking over your toes, to little baby rabbits keeping them warm, these Sugar socks are almost disgustingly adorable.
The Sweetener socks, on the other hand, come in 30 solid colors of soft earths, pale pastels, and hints of mint.
You can install them as a super-sweet set or get them separately. But I highly recommend the whole set.
It's basically 60 different socks in one download, and they're all beautiful.
7.

Run Away Socks by Trillyke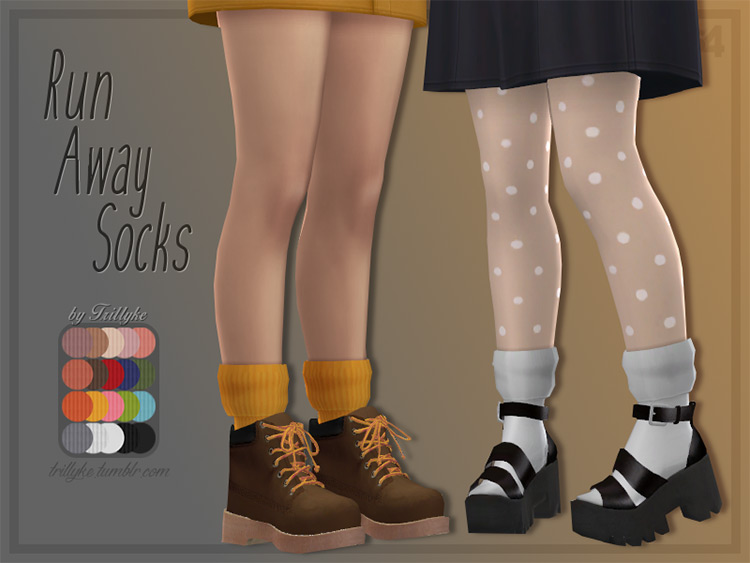 | | |
| --- | --- |
| Swatches: | 1 variation, 20 colors |
| Unisex: | Yes |
If it isn't obvious by now, I absolutely love thick slouchy socks.
I personally think most – if not all – of the vanilla Sims 4 game socks have little to no texture or visible thickness whatsoever. They all just look painted on. Even the supposedly "thick" woolen or Argyle socks.
Might just be me and my graphics settings, though.
Either way, I tend to veer away from uniform stocking-like items, in favor of socks with a little more personality.
Mismatched socks, thick socks, ripped socks, awkwardly thick socks … you name it, I'm here for it.
These Run Away Socks by Trillyke have a simple ribbed pattern and come in about 20 different solid colors.
And I love the bunched-up look to the fabric (right above the ankles). It makes it seem like the socks have been rolled down a couple times.
Just minor style details that add more depth to a Sim's fashion, you know?
8.

Vintage Athletics "Too-High Socks" by pleyita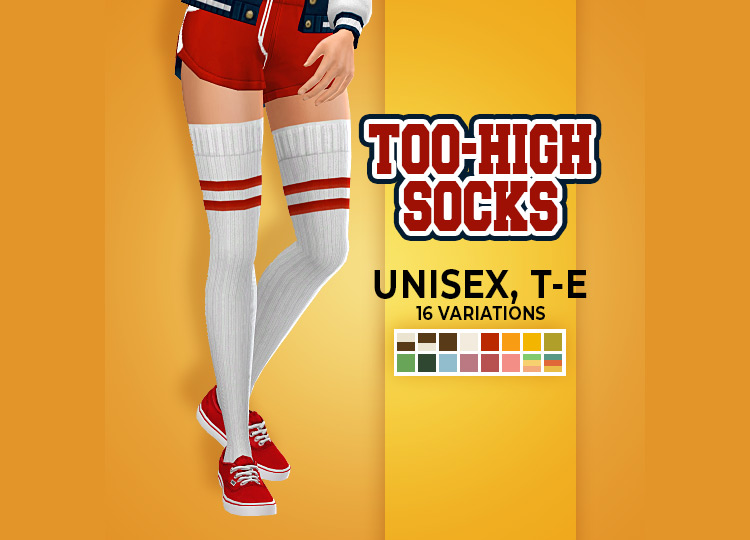 | | |
| --- | --- |
| Swatches: | 1 variation, 4 patterns, 12 colors |
| Unisex: | Yes |
These socks actually come part and parcel with a whole CC outfit set that screams "old-school sporty," but you can easily install just the socks .package file.
As the name suggests, these are a pair of practical sports socks that look just like the ones all old-movie teen jocks wear.
Just, you know, longer.
The ribbed edges go right up to the thigh. And the colored stripes sit a good two inches or so above the knees.
The plain-white-with-red-stripes combo definitely looks like it belongs on a lacrosse or flag football player who wears letter jackets 24/7.
Thankfully, the other swatches and variations of these socks soften them enough so even not-so-sporty Sims can enjoy them.
9.

Summer Fruits Socks by Pinkzombiecupcakes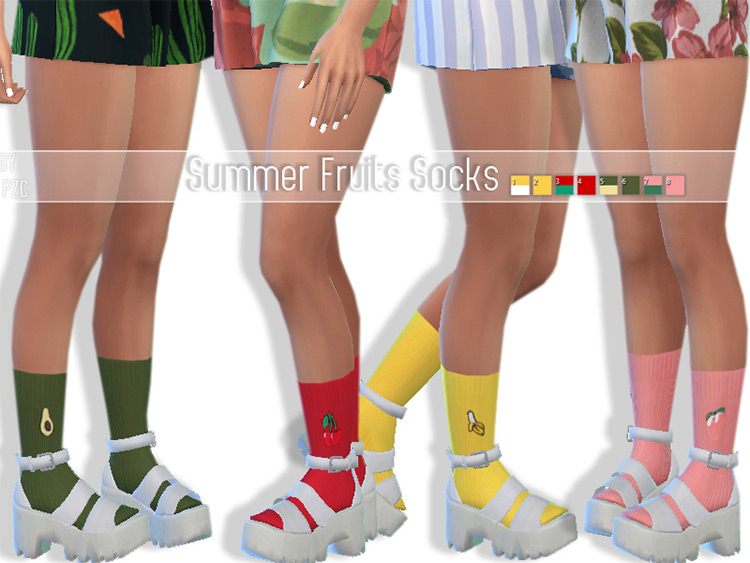 | | |
| --- | --- |
| Swatches: | 2 variations, 4 colors |
| Unisex: | Yes |
Whereas the Sugar & Sweetener Socks by Saurus look diabetically cute, these Summer Fruits Socks are visually tasty.
It's all a matter of personal preference, really.
Soft, sweet pastels and cutesy patterns or fresh, vivid brights with embroidered fruits?
Or you can always get both.
Sometimes you're in the mood for crisp, crunchy fruit. Other times you'd rather have cotton candy stripes to keep your legs warm. Let your Sim decide!
These Summer Fruit socks may not be as high as the Sugar & Sweetener ones. But the concept – and execution – is every bit as adorable.
Let your Sims slip these on for a pop of color. They come in plain, non-fruit-flavored variations, too!
10.

Wool Socks by MahoCreations
| | |
| --- | --- |
| Swatches: | 1 variation, 8 colors |
| Unisex: | No |
According to the creator, these socks are "for warm winter feets."
Cute, cozy, and incredibly wooly, I'd say these socks are the fuzziest on this list.
Could be the texture or could be the color pattern (a nice speckled white-and-colored array). Either way, they definitely look like they could keep your feet sufficiently warm on cold wintery nights.
As someone who prefers textured TS4 clothes, I'm 100% sold.
Highly recommend pairing these with a baggy, well-worn, oversized sweater, and maybe a knit beanie for a fashionably frumpy look.
11.

Knit Loose Socks by Sims4 Marigold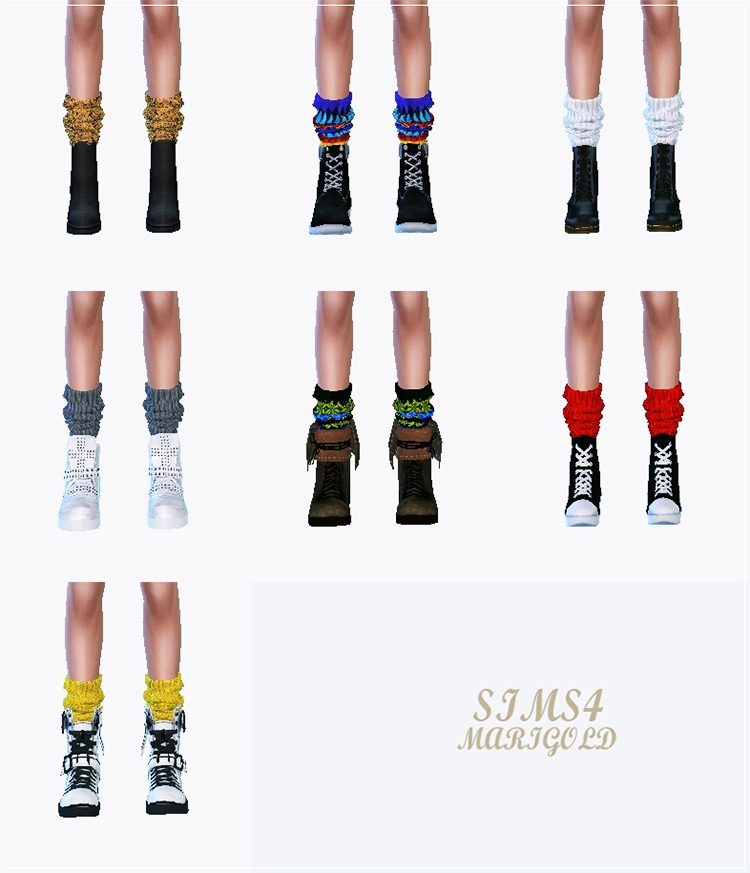 | | |
| --- | --- |
| Swatches: | 1 variation, 11 patterns, 64 colors |
| Unisex: | No |
While we're on the topic of warm feet, can I interest you in more thick knitted socks?
These CC socks from Sims4 Marigold are particularly chunky. And I am living for it.
Again, it's really the texture that does it for me. These socks look like your Sim actually wore them instead of, you know, painting them on.
(As is the vibe that most EA socks give.)
The fabric is loose and oversized, it bunches clumsily around the ankles, and the overall vibe is just so "well-worn" and "cozy."
They don't look "slouchy to the point of ridiculous," either. Because those custom socks do exist.
The creator did an awesome job at striking the middle ground.
And this creator takes it one step further by offering two variations, too.
One where the folds fall around the ankles (or what she calls the "low version," perfect for flats and sneakers), and one where the folds come to around mid-calf. That's also known as the "high version" specifically meant for high-tops and boots.
You can download either file or take them both.
12.

Sport Stockings by Nell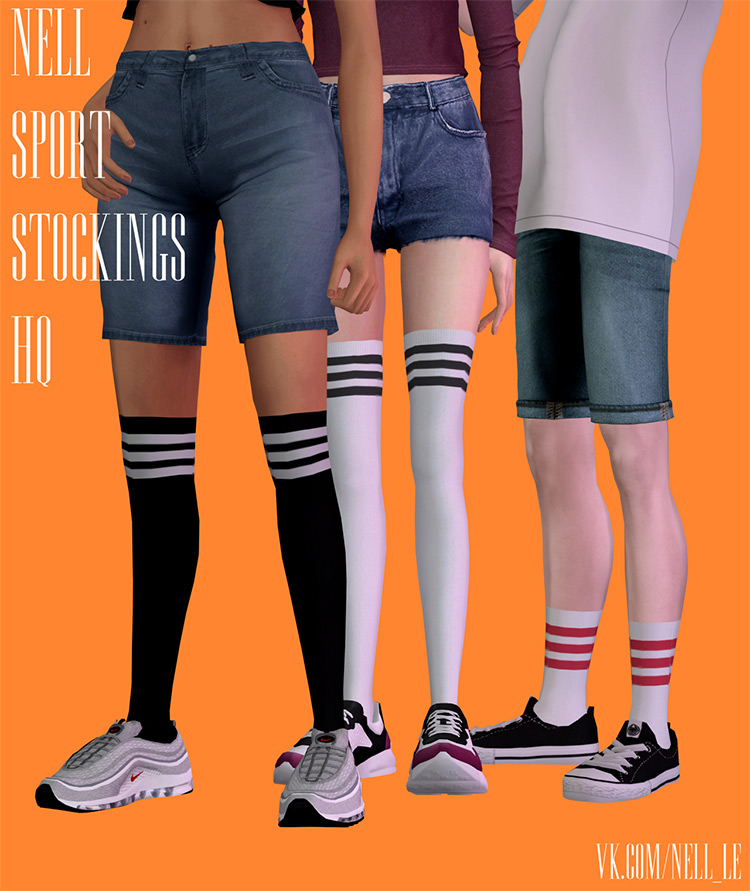 | | |
| --- | --- |
| Swatches: | 3 variations, 5 colors |
| Unisex: | Yes |
How is this sporty-looking footwear different from pleyita's Vintage Athletics "Too-High Socks"?
Other than the lack of the extra-thick swatch of rolled fabric on the top and the visually thinner fabric – which I'm not chuffed about, since the creator calls them "sport stockings" – these socks come in different colors and different sizes.
As you can probably tell by the preview photos, there are three lengths: thigh-high, knee-high, and mid-calf.
So if one size doesn't work with your Sim's outfit, you can easily just pick another one.
Same style, different length. Convenient concept, no?
13.

Colorfully Socks + Mirrored Version by AdrienPastel
| | |
| --- | --- |
| Swatches: | 1 variation, 14 colors |
| Unisex: | No |
These Colorfully Socks by AdrienPastel are asymmetrical socks that decided to take the "mismatched socks" concept one step further.
The sock's colors don't match and the lengths don't line up at all. There is a huge size difference.
So it's not like your Sim wore two different socks and hoped no one would notice, no.
The concept is very much a conscious fashion choice, and I think it's executed beautifully.
There are 14 pre-set color combinations, so you can't exactly choose to pair one bright orange sock with a black sock one day and a blue one the next.
But the limited customization doesn't bother me so much, since the creator also included a mirrored version. This means the shorter sock can go on either your Sim's left leg or their right.
14.

Daisy Socks by Dissia
| | |
| --- | --- |
| Swatches: | 1 variation, 10 patterns |
| Unisex: | No |
We had fruits, we had candy stripes, and we had Pikachu.
But hold on to your toes, because I'm about to drop another sickeningly cute pair of socks for your Sim's sock drawer.
These knee-high Daisy Socks by Dissia come straight from the land of pink powder puffs and cotton candy clouds. Wearing anything but soft pinks, whites, and baby blues with these socks would be criminal.
Denim and leather? Definitely not gonna work.
These are the most cotton-soft and dainty-looking things on this list, and that's a fact.
Despite the very subtle ribbed texture, they look almost sheer. How the creator did that, I wouldn't know. I just know that these socks are the lightest pink and covered with the cutest animal print.
Perfect for cupcake lolitas and Sims that just generally love all things adorable.
15.

Knee Socks by Descargas Sims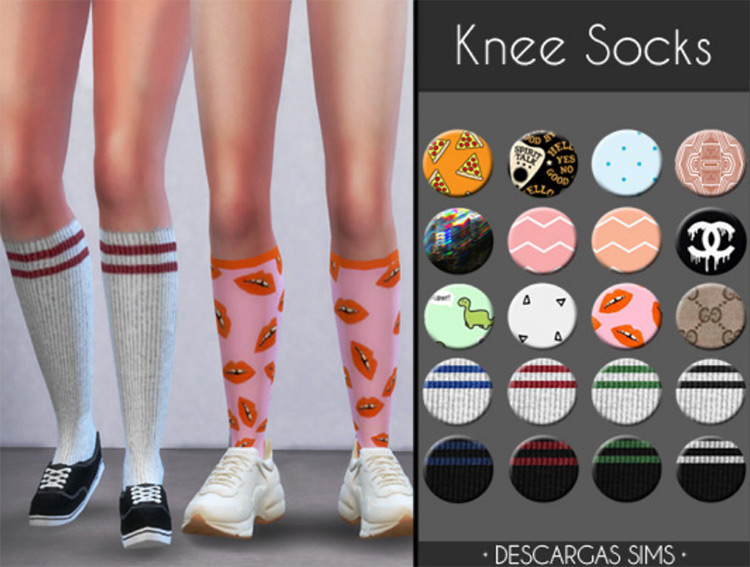 | | |
| --- | --- |
| Swatches: | 1 variation, 20 patterns |
| Unisex: | No |
For the Sim that embodies the casual street-wear style and believes that every piece of clothing you wear makes a statement, I present to you some random-patterned knee-high socks.
Yes, there are hundreds of Sims 4 CC socks with crazy patterns and designs out there.
But these caught my eye.
They're bold, distinctly graphic, and are arguably quite unique. They didn't stick to any one theme, like "galaxy" or "cartoons."
Instead they mixed "simple drawings" with "zigzag stripes," threw in a dash of "stylized fashion logos," and even included the classic "thin stripes on solid background" (which have popped up at least three times in this list).
These designs may not be so unique, but the combination definitely is.
16.

Socks "Smile" by AliMlen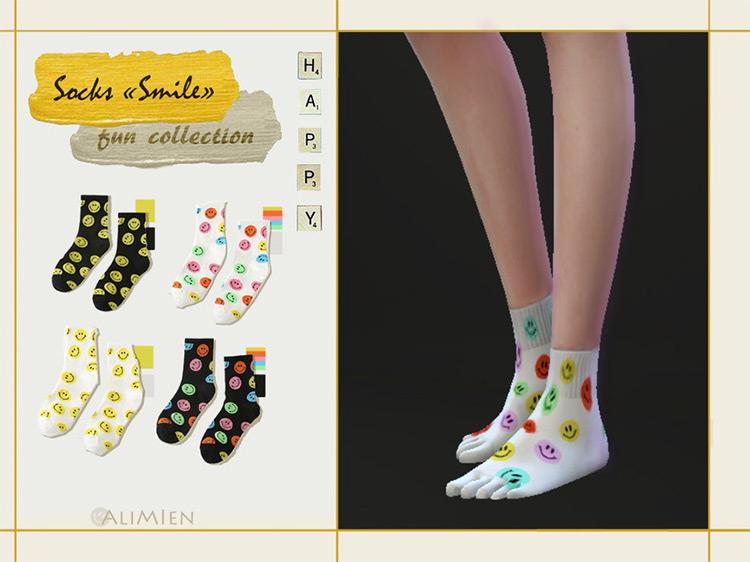 | | |
| --- | --- |
| Swatches: | I variation, 4 patterns |
| Unisex: | No |
Everyone should have a pair of smiley-face socks. Everyone.
Why should the Sims be any different?
There are only four swatches for this CC, but that was enough for the creator to hit all classic "smiley" designs.
You've got your standard "yellow smiley face" on solid background – white and black, in this case – and then you've got your "multicolored smiley faces" pattern. Still on solid background.
Best part of these socks? The toes.
Yes, these are toe socks. Way too cute to compute.
17.

Madlun Su Socks by Madlen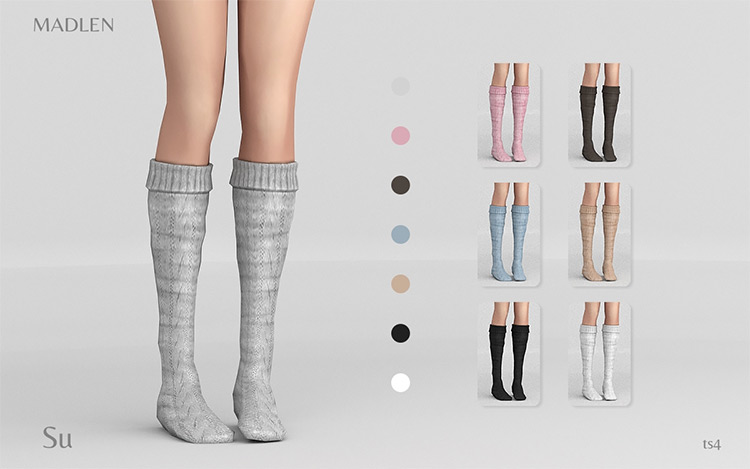 | | |
| --- | --- |
| Swatches: | 1 variation, 7 colors |
| Unisex: | Yes |
Have I fulfilled my quota for recommending soft, cozy socks yet?
Nope.
But if you're sick of the thick, warm, and wooly options, don't worry; this one's got you covered.
And I will say that these socks aren't even that thick or chunky compared to the other CC items we've got here. They're definitely not painted on, for sure, but the texture and mesh still give them this "breathable cotton" vibe.
Which is what you'd want in socks, I guess.
I mostly just fell in love with how gorgeous the colors looked with the texture. Seven of the shyest, lightest neutrals you ever did see on fabric that has no business looking like a soft, comfortable sweater.
Maybe not great for winter months, but I'd definitely wear these in the spring or something. And so would my Sim.
18.

Rabbit Socks by eyquardjl2
| | |
| --- | --- |
| Swatches: | 1 variation, 9 colors |
| Unisex: | No |
I realize that I don't have a lot of short ankle socks or feet socks on this list. So I'm very quickly remedying that with this CC recommendation: a sweet, simple, and oh-so adorable pair of teeny foot socks with candy-colored toes and a drawing of the cutest little bunny on the top.
These are the kind of socks you wear proudly with open-toed shoes, or with very wide flats, just to show off the design.
These socks may not be capable of keeping your feet warm. But they can keep them cute.
I'm 100% charmed. And I'm certain you will be, too.
Browse:
Lists
The Sims 4
Video Games