Best Sims 4 Sorority CC & Mods (All Free)
This post may contain affiliate links. If you buy something we may get a small commission at no extra cost to you. (Learn more).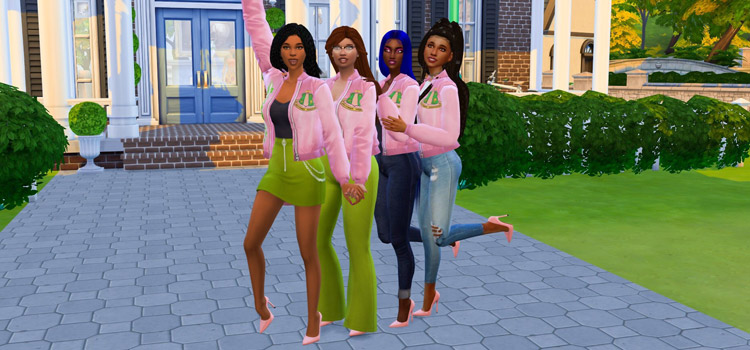 For many young women, a sorority is half their motivation for going to college.
It's an experience you can't get anywhere else, full of camaraderie and fun.
Sororities have a long history of providing stability and sisterhood to students who are a long way from home and left their families behind. For generations, girls have taken pledges and taken part in secret rituals to declare their lifelong loyalty to Greek Life.
Or something like that.
Movies always make it seem like a really big deal, anyway.
And this is still a very fun idea for The Sims. There's nothing better than sticking eight strangers (or more, with mods) in a house and seeing what happens.
But to get that true sorority feel, you'll need a little more than that.
Thankfully, custom content creators are here for us.
Sorority Drakka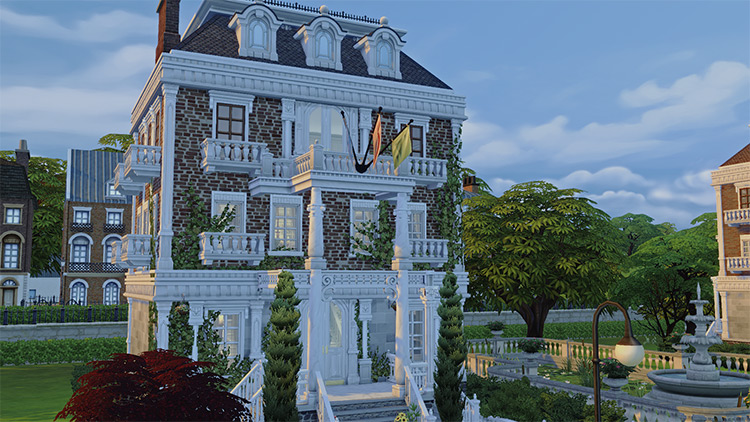 If you want your Sims to live that sorority life, you'll certainly need more than a regular old house to do it.
This incredible build will be the perfect place for your Sim and all her new 'sisters' to reside while getting through those university years.
It's a downright gorgeous three story brick house, filled to the brim with elegant furnishings and decor.
Not that it matters since I don't think anyone ever buys their own sorority house, but this lot only costs $103,997.
That's kind of amazing considering how big and beautiful it is.
I doubt there's any available that cheap in real life!
Kappa Kappa Tau Sorority House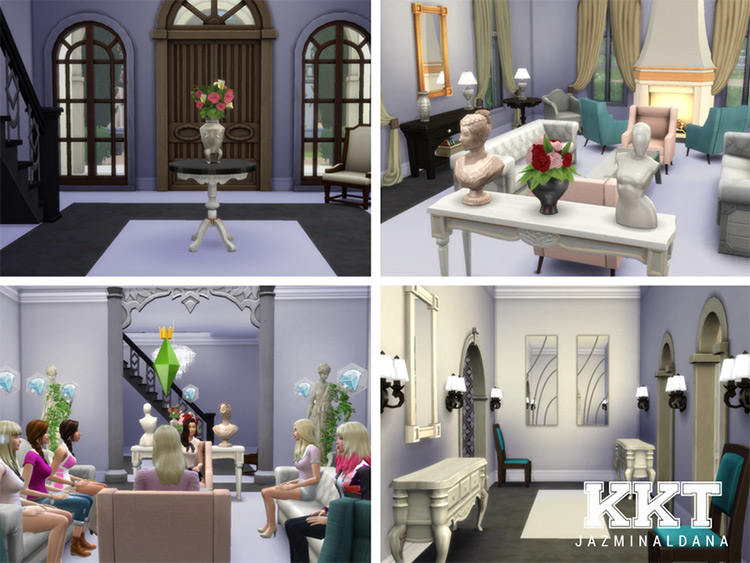 For a slightly less fancy living situation, your Sims may want to opt for this Kappa Kappa Tau house from jazminaldana.
While the previous sorority lot uses quite a few packs, this one is mainly built with stuff packs as well as a couple expansions.
However it's still pretty, and well… clean.
Most rooms have an all-white color scheme, from the walls to the furniture.
Yikes.
No more eating chocolate ice cream in bed!
And if this house looks a little familiar, you may be recognizing it from the short-lived satirical television series, Scream Queens. I have to applaud the creator, since I always love being able to bring iconic builds from film and television into my game.
Kappa Kappa Tau Top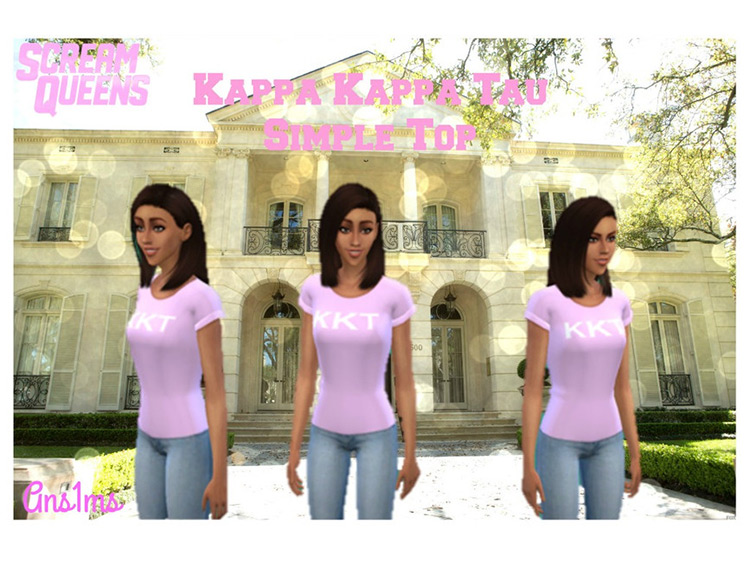 To go with the Kappa Kappa Tau house, you'll need the Kappa Kappa Tau top!
Even if you aren't familiar with Scream Queens, this shirt will still work for your Sims.
The more sorority CC, the better, right? And the lettering is ambiguous enough.
But if you do know the show, it's an extra little bit of fun.
The drama, comedy, and secrecy of sororities rarely gets portrayed in television, for some reason.
And us Simmers can agree, there's a lot of entertainment potential!
Sorority Top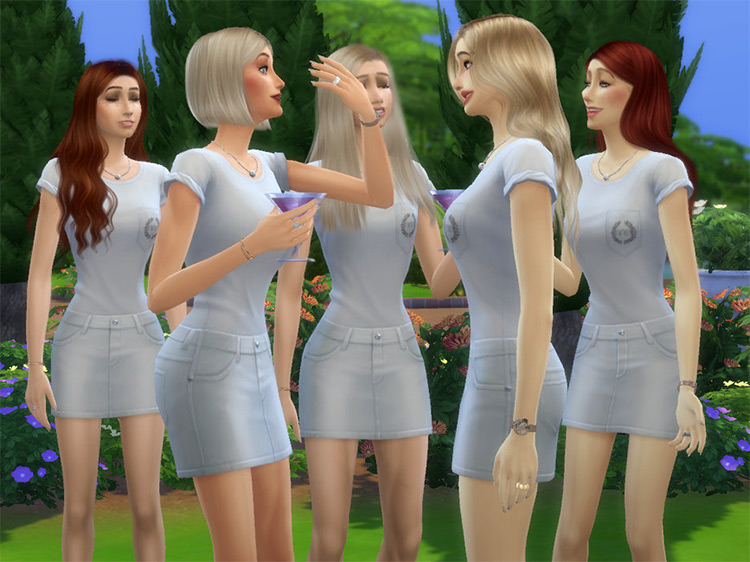 You'll surely want your Sim to look the part outside of their sorority house.
And you can let them rep their sorority no matter where they are, just with this simple top.
There's no mistaking that leafy detail on the pocket. It clearly says your Sim is living that sweet, sweet sorority life.
It's an edit of my favorite basegame shirt, so that means it's available to everyone!
Your Sim will look young and free with this tee tucked into any skirt or pair of pants.
Slob's Life Clutter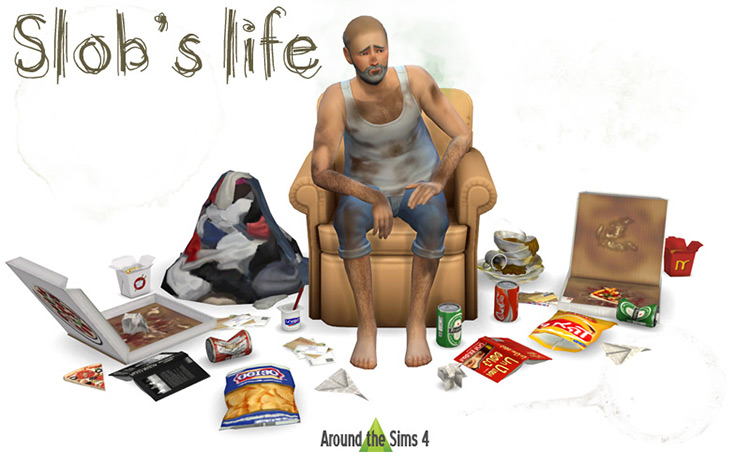 Let's be honest:
You gather enough young adults under one roof, and it's not going to be all pristine white carpet and clean surfaces.
These Slob's Life clutter items will really make it look like there are busy college kids living there.
Cheesy greasy pizza boxes, empty soda cans, chip bags, and dirty laundry are the staples of any slobby person's home.
And this clutter will make for an interesting dynamic, since chances are every sorority has a mix of people who'll want to keep the house clean, and those who just don't care.
Alcohol & Syrup Bottles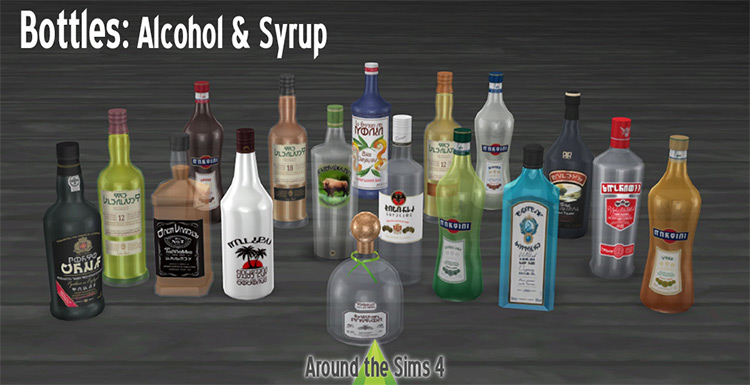 Whether it's supposed to be there or not, I think you'll find alcohol in all sorority houses at one point or another.
Rules, schmules.
It gets people free of their inhibitions and a little more confident than they otherwise might be without that liquid courage. So of course, that makes for a lot of fun times.
Sims don't react quite as strongly to juice as real life people do to alcohol.
But these bottles will still be nice decorative items for those edgier gals.
Sorority Jackets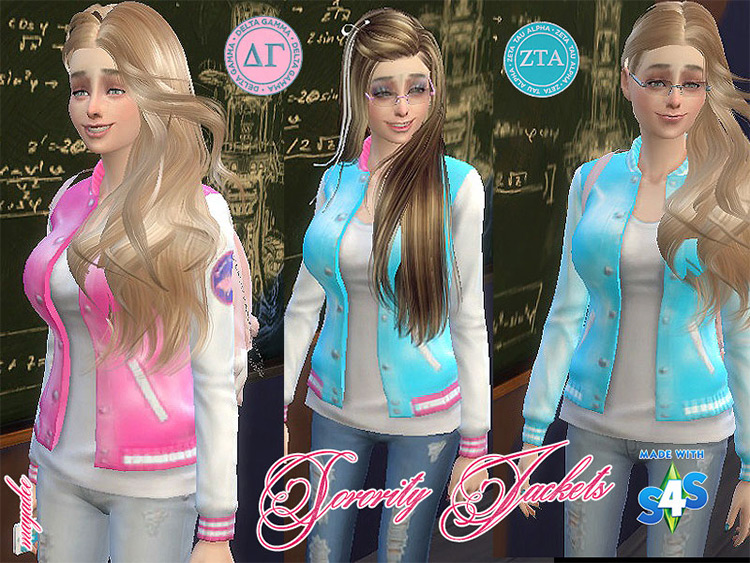 I've mostly portrayed sororities as somewhat… negatively so far, with all the talk of filthy houses and drinking and partying.
But the truth is, that's not totally the reality.
Sororities also do a lot of good, both within the house and out.
Many often focus on charity work, and the older 'sisters' take on a mentoring role with the new, younger girls.
The whole 'big sister' and 'little sister' concept is just the most wholesome thing ever. It's pretty sweet. The Bigs will try to make things easier on the Littles, sometimes even making them gifts or baking them treats.
Overall, they serve as a friendly face for the newcomers. Someone to show them the ropes and guide them through this stuff.
That's a pretty nice title to bestow upon your Sim, right?
These jackets, available in blue or pink swatches with emblems, will allow you to do that. "Big Sister" is on the back of a couple in big letters, designating your Sim as one of the older, wiser people in the house.
Longer Parties & More Guests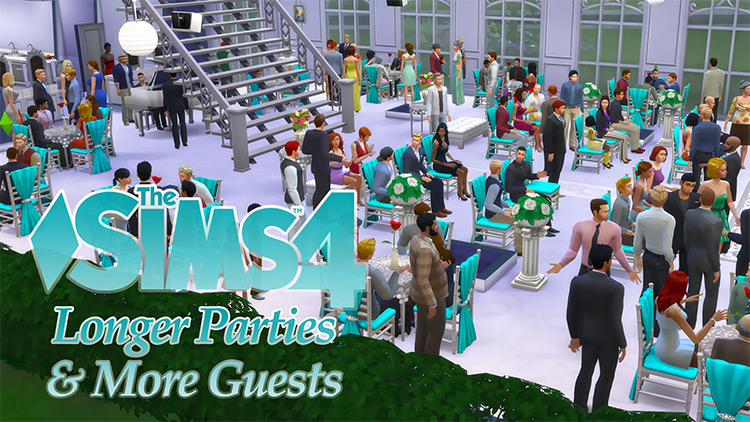 What good is a sorority house if you don't have crazy parties with tons of people that last well into the night?
Like many Sims 4 players, I previously played The Sims 3.
And with University Life, you could go on seemingly forever, chugging from the keg or playing beer – er, juice pong with friends.
Thankfully, those features returned to us with Discover University.
However, Sims are a lot more aware of overstaying their welcome with now, and they tend to autonomously leave rather quickly. Parties never last more than a few hours.
Not to mention, you're very limited as to how many guests you can invite.
Twelve Sims? Hah!
The creator of this mod, weerbesu, is truly a game changer.
Thanks to them, you can now have parties that last up to 24 hours, and invite up to 200 Sims!
Now that's a recipe for a good time.
Simlish Alfabeto
This is the perfect compromise for bringing some of the real-life Greek inspiration for sororities to the game, while maintaining the Simlish style.
There are twenty letters here, available in three colors, all based on the ones from The Sims 2.
Since CC makers are wary of converting any actual sorority names or emblems into the game (due to copyrights and all that), these letters allow you to kind of make up your own.
I'm a sucker for CC that matches the game's style, too. So I think placing a few of these letters in the common room of your sorority house will be pretty cool.
Only Girls Poses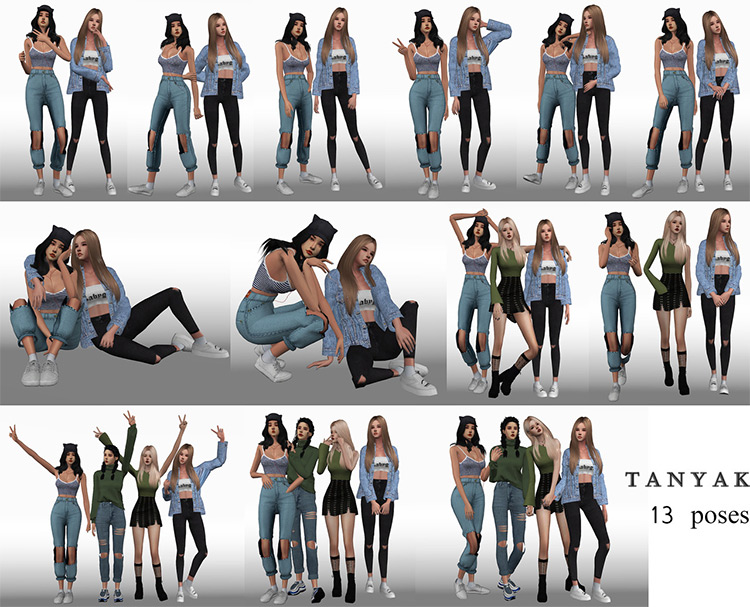 You have to remember that the days of your Sim's youth won't last forever.
I guess technically it could… Since unlike real life, your Sims don't actually have to age or ever move on with their lives.
But if you're playing with any sort of time progression, you might eventually want something to look back on.
Your Sim's sorority days will be long gone one day.
She'll be old and gray, with grandkids underfoot, her youth a distant memory.
But with a simple pose like this, you can snap a pic of her now with some of her sorority sisters, and let the future generations of the family know that she lived a full life.
Browse:
Lists
The Sims 4
Video Games