Sims 4 Split Dye Hair CC (Male + Female)
This post may contain affiliate links. If you buy something we may get a small commission at no extra cost to you. (Learn more).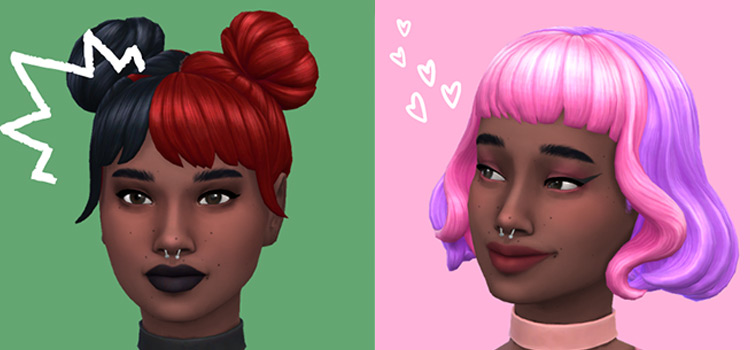 Fortunately, the people who think pink, blue, or green hair makes someone childish are far and few between these days.
And of course, life imitates art. And The Sims imitates life.
Nearly anything that can be found going on in the real world can be found in the game.
So if you like the split dye trend, you're bound to love these new styles for both men and women.
1.

Aaron Hair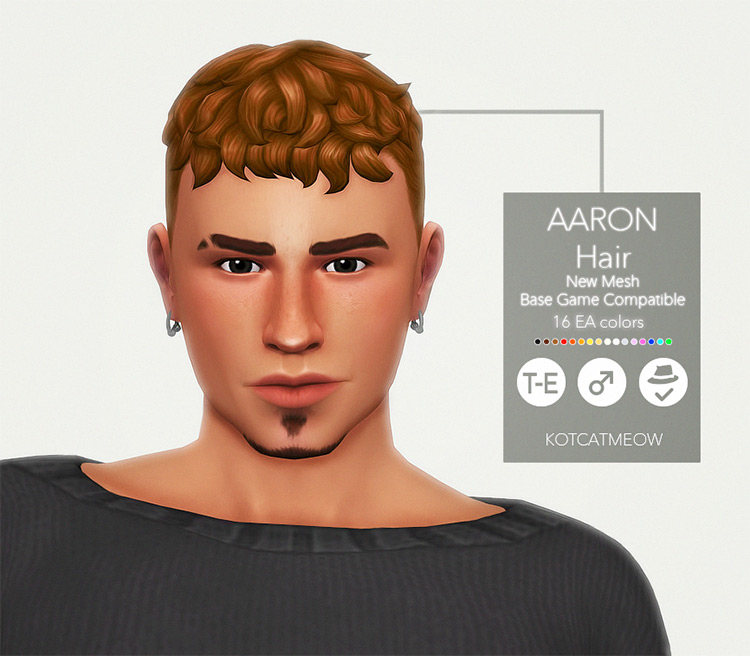 This fresh style will leave your Sim looking like he just stepped out of a barber shop.
With the split dye option, you can choose any of EA's original 16 swatches for the top portion while the buzzed areas can have a whole different color.
The facepaint version even has a slider so you can customize the intensity.
2.

Holo Hair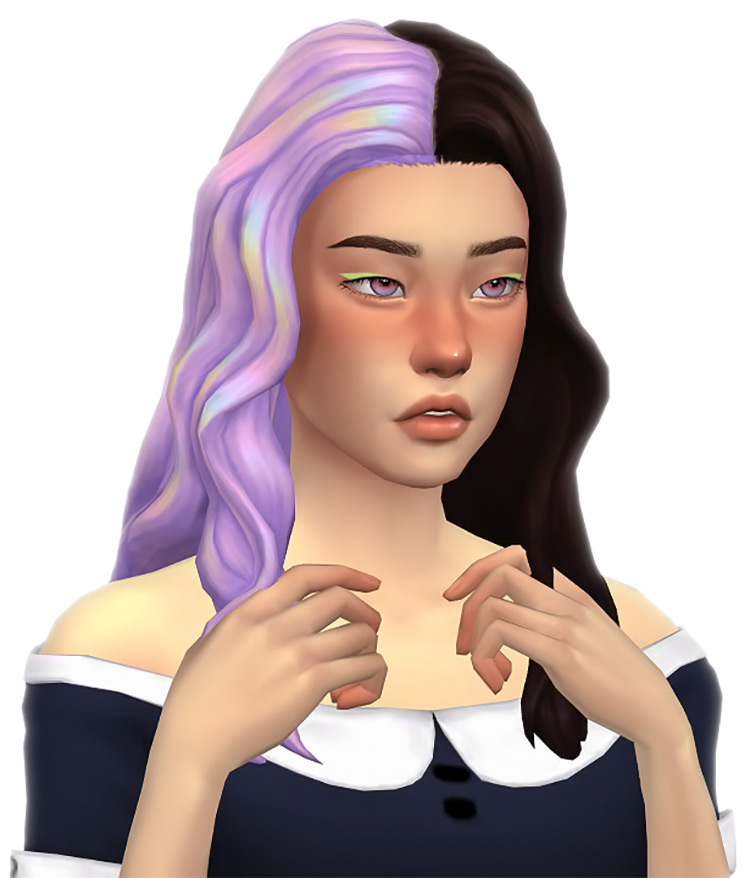 What SIMANDY has done here is next level – not just because of the split dye design, but because the dyed side also has a holographic appearance.
Whatever swatch you choose, there will be other colors subtly woven in, like teal and yellow in the purple or blue and green with the black.
3.

Crybaby Split Dye Hair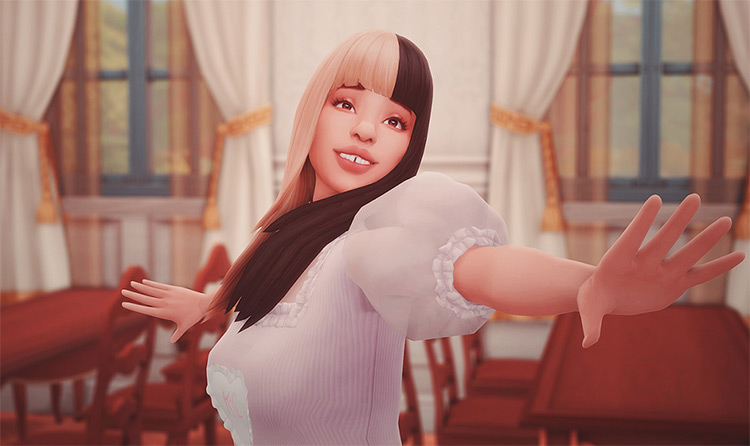 Thanks to EA's super lenient policy for content creators, this Simmer was able to make a base game compatible version of this iconic Cat & Dogs hair, complete with recolors.
The texture seems to have been improved a bit here and the 7 new swatches for the dyed side are a fun change of pace from the "unnaturals" already in the game.
4.

Expression Hair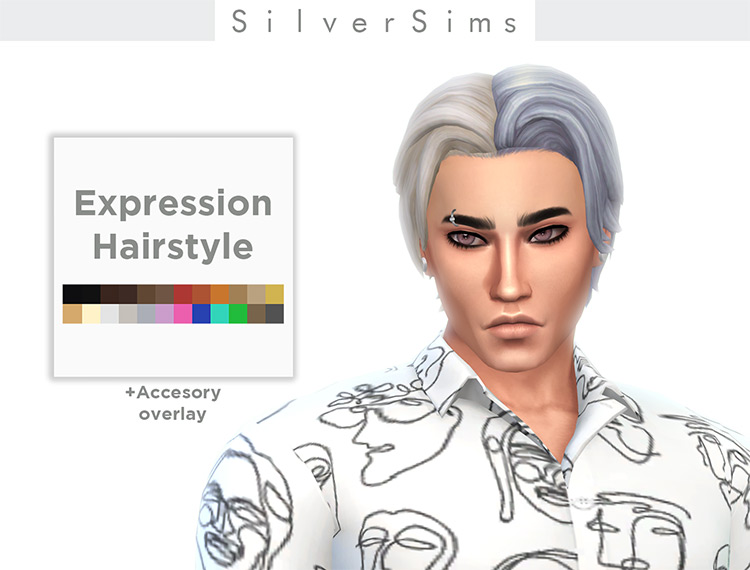 This somewhat shaggy, middle-parted look has such a chill vibe.
For young modern dudes this is an obvious choice!
And of course, the dyed aspect is we're all about right now. It's executed flawlessly here, like this cut was made for it.
5.

Marjorie Hair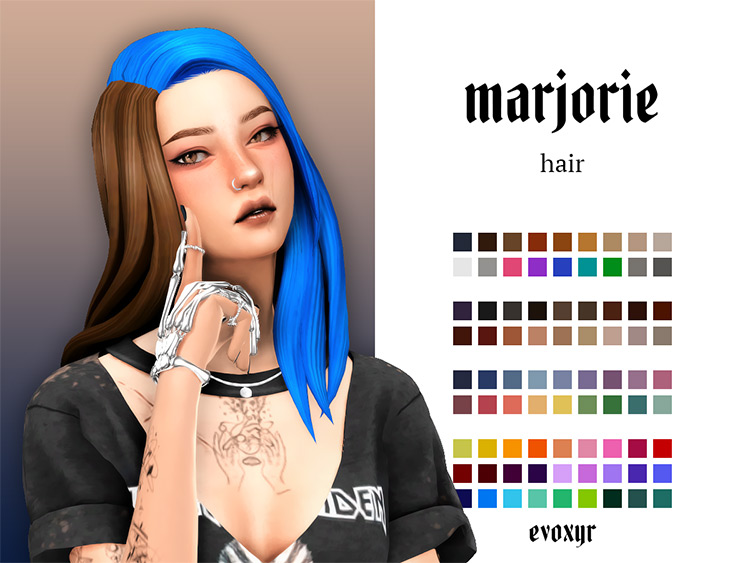 This hair's creator (Evoxyr) has made this about as player-friendly as possible.
There are multiple ways you can put your own spin on it because it's compatible with other split overlays.
The 80 swatches cover just about every shade you could ever want, and obviously will add tons of brand new colors to the game.
6.

Split Dye Hair Accessory (Snowy Escape Required)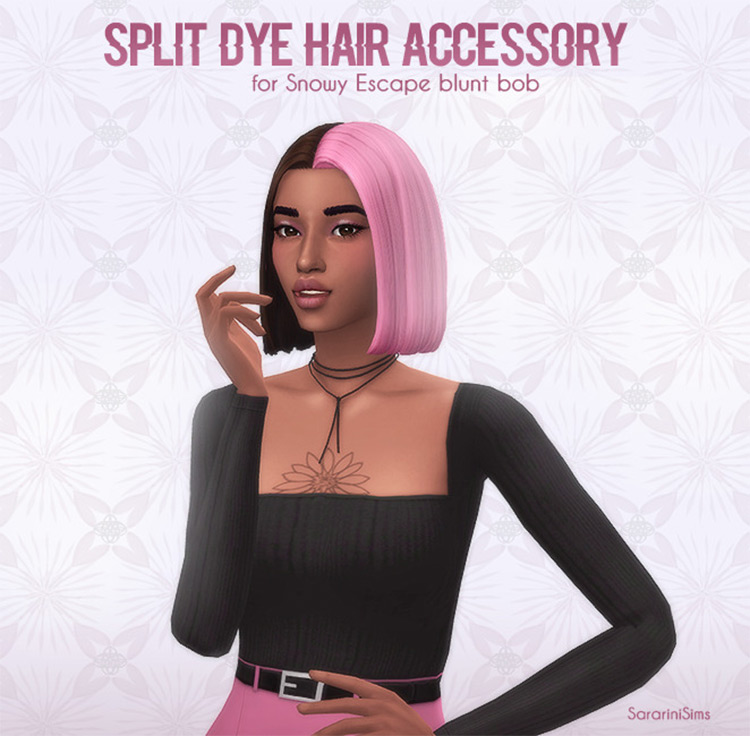 As many variations of the bob hairstyle as there are, this is the ideal one to a lot of people.
It's a flattering length, flawlessly straight, and permanently neat, at least for Sims.
The only way it could possibly be improved is with some new colors, and you'll get an abundance of them here.
7.

Two-Tone Split Short Hair
LightningBolt (this CC's creator) keeps things simple with this split-dye makeover.
The black and green combo really is striking, and it's quickly becoming a legend of our time.
Your Sim might just be the next one to make this their own defining look.
8.

Bobby Hair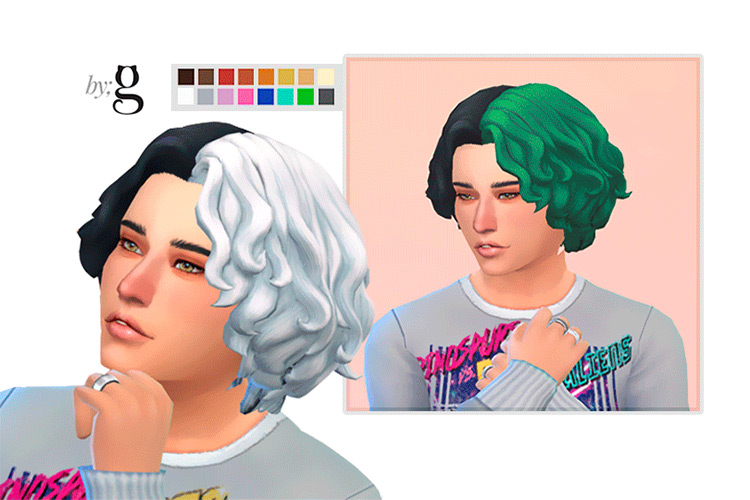 Textured hairstyles aren't easy to come by in The Sims 4, let alone create.
So the fact that these thick curls are this Simmer's first creation is just extra impressive.
All of the original swatches are available and the bright ones make those lovely curls stand out even more.
9.

Zero Hair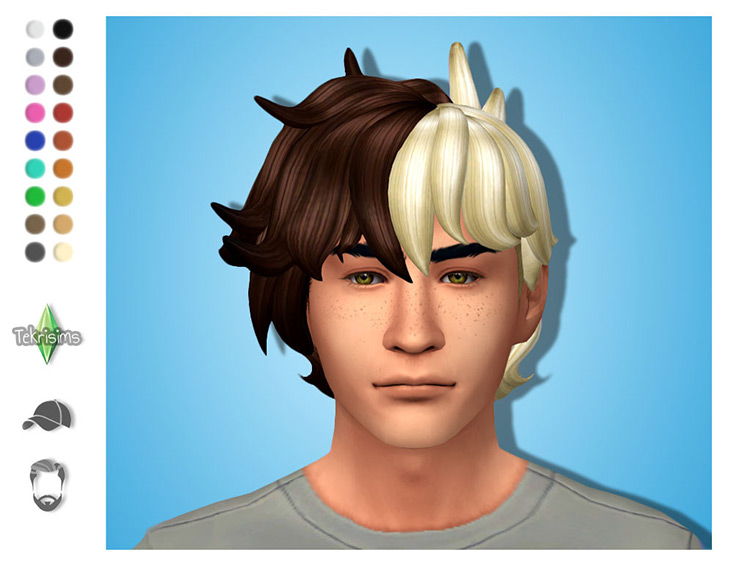 This hair is one of the few deliberately messy looks available for guys and it's full of unruly tufts and curly bits.
The split dye brings all of the details out really well and adds to the realistic feel.
10.

Enoby Hair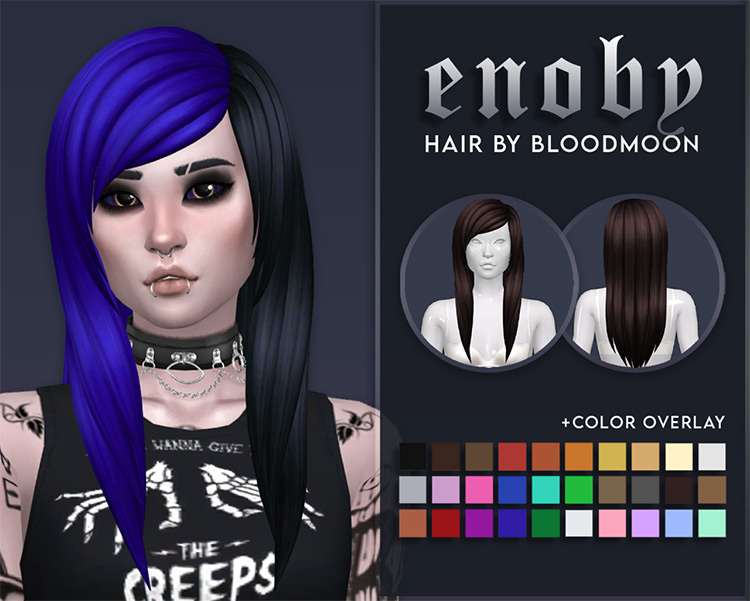 Let your Sims embrace all things My Chemical Romance and Fall Out Boy with this smooth, split dye masterpiece.
The side part and bangs really pull the whole look together, and there's honestly no bad way to pair up the colors.
11.

Martinez Hairstyle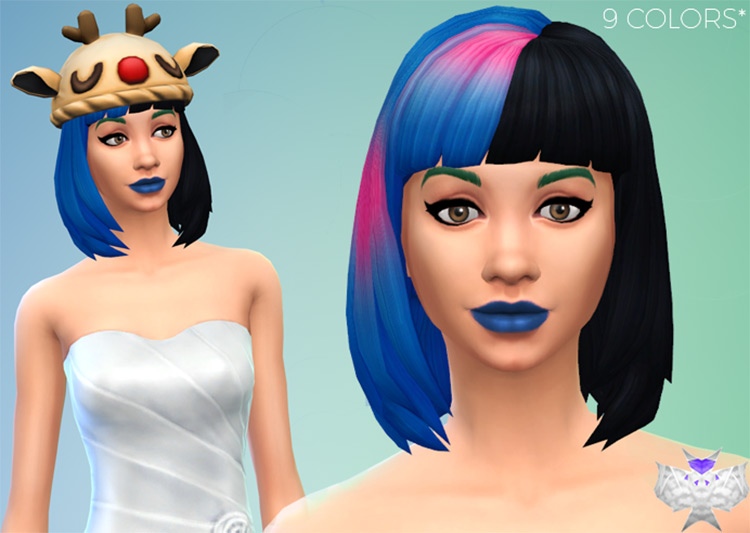 Here's a longer bob hairstyle, this time with bangs.
It's just perfect, honestly. And the dye pushes it into legendary status.
All 9 options are gorgeous!
12.

Holy Recolors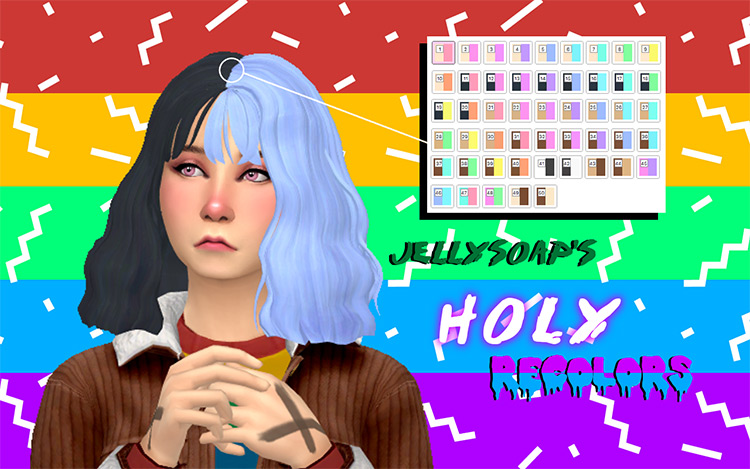 This wonderfully fluffy cut could only be improved with more colors, which this Simmer has provided.
You'll have 50 ways to make the most of this hair that's split down the middle.
13.

Split Dye Recolor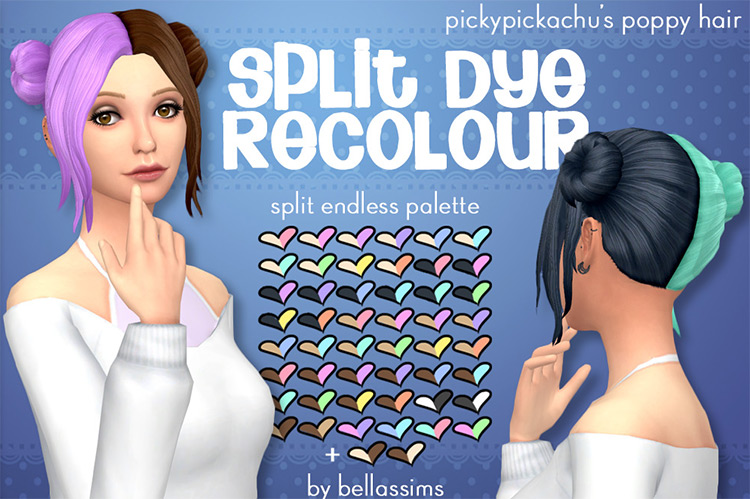 Updos definitely add some dimension to your Sim's look.
And they're particularly stunning when dyed.
You'll need to grab the mesh from the original creator, and then you can enjoy these adorable buns!
14.

Oceane Hair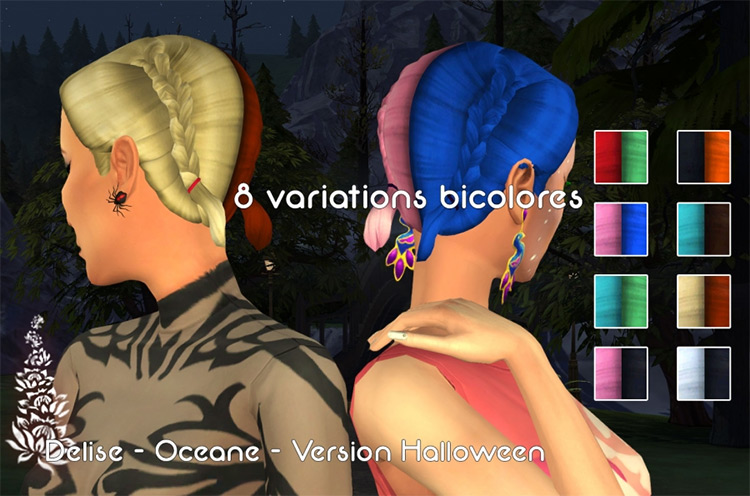 These braided pigtails look pretty complicated.
Fortunately, we don't have to go through the misery of actually braiding our Sim's hair.
8 two-tone swatches are included and a few of them will actually work really well for Winterfest or Spooky Day.
15.

Eco Lifestyle Split Dye Recolors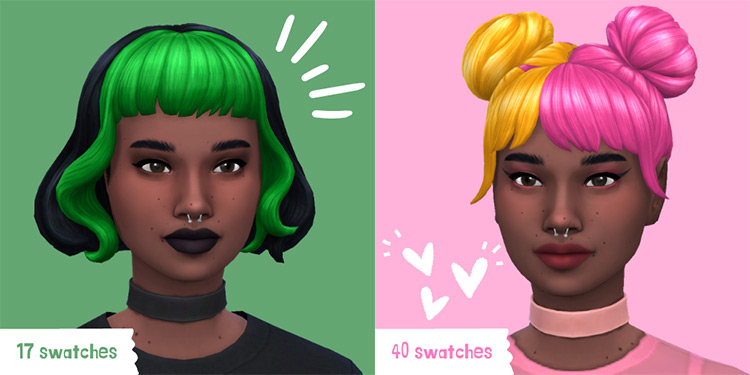 The Eco Lifestyle brought us some of the most chic, youthful haircuts we could ask for. Giving them some funky colors only adds to that.
This creator redid four of the styles from the pack to incorporate both dark and neon shades.
16.

Jenna Hair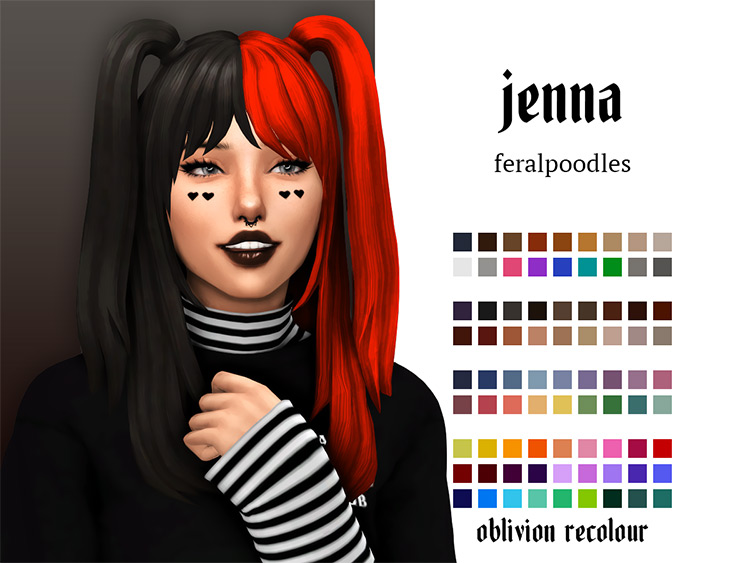 What we have here is a half-updo with long, silky pigtails.
With so many ways to personalize it through the sizable palette, it's super easy to create just the look that'll suit your Sims.
17.

Garnet Hair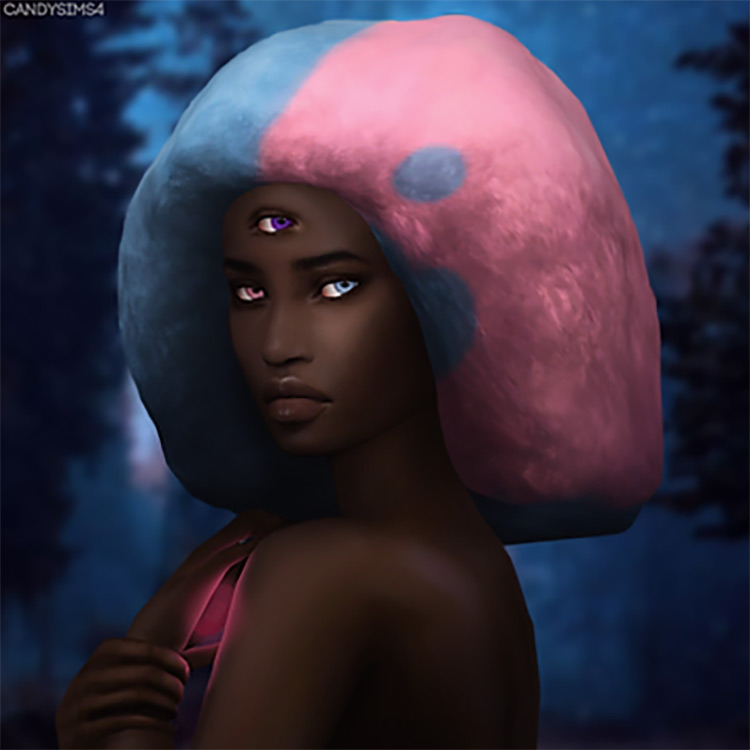 The bigger, the better!
Keeping that phrase in mind, it proves this hair to be among the best.
As far as texture goes, it can't be beat, and that makes the dye very vivid.
18.

Emma Hair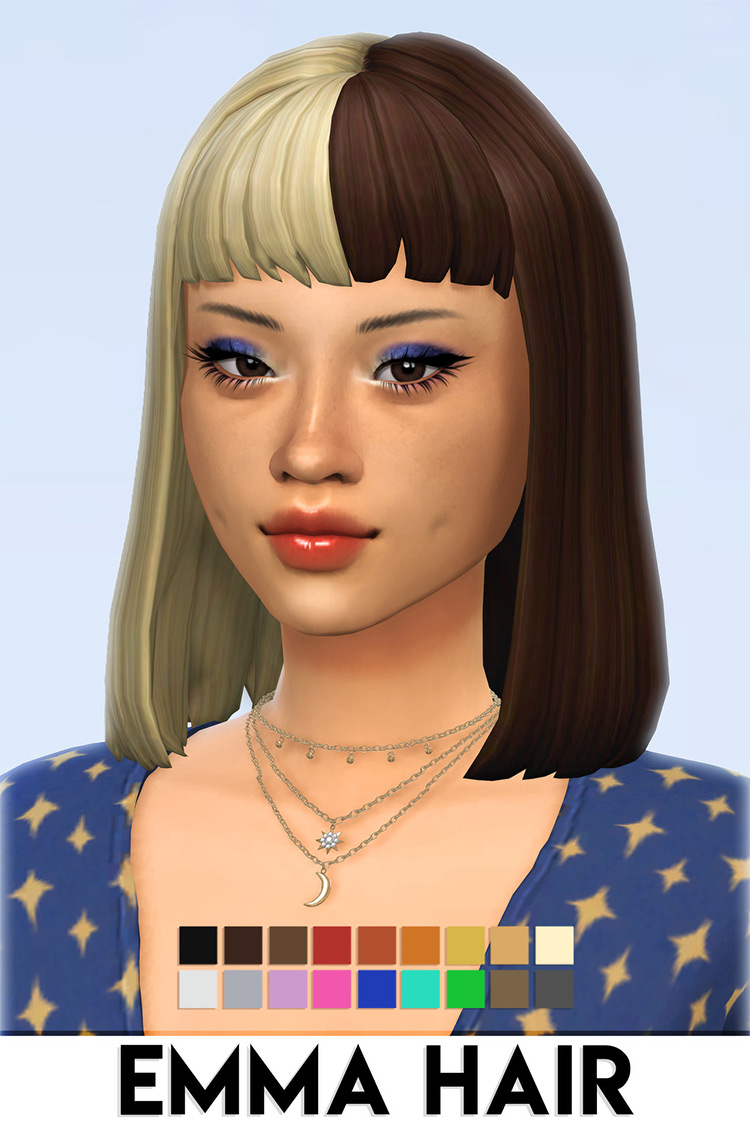 Shoulder-length styles with bangs, such as this one, create the perfect template for split dye.
Everything just lines up perfectly.
You'll have the ultimate level of customization, thanks to the slider that allows you to change the hue and intensity.
19.

Split Hair Overlay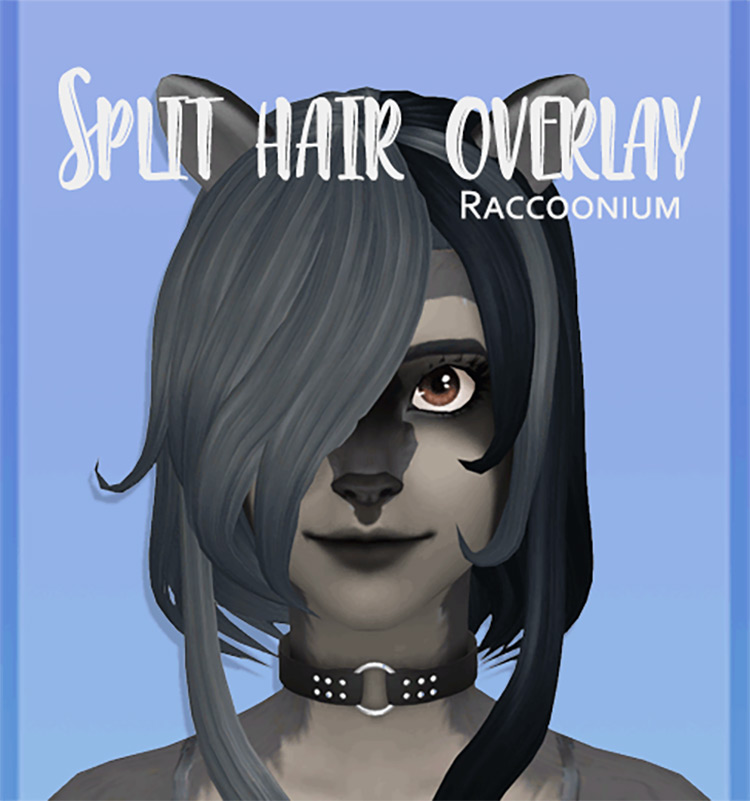 Raccoonium made it so several of their previously released hairs are now compatible with this overlay, meaning all sorts of new styles are available!
Many of them are pretty straightforward with the split dye, while others just mix in some subtle streaks to one side.
20.

P857 Hair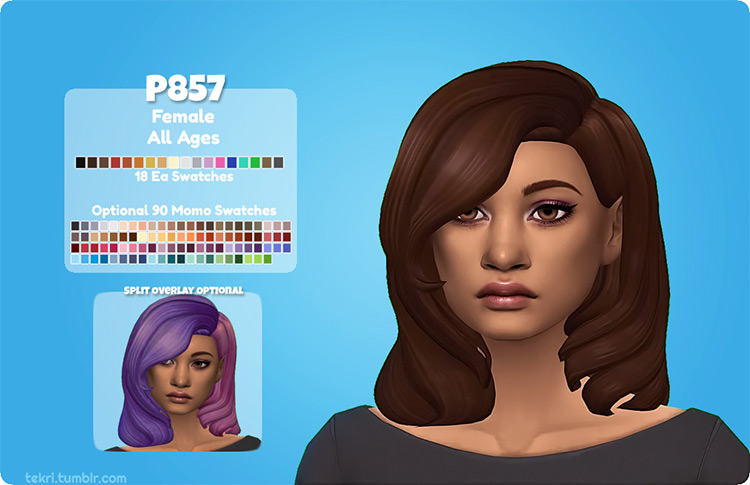 Like many others on this list, the dyed overlay is optional.
With just a few clicks you can transform a natural solid-colored hair, into something a little bolder for your Sim
This takes the cake for swatches too, with 90 in total.
Browse:
Lists
The Sims 4
Video Games