Sims 4 SpongeBob CC & Mods: The Ultimate List
This post may contain affiliate links. If you buy something we may get a small commission at no extra cost to you. (Learn more).
Are ya ready kids?
Everyone knows and loves the classic yellow dish sponge that lives in a pineapple under the sea.
The perky guy that lives next to a starfish under a rock and a grumpy failed art student squid, working his dream job as a fry cook. As we've gotten older and the times have changed, a lot of us find ourselves looking back and reminiscing on this cartoon. From references told to friends, or singing songs from the show, or even sometimes making memes.
And The Sims is a game where all of your favorite things can come to life.
So if you're looking to add some SpongeBob to your neighborhood, then you're bound to find a whole lot of great CC in this collection.
10.

Toddler Bed Recolor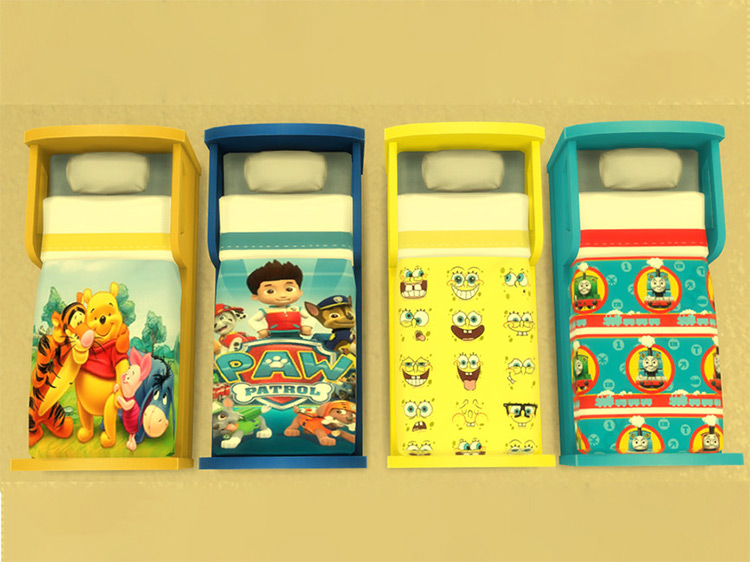 So, your Sim just had a baby. Or rather, they had a baby approximately 3 Sim days ago.
Either way, that baby is about to have their first birthday and become a toddler. Which is great! Because now you can interact with them, play with them, and teach them how to become a decent citizen in society (or the complete opposite if you like playing chaotic Sims).
But that also means their old nursery is going to need some updates.
Nothing makes a toddler's room the real deal quite like a bed with sheets of their favorite cartoons. Which is why this Toddler Bed Recolor CC is a great install.
It comes with a lot, but definitely a set of SpongeBob sheets too! Now your little one can go to bed with dreams of jellyfishing.
9.

Gary the Snail Cat Costume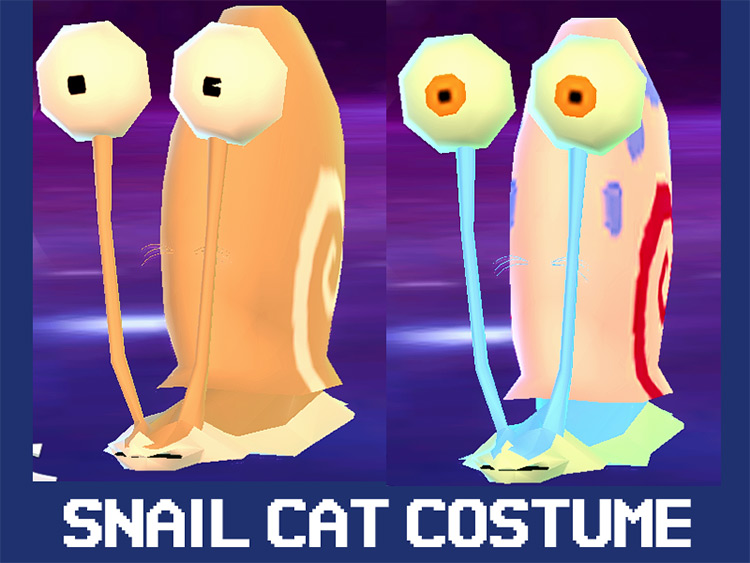 When exactly is it appropriate to dress up your cat like Gary from SpongeBob?
Whenever you want!
We've all seen the normal attire for animals, sweaters, maybe a hat, or even boots if you don't mind your pet hating you for a while.
But if you really want to step up your cat's costume game, well putting them in a Gary costume is the best way to go.
8.

Children's Painting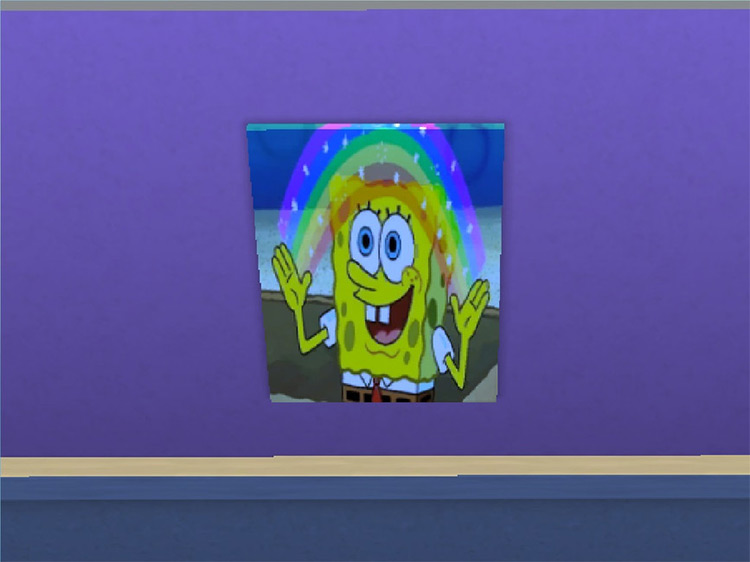 Let's face it: kids don't appreciate art like grownups.
While their parents may be inclined to step in and hang up that screenprinting of a Van Gogh painting, their kids have something else in mind.
Posters of their favorite boybands, magazine clippings of the video games they like, and of course, references to all the hottest cartoons.
This painting CC set is a picture of the famous "imagination" frame from the SpongeBob episode where he uses a box to channel his wildest dreams. All crammed into a small canvas on your Sim's wall.
Better yet, if you want some other pictures but don't want to waste the time finding another cc, this set comes with multiple designs such as a horse, a baby pig, and even minions.
7.

SpongeBob Sweatshirts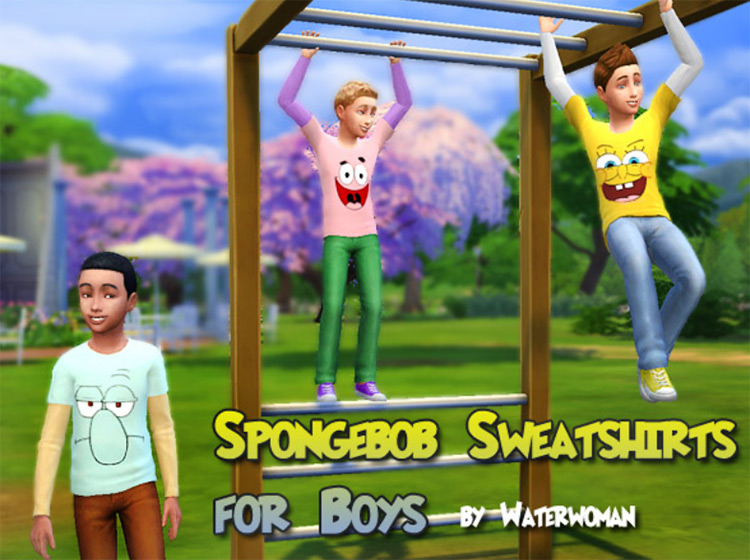 When the SpongeBob craze is real, you need to have everything and anything that you can get your hands on.
One of the easiest ways to start is with a custom t-shirt. Which is exactly what this CC set is here to do.
Available in multiple designs that feature the faces of characters from the show like Patrick and Squidward, these shirts are just for the children in your household. And they're perfect to go out and play in.
6.

Spongebob Hoodie
I gotta admit, so far we've talked a lot about the ways that younger Sims can enjoy SpongeBob. But what about the older Sims?
I mean, they were the first ones to grow up with the show, right?
They should be able to proudly wear their nostalgia right on their chest.
And this SpongeBob Hoodie CC is exactly what it sounds like: a sweatshirt that features an all-over print made to look like SpongeBob's face!
And don't worry, just because the title says male doesn't mean the ladies can't get in on this sweatshirt, too.
5.

SpongeBob Sweater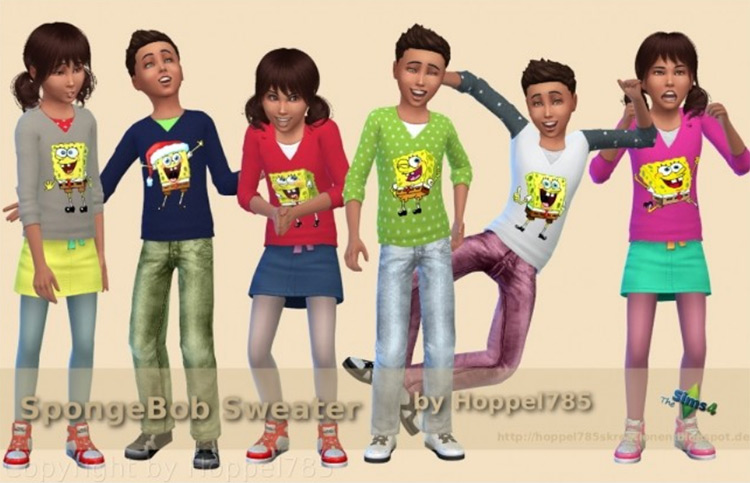 Does your Sims child want to wear that SpongeBob t-shirt they have, but it's way too cold out? Then they need a sweater too.
With the this SB sweater CC, your kids can be kept bundled up during the coldest of temperatures, while still strutting their stuff with SpongeBob.
That's staying warm while looking cool.
4.

Toddler SpongeBob Shirts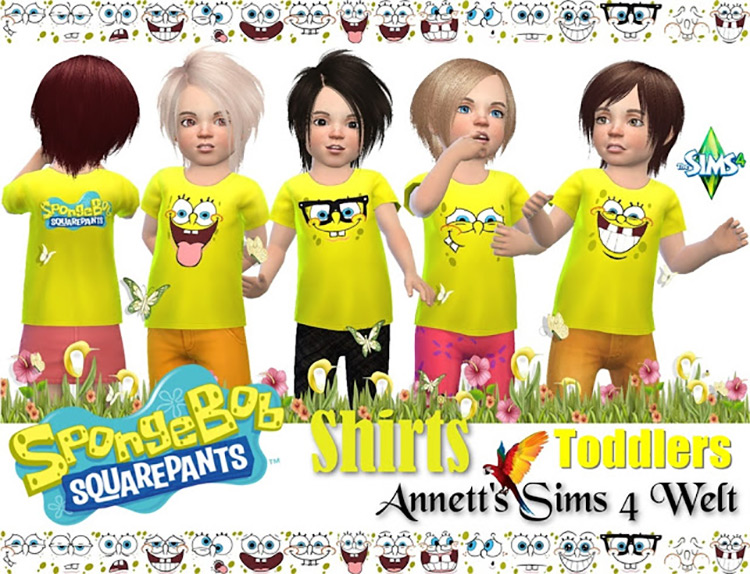 Toddlers got to have the cool SpongeBob bed from earlier in the list, and now they can have all the fun of having a SpongeBob shirt, too.
Similar to a lot of the styles we've seen before, this CC features an all-over print of the mighty sponge himself, on a neon yellow shirt to match his skin… or "sponge" I should say.
3.

Spongebob "Out Of Water" Custom Channel
We know who SpongeBob is, but do your Sims?
In their universe, SpongeBob doesn't exist. And they might be confused as to why all of a sudden their children are dressed head to toe with a kitchen sponge.
To keep them in the loop on this cartoon, you can give them a custom television channel dialed right to SpongeBob!
It's definitely not as educational as the cooking channel, but who cares? TV is supposed to be fun here.
2.

Pineapple House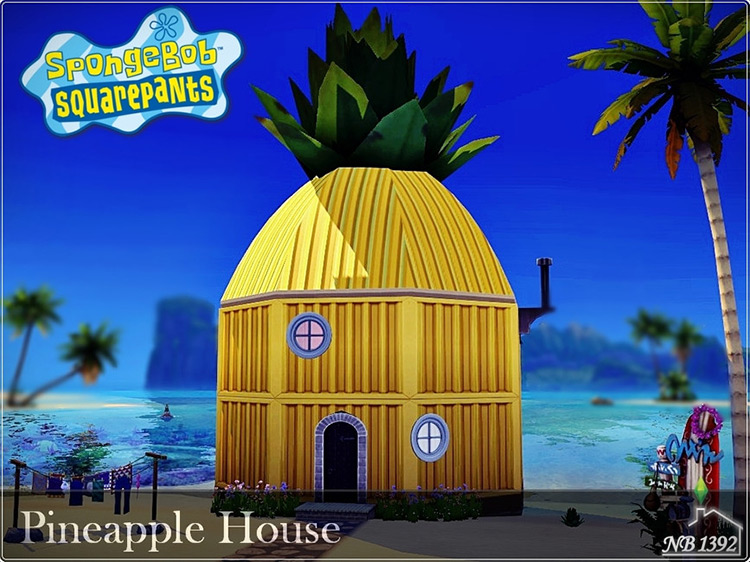 Who lives in a pineapple under the sea?
Your Sims do!
Well, it might not be under the sea, but it's a pineapple home for sure.
With this pineapple lot CC, now your Sims can get the keys to a brand new house that looks just like the one SpongeBob lives in.
Complete with round windows, multiple levels, and no custom content (so just a modded lot). That way you don't have to download anything extra to start shouting "I'm ready!" at the top of your lungs.
1.

The Krusty Krab
Perfect for your teen Sims to get their first job, or to grab a quick and easy meal on your Sim's way home… your neighborhood can now have its own Krusty Krab restaurant.
Don't worry, you won't get ripped off by a cheapskate crab here.
But what you will find is all the exact furniture, decor, and atmosphere that the people of Bikini Bottom would expect when they go to order a Krabby Patty.
Browse:
Lists
SpongeBob
The Sims 4
Video Games