Best Sims 4 Spy-Themed CC (All Free)
This post may contain affiliate links. If you buy something we may get a small commission at no extra cost to you. (Learn more).
Espionage. Intrigue. Drama.
What's not to love about spies?
While it's better known as the Secret Agent career in The Sims 4, there's something exciting about knowing our Sims leave their otherwise ordinary lives to sneak around in high-danger situations.
But it's not enough to be a spy — you have to look and live the part, too.
That's why these spy-tastic CC items are a must-have for the spy Sim in your game.
Secret Spy's House Lot
Simlicy's one of the most well-known Sim YouTubers, and for good reason:
She shares awesome creations like this one!
The Secret Spy's House is a 40×20 residential lot with a little twist.
The main and upper levels are a normal family home. But there's a secret spy room in the basement for Sims who lead a double-life!
You can grab this from the gallery for §300,546, or pay a little less by opting to buy the unfurnished version.
Lyne Surveillance Camera
No need for security if your save's a utopia.
For the rest of us with mods that shake things up, we need all the surveillance we can get.
And CC maker NynaeveDesign's creation gives us exactly what we need: a sleek, sophisticated looking outdoor camera.
But we could see a spy Sim installing these in their home or secret lair too.
These come in six swatches and you can find them in the miscellaneous deco section for §29.
Male Winter Trench Coat
Trench coats bring two kinds of people to mind:
Spies, and Castiel from Supernatural.
But we're talking about The Sims. So fashionable male spies will definitely blend in while wearing this one.
Lonelyboy's creation here would also look great on an investigator, too (which is available here, if you're interested.)
The game categorizes the coat as a top, so your Sims can still wear any pants of their choice.
Plus you get ten colors and base-game compatibility, which makes this a great all-purpose coat for your CAS folder.
Women's Trench Coat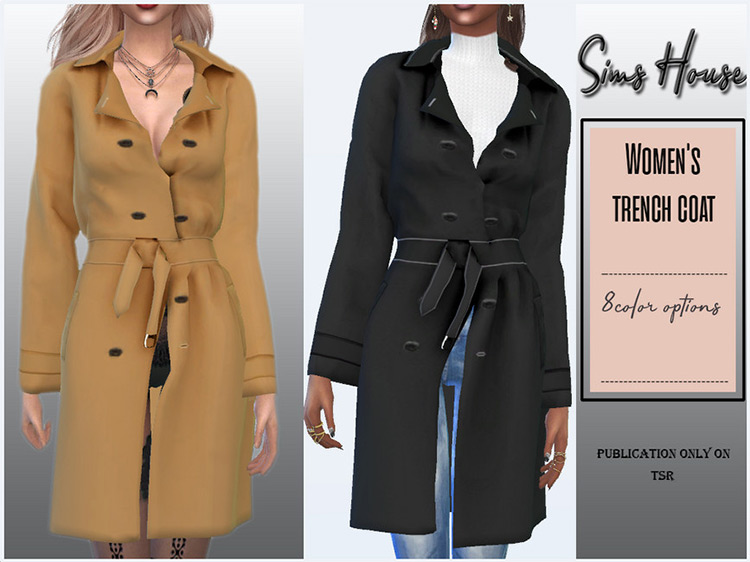 Equality for all, especially with trench coats.
This chic Alpha trench coat from Sim'sHouse has buttons, a belt and a dramatic collar.
We'd call it a 'hiding in plain sight' kind of outfit. Which spies are known for, of course.
It comes in 8 colors, including a really nice tan and black shade.
And it's also considered a top, so choose whatever bottom you want to really customize the look.
The Muse Hidden Door
Secret rooms need hidden doors.
But the one created by sg5150 isn't just a hidden door.
It's also a giant bookcase that visitors will be none the wiser about. Dual functionality, right?
Though it doesn't actually function as a bookcase anymore – that's a small price to pay for something so awesome.
You can find this in the standard 18 EA colors too, so no clashing with your other furnishings.
Women's Catsuit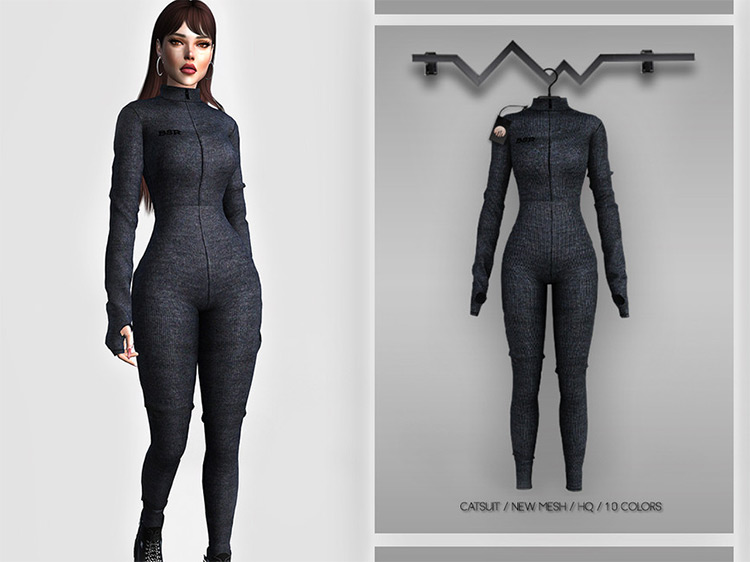 There are spies, and then there are laser-dodging, safe-cracking baddies.
Have a female Sim that fits the latter description?
She needs busra-tr's catsuit!
The skintight but breathable design means free movement with little possibility of detection.
They can sprint, climb and crawl in style and comfort. And it's available in classic black, or 9 other colors, and it's wearable by Teens through Elders.
Secret Agent Work From Home Career
Newbie secret agents need in-person guidance.
But shouldn't seasoned spies have the option to work from home?
Heck, we're all still doing it at the moment.
Now they can with NoelleBellefleur's modded version of the vanilla EA career. With this installed, there's no need to leave the house. Because your Sims will earn work experience from various tasks, all working from home.
Investigate other Sims, plant bugs, get into fights with criminals, and so much more.
Modern Spy's Home
A house only fit for a spy.
The first lot mentioned earlier on our list was more suited for a bigger family.
But Caradriel's 30×20 lot is just big enough for a bachelor or bachelorette spy.
Some of the features include one bedroom, one bathroom, a wine cellar, and a secret room for sleuthing.
We love the brick exterior and the darker-themed furnishings too.
Note that you'll need several game packs for this lot, so cross-reference before adding it to your game.
And make sure your Spy's got savings before purchasing this §146,569 home!
Browse:
Lists
The Sims 4
Video Games